Featured image: "All Hail Damien Hirst!", Tamiko Thiel, 2012. Turbine Hall, Tate Modern, London.
Introduction.
Interest in Damien Hirst and his commercialized, celebrity status is well known. So when we heard that Tamiko Thiel was making the artwork "All Hail Damien Hirst!", we were immediately curious. Hirst is an extremely rich individual with powerful allies within wealthy, traditional art establishment circles. This includes Charles Saatchi, and commercially dedicated art mags and art institutions whom have all successfully helped in marketing his particular brand as part of their own economic strategy. With this in mind and acknowledging the potential risk in satirizing a well known art celebrity we thought it was a good idea to interview Thiel about her ideas and experience on the project?
Marc Garrett interviews Tamiko Thiel.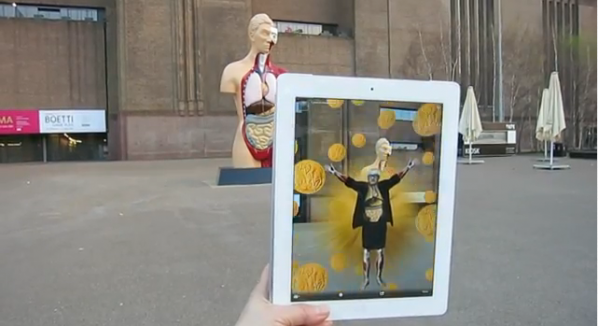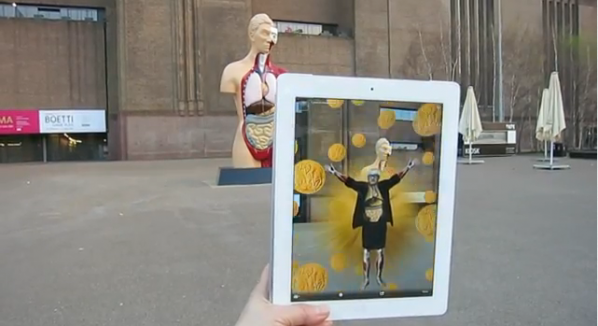 MG: Many are curious about your new augmented reality project "All Hail Damien Hirst!". It is an art installation and intervention. Why have you chosen to create an artwork aimed specifically at him, during his retrospective exhibition at the Tate Modern?
Tamiko Thiel: As a visual artist my projects start with having a strong image in my mind's eye that compels me to pursue the project further. When I heard of the retrospective at the Tate I immediately had an image of Hirst – depicted in a style relating to his own working methods – hovering in the vast space of the Tate Modern Turbine Hall. On findng out that the space was not going to be used except for the small room housing his diamond skull, I saw an opportunity to give visitors an experience that would utilize the space beautifully, compliment his own work and bring the contradictory feelings that many have about him and his work into sharper focus.
In my own work I often draw on the power of religious imagery. This aspect of Hirst's work, and also his themes of the body and death, are very compelling to me. On the other hand, he plays a master hand at making the art market dance to his tune. I find the market value of his carefully ordered spot paintings, for example, in marked contrast to the artistic power of Yayoi Kusama's spot obsessions, which were exhibited probably not by coincidence at the same time at the Tate Modern.
To top it off, while flipping through a United Airlines onboard magazine I chanced upon an image depicting the value of Hirst's artworks as an exaggerated – and spotted – version of the movement of the stock market: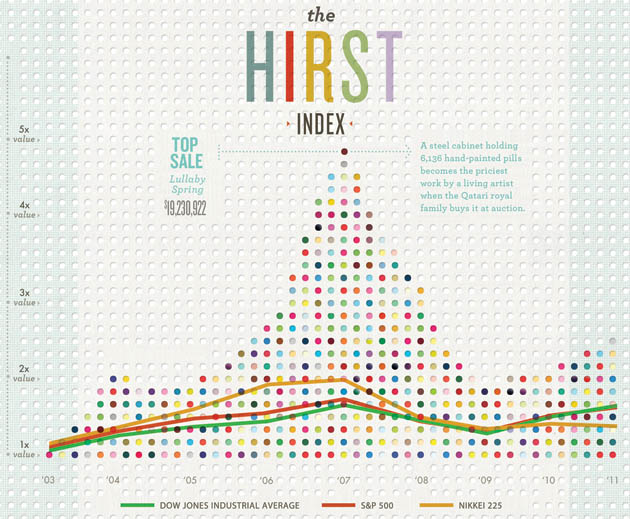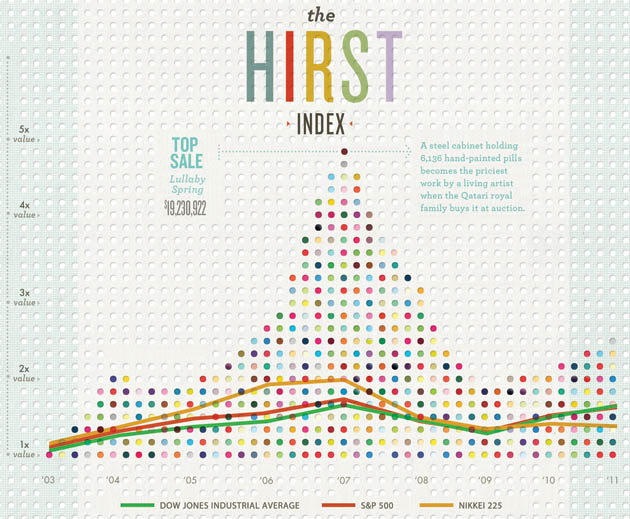 I wanted to make a work that addressed multiple issues surrounding Hirst as a person, as an artist and as a force in the art market at a time of extreme tension in the world's financial markets. I knew however that Hirst is very litigious, so I was careful to use none of Hirst's actual artworks, so I do not infringe on his copyright!
I had done an earlier augmented reality work, Reign of Gold, as part of the AR Occupy Wall Street project. In this work, viewers all over the world can chose the site at which to view the piece on their smartphones, and then see an animated rain of gold coins superimposed over the live camera view of their surroundings. I have photos of this work against the New York Stock Exchange, the Bank of England in London, TEPCO in Tokyo – the company that brought us the Fukushima nuclear disaster – and other choice sites around the world. You will see a clear visual relationship between the rain of gold coins and Hirst's spot paintings, which many say are destined to go through a similar boom and bust cycle as are the world financial markets.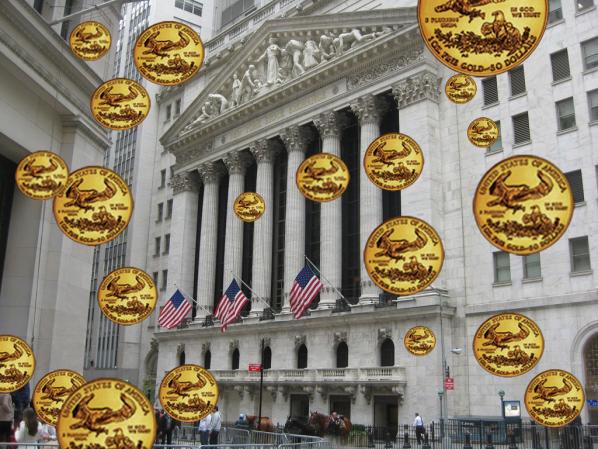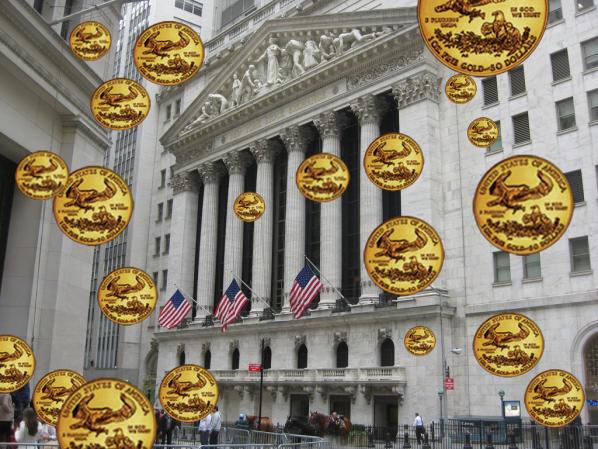 If I was a painter I would've gone off and made a painting, and that would have been the end of that. Since I work with augmented reality however I could place the image in and around the Tate Modern itself, the very site of Hirst's exhibition. This puts a whole different spin on the artwork, as having an artwork "in" a prominent arts venue is seen as a form of "canonization" in the art world, even if the artist places the work there by him- or herself, as did Banksy.
This brought in yet another level to the project, as the work functions now not only visually, but by dint of its location also questions the system by which the art world consecrates artists and artworks. What does the location of an artwork mean, if every artist decides for herself where to place the work? Walls cannot keep us out, nor can walls keep us in. Even Hirst, who is known as a control freak, cannot exercise control over augmented reality.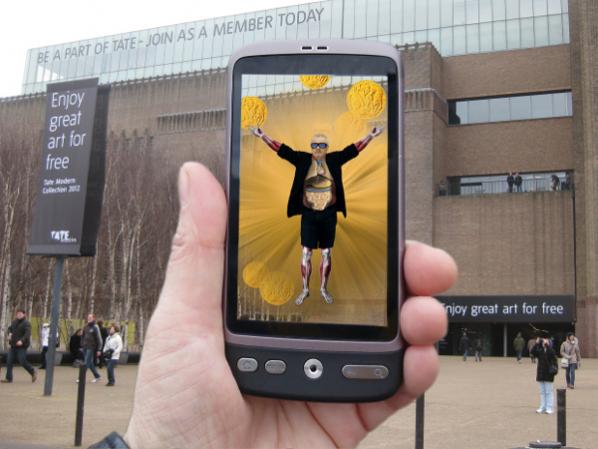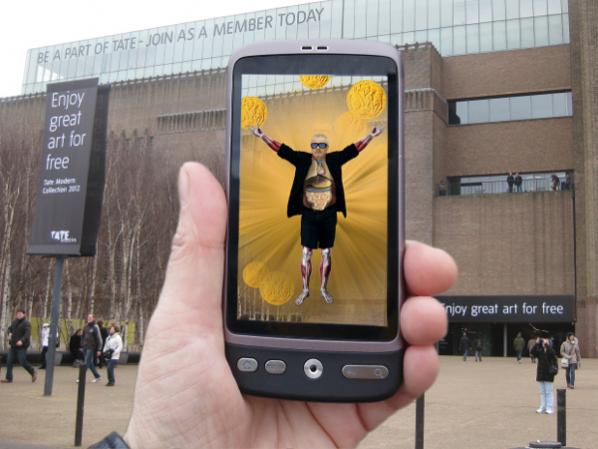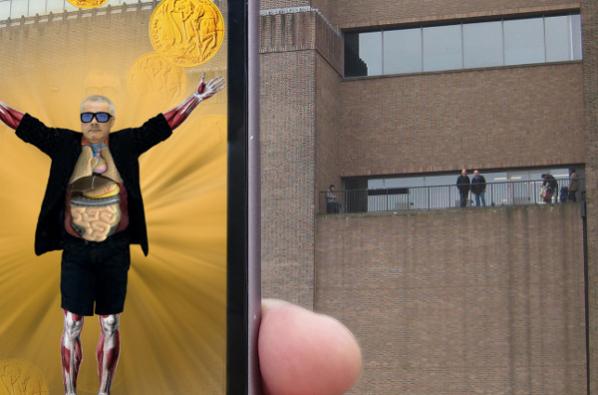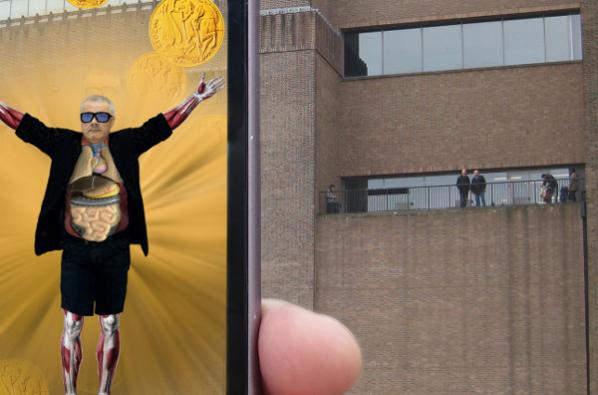 MG: You visited the Tate Modern and interacted with the public. What kind of responses did you receive by visitors to the intervention?
TT: Delight! Most had come to see Hirst's exhibit with contradictory feelings about the man and his art because of similar issues to those that had motivated me to make my artwork originally. They were delighted at how my artwork spoke to these feelings while leaving the conclusion open for the viewer. They liked the spatiality of the piece, how it surrounded them and filled the cavernous empty space of the Turbine Hall when viewed inside the Tate Modern, and reflected on Hirst's "Hymn" sculpture when viewed outside by the river. There was also fascination about this new technology which none had ever seen before, and of course some puzzlement about how it worked.
MG: What message are you hoping to communicate with this interventionist project?
TT: What attracts my attention as an artist are topics that provoke contradictory or unresolved emotions in myself. By their very nature I can't answer these topics with a simple message. Instead I try to create striking images and visual/kinesthetic experiences that evoke the contradictory feelings I have myself, in the hopes that my works can help focus or sharpen the issue, or at least provoke dialog in those who view them.
To cite a different work from my art practice: even in "Shades of Absence," in which I surround anonymous golden silhouettes of censored artists with terms of censorship, I am myself of two minds about many of the artworks I cite in the linked website on censored artists. I made Shades of Absence as an intervention into the 2011 Venice Biennale, at a time when Ai Wei Wei was imprisoned by his own government. In his case I am strictly against the censorship of him as an artist and a person, but in many other cases I have cited, I myself could not say I would always be against censorship when it could incite hate and physical violence against others.
MG: Is it mainly Hirst you are critiquing here or is he representative of something bigger in art and its culture that you are questioning?
Hirst is the British Jeff Koons! Every era and every country finds such a figure to represent the eternal tension between art as a sublime personal experience and art as the magnet for glamour and status and money. I wonder if it was any different for the artists of the cave paintings?
MG: In the publicity for the project, it says 'Augmented Reality is the Street Art of the 21st Century!'. Could you elaborate what this means to you, and share with us some examples of other interesting works in this field?
TT: In this regard, to be frank I think the work of my cyberartist collective Manifest.AR is the leading work in the field at this moment, perhaps because we are all so diverse and cross-fertilize each other!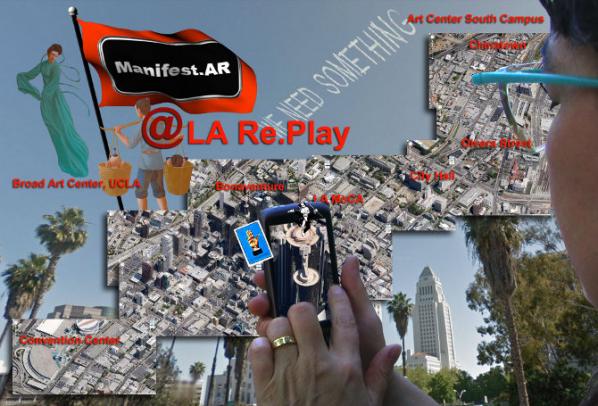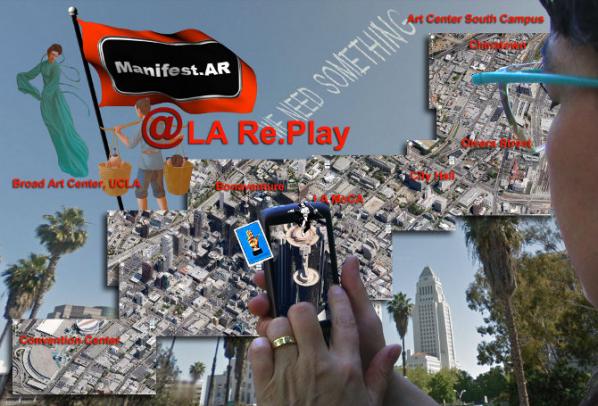 Of course augmented reality is not as visible as a graffiti on the side of a building – but it also cannot be removed, and we can place them wherever we want without fear – yet – of arrest or fines. Also, the smartphone or mobile tablet is becoming an extension of the self, and our primary interface with the extensive virtual society in which we are embedded. It is how we will communicate, how we will find information, how we will share our social space with everyone who is not standing in exactly the same room at exactly the same time, it will become our entertainment device, our payment device and god forbid our identification device. You do not go to someone's house to look through their photo album, you go to their Facebook site. Why shouldn't you start finding their thoughts and expressions as augmented reality images around you in space?
I just successfully co-wrote a major Rockefeller Foundation grant to help residents of a very poor area of a major city put up their own history and artwork in their neighborhood using augmented reality. I can't say much about it as the official publicity has not yet been released, but the organization I wrote it for is convinced that in a couple of years, more of their youth will look at art on smartphones than in museums and art galleries. Will the middle and upper classes lag behind, because they think the only art worthy of note is hanging on gallery walls?
Links:
All Hail Damien Hirst! An augmented reality installation celebrating Damien Hirst at the Tate Modern.
http://www.allhaildamienhirst.com/
"Reign of Gold" – part of AR Occupy Wall Street
http://www.mission-base.com/tamiko/AR/reign-of-gold.html
Tamiko Thiel – Online Portfolio
http://www.mission-base.com/tamiko/
Tamiko Thiel is a media artist developing the dramatic and poetic capabilities of various forms of virtual and augmented reality as media for exploring social and cultural issues.
A founding member of the cyberartist group Manifest.AR, she participated in the pathbreaking augmented reality exhibit "We AR in MoMA," an uninvited guerilla takeover of MoMA New York. Videos of Thiel's "Art Critic Face Matrix" were featured in articles in the New York Times and on WNYC (National Public Radio). In 2011 she led the Manifest.AR Venice Biennial AR Intervention, placing her work series "Shades of Absence," on censorship in the visual arts, in the Venice Giardini and in the German National Pavilion (which won the Golden Lion Award for best national pavilion). This led to an invitation to participate in the ISEA2011 exhibition UNCONTAINABLE, an official parallel program of the Istanbul Biennial, where she placed her artwork series "Captured Images" into the main biennial exhibition