3 October 2019 – 5 January 2020, Daily. Free Entry
The roar of an airplane is a familiar sound for many parts of west London, home to one of the busiest airports in the world and the subject of a new exhibition, Air Matters at Watermans Arts Centre in Brentford, just a few miles away from Heathrow.
Echoing the experience of hearing an aircraft in action, sound itself plays an integral part in the show and leads with The Substitute (2019) by Hermione Spriggs and Laura Cooper. Through overhead speakers outside the main entrance, visitors are greeted by an authoritative voice musing on the fate of local flocks in an airspace strictly controlled by humans and their contraptions, intermittently reciting names of affected birds like a tribute, and ultimately urging listeners to "work with nature" which sets a critical tone.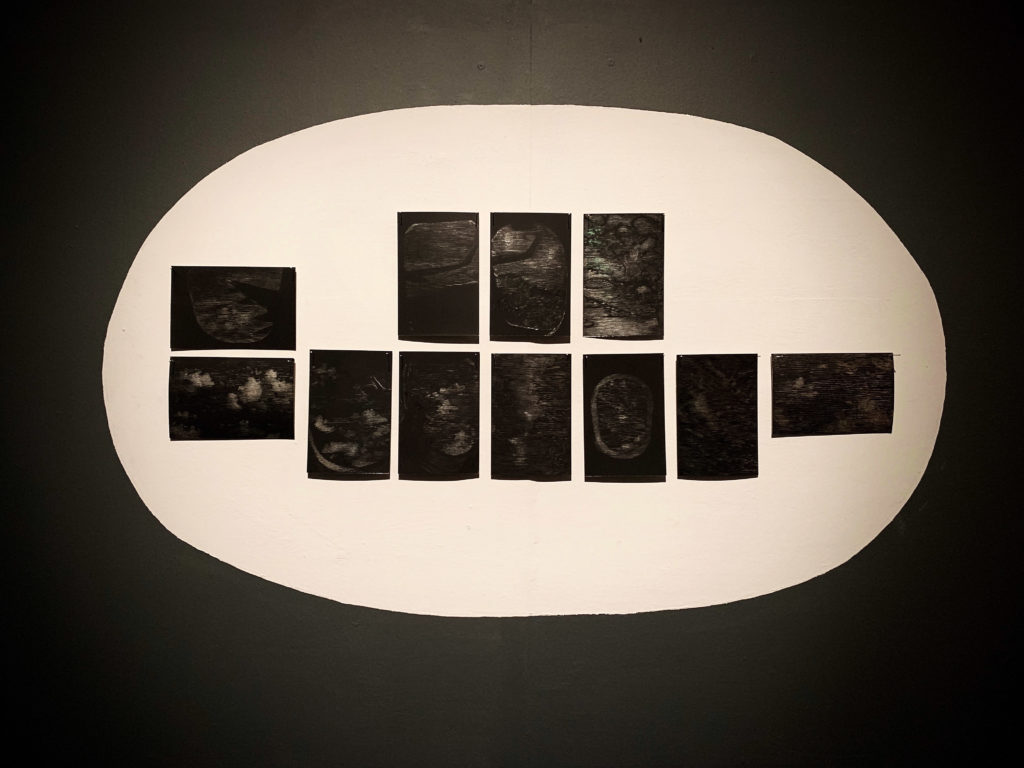 The audio installation is reminiscent of public announcements at airports, a strategy that continues into the foyer with Frequency (2019) by Louise K Wilson. It features intimate anecdotes of air travel through resonance devices on a skylight roof where planes might fly by at any moment. Speaking softly akin to ASMR, one person wonders about the destinations of travellers, while another recalls vivid memories of flights that seem traumatic, bouncing back and forth between excitement and anxiety.
The theme reaches its crescendo inside the gallery, with a mixture of ambient sounds reverberating across the space from Ascending Composition I (For Planes) (2019) by Kate Carr, an atmospheric concoction of incidental noises recorded around Heathrow including birds, markets, and trains on tracks. With pocket-sized media players attached to deconstructed speakers on strings of fabric, the installation documents an intervention that already took place when the work itself flew up on balloons blasting whispers from the ground, a small but meaningful gesture challenging the sonic waves of jumbo jets that dominate the surrounding sky and soundscape.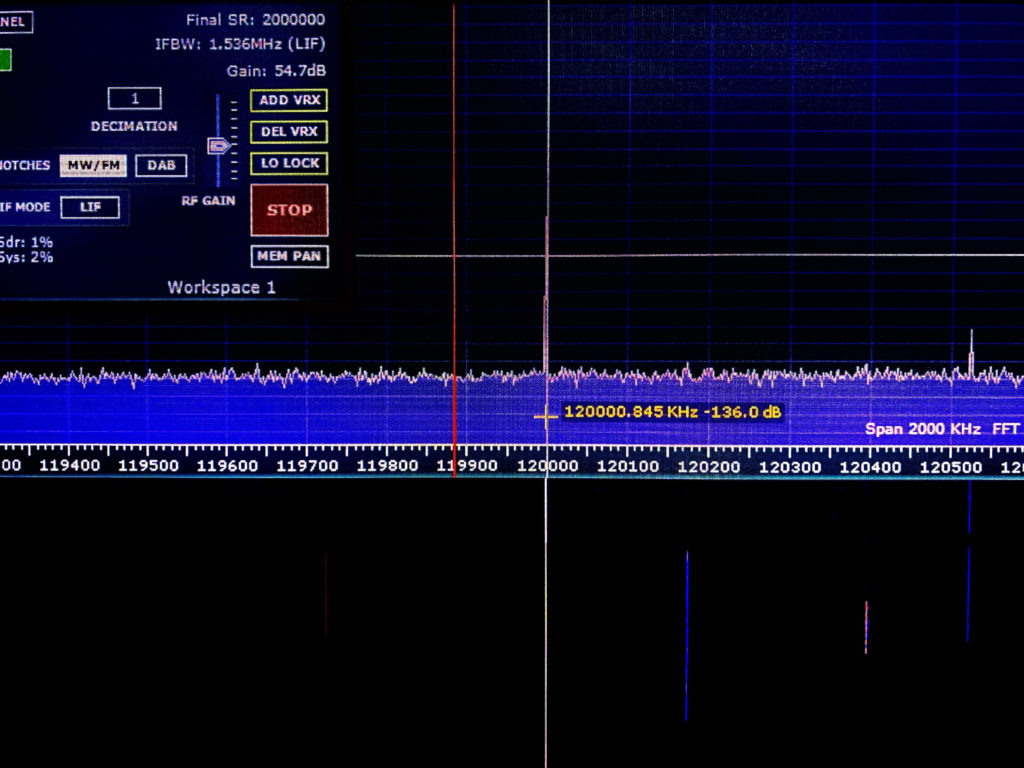 This act of defiance flows into Skyport (2019) by Magz Hall, a mixed media installation with a set of frequency scanners emitting an unsettling static. The title refers to a pirate radio station based along a Heathrow flightpath in the 1970s, illustrated with archival images and texts from an attempt to reclaim airwaves colonised by traffic control and engine noise. The work emulates this spirit with an LCD screen broadcasting airport channels as visual wavelengths, the contents of which are protected as classified information in UK law, consequently questioning ownership, access, and authority over radio frequencies.
The symphony of sounds become unavoidable throughout, and there is a possibility that it might grow vexing for some, perhaps more so for the people that work here who may not have a choice but to hear it again and again. Yet, as irksome as that might be, it is a crucial part of what makes this show effective. The audible pieces collectively transform the spaces into simulations of airport lounges and peripheral towns, simultaneously mimicking and counteracting oppressive noises from airplanes and terminals that have become inevitable in contemporary life, irrespective of its value and/or harm.
Beyond aural tendencies, the exhibition reaches further by considering scale and movement. The sheer volume of Capsule (2019) by Nick Ferguson is an imposing presence in the gallery with a wooden sculpture modelled after the wheel bay of a Boeing 777, floating a few inches off the ground and hovering over visitors. Shown alongside printed images of microscopic substances found in a real plane, it orchestrates a juxtaposition between the enormity of a flying machine and the imperceptible residue it accumulates, revealing traces from the many places it has been including sand, spores, and bacteria.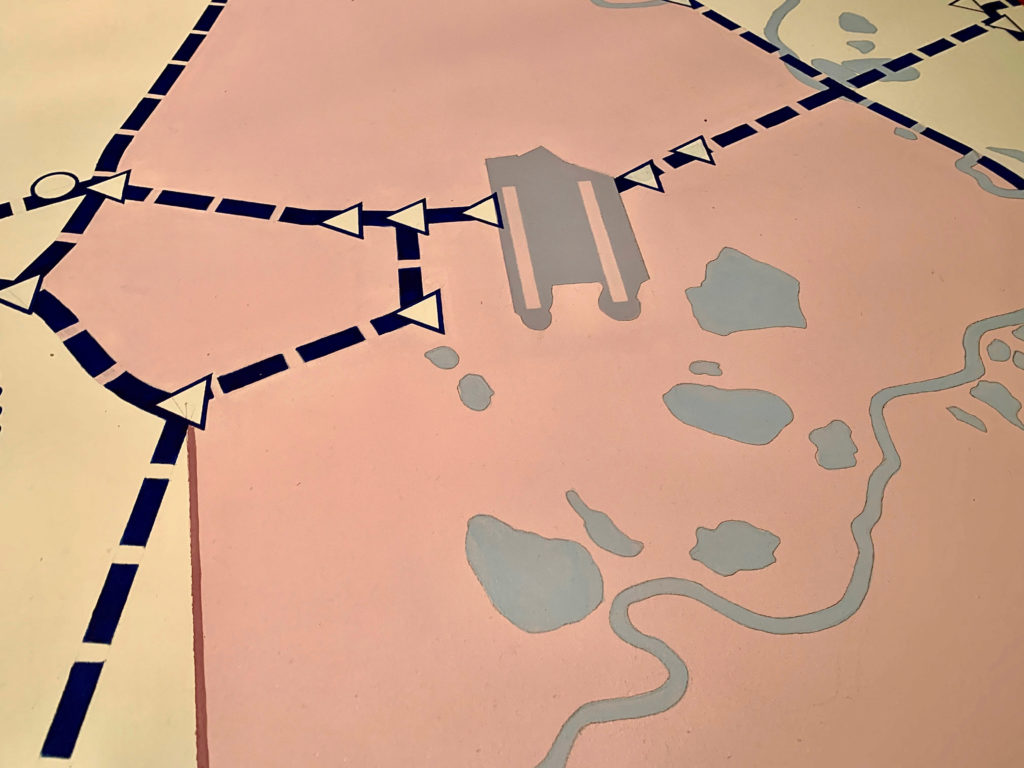 A map nearby, Heathrow (Volumetric Airspace Structures) (2019) by Matthew Flintham, takes the viewer back to west London with a bird's eye view of the airport complex. Presented on a table that might be used for urban planning, military operation, or board games, it illustrates the topography of the area highlighting a vast infrastructure beneath large sections of controlled airspace, seemingly encroaching on everything else which becomes almost invisible or insignificant.
Navigating the show functions as an exercise of remembrance in many ways, bringing to mind a number of issues that have been at the forefront of public discourse in recent years: from the role of aviation on climate change, to its impact on local communities and ecosystems around airports. And it comes, as if on cue, at a period of heightened environmental concern, propelled most prominently by the Extinction Rebellion movement and climate activist Greta Thunberg, ringing the alarm on the perils of flying.
The controversial Heathrow Airport Expansion also comes through in this context, caught between government plans for future economic growth, and the ongoing resistance from neighbouring residents with campaigns like Stop Heathrow Expansion, No Third Runway Coalition, and Heathrow Association for the Control of Aircraft Noise.
It conjures up conflicting perspectives that unpack a classic dilemma for a society in flux. On one hand, the flight industry is evidently harmful because of its pollution to the planet and the unfair toll on local hosts. Yet, on the other, it is part of a system that facilitates international trade, freedom of movement, and cultural exchanges, each one increasingly more accessible to broader people beyond a privileged few who will always have it. And while it has serious problems that must be addressed, some of which are rightly pointed out here, a world without it entirely is at risk of descent into tribalism and isolationism.
With so much at stake at this particular time and place, the exhibition feels important for its worthwhile attempt in raising these pertinent questions through art, successfully using Heathrow as a case study for matters that undoubtedly have wider implications.
Like the rumble of a plane and many works in this show, the politics of flying will become inescapable as air travel is projected to almost double in size by 2036, despite recent backlash from flight shaming, the rise of staycation, and a spotlight on frequent flyers. The solutions to its unintended consequences are not as straightforward as it might seem, and will likely require a nuanced approach combining systemic changes, paradigm shifts, technological developments, and personal adjustments, all of which cannot come soon enough.
Air Matters: Learning From Heathrow is at Watermans Arts Centre until 5 January 2020. Curated by Nicholas Ferguson in collaboration with Klio Krajewska. Supported by Arts Council England, Forma, London Borough of Hounslow, Kingston School of Art, and Richmond University.
Featured main image: Kate Carr. Image 11. NF. Ascending Composition 1 (For planes). Mixed media, 2019. Included in Air Matters: Learning from Heathrow. 3 October – 5 January 2019.