Marc Garrett reviews Stefan Szczelkun's book Agit Disco. He is an artist and author interested in culture and democracy. In the early Seventies he was fortunate to be part of the Scratch Orchestra and has since been involved with a series of artists collectives. His doctoral research into the Exploding Cinema collective was completed at the RCA in 2002. Recently his collaborative project Agit Disco was published as a Mute book in 2012. He has been on the Mute magazine editorial board since 2009, and currently working on photographic and performance projects.
Introduction: Entering The Zombie Apocalypse.
"Just cause we can't see the bars
Don't mean we ain't in prison."
Kate Tempest (2009) [1]
The subtle and not so subtle domination by market interests of cultural production and dialogue denies us all access to a wide spectrum of creative expression, especially those that engage in subjects that conflict with the agendas of those in power. Agit Disco by Stefan Szczelkun combats this contemporary trend by focusing on music, politics, DIY culture, and freedom of expression. In doing so he starts to redress the lack of representation across the board for those in grass roots culture and working class lives, whose freedoms to have a voice in society are so commonly restricted.
The future does not look good for those who value cultural and social diversity; who look for a variety of activist histories and experiences to be seen and represented on their own terms. The UK government is changing university regulations so that private companies can become universities. This means tutors will end up replacing educational courses once devised with the public good in mind with modules designed for maximum profit. Luke Martell, a critic of the marketisation and privatisation of education and lecturer of Sociology at the University of Sussex, says "This will lead to a different content to education. Critical thinking is being replaced by conformity to cash. Money-spinning management and business courses are expanding and lower-income adult education is being closed down." [2] (Martell 2013) Already, most researchers, academics and those in professional fields of practice mainly work within insider frameworks, "there is a qualitative difference between the conditions of people living in marginalized communities and those in middle-class suburbia." [3] (Smith 2012)
The knock on effect of an unquestioning culture of compliance with the 'free market' is enormous. How ironic it is that the term 'free market' is attributed with so much value and (a presumed) logic when in actuality it constrains people's freedoms and makes those who are already rich even richer. Because the politicians are not effected by the results personally, and because it also serves their interests, they have handed over their social responsibilities to these market systems. The neoliberal defaults that caused the financial crisis are untouched by our democratic processes. These out of reach, distant power systems are fixed towards property bias and occupy and govern our everyday experiences. How does freedom of expression fit into this and on whose terms?
"The more our physical and online experiences and spaces are occupied by the state and corporations rather than people's own rooted needs, the more we become tied up in situations that reflect officially prescribed contexts, and not our own."[4] (Garrett 2013)
Review of Agit Disco.
Agit Disco offers a breath of fresh air, in the fug of the developing marketisation of everything. It presents grounded examples of difference that contrast with the dominating view of entertainment systems. Published through Mute Books in 2012, it features 23 playlists put forward by 23 different writers, artist and activists. It began as a set of mixed CDs and images, each chapter includes annotations and illustrations. Its contributors are Sian Addicott, Louise Carolin, Peter Conlin, Mel Croucher, Martin Dixon, John Eden, Sarah Falloon, Simon Ford, Peter Haining, Stewart Home, Tom Jennings, DJ Krautpleaser, Roger McKinley, Micheline Mason, Tracey Moberly, Luca Paci, Room 13 – Lochyside Scotland, Howard Slater, Johnny Spencer, Stefan Szczelkun, Andy T, Neil Transpontine, and Tom Vague.
Mostly from working class backgrounds the contributors were invited to focus on politics and music, and share memories relating to what the tunes meant to them at the time. In the preface Szczelkun states, his selection of contributors comes from his own worldview and personal contacts. Anthony Iles, in his introduction says most who have contributed "are closely associated with anti-authoritarian politics and DIY culture."[5] (Iles 2012) Contributors offer insights into the connections between their music and the politics of the time. Louise Carolin says, "When I was a teenager in the '80s I lived through one of the golden ages of British chart pop, listening to music that was by turns, political, danceable, challenging and entertaining. I attended CND rallies, marched against South African Apartheid, ran the feminist group at school and went to GLC-funded music festivals."[6] (Carolin 2011)
What adds depth to Louise's story, as with the rest of the contributions is that many readers feel connected with these histories, and I am one of them. It highlights an indigenous, working class culture and their personal struggles in a period when neoliberalism was in its early stages of world domination. To say that these are merely anecdotal or subjective would completely miss the point. It calls for an awareness and understanding about people giving an account for themselves in relation to music, politics and their social contexts on their own terms.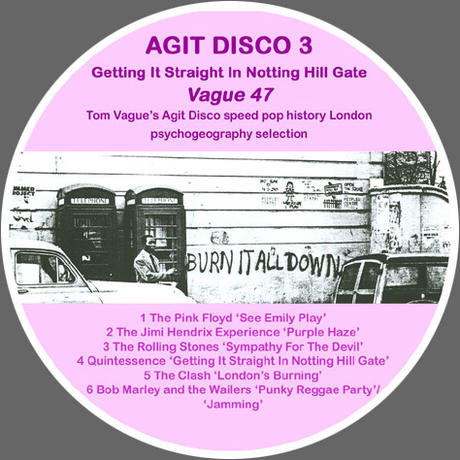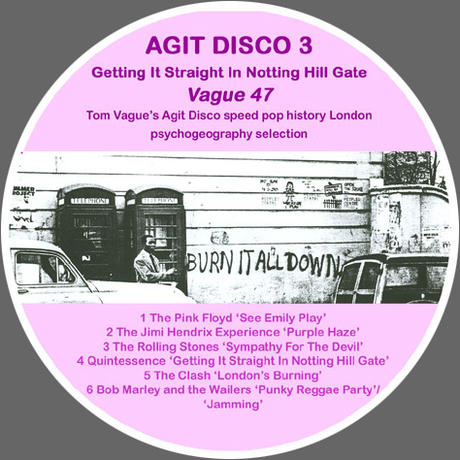 Just as it is important to ask contextual and critical questions of why a particular artwork is being shown at a certain venue or seen in an art magazine. It is also necessary to observe who published Agit Disco and why? It is no coincidence that it's a Mute publication, Szczelkun has been on its editorial board since 2009, and has written various articles, reviews and interviews for Mute.
Agit Disco resonates with Mute's dedication to DIY culture. Indeed, Mute has an excellent history in independent publishing alongside its DIY methods of production. Mute's earliest incarnation used Financial Times' pink paper, broadsheet printing cast offs. Later on a traditional magazine format. From 2005 onwards it moved onto its online site, and developed a publishing platform that allowed the publication of its POD (Print On Demand) magazine. [7] The design and production of Mute and its platforms have come a long way enabling a pamphlet-like production and distribution, echoing Thomas Paine's own DIY releases of the Rights of Man.[8]
DIY Culture (and its distribution channels) offer a vital alternative to mainstream frameworks and their dominating hegemonies as a way to route around the restrictions to content, freedom of thought and free exchange. We have to contend with networked surveillance strategies initiated by corporations and state secret services. Censorship exists in many forms and recently there has been a rise of self censorship by workers and academics worried about losing their jobs if bosses see their interactions on Facebook or similar Web 2.0 social networks.[9] And the worrying antics of Britain's GCHQ, in collaboration with America's National Security Agency (NSA), targeting organisations such as the United Nations development programme, the UN's children's charity Unicef [10] reveal a greater investment in the surveillance of everyone, and the downgrading of privacy and fundamental human rights.
The credo that Anyone Can Do It reached a mass of individuals and groups not content with their assigned cultural roles as disaffected consumers watching the world go by. Like the Situationists, Punk was not merely reflecting or reinterpreting the world it was also about transforming it at an everyday level. Sadie Plant states that with the "emergence of punk in the late 70s […] lay the possibility of a threatening political response to the vacant superficiality of contemporary society." [11] From this, a whole generation of diverse artists emerged; and through their practices they critiqued the very society they lived in, questioning authority and the authenticity of established politics, language, art, history, music and film.
Has the process of appropriating people's civilian personas, and then replacing their social contexts with a corporate role as consumer created a more selfish world, lacking compassion for others and less interest for societal and ethical change? Ubermorgan discussed in a recent interview with Stevphen Shukaitis that people are in a state of 'mediality'. "What we refer to as reality very often is just mediality, and also because that's how human nature often prefers to observe reality, you know, via some media." [12] Perhaps our constant interactions through different interfaces of proprietorial frameworks distances ourselves to what is important. In the 21st Century demonstrations and civil disobedience are policed intensively, and even though much of contemporary activism exists on-line. The frontline, or the heart of politics is still mainly a physical matter; it is still in our streets, our homes, our bodies, in our neighbourhoods and communities.
As Oxblood Ruffin a Canadian hacker and member of the hacker group Cult of the Dead Cow (cDc) and the founder/director of Hacktivismo, said "I know from personal experience that there is a big difference between street and on-line protest. I have been chased down the street by a baton-wielding police officer on horseback. Believe me, it takes a lot less courage to sit in front of the computer." [13]
So Agit Disco reminds us that music is a vital way of both bringing people together in a space, story telling and communicating with each other, sharing what is happening with people's lives. It is usually at the moment of censorship that we then realise how essential this freedom of expression stuff really is. For instance, nine months after Islamic militants had taken over in northern Mali they announced that all music is banned. "It's hard to imagine, in a country that produced such internationally renowned music as Ali Farka Touré's blues, Rokia Traoré's soulful vocals and the Afro-pop traditions of Salif Keita. […] The armed militants sent death threats to local musicians; many were forced into exile. Live music venues were shut down, and militants set fire to guitars and drum kits. The world famous Festival in the Desert was moved to Burkina Faso, and then postponed because of the security risk." [14] (Fernandes 2013)
In her article The Mixtape of the Revolution, Fernandes says that in Africa many rappers are "speaking boldly and openly about a political reality that was not being otherwise acknowledged, rappers hit a nerve, and their music served as a call to arms for the budding protest movements."[15] Regarding Egypt, the rapper Mohamed el Deeb in an interview with Fernandes said, "shallow pop music and love songs got heavy airplay on the radio, but when the revolution broke out, people woke up and refused to accept shallow music with no substance." [16] Music, politics and grass roots dissent are concrete expressions and an essential part of our collective freedoms. Alongside this, independent publishing as an alternative voice to the marketed franchises that dominate our gaze, sight, ears and minds, are needed more than ever. Yet, independent voices are being silenced and whittled down by wars, oppression and the neoliberal created financial crisis and its resulting austerity cuts.
What is to become of us if we lose our skills of discernment and slump into a homogenous consumer class, to define ourselves solely through marketed stereotypes and ideologies?
Agit Disco offers a festival of dance and dialogue for independent minded individuals and groups around the upturned burning car in the barricade against the coming zombie apocalypse.
It has been fun listening to all of the playlist contributions provided in Agit Disco. Below is my own Agit Disco playlist. You are welcome to add your own playlist in the comments section below (with links)…
Agit Disco 24. Marc Garrett.
Damien Dempsey – 'Dublin Town' (2000)
http://www.youtube.com/watch?v=brhO8pqTNHU
Asian Dub Foundation – 'Modern Apprentice' (2000)
http://www.youtube.com/watch?v=zgtWhjaOgQ4
Dan Le Sac & Scroobius Pip – 'Great Britain' (2010)
http://www.youtube.com/watch?v=YeV2cExvnMI
Kirsty MacColl – 'Fifteen Minutes' (2005)
http://www.youtube.com/watch?v=MSQrH3JUQ2s
Jeffrey Lewis – 'Do They Owe Us A Living?' (2007)
http://www.youtube.com/watch?v=jWU-W0SzVE0
The Pop Group – 'Forces of oppression' (1979)
http://www.youtube.com/watch?v=Txzmbu6o-gg
Kieron Means – 'I Worry For This World' (2005)
https://play.spotify.com/track/6AI2QujkrP6B2nfIUK55lY
Robyn Archer – 'Ballad on Approving of the World' (1984)
https://play.spotify.com/album/3hNQY8q9sO3M0R6es2d3ka
Robyn Hitchcock – 'Point it at Gran' (1986)
http://www.youtube.com/watch?v=_HFkimK9FAU
Sound of Rum – 'End Times' (2011)
http://www.youtube.com/watch?v=9dWPe7Au68A
Silver bullet – '20 Seconds to comply (final conflict)' (1990)
http://www.youtube.com/watch?v=24b6pYGT9MM
Maze – 'Color Blind (Featuring Frankie Beverly)' (1977)
http://www.youtube.com/watch?v=COY4gKLwV2I
Akala – 'Bullshit' (2006)
http://www.youtube.com/watch?v=mxpxpQ7j8Sg
Sarah Jones – 'Your Revolution' DJ Vadim (2000)
http://www.youtube.com/watch?v=E62SZ1CmBOI
Julian Cope – 'Soldier Blue' (1991)
http://www.youtube.com/watch?v=8dGOr-JpOmI
June Tabor – 'A place called England' (2009)
https://play.spotify.com/track/3YB6sSlLfB8kmMrrm5COKX