"a symbol of indeterminate meaning, floating/rotating into the empty white WAG room with no viewers" Bill Miller
Widget Art Gallery. July 17th – August 17th 2013.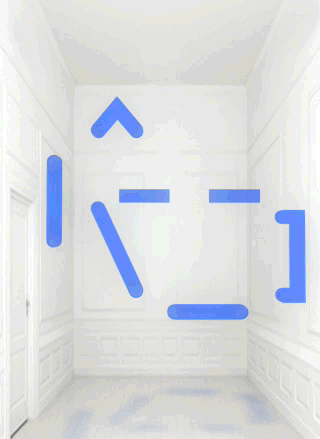 Chiara Passa's Widget Art Gallery (WAG) has been serving art online since 2009. Named for the ability to install the contents of its web pages as a Mac OS X "dashboard widget" or iOS icon, it presents virtual art objects against a standard backdrop or in a standard virtual environment that looks like a white-painted townhouse room repurposed as a small gallery space in an exclusive part of town.
The instructions for using the WAG are Apple hardware-centric, and as I don't have an Apple device I had to cheat and view it on my GNU/Linux desktop. Digital art's medium specificity consists in part of its reliance on the facilities of particular hardware and operating systems. This can be exclusive, not everyone owns Apple hardware, but it can also be realistic, Apple's hardware currently defines computing in the popular imagination.
The image of the gallery in the widget, like the image of a leather desk organizer or a wire mesh microphone in an mobile app, or the very idea of "the desktop" in a desktop GUI, it is a skeuomorph. It is a non-functioning symbolic form that cues the viewer in to the affordances that the experience of the software offers. Like the white cube of a real art gallery, it frames the experience of looking at the artwork and emphasises its seriousness, value, and singularity.
From July to August 2013 the work inhabiting this virtual space is Bill Miller's "A Symbol". The titular icon is a composition of soft light blue graphic elements that look like ASCII art that are not aligned to a teletype grid. Or like a misaligned LED matrix. It evokes the art of early military computer games, or the more complex emoticons, or maybe a lamp or a teapot. It rotates, blurs, flickers and stops, glitching and returning.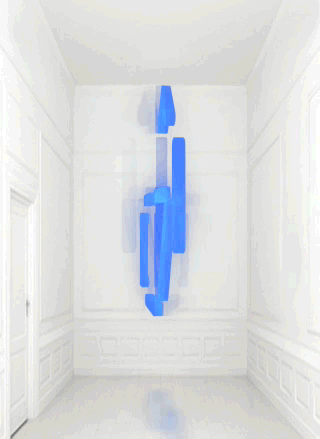 Widget Art Gallery installations are presented as animated GIFs, but they are different from the usual hilarious recuperations of Compuserve's low-bandwidth image format in their lack of all-overness and of mass media appropriation. Animated GIFs are often glitched, but with "A Symbol" it is the object depicted in the animated image that is glitching, not the image itself.
The rotating symbol used to be a staple of broadcast television identities. The flickering or glitching symbol signifies signal hacking, technical difficulties, or coming into or out of being by teleportation or rezzing. Popular culture reactions to technology emphasize its flaws and failures to make its smooth surfaces tractable to the imagination. But this symbol remains opaque and self-assured, always returning to its original state.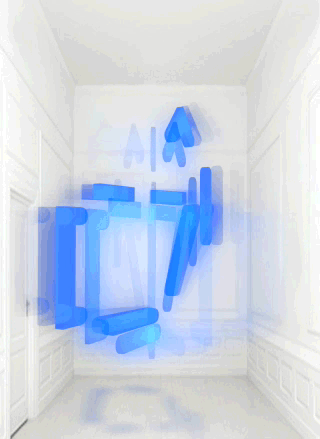 The symbol's reflection on the floor pushes it into and anchors it in the imaginary space of the gallery. Like drop shadows in graphic design or the handling of shadows and highlights in paintings it is a visual spatial strategy to make its subject seem more real and in the same space as the viewer. The rhythm and pauses in its rotation, especially the pauses, make it seem intentional and sculptural, they give it a solidity in time as well as space.
The accessibility and framing of the Widget Art Gallery mean that "A Symbol" can travel with and be accessed by its audience over time in a variety of settings, making it even more a reflection of their lives. "A Symbol" is retro digital but with a contemporary electroluminescent aesthetic glow like a Tron Legacy costume or an Android startup screen, militaristic but emotive, hard-edged but glitching, opaque yet evocative. It is a sign of the times.