DOWNLOAD PRESS RELEASE
The blockchain is widely heralded as the new internet – another dimension in an ever-faster, ever-more powerful interlocking of ideas, actions and values. Principally the blockchain is a ledger distributed across a large array of machines that enables digital ownership and exchange without a central administering body. Within the arts it has profound implications as both a means of organising and distributing material, and as a new subject and medium for artistic exploration.
This landmark publication brings together a diverse array of artists and researchers engaged with the blockchain, unpacking, critiquing and marking the arrival of it on the cultural landscape for a broad readership across the arts and humanities.
Contributors: César Escudero Andaluz, Jaya Klara Brekke, Theodoros Chiotis, Ami Clarke, Simon Denny, The Design Informatics Research Centre (Edinburgh), Max Dovey, Mat Dryhurst, Primavera De Filippi, Peter Gomes, Elias Haase, Juhee Hahm, Max Hampshire, Kimberley ter Heerdt, Holly Herndon, Helen Kaplinsky, Paul Kolling, Elli Kuru , Nikki Loef, Bjørn Magnhildøen, Rob Myers, Martín Nadal, Rachel O Dwyer, Edward Picot, Paul Seidler, Hito Steyerl, Surfatial, Lina Theodorou, Pablo Velasco, Ben Vickers, Mark Waugh, Cecilia Wee, and Martin Zeilinger.
Read a review of the book by Regine Debatty for We Make Money Not Art
Read a review of the book by Jess Houlgrave for Medium
Gretta Louw reviews Abrahams' book from estranger to e-stranger: Living in between languages, and finds that not only does it demonstrate a brilliant history in performance art, but, it is also a sharp and poetic critique about language and everyday culture.
Review.
Annie Abrahams is a widely acknowledged pioneer of the networked performance genre. Landmark telematic works like One the Puppet of the Other (2007), performed with Nicolas Frespech and screened live at the Centre Pompidou in Paris, or her online performance series Angry Women have solidified her position as one of the most innovative net performance artists, who looks not just at the technology itself but digs deeper to discover the ways in which it impacts human behaviour and communication. Even in the present moment, when online performativity is gaining considerable traction (consider the buzz around Amalia Ulman's recent Instagram project, for example), Abrahams' work feels rather unique. The strategy is one of contradiction; an intimacy or emotionality of concept and content, juxtaposed against – or, more accurately, mediated through – the technical, the digital, the screen and the network to which it is a portal. Her recent work, however, is shifting towards a more direct interpersonal and internal investigation that is to a great extent nevertheless formed by the forces of digitalisation and cultural globalisation.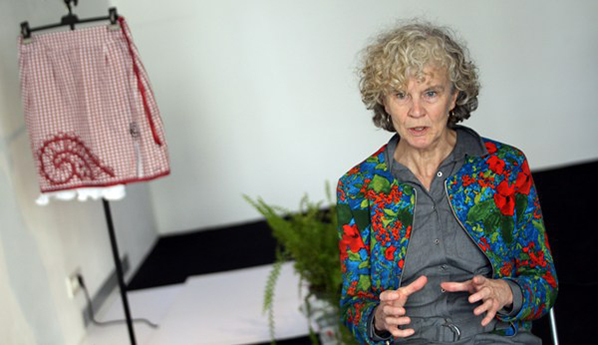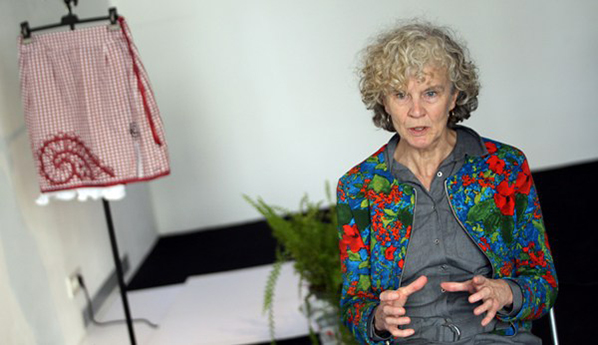 (E)stranger is the title that Abrahams gave to her research project at CONA in Ljubljana, Slovenia, and which led to the subsequent exhibition, Mie Lahkoo Pomagate? (can you help me?) at Axioma. The project is an examination of the shaky, uncertain terrain of being a foreigner in a new land; the unknowingness and helplessness, when one doesn't speak the language well or at all. Abrahams approaches this topic from an autobiographical perspective, relating this experiment – a residency about language and foreignness in Slovenia. A country with which she was not familiar and a language that she does not speak – regressing with her childhood and young adulthood experiences of suddenly being, linguistically speaking, a fish out of water. This experience took her back to when she went to high school and realised with a shock that, she spoke a dialect but not the standard Dutch of her classmates, and then this situation arose again later when she moved to France and had to learn French as a young adult.
There are emotional and psychological aspects here that are significant and poignant – and 'extremely' often overlooked. The way one speaks and articulates oneself is so often equated with intelligence and authority – and thus the foreigner, the newcomer, the language student, is immediately at a disadvantage in the social hierarchy and power distribution. Then, there are the emotional aspects and characteristics requisite for learning a language; one must be willing to make oneself vulnerable, to make mistakes. This is a drain on energy, strength, and confidence that is rarely if ever acknowledged in the current discourse around the EU, migration, asylum seekers, and – that dangerous word – assimilation. Abrahams lays her own experiences, struggles, and frustrations bare in a completely matter-of-fact way, prompting a re-thinking of these commonly held perceptions and exploring the ways that language pervade seemingly all aspects of thought, self, and relationships.
Of course this theme is all the more acute in a world that is increasingly dominated by if not the actual reality of a complete, coherent, and functioning network, then at least the illusion of one. In a world where, supposedly, we can all communicate with one another, there is increasing pressure to do so. Being connected, being 'influential' online, representing and presenting oneself online, branding, image – these are factors that are becoming virtues in and of themselves. Silicon Valley moguls like Mark Zuckerberg have spent the last five or six years carefully constructing a language in which online sharing, openness, and connectivity are aligned explicitly with morality. Just one of the many highly problematic issues that this rhetoric tries to disguise is the inherent imperialism of the entire mainstream web 2.0 movement.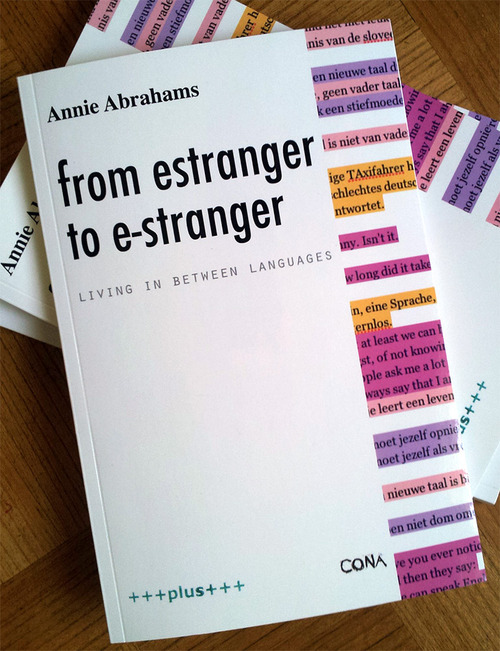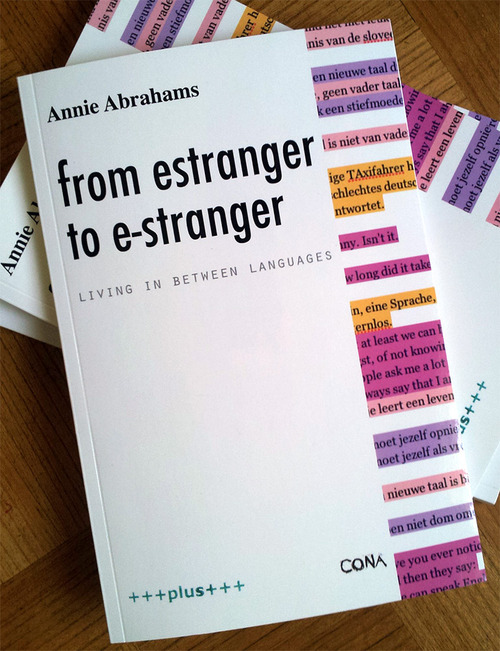 Abrahams' book from estranger to e-stranger: Living in between languages is the analogue pendant to the blog, e-stranger.tumblr.com, that she began working on as a way to gather and present her research, thoughts, and documentation from performances and experiments during her residency at CONA in April 2014 and beyond. Her musings on, for instance, the effect dubbing films and tv programs from English into the local language, or simply screening the English original – how this seems to impact the population's general fluency in English – raise significant questions about the globalisation of culture. And the internet is arguably even more influential than tv and cinema were/are because of the way it pervades every aspect of contemporary life.
This leads one irrevocably to consider the digital colonialism of today's internet; the overwhelming dominance of western, northern, mainstream, urban, and mostly english-speaking people/systems/cultural and power structures. [1] Abrahams highlights the way that this bleeds into other areas of work, society, and cultural production, for example, through her citation of Mladen Stilinovic's piece An Artist Who Cannot Speak English is No Artist (1994). In a recent blog post, Abrahams further reveals the systematic inequity of linguistic imperialism and (usually English speakers') monolingualism, when she delves into the language politics of the EU and its diplomacy and parliament [http://e-stranger.tumblr.com/post/139842799561/europe-language-politics-policy].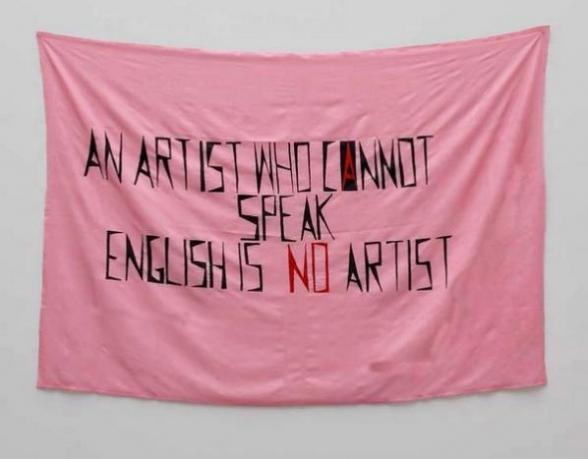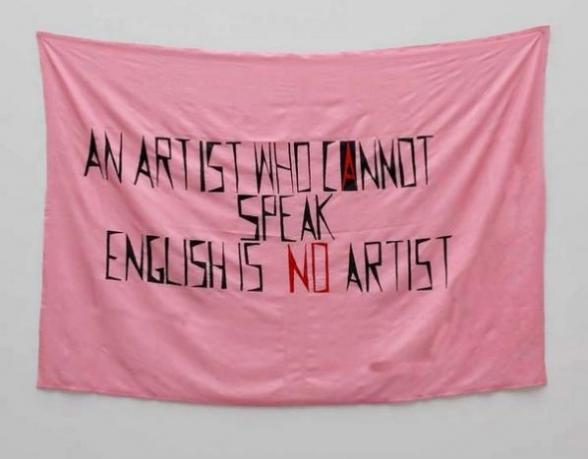 from estranger to e-stranger is an almost dadaist, associative, yet powerful interrogation of the accepted wisdoms, the supposed logic of language, and the power structures that it is routinely co-opted into enforcing. It is a consciously political act that Abrahams publishes her sometimes scattered text snippets – at turns associative or dissociative – in a wild mix of languages, still mostly English, but unfiltered, unedited, imperfect. A rebellion against the lengths to which non-native speakers are expected to go to disguise their linguistic idiosyncrasies (lest these imperfections be perceived as the result of imperfect thinking, logic, intelligence). And yet there is an ambivalence in Abrahams' intimations about the internet that reflect the true complexity of this cultural and technological phenomena of digitalisation. Reading the book, one feels a keen criticism that is justifiably being levelled at the utopian web 2.0 rhetoric of democratisation, connection etc, but there are also moments of, perhaps, idealism, as when Abrahams asks "Is the internet my mother of tongues? a place where we are all nomads, where being a stranger to the other is the status quo."
Abrahams' project is timely, especially now that we are all (supposedly) living in an infinitely connected, post-cultural/post-national, online society, we are literally "living between languages". The book is an excellent resource, because it is not a coherent, textual presentation of a thesis; of one way of thinking. It is, like the true face of the internet, a collection, a sample, of various thoughts, opinions, ideas, and examples from the past. One can read from estranger to e-stranger cover to cover, but even better is to dip in and out, and or to follow the links and different pages present, and be diverted to read another text that is mentioned, to return, to have an inspiration of one's own and to follow that. But to keep coming back. There is more than enough food for thought here to sustain repeated readings.
Charlie Gere is a Professor of Media Theory and History in the Lancaster Institute for Contemporary Arts, Lancaster University. Co-curator of FutureEverybody the 2012 FutureEverything exhibition in Manchester. In 2007 he co-curated Feedback, a major exhibition on art responsive to instructions, input, or its environment, in Gijon, Northern Spain. He has given talks at many major arts institutions, including the Centre de Cultura Contemporània de Barcelona, the Architectural League in New York, Tate Britain, and Tate Modern. Gere's new book, Community without Community in Digital Culture (Palgrave MacMillan, 2012), is out now.
Previous titles include: Digital Culture (Reaktion Books, 2002), Art, Time and Technology (Berg, 2006), Non-relational Aesthetics, with Michael Corris (Artwords, 2009). Gere was co-editor of White Heat Cold Logic (MIT Press, 2009), and Art Practice in a Digital Culture (Ashgate, 2010), as well as writing many papers on questions of technology, media and art. He is also co-editing with Robin Boast an anthology entitled Allegories of the Information Age (forthcoming).
Marc Garrett: Digital Culture was originally published in 2002, which happens to be the version I've had all these years. In 2008 it was republished, revised and expanded. Now the book has an extra chapter 'Digital Culture in the Twenty-first Century'. Of course, we already know that digital technology and society has changed dramatically since 2002. So, what themes and historical contexts did you choose, as necessary to include in this new and last chapter?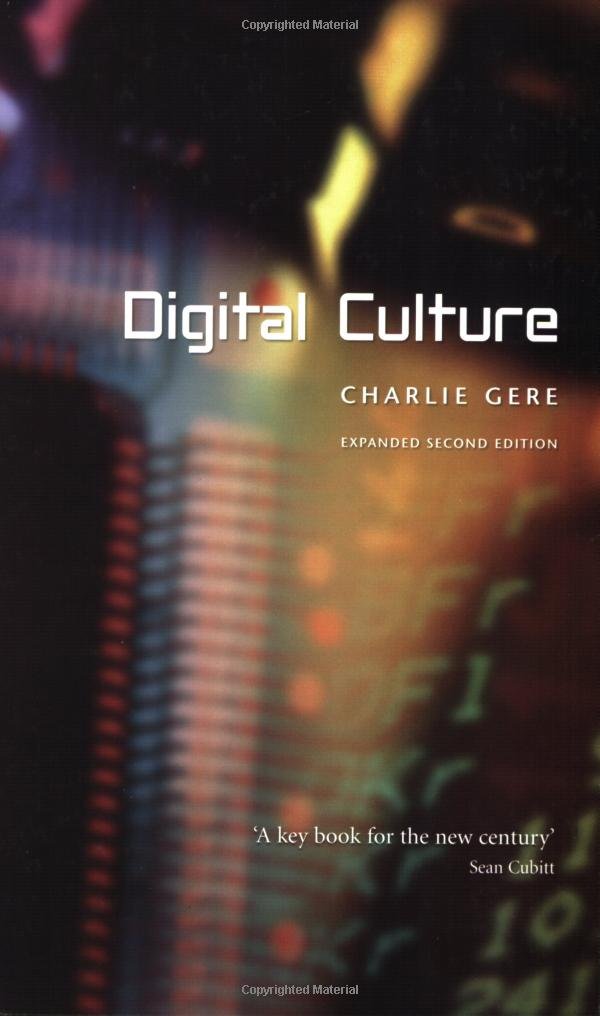 Charlie Gere: What happened after the publication of the first edition was of course the rise of so-called Web 2:0, which was simply the greater exploitation of the reciprocal possibilities of the Web. I tried to reflect on how this reciprocity was visible beyond the Web itself, and was becoming part of a more general culture of engagement and exchange, not that I share some of the more utopian visions of this phenomenon. Indeed, in my new book Community without Community in Digital Culture I try to counter the, for me, more naive visions of community in relation to digital technology. I advocate a more 'non-relational' approach that does not deny the transformative effects of new media in terms of community, but thinks of it more in terms of hospitality to the other.
MG: Many of the artists we have worked with are using new media to explore and critique the utopian assumptions you discuss: YOHA, IOCOSE, Liz Sterry, M.I.G (Men In Grey, Julian Oliver and Danja Vasiliev), Heath Bunting, Face to facebook (Paolo Cirio and Alessandro Ludovico), Annie Abrahams and more. Each of them work in a deeply relational way to intervene in the mythologies projected about digital technology; and, with a knowingly crtical eye of the technical limitations and the social controls at work when using networked technology. At different levels, all are producing work that 'consciously' incoporate relational contexts, in some way or another, this includes ideas and approaches with autonomy as part of their art, but not necessarily advocating technology as a singular, saving grace.
How do you view the role of this practice in the context of the wider corporate and state impact on the way technical cultures are evolving. How do you see the notion of hospitality working between the arts and these other more mainstream cultures?
CG: I greatly admire and like the work of the artists you mention and others doing similar things. For me they exemplify the complexity of the idea of hospitality. In general the Web is about exchange, whether that of money for goods, social links and relational exchanges in social networks, or the exchange of speech and dialogue in on-line fora. The work of these artists refuses this demand for exchange and profit within a restricted economy. Thus they are in a sense parasitical on the Web. The word 'parasite' comes from 'para sitos', meaning 'beside the grain', and refers to those animals that take advantage of grain stores to feed. They are the creatures to who must be offered hospitality, as a gift, without expectation of return, which means that while they are bound up with the technological systems that comprise the Web, they are not part of the restricted economy of exchange, profit, and return that is at the heart of capitalism, and to which everything else ends up being subordinated and subsumed. Thus they find an enclave away from total subsumption not outside of the market, but at its technical core.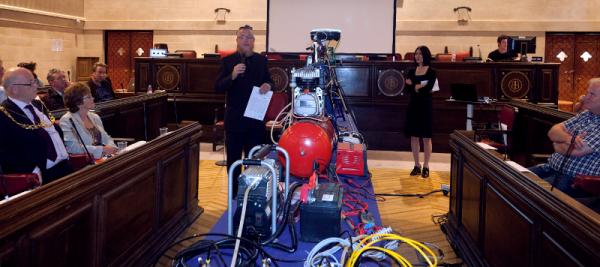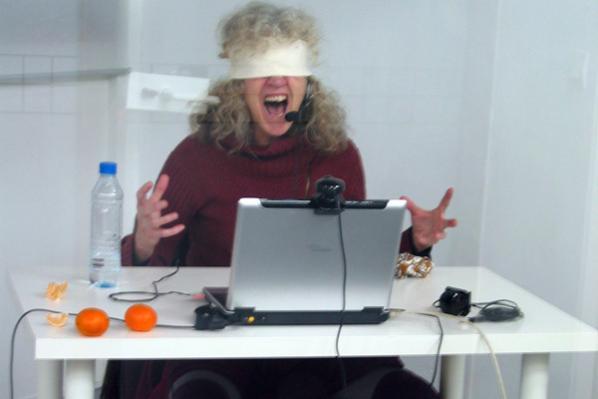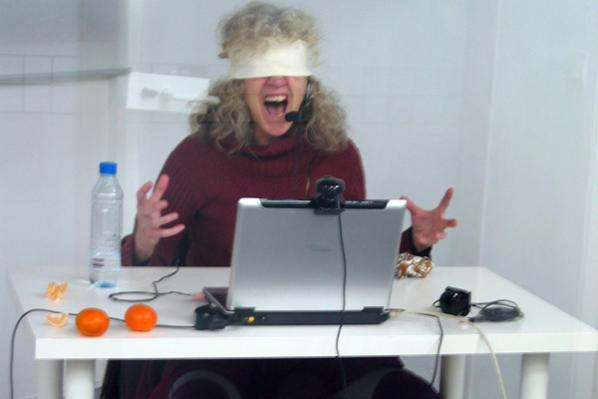 MG: Many are aware that technology and digital culture has changed the world we live in, and appreciate its immediate effects on our everyday behaviours and situations. But, there is a bigger story to tell and history can offer us insightful glimpses, important clues and ways into this story about our relationship with technology and digital culture. One of the arguments outlined in your book 'Digital Culture' is that, digital culture is neither radical, new nor technologically driven. With this in mind, which past developments do we need to acknowledge and be reminded of and why?
CG: For me the emergence of digital technology is part of a much longer story of abstraction, codification, quantification and mathematisation that can be traced back to numerous points in the history of the West, from Ancient Greece, to early Modernity to the rise of industrial capitalism. Here one might think of Heidegger's use of 'cybernetics', a word we normally associate with post-war computing culture, to describe the technology and calculative enframing of modern society which he traces back to the Ancient Greeks and especially to Plato. I am not a particular advocate of digital technology, and while I appreciate its uses, I also think we must try to be aware of how it determines the way in which we think, and in which we conceive of the world. Above all we should not regard it as merely a conduit to an uncomplicated world simply out there, but rather the means by which a particular world comes to be for us. That said, this is very hard, given that in my view, and to adapt a well-known phrase from Derrida, il n'y a pas de hors-media, there's no Archimedean point outside of our medial condition, from which we can understand it as from a god's eye view. 'Media determine our situation' as Friedrich Kittler put it.
MG: In Digital Culture, you write about the composer John Cage and how he "has had the most profound influence on our digital culture", and how his influence has opened up various different avenues of creative engagement. And, many of his ideas on interactivity and multi-media not only "have repercussions in the art world", but also a strong influence on how computers are used as a medium. Which art movements in particular did he influence and what kind of legacy did he leave for others in relation to computers?
CG: Actually Cage's influence on those using computers in the arts is probably less to do with what he himself did with such technology and more to do with his use of aleatory methods in many his different projects across many artforms. Also there is something about Cage's own refusal of a normative Western subjectivity that is also consonant with aspects of our hyper-technologised existence with its emphasis on decentering the individual. Both the refusal of such subjectivity and the aleatory work together to produce a new model of the artist as conduit of contingent social forces rather than protean demi-urge or genius.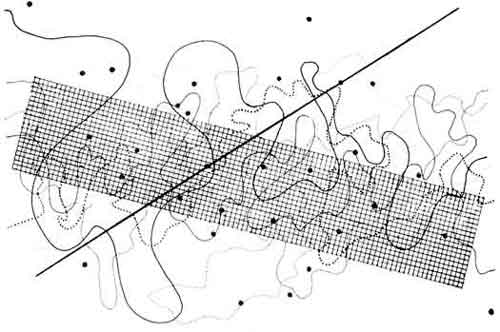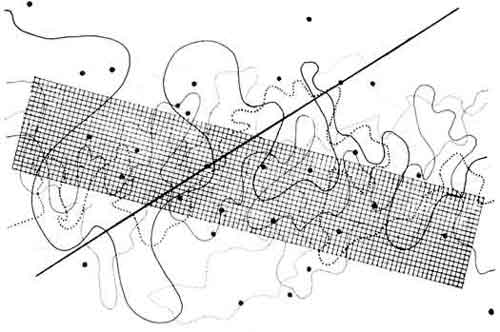 MG: Your new book 'Community without Community in Digital Culture', has come out at the same time as Geert Lovink's 'Networks Without A Cause: A critique of Social Media'. Lovink asks "How do we overcome this paradoxical era of hyped-up individualization that results precisely in the algorithmic outsourcing of the self? How do we determine significance outside of the celebrity paradigm and instead use intelligence to identify what's at stake?" [1]
Where are your thoughts in regard to Lovink's question, and does it relate to what you propose in terms of "hospitality to the other?"
CG: I haven't read Geert's book, yet at least… But I am highly sympathetic to what I take to be his position. My view is that the Web is part of a broader set of developments that apparently concern relationally, but actually emphasize the sovereign individual and autonomous subject of modernity, as well as promoting spectacular and image-bound forms of presentation and relation. The problem is that one alternative to this individualization is a kind of fascistic identification with the mass, in the form of fusion that negates the individual. A solution maybe to engage with the idea of the other in terms of difference, as both relational and separate, and yet also that which we depend on for our identity in a process of differentiation; thus the idea of hospitality as a reception of the other in difference.
MG: Community without Community in Digital Culture, is a curious title. It proposes contradictory meanings and these contradictions are clearly explained in the introduction. Although, the last sentence says "In this such technologies are part of the history of the death of God, the loss of an overarching metaphysical framework which would bind us together in some form of relation or communion. This can be understood in terms of contingency, which has the same root as contact."
Could you unpack this last sentence for us, I'm especially interested in what contingency means to you?
CG: I owe my understanding of contingency to the work of philosopher Quentin Meillassoux, whose book After Finitude is causing a stir. Meillassoux is one of a small number of young philosophers sometimes grouped together under the name 'speculative realism', mostly because of their shared hostility to what they call 'Kantian correlationism', the idea that there can be no subject-independent knowledge of objects. Meillassoux follows the work of David Hume, who questioned the whole notion of causation; how one can demonstrate that, all things being equal, one thing will also cause another. For Hume causation is a question of inductive reasoning, in that we can posit causation on the grounds of previous experience. Meillassoux pushes the implications of Hume's critique of causation to a point beyond Hume's own solution, to propose the only necessity is that of contingency, and that everything could be otherwise, or what Meillassoux calls 'hyperchaos'.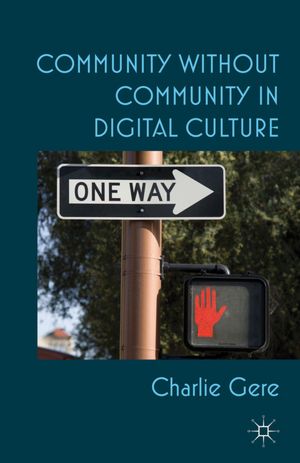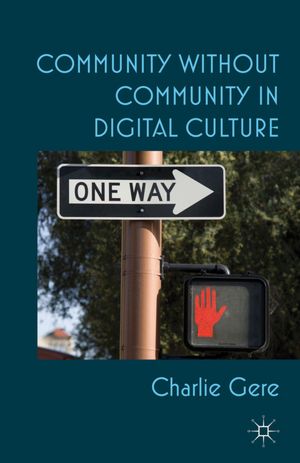 I use his ideas to think through the implications of the 'digital'. According to the Oxford English Dictionary 'digital' has a number of meanings, including '[O]f, pertaining to, using or being a digit', meaning one of the 'ten Arabic numerals from 0 to 9, especially when part of a number', and also 'designating a computer which operates on date in the form of digits or similar discrete data… Designating or pertaining to a recording in which the original signal is represented by the spacing between pulses rather than by a wave, to make it less susceptible to degradation' (the word for data in the form of a wave being 'analog').
As well as referring to discrete data the dictionary also defines 'digital' as '[O]f or pertaining to a finger or fingers' and [R]esembling a finger or the hollow impression made by one', thus by extension the hand, grasping, touching and so on. Much of the book concerns deconstructing the 'haptocentric' implications of contact, and communication, especially in relation to the claims made for social networks, and to engage with what I understand as the relation between 'contact' and contingency'. 'Contingency' is derived from the Latin con + tangere, to touch. 'Contingency' enables us think through the implications of the term digital, by acknowledging both its relation to the hand and touch and also to the openness and blindness to the future that is a concomitant part of our digital culture after the death of God.
MG: What other subjects can we expect to read about in the publication?
CG: Touch in Aristotle and medieval theology, cave painting, mail art, Darwin and Dawkins, Luther Blissett, On Kawara, Frank Stella, Bartleby the Scrivener, Christianity – among other things… oh, and a lot of Derrida.
MG: If there is a message you'd like to send to the world, as it carries on regardless with its "permanent exposure of life, of all lives, to 'all-out' control […] thanks to computer technology" [2] (Virilio 2000), and it was printed on a banner, or on a billboard in the streets, what would it be?
I am reading Blanchot at the moment, so perhaps something like 'the disaster has already happened' (it's suitably enigmatic to annoy people).
<———————————- The End (for now) ——————————>