'About 50% of global trade is channelled through tax havens and 83 of the 100 largest multinationals are based in the Netherlands for fiscal reasons. The flow of money seeks the path of least resistance – but where exactly do those paths lie today?'
This is how graphic designer Femke Herregraven began a presentation about her new online game Taxodus. Herregraven designed the prototype of Taxodus, a game about offshore tax avoidance, during a master class at Sandberg-Mediafonds. The offshore system offers companies advantages in countries where legislation relating to non-nationals guarantees certain privileges, for example, when it comes to corporate structures, in certain areas of business confidentiality, or low taxation. Taxodus is an accessible way to discover how you can avoid paying taxes, and if you can't get away with it completely, how you can make sure you pay the lowest possible amount.
Annet Dekker: Taxodus is a game about offshore business practices. How does it work?
Femke Herregraven: As a player you choose an existing multinational company or bank with a specific profile and then you look for the most favourable countries to set up a subsidiary and accumulate income by paying as little tax as possible. Each country has a specific transaction profile. For example, companies involved with Intellectual Property Rights find the Netherlands most appealing, while oil companies are drawn to other countries. The game offers a random number of options and calculates what these yield for you. You can compare the results with other countries to achieve the game's goal of reaching the end with as little expenditure as possible. The game is based on actual information on withholding tax in global tax treaties.
AD: This isn't a topic you usually encounter in art. Where does your interest in this subject originate?
FH: In 2010 I was asked by the Virtueel Museum in Amsterdam to research the identity of the Zuidas during a residency. The Zuidas, which literally translates as 'South Axis', also known as the 'Financial Mile', is a large, rapidly developing business district in Amsterdam. Much like Richard Florida, they wanted to 'cheer up' the neighbourhood. My questions about the companies located there received only vague responses; there weren't any lists, or names, or post boxes, and with the exception of known names like Google and Facebook, the other companies that are based there was a mystery. To trace what type of businesses might be located there I spent weeks indexing the entire Zuidas from the Chamber of Commerce's trade register. I indexed the occupants by street and house number and then compiled three telephone books from the data. All sorts of unusual data and patterns became evident – some addresses only have one occupant, while others have more than a thousand of the so-called mailbox companies that only exist on paper. This is also apparent from the names: some only consist of Roman numerals.
All this information piqued my curiosity and I wondered why these companies were situated there and what they were up to. The next step was delving into Dutch tax law and it became clear that there are enormous financial benefits to setting up a company in the Netherlands. This is a major selling point when Holland is promoted abroad. The entire offshore system has operated below the radar for a long time – sometimes we catch a glimpse of it – but quite how it works in its entirety almost no one knows. The first step to understanding this is visualising it to gain insights, and then you can ask specific questions. Taxodus classifies this information by visualising it: from mining in the Congo to oil companies in Italy and Libya.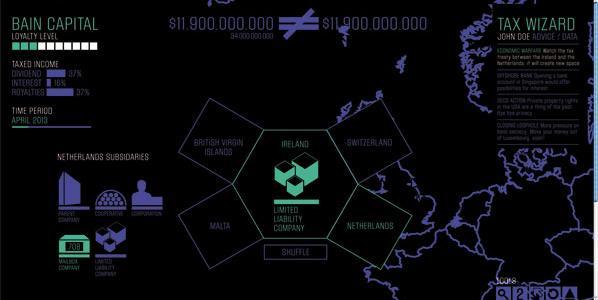 AD: It all sounds very murky!
FH: It's all completely legal, but shady at the same time. If a foreign company doesn't want to open a physical office in the Netherlands, it hires a trust office that takes care of the bookkeeping, drafts the annual reports and appoints a CEO. There are countless small trust offices that manage huge numbers of foreign companies on paper. Everything is done according to Dutch law and the tax benefits in Holland are hugely beneficial for foreign companies. For example, small businesses in the Netherlands pay more than thirty per cent tax, while foreign companies avoid a large part of that taxation due to tax planning. The presumption that foreign companies basing themselves in Holland is beneficial for national employment is also misleading because most of these companies only exist on paper and don't employ anyone. The trust offices advise against opening a physical office and taking on any staff because Holland attaches great value to its employment policy, which makes dismissing personnel difficult. A 'mailbox' company avoids all these complications.
AD: But the way in which you visualise this is also subjective because you manipulate the data.
FH: Yes, I selected companies that people will know or which appeal to the imagination. Unfamiliar names won't really be noticed, but once you realise that almost everyone participates in this system, from Mitt Romney's Bain Capital, Walmart, Google and Facebook to Chanel, then it takes on a different immediacy or value for many people. If you look at this on a wider scale – globally – you will see, for example, that 60 per cent of large companies in Portugal, Italy, Greece and Spain use the Netherlands to take advantage of these types of constructions. This is legal and it's also beneficial to the Netherlands, but when Dutch politicians insist on more transparency from Greece and lecture the country from up on high it smacks of hypocrisy. You see the same thing with a lot of development aid to countries in Africa: most of that money is diverted to the bank accounts of African leaders in offshore tax havens. Someone has done the maths: the debt of the entire African continent is less than the monies African leaders hold in offshore tax havens. A 'mailbox' company by itself is not that suspicious, but with everything else it creates the holes through which (public) money can disappear. My primary intention is to make these flows of money visible and question them, because once it's out in the open people can decide for themselves if this is our idea of a sustainable economy.
AD: Of course, your game can also be interesting for existing companies who can use it to see where and how they can best invest? Is Taxodus the new Monopoly?
FH: Yes, in a way it is, but in reality companies have been doing this for ages. General Electric supposedly has a department employing about a thousand people who are busy with this on a full-time basis. I don't think my game will suddenly improve things. Yet, the point is that the knowledge about international tax planning is now only in the hands of experts like fiscal lawyers and accountancy firms, and isn't accessible to the rest of us. That's also what Taxodus is about, making a tool so that we can track what they're up to.
Monopoly is an interesting comparison because it originated as a critique of capitalism and private monopolies. The games are comparable, but Taxodus goes further. If you make a move in the game that correlates to reality then you are informed about this and receive a reality-bonus. It's at this point in the game that investigative journalism comes into play.
AD: How do you relate to investigative journalism?
FH: My projects frequently begin from a journalistic position and for this one I meet with journalists, fiscal lawyers and researchers quite often. Yet, I'm a designer and I don't want to write articles but use other methods to provide insights into topics. For me design is not an end in itself but a way to research, express and contribute to debates in society. This means also collaborating with other disciplines and experts: a group of fiscal experts is currently helping to remove errors and provide feedback. Obviously, it's impossible to create a 1:1 translation, there will always be things that aren't entirely accurate or that have to be left out, but it is important that the broad outlines are clear and correspond with reality.
AD: Why a game?
FH: Avoiding and evading tax is complex but you can learn the psychology of this system by playing the game. Taxodus is actually a kind of chess game. The rules aren't simple and your eventual benefits depend on all sorts of interrelated factors. You have to continually take strategic decisions to advance in the game. All this information is incorporated into the game and the various tax treaties between different countries gradually become clearer. You are aided in this by advisors. At the start of the game you chose a particular advisor. Different advisors offer different advice, some will try to find legal alternatives while others try to convince you to bend the rules. Players can ask for a second opinion at any point in the game and manipulate regulations and treaties. This enables players to steer the game in the direction they choose. As in reality, a player has to have the possibility to have complete control. Ideally the game should be a do-it-yourself kit that you can add things to, an open game of strategy.
AD: What do you mean exactly? Can you name an example?
FH: The simplest way is to play it alone; the more complicated version is played with others in real time. At a certain point you can earn loyalty points by, for instance, evading high taxation for your parent company. Once you've arrived at the loyalty level, you can change roles, perhaps becoming a government employee who modifies regulations ever so slightly to make it more beneficial for yourself. You can also block other players in this way. This is an obvious reference to the increasing merging and blurring of the interests of large corporations and political leaders.
AD: How do you keep up with actual changes in the real world?
FH: It isn't as if new information is constantly being made available – a lot of countries are reluctant or refuse to release 'sensitive' information. Tax treaties and regulation doesn't change too often, but when they do, these changes will also be incorporated in the game. The English researcher Nicolas Shaxson, who is very active in charting the offshore system, says that people have to first become aware of what's happening before they can think about how to deal with it. I hope my game and visualisations can contribute to this awareness raising.
AD: When or how does the game end?
FH: You have a certain amount of time before you have to submit an annual report for your company, then your trajectory is incorporated into the database and you can see what your score is. You can also compare it to other players and download their fiscal structure, which adds an element of competition and makes it a crowd-sourced investigation. By playing you contribute to the research and help expose the layers.
AD: Will Taxodus be a commercial success?
FH: My main concern is to make a tool that makes this small yet incredibly significant part of our opaque financial world more transparent, and especially more public. I think artists have a responsibility to broach topics like this. People find it all quite shocking when I tell them about Taxodus, but for those who are directly involved in the actual system it's mere child's play. This type of project can stimulate discussion and determine what is and what isn't desirable.
This approach was shown to be successful with another project, the Art Reserve Bank. We set up a bank with a small group of artists and designers and introduced a new currency in the heart of the Zuidas as a way to encourage discussions about the financial sector. Our bank – a vault, an exchange counter and a glass house with a minting press: a bank brought back to basics – is located across from the ABN AMRO headquarters, and each day some of the employees and other people come by to see what we're doing and have a chat. People also buy our coins, which are designed by a different artist each month. It doesn't always go smoothly, but there is certainly enough curiosity. One problem is that people are personally interested but refuse to make any statements in a professional capacity. De Nederlandsche Bank (the Dutch central bank) recently sent us a letter stating that we cannot use the word 'Bank', threatened us with a fine of up to 2 million euros and invited us for a talk. These types of discussions are what we aim to achieve. Our goal isn't necessarily to introduce a new currency; instead we want to underscore that fact that the bankers and financial experts of this world do not have exclusive rights to debate and decide what happens on financial markets.
———
A Dutch version of this interview appeared in Tubelight, September 2012.
Femke Herregraven: http://www.bitcaves.net
I met Eugenio Tisselli in Edinburgh at the Remediating the Social conference in November 2012. Eugenio gave a presentation on the project Sauti ya wakulima, "The voice of the farmers": A collaborative knowledge base created by farmers from the Chambezi region of the Bagamoyo District in Tanzania, and "by gathering audiovisual evidence of their practices they use smartphones to publish images and voice recordings on the Internet", documenting and sharing their daily practices.
I was struck by his sensitivity to the social contexts and political questions around this type of project engagement. This interview explores the challenges we all face in connecting to a deeper understanding of what technology can succeed in doing beyond the usual hype of the 'New' and its entwined consumerist diversions. Not only does the conversation highlight how communities can work together in collaborating with technology on their own terms. But, it also discusses the artists' role in the age of climate change and the economic crisis, locally and globally.
Marc Garrett: Can you explain how and why the Sauti ya wakulima, "The voice of the farmers" project came about?
Eugenio Tisselli: Sauti ya wakulima is the fruit of my collaboration in the megafone project, started in 2004 by Catalan artist Antoni Abad. During six years, we worked with different groups at risk of social exclusion, such as disabled people, immigrants or refugees. The idea was to provide these groups with the tools to make their voices heard: smartphones with a special application that made it easy to capture images, sound recordings or short videos, and a web page where these contents could be directly uploaded. Using these tools, the participants of each project were able to create a collaborative, online "community memory", in which they could include whatever they considered to be relevant. Although megafone was relatively successful and, in some cases, made a positive impact on the people who participated, I was worried that the project was becoming too dispersive. We worked in six countries, with extremely different groups. So, in 2011, I decided to follow my own path and apply a similar methodology into more focused projects, related with sustainable agriculture and environmental issues. I realized that the projects which sought to increase the empowerment of a community could become too complex for a single artist to handle. That's why, in Sauti ya wakulima, I'm not "the artist", but a member of a transdisciplinary team which includes biologists, agricultural scientists and technicians. Such a team came together after my PhD advisor Angelika Hilbeck, my colleague Juanita Sclaepfer-Miller and myself came across the possibility of working with farmers in Tanzania. The network formed by local researchers, farmers and ourselves was quickly formed, so we started the project on March, 2011.
MG: I find it interesting that you made the decision to put the role of artist aside. This reminds me of a discussion in Suzi Gablik's book published in 1995 'Conversations before the end of time'; where James Hillman in an interview talks about learning to refocus our attention from ourselves and onto the world. Further into the conversation Gablik says "In our culture, the notion of art being a service to anything is an anathema. Service has been totally deleted from our view point. Aesthetics doesn't serve anything but itself and its own ends".[2]
So, I have two questions here. The first is how important was it for you to put aside your status as an 'artist', and what difference did it make?
And, where do you think you and others may fit when considering the discussion between Gablik and Hillman?
ET: It is important for me to make it clear that I didn't abandon my role as an artist. Instead, I fully assumed my status, but only as a member of a transdisciplinary team. I believe that this may be a point of departure from the classical view of the artist as a "lone genius", which is closely related to the discussion about service in art. So I'll try to interweave both questions together. In a recent publication, Pablo Helguera aimed to set a curriculum for socially engaged art. He identified the new set of skills to be acquired by the artists, and the issues they must address when dealing with social interaction. But, as Helguera suggests, perhaps what's most important is to overcome the "prevailing cult of the individual artist", which becomes problematic for those whose goal is "to work with others, generally in collaborative projects with democratic ideals." [3] To me, this implies that the artist must give up control of the work to a certain degree. I find myself in this scenario, and I think of my role in Sauti ya wakulima as that of an instigator and coordinator. Furthermore, all of us involved in Sauti ya wakulima aim to effect actual changes in the lives of the participating farmers, rather than obtaining purely symbolic results. Our project is a socially engaged artwork that wants to be useful, to deliver a service.
We are living in urgent times, beyond any doubt. Looming global challenges, such as climate change, radically cancel the luxury of being useless, of not doing anything. This includes the artist who, as any other citizen, is called to use his or her abilities to help in preventing a catastrophe. I especially like Franco "Bifo" Berardi's proposal about the new task that the artist might assume: that of reconstructing the conditions for social solidarity. This work of reconstruction would oppose competition, a value often found in the markets that deal with self-referential, self-serving artworks. Solidarity, writes Berardi, is neither an ethical nor a political program, but a pure aesthetic pleasure [4]. In my opinion, the artists who still embrace the idea that art should only serve its own ends will become those who play the lyre while our world burns.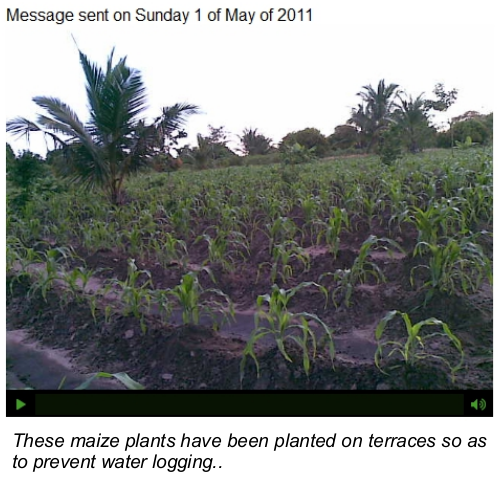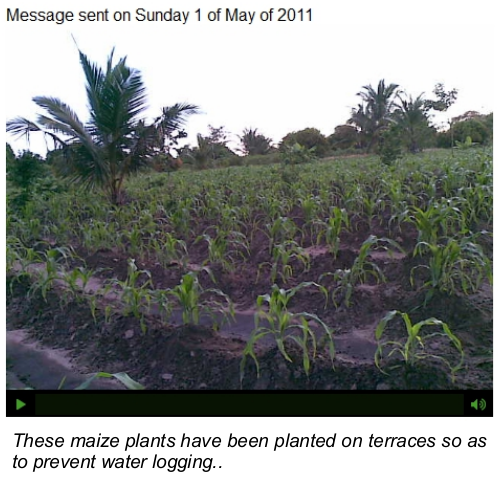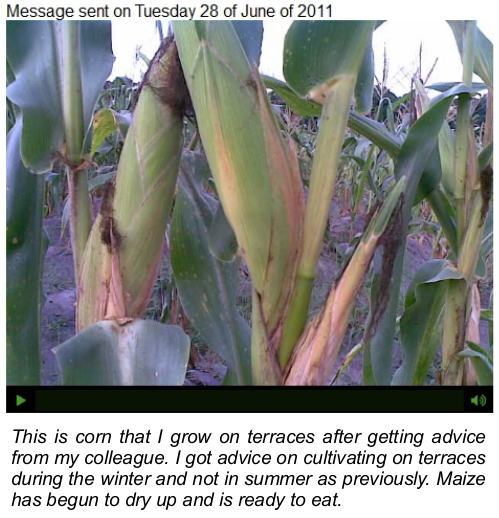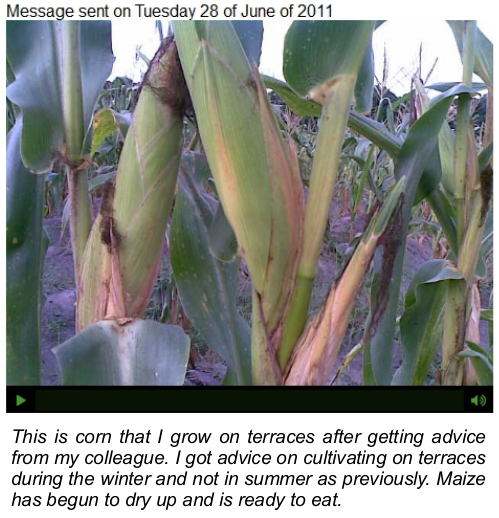 MG: What kind of behaviours began to emerge once the farmers took control of the smartphones supplied?
ET: It was quite interesting to see that the farmers started to use the phones for purposes which were different from those that we had originally proposed. This happened very soon after the project started. Only one month had passed, and the farmers had already started to go beyond merely documenting the effects of climate change. They interviewed other farmers, and asked them all sorts of questions about their crops and agricultural techniques, their opinions and views. In short, they slowly laid out a web of mutual learning. This was a real eye-opener for us. As we began to observe this, the environmental researchers in the team became worried that the farmers were deviating from the goals that we had set. I wanted to leave room for this deviation, as I was particularly interested in studying the process of technological appropriation. So I had to convince the researchers that we should leave enough room for the farmers to freely explore the potentials of the smartphones. It was not easy but, in the end, negotiating the tensions between a goal-oriented and an open-ended research turned out to be quite fruitful.
On one hand, the farmers found that they could shape the project to fit their interests which, as they said, were to "learn about what other farmers in remote areas were doing." On the other, the researchers finally realized that the images and voice narrations posted by the farmers were an invaluable source of information about what was actually going on in the farms and within the communities. Sometimes, agricultural initiatives may be designed with an insufficient understanding of the social context in which they are applied. By allowing the farmers to publish a wide range of topics, Sauti ya wakulima became a "community memory" that reveals rich details about farming and the social life of rural communities in Bagamoyo.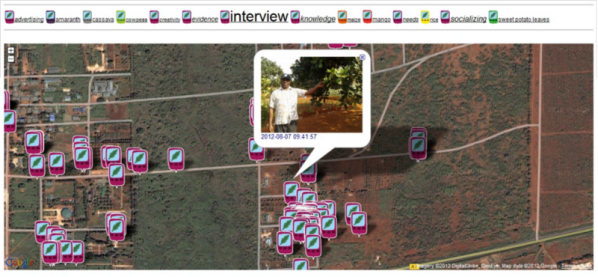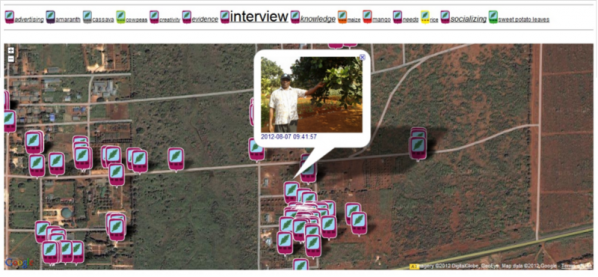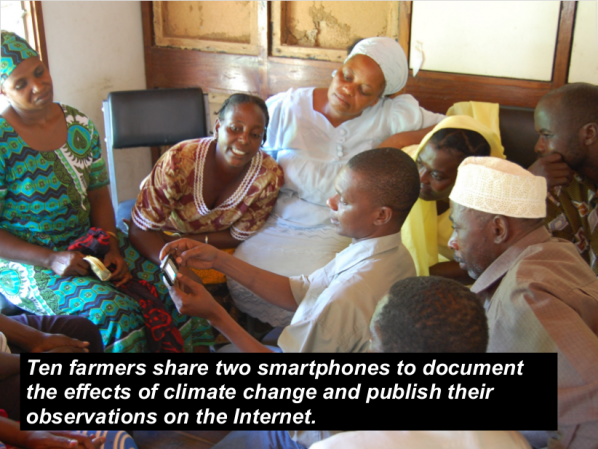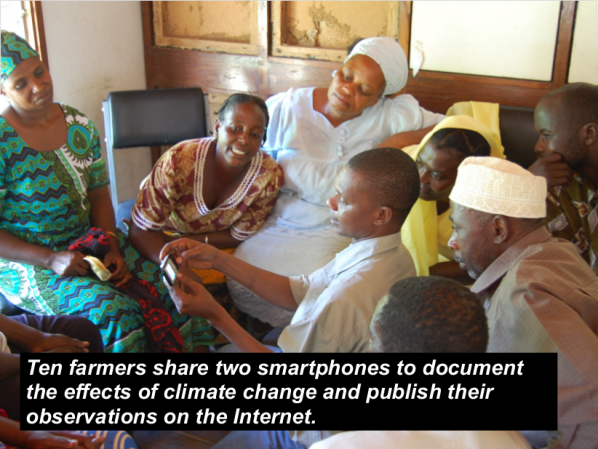 MG: In your presentation at Remediating the Social, I remember a quote from one of the farmers saying "The project helped me learn that phones can be used for other things besides calling people, and that computers can also be used to solve problems: they are not just a fancy thing for the rich people in towns." What's interesting here is, these words could be said any where. And that our consumer orientated culture could still learn a few things regarding uses of technology.
What lessons can the farmers teach 'us' in a culture where computers are part of the everyday life?
ET: I have interpreted this particular quote in two different ways. The first, most obvious one, is that the farmers discovered that the smartphones and the web can be useful tools, which may be shaped and adapted to meet their needs. For many of them, Sauti ya wakulima was their first chance at trying out these technologies. And, happily, the project showed us all that they can become an important ingredient in making farmers' lives a little better.
However, my second interpretation is not as optimistic: in the quote, there is an explicit comparison between the (poor) farmers living in remote areas and "the rich people in towns." Moreover, the fact that smartphones are explicitly considered as fancy devices points towards issues which need to be handled very carefully. In every part of the world, technological gadgets are quickly becoming symbols of social status. Currently, I am working in a rural zone in southern Mexico where cellphone coverage was nonexistent only two years ago. But as soon as the first antennas were installed, young people in those communities started buying smartphones, and now there is an open competition to see who has the fanciest one. A similar thing happens in Bagamoyo.
So, of course, smartphones can be useful tools, but they can also bring more consumerism into poor communities. This is very dangerous. I'd like to stress that, in our project, the smartphones are used as shared tools. This means that there is a limited number of devices available, and everyone must have a chance to use them at least once. I believe that this is a small but significant contribution towards diluting the extreme individualism and consumerism that are closely linked to these technologies.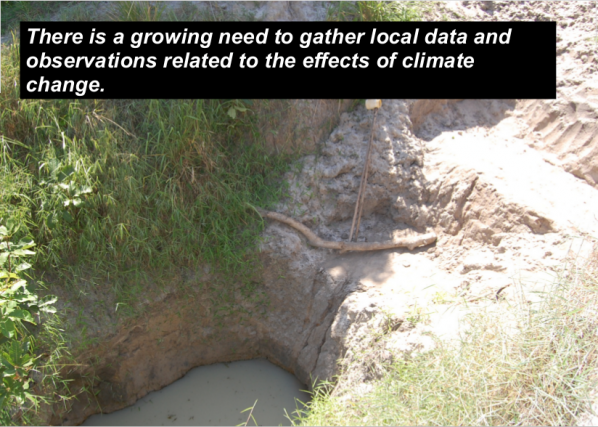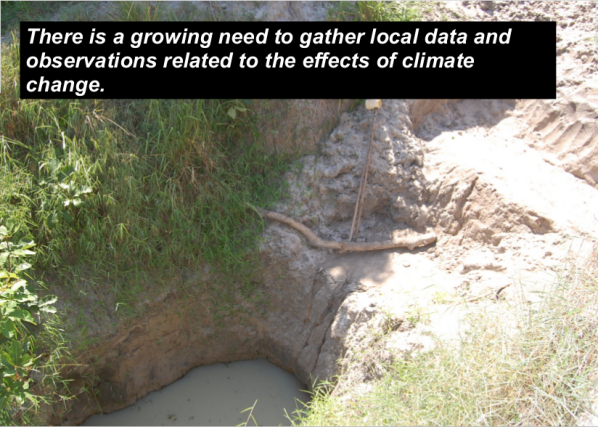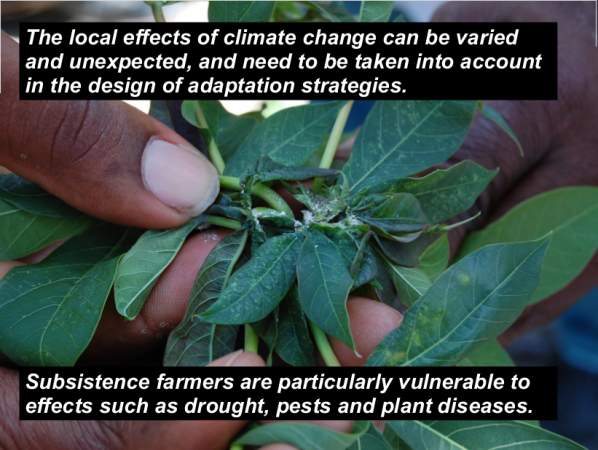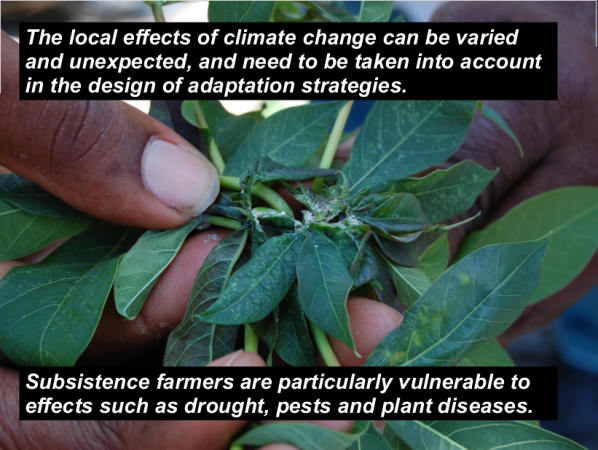 The farmers I have met in Bagamoyo have a very strong sense of community. Although their farms can be very far apart, sometimes with no roads between them, they still get together very often. They work together, learn together, have fun together. That's the biggest lesson I've learned: we need each other's presence. Quoting "Bifo" again, we are living in a time of precarization of the encounter of bodies in physical space. I agree with him that the most important poetic revolution has to be the re-activation of bodies. The farmers, with the great efforts they make to get together, and the great joy they find in doing so, have taught me a great deal: I need to get out of Facebook and step in to the "here and now", together with others.
MG: What has this experience taught you. And how will it impact your future practice as an artist?
ET: I have partially replied to the first part of this question. But besides learning how to re-dimension the importance of computers in my life, I have also learnt a lot about agriculture. This is not a minor thing for me: after all these years of living in big cities, and realizing that I lack a basic connection to the earth, I believe I have found the best possible teachers. Of course, I've also learnt a lot about how to work with non-expert users of technology. This has made me better as a teacher. And, as you can imagine, many of the things we take for granted at home won't necessarily work in Bagamoyo. So, doing projects in difficult environments has taught me to adapt, and to transform things that escape my control into opportunities. All of this changes me, not only as an artist but as a human being. My artistic practice is already quite different from what it was before Sauti ya wakulima. I have adopted a very critical position towards technology. Now, this is also a major shift: I started programming creatively when I was ten years old, and have been a media artist almost since then. But I feel I can't go on with those artistic explorations, knowing what I know now. Consequently, last year I wrote and published a small note explaining why I stopped creating works of e-Literature, a field in which I was involved for more than ten years [5]. That was both a closure and a point of departure. Let's see what the future brings.
Excerpt from 'Why I have stopped creating e-Lit' by Tisselli (November 25th, 2011)
Dear friends: this morning I went for a walk along the Naviglio Grande in Milan, and I entered a shop selling second-hand books. There I found a small book, "The Computer in Art", by Jasia Reichardt, published in London in 1971. The book described the works of pioneers of Computer Art, such as Charles Csuri or Michael Noll, who were active at that time. A real gem. But the biggest surprise came when I turned to the last page, on which the previous owner had written: "I married on 23, November. I would like to be a man, not artist, not engineer, a man."
I took the book with me.
Notes:
Those involved in the Sauti ya wakulima / The voice of the farmers project.
The farmers: Abdallah Jumanne, Mwinyimvua Mohamedi, Fatuma Ngomero, Rehema Maganga, Haeshi Shabani, Renada Msaki, Hamisi Rajabu, Ali Isha Salum, Imani Mlooka, Sina
Rafael.
Group coordinator / extension officer: Mr. Hamza S. Suleyman
Scientific advisors: Dr. Angelika Hilbeck (ETHZ), Dr. Flora Ismail (UDSM)
Programming: Eugenio Tisselli, Lluís Gómez
Translation: Cecilia Leweri
Graphic design: Joana Moll, Eugenio Tisselli
Project by: Eugenio Tisselli, Angelika Hilbeck, Juanita Schläpfer-Miller
Sponsored by: The North-South Center, Swiss Federal Institute of Technology – Zürich
With the support of: The Department of Botany, University of Dar es Salaam (UDSM)
The activist initiatives of this art group from Vienna seem fascinating due to its art-tech philosophy and it puts a smile on my face due to its pop attitude. In May 2011 Günther Friesinger, one of the creators of monochrom, gave a lecture to Media Art Histories students of the Donau Universität, which inspired me to arrange an interview with him. The first question I asked was about establishing monochrom. Günther explained that "monochrom came into being in 1993 as a fanzine for cyberculture, science, theory, cultural studies and the archeology of pop culture in every-day life. Its collage format is reminiscent of both the early DIY fanzines of the punk and new wave underground and the art books of figures such as Dieter Roth, Martin Kippenberger and others. For a while now, monochrom have been venturing further than publishing alone, and have been responsibly influencing people's minds via film production, performances and festivals. If you are in Vienna in autumn by chance, have a look at the paraflows festival – one of the main projects run by monochrom.
Natascha Fuchs: How much has monochrom's aims changed since 1993?
Günther Friesinger: We didn't really develop a concept back then, monochrom has evolved over time. In the beginning there was only the idea of publishing a fanzine – lots of other different things resulted from that. At some point we started doing performances. In the Internet's primordial age we developed a robot that could be controlled via the web, and so we began entering the art scene. Our first exhibition was in 1998 in the Secession, Vienna. Unfortunately, they didn't have Internet access back then, so our little robot simply stood in a corner, immobile. The people visiting the exhibition back then still considered it interesting enough to some extent, but many things back then didn't work the way we'd have liked them to work.
NF: Art, technology and philosophy – are they equal for monochrom? What is the starting point for monochrom's particular initiatives?
GF: We are a political group that gives statements through different means, those of art in all its varieties. I think it is important for us to find a fitting medium for the right story. This is something that specifically characterises us as a group. There are lots of different actions implicated by that, such as writing plays, making a movie, producing a music CD or writing a book. Normally, people try to achieve excellence in one medium. With us, it's the other way round, that's why we're active in so many different areas.
NF: Which historical background concerning the relationship of philosophy, art and technology is especially meaningful for you?
GF: A difficult question. I think that Guy Debord and the Situationists are those one could consider most fitting. Certainly also some parts of Fluxus are of relevance.
NF: To which media theoreticians do you refer in your practice?
GF: I am of the opinion that as a theorist, artist and curator in the areas of media art, net art, digital art and culture it is important to confront oneself with theorists like Kittler, Luhmann, Flusser, McLuhan, Rheingold and many more. However, it is not the case that we refer to one theorist or other in all our works. I think that this system of self-affirmation through referall quite interesting – but I think that for myself, monochrom and for our audience there is value added by self-generated theories for our projects and the discourses they cause.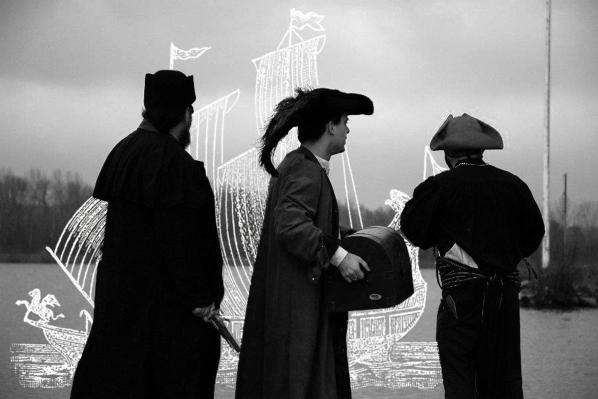 NF: What are international projects of monochrom? And what is the difference between monochrom audiences in Vienna and abroad?
GF: There are too many of those to be listed here. Since our big USA tour of 2005 we produce most of our projects bilingually in German and English, or only in English, in order to be able to have an international impact. Of course, many members of monchrom live and work in Vienna, and we also produce projects in Vienna, but our main focus is on our international presence. One of the big international projects, running since 2007 in San Francisco, is the Arse Elektronika: a conference on pornography, sci-fi, games and the development of technology. I would say that with the San Franciscans we've found the ideal community for such a conference.
NF: You call yourself "edu-hacker". Why that and how is it connected with your studying and teaching experience?
GF: I have always loved reading, learning and continuing to further myself intellectually. I really enjoyed my studies and I enjoy sharing my knowledge and skills with my students. Universities are, in my book, places where it is possible to acquire knowledge, to reflect upon it, places of discussion and freedom. Because of the process of universities becoming more like schools, among other things caused by the Bologna Accords, those in my opinion are important areas that enable students to become self-reliant, critical people are struck from the curriculum. I'm trying to counteract this in my classes, trying to cause rifts in the school-like system, by using other methods of transmitting knowledge, using a great deal of humorous elements, and by always meeting the students eye to eye as equals.
NF: What is philosophical society in contemporary Austria now?
GF: Alive and kicking as always, I'd say 😉 One of the exciting things is that exactly now there are a lot of young, fascinating philosophers out there. The topics that I mostly concern myself with are, however, copyright, intellectual property, culture, art, media and technology.
NF: Is paraflows one of your biggest current projects? What's the concept of this festival? Is it independent from monochrom activities?
GF: paraflows is surely one of the biggest projects that I am working on at the moment, apart from monochrom. monochrom helped to start and grow the festival in the first two years, as monochrom has done with many other projects worldwide. "paraflows – festival for digital art and culture" has been established in the last seven years as a new annual festival situated between the Ars Elektronika and the Steirischer Herbst. It serves as both a platform for the young, local scene of digital art and culture and as an interface to international and renowned media art.
NF: How is monochrom activity is financed?
GF: We do get occasional subsidies for some projects, we get money from performances, the sale of our publications and sometimes the sale of a work of art, and recently we have also acquired crowdfunding. I'd say, however, that around 80% of the projects we do are not financed in any way and are purely done because we have fun doing them.
NF: Do your own curatorial projects serve in some way as a research method for you?
GF: I take the liberty that I only curate projects that I am very interested in myself. That is to say, projects where I have a very strong urge to explore the topic, to read, write and of course also to do research. That is probably the reason why I try to achieve a publication for each project that I curate, in order to give those who are interested in it some sort of preliminary report, a possibility to expand upon.
NF: Is activism capable to envision the future or does it just reflect, react on what is and has happened?
GF: It is getting increasingly difficult to be subversive. monochrom is fundamentally critical of the bourgeois world view. We examine it from a distance, dissociating ourselves from it. The question is: How do we get out? Our current late-capitalist aims for transgressions. That is to say that capitalism requires transgressions as a principle. Viennese Actionism, the most relevant cultural statement in Austria for the last hundred years, was doomed to fail at a certain point, because in the 60ies Austria still had a society based on discipline. One of the central strong points of monochrom: Finding the right story for the right medium could be a opportunity to deal with this situaltion.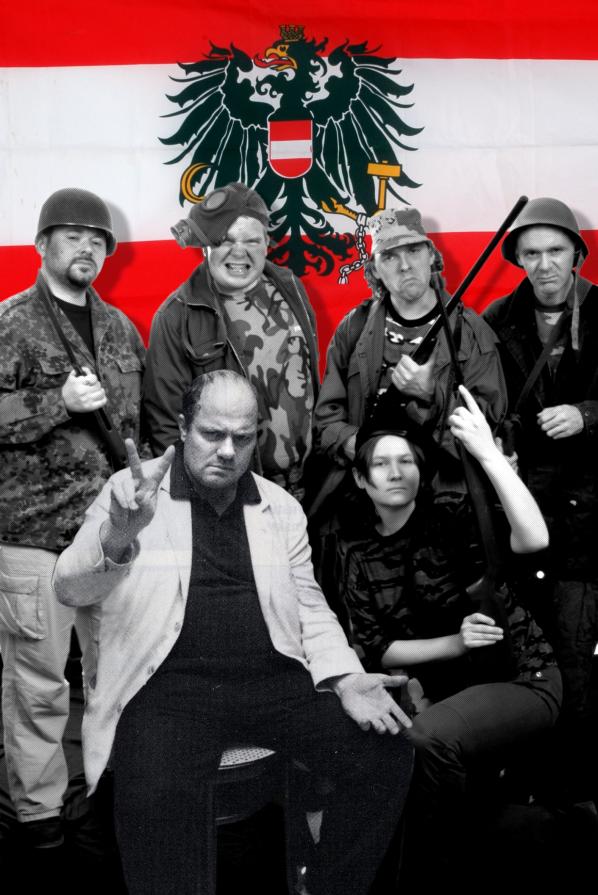 NF: Which publications about monochrom you would recommend to read?
monochrom's ISS. In space no one can hear you complain about your job. (2012)
monochrom's Zeigerpointer. The wonderful world of absence (2011)
Urban Hacking. Cultural Jamming Strategies in the Risky Spaces of Modernity (2011)
monochrom #26-34: Ye Olde Self-Referentiality (2010)
Do Androids Sleep with Electric Sheep? (2009)
Pr0nnovation?: Pornography and Technological Innovation (2008)
Other information:
monochrom: www.monochrom.at
paraflows festival: www.paraflows.at
(c) Natascha Fuchs is an independent expert in cultural projects management and international public relations, graduate of the University of Manchester (Cultural Management) in 2008. She has been living in Vienna, Austria, studying History of Media Arts at the Donau-Universität and collaborating with sound:frame Festival for audio:visual expressions, since her move from Moscow, Russia in 2011. In Russia she was related to MediaArtLab and Media Forum — the special program of the Moscow International Film festival dedicated to media arts, experimental films and digital context with more than 10 years history. As a researcher and practitioner, she works in a variety of topics and participates in different international projects focused on media arts, cinema and sound. Columnist and writer for several online magazines.
In September 2012, Italian tactical media artist Salvatore Iaconesi got the diagnosis. He had a glioma (glial cell brain cancer) of approximately 2×3 cm on the surface of his right hemisphere. Upon asking to see all the data relating to his condition, he found that all of the documents, MRI scans, and so on were in obscure not readily used formats. This meant that if one wanted to view the data, you needed specific or corporate software.
What he did then was remarkable. Iaconesi then hacked the formats of the documents and converted them into open-source ones that anyone could read could read with FLOSS (Free Libre Open Source) software. He then created the site, La Cura, where he presented his records as an "open source cure". People around the world could access his records and then add their recommendations and findings about his condition, cancer, and so on. I begin this interview with Salvatore on September 15, 2012, and the La Cura website already has a rapidly expanding database of information at http://www.artisopensource.net/cure/.
Patrick Lichty: Salvatore, thank you for having this conversation. I remember that it was only a year and a half ago when we were shop-giving copies of the REFF tactical media book from your project, Fake Press in Rome. So, it was a shock when I learned of the glioma the day you launched the site. Could you talk a little about what is on the La Cura site?
Salvatore Iaconesi: Hi Patrick! Yes I do remember, too. And that is also a great explanation on what can be found at La Cura site: it is like one of our "fakes", except that it is not a fake.
La Cura is about an alternative reality which I want to materialize on this planet, now. In this alternative reality, when someone has a serious disease, life does not end. One can be social, creative, and friendly. Work, art, design, fun and entertainment are possible for diseased people in this alternative reality, just as it is possible to reach out to find cures in any philosophy, time, strategy, culture or way one wishes. And consider that even technologies in this alternative reality are designed to enable and facilitate all this, actively promoting the freedom and autonomy of people.But, sadly, life is not like this alternative reality.
I wanted it to be my alternative reality, so I just did everything it took to bring that reality into the world. It's like when you make an Augmented Reality application: you do a series of things to "materialize" some other things into ordinary reality. And then you have them, right there. So, La Cura is my personal Augmented Reality, in which, if I want to, I have all the tools and information I need to find a "cure" for my disease in one of multiple ways and strategies, which are medical, cultural, technological, emotional, artistic, political etc.
To achieve this, I have had to go through a series of obstacles:
The first is connected to language and information, as the first thing you notice at the hospital is that they are not really talking to you. Medical language is difficult and complex, and they rarely take action to make things more understandable to you. One of the testimonies I received in La Cura was that of a lady who has found herself in front of a doctor shouting at her: "You really think that I will explain to you why your thyroid has to be removed? It has to be removed! That's it!"
This is really not "open", in any sense. And, in more than one way, it is an explicit evidence of the approach which medicine has towards patients: they cease to be "humans" and become sets of parameters on a medical record subject to certain protocols and standards. When you are in the hospital, it's often as if you're not there. The only thing that matters is your data: blood pressure, heartbeat, magnetic resonance etc.
And the way in which information reflects this if handled in this context. Data formats may be, technically "open", meaning that they are described somewhere but they're really an explicit reflection that when you're sick you "step out of society". That data is usable and accessible only to "professionals" and to those people who have tools and skills to handle them.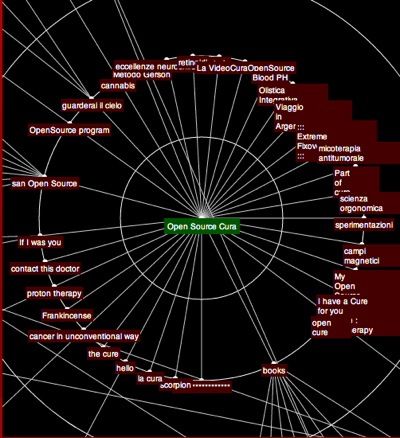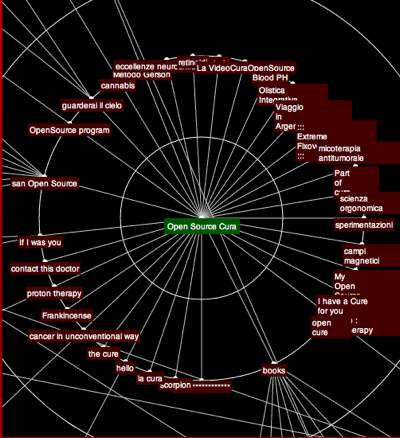 I, as someone with considerable expertise with computers, have had some difficulties in opening them. Imagine someone else with less skill! Most people would not have been able to benefit from all the types of "cure" which I am currently accessing from a variety of sources and modalities. They would not have access to a "cure" that doesn't end at a list of medicines and dosages, but spreads out into society.
To do that, I have had to hack into the information and convert it into really "open" data, using multiple formats that could be used by many kinds of people to do multiple things. In the format that the data was originally in, even if it was "technically open", that data would have been seen only by "professional doctors" and, instead of being a "human being", I would only have been a "patient", or worse yet, a "case".
PL: What do you want people to do with the information?
SI: Whatever they wish! Obviously! What is important in this case is that we must agree on what the "information" is… What I am publishing is my autonomous will to disclose my state of disease, including all data and medical information. I have my own purposes for this, but it does not necessarily mean that this purpose must/should be shared by others.
My personal purpose for this disclosure is to autonomously shape my own human condition. I have a disease but I am not a "diseased person". I am a person. And, as such, I wish to create my personal "cure", which has to do with my life, not with my disease. For what people know, I might even consider cancer as not being a "disease" at all! I might, for example, consider it an expression of the "cure", such as if I adhered to Hamer's theories. Which I don't, or, at least, not in the sense that "I believe" in Hamer's theories; I take them into consideration, but I don't believe in them, just as I don't believe in chemotherapy, in Aloe Vera, in Caisse Formula, in surgery, in shamanism, in healers, oncology or in any of these things. I take all of them into serious consideration, just as I seriously consider certain philosophies that say that we are made of energy, energy creates matter, and cancer is "matter" and so on. Therefore, cancer must be created by energy in some form. And so it could possibly be that I created cancer myself in a way or another.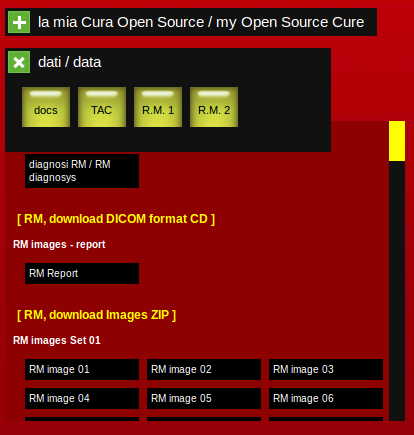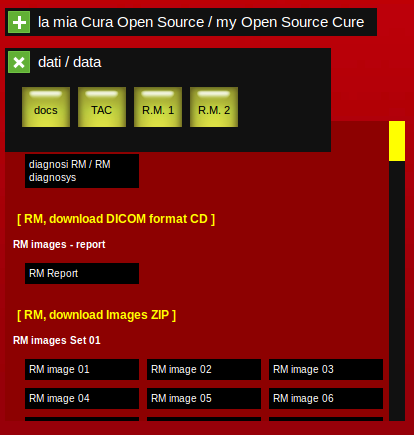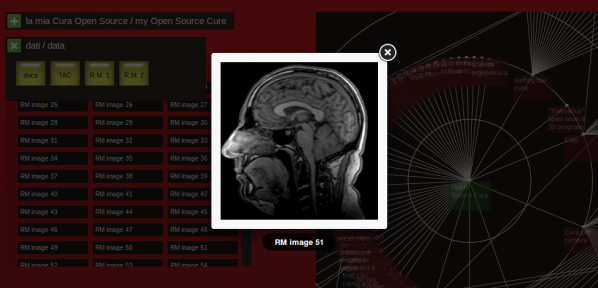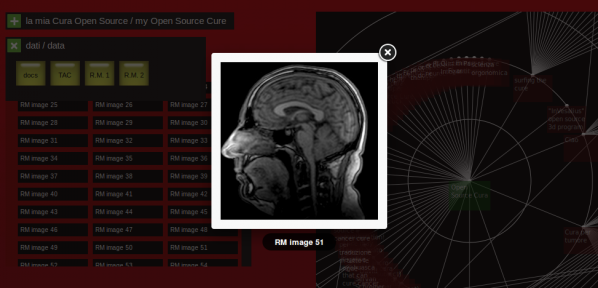 So in this sense, I think it is very important to be able to easily look at the images of my cancer and to say "hello" to them. It is important to turn them upside down, to edit them with GIMP, to make mosaics out of them, to speak to them, asking "hello?" What are you doing in there? Did I do something to cause you? Can I change something to make you/myself feel better?"
Both scientific and traditional evidence shows that art, positive emotions, laughter, reduced stress, and a good social life have great practical benefits to the human body, I want to seriously consider that part of my cure could be formed by receiving an image of my brain with a smiley face drawn across it over the tumor, or a picture of a friend of mine, or a video of a projection mapping done with Processing in which the images of my cancer cover a whole facade of a building.
And since I don't want to believe, but I want to take all of these things into serious consideration, I cannot focus only on the "medical" approach (and the related information, and its formats). I need to access all of my information in multiple ways, and I wish that everyone could do the same (as, from my point of view, it's part of my Cure). And, even if "technically open", the format in which my medical records have been disclosed is not enough, because it is "open for professionals" and so the only thing I could do with it would be "show it to professionals", missing out on all the other wonderful parts of the "cure" which are available in the world.
This for me, is an interesting starting point to think about what things such as "OpenData" could mean. This is far beyond the idea that some government can some data according to ways in which some "professionals" could grab it and, do something like make a visualization or an App out of them. Who knows? In this sense, instead, we would not be talking about "technology", we would be talking about "humanity".
In the end, this is exactly what I'd like people to do with the "information". I want the world to take the fact that I decided to disclose the fact that I have a disease and that I want to actively search for a cure for from all of these perspectives. In the meantime, I want to reconsider what it means to be "diseased" in current times and what new conceptions of the word "cure", "medicine" associated with my condition could mean.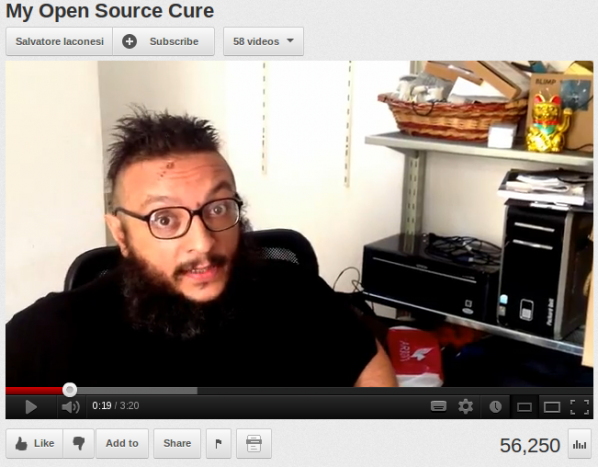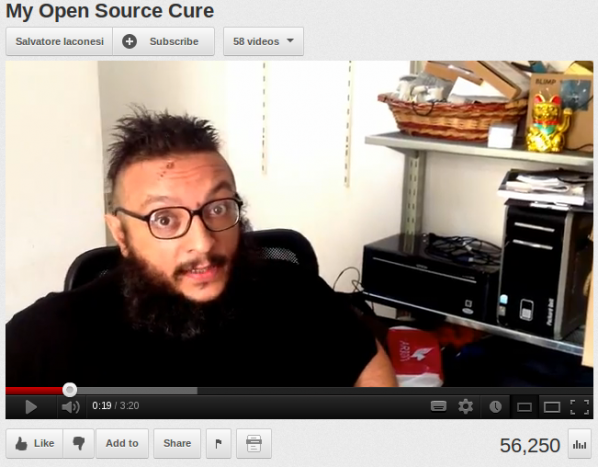 PL: What has happened since you launched the La Cura site?
SI: Lots of things. People are contributing and participating in multiple ways. There are testimonies, art, poetry, suggestions, videos, performances. Many doctors have called in to propose their methodologies and technologies. I have had very interesting and profound discussions with people who are prepared to deal with very complex things every day of their lives. I've communicated with doctors who are perfectly open to the possibility of such a paradigm change for the word "cure". Artists, designers, activists, are giving me wonderful parts of "cure". Many "patients", "ex-patients", "relatives" and "friends" of "diseased people" are sharing their experiences, are opening discussions, are sharing the information I found on possible medical cures. And so many people want to talk to someone in new and different ways, becoming again, simply, humans. Journalists from all kinds of media have started to ask for interviews, texts and videos. We stopped that after a while, as we don't wish to turn this into merely a "spectacle". We only keep on working on this with journalists which we know we can trust and which we know will not transform what we say to produce their news.
PL: For your information, I had an MRI in 2009 here in the States, due to my doctors' concerns of something similar (nothing was found), but when I asked for the data, I got a CD full of JPEG images. Were you surprised when you found out your records were in particular formats?
SI: They were not really in a proprietary format. Let's call them "exotic formats for professionals". And yes, I would have expected something which I could have shared easily (such as your JPEG images, and maybe some meta-data in some easy to use format such as XML, or even a spreadsheet). But this was a sort of paradox: an "open" format which is really hard to open and to use for something else other than putting the CD in an envelope and (snail)mailing to the next doctor.
PL: What do you think the line is between privacy and data oppression? Would that be when the patient is denied access to their rights to access the information and distribute it as they wish?
SI: We should all know this by now. Privacy is not a problem unless the "system" is made by lousy people. We have tools to protect ourselves and to promote ourselves, and these tools are dangerous only when who runs them is a lousy person. Privacy protection arises through education (understanding what is privacy and when/where/how/why would I want to protect it) and through the acquisition of decent ethics from the people and organizations which run the entire infrastructure through which all our digital data goes through. And obviously, and most importantly, our ethics is created by helping each other out in a P2P way, teaching each other what we know, what we discover and how we decided to handle it when we found out.
There is no single line between privacy and data oppression. Not one which everyone would agree on. We have the tools for each one of us to tune this line to our own wishes, according to what we want to do, what are our desires, what are our objectives etc. We "just" need more places (physical, digital, virtual, institutional, occasional…) in which to discuss and share our points of view, as every time this happens, many things are learned on all sides.
PL: Do you consider your site a form of radical tactical media intervention?
SI: I can now say "I have a radical tactical media intervention in my head". Cancer is the new Black. The Cancer is the Message. And we could go on. I don't know. I guess I could call it that. I also guess I could call it a performance. I guess I could call it life. I guess I could call it hacking or whatever. I will just call it La Cura.
PL: What has been the most inspirational information, art, or otherwise that has resulted from the launching of the La Cura site?
SI: The most enlightening thing that happened is the experience of talking about the same exact thing using dozens of different languages. I have spoken with neurosurgeons, shamans, nutritionists, pranotherapists, doctors, activists, macrobiotics, hippies, cyberpunks, punks, friends, relatives. Most of the time, I received incredibly good advice. When you look at that advice from different points of view, you start to understand that you are really talking about the same thing, but in different languages.
For example, two of the most important things which you deal with when you talk about cancer are the idea of creating alkaline environments in your body (because cancer cells cannot stand them) and the facts that anti-oxidants are a great tool in support of any type of therapy (because of the molecular reactions which are at the base of cancer).
Well, speaking of just these two, it occurred to me that multiple theories deal exactly with these two concepts. I have had an esoteric master describe my cancer as an invisible living being, and he suggested to drive it away using sulfur and Rosa Rubiginosa oil, in ways which turn them into two incredible anti-oxidants and creators of alkaline environments as well as powerful stimulants of the immune system. I have also spoken with nutritionists and macrobiotics communities and learned about their instructions on choosing food, cooking and eating, many of which are directed exactly to that: anti-oxidants and creating alkaline environments, but through food.
And when an oncologist explained us his therapy, that's exactly what it was about: powerful anti-oxidants and alkaline environments. And on, and on and on. Aloe Vera, Caisse formula, fungus theory, chemiotherapy, Di Bella method, potassium ascorbate, ketogenic diets, etc: all highlight cancer cells in some way; create an environment around them which is as alkaline as possible; anti-oxidate them; activate the immune system as powerfully as possible so that the highlighted weakened, cancer cells can be more easily "convinced" at mutating back to a decent form or to commit suicide with the help of the immune system. Realizing this is an enlightening experience: it spans across thousands of years and also helps you make some choices (things stand out when they speak about different things!).
Everything else that is going on in La Cura is wonderful, but having realized this fact is just incredible and fascinating. You start imagining about all the other things we discuss about in our daily lives using multiple languages (energy, politics, emotions…) and start to wonder what would happen if you turned on this shared, P2P modality in those cases as well.
PL: How do you hope that others will benefit from the conversation that you are starting through La Cura?
SI: I don't "hope" anything. I did this because I felt I needed to. When one talks about "revolution" dialogues start arriving at the point when one says, "Let's burn everything down!" "Let's destroy everything!" and so on.
We know we can't do it. We can't "destroy everything". It's not possible. What we can do is to create a reality as if everything already happened – as if the "revolution" already happened, as if the world had been burned down already, and rebuilt, just the way you like it. We can live life like this. It is a bit more than "seeing things". But you do Augmented Reality, Patrick. You know what I mean. It's a bit more than "writing", it's about creating worlds.
PL: As of this interview, what is the prognosis of your condition?
SI: Depends on what perspective you look at it from. From the medical point of view I have a low-grade glioma at intensity which is still undecided, between 1 and 2 (we will have to wait an histologic exam to know for sure). From the human point of view: I am fine! I have no apparent symptoms. I just need to be careful because if I find myself in stressful situations I could react by having an epileptic shock. So it is not advised that I drive or things like that. It's the perfect excuse! 🙂
PL: Don't you think it's funny that the abbreviation for your name is "si"?
SI: Sì! Obviously 🙂
"Tweets in Space beams Twitter discussions from participants worldwide towards GJ667Cc – an exoplanet 22 light years away that might support extraterrestrial life. By engaging the millions of voices in the Twitterverse and dispatching them into the larger Universe, Tweets in Space activates a potent conversation about communication and life that traverses beyond our borders or understanding."
Marc Garrett: Could you explain to our readers what 'Tweets In Space' is?
Scott Kildall and Nathaniel Stern: Tweets in Space is an art project — a networked performance event — which beams your Twitter messages to a nearby exoplanet that might support human-like, biological life. Anyone with an Internet connection can Tweet with the hashtag #tweetsinspace during the performance time, and their messages will be included in our shotgun blast to the stars. The performance is on September 21st, 20:30 – 21:00 Mountain Time (3:30 AM BST / London time).
MG: What was the motivation behind your current collaboration?
SK and NS: We found inspiration from various sources. First, in NASA's Kepler mission, whose purpose is to discover planets in the "habitable" or "Goldilocks" zone. The project has found over 2000 exoplanets thus far, all of which are "not too hot, not too cold, but just right" for life as we know it. Scientists now estimate that there are at least 500 million planets like this in the Milky Way alone. Our conclusion: extraterrestrial life is almost certainly out there.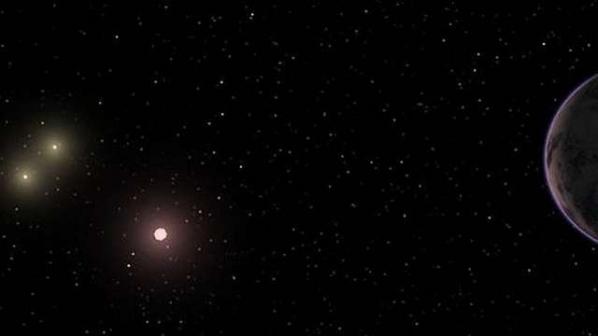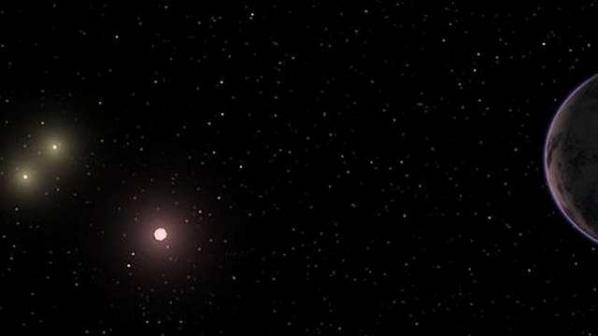 "The latest discovery is at least 4.5 times bigger in size than Earth. Reportedly, the planet exists 22 lightyears away from Earth and it orbits its star every 28 days. The planet is known to lie, in what is being referred to as the star's habitable zone. A habitable zone is a place where the existing conditions are just perfect for life sustenance. Astronomers, according to this report also suspect that the GJ667Cc may have been made out of earth-like rock, instead of gas." [ibid]
Another source of great inspiration is how we use social media here on Earth. This is our second, large-scale, Internet-initiated collaboration. In 2009, we amplified the power structures and personalities on Wikipedia, and questioned how knowledge is formed on the world's most-often used encyclopedia – and thus the web and world at large. Now, we are turning to the zeitgeist of information and ideas, feelings and facts, news and tidbits, on Twitter. The project focuses on and magnifies the supposed shallowness of 140-character messages, alongside the potential depth of all of them – what we say in online conversation, as a people.
We are directing our gaze, or rather tweets, via a high-powered radio telescope, towards GJ667Cc – one of the top candidates for alien life. It is part of a triple-star system, has a mass that is about 4 times that of Earth, and orbits a dwarf star at close range. GJ667Cc most certainly has liquid water, an essential component for the kind of life found on our own planet.
MG: Right from its early years when Jagadish Chandra Bose [2], pioneered the investigation of radio and microwave optics – science, technology and art have had strong crossovers. And it might be worth mentioning here that Bose was not only well versed as a physicist, biologist, botanist and archaeologist, he was also an early writer of science fiction. [3] Which, brings us back to 'Tweets In Space', wherein lies themes relating to science fiction, radio broadcasting (commercial, independent and pirate), wireless technology of the everyday via our computers, and 'of course' the Internet.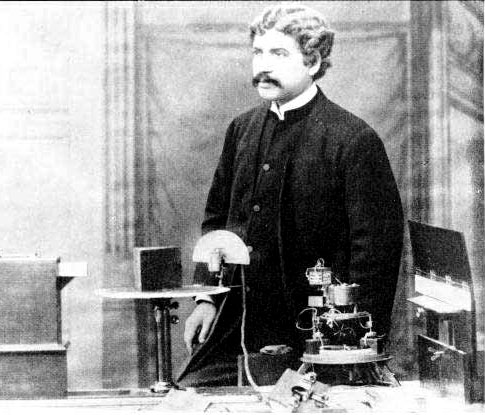 But, what I want to pin down here is, where do you feel you fit in historically and artistically with other past and contemporary artists, whose creative art works also involved explorations through electromagnetic waves?
Scot Kildall: The work of JC Bose is incredible and what strikes me is that he eschewed the single-inventor capitalist lifestyle in favor of his own experiments. Isn't this the narrative that artists (often) take and linked back in many ways to the open-source/sharing movement, rather than the litigious patent-based corporation? And it mirrors in many ways the reception of electromagnetic radiation as well. You can't really "own" the airwaves. Anyone who is listening can pick up the signal. This comes back, as you point out, to the internet. Twitter is now, one of the vehicles, and, ironically entirely owned by a benevolent* corporation.
Nathaniel Stern: (Agreeing with Scott) and we can't forget of course Nam June Paik, who played with naturally occurring and non-signal based electromagnetic fields to interfere with analogical signals (as well as the actual hardware) of tube televisions, and more. And of course, there have been other transmission artists, explored in depth by free103point9, among others. I think, like them and others, we are messing with the media, amplifying (figuratively and metaphorically) and intervening, pushing the boundaries of DIY and cultural ethico-aesthetic questions…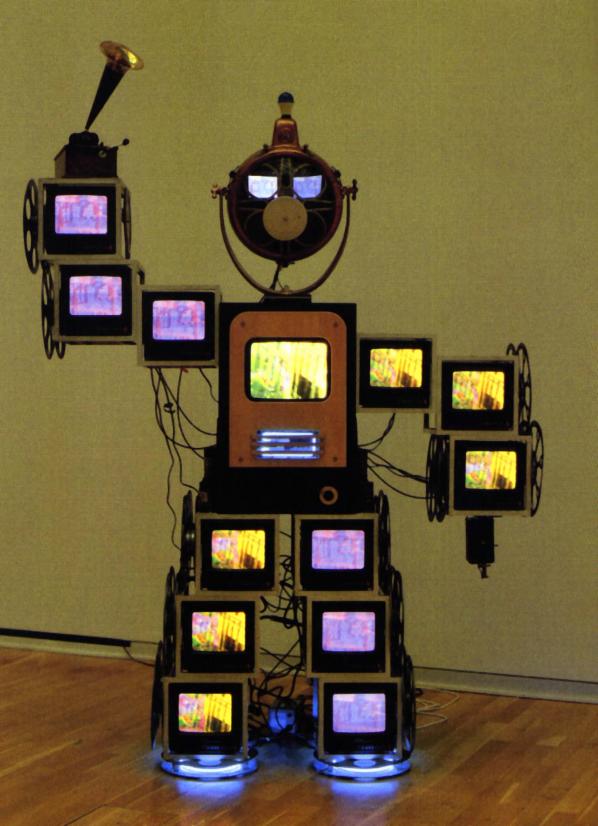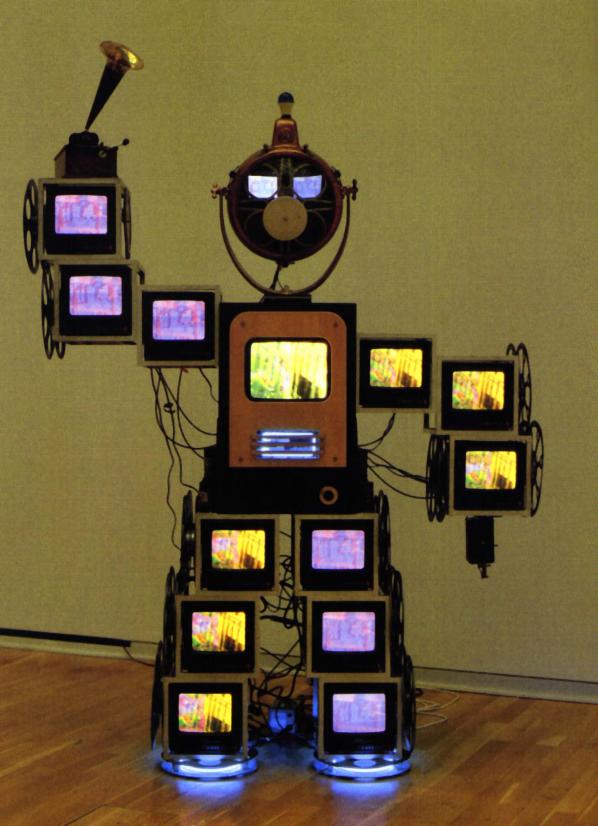 MG: What is especially interesting is that all the tweets submitted by the public are unfiltered. How important is it to you that people's own messages are not censored when going into space?
SK and NS: Absolutely. Tweets in Space is by no means the first project to transmit cosmic messages with METI technologies (Messaging to Extraterrestrial Intelligence). Our fellow earthlings have sent songs by the Beatles, photos of ourselves shopping at supermarkets, images of national flags, and even a gold record inscribed with human forms – controversially, where the man has genitals and the woman doesn't. These slices of hand-picked content exhibit what a select few believe to be important, but ignore, or willfully exclude, our varied and collective modes of thinking and being.
Tweets in Space is "one small step" with alien communications, in that it is open to anyone with an Internet connection. It thus represents millions of voices rather than a self-selected few. More than that, our project is a dialog. There have been, very recently, a small number of projects that similarly "democratize the universe" but none are like ours: uncurated, unmediated thoughts and responses from a cooperative public. We can speak, rebut, and conclude, and nothing is left out. Our transmission will contain the good, the bad, and the provocative, the proclamations, the responses, and the commentary, together, a "giant leap" for all of humankind – as well as our soon-to-be friends.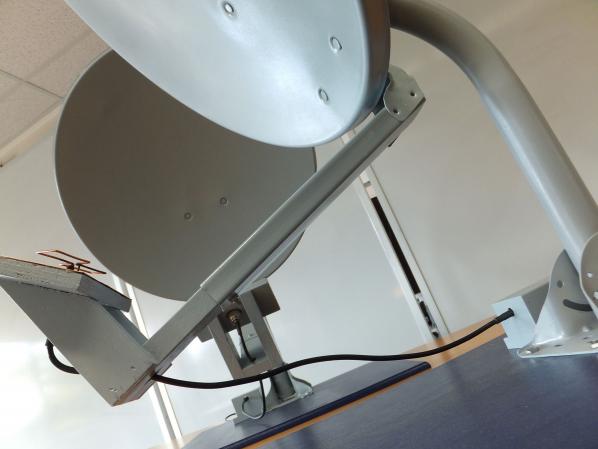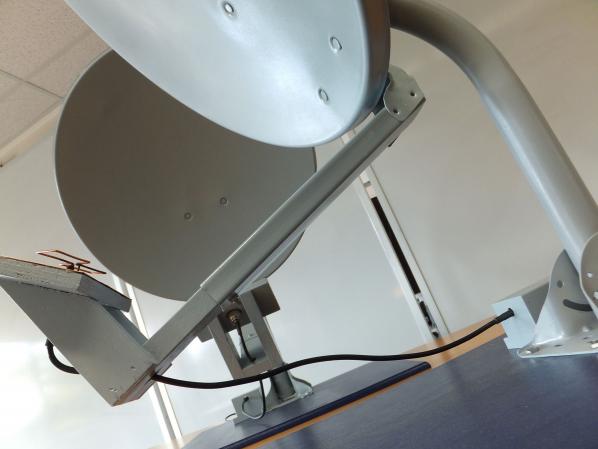 Furthermore, by limiting the event to a small window of only 30 minutes, we are encouraging all our participants to speak then respond, conversing with one another in real-time, through networked space. We are not just sending lone tweets, but beaming a part of the entire dialogical Twitterverse, as it creates and amplifies meaning. Tweets in Space is more than a "public performance" – it "performs a public."
MG: Now, you will be transmitting real-time tweets toward the exoplanet GJ667Cc, which is 22 light-years away. How long will it all take to get there?
SK and NS: Well, first off, we're collecting all of the tweets in real time, but only sending them out later in October. The main reason for this is that we have to wait for the planets to align – literally. We want line of sight with GJ667Cc from where our dish is. The added bonus of time, however, is that this will allow us to really flesh out how we send the messages in a bundle. We want to include a kind of Rosetta Stone, where we will not only send binary ASCII codes of text in our signal, but also analog images of the text itself. We additionally intend to choose the most frequently used nouns in all the tweets from our database, then give a kind of "key" for each. If "dog" is common, for example, we can transmit: 1. an analog image of a dog, like a composite signal from a VCR; 2. a text image of the word "dog" in the same format; and 3. the binary ASCII code for the word dog.
In terms of time/distance, when speaking in light years, these are the same thing. A light year is the distance light can travel in one year of Earth time (about 9.4605284 × 10 to the 15 meters). Since radio travels at the speed of light, a big dish on GJ667Cc will pick up the signal in 22 years. We should start listening for a response in 44 – though it may take them a while to get back to us…
MG: Will the code used for the project be open source, and if so, when and where can people expect to use it?
SK and NS: Yes it is! The most useful part of our code is the #collector, which saves real-time tweets to a database, that can then be used for live projections or web sites, or accessed and sorted later via all kinds of info. The problem is that it's not really user friendly or out of the box – folks need a suped up server (VPN), and to plug into a few other open source wares. The main portion of the backend we used is actually already available at 140dev.com, and then we plugged that into Drupal, among other things. For now, we're telling interested parties to contact our coder, Chris Butzen, if they want to use our implementation. And we hope to do public distribution on tweetsinspace.org if we are able to package it in a more usable format in the next 6 months.
MG: Are there any messages collected so far, grabbing your attention?
We've had thousands of tweets so far – even while just testing the ware in preparation for the performance. We're anticipating a lot of participation! The tweets we've seen have ranged from variations on "hello [other] world" and "don't eat us," to political activism and negative commentary, to a whole surreal narrative of about 30 tweets per day over the last 3 months.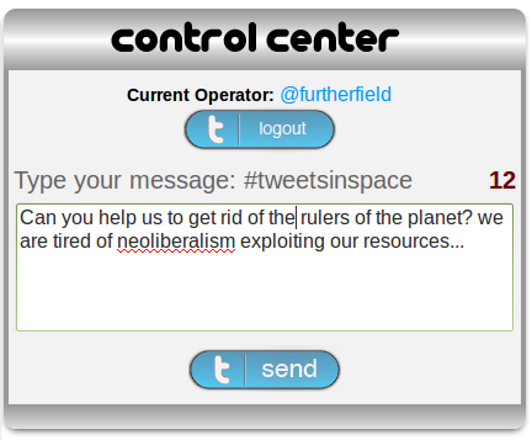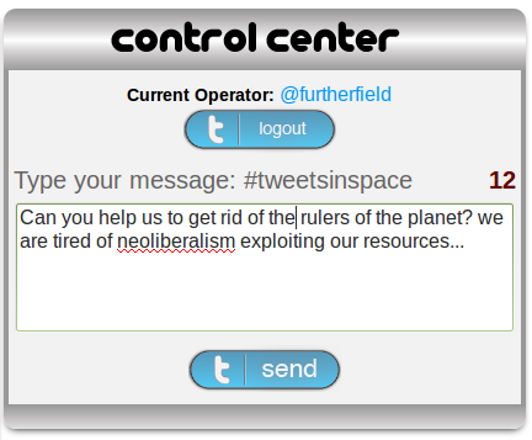 go to tweet aliens to add your own words…
Some of our favorite tweets have been those that question how to make our own world better. These speak to both the hope of space age-ike technology, as well as the hope in collective dialog – both of which our project tries to amplify. Such tweeters ask about the alien planet's renewable energy sources, tax structures, education, art, and more.
We imagine the 30-minute performance will see a much more potent discussion about such things, and hope your readers will participate. The final transmission will be archived permanently on our site once we've prepared it for launch.
How to Take Part.
As part of the International Symposium on Electronic Art in New Mexico (ISEA2012). We will collect your tweets and transmit them into deep space via a high-powered radio messaging system. Our soon-to-be alien friends might receive unmediated thoughts and responses about politics, philosophy, pop culture, dinner, dancing cats and everything in between. By engaging the millions of voices in the Twitterverse and dispatching them into the larger Universe, Tweets in Space activates a potent conversation about communication and life that traverses beyond our borders or understanding. http://tweetsinspace.org/
AND THEY WILL BE SENT INTO DEEP SPACE!!!
Watch the stream LIVE here – http://tweetaliens.org/tweets/tweets.php
Charlie Gere is a Professor of Media Theory and History in the Lancaster Institute for Contemporary Arts, Lancaster University. Co-curator of FutureEverybody the 2012 FutureEverything exhibition in Manchester. In 2007 he co-curated Feedback, a major exhibition on art responsive to instructions, input, or its environment, in Gijon, Northern Spain. He has given talks at many major arts institutions, including the Centre de Cultura Contemporània de Barcelona, the Architectural League in New York, Tate Britain, and Tate Modern. Gere's new book, Community without Community in Digital Culture (Palgrave MacMillan, 2012), is out now.
Previous titles include: Digital Culture (Reaktion Books, 2002), Art, Time and Technology (Berg, 2006), Non-relational Aesthetics, with Michael Corris (Artwords, 2009). Gere was co-editor of White Heat Cold Logic (MIT Press, 2009), and Art Practice in a Digital Culture (Ashgate, 2010), as well as writing many papers on questions of technology, media and art. He is also co-editing with Robin Boast an anthology entitled Allegories of the Information Age (forthcoming).
Marc Garrett: Digital Culture was originally published in 2002, which happens to be the version I've had all these years. In 2008 it was republished, revised and expanded. Now the book has an extra chapter 'Digital Culture in the Twenty-first Century'. Of course, we already know that digital technology and society has changed dramatically since 2002. So, what themes and historical contexts did you choose, as necessary to include in this new and last chapter?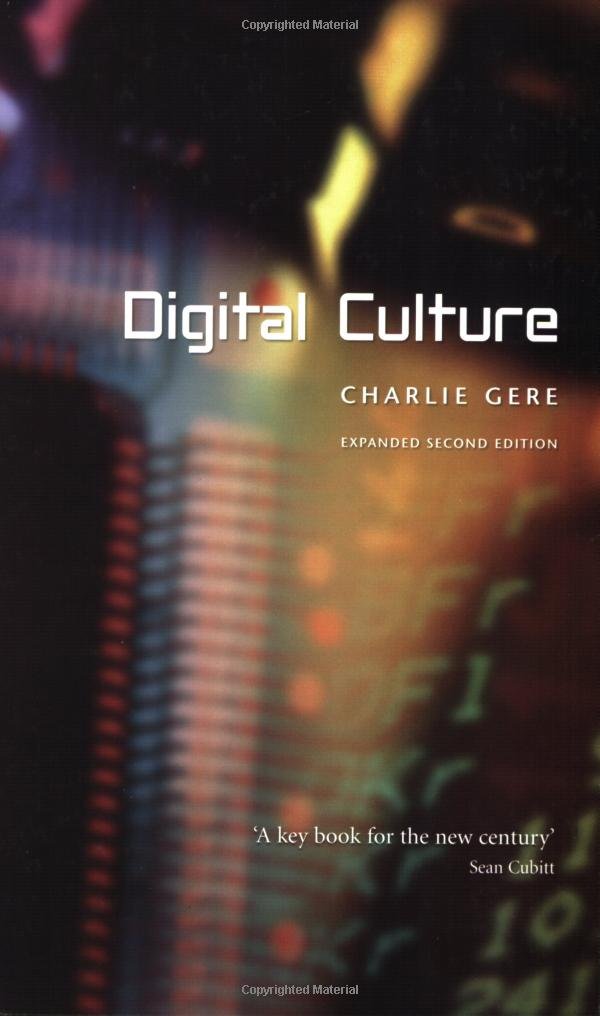 Charlie Gere: What happened after the publication of the first edition was of course the rise of so-called Web 2:0, which was simply the greater exploitation of the reciprocal possibilities of the Web. I tried to reflect on how this reciprocity was visible beyond the Web itself, and was becoming part of a more general culture of engagement and exchange, not that I share some of the more utopian visions of this phenomenon. Indeed, in my new book Community without Community in Digital Culture I try to counter the, for me, more naive visions of community in relation to digital technology. I advocate a more 'non-relational' approach that does not deny the transformative effects of new media in terms of community, but thinks of it more in terms of hospitality to the other.
MG: Many of the artists we have worked with are using new media to explore and critique the utopian assumptions you discuss: YOHA, IOCOSE, Liz Sterry, M.I.G (Men In Grey, Julian Oliver and Danja Vasiliev), Heath Bunting, Face to facebook (Paolo Cirio and Alessandro Ludovico), Annie Abrahams and more. Each of them work in a deeply relational way to intervene in the mythologies projected about digital technology; and, with a knowingly crtical eye of the technical limitations and the social controls at work when using networked technology. At different levels, all are producing work that 'consciously' incoporate relational contexts, in some way or another, this includes ideas and approaches with autonomy as part of their art, but not necessarily advocating technology as a singular, saving grace.
How do you view the role of this practice in the context of the wider corporate and state impact on the way technical cultures are evolving. How do you see the notion of hospitality working between the arts and these other more mainstream cultures?
CG: I greatly admire and like the work of the artists you mention and others doing similar things. For me they exemplify the complexity of the idea of hospitality. In general the Web is about exchange, whether that of money for goods, social links and relational exchanges in social networks, or the exchange of speech and dialogue in on-line fora. The work of these artists refuses this demand for exchange and profit within a restricted economy. Thus they are in a sense parasitical on the Web. The word 'parasite' comes from 'para sitos', meaning 'beside the grain', and refers to those animals that take advantage of grain stores to feed. They are the creatures to who must be offered hospitality, as a gift, without expectation of return, which means that while they are bound up with the technological systems that comprise the Web, they are not part of the restricted economy of exchange, profit, and return that is at the heart of capitalism, and to which everything else ends up being subordinated and subsumed. Thus they find an enclave away from total subsumption not outside of the market, but at its technical core.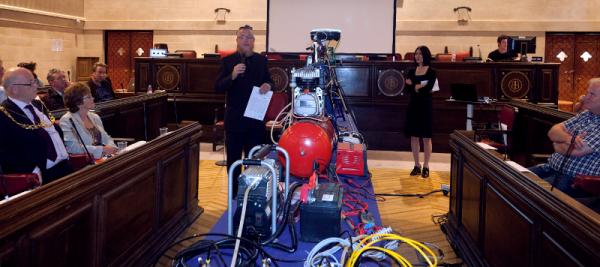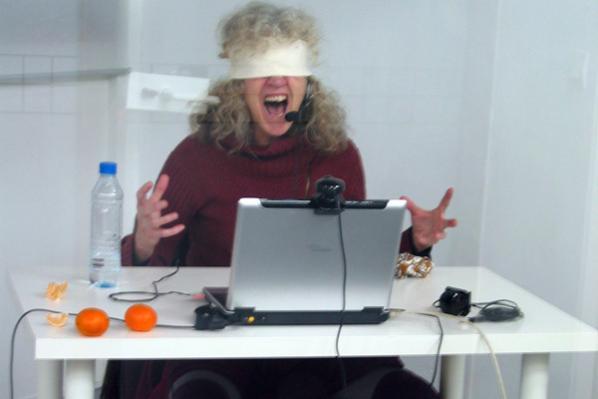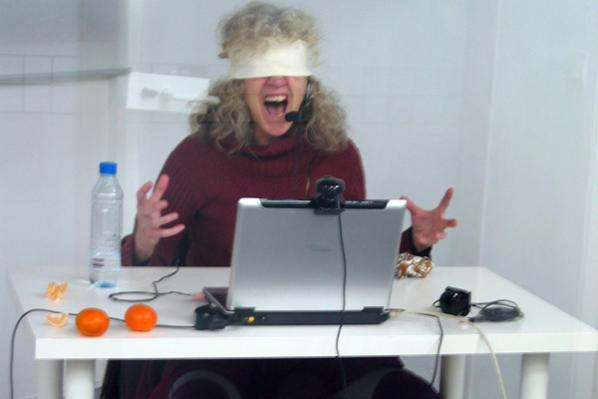 MG: Many are aware that technology and digital culture has changed the world we live in, and appreciate its immediate effects on our everyday behaviours and situations. But, there is a bigger story to tell and history can offer us insightful glimpses, important clues and ways into this story about our relationship with technology and digital culture. One of the arguments outlined in your book 'Digital Culture' is that, digital culture is neither radical, new nor technologically driven. With this in mind, which past developments do we need to acknowledge and be reminded of and why?
CG: For me the emergence of digital technology is part of a much longer story of abstraction, codification, quantification and mathematisation that can be traced back to numerous points in the history of the West, from Ancient Greece, to early Modernity to the rise of industrial capitalism. Here one might think of Heidegger's use of 'cybernetics', a word we normally associate with post-war computing culture, to describe the technology and calculative enframing of modern society which he traces back to the Ancient Greeks and especially to Plato. I am not a particular advocate of digital technology, and while I appreciate its uses, I also think we must try to be aware of how it determines the way in which we think, and in which we conceive of the world. Above all we should not regard it as merely a conduit to an uncomplicated world simply out there, but rather the means by which a particular world comes to be for us. That said, this is very hard, given that in my view, and to adapt a well-known phrase from Derrida, il n'y a pas de hors-media, there's no Archimedean point outside of our medial condition, from which we can understand it as from a god's eye view. 'Media determine our situation' as Friedrich Kittler put it.
MG: In Digital Culture, you write about the composer John Cage and how he "has had the most profound influence on our digital culture", and how his influence has opened up various different avenues of creative engagement. And, many of his ideas on interactivity and multi-media not only "have repercussions in the art world", but also a strong influence on how computers are used as a medium. Which art movements in particular did he influence and what kind of legacy did he leave for others in relation to computers?
CG: Actually Cage's influence on those using computers in the arts is probably less to do with what he himself did with such technology and more to do with his use of aleatory methods in many his different projects across many artforms. Also there is something about Cage's own refusal of a normative Western subjectivity that is also consonant with aspects of our hyper-technologised existence with its emphasis on decentering the individual. Both the refusal of such subjectivity and the aleatory work together to produce a new model of the artist as conduit of contingent social forces rather than protean demi-urge or genius.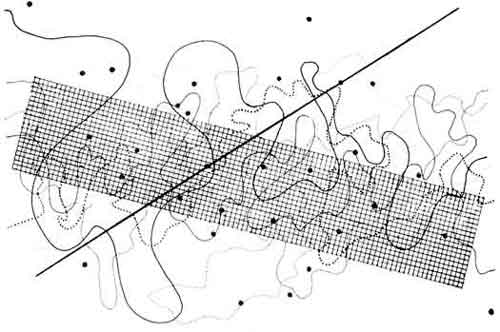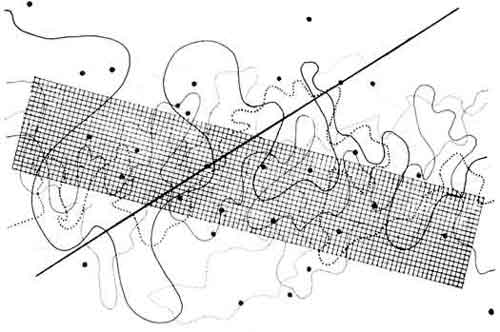 MG: Your new book 'Community without Community in Digital Culture', has come out at the same time as Geert Lovink's 'Networks Without A Cause: A critique of Social Media'. Lovink asks "How do we overcome this paradoxical era of hyped-up individualization that results precisely in the algorithmic outsourcing of the self? How do we determine significance outside of the celebrity paradigm and instead use intelligence to identify what's at stake?" [1]
Where are your thoughts in regard to Lovink's question, and does it relate to what you propose in terms of "hospitality to the other?"
CG: I haven't read Geert's book, yet at least… But I am highly sympathetic to what I take to be his position. My view is that the Web is part of a broader set of developments that apparently concern relationally, but actually emphasize the sovereign individual and autonomous subject of modernity, as well as promoting spectacular and image-bound forms of presentation and relation. The problem is that one alternative to this individualization is a kind of fascistic identification with the mass, in the form of fusion that negates the individual. A solution maybe to engage with the idea of the other in terms of difference, as both relational and separate, and yet also that which we depend on for our identity in a process of differentiation; thus the idea of hospitality as a reception of the other in difference.
MG: Community without Community in Digital Culture, is a curious title. It proposes contradictory meanings and these contradictions are clearly explained in the introduction. Although, the last sentence says "In this such technologies are part of the history of the death of God, the loss of an overarching metaphysical framework which would bind us together in some form of relation or communion. This can be understood in terms of contingency, which has the same root as contact."
Could you unpack this last sentence for us, I'm especially interested in what contingency means to you?
CG: I owe my understanding of contingency to the work of philosopher Quentin Meillassoux, whose book After Finitude is causing a stir. Meillassoux is one of a small number of young philosophers sometimes grouped together under the name 'speculative realism', mostly because of their shared hostility to what they call 'Kantian correlationism', the idea that there can be no subject-independent knowledge of objects. Meillassoux follows the work of David Hume, who questioned the whole notion of causation; how one can demonstrate that, all things being equal, one thing will also cause another. For Hume causation is a question of inductive reasoning, in that we can posit causation on the grounds of previous experience. Meillassoux pushes the implications of Hume's critique of causation to a point beyond Hume's own solution, to propose the only necessity is that of contingency, and that everything could be otherwise, or what Meillassoux calls 'hyperchaos'.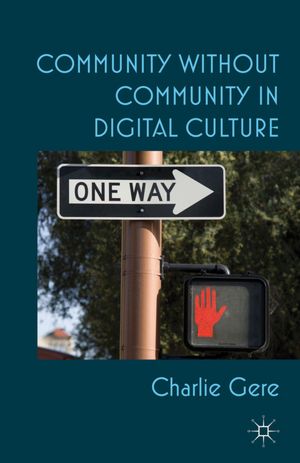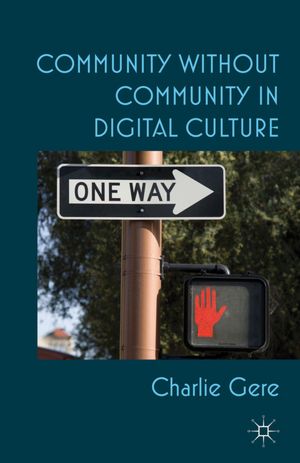 I use his ideas to think through the implications of the 'digital'. According to the Oxford English Dictionary 'digital' has a number of meanings, including '[O]f, pertaining to, using or being a digit', meaning one of the 'ten Arabic numerals from 0 to 9, especially when part of a number', and also 'designating a computer which operates on date in the form of digits or similar discrete data… Designating or pertaining to a recording in which the original signal is represented by the spacing between pulses rather than by a wave, to make it less susceptible to degradation' (the word for data in the form of a wave being 'analog').
As well as referring to discrete data the dictionary also defines 'digital' as '[O]f or pertaining to a finger or fingers' and [R]esembling a finger or the hollow impression made by one', thus by extension the hand, grasping, touching and so on. Much of the book concerns deconstructing the 'haptocentric' implications of contact, and communication, especially in relation to the claims made for social networks, and to engage with what I understand as the relation between 'contact' and contingency'. 'Contingency' is derived from the Latin con + tangere, to touch. 'Contingency' enables us think through the implications of the term digital, by acknowledging both its relation to the hand and touch and also to the openness and blindness to the future that is a concomitant part of our digital culture after the death of God.
MG: What other subjects can we expect to read about in the publication?
CG: Touch in Aristotle and medieval theology, cave painting, mail art, Darwin and Dawkins, Luther Blissett, On Kawara, Frank Stella, Bartleby the Scrivener, Christianity – among other things… oh, and a lot of Derrida.
MG: If there is a message you'd like to send to the world, as it carries on regardless with its "permanent exposure of life, of all lives, to 'all-out' control […] thanks to computer technology" [2] (Virilio 2000), and it was printed on a banner, or on a billboard in the streets, what would it be?
I am reading Blanchot at the moment, so perhaps something like 'the disaster has already happened' (it's suitably enigmatic to annoy people).
<———————————- The End (for now) ——————————>
This conversation follows in a series of interviews with women who work at the intersection of art and technology. Amy Alexander's work as an artist, performer, musician, and professorapproaches art and technology from a performing arts perspective, often examining intersections of art and popular culture.
Amy Alexander is an artist and researcher working in audiovisual performance and digital media art. She has worked under a number of pseudonyms including VJ Übergeek and Cue P. Doll. Coming from a background in film and music, she learned programming and began making time and process-based art on the Internet in the mid-1990's with the Multi-Cultural Recycler and plagiarist.org. Amy has performed and exhibited on the Internet, in clubs and on the street as well as in festivals and museums. Her work has appeared at venues ranging from the Whitney Museum and Ars Electronica to Minneapolis' First Avenue nightclub. She has written and lectured on software art and audiovisual performance, and she has served as a reviewer for festivals and commissions for new media art and computer music. She is an Associate Professor of Visual Arts at the University of California, San Diego. During summer/fall of 2012, Amy is Artist-in-residence at iotaCenter in Los Angeles.
Rachel Beth Egenhoefer: You've taken on many roles as an artist, musician, performer, coder, organizer, professor. How would you explain what you do to the "average Joe" who has not idea what a code artist is?
Amy Alexander: I usually don't try to explain to people what a code artist is. I generally just tell them about the types of projects I or my students do, ("museum installation," "club performance," etc.) and what some of them are about. Then I explain that it's done by writing software, building electronics, making videos, etc. But the point is more about the projects, not about how specifically they are made.
I also think talking about code-as-art is both less necessary and less difficult than it was five or ten years ago. What motivated me and a lot of other code artists back then was a concern that algorithms had a cultural impact that wasn't well-recognized. Nowadays, people are familiar with the idea that Google sorts your search results in a particular way, websites you visit develop demographic profiles of you, etc. – they're already concerned about algorithms. So I think it frees up both artists and audiences to focus on other aspects of the work. Of course, there are definitely some situations in which focusing on algorithms-as-art is important. Just like photographers sometimes focus on the nature of photographs, video artists on video, etc.
RBE: You've worked as yourself, as well as other performers such as Cue P. Doll and Übergeek. Can you describe the differences between some of your characters, and how do you see identity as a key element in your body of work?
AA: Some of the online characters just evolved. I tend to anthropomorphize things, and I like to break into characters; I've just always done those things. So in some cases when I'm developing a project from a particular perspective, a character emerges who personifies that perspective. For example, The Original Plagiarist.org (1998) website was a collection of projects in which grandiose attempts to opportunistically plagiarize from the Internet always turned out to be transparent. So the character of Plagiarist emerged as the proud proprietor of this site and creator of all its projects – and the only person who couldn't see the futility of the plagiarisms.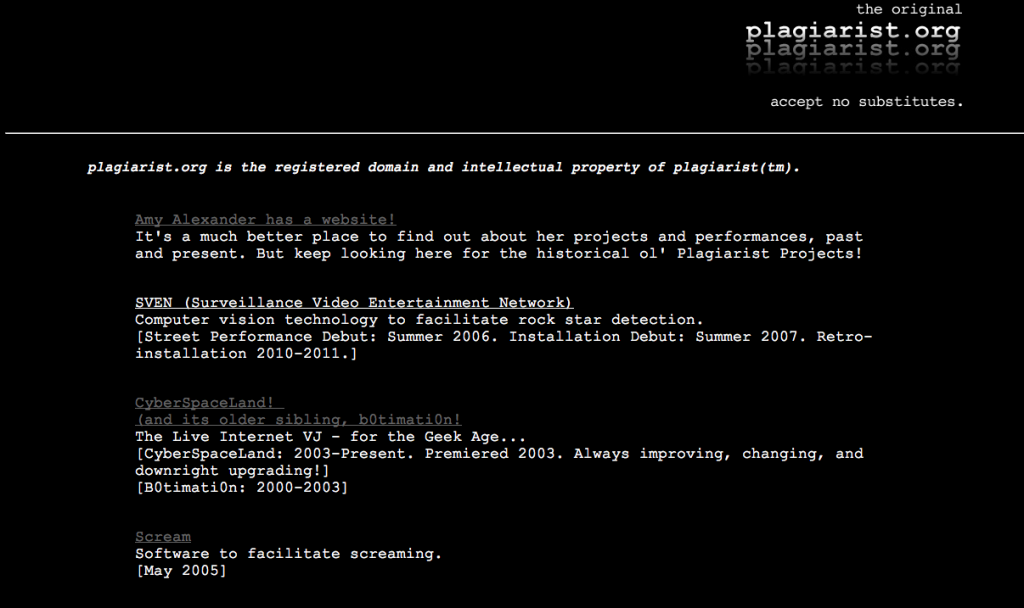 Übergeek is different, since I physically go out and perform as her. She's both a theatrical character and actual club performer – in varying proportions depending on the context of the show. The theatrical character is a geeky rockstar wannabe. That opens up space for Übergeek to exaggeratedly escape the physical restrictions of performing on a computer – by waving around an "air mouse," dancing on a DDR pad, etc. The club performer comes from my growing up performing music. I'd never thought about it, but the zone musicians go into to perform is really like playing a character. You have to become someone else. A few years ago I heard Steve Schick explain that when he has to perform a difficult piece of music, he imagines he's someone else – and that other guy can play the piece. Eventually I realized that any performance of any kind I'd done that I'd been remotely satisfied with, whether music, VJ show, or performance art – I'd mentally become some other person. Going into character is really important, even if the character is just, "the performer." It can be easy to forget the crossovers between performing arts and visual arts, but there's a lot we can learn from one another.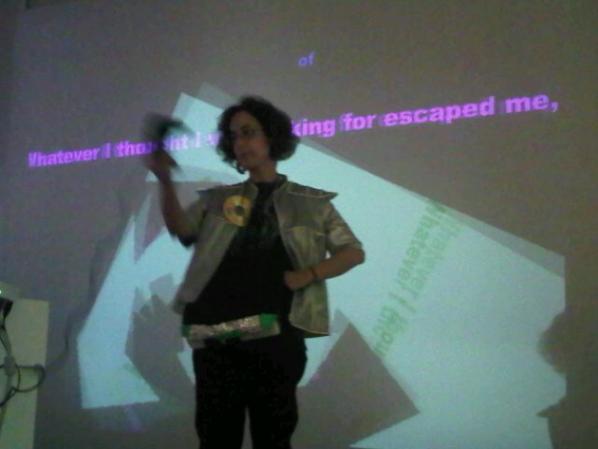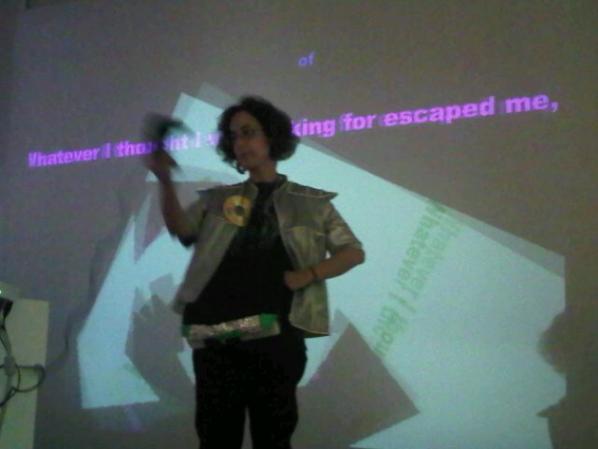 RBE: Do you think this happens to us when we interact online, that we become performers? (Some people believe for instance that Facebook is really a performance of ourselves, not our real selves) Do you see any intersections of performance in "online" vs "physical/ in person" interactions? (I realize this gets into an entirely different question, the idea of intentional performance and unintentional, but perhaps you see an overlap?)
AA: I think there's an overlap, but there's also an overlap between the kind of "performances" we do online and those we do in "real life." I don't buy the dichotomy that the physical world is real/true and the online world is fake. We perform different sides of ourselves in different real life situations – work, friends, family, large group, small group, etc. Sometimes we perform more consciously than others. On the other hand, sometimes we feel less inhibited in online interactions, so we behave more naturally.
That's not to say there's no difference between online and offline interactions – but then again, these differences didn't just suddenly emerge when the Internet came along. Think back to when people sometimes had pen pals by snail mail, for example. The relationships could be friendly, intimate, or performative. When things like immediacy and nonverbal communication disappear, that invites a different kind of behavior – be it more natural, more performative, or a combination.
RBE: What connections do you see between identity, code, and performance?
AA: I guess I've responded to identity & performance in the question above. As for code & performance: people have pointed out that code parallels musical notation, in that both are executable languages. If you think about scores by people like John Cage, where scores could actually be diagrams or verbal instructions to the performers, the connection between performance and instruction set becomes even clearer. This is interesting historically and theoretically, but for many of us who use code in performance, the connection becomes self-evident in practice. Code launches processes and actions, and performance *is* processes and actions, and there's a back and forth between the performer and software. It's not that much different for me performing software than performing a musical instrument; if I play violin, I finger, bow, pluck in various ways to get various sounds. You can think of the violin as interface, the notes and gestures as parameters, or whatever. But to be honest, trying to create precise analogies is a recipe for disaster. The point is, you perform both of them, and you have to learn how to do it. The difference with software is, you build your own instrument; that's both a blessing and a curse. So you try to balance playability with flexibility, and so on. Because of my experience playing music, I keep trying to build ones that will accommodate clumsy performers like me!
RBE: Do you see all code as being "performed"? (Or perhaps is saying code is executable the same as saying code is performed?)
AA: It depends on which sense of the word "performed" you're using. In the sense that means to do some sort of process – like to perform your job duties – yes. You can think of data as nouns and algorithms as action verbs. You "run" code, and though the physical metaphor might be an exaggeration, in general, some sort of an action happens. So in that sense, the processor is performing the code.
But in the other sense of the word – intentional performance, performing arts, performance art, etc. – running code is innately no more of a performance than breathing. People like John Cage have made interesting performances out of breathing, and people like Alex McLean have made interesting performances out of running code. But it's not that way on its own, except in the Cagean sense of it being performance if you think of it that way. I think that's interesting, but I'm personally more interested in code's cultural, rather than formal, implications. In other words, I'm not so excited that processes are dynamic and self-repeating for their own sake. I'm more interested if, for example, that means we have increasing difficulty finding unpopular or obscure information online, because the popular perspectives have formed an algorithmic echo chamber.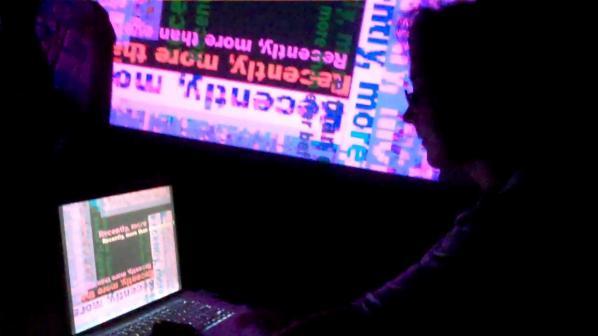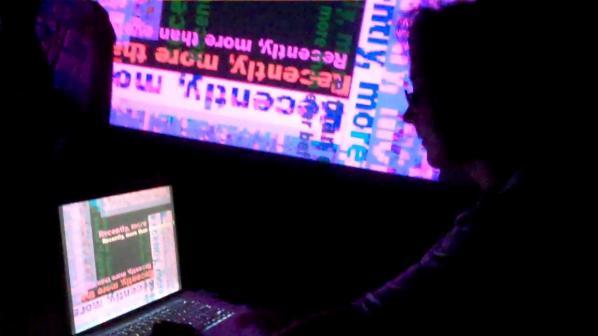 RBE: Your newest work is using audiovisuals, performance, solar energy, and the history of dance in cinema. How did you arrive at this combination of ideas?
AA: The project is Discotrope: The Secret Nightlife of Solar Cells. It's an audiovisual performance – a collaboration with Annina Rüst, with algorithmic sound design by Cristyn Magnus. There's really two parts to the project: the projection system, and the content and performances that we develop for it. The system is a disco ball where some of the mirrors have been replaced by solar cells. The cells power the motor that turns the ball. We project video onto the ball instead of colored light. The result is, reflected, fragmented video images move around the room. Since the video projections "solar"-power the ball, the speed at which the images move around the room varies with the brightness of the images.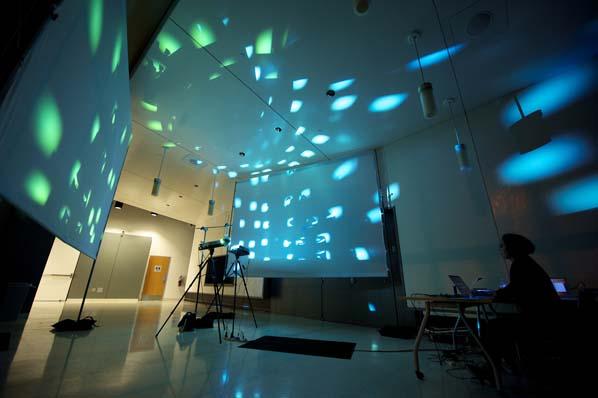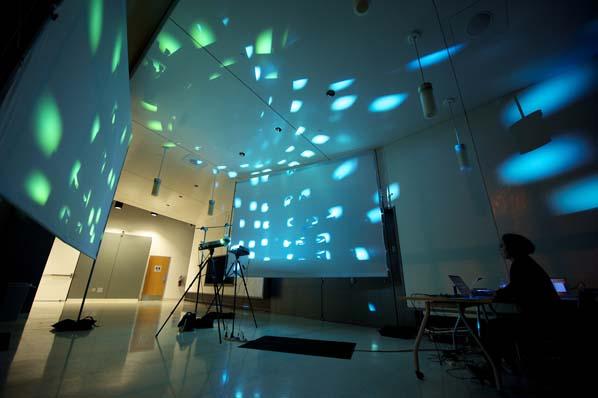 The way this all came about was I'd been interested in the philosophy behind hybrid cars and various other things – that when we "waste" energy, we might actually be creating it. I kept wondering if this idea could be applied to media somehow, and I kept trying various experiments with video: could the talking heads on cable news power an LED? etc. Never quite found the right outlet for this idea, though. At some point, Annina and I came across a disco ball, and we noticed the similarity between its mirrors and small solar cells. Then the idea of projecting videos onto it hit us, and it all came together as a "media-powered" system. Of course, that was just the general idea. After Annina built the initial prototype of ball, it took many hours working with it the studio for the "instrument" to reveal itself – i.e. how exactly does a video-powered disco ball become useful visually and performatively? Figuring that part out was just elbow grease – but getting from rough idea to what-is-this-really always is for me; I have to get my hands on things and play with them.
The content framework we're working with for at least our initial round of performances is "the history of dancing 'at' cameras." Since it's a disco ball, we envisioned performing it at community dance parties, etc., and so people dancing seemed like the obvious thing to project. We started from the idea of projecting the people at the party onto it live – but we realized we also wanted to expand beyond that. Again, the elbow grease process: I'd try different clips of people dancing on YouTube, old movies, TV shows. Eventually a connection emerged between early cinema clips and contemporary YouTube clips. In both cases, people dance pretty much like vaudeville performers, directly for the audience – as opposed to cinematic narrative style, in which the viewer is a fly on the wall. In the dancing "at" cameras style, there's a more direct, intimate connection between dancer and audience. We've written some things about this on the Discotrope blog – and I'll probably write more there soon. Another thing we became interested in is how representation (gender, physical, etc.) does and doesn't change from early movie camera demos and Hollywood films to YouTube, where people are generally self-cast and self-directed. And I'm really interested in the relationship between all of this and the muddy space between exhibitionism, voyeurism, and surveillance. That's a theme that's run through a number of my projects, and dancing at cameras certainly exemplifies that murkiness.
Of course, a lot of the dancing at cameras perspective relates to film history in general – cinema's origins in theatre and vaudeville, the development of montage, etc. So it's interesting to see it return with YouTube. Teresa Rizzo has written a really interesting article related to this called, YouTube: The New Cinema of Attractions.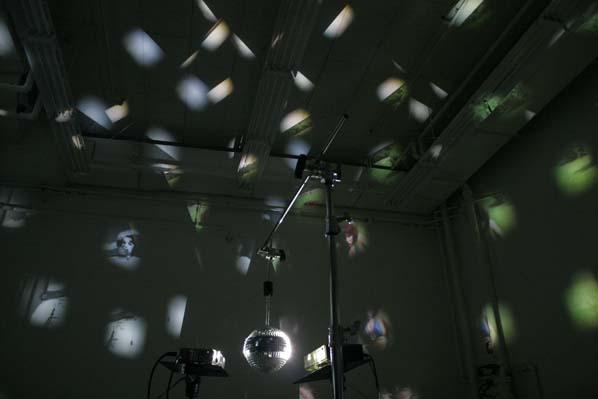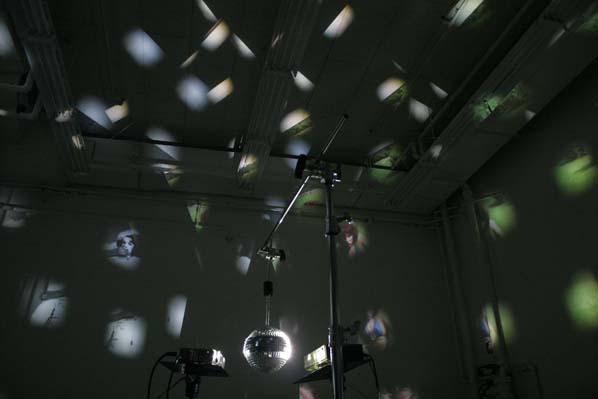 RBE: When you say "people dancing at cameras" I immediately thought of surveillance cameras. Is your disco ball a type of surveillance camera?
AA: I'm really interested in the blurring between surveillance, exhibitionism, and voyeurism. The Multi-Cultural Recycler, SVEN, and CyberSpaceLand all hit on that theme in one way or another; this time it's cinematic dancers. The cinema/YouTube performers who appear in Discotrope all knew they were on camera, so overtly it's more about exhibitionism and voyeurism. Glamorous 1950's female burlesque dancers did their strip tease acts for the camera; sixty years later, not-so-glamorous scantily-clad men proudly stomped through the Single Ladies dance on YouTube. One group does work-for-hire within the Hollywood studio system; the other does what they want. Does that make one voyeurism and the other exhibitionism, or is it more complicated than that? in some cases, we see the performers much differently than they probably saw themselves. Does that make it surveillance? I think it's all very muddy, and that's what I find interesting.
The flip side is that there are people in some of Discotrope's YouTube videos doing things like dancing in Walmart, which gives the video a surveillance camera look even though it's obviously not surveillance (in the traditional sense, at least.) People turn the tables on surveillance video and make their own production numbers in surveilled/controlled areas – for fun and as a type of resistance. That's one of my favorite parts of Discotrope. Then we get to recreate those Walmart spaces in the big Discotrope projection. It makes it even more like an old Hollywood production number, and it makes it weirdly immersive. This is fun for us, because Walmarts are not the kind of thing normal people like to recreate immersively. 🙂
RBE: For this piece you are creating something for other people to perform with. Are there any differences for you in creating work that you will perform vs. others performing?
AA: Ah, those pesky multiple senses of "performance" again!. 🙂 I do the visual performances for Discotrope, so for now I'm primarily building the software system for myself to perform. So far Annina is the only other person who performs with the software. Like anything, it'd require some tweaking to be distributed for more general use, though I've tried to make it not too terrible in that regard. 🙂 More challenging/interesting might be for performers to get the feel for moving the ball – like anything, it takes practice to get proficient.
But perhaps you're talking about performers in terms of the audience who can dance to Discotrope, or the parts of the show where audience members can dance on camera interactively. In this case, they're both performer and audience at the same time. That's an interesting challenge, because in designing the show, we have to think about them in both ways.
RBE: You are starting a residency at the iotaCenter in Los Angeles, what will you be working on there?
AA: It'll be mainly exploratory/preliminary research; things will likely be changing/developing as I go along. But my general plan is to explore two threads: gestural and spatial cinematic performance. In performing CyberSpaceLand over the years, I found myself unconsciously developing certain gestural/structural performance techniques that were much different than what I'd consciously designed for the piece. That spawned some ideas about gesture, time and space that I'm going to try to take further. The spatial thread grew out of some things we've played with in Discotrope in terms of deconstructing cinematic narrative in a 360 degree space. I'll be exploring these spatial cinema ideas both in regards to Discotrope and as broader research.
iotaCenter's a great place for doing research in abstract / formal and experimental cinema, visual performance history, etc. They've got a terrific collection of films and texts. I'm hoping to also use the opportunity to get together with other experimental cinema and visual performance folks in LA. It'd be great to organize some fun/intellectually-stimulating/breathtakingly-earthshattering screening/performance events.
RBE: This interview is going to be part of a series of interviews with women working in art and technology. What do you consider to be important today about being a woman working in art & technology? Do you think it is still useful to discuss the female voice as a separate voice in the field?
AA: It's a tricky subject, because we both need to hear women's voices and avoid tokenizing or homogenizing them. Women artists working with technology do tend to have different perspectives than men, and there are far fewer of us. So often when the dominant themes emerge, they tend to be the "masculine" themes by virtue of sheer numbers. A corollary is that often women artists feel pressured to focus on gender issues or certain types of social issues. Again, it's a problem of critical mass and self-perpetuating themes. Since a fair number of women are already involved with those topics and many women's interests overlap there, they have momentum. But this ends up discouraging women from discussing or doing work on other topics they're interested in, So, while we need to talk about shared experiences among women in art and technology, we also need to recognize that they have a diverse range of work and perspectives.
RBE: How have you seen perceptions of gender change through the years either in teaching, performing, or working as an artist?
AA: It's interesting to think that the first programmers were women, and that at the time it was considered clerical work. (See Researcher reveals how "Computer Geeks" replaced "Computer Girls" by Brenda Frink.)
As men started to fill programming jobs, the perception of programming shifted. It became something "technical" that was somehow inherently "man's work," even though it had been clerical "women's work" only a few decades earlier. I've seen something similar happen as a female computing artist. I think there are more of us now – at least we don't seem to be the novelty we were ten or fifteen years ago. And I've seen a shift in attitudes and perception among undergraduate computing arts students: by now both the men and women have grown up playing video games and doing a variety of Internet activities that might have seemed like "boys-with-toys" pastimes a decade ago. So their perceptions of what they're learning to do as computer artists is a little more open and less gendered. But unfortunately, there are still circular perceptions in all age groups that whatever technical work women are doing can't be too serious by virtue of the fact that a woman did it. It would seem to parallel the current political debate in the US about the pay gap between women and men. There are always arguments that women's jobs aren't as demanding, and they usually end up with someone saying, "I can't believe we're still talking about this in 2012!" So on one hand, the more things change, the more they stay the same. On the other hand, as more women computing artists emerge, we'll hopefully soon achieve sufficient critical mass for world domination. Don't say I didn't warn you.
Andreas Broeckmann writes on art, machine aesthetics, and digital culture. He is director of Leuphana Arts Program at the university in Lüneburg, and has played key roles at transmediale – festival for art and digital culture, ISEA2010 RUHR, TESLA-Laboratory for Arts and Media, Berlin, and V2_Organisation Rotterdam, Institute for the Unstable Media. Lawrence Bird interviewed him on our current experience of media and civil society. Image: A. Broeckmann, transmediale 2007 (© Jonathan Gröger)
Lawrence Bird: It's often said that we inhabit the city differently today because of our engagement with media and media technologies. This has been one of your main concerns, and it makes for a very interesting intersection of media theory and public realm theory. Where does this preoccupation come from on your part?
Andreas Broeckmann: I have arrived at these questions not so much from a theoretical or academic perspective, but in response to specific artistic practices that I was interested in. For my own thinking about this area, the works that the artist group Knowbotic Research were working on in the 1990s were seminal. The participative public installation "Anonymous Muttering" (1996), for instance, initiated a radical clash of the physical urban space with the virtual 'space' of the internet, interlacing the activities of the participants in a way that created a strange intermediate zone – maybe we could say that it allowed people to place themselves _in_ the medium. In the series of projects that followed under the title "IO-dencies" (1997-99), Knowbotic Research further explored the possibilities of becoming active, of acting in a virtual environment in a manner that was connected to activities and events in the physical space.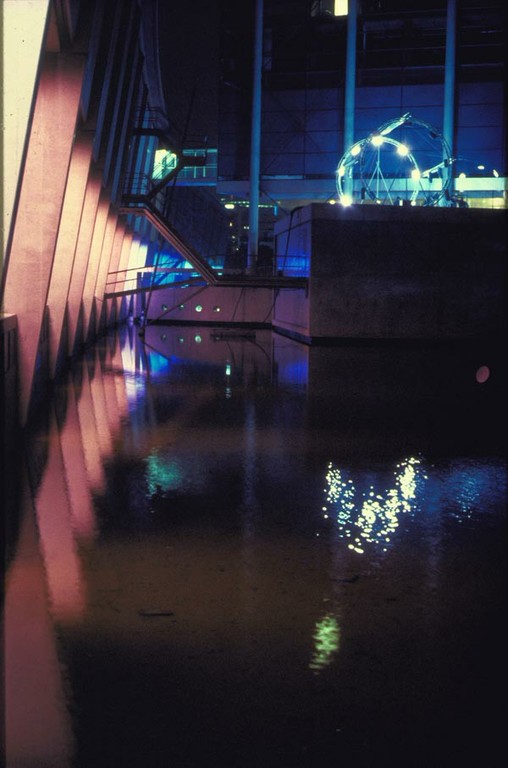 I was working quite closely with the group at the time, presenting some of the projects in Rotterdam where I was a curator at the V2_Organisation, co-authoring texts, organising workshops, etc.. This was a great opportunity to think through the issues of the new, hybrid public sphere that was opening up because of the Internet. In order to understand the works, it was necessary to develop a differentiated conception of what it meant to "be public" or to "become public". The topic returned, for instance in projects I was involved in by Rafael Lozano-Hemmer in Rotterdam, or a publication on Polish video art by the WRO agency, or a major curatorial on a media facade in Berlin, or, for that matter, more recent projects by Knowbotic Research, like "Be Prepared Tiger", or "MacGhillie". Personally, I believe that privacy in all its guises – from camouflage and the absence of surveillance to "a room of one's own" – is one of the great privileges of a modern individual. Contemporary media and communication technologies have transformed the possibilities of being private dramatically, just as the notion of what it means to be public is subject to drastic changes. And artists are articulating these changes which we are all part of, giving us opportunities to reflect on what is going on, and to imagine how things might also develop otherwise. I think that my interest in the relationship between publicness and intimacy is fed both by a personal sense of urgency and and concern, and by the inspiration I get from artists, not to fall into despair.
Lawrence Bird: Fascinating. So would you say that in the direction media are now evolving, there's actually an increased scope for private "being" — not just in terms of a potential for increased anonymity and independence, but in terms of a richer and more developed individuality? To a greater degree — or perhaps qualitatively different — than was possible in earlier stages of modernity?
Andreas Broeckmann: Unfortunately not… I say that privacy is a privilege exactly because it is becoming such a rare condition these days. The developments that we speak about are, of course, not unidirectional and homogeneous, but very diffused and heterogeneous, and open to quite different interpretations. For many people, a platform like Facebook or Google-Plus is a way of discovering a new form of sociality in which they try out different ways of being public and being private.As for myself, having been brought up with the Critical Theory analyses of the Frankfurt School, I find it difficult not to see these optimistic readings as dangerously naive – it would be a bit like exploring your inner self in the highly regulated and commercial spaces of a shopping mall… I would not go so far as to say that privacy has completely disappered — as though we were now living in a global village of Big Brother containers, or in a vastly extensive version of the Truman Show. But I do think that today we lack a more widespread critical sense of resistance to the regimes of commodification that have taken the place of what were once "privacy" and "social relations".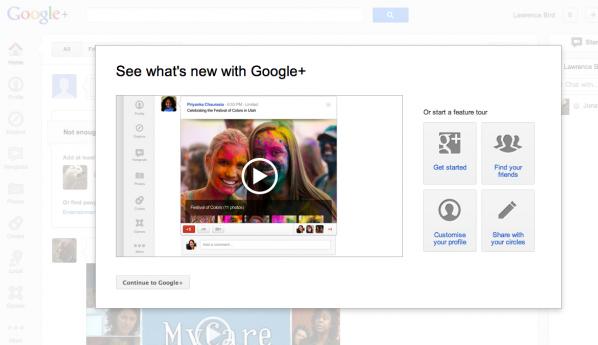 Lawrence Bird: You spoke about the concern of "falling into despair". How general would you say that motivation is? I don't know if you've thought about it this way, but I'm thinking in terms of Occupy, and the other social movements, many of them enabled by media and engaged by artists, which seem to generate new, and some evidence suggests quite lasting, relationships of trust and hope. Many of these seem to come in response to a recent loss of faith in corporations, governments, financial institutions — older social groups that had an important role in old definitions of "public". I wonder if your comment connects with a widespread yearning for hope, in response to conditions that might well produce despair?
Andreas Broeckmann: I dare not speculate about the longevity of the relationships that have been built by the different branches of the Occupy movement, but I am skeptical about the longevity of anything that is built on specific internet-based media platforms. Facebook, for instance, was launched in 2004, that's eight years ago, and the German and many other non-English Facebook services are no older than four years. That's a very short time, and we might want to remember that platforms like Google (*1998), Facebook, Flickr (*2004) or Twitter (*2006) are not part of the natural environment, but recent services offered by profit-oriented companies which, just as well as they may rule the internet world throughout the 21st century, might also get drowned in the swamps of global capitalism (whose regime includes "customer confidence").
I would refute the assumption, implicit in your question, that many of the people who protested on the squares in Madrid, Cairo, Washington or Athens last year were people who previously had faith in their governments, or the institutions of capitalism. Of course they didn't, and quite rightly so. What was special about last year was that there is a new, articulate generation of people who would not put up with the situation of stasis, hopelessness and frustration that has paralysed major parts of global societies since 2003 when, in February of that year, millions who took to the streets around the world in protest, were not able to stop the US government and their allies from starting the war on Saddam Hussein's Iraq. The inflection of this event is different in different parts of the world, but I believe that we share that moment. And this is where the protests in the Arab countries, and those in Spain and Greece, hit the squares on a parallel trajectory: In the same year of 2003, the German government started the implementation of what was called the "Agenda 2010", a project based on the EU's 2000 Lisbon agreement of economic restructuring, with the aim of making Europe more competitive on the global market. Since then, in Germany we have seen an erosion of the welfare state, drops in income for lower and middle classes and a huge increase in precarious jobs. But some economists also say that the reason for Germany's relatively healthy economic situation today, compared with, for instance, Greece or Spain, is that these countries failed to reform their debt-pampered economies. Which is why there is a certain reluctance today in Germany to protect privileges for the Greek middle class, privileges which German citizens already had to give up years ago.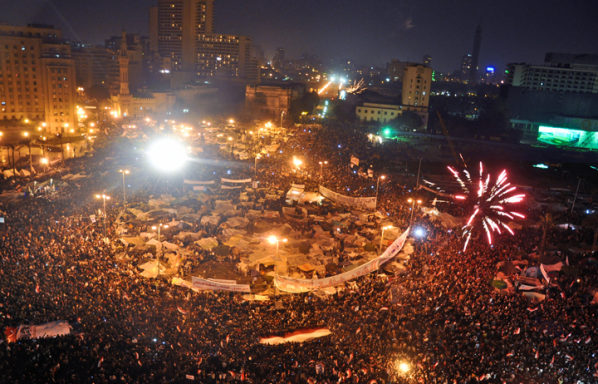 above: Tahrir Square on February 11, by Jonathan Rashad (CC-BY-2.0, 2011).
My point is that if we take things into a more extended historical perspective, and if we count our lives not in short Twitter months, we can see how the struggles, the hopes and the despairs of today are part of a broader set of transformations. And we can see that in these transformations there are forces at work which have a huge inertia and which need to be worked on and battled with both patience and long-term strategies. Like any other revolution, and like in the theatres of the Occupy movement, the one in Egypt may have started on Tahrir Square and the mobilisation of people through media-based social networks, but to complete that revolution, a difficult and drawn-out political struggle needs to be fought. Maybe that is the necessary realisation that hit "the movement" this past winter.
Lawrence Bird: And what form might those long-term strategies take? It's a huge question perhaps, but do you have any ideas about the shape this restructured public sphere might have to take, what forms of governance and participatory democracy for example, to sustain a more permanent change?
Andreas Broeckmann: Personally, I believe that for the foreseeable future many political struggles will continue to happen in the 'arenas' of political institutions like governments, parliaments and other election-based structures, in political parties, public administrations, in transnational and inter-governmental decision-making bodies, in trade unions and NGOs. It is a realm that will only partly be affected or influenced by the online world, and even if the emerging public sphere of the Internet and its social media forums implies a huge expansion and diversification of the mass media dominated public sphere of the 20th century, this expanded public sphere will not necessarily have a bigger impact on political processes than the 'old' public sphere did. The experience of the 'movement' in Egypt today might be analoguous to that of the APO (the extra-parliamentarian opposition of the students movement) in 1960s and 70s West Germany, i.e. realising the necessity of getting involved in existing state institutions ("the long march through the institutions"), which brought members of that generation to power some 25 years later in universities, in parliaments, in national governments. The relevance and standing of the new Egyptian parties is not proven or disproven in the first elections; it is decided when in ten or twenty years from now they may or may not have been able to change the social consensus about democracy, rights, and freedom.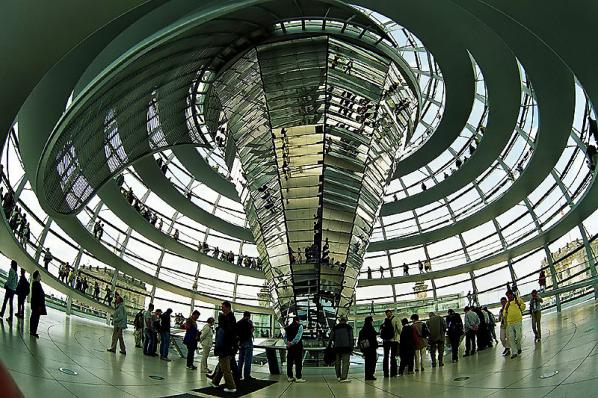 Lawrence Bird: A confession here: I'm an architect, so I always assume, perhaps naively, that a built infrasructure can play a role in these kinds of transformations. In your opinion, might a material intervention be a necessary part of those changes — distinct from, though perhaps in dialogue with, the mediated public realm? What kind of physical (urban) spaces might serve as a counterpoint or moderator to the transience of the Twitter world — and are those spaces any different from the urban spaces we have now?
Andreas Broeckmann: I doubt whether architecture in the narrower understanding of the term will play much more than a symbolical role in these struggles and transformations. Of course, the built environment, especially the way in which public space is configured, plays a significant role in how public life can unfold in cities. And there are political issues to be fought over: for instance, I find it curious how in many of the European cities the authorities allow the construction of one shopping mall after the other, pushing the social and commercial activity of shopping into privatised and highly regulated control spaces, and then those same authorities are surprised when the neighbourhoods in the vicinity of these malls deteriorate because the normal shops are abandoned or have to be closed, making room for trash and money laundering businesses. The resistance against such developments can at times most effectively be fought in local parliaments that, at least in Germany, have to give their consent to such major construction projects. This makes it necessary to join a political party, get elected into the local parliament, sit around in meetings, deal with all sorts of issues of public interest, etc., and be there when the application for the next shopping mall is up for decision…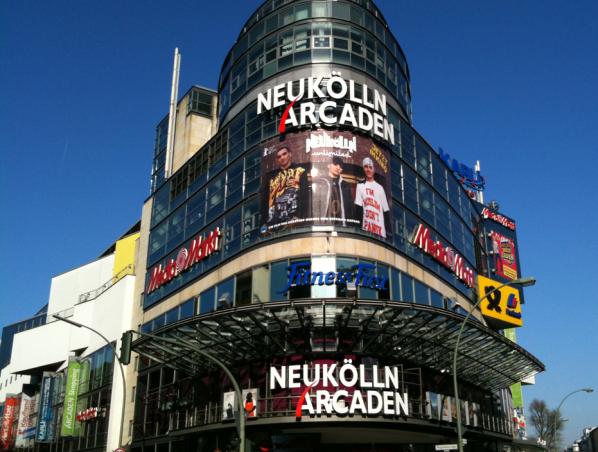 Of similar relevance is the designing of the digital sphere through software 'architectures' – both in terms of individual applications and services, and in terms of the overall technical infrastructure, both hard- and software, and its governance. The critical discussions around the status of ICANN and, more recently, the public protests against law-making initiatives like SOPA and ACTA, have shown that protests can in fact have an impact on such structures. Yet, that impact will remain cosmetic if the public outcry is not followed up by sustained political work through which the drafting of and the decision-making on such laws is factually influenced. This is what lobby groups do, and this is what social movements also have to do, finding whatever possible and suitable political instrument or institution through which to act.
The major arena of constructing and designing the new political sphere will be in law-making, and I believe that the movement needs critical lawyers, historians of economy and charismatic intellectuals more urgently than architects – although, of course, everybody has an important role to play and no-one who wants to contribute should be sent away.
Lawrence Bird: And how about artists — do they have a role in this? To provoke, perhaps? To articulate social and political conditions? Would you say that whatever that role is, it can be part of the sustained transformation you're talking about — or do they need to step down into a governance role to take part in that (Vaclav Havel being one example).
Andreas Broeckmann: In my understanding of art, there is no particular role that it can, or even "should" play. I would argue that the most important aspect of art for society is its autonomy and the fact that it has no particular responsibility. Art can beautify, it can decorate, it can irritate, it can disturb, it can question, it can affirm, it can simplify or complicate. Such an "open program" of course implies that individual artists or groups, or specific projects, will take a particular political stand, will try to influence a social or political situation — will seek real impact. This is a form of activism that art can borrow from political groups and movements, but it is not the activism that is crucial for the artistic practice, it is the transgressive articulation that artists may achieve in their own dealing with social realities. I want to emphasize that this is my understanding of art, and I fully respect people who think that art can and must be more engaged in social processes in order to be relevant. But again, I think that what art can give us most importantly is what happens in a zone of freedom that is morally, aesthetically and sometimes also politically more risky than anybody who acts in the political arena — save for the mavericks — would want to be.
So the question, "what should artists do," can in my understanding only ever be answered: "they should do whatever they do." It must be the best thing that they can do, they have to be precise in their formulations and realisations, they have to be committed, diligent, and daring. It is wonderful if they can, in that way, help proliferate good ideas and push the political situation in a good direction. But by the same token I believe that it is equally wonderful if artists ask questions that are impossible to answer, or pointing out unsolvable ethical dilemmas, or remove the mask of an opponent only to don it themselves.
There is, in my eyes, certainly no obligation to go into politics like Havel did. Artists are not always people with a high moral reputation, and stepping into the political arena like Havel did requires stamina and a certain habitus. And there are many ways in which people can intervene in social and political processes. Take the example of Aliaa Magda Elmahdy who posted a photograph of herself naked on her website and sparked a huge debate about the situation of women in the Islamic world. This was not an art project, but it shows what work in the realm of symbols can achieve.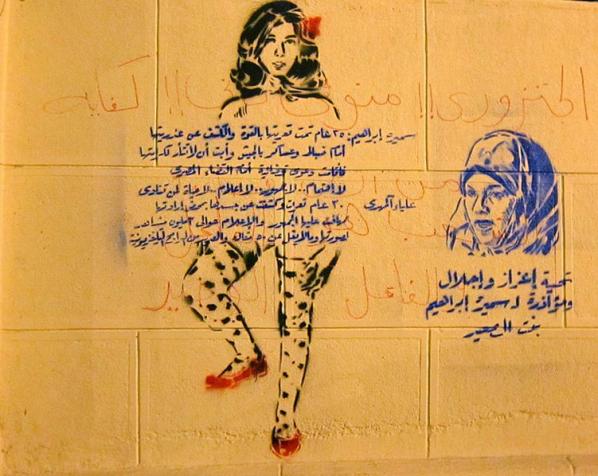 Lawrence Bird: If I could I'd like to steer the conversation in the direction of your thinking on "the wild" — perhaps it relates through the transgressive nature of art you've just been discussing, and the tricky relationship of that to civic functions, governance, and related realms of responsibility. Cities have been conceived as set apart from the wilderness — within the city lay the realm of humanity, civility, politics; outside its walls, the wild, monsters, raw life. Girorgio Agamben makes the case that the violence of our times equates to the obliteration of that line: between political life (zoe) and bare life (bios).
In light of what you've already said about art and transgression, and the value of that; and the precarious status of privacy today, and the danger of that; your understanding of media and the political movements underway today which involve some significant transgression of the boundaries of authority, I'm willing to bet you have a more nuanced take on this issue. What's our condition now with regards to the edge of the wild? Is it a constantly shifting boundary, what Agamben refers to as the caesura? Does it imply a human condition interdigitated with an inhuman condition, like a werewolf, or cyborg? Does our humanity in fact find its source in the wild?
Andreas Broeckmann: The questions that you raise are of course extremely complex and very difficult to do justice in the current context. So allow me to shirk the anthropological discussion, which I guess I don't have a particularly original opinion on anyway. When I spoke about the "wild" as an aspect of digital art a few years ago, it was in a half ironic, and half romantic way: ironic in the sense that art that makes use of digital media is technically conditioned and requires a "tamed" environment to function at all; even what is referred to as 'glitch aesthetics' is predicated on general functionality, the glitch being only a minor aberration, not a substantial fault. Yet, as you would gather from what I said before, I am also 'romantically' attached to the idea of an artistic practice that transgresses these technical functionalities and explores failure, dysfunctionality, misuse, or uncontrollability as categories of aesthetic experience. I'm thinking of artists like Gustav Metzger, Jean Tinguely, Herwig Weiser, or JODI, who in their works perform, we might claim, the potential wildness of technology. This is mostly a controlled, at times even metaphorical wildness, whereas the true wilderness of technology, if we want to go there, is probably the realm of the accident that Paul Virilio has so poignantly written about. An "art of the accident", as we entitled a festival in Rotterdam in the late 1990s, is, I believe, only possible in the realm of metaphors.
What I'm currently wondering about is whether in our 21st-century cybernated world a notion of "nature" as something different from culture maybe disappears completely, as we have full Google-ised view and total measurability of what happens on Earth, from millimetre shifts of tectonic plates to carbon dioxide output of cattle. In such a world, there would be no room any more for the "wild", only for different degrees of pollution on the one hand, and endangerment of species on the other…
In the long run I have trust in the finality of all existence, and the futility of all human efforts. But in the short term, that is, in our lives, I believe that we have to work to make the world a little better, or at least do our best to not make things worse than they are.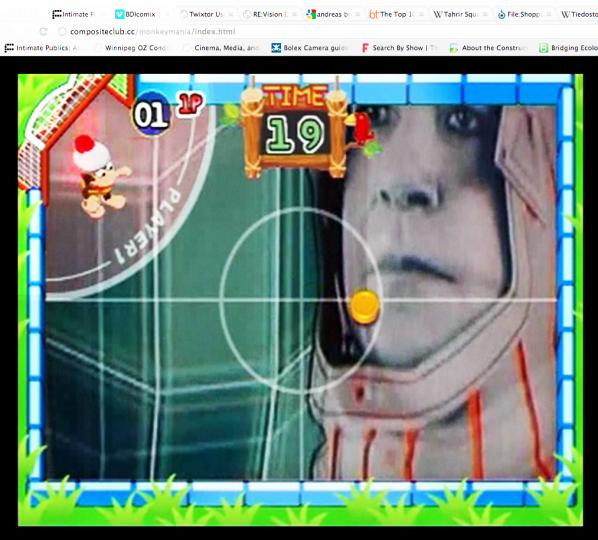 Featured image: "Born in 1987: The Animated GIF" from the site's page.
Marc Garrett interviews Katrina Sluis, the new curator of the Digital Programme at The Photographers' Gallery, London. We discuss about the gallery's recent show Born in 1987: The Animated GIF and what kind of digital exhibitions and projects we can expect from the gallery in the Future.
An edited selection shown on the London Photographers' Gallery's new digital wall, during the final weeks of the show. http://thephotographersgallery.org.uk/the-wall-2
The exhibition microsite. An open conversation where anyone can join in and contribute their own GIFs. http://joyofgif.tumblr.com/
Marc garrett: You have joined The Photographers' Gallery and as part of the new digital programme launched the exhibition "Born in 1987: The Animated GIF". Could you tell us about this project?
Katrina Sluis: The digital programme presents projects both online and offline, which respond to recent dramatic shifts in the digital image as it becomes increasingly screen-based and networked. As part of this new programme we have launched 'The Wall' – a permanent exhibition space on the ground floor of the Gallery, visible both to visitors and passersby on Ramillies street. The Wall itself is a 2.7 x 3m Sharp video wall which we installed after considering a number of different technologies. We were conscious not to use digital projection as it would locate the project within traditions of cinema and video art, and we wanted the screens to respond to the reception and distribution of images within wider visual culture.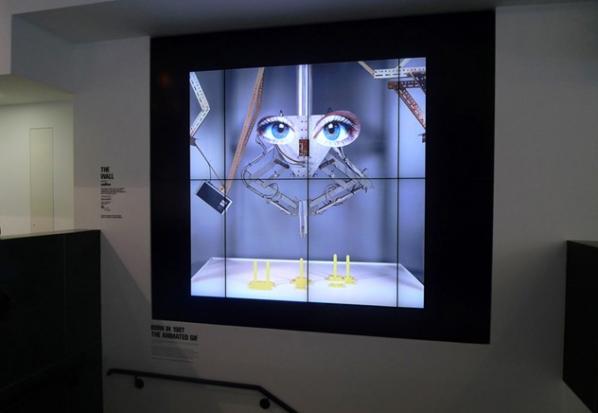 For the opening show, we decided to focus on the animated gif for a number of reasons. Firstly, the gif is a uniquely screen-based image format, in which the specific characteristics and limitations of the image file are inherent to the form, in contrast to the other kinds of images the gallery might show which might adopt digital techniques but result in traditional print-based photographic work destined for the gallery space.
I also wanted to disrupt certain expectations about the screens – the fetishisation of resolution and image quality, and what kinds of photographs The Wall's programme might seek to address. The animated gif in this sense is very interesting – it is one of the first image file formats native to the web, and although it is 25 years old this year it has been undergoing a resurgence on platforms such as Tumblr. In a commissioned essay for the show, Daniel Rubinstein speculates that current resurgence of the gif "is not only part of the nostalgic turn towards the blurred, the unsharp and the faded but it is also a marker of a moment when the history of the network becomes the material from which the digital image draws its living energy."[1] Frequently authorless and contextless, the gif image works on a different economy in which its value is based not on its uniqueness and scarcity (as in certain forms of art) but its circulation and proliferation. Although there have been significant practitioners of the gif form, it is a format which ultimately resists canonization. And, in the context of a photography gallery, it opens up other debates concerning medium specificity and the 'post-photographic'.
In approaching the exhibition, I was keen to ask a diverse range of photographers, writers, organizations and other practitioners to contribute a gif for the show. In keeping with the unmonumental nature of the form, I asked contributors to respond within a short timeframe of 7 days. For many contributors, this was the first time they had made a gif; but other contributors already had large followings on Tumblr and some were established net artists. This opening show and associated Tumblr site (http://joyofgif.tumblr.com) became a starting proposition for the project in order to then open up The Wall to gif contributions from the wider public. We will continue to update The Wall with public responses on a daily basis until the final day of the show on 10th July.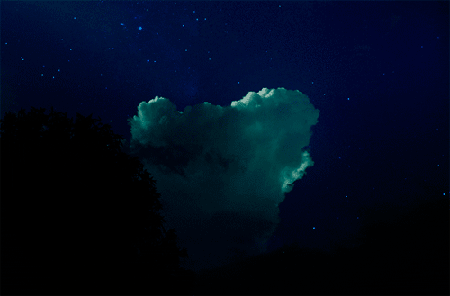 MG: At first, some may assume that the first part of the exhibition title 'Born in 1987', refers to the fact that today so many young people using computers these days were born in 1987. Yet, the GIF format, short for 'Graphics Interchange Format', was introduced to the world of computers by CompuServe in 1987. Was the title of the show deliberately playing with both notions?
KS: I like this idea! The title does self consciously play with the way in which the digital is valorised for its endless 'newness' and novelty but yet has this long and frequently overlooked history of creative experimentation. You can also see this reflected in the recent hype around the work of Kevin Burg and Jamie Beck who have (problematically and entrepreneurially) re-branded the gif as the 'cinemagraph'.
MG: Do you consider this project to be net art, if so, how does it relate to other forms of net art?
KS: The project (and The Wall's programming) does pose certain problems as it seeks to relocate certain forms of online practice(s) into the space of the art museum. At the same time, the project exists in an online context with its own very different life on Tumbr, where the work circulates in a very different context with a very different audience. I think there are many interesting opportunities which emerge from this intersection of the institutional frame of the museum (with its associated issues of cultural and curatorial authority and the legacy of aesthetic modernism) and the values and politics which inform certain kinds of networked arts practices.
But I also think the project also needs to be understood in the specific context of The Photographers' Gallery, its history and audience. Whilst the project shares the concerns of net art by raising questions concerning authenticity, authorship and 'the social', it is also motivated by the need to rethink familiar notions of photography and temporality, indexicality and the economy of the image – concerns which presently haunt the field of photography theory.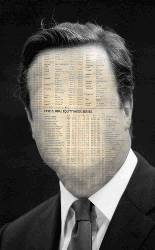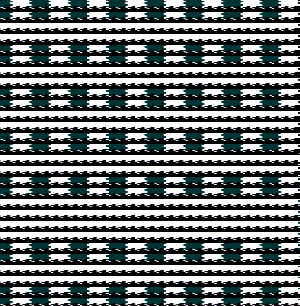 MG: In what way do you see this form of creativity relating to others who may not be so well versed with net art culture, or digital networked practices?
KS: The Wall presents an opportunity for the Gallery to collaborate with diverse communities who can bring their distinct expertise and experiences to the programme, and the net art community has much to offer in this respect. For this reason, we aim to develop The Wall's future programme through the framework of 'collaborative research', in which our audience, along with the organizations we partner with, are potential co-researchers. The co-researcher model developed as an approach to research democracy in the Social Sciences, particularly in the approach of Action Research in the NHS but in a more relevant cultural example was used extensively in the Tate Encounters: Britishness and Visual Culture research project. Co-research recognises both the collaborative and collective nature of meaning construction, through a process which attempts to trace and reveal the complex manufacture of meaning.
At the same time, there is still another related project to be done in highlighting and responding to digital projects whose life is online – this is of course something I admire Furtherfield for doing so brilliantly. On a smaller scale and with a more narrow focus, we hope to launch a blog which will draw attention to online work which relate to photography as it becomes polluted, valorized, hybridized and networked.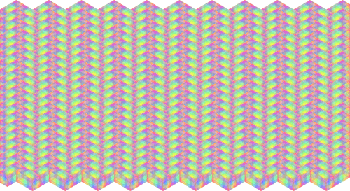 MG: Some, may view this this exhibition as relating to Internet Folk Art. There is an interesting article by Kenneth Goldsmith[1] where he discusses the digital theorist Rick Prelinger's claim "that archiving is the new folk art, something that is widely practiced and has unconsciously become integrated into a great many people's lives, potentially transforming a necessity into a work of art."
Now, this is not directly relating to the show itself, but it resonates something regarding the inclusiveness of the show. So, in respect of it 'possibly' possessing aspects of Folk Art, what connections do you see as relevant or not, and what does it mean to you?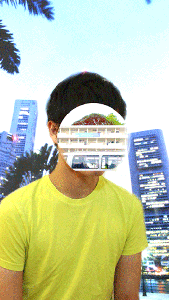 KS: By focusing on the gif the show does problematise the distinction between artist and audience, in which participation, openness and the 'crafting' of the image becomes key. However I have reservations about the use of the term Internet folk art, which could be construed as imposing a certain modernist logic on the discussion, burdening it with an analogue modeling of high and low culture. The research approach has been adopted precisely to avoid the trap of binary nominalism, and to problematise the tendency to shoe horn internet practices into the language of cultural studies and aesthetics.
MG: The Photographers' Gallery was the first independent gallery in Britain devoted to photography and has been going since the 70s. It is the UK's primary venue for photography and has been dedicated in establishing photography as an essential medium, representing its practice in culture and society. It seems that The Photographers' Gallery is going through another transition. You have already mentioned how hybridized and networked the nature of future projects will be. So what kind of exhibitions and projects can we expect in the future?
KS: Because digital technology is not in itself a new photographic medium, but essentially a hybrid and converged set of technological practices, it raises many interesting problems, both theoretical and practical for a Gallery focused on photography. To the computer, the photograph is indistinguishable from the other binary blobs of data we used to call books, films and songs. The crisis of digitization and medium specificity now extends to the domain of the camera – Digital SLRs are coveted for their ability to shoot high quality digital video, and we turn to our mobile phones when we want to take snapshots. This is a very rich context for the programme to explore, and ideally the future projects will respond to the technical, creative and cultural languages of photography as produced by computer engineers, web developers, photographers, artists, networked communities, social scientists and other practitioners.
Our next show on The Wall (opening 13th July) features the practice based research of Susan Sloan into portraiture using motion capture and 3D animation techniques widely used in entertainment, medicine and the military. Her motion studies refer to the traditions and conventions of portraiture and the changing role of the camera as a recording device. At the same time, her work raises questions concerning the convergence of painting, animation, film and photography in the digital realm.
The future digital programme which will occupy different spaces and address various photographic practices including augmented reality, social media, electronic publishing, interactive media, mobile computing and synthetic imaging.
The Joy of GIF – the London Photographers' Gallery's new digital wall. Article by Wendy McMurdo.
http://www.foam.org/foam-blog/2012/may/photographers-gallery
Featured image: corporations are not people – the Overpass Light Brigade
Overpass Light Brigade in Tosa from Overpass Light Brigade on Vimeo.
Wisconsin has arguably been ground zero for union busting, DIY social movements, corporate takeover of government, and divisive – and often misinformed – political debate in the US for more than a year. And the Overpass Light Brigade (OLB), initiated by Milwaukee artists Lane Hall and Lisa Moline, have been a guiding light – literally – in how ground-up messaging and change can happen. Now a collaboration between many people, the OLB relies on an ever-widening community of activists, artists, thinkers, and do-ers for their "Signs of Resistance." After a few rounds of local rye whiskey at Milwaukee's Riverwest Public House Cooperative – one of the only co-op bars in the country – I did an email back and forth with OLB co-founder Lane Hall to find out more about what makes them tick, how they see themselves, and where the movement they are a part of is headed.
Nathaniel Stern: What is OLB? It feels more "struggle-" rather than "goal-" orientated, despite that its first mainstream recognition is in relation to a specific campaign. Can you talk a bit about its history: how it started, where it headed, and what it might become?
Lane Hall / Overpass Light Brigade (OLB): On November 15 of last year a rally was organized by grassroots groups in Wisconsin in order to kick off the Recall Walker campaign. It was to begin right after work, at 5:00 pm. Both Lisa Moline (co-founder of OLB) and I had been very active in what we now think of as the Wisconsin Uprising, and we asked ourselves the simple question, "How do we achieve visibility for graphic messages when it is dark at 4:30?" We began to tinker with off-the-shelf Christmas lights, and found some battery-powered strings of LEDs. We built our first sign, a 3′ x4′ panel that spelled out RECALL WALKER. When we arrived at the rally, we were immediately asked to be behind the speakers. That sign got on the Rachel Maddow and Ed Schultz show that evening, so we knew we had hit on something that afforded powerful visibility. That first sign is now, incidentally, in the archive of the Wisconsin State Historical Society.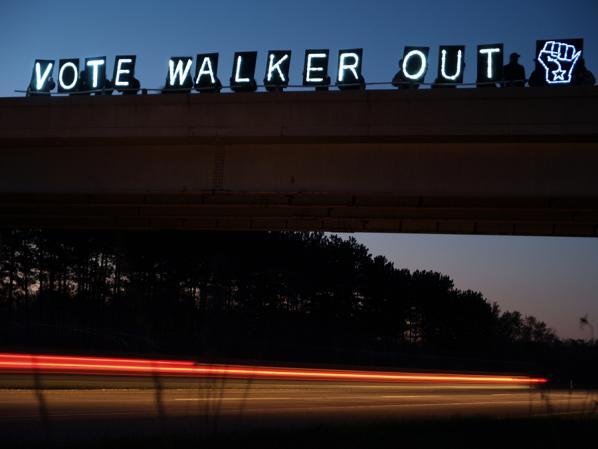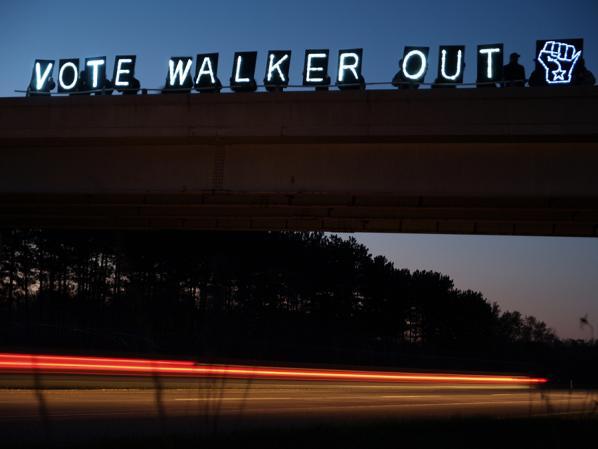 We then proposed a second design challenge to ourselves: how do we get messages out to masses of people, since we can't command the airwaves like Walker's Koch-fueled campaign? Once we decided to go out on highway overpasses, we "scaled-up" the letters so that we could spell out words, refrigerator magnet style, one letter per 2′ x 3′ placard.
Our first night out was on an overpass in South Milwaukee. It was very cold, fairly miserable really, with freezing winds kicking up from the passing semi-trucks. We had a few fellow activists to help, and our idea was to bungee-cord the signs to the fence while we stood by. We were accosted by a right-wing nut, a Young Republican, who was vehement in his insistence that we were breaking the law by affixing the signs to the fencing. He ended up in a physical altercation with Lisa in his insistence to rip our signs off the fence as well as forcefully take Lisa's video camera, since she was capturing his vigilante actions on video. When the police came, they did reiterate that nothing could be affixed to the bridges, though also supported our right to be there. From that night on, we realized that for OLB to work, we needed Holders of the Lights – one person per letter, as well as "spotters" for safety and a couple of people to take video and photos. This was a profound tweak of the original idea, in that it shifted our actions from mere signage to a form of witness or testimonial. It is very powerful to see one person per placard, positioned high above the highway, committed to the politics of physical presence.
We began to go out around the area, scoping out different overpasses, hooking up with different grassroots groups in Madison and Racine and Kenosha and Milwaukee. For about two months we took out RECALL to various locations, often getting hassled by people, questioned by cops, pushed to defend our rights to be out in these odd public spaces. We began to add letters and attract more volunteers who were attracted to our strange mix of Fluxus happening and focused message. RECALL WALKER, then 1% WALKER, then JOHN DOE (referring to an ongoing investigation into alleged campaign corruption when Walker was Milwaukee County Executive), then WALKER=JOBS FAIL and WALKER LIES and WALKER IS A CROOK, etc. We have always tried to index the message to what is breaking in the broader mediascape, so that there is resonance between multiple layers of information and our activist response.
Once Walker was officially recalled (he was "recalled to election") things really picked up. We were getting invited to hold actions around the state – Madison, Fond du Lac, Portage, Appleton, Kenosha, Racine – and more and more people began to join us. The 2 hour overpass occupations began to take on a real festive quality, with people bringing food, making music, chatting, singing, chanting and enjoying the angry and happy honks from the freeway. Our messages expanded, and our Bridge Parties have become somewhat legendary, with anywhere between 40 and 120 people commonly showing up. We even have a bagpiper who often leads us on and off the overpass.
A big part of the success of OLB is its mediagenic quality. Photographs and videos have been distributed freely and widely, at times even virally. We've been highlighted in the NY Times, CNN, Time Magazine, the Milwaukee Journal Sentinel, countless blogs and Facebook sites too numerous to even itemize. Our Facebook "reach" was hitting 182,000, and I was getting constant queries about the project. Our community of activists is extremely diverse, which is one of the things I am most appreciative of. It is odd how powerful holding a sign over a highway is, how many conversations happen in the two hours of bearing witness, and how compelling the action remains for our volunteers.
We immediately went out the night after the disappointing results of the recall. I felt that what I call "essential visibility" was even more important for the progressive community. WE SHALL OVERCOME and SOLIDARITY FOREVER graced the bridges, and we subsequently began to help some striking workers in Milwaukee pizza factory with BOYCOTT PALERMO'S. Since the recall, I feel we have gotten stronger and deeper, no longer relying on the easy binary of our disaffection towards our tea-bagger governor. Our issues are bigger and broader, more national. We just went out in Madison with CORPORATIONS ≠ PEOPLE and 56 volunteers showed up, along with some projector-shine activists, live-streamers, and a phalanx of videographers. We have also taken out QUESTION AUSTERITY and are integrating it with a social media #questionausterity campaign. I see the synthesis of physical and virtual space as the future of OLB actions, as well as our growing ties with the Occupy movement.
NS: This is more than inventive campaigning or even creative activism, but protest art with heavy political, aesthetic, ethical, and technological implications. The Graffiti Research Lab was first to use high technology to ask, "Can any public space be a blackboard?" You take that as given, provide the chalk, and ask for important messages to be broadcast on said blackboards. I'd like for the both of you to write a bit about your practice as artists, as activists, where they are one and the same, and where sometimes they differ.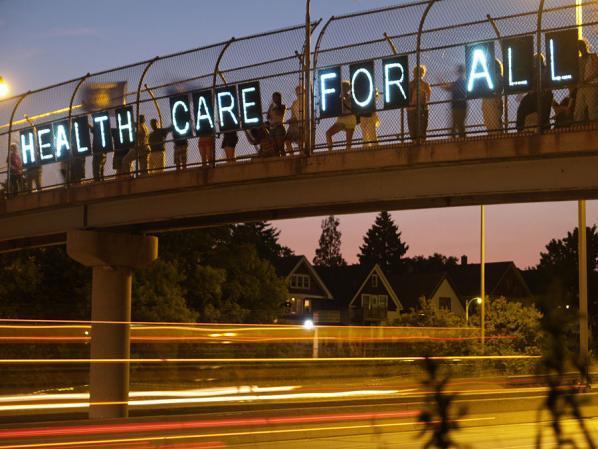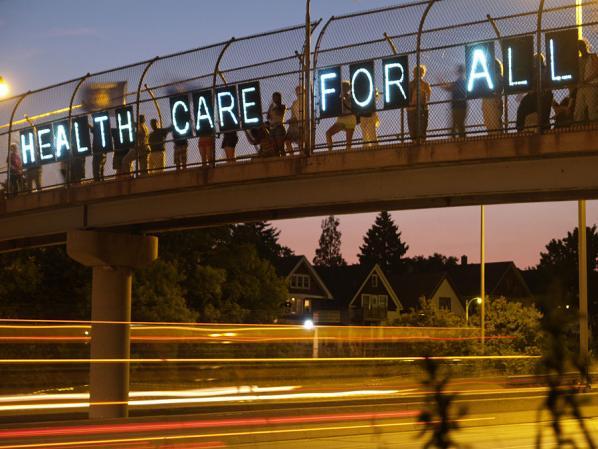 OLB: The Graffiti Research Lab is a continued inspiration for us in terms of their open-source ethos, and their bold pushing at the "public" aspect of "public space." I have great admiration for what they accomplished, yet have always felt frustrated that their messages generally stayed within existential parameters. That is, their presence in urban space was implicitly political, but their projections were generally, "I exist" with variations on the theme such as "Fuck you!" However, the way their events brought people together in the streets is also noteworthy. OLB has achieved some of these same dynamics, though with very directed and explicit political messaging. We are a fluid mix of relational aesthetic, Fluxus happening, street party and progressive messaging, all part of an inherently ethical practice. We think of ourselves as "the people's bandwidth," having found an open venue that takes a lot of dedication but only a small outlay of capitol, which is intrinsically public to thousands of passersby.
Our own work has been collaborative for a long time. Before the Wisconsin Uprising, our art – often about environmental issues and animal subjects – was implicitly political, but rarely pushed the boundaries of sanctified institutional spaces. Once the Uprising began, we got very involved with activist work, and took our creative efforts to the streets. We were inspired, set up a PAC called The Playground Legends with some other activists, and began working within some of Milwaukee's African American communities on voter education and Get Out The Vote campaigns. We set up "parties in the parks" for neighborhood groups, and used these relational activities to help create cohesion around a political purpose. This was exhausting and finally not sustainable for us, but some larger groups such as Wisconsin Jobs Now emulated our inventiveness and have really made a difference in spite of the Right's coordinated campaigns of disenfranchisement.
After working with this PAC, and struggling with the official requirements of a 501C3 and meetings with minutes and budgets and fundraising and reports, we chose to make OLB as flexible and open as possible. We are a loose affiliation of activists who show up on bridges and hold signs. It is very simple. Anyone can join. All ideas are welcome for consideration. Our community of activists is really the heart and key to sustainability with OLB. Most of them don't care whether this is art, or what the cultural precedents might be. All of them value this odd form of engagement, where they can see a beautiful and directed message reflected back through social media, and be a part of a much larger – and historical – emergence of a progressive political movement.
NS: Who do you want to follow your lead? Who do you want to help OLB progress to more innovative interventions? How can we help you help us?
OLB: We freely share the instructions for making the signs. They are very easy in concept, very DIY, and need only basic wood shop fabrication skills, akin to stretching canvasses or making a woodcut print. However, each sign does take a lot of concentrated construction, which can discourage some who have wanted to create their own. So far, we have 3 different chapters that have taken to the bridges: OLB-Fox Valley, OLB-Dane County (both in WI) and OLB-Harrisburg. We've also seen other iterations, such as a Madison based "Sign Brigade" doing daytime roadside actions. I see that OLB has a function as a model of empowerment, as well as the joy (or anger) one gets from seeing a message "done up in lights." One thing that hasn't happened yet is an ongoing series of "hacks" that extend and expand the idea. The off-the-shelf lights get expensive. Could someone figure out how to make battery powered (not big battery + inverter, but lightweight AA batteries) LED light strings so that we could build our own? How about other variations? This would be great to see, especially now that the Graffiti Research Lab's open inquiry with LEDs seems a thing of the past.
NS: What have been some favorite moments from the bridges?
It always amazes me when some random stranger pulls off the highway and comes to find us. Sometimes, especially at first, this would mean trouble, in that aggressors would want to direct anger at us. But one night in the bitter cold weather of January, an African American man came up to the bridge, told us he saw us and wanted to give us a gift, and offered each Holder a beautiful knit hat. He was a salesman of sports clothes, and had a lot of hats. We each left that night with a new Milwaukee Bucks hat!
Another time, just a few weeks ago, two women – an older woman and her adult daughter – came up to the overpass. Both were public school teachers. The teachers have been so demonized in Wisconsin – it is both ridiculous and shameful, but it obviously works to divide us, and as obviously takes its emotional toll on these new "enemies of the state." The older woman exclaimed that they were "so grateful to see us out there doing this" and she burst into tears. There were lots of hugs and they hung around for awhile, held a couple of letters, and left. It was very moving, as a lot of our Holders are themselves teachers.
We also hosted the famous "Nuns on the Bus" tour – the politically progressive group of Sisters who are going around the midwest to decry the austerity budgets of Paul Ryan and the Republicans. It was amazing when their bus pulled up by the overpass, and these elderly activists (along with the powerful Sister Simone) approached the bridge and saw the QUESTION AUSTERITY message we had created just for their tour. There were 96 people on the bridge that night, and they all sang happy birthday to one of the Sisters since it was her 72nd celebration that day. That was a wonderful event, and a great example of diverse activist communities coming together based on these joyful actions.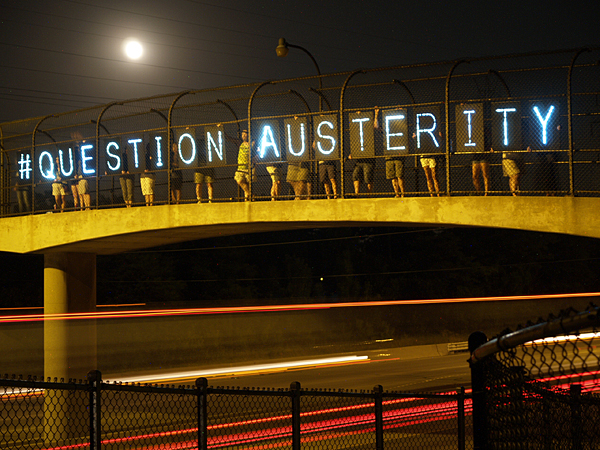 I could go on and on. Each action, each Bridge Party, is a whole narrative – interactions with police, with passersby, with neighbors both supportive and critical, and now and then with aggressors who have busted out our car windows or tried to shut us down. But it is all powerful, all a microcosm of the rifts in our country. The bridge is a forceful metaphor beyond its commanding physical presence over the geospatial distribution network function of our highways. It works both linguistically and architecturally, and affords a curious perch for our loose affiliation of committed brigadiers.
NS: How can we make our own stuff?
OLB: Check out our new site at http://overpasslightbrigade.org/
You can also find "noise of rain" posts on the Daily Kos site
http://www.dailykos.com/user/noise%20of%20rain
Featured image: "All Hail Damien Hirst!", Tamiko Thiel, 2012. Turbine Hall, Tate Modern, London.
Introduction.
Interest in Damien Hirst and his commercialized, celebrity status is well known. So when we heard that Tamiko Thiel was making the artwork "All Hail Damien Hirst!", we were immediately curious. Hirst is an extremely rich individual with powerful allies within wealthy, traditional art establishment circles. This includes Charles Saatchi, and commercially dedicated art mags and art institutions whom have all successfully helped in marketing his particular brand as part of their own economic strategy. With this in mind and acknowledging the potential risk in satirizing a well known art celebrity we thought it was a good idea to interview Thiel about her ideas and experience on the project?
Marc Garrett interviews Tamiko Thiel.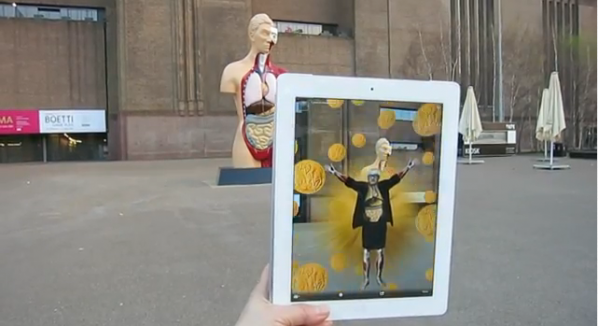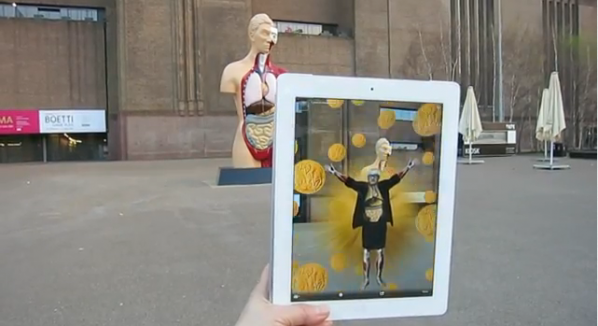 MG: Many are curious about your new augmented reality project "All Hail Damien Hirst!". It is an art installation and intervention. Why have you chosen to create an artwork aimed specifically at him, during his retrospective exhibition at the Tate Modern?
Tamiko Thiel: As a visual artist my projects start with having a strong image in my mind's eye that compels me to pursue the project further. When I heard of the retrospective at the Tate I immediately had an image of Hirst – depicted in a style relating to his own working methods – hovering in the vast space of the Tate Modern Turbine Hall. On findng out that the space was not going to be used except for the small room housing his diamond skull, I saw an opportunity to give visitors an experience that would utilize the space beautifully, compliment his own work and bring the contradictory feelings that many have about him and his work into sharper focus.
In my own work I often draw on the power of religious imagery. This aspect of Hirst's work, and also his themes of the body and death, are very compelling to me. On the other hand, he plays a master hand at making the art market dance to his tune. I find the market value of his carefully ordered spot paintings, for example, in marked contrast to the artistic power of Yayoi Kusama's spot obsessions, which were exhibited probably not by coincidence at the same time at the Tate Modern.
To top it off, while flipping through a United Airlines onboard magazine I chanced upon an image depicting the value of Hirst's artworks as an exaggerated – and spotted – version of the movement of the stock market: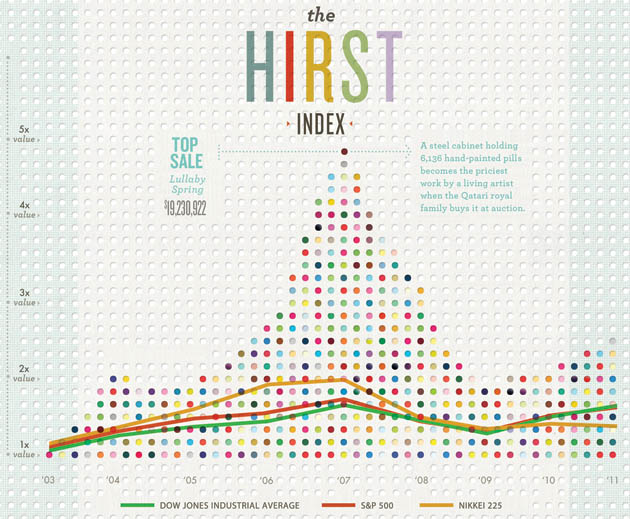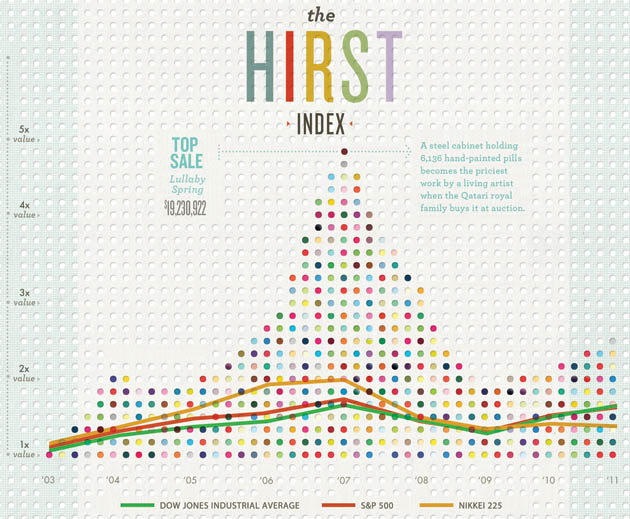 I wanted to make a work that addressed multiple issues surrounding Hirst as a person, as an artist and as a force in the art market at a time of extreme tension in the world's financial markets. I knew however that Hirst is very litigious, so I was careful to use none of Hirst's actual artworks, so I do not infringe on his copyright!
I had done an earlier augmented reality work, Reign of Gold, as part of the AR Occupy Wall Street project. In this work, viewers all over the world can chose the site at which to view the piece on their smartphones, and then see an animated rain of gold coins superimposed over the live camera view of their surroundings. I have photos of this work against the New York Stock Exchange, the Bank of England in London, TEPCO in Tokyo – the company that brought us the Fukushima nuclear disaster – and other choice sites around the world. You will see a clear visual relationship between the rain of gold coins and Hirst's spot paintings, which many say are destined to go through a similar boom and bust cycle as are the world financial markets.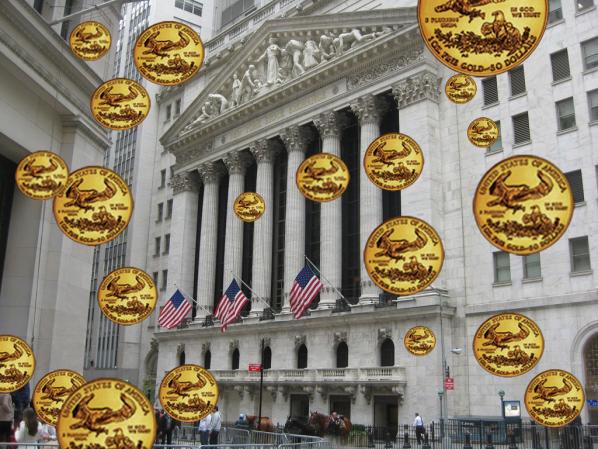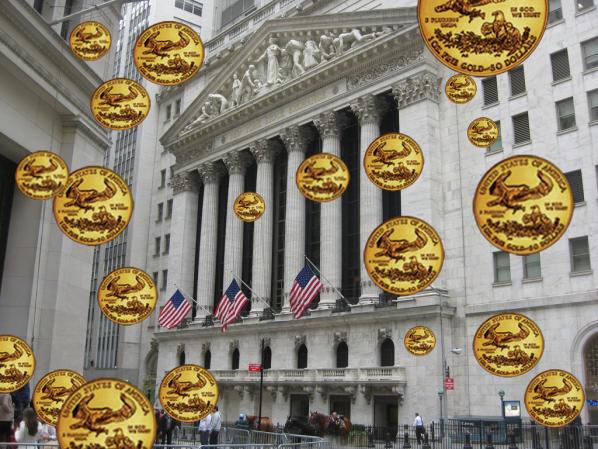 If I was a painter I would've gone off and made a painting, and that would have been the end of that. Since I work with augmented reality however I could place the image in and around the Tate Modern itself, the very site of Hirst's exhibition. This puts a whole different spin on the artwork, as having an artwork "in" a prominent arts venue is seen as a form of "canonization" in the art world, even if the artist places the work there by him- or herself, as did Banksy.
This brought in yet another level to the project, as the work functions now not only visually, but by dint of its location also questions the system by which the art world consecrates artists and artworks. What does the location of an artwork mean, if every artist decides for herself where to place the work? Walls cannot keep us out, nor can walls keep us in. Even Hirst, who is known as a control freak, cannot exercise control over augmented reality.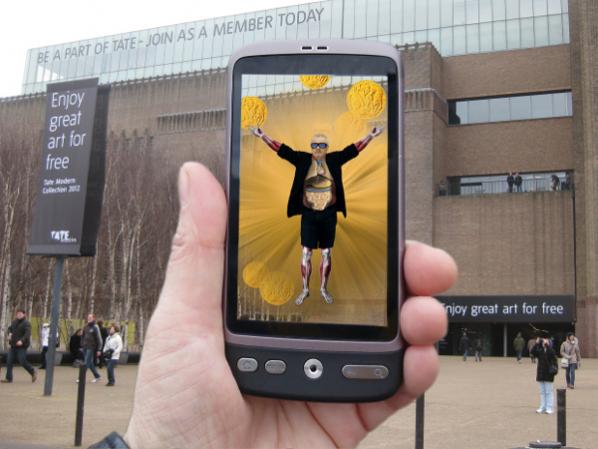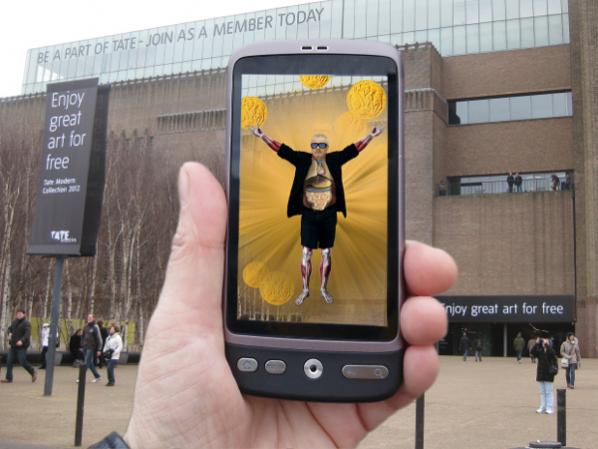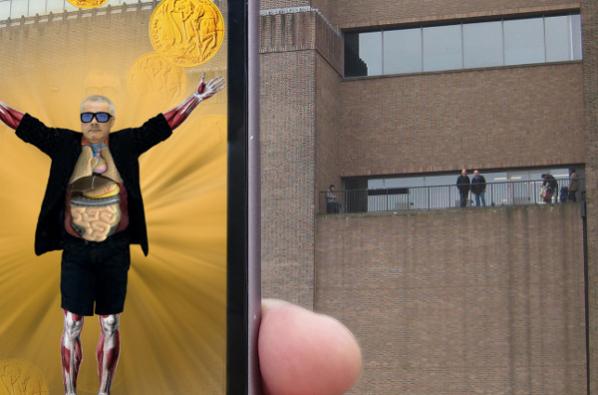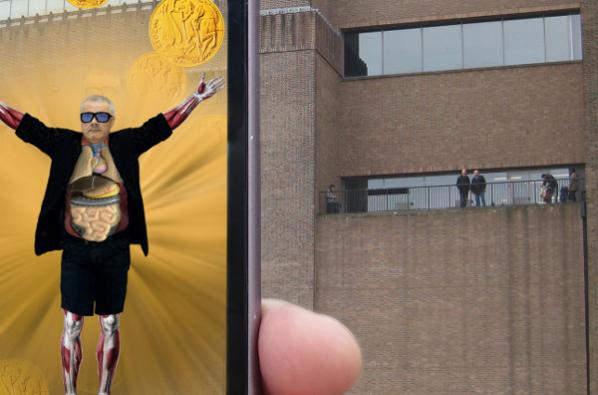 MG: You visited the Tate Modern and interacted with the public. What kind of responses did you receive by visitors to the intervention?
TT: Delight! Most had come to see Hirst's exhibit with contradictory feelings about the man and his art because of similar issues to those that had motivated me to make my artwork originally. They were delighted at how my artwork spoke to these feelings while leaving the conclusion open for the viewer. They liked the spatiality of the piece, how it surrounded them and filled the cavernous empty space of the Turbine Hall when viewed inside the Tate Modern, and reflected on Hirst's "Hymn" sculpture when viewed outside by the river. There was also fascination about this new technology which none had ever seen before, and of course some puzzlement about how it worked.
MG: What message are you hoping to communicate with this interventionist project?
TT: What attracts my attention as an artist are topics that provoke contradictory or unresolved emotions in myself. By their very nature I can't answer these topics with a simple message. Instead I try to create striking images and visual/kinesthetic experiences that evoke the contradictory feelings I have myself, in the hopes that my works can help focus or sharpen the issue, or at least provoke dialog in those who view them.
To cite a different work from my art practice: even in "Shades of Absence," in which I surround anonymous golden silhouettes of censored artists with terms of censorship, I am myself of two minds about many of the artworks I cite in the linked website on censored artists. I made Shades of Absence as an intervention into the 2011 Venice Biennale, at a time when Ai Wei Wei was imprisoned by his own government. In his case I am strictly against the censorship of him as an artist and a person, but in many other cases I have cited, I myself could not say I would always be against censorship when it could incite hate and physical violence against others.
MG: Is it mainly Hirst you are critiquing here or is he representative of something bigger in art and its culture that you are questioning?
Hirst is the British Jeff Koons! Every era and every country finds such a figure to represent the eternal tension between art as a sublime personal experience and art as the magnet for glamour and status and money. I wonder if it was any different for the artists of the cave paintings?
MG: In the publicity for the project, it says 'Augmented Reality is the Street Art of the 21st Century!'. Could you elaborate what this means to you, and share with us some examples of other interesting works in this field?
TT: In this regard, to be frank I think the work of my cyberartist collective Manifest.AR is the leading work in the field at this moment, perhaps because we are all so diverse and cross-fertilize each other!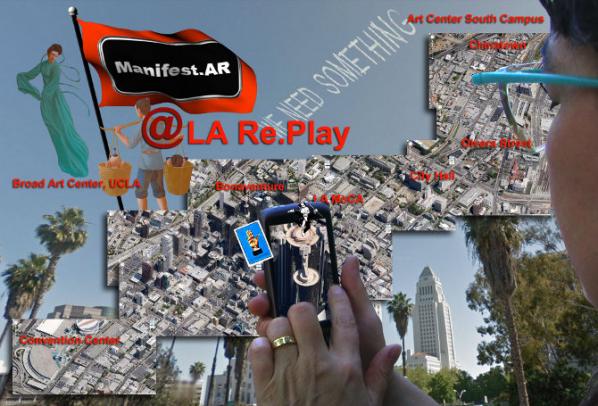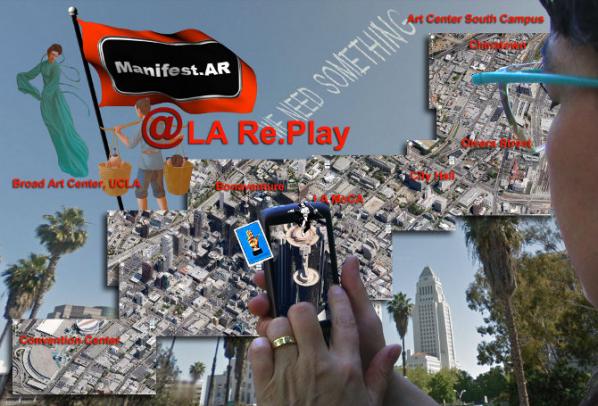 Of course augmented reality is not as visible as a graffiti on the side of a building – but it also cannot be removed, and we can place them wherever we want without fear – yet – of arrest or fines. Also, the smartphone or mobile tablet is becoming an extension of the self, and our primary interface with the extensive virtual society in which we are embedded. It is how we will communicate, how we will find information, how we will share our social space with everyone who is not standing in exactly the same room at exactly the same time, it will become our entertainment device, our payment device and god forbid our identification device. You do not go to someone's house to look through their photo album, you go to their Facebook site. Why shouldn't you start finding their thoughts and expressions as augmented reality images around you in space?
I just successfully co-wrote a major Rockefeller Foundation grant to help residents of a very poor area of a major city put up their own history and artwork in their neighborhood using augmented reality. I can't say much about it as the official publicity has not yet been released, but the organization I wrote it for is convinced that in a couple of years, more of their youth will look at art on smartphones than in museums and art galleries. Will the middle and upper classes lag behind, because they think the only art worthy of note is hanging on gallery walls?
Links:
All Hail Damien Hirst! An augmented reality installation celebrating Damien Hirst at the Tate Modern.
http://www.allhaildamienhirst.com/
"Reign of Gold" – part of AR Occupy Wall Street
http://www.mission-base.com/tamiko/AR/reign-of-gold.html
Tamiko Thiel – Online Portfolio
http://www.mission-base.com/tamiko/
Tamiko Thiel is a media artist developing the dramatic and poetic capabilities of various forms of virtual and augmented reality as media for exploring social and cultural issues.
A founding member of the cyberartist group Manifest.AR, she participated in the pathbreaking augmented reality exhibit "We AR in MoMA," an uninvited guerilla takeover of MoMA New York. Videos of Thiel's "Art Critic Face Matrix" were featured in articles in the New York Times and on WNYC (National Public Radio). In 2011 she led the Manifest.AR Venice Biennial AR Intervention, placing her work series "Shades of Absence," on censorship in the visual arts, in the Venice Giardini and in the German National Pavilion (which won the Golden Lion Award for best national pavilion). This led to an invitation to participate in the ISEA2011 exhibition UNCONTAINABLE, an official parallel program of the Istanbul Biennial, where she placed her artwork series "Captured Images" into the main biennial exhibition
This conversation follows in a series of interviews with women who work at the intersection of art and technology. As someone who works as an artist, curator, organizer, professor, researcher, and board member Sue Gollifer embodies this intersection across many venues.
Sue Gollifer has been a professional artist and printmaker for more than thirty years, Gollifer has exhibited her work worldwide and been collected by major international public institutions. A pioneer of early computer art, she has continuously explored the relationship between technology and the arts and has written extensively on this subject. Gollifer is a Principal Lecturer in Fine Arts and the University of Brighton where she is also the Course Leader of the MA Digital Arts Program. She has been instrumental in shaping major international arts communities including: the Design and Artists Copyright Society (DACS), the Computer Arts Society (CAS), and the College Arts Association, (CAA), ISEA, SIGGRAPH, Lighthouse Brighton, and many others. Gollifer is currently also the Director of the ISEA International Headquarters.
Rachel Beth Egenhoefer: Given the many hats you wear as an artist, curator, organizer, professor, many people describe you as many things… how do you describe yourself?
Sue Gollifer: I am an artist.
RBE: But you do other things too?
SG: I know I do. At the moment I'm more of a curator and an organizer, but at the end of the day I am still an artist.
RBE: How do you define your role as an artist in relation to being on the many board of directors you are on (such as ISEA, CAA, DACS, and others)?
SG: I'm not a theorist or in a senior management position but I think that these organizations need people who have a broad sense of the discipline to be on their boards to make sure that people like me and people like you have a voice.
RBE: So you see yourself as representing artists?
SG: Yeah, and I think the fact that I have a European background gives me a broader image as well. When I think about being on the board of some local organizations like Lighthouse or Phoenix in Brighton they value that I'm also part of an International network such as CAA and SIGGRAPH and ISEA. It's quite reciprocal too. The bigger organizations value my spectrum.
RBE: What do you learn as an artist from doing all these other organizational things?
SG: I think what it does is it starts me making work. It's like any of those things. But I think it started off when I was a consultant to Higher Education in the UK and I just got used to facilitating and networking and telling people about things. And I realized I was really quite good at that.
RBE: Networking?
SG: Yeah. But not just networking. I organize a lot of mailing lists, where I act as a kind of filter for people, letting them know about events and festivals, and ideas that are going on.
RBE: So given that you work in all of these roles, as an artist, as an organizer, as a filter, what changes have you seen over the years of working in these fields?
SG: Well, technologies have changed our lives with the Internet and mobile phones. You know I travel a lot, but half the time people don't know that I'm not really there, because I still do what I'm doing somewhere else. Where you are doesn't really matter. You still kind of function, which has its good points and its bad points really, cause you're always on call.
RBE: What about changes in content or questions that people are asking? Either in art practice or education or conferences and festivals, have there been any changes?
SG: I think the reason why ISEA is successful is because, although we all have our distributed networks and we're always in constant touch, I think the act of physically bringing people together is really important. But I do think also that a lot of the organizational things like content management systems and the ways that you hear about various festivals and things is made so much easier. At the same time there are so many of them. It's really important with my ISEA hat on that I'm thinking about the "un-conference" and that you don't get stuck in a rut. There is a changing landscape and environment and you need to keep up with that.
But with my educator's hat on, thinking about PhDs and research papers, there's a lot more to do with money and research and getting money from science backgrounds now. But the idea of research gets lost. What they value is that people are writing about stuff, they're not actually doing it, but writing about it, using research as evidence.
RBE: What is the role of research in art?
SG: I don't know. What do you think? Do you think it's the work? Do you think it's making the work?
RBE: Well, I think research can inform the work, and work can inform research. But I think the point you brought up about research and the sciences and the value of it, it seems like it can become problematic when it is seen as a moneymaker. Or when the purpose of it is to get money and not the purpose being to inform the work.
SG: Yeah, I was involved in a science project and there was a lot of money in it and they obviously valued the significance of the artists being in there but really you have to fit your research around the money rather than the other way around. It just got out of sink.
RBE: Does that map at all on to how conferences and festivals are set up? Does the work dictate what will be at the event, or does the event dictate what will be made by artists?
SG: Well, to get back to the research thing. Research as evidence of something, even if you are putting work in an exhibition or putting work in a paper or something, you still need evidence.
RBE: But as far as themes or content, how is that dictated? For example the upcoming ISEA is all about "Machine Wilderness". Was that a result of artists making a lot of work in that realm and we should have a festival about it, or do you think that it was a decision to have a festival about this and encourage artists to think and make work like this?
SG: Well when people put in a bid to host ISEA, they put in what they think the nature of what ISEA will be about. Obviously when we look at proposals we look at not only the relevance but also the integrity of the people delivering it. "Machine Wilderness" in this case is very much around the themes that Andrea Poli is interested in. The theme of ISEA in Istanbul was "Contained/ Uncontained" which was similar but also a bit broader.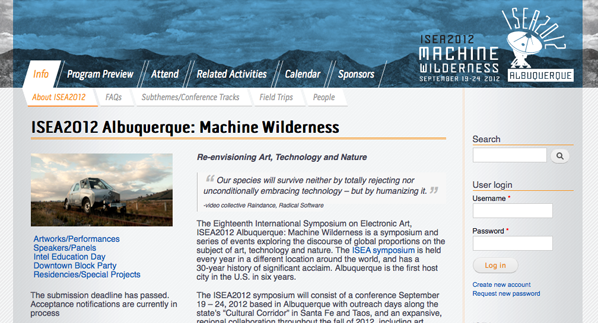 RBE: How do you see the differences in cultures influencing different ISEA's? ISEA purposely has the festival in different cities around the world, how does that influence the work or the field or what people are thinking and doing?
SG: Well if you take the case of the ISEA in RUHR, Germany, it was to do with the Creative Industries, and creating awareness of new industries. You know we come in and inform people about new things. There's the idea that we can change things. Or bring things to a city in a way of education and outreach. It shouldn't be just us sitting in a dark room talking to each other.
RBE: So you see it as a way to bring new media awareness to these different cities?
SG: Yeah.
RBE: But then what do the artists and participants get in return? Or what does ISEA get in return?
SG: You get to travel and meet people! I think you get a different perspective.
We did have two bids coming through for ISEA2014 from Zayed University, Dubai, UAE and Simon Fraser University, Vancouver, BC. Recently the ISEA Board agreed that the Dubai bid, with its focus on the burgeoning field of art and technology in the Arab World would provide a unique opportunity for ISEA to connect audiences and artists from the Middle East with the international electronic art community.
A strong aspect of the bid was the focus on women's education and ensuring that young women have the potential to influence the future of the region and develop international contacts.
I hope that ISEA can leave a legacy somewhere. I mean otherwise we might as well just have it over Skype calls. The overarching theme of ISEA2014 'Location' will explore strands such as Technology; Science & Art East Meets West; Emerging Economies/Emerging Identities; Nomadic Shifts and Digital Archaeology and Collaborative Spaces.
RBE: This interview is part of a series of interviews with women using art and technology. What do you think is important in having a female voice in today's art world?
SG: I talk to my students about my role and my job and things like that, and my female students think that it's really great that I run a digital arts course. If I were a man it would be very very different. I think it's equally important that students aren't just taught by women, but women of all ages, those that are married, not married, children, no children. I think we do have to establish role models to a certain extent.
I was a feminist in the 60s and 70s but I never thought that we should be different. I just wanted to be accepted for who I was really. That might be a bit anti-feminist, but I always fought for women for education and opportunities. This goes back to the Dubai thing to a certain extent, the university there started off because one of the princesses wanted to learn about art but there was no place to do so. So it started and went on to have a validated degree. And maybe one day it will have a masters program and women can apply for scholarships and travel abroad?
RBE: Do you think it's important to have "Women Art & Technology" as a separate category? Or should it just be "Art & Technology"?
SG: Art and Technology.
RBE: Aside from being a female role model for your students and talking about the female voice, what else do you think is important for your students to know right now or learn right now?
SG: Code! (laughs) But I don't like to think we're bringing them up differently?
RBE: Or even taking gender out of it, what do young people need to know?
SG: They need to be aware of things. But it depends on what they are trying to do and what direction they want to go in… A big thing is confidence. A lot of my women students do lack confidence.
RBE: Why do you think that is?
SG: I don't know what it is.
RBE: So what do you do to boost their confidence?
SG: I give them a voice. I give them a space and an opportunity in the class.
When I used to do interviews for undergrad programs in Printmaking, it always started off that the women had better grades, better portfolios, better skills, but at some point it switches. And they loose that confidence and that voice. I don't know what it is really.
Do you find that?
RBE: The program I teach in has a majority female students. I think that it might be easier for them. I do wonder though sometimes if they are more confident when they are in a classroom with me verses one of my male colleagues or just a different background. But I think there's also the other end of the spectrum where they are overly confident because they are growing up in this world where you have to be liked constantly on Facebook. You know, like me, like my image, like me, like me, like me… They need to be constantly validated and that spirals into "I'm amazing". But those aren't the ones who are asking the tougher questions; those are the ones who want to be liked.
SG: There's another aspect. Maybe not about confidence, but I think there's a smoke and mirrors element. There are some men that seem to have all the jargon without actually any credibility. And the women I know with credibility don't necessarily tell everyone that they do it.
RBE: There are actually studies about that, and how male and female brains are wired differently to behave differently.
SG: I think they address issues in a different way.
RBE: What are you working on now?
SG: Alan Turing!
RBE: What is your role in the Turing Project?
SG: I'm putting together with Anna Dumitriu the exhibition 'Intuition and Ingenuity', a group exhibition that explores the enduring influence of Alan Turing – the father of modern computing – on art and contemporary culture. 2012 will be the 100th anniversary of the birth of Alan Turing, one of the greatest minds Britain has produced; the world today would have been a very different place without his ideas.
I'm also curating a projected drawing Exhibition for the Drawing Research Network (DRN) conference in Loughborough in September.
I have also just been part of selection partnership for two newly commissioned pieces of work for Brighton Festival, 'Sea of Voices', and 'Voices of the SEA'. Plus reviewing work for SIGGRAPH art gallery 2012 and for ISEA2012, and papers for the journal 'Digital Creativity', of which I am assistant editor.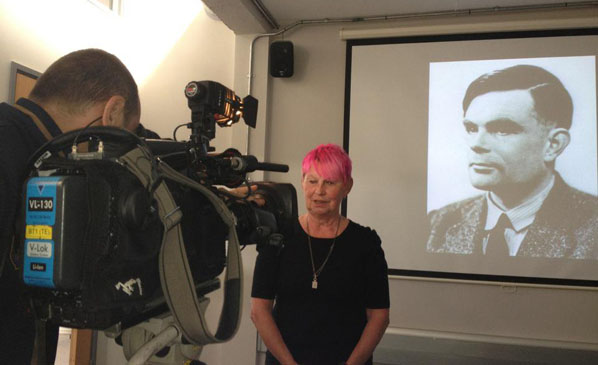 RBE: What excites you about the future?
SG: I don't know really. I hate to get gloomy about the future, but I do think it's going to get worse. I mean you live in San Francisco and I live in Brighton so I don't think it's hit us quite yet, but I am starting to notice a lot of shops closing. And I know that things I took for granted like buying a house, having children and having a job, I don't think they have these choices anymore.
RBE: How do you think this will impact the art community?
SG: There are surprisingly good opportunities for the use of vacant shops and offices for exhibition spaces and studios and surprisingly people buy art because they think it's an investment for the future.
RBE: Do you have anything else you want to tell the Furtherfield readers?
SG: I think it's going to be interesting and exciting in the future, despite all this, I think it's going to be exciting to see what comes next.
---
Other interviews in this series:
Woman, Art & Technology: Interview with Lynn Hershman Leeson By Rachel Beth Egenhoefer
Women, Art & Technology: Interview with Sarah Cook
Featured image: Fundamental Forces by Robert Henke and Tarik Barri
In its current state "Fundamental Forces" is a pre-rendered high definition multiple screen projection with surround sound. The visual component is based on Tarik Barri's 'Versum' – a self-programmed computer animation engine. And the auditive component comes from Robert Henke, using MaxMSP, Max4Live and Ableton Live, a software he co-developed. It has been initially commissioned for the RML Cinechamber system which consists of 10 1080p projections and 8 channels of sound (FF00 – FF01). A later version was adapted to work with 5-6 screens and a 5.2 soundsystem. This was used during the sound:frame Festival in Vienna, and it had a highly immersive presence.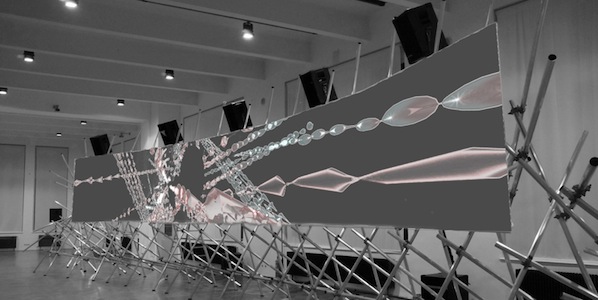 When experiencing the work I enjoyed the absence of narrative. Although I noticed some references alluding to concepts based on physics, and basic foundations of the universe. This led me to ask some questions to both artists about their "audiovisual research project".
Robert Henke is active as composer, AV artist and professor in sound design at the University of Arts in Berlin. As founder and main member of his solo-project "Monolake", he gained international reputation as one of the leading artists in the field of electronic club music culture. Henke has released more than twenty albums. His performances and installations have been shown and others at the Tate Modern in London, the Centre Pompidou in Paris, the PS1 in New York and the Experimental Media and Performing Arts Center (EMPAC) in Troy. His work "Layering Buddha" received an honorary mention at Ars Electronica in 2007.
Natascha Fuchs: "Fundamental Forces" is presented at sound:frame Festival this year and you worked on it together with Tarik Barri. How your collaboration has started?
Robert Henke: I was looking for Max programmer a few years ago. Tarik replied, but told me that he had no time for that, even if he would like to. However, later he sent me some video stuff he did and I thought that his work could be integrated into Monolake Live. That's how it all came together.
NF: You call Fundamental Forces 'an audiovisual research project'. What exactly do you call research? And how much of research involved into your life?
RH: The research part of it is simply the experimentation with the format: what kind of sound can be combined with which of Tarik's visual ideas and vice versa. We try to find a common language. And since his work does not suggest a common narrative, we also need to come up with our own large scale structures. Where do we start, where do we stop? What kind of timeframes make sense? How can we shape transitions? Questions like this…
NF: You are involved into many different activities.. Is there anything what you like most of all? Music production, performing, visual ideas development, teaching students maybe? What gives you the feeling of 'life is great and I am satisfied with everything'?
RH: This always changes, but I am most satisfied in moments when my own sense of achievement finds its counterpart in the perception of what I do in public. If I for myself gave a lecture which I felt was really good, and afterwards students come to me and share that notion, – I am happy. If I had a great day in the studio and afterwards play the music to some friends and they like it too, – I am happy. And if things simply do not work out the way I want to, if I have an idea, but every attempt to turn in into sound or visuals does not satisfy me, then I am most frustrated.
NF: You live in Berlin. How does the city and different generations grown up there change together with technology changes? You see many students probably for whom technology is something ready to use now, and it was different at a time when Ableton Live was not yet created..
RH: The biggest transition in general is from a situation that is characterized by a lack of tool in the early 1990s to the total abundance of tools in 2012. The question today is not: how do I do something, but rather: what am I really interested in? All is possible with current technology. Finding your personal language is the biggest challenge these days.
NF: Currently in the interview to Bleep you said that you have so many ideas to explore yourself in the next future. Could you share one of them, what is Robert Henke's the next?
RH: The biggest project I am working on is a large scale laser and sound installation called 'Fragile Territories'. It is a challenge in many ways; technically and artistically. I want it to be very good, it is an important work for me, and I still need to do a lot of research. Laser is a very limited media, and in order to create something that is more than a technology demo one needs to invest a lot of time thinking about what exactly to do with it and also find out how to make the best out of the limitations.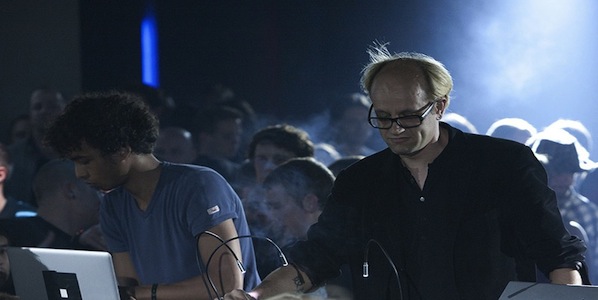 Tarik Barri is a Dutch audiovisual composer and software developer. He started programming at the age of seven and has been making electronic music since he was a teenager. After his first official musical releases at the age of twenty one, he quit his studies in biological psychology to pursue the study of music and technology at the Utrecht School of Music and Technology. During this studies he saw how the methods he used to create music could be adapted for the moving image. He programmed his own software to develop new tools for audio-visual performance, composition and data representation.
Natascha Fuchs: You live in the Netherlands, which is famous for successful promoting of media and digital arts/sound. Which Dutch institutions, festivals do you support?
Tarik Barri: I've been living in Berlin for a little while now, but definitely living in The Netherlands has been very very good for me to develop my work and my working methods. After I finished school, there was the WWIK, which is a government funding to help new artists develop their work. Also the Netherlands Foundation for Visual Arts, Design and Architecture helped me a lot by giving me a stipend to develop my work. Then there were organisations and festivals like TodaysArt, Sonic Acts and V2 that helped me introduce my work to the general public. Unfortunately many programs are getting cut these days in a new political climate where art in general seems to be regarded a left wing hobby for elitist snobs. Very sad, especially since I don't agree that 'art' in general would be class related or have any specific political color.
NF: You were graduated from Utrecht School of Arts. What exactly did you study there?
TB: Within the Utrecht School of Arts I studied at their School of Music and Technology. And within thát school I graduated in Audio Design. It was the most technical study they had, where I learned about music programming, sound synthesis, acoustics, etc. Especially the programming courses in Max/MSP given by my teacher Marcel Wierckx inspired me to combine music, realtime visuals and programming into one discipline.
NF: What is your participation in collaboration with Monolake?
TB: Within Monolake the roles of Robert Henke and myself are clearly defined: he does the music, I do the visuals. But of course we discuss the visuals and music intensively together and there's a constant dialog going on between both ourselves as individuals and the works that we produce. This continuous dialog has been of great value for my development in the last couple of years, both artistically and technically.
NF: The artwork which will be presented at sound:frame called 'audiovisual research project'. What is this continuous research in your life, your aim in it?
TB: Both Robert and I constantly develop our own methods for the creation of music and visuals, and we research the aesthetical results that can be achieved through these methods. Through the combination of sound and visuals, I aim to create a sense of reality. To achieve this I've developed software that establishes 3d virtual audiovisual worlds. I then populate these realities with a multitude of objects of various shapes, sizes and other properties. Those objects behave according to laws taken from the real reality. While thus creating a completely new world, with its own sets of objects, elements of what we know can still be recognized within this virtual space. For me this contrast between the new and the known highlights the sense of wonder and possibility that emerges from the space between strict rules and the imagination that tries to defy and transform them. Through a window of strict and rigid laws we enter into infinite, colorful, playful, imaginary worlds.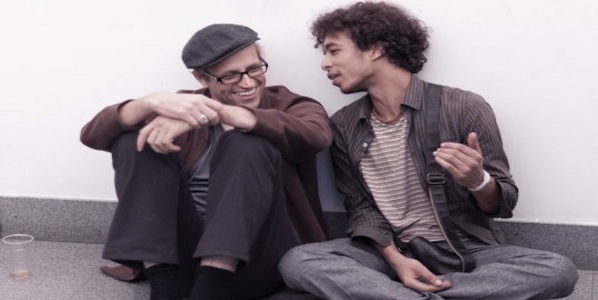 Other information:
May / June 2012: Fundamental Forces in Canada, Montreal @ MUTEK Festival
Robert Henke aka Monolake: www.monolake.de
Tarik Barri: www.tarikbarri.nl
sound:frame Festival: www.soundframe.at
(c) Natascha Fuchs is independent expert in cultural projects management and international public relations, graduate of the University of Manchester (Cultural Management) in 2008. She has been living in Vienna, Austria, studying History of Media Arts at the Donau-Universität and collaborating with sound:frame Festival for audio:visual expressions, since her move from Moscow, Russia in 2011. In Russia she was related to MediaArtLab and Media Forum — the special program of the Moscow International Film festival dedicated to media arts, experimental films and digital context with more than 10 years history. As a researcher and practitioner, she works in a variety of topics and participates different international projects focused on media arts, cinema and sound. Columnist and writer for several online magazines.