Featured image: Image from Joel Bakan: The Panopticon Power of the new media. Adbusters Jan 2012.

Marc Garrett and Ruth Catlow interview McKenzie Wark ahead of his keynote speach for Transmediale 2015 in Berlin this year.
It's ten years since McKenzie Wark published his influential book, A Hacker Manifesto. Divided into 17 chapters, each offers a series of short, numbered paragraphs that mimic the epigrammatic style of Guy Debord's The Society of the Spectacle. Wark then published, amongst others, a series of critically engaging books such as Gamer Theory and the Spectacle of Disintegration. Ruth Catlow and Marc Garrett from Furtherfield ask Wark how things have changed since these publications, focusing on the way our everyday lives have been infiltrated by competitive game-like mechanisms that he described more than a decade ago.
Furtherfield: You published the experimental writing project Gamer Theory first as a book in 2006 and then in 2007 with a specially revised 2.0 version online.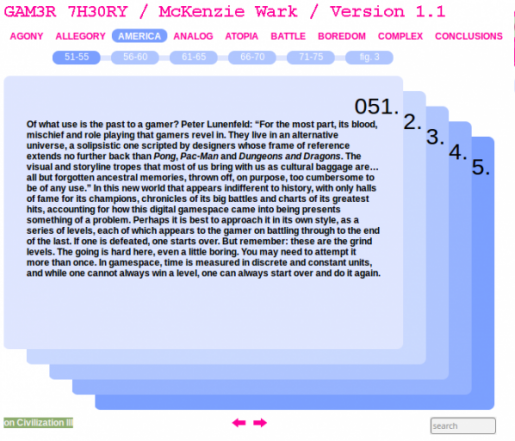 Mckenzie Wark: Yes, although I think the network book version is mostly broken now. Good thing there's a dead-tree format back-up!
F: In it you argue that we're living in a world that is increasingly game-like and competitive. Also that computer games develop a utopian version of the world that realizes the principles of the level playing field and reward based on merit; whereas in the world, this is promised, but rarely realized.
MW: Yes, I think one way of thinking about certain games is that they are a fully realized neo-liberal utopia, which actually gives them some critical leverage of everyday life, which is a sort of less-real, only partially realized version of this, where the playing field is not level, where the 1% get to 'cheat' and get away with it.
F: You also talk of the "enclosure of the world" within the "gamespace" where the logics of the game are applied as the general patterns of organization in the world. And this happens as we adapt to the allegorical forms of contemporary games media.
How do you think this situation has changed since you wrote Gamer Theory?
MW: Well, to me it looks like the tendency analyzed in Gamer Theory became even more the case. GamerGate looks among other things like a reactive movement among people who really want the neoliberal utopia in all its actual neofascist and misogynist glory to not be exposed as different to everyday life. When women gamers or game journalists stick their hands up and say, "hey, wait a minute"1, they just want to mow them down with their pixelated weapons. So the paradox is that as gamespace becomes more and more ubiquitous, the tension between promise and execution becomes ever more obvious.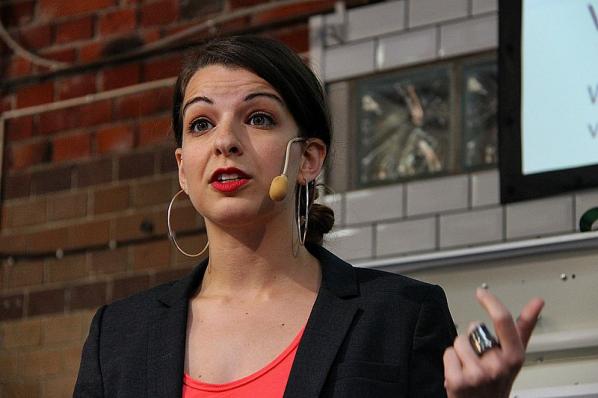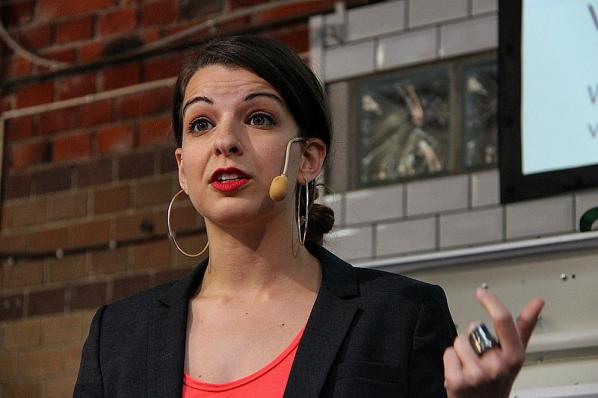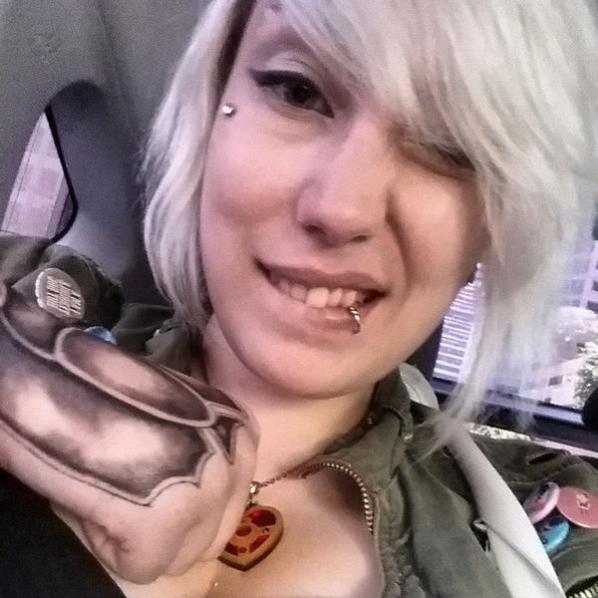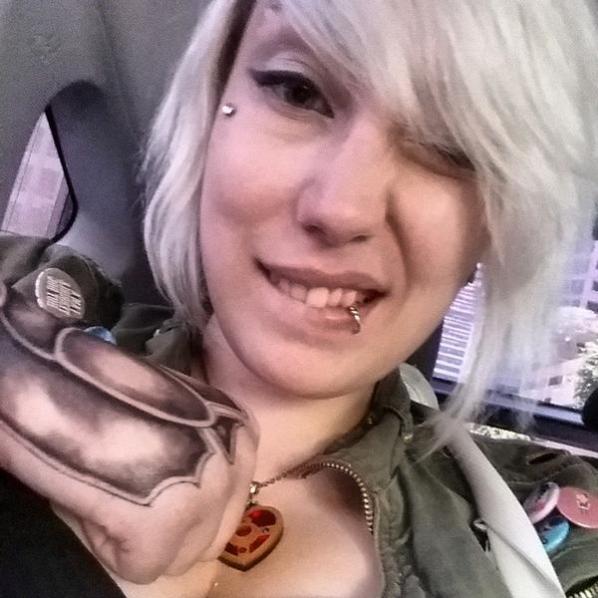 F: Do you see the term Gamification that many theorists use currently as an elaboration of the ideas you developed in Gamer Theory? Or are there significant new ideas being explored?
MW: Ha! Well no, gamification was about celebrating the becoming game-like of everyday life. So I always saw that as a kind of regression from thinking about the phenomena to sort of cheerleading for it.
F: The software developer and software freedom activist Richard Stallman, when visiting Korea in June 2000 illustrated the meaning of the word 'Hacker' in a fun way. During a lunch with GNU fans a waitress placed 6 chopsticks in front of him. Of course he knew they were meant for three people but he found it amusing to find another way to use them. Stallman managed to use three in his right hand and then successfully pick up a piece of food placing it into in his mouth. Stallman's story is a playful illustration of "hack value," about changing the purpose of something and making it do something different to what it was originally designed to do, or changing the default.2
Stallman was highlighting fun and the mischievous imagination as part of the spirit of what he sees as hack value.
Where do you see lies the hack value in games culture? What has happened to the fun in games? Who's having it and where is it happening?
MW: Stallman is one of the greats. Sometimes, people have this experience of scientific or technical culture as one of free collaboration, where there's a real play of rivalry and recognition but based on producing and sharing knowledge as a kind of gift. JD Bernal had that experience in physics in the 30s and Stallman had, I think, a similar experience in computing. I think it's important for those of us from the arts or humanities to honor that utopian and activist impulse coming out of more technical fields.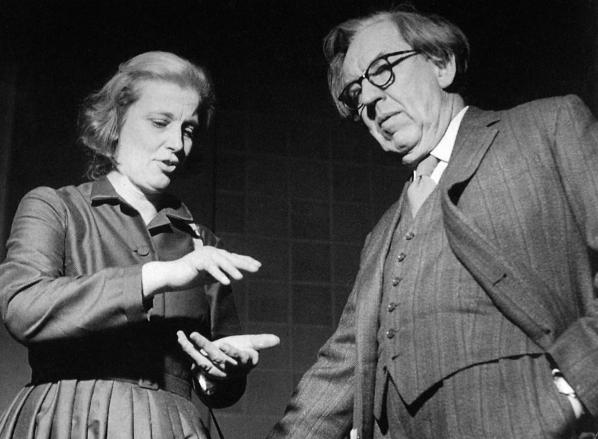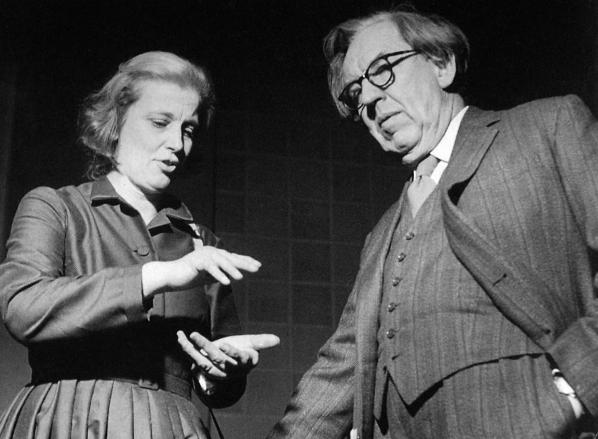 There's a lively, critical and even avant-garde movement in games right now. That's part of why it has provoked such a fierce reaction from a certain conservative corner. The culture wars are being fought out via games, which is as it should be, as it's one of the dominant media forms of our times. So there's certainly some sophisticated fun to be had alongside the more visceral pleasure of clearing levels.
F: "Our species' whole recorded history has taken place in the geological period called the Holocene – the brief interval stretching back 10,000 years. But our collective actions have brought us into uncharted territory. A growing number of scientists think we've entered a new geological epoch."3 And, this new geological epoch has been proposed as – the Anthropocene.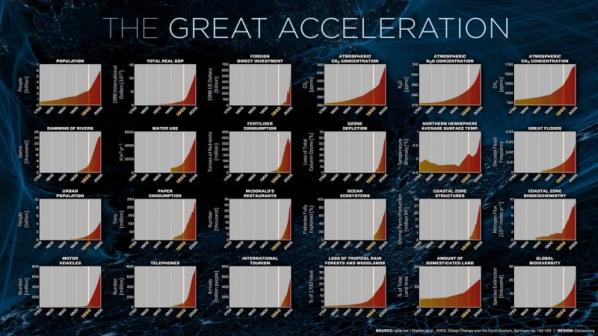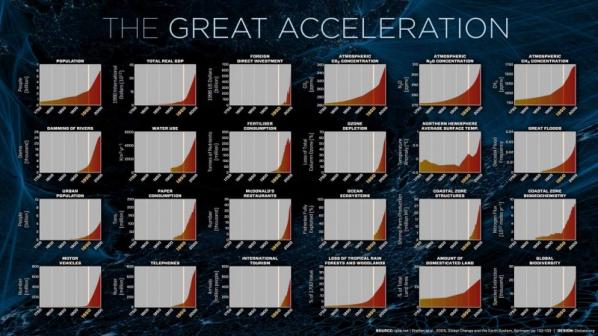 In your essay 'Critical Theory After the Anthropocene'4 you say "At a minimum, the Anthropocene calls on critical theory to entirely rethink its received ideas, its habituated traditions, its claims to authority. It needs to look back in its own archive for more useful critical tools."
What are these 'useful critical tools' and how might theorists, new media artists, game designers and society at large put these to work?
MW: The 'cene' part of Anthropocene (from the Greek kainos) means a qualitative break in time. If time is in a sense always different, then kainos is the differently-different – a new kind of time. Those like Paul Crutzen who have advocated the use of the term Anthropocene to designate a new geological time have issued a major challenge as to how to interpret such a possibility. I leave it to the scientists to figure out if such a claim is scientifically valid. As someone trained in the humanities, I think the generous, comradely, cooperative thing to do is to try to interpret what our friends and colleagues in the sciences are telling us about the times. So in Molecular Red that was what I set out to do. Let's take seriously the claim that these times are not 'like' other times. That I think calls for a rethinking of what from the cultural past might be useful now. I think we need new ancestors. Which is why, in Molecular Red, I went looking for them, based on the question: to which past comrades would the Anthropocene come as no surprise? I think Alexander Bogdanov, who understood a bit about the biosphere and the carbon cycle, would not be surprised. I think Andrey Platonov, who wrote about the attempts and failures to build a new kind of infrastructure for the Soviet experiment in a new mode of production would not be surprised. There are others, but those I thought were particularly helpful, not least because their Marxism remained in dialog with the sciences and technical arts. I don't think the more romantic anti-science side of Western Marxism and continental thought is all that helpful at the moment, not least because it rules out of court exactly the kinds of scientific knowledges through which we know about the Anthropocene in the first place. The anti-science critique has been captured by the right, so we need new tactics.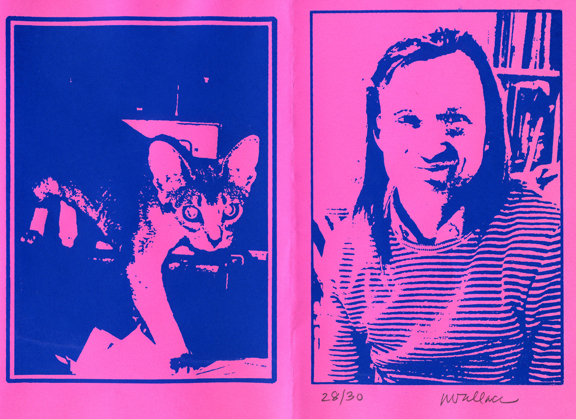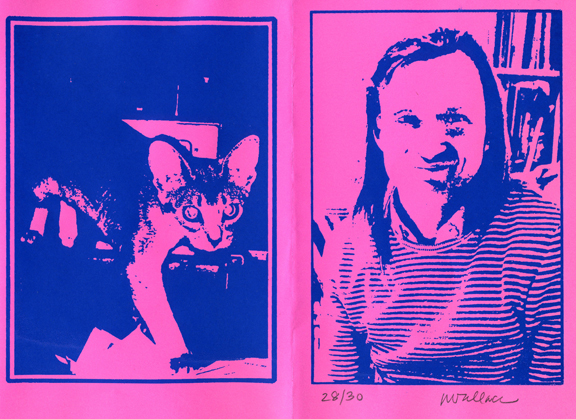 F: Who'd be empowered by an encounter with your ideas and where do you see the potential for agency in the current economic and environmental contexts?
MW: Not for me to say really. Writers are usually the last people to have any clues as to what their writing says. There's a sort of idiot quality to banging away on a keyboard. We're word processors. Its always surprising to me the range of people who find something in what I write.
My hunch is that the future is in the hands of an alliance between those who make the forms and those who make the content: a hacker and worker alliance. It is clear that this civilization has already become unreal. Everyone knows it. We have to experiment now with what new forms might be.
F: And, where in the world do you see examples of individuals, groups and organizations, and or companies – who are putting into action some of the critical questions that you're exploring in your writing?
MW: Besides Furtherfield? I never like to give examples. Everyone should be their own example. To détourn an old slogan of the 60s: be impossible, do the realistic!
F: In your later essay 'The Drone of Minerva'5 you continue to write about the Anthropocene. But, you also bring to the table the subject of the Proletkult.6 The Proletkult aspired to radically modify existing artistic forms of revolutionary working class aesthetic which drew its inspiration from the construction of modern industrial society in Russia. At its peak in 1920, Proletkult had 84,000 members actively enrolled in about 300 local studios, clubs, and factory groups, with an additional 500,000 members participating in its activities on a more casual basis.
You are writing about the Proletkult in your latest book. Could you tell us a little something about this and how it will connect to contemporary lives?
MW: Proletkult was influential in Britain too, during the syndicalist phase of the British labor movement, up until the defeat of the 1926 general strike. After that the dominant forms were, on the one hand, the ethical-socialism and parliamentary path of the Labour Party, or the revolutionary Leninist party. Well, those paths have been defeated now too. I think we have to look at all of the past successes and failures all over again and cobble together new organizational and cultural forms, including a 21st century Proletkult.7 What that might mean is trying to self-organize in a comradely way to try and gain some collective charge of our everyday lives. It does not mean just celebrating actually existing working class cultures. Rather it's more about starting there and developing culture and organization not as something reactive and marginalized but as something with organizational consistency and breadth. Since the ruling class clearly doesn't give a fuck about us, let's take charge of our own lives – together.
Thank you McKenzie Wark – Ruth Catlow & Marc Garrett 😉
Ruth Catlow will be at Transmediale 2015 CAPTURE ALL, moderating the keynote Capture All_Play with McKenzie Wark, on Sat, 31 Jan at 18:00.
Ruth is also participating in two other events, Play as a Commons: Practical Utopias & P2P Futures and The Post-Digital Review: Cultural Commons – http://www.transmediale.de/content/ruth-catlow
'I love kitsch. I adore bad taste. I fall for the maladroit.' – Andrea Judit Tiringer
In a recent book 'What Photography Is' – and just what it is seems to be akin to the meaning of a word for Humpty Dumpty – "just what I choose it to mean – neither more nor less" – the critic and theorist James Elkins savagely lays into the users of the photography sharing site Flickr. There's a page or so of magisterial denunciation delivered in a scornful tone not unlike Humpty Dumpty's: "Nothing is more amazing than Flickr for the first half hour, then nothing is more tedious" and "…each group puts its favoured technology to the most kitschy imaginable uses".
1.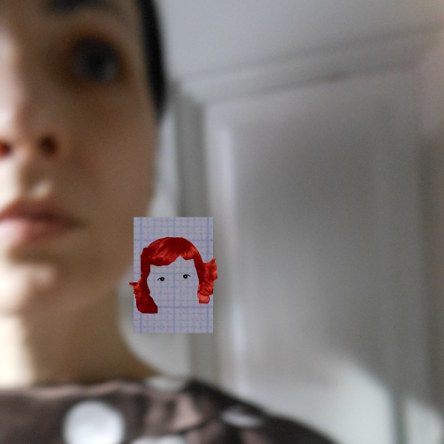 It's not that Elkins hasn't hit on something – all the sins he bemoans, and more, certainly exist on Flickr but his is a superficial, lazy and tendentious view which evinces a shocking lack of curiosity and imagination for one so exalted in art academia. (Indeed so incensed did Elkins's tirade make me that I started a Flickr group entitled Bollocks to James Elkins: https://www.flickr.com/groups/bollocks_to_james_elkins/rules/ please consider joining if you're active on Flickr.)
Flickr gets lambasted too, from the opposite perspective to Elkins, by the proponents of a kind of "bottom up", "anti-elitist", account of art, by those who dislike its corporate ownership and by those, too, who believe that one should build such communities with pure free and open source software. To be fair to them there is here, too, much to agree with; Yahoo, Flickr's current owners, are clearly more interested in maximising advertising income than the welfare of their users.
And yet, and yet… a little looking, a little thought and, hardest of all it seems, a little intellectual humility reveal – perhaps only the embryonic stage of – something rather marvellous too. The sheer scale of the network of users (which one must point out here could only be a utopian hope for an alternative network, at least under the current social and economic system), the fact that it is impossible that the art world as it currently exists can (or might want to) present to us every piece (or even a small percentage) of work worthy of our attention and, further, that there are many people for whom the impetus to make work is a stronger imperative than getting on in life, or becoming celebrities or making money – akin to Marx's "Milton [who] produced Paradise Lost in the way that a silkworm produces silk, as the expression of his own nature" – means that careful sifting reveals artists every bit as worthy of our attention as those who please the art-world gatekeepers.
I've found hanging out on Flickr enormously nourishing both in terms of intelligent feedback on my own work but also in terms of the diversity of interesting and engaging work by others, some of whom even employ the "favoured technologies" – which largely seems to mean software manipulation – Elkins finds so risible, but in such a way that any honest accounting would find far from such.
It is true that one is tempted on occasion to conceptualise some of this work in terms of "outsiderdom" and this can be a helpful starting point; but there is a quantity/quality dialectic at work in the sheer size of the Flickr database and in the dialogues between the highly focussed outsider, the odd art world figure who doesn't fear to rub shoulders with those not in the charmed circle, the family snapshot taker and even, though admittedly rarely, the amateur photographer who takes "well-made" photos but doesn't forget to make them interesting too. There is a wider point contra Elkins here which can be expressed succinctly as – no form, no technique is in and of itself ruled out from the process of making art. Indeed the greatest artists have often taken the lowly, despised and out of fashion and given it a magic twist to create previously undreamed of possibilities.
I venture to suggest that the beginnings of something qualitatively new are here stirring.
That's a long preamble to some showing, rather than telling. I want to look at a single and in my view very interesting participant on Flickr. First to introduce her work and then talk to her about what it means to her to make and post it.
2.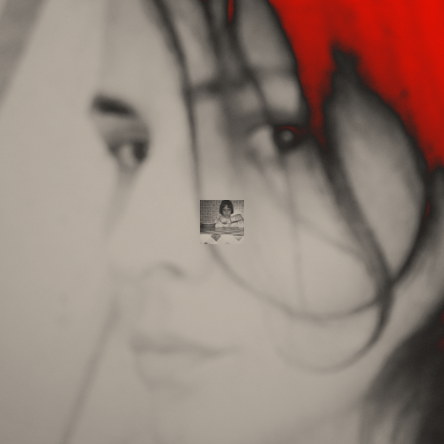 nem sáℜa (Hungarian – 'not Sara' – the odd typography for the 'R' is a personal quirk and not a language feature ) is the name under which Andrea Judit Tiringer posts work to Flickr. Her body of work is at the same time highly consistent and extraordinarily varied. There are, at the time of writing, 252 images on her Flickr stream – all of them are 444 pixel squares (although I gather she retains larger versions offline). Of the images the vast majority feature a face or figure and this is usually Tiringer herself, a strikingly good-looking but usually (only three or four of the self portraits have smiles) melancholy presence. The focus of the images is variable and the colours are largely muted and pastel. A number of the images feature text, mostly in Hungarian (and occasionally other eastern and central European languages and once or twice even English) and most of them are clearly the product of some process of collaging. What is striking about these images is how sophisticated the use of the space is – there is no sense whatsoever of any "algorithmic" approach to the making of these works – no recipe – each one feels thought through from the beginning and one can linger on each and find new and interesting content (by which I also mean marks, variations of focus or colour, absences, difficult to decipher sections) and relationships within it.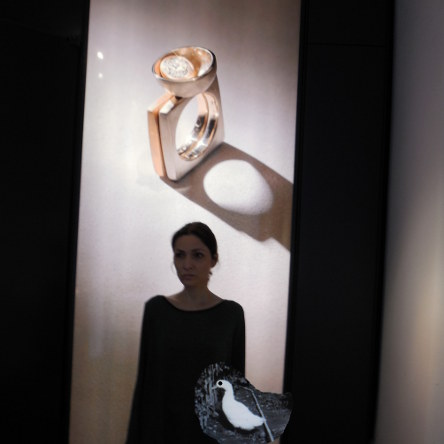 Some are funny (or perhaps lugubrious is a better word) with the kind of tinder dry poker faced humour I particularly associate with Eastern Europe (Nikolai Gogol… Jaroslav Hašek… István Örkény) and which seems to have further fermented as a regional characteristic during the period 1945 to 89. A number of the images either appear to be entirely drawn from albums of snapshots (maybe family, I'm not sure) or to feature components drawn from this kind of source.
A number of the images have drawings or written text added either by superimposition or in a separate space. Sometimes this takes the form of ink stamps or documents such as receipts or other official formats. Many images are divided into sections; sometimes of the same, repeated proportions, at others into something less structured. The sense of internal barriers marking off distinct sections is a strong one. These barriers are created in a number of ways – repetition, addition and the use of drawn or printed line.
The meaning of the texts, as much as I can make out the non-English ones, seems at least on the surface completely unrelated to the image content but, of course, the viewer naturally seeks such connections.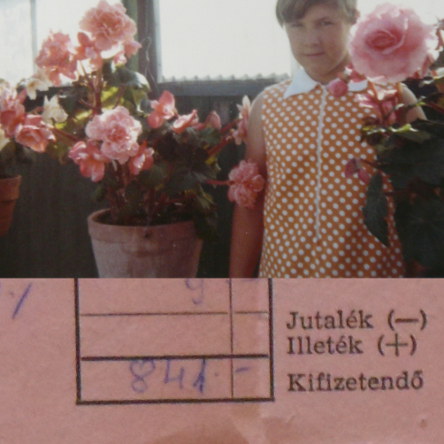 Many pieces employ "traditional" symbols of femininity – flowers, dolls, a killer dress sense. This also seems tied up with a summoning of the experience of growing up – we see a number of images of young girls. Again I'm unsure whether these are of a young Tiringer or simply found images. What does seem clear is that they carry some autobiographical charge. They are never twee (or if they do tread close, the surrounding work pulls them back from the brink and they become "about" tweeness – and if I can put it that way, the "whyness of tweeness" rather than exemplars of it). Equally the femininity cited above is certainly not inconsistent with strength and confidence. A number of the images allow us an intimacy which many self-portraitists would baulk at. Older women appear with relative frequency and are treated with tenderness and respect, as are images of daily household routines, of "women's work". Men appear in only two of the 252 images.
This image series is complex, subtle, sophisticated, mysterious and very beautiful. It is structured with a high level of intentionality by someone who is technically clearly completely in control of the visual language they are using but also open sudden dispatches from the unconscious. Whilst I'm always chary of ascribing "meaning" to works one can clearly delineate here a central set of concerns/hauntings/ pleasures/what-have-you which crop up repeatedly. Femininity, ageing and transition, female solidarity, day-dreaming and play, humour, storytelling, dressing-up (both the childish and the older sort) forming a kind of core around which other rarer, more peripheral themes appear and disperse.
This is not minor work.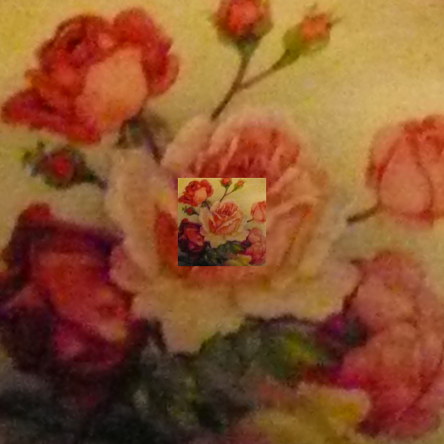 3.
I interviewed Andrea Tiringer in English by e-mail over a couple of weeks in late August and early September 2014. Her responses appear largely in the order she sent them although I have interpolated some purely factual responses from an earlier exchange for clarity and I also corrected any (very few) errors of English usage. She checked the final interview text to ensure I had not altered the sense of any of her comments.
Could you tell us a bit about how you came to start making this very distinctive body of work and what you feel you are trying to accomplish with it?
I prefer to exist unrecorded. I take comfort in the temporary nature of things. I am always impatiently anticipating the new…. everything, I never want to hold the moment, yet somehow this photographic urge crawled into my life, without me taking notice.
The first step must have been years ago when I suddenly wanted to capture my grandma's life. We had weekly sessions: her, me and my tape recorder. She was indecipherable. I tried to capture her essence. I needed her stories to be mine forever, figure out how to have a little 'Róza mama' transplanted into me. She expected me to be impossibly glamorous, the way she never could be. As far as she was concerned, that was my task. I was born at a time when girls could be scientists, astronauts, writers, but she did not want me to be a scientist, astronaut or writer, or only maybe as a side project to the grand life. She would look at my shoes and ask: were they expensive? The only acceptable response was: very.
Fast forward to about 2010 when for some reason I found myself chasing a nun on the street because I wanted to take her picture with my cell-phone. I have no idea why. I had no camera to my name, I had never before taken a photo on a whim. I caught up with her (she stopped to look at a shop window, my favourite kind of nun behaviour!) and at home I turned the poor thing, with the help of some online editing tool, into an unsightly shade of purple. I was pleased.
Some weeks later I threw a camera I found at home into my handbag, thinking, 'Maybe I will run into something that I can take a picture of'. I saw a shabby garden through a ramshackle door. It was obvious right from the start that reality does not circumscribe me in any way.
I love kitsch. I adore bad taste. I fall for the maladroit.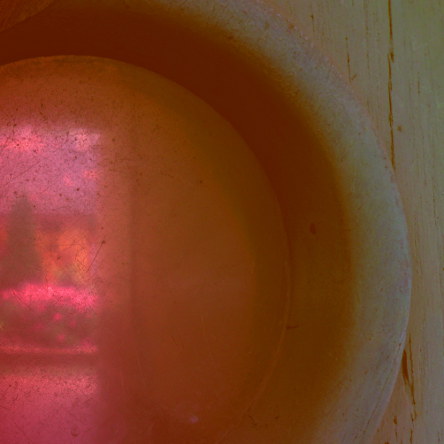 So how did the very singular topics and imagery in the photos you post to Flickr came about? I'm particularly thinking of the repeated self portraiture which must be a feature of 90% of the pieces…
When I was a little girl I was convinced that just as we watch the people on TV someone somewhere is watching us, so we always have to show our best side. In my mind it worked like this: the interesting and good looking are on the telly, the rest on the radio. I would dress up to the nines and sing, because I figured if you did not have a good voice you only got to give the weather report,.
These auto-portraits are quickies. Passport photos, accessorized. Captures of what I am not but maybe could be. They are like a colourful puzzle. I never plan anything. (Actually I have planned to stop for about the last 100 images yet still I keep taking another one. I like them for a couple of days, even weeks sometimes, then forget about them, or they start to annoy me. I am a happy deleter.)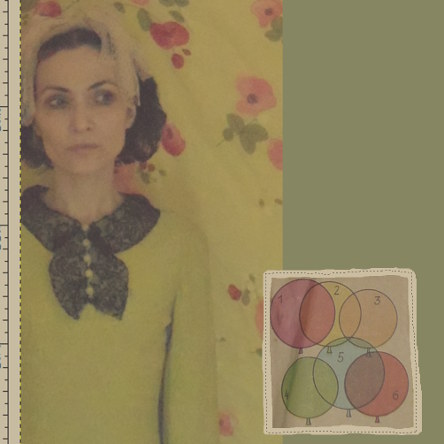 About a year ago I made an air freshener out of one. I adored that! I decided that if they are ever to materialize they will be just that: fake cherry scented tiny fake me's dangling away in a cube shaped space and challenging visitors' olfactory and visual endurance.
You say: "Captures of what I am not but maybe could be. They are like a colourful puzzle."
Could you expand on both of these points? Could you say something about how the other content in any particular self portrait relates to the portrait itself and also what is happening in the pieces that don't include a self portrait?
It's extremely hard to describe a scheme as to how they are conceived. When I first started to create these images I haven't taken a self-image for years. I did not even consider it, I captured what I liked, added my touch, altered them to the best of my abilities. I was getting familiar with the editing software through the process on my own, meaning there were many, many mishaps. Those were always welcome.
At some point the first auto-portrait must have happened, and of course I had all those traditional expectations: look good, appear interesting etc.
I started to think about scenes, but my goal was to create something that cannot be named, that is not easy to place, to find a category for. I avoided obvious symbols. No hearts, no crosses, no stars, nothing that could serve as a clue to the… who knows what?
When I choose the constituent elements, my decision is based only on the colour and geometry of each. This includes my attire and surroundings. For example, I look at the front of my blouse and it reminds me of ovaries; this leads me to a vintage anatomical model I printed the image of weeks ago, the colour of which somehow reminds me of a tiny burn I had on my skin at that time, so I took pictures of these and assembled an image from them..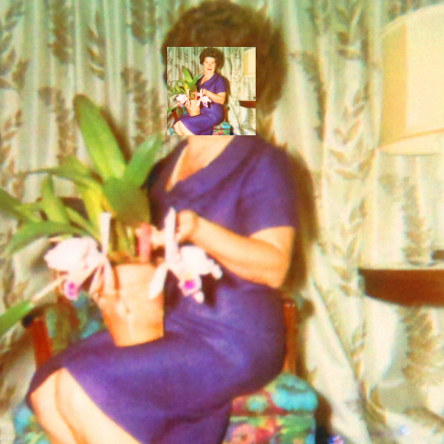 Each has such individual stories, I never premeditate, it is such a quick process. As for the words, it amazes me the way sentences, taken out of their original context, suddenly stand bare: the absentminded cruelty in the prim cookbooks for proper ladies, the description of a slip-up from a madcap novel for teens that suddenly reads like major romantic poetry. I always photograph texts that catch my attention and if I find a loose connection I may add them to an image. Again, each one's story is so unique, it's hard to describe any rule or pattern.
I think there is no difference between the photos with me and the ones without me. I just haven't found my place in each of them yet …
You've described quite lyrically and also humorously some of the personal sources and feelings behind the work. What I'd like you to do now is to talk us more clinically through the way, technically, that you set about making each image. Do you have, after so many, any set approach? What software do you use? How long does it take to make an image and do you make sketches or drafts before settling on the final version? Is there anything else about your approach you think is distinctive?
I use a point and shoot Nikon Coolpix, a simple, simple people-camera, I am not even sure of the exact make. I use GIMP to edit/composite.I have never made a sketch, I do not plan and plot. Something happens and I register that and this results in an image. I am presented with a pear and I casually place it beside me and notice it could belong to the pattern of the dress I am wearing. I look at items from a past exhibition at the medical museum in Budapest and as I catch sight of my reflection on the screen I perceive a concordance between me and the disfigured fetus in formaldehyde. If in those situations I can reach my camera I take a quick photo and it may become part of one of my squares. I try to avoid any set method, the only rule being the square shape.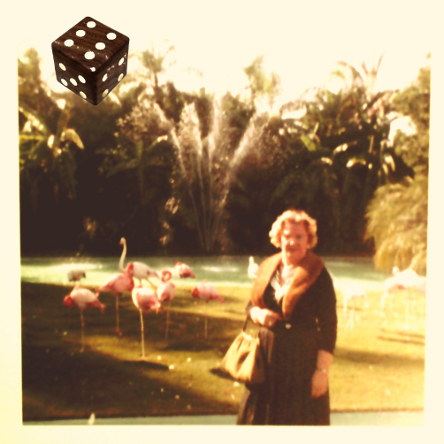 I love taking photos of strangers. I love happening upon strangers that I want to take photos of. I love happening upon anything at all that I want to take photos of but I noticed that I got pickier over the years.
The found images come from everywhere and anywhere. Family photos, my huge box of vintage snapshots, movie stills, random Google Earth takes. My only rule regarding these is that I have to take a photo of them. No scans, no screen caps… This enables me to add my own mishaps, to "destroy" the originals with my technical shortcomings.
Of course there are schemes I could use. If you tell me to create a photo I will tell you to come back in half an hour and I'll have it. To you it will look like the rest of them. But if I wait for my moment it can be in ten minutes or never (and I do not care, this way it is extremely personal, diary-like).
The reason I feel like stopping after each one is because their increasing number makes it a challenge to make new things, not to find myself in a rut.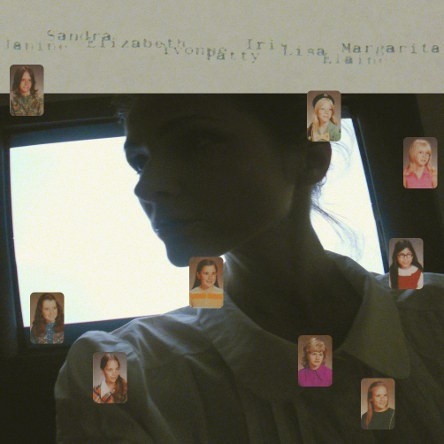 So finally, given the fact that you post your work to Flickr I want to know how you view yourself? An artist? Someone with art as a hobby? An outsider artist? Some completely other category? And I want to ask too, if you had the chance to show this work in an art world context – galleries &c – would this interest you? Who is the work for? Do have any thoughts on Flickr as a place to show your work?
Leaving you to chew all that over that I'd like to say a big thank-you for your time & for the care with which you have considered and answered these questions!
I absolutely adore this time, the now. Flickr and other interactive/social media sites, in my view, are like any non-virtual public space. Similarly to our sartorial choices and general behaviour, it is a place for quick exchange of personal information, the possibility of sending perceptible signals about who we are, how we see everything and how we ourselves are related to that everything, so this is a very natural extension of my presence.
I do not really seek a label to describe my relation to the pictures. Definitions provide reassurance and security, but they also mean restriction and responsibility and it is such a relief to have tiny spaces in my life without those.
Who are they for? Hard to tell. At one point I was thinking 'How wonderful, my son will look at them and think, great, my mum so enjoyed being.' At the moment this looks quite unlikely, I am too alive. I get the quick attentive glance, the like on Facebook and I am happy and then he heads right back to his world of scalpels and detached limbs in formaldehyde. It is kind of reassuring that nothing about them worries a young doctor.
I will happily display them in any context where they match (or clash) perfectly, and of course that includes the art world and any other world too…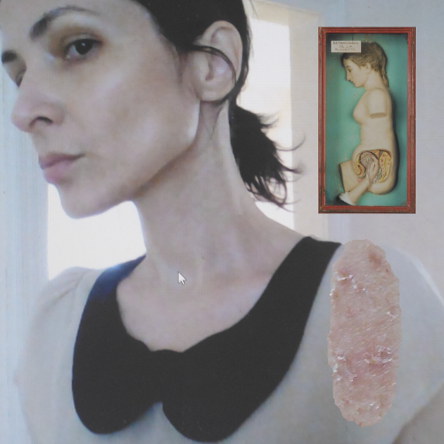 Featured image: Curt Cloninger's 'Twixt The Cup And The Lip #3
"A glitch is more than an error: It is a rupture in our collective techno-hypnosis, a herald of underlying realities." – Paul Hertz
If you haven't heard about Chicago glitch, you haven't been paying attention to all the "noise" emanating from the Windy City. The self-proclaimed "dirty new media" crowd in Chicago has captured the imagination of artists around the world with their funky (as in Chicago blues), punk-inspired disruptions and hacked creations. As of this writing, glitChicago: An Exhibition of Chicago Glitch Art at the Ukranian Institute of Modern Art is about to close after an impressive two-month run, with works, performances, and discussions involving 22 artists heralding from Chicago and beyond.
While glitch may have a raw, subversive, outlier sensibility, it has also catalyzed a cohesive and collaborative group of artists that has organized an impressive array of community-based conferences, DIY workshops, exhibitions, and spontaneous happenings within the local media culture over the past five years. Ironically, the Chicago high-art academy is also a co-conspirator, as many of the glitch artists are based at the School of the Art Institute of Chicago, which has become the de facto experimental laboratory for the study and practice of glitch.
I spoke via web-conference with the show's main organizer, artist and historian Paul Hertz, along with two of the artists and co-organizers, Nick Briz and Jon Satrom, in a collective effort to unpack the glitch phenomenon.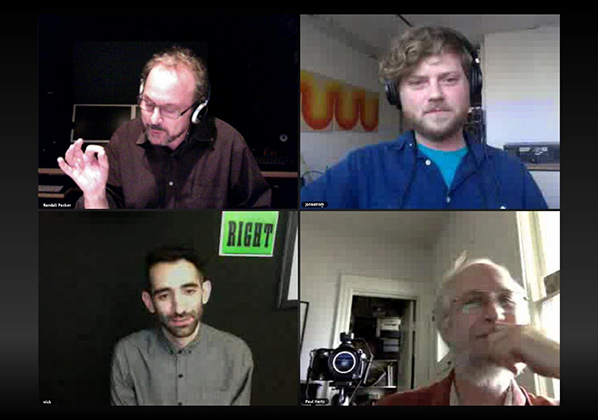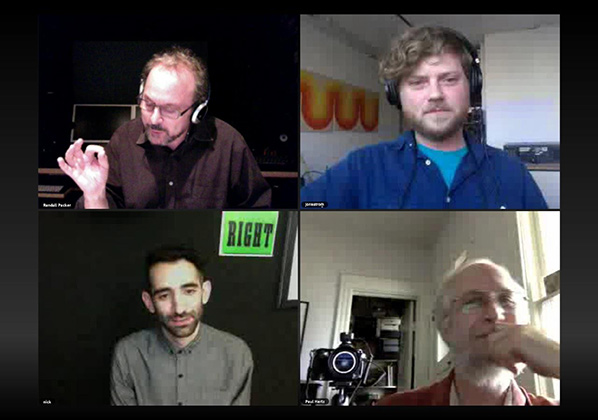 Randall Packer: Nice to meet everyone in the third space. I am going to begin with Paul because you were primarily responsible for organizing glitChicago. There are many artists in the show who do not reside in Chicago. Is the work intended to demonstrate Chicago glitch tendencies and influences, or perhaps to situate Chicago as a spiritual home of glitch, like say Chicago blues?
Paul Hertz: I think the latter to some extent, but it's also a joke about location in a networked society.
RP: From the perspective of being outside of Chicago, I can't think of another place in the world right now that has a more cohesive community of artists working together, building things together, breaking things together, it's quite an extraordinary moment in time in Chicago. So my question is: how much diversity, difference of opinion, even polemical positioning is there between the artists who are part of the glitch community.
PH: He wants us to wash our underwear!
Nick Briz: I'm glad it looks so cohesive on the outside, there is disagreement, but it's a respectful community kind of disagreement.
RP: Nick, as the author of the Glitch Codec Tutorial, in which you describe a method of making glitch, is the idea of a "glitch tutorial" perhaps contradictory to glitch as accident, mistake or rupture?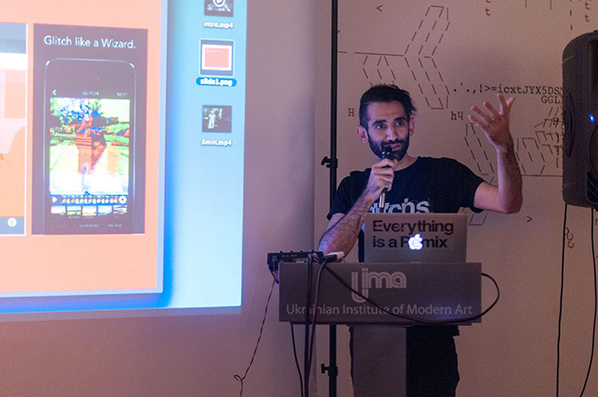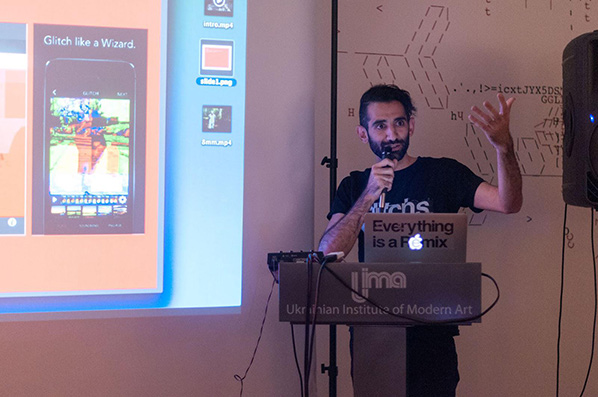 NB: No, I think it's the most appropriate format, because it's not a glitch tutorial, it's a glitch art tutorial and that's an important distinction for me. Glitch is this unexpected occurrence within a system that we come to with a certain set of expectations, and a glitch is when those expectations are broken. Glitch art is when that happens intentionally. For me, this is a personal thing. What's really special about glitch art as a practice are the realizations you come to when you instigate those moments, the political potential for drawing certain connections, for exposing certain invisible politics within a system. That happens in process. So to produce a tutorial is not only, technically, how you produce glitches for your work, but also for people to have those realizations themselves, really experiencing glitches.
RP: So, how does that relate to the idea of intentionality, accident, and indeterminacy in glitch. Is there a right or a wrong way of doing glitch?
Jon Satrom: No, I don't think there is a right way to do the wrong thing. I think Nick said it in his performance: "do it wrong the right way."
NB: Do it wrong, but also doing it wrong. As in doing it wrong is the way that you do it. And then I quoted you, Jon: "there are no right ways to provoke the glitch, only the wrong ways prevail."
JS: I think the right way to do it wrong is to always cycle back or "level up" or go "meta" to a point where you are able to view what you are doing as a structure so that you can then glitch it again.
PH: Once you have a formula though, in a sense, you've captured something, but it is no longer glitching when you start saying that there is a right way and a wrong way.
RP: I am curious about this problem of glitch as style, glitch as genre, glitch as a pre-determined method. It seems there is a need to avoid stylization, avoid the predictable, to avoid the preset. So it does seem as though there are boundaries to glitch, there is an area where you don't want to go.
JS: I feel like everything is fair game.
PH: There were places we had already gone where we weren't likely to go again and so you could say farewell to jpeg glitching, farewell to png glitching, jpeg2 glitching, to datamoshing. I have argued that those are more like tools that we have and it's about the new technologies. Going into the show I was quite prepared actually to say that glitch is now art historical, that's why I was doing the show. But I was surprised at how lively the subculture is, how lively the artists are who have gone on to do new things. I think glitch belongs in many ways to an earlier tradition of noise, and in that sense, it has a history, it has a future in all kinds of directions.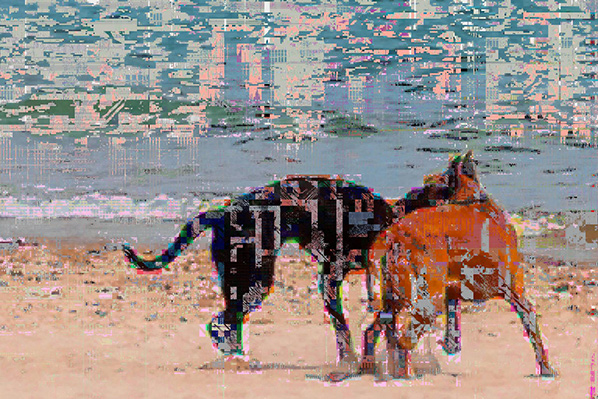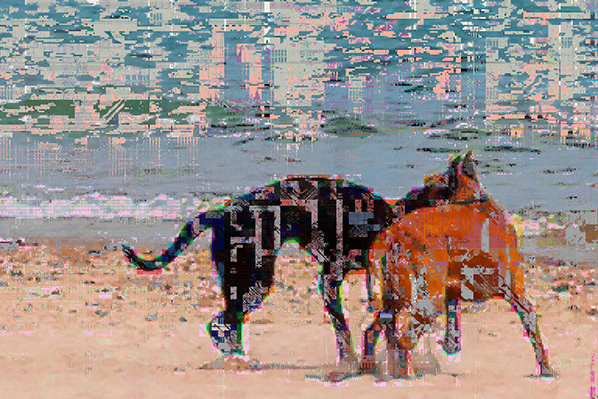 RP: The idea of history seems like a dark cloud that hangs over the practice of glitch, to avoid becoming rigid or formed. In regard to the roundtable discussion you just had, Paul asked the question: "once we induct glitch art into art history, is glitch art dead?" What was the outcome of this discussion? Is glitch as we know it history, has it already become part of the art-historical discourse?
PH: We did shift the conversation a little and started by talking about glitch as having a memory and glitch as having a potential future. And I think we sidestepped the history question by and large. But it was stated by a number of people, including Curt Cloninger in his essay for the show that as long as there are new technologies, there are going to be new glitches.
RP: So is there a reason why the historical question was avoided?
PH: I think it became uninteresting as time went on. We're having so much fun just doing it, it doesn't seem like such a serious question. It seems like a question an art historian would ask.
RP: But Paul, you're an art historian!
PH: We all got around to being artists again.
JS: I think that when you look at history as a rigid structure and if you take a glitch perspective towards a rigid structure you're looking at it as something that isn't as static as may come across. Histories are presented in different ways, different agendas, different people, and I think it's more interesting to consider our job as glitch artists to create structures that are radically inclusive, and experimental, and have enough space for agency, and individuality moving forward, rather than considering whether or not it is dead.
RP: Returning to the glitChicago show, which aspired to the inclusive, open source, community-based, DIY nature of glitch: Nick, you're project is called 0p3nr3p0…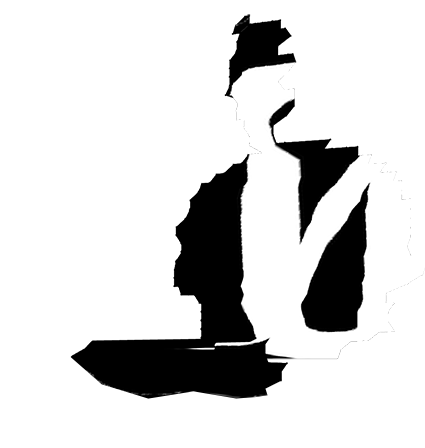 NB: It's pronounced "open repo," short for open repository.
RP: How does this project involve the local community as well as expand itself through the network to engage a more globally social reach?
NB: 0p3nr3p0 is at the moment a project that myself and Joseph Yolk Chiocchi maintain, an unfiltered, open port for uploading glitch art. It was an offspring of the GLI.TC/H conferences in 2010, 2011, and 2012 in Chicago. It was a result of our paranoia to be radically inclusive as a conference. So we didn't do a call for works that last time, instead what we did was a call for threads, which is we tried to carve out spaces for other people to bring in certain conversations. And while we showed and exhibited work in the evening, all that work as best as we could was actually the result of those communities coming together. There is only so much space, there are only so many people who could show, but there are a lot of people online who we could recognize and include and so 0p3nr3p0 would become that back door entrance to the physical exhibition via the network.
RP: It seems to me that there is something about the nature of glitch that encourages democratization and inclusivity in terms of the accessibility of its practice and the techniques involved.
JS: It comes back to social structure. One way to get around the hierarchies of a social structure is to try and present things in a more populist, more open, more democratized way.
PH: There is also this transgressive aspect to glitch. Glitch itself represents a rupture, instability, of images and media. And that instability has an ideological function, as Nick is very careful to point out in the Glitch Codec Tutorial. If we are transgressing both the technology and exposing the ideology, there are reasons for us to want to expand that kind of rupture to online communities.
RP: I spoke with jonCates in an earlier interview for Hyperallergic about dirty new media. I would like to get your perspectives. Jon (Satrom), it seems like your work particularly reflects this idea as a reaction against the clean, glossy, polish of technology, a reaction against the fetish of the technological object.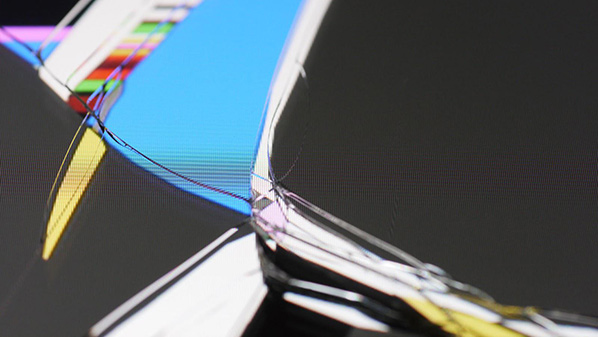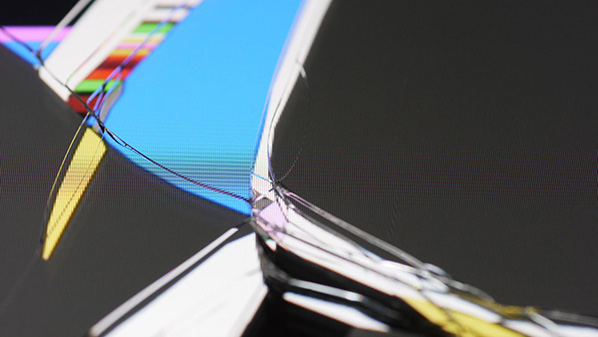 JS: Yes, it is a reaction to the sleek, brushed metal of new technology. When I think of dirty new media in terms of Chicago, there is an organic quality to it, literally you can think about dirt. This dirty style: it's the grit, it's the rust, it's the realization of a false promise of technology that many of us just accept and are fine with. We're purchasing things that are broken and need updates, and yet our agency of not being part of these updates has been stripped from us. Things are changing under our feet all the time. With dirty new media, you don't bother hiding the cords, you don't bother sweeping up, there's a sense of realism to it, there's the grit, and there is also a kind of a comfort in that. It's not trying to hide behind these mirrored surfaces.
RP: Perhaps it's a critique of our relationship with technology in terms of humanizing that relationship.
NB: Maybe trying to take agency back in that relationship. In the computer industry, a very specific relationship has been imposed, we're told how we're supposed to use these things, both as consumers and as producers. As consumers we're told this is what you are supposed to do with your technology, to have a kind of reverence for technology. Dirty new media is an irreverent response to that. And then as producers they've imposed a certain relationship. There are "right" ways to do things as programmers, and "right" ways to do things as media artists and dirty new media tends to be kind of punk: how can you finagle the technology. It's through experimentation that you learn how to do things with these systems. And just like the punk ethic, once you learn those first three chords you can start a band and you'll learn the rest of them along the way. Once the reverence is defused, and it's OK to break things and experiment, all these things become possible.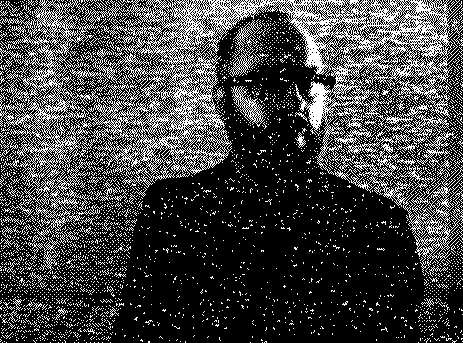 PH: I would also say there is a differentiation in dirty new media between an aesthetic and a capture of instability. There are the pleasures of the glitchy image but at the same time it's very much about the underlying systems. It seems to me that they play off of one another and there is a certain tension there, and a healthy one.
RP: I believe there is also a tension in glitch in terms of constantly needing to move forward. This leads me to a question about Rosa Menkman, a significant artist and writer in the international glitch community. She's written some very influential pieces such as The Glitch Moment(um) and the Glitch Studies Manifesto. Her writing critiques this tension while theorizing glitch, putting it into an art-historical perspective, perhaps encouraging its formalization. Is glitch now an actual genre, to be taught in art schools? What's going on in Chicago seems very healthy because that's where the locus of glitch is, but what happens when glitch is taught in all the other art schools around the world and everybody is imitating it?
JS: I think it becomes a powerful moment and I think it can be utilized very well in education, just in terms of giving students agency to break something and learn about its guts.
NB: But are you asking, what if glitch becomes a kind of Adobe Photoshop class? Here's how you reproduce that exact artifact? Because that would be cool in its own sort of way if it happens, but I wouldn't necessarily call that glitch art. You can perhaps draw a line between glitch artifacts and certain aesthetics and then glitch as a process, or as an ethic, as a practice, as an impetus for triggering these unexpected moments within systems for the plethora of reasons that artists like to do that. But glitch is not necessarily wedded to any particular aesthetic. Sure, if you search glitch art on Google, you get certain things that look the same, but that's just because that's what glitch art happens to look like now. But as technology and as systems change, and as the methods for exploiting those systems change, it will look, sound, taste, feel, and augment in totally different ways.
RP: So how do you feel about datamoshing, for example, which is working its way out into popular culture, where mainstream musicians, media artists are using glitch techniques straight out of the book.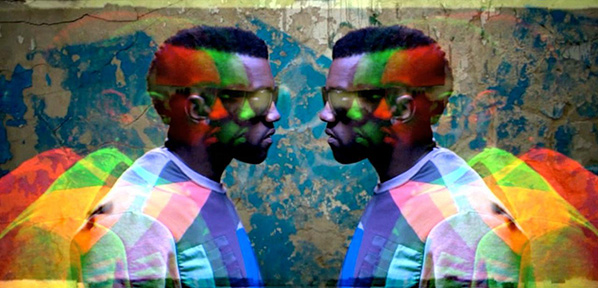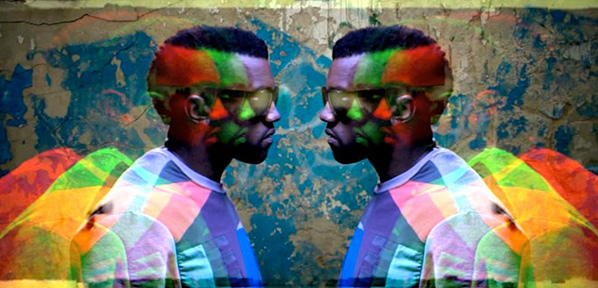 PH: Kanye West's Welcome to Heartbreak is the example most people think of. Datamoshing is used as a preset of a certain kind, which is OK, but it also means those problems were already solved. We know if we "hit" the header of a jpeg there are all kinds of things we can do. Once you go through the process, then it's another effects module in a certain sense. But there is a point in which it's all a surprise. Datamoshing is no longer a surprise for us, but it's probably a surprise for nationwide television audiences. And even for them it's going to eventually cease to be a surprise.
RP: Then what do you do in Chicago to stay on the edge, when everybody is practicing glitch?
NB: You can only stay on the edge if everybody is practicing glitch. The Kanye West example is a beautiful moment as initially I was upset because I felt co-opted, the pop culture aesthetic is going to destroy it. A lot of folks had that sort of sentiment and rhetoric. But the reality is that people are introduced to the aesthetic and look of glitch through that video and then are curious to know how to do that and then they fall down that rabbit hole. So more people join the conversation and like any conversation it gets better when more people join and there is more to talk about. And when everybody knows how to bend a jpeg, it means the general literacy level is up, the glitch literacy level is up. You can't get into more complicated concepts, the next chapter, until everybody can have that conversation.
PH: And on the aesthetic side, it broadens the lexicons that people have to think about images, to think about media. It means that the aesthetics of punk, the aesthetics of noise creep in as something we should get used to. The popularization of glitch makes it possible to say, yes, we're going to learn to live with the instability of technology, because we have to.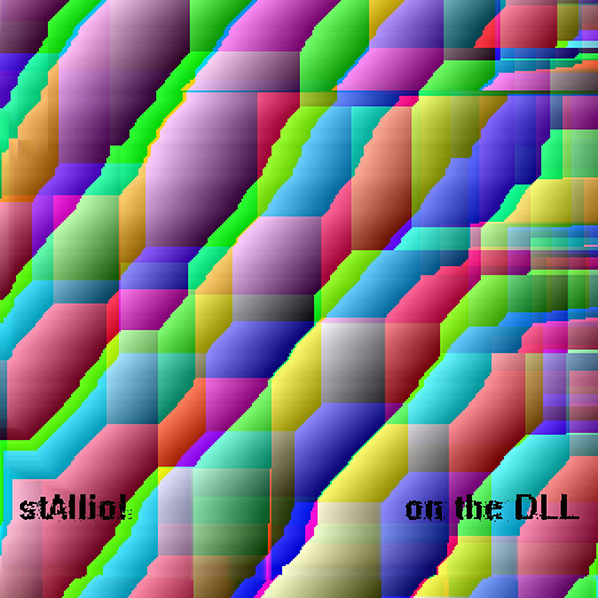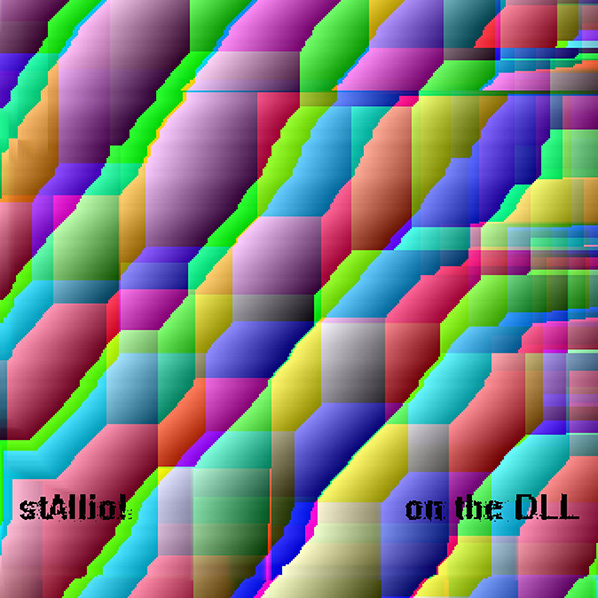 ---
glitChicago: An Exhibition of Chicago Glitch Art, Ukranian Institute of Modern Art, with works by: Melissa Barron, Benjamin Berg aka Stallio, Nick Briz, jonCates, ChannelTWo, Joseph Yolk Chiocchi, Curt Cloninger, James Connolly, Kyle Evans, Paul Hertz, shawné michaelain Holloway, Nick Kegeyan, Jeff Kolar, A. Bill Miller, Pox Party, Rob Ray, Antonio Roberts, Alfredo Salazar-Caro, Jon Satrom, Lisa Slodki, Jason Soliday, Ben Syverson, I "heart" Presets, and OP3NR3PO.
Randall Packer is an artist, educator, and writer who critiques the unfolding media culture from his underground studio bunker in Washington, DC. Follow him at Reportage from the Aesthetic Edge.
AS FOUNDER/DIRECTOR OF THE MEDIA ARCHEOLOGY LAB IN COLORADO, LORI EMERSON HAS (since 2009) been surrounding herself with "dead" media technologies in order to help make sense of (and critique) today's much-hyped alive ones. Being also a scholar and critic of contemporary poetics, she is keenly aware of how such devices are equipped to influence and constrain our writing/thinking.
Emerson's work celebrates and calls for a "frictional media archeological analysis" aimed at the continual "unmooring" of the accepted conventions of reading and writing. Towards this end, she critiques consumer-oriented trends in computing–trends which unfortunately seek to "efface the interface" in the name of so-called user-friendliness. Montgomery Cantsin conducted the following interview by email upon the release of Lori's new book, Reading Writing Interfaces (recently published by University of Minnesota Press).
Montgomery Cantsin: First, I want to point out that your new book is part of a series which was founded by Mark Poster, who passed away not too long ago. Can you talk about how your work fits into his "Electronic Mediations" series and what (if any) influence Poster has had on you?
Lori Emerson: Mark Poster has been an underlying, though subtle, influence on my work as I first read him in a graduate seminar I took on "cybercultures" in the mid- to late-90s with the Victorianist and early hypertext theorist Christopher Keep. That class and Poster's work–his deeply political readings of digital media structures–stayed with me long afterwards. In fact, about seventeen years ago I gave a presentation on "Postmodern Virtualities" in that class and while I have no memory at all of what I said or even what I learned from reading his work back then, it's remarkable that his opening sentence rings so true to the kind of work I now find myself doing–he writes that "a critical understanding of the new communications systems requires an evaluation of the type of subject it encourages, while a viable articulation of postmodernity must include an elaboration of its relation to new technologies of communication." And so the point at which I realized I was, to my surprise, writing a political book that meshed together poetics and media studies was the point at which I realized that my work would likely fit in best (or, given its reputation in media studies, I wanted to make my work fit in) with the Electronic Mediations series, especially because of their books on tactical media, glitch and error, as well as the politics of archives and networks. It's such a thrill and an honor to have my book included in that series.
MC: How did your Media Archeology Lab come about?
LE: I was fortunate enough to have the support of the past director of the Alliance for Technology, Learning, and Society when I was first hired here at the University of Colorado at Boulder in 2008. In 2009, the director, John Bennett, offered me a $20,000 startup grant to build a lab, any lab, that Atlas and English Department students could both use. I then began looking for a way to build a lab that wasn't just another venue on campus to celebrate the perpetual new in computing and, since I was at the time fascinated with how the Canadian poet bpNichol wrote one of the first kinetic digital poems, "First Screening," in 1983 using Basic on an Apple IIe, I decided to create a lab that had enough Apple IIe's to teach bpNichol in a classroom full of 20 English majors. It didn't take long before I moved on to acquiring Commodore 64's and then to where we find ourselves now, with a collection of about a thousand pieces of still functioning hardware and software from the mid-1970s to the early 2000s. I also have to admit that the MAL wouldn't be what it is now if we weren't flying under the radar of the university for the first three years or so. The relative obscurity of the lab in those early years meant that we had little to no oversight, no one to report to, no metrics or outcomes to adhere to, and so on which meant we were free to be as wild as we wanted.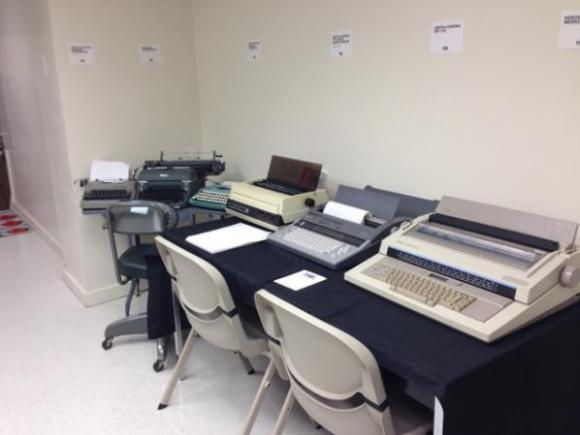 MC: In trying to explain your book to a friend, I admit I had some difficulty. I found that it was (for me) hard to do without making the subject of the book sound obscure. And yet I feel that the issues raised in the book are actually quite significant/fundamental. …Let's delve right into the concept of the interface. As you point out, digital interfaces are now being made "invisible" by manufacturers in the name of "naturalness," and so it is hard now to even point to a modern interface and say "this is an interface." At one point you quote Alexander Galloway, who defines an interface as a "point of transition." (In other words it is a sort of boundary?) You also quote Johanna Drucker, who says that a book can qualify as an interface!? …Is it useful here to ask what's NOT an interface??!
LE: I think that, similar to Marshall McLuhan's notion of 'medium' which he even extended to roads (and then had to endure a couple decades of ridicule from academics), interface can indeed be anything that's an intermediary between a human user or creator and what is being created. But unlike using 'medium', 'interface' seems to allow us to focus our thinking on the particular affordances of specific intermediary structures. It's not especially unusual or even useful to point out that paper is a medium but, by contrast, calling it an interface summons up not only the material qualities of paper (the grain, size, texture, limits and possibilities for inscription) but also pens and pencils along with that crucial point of interaction that's between–between writer or artist and their materials. But I also suspect that some of the significance of the concept as I'm using is lost when you start from an arbitrary point in the past and think about needles as interfaces for needlework, or rocks as interfaces for etchings or engravings. Instead, 'interface' gains traction when we use contemporary notions of it to have a see-saw relationship between present and past–reading contemporary interfaces through past interfaces and vice-versa. In this way, my book is resolutely of the present because I tend not to delude myself into thinking I can have a pure, direct access to the past. Instead, I start with the closed interfaces of the present moment whose manufacturers try to convince us that a closed device is the only way for us to have a supposedly "natural," "intuitive," "seamless" experience with our digital devices; I then work my way back in time to reread typewriters and fascicles or handmade books as profoundly open and configurable interfaces but still with their own limitations.
MC: I was delighted to see that the first scholarly name you drop into your text is that of the amazingly awesome Florian Cramer, the second-wave Neoist. You say he importantly identified eight different types of interfaces. Of these eight, the type that you identify as being of particular interest to you is the "human-to-hardware" interface?
LE: I'm interested in thinking about how certain (largely profit-driven) decisions about interfaces for human-computer-interaction fundamentally affect the human user–determining their access to information along with what and how they're able to create. This uneven distribution of power between user and digital computer is most obvious when we start to think about why the keyboard/screen/mouse interface has become the only way for us to interact with our machines or when we look at the history of how a particular notion of the Graphical User Interface was used to advance an ideology of the user-friendly. While I am obviously quite dedicated to certain aspects of media archaeology that believe in the value of looking at the operational undersides of machines and the ways in which these machines can now operate quite independently of humans, in Reading Writing Interfaces I'm most concerned with how humans are now almost totally unable to think outside of the current dominant paradigm in computing. This is why I'm less interested in hardware-to-hardware configurations and more interested in the space between human and hardware–as well as software.
MC: I like how you point out that the closed interface can be a sort of metaphor for ideology ('that which we are not aware of'). This part of the book blew my mind and I'd love it if you could expand on this here.
LE: I'm fast and loose with how I use 'ideology' but, after going through every issue of Byte magazine from the late 70s through the mid-1980s after the release of the Apple Macintosh–mostly just to see what I'd find–I became convinced not even that contemporary computing interfaces are metaphors for ideology but that they are themselves expressions of an ideology. Somehow what was at first a battle between competing philosophies in the 1970s–between a model of computing based on openness and a model of computing based on a closed interface for the sake of a very particular notion of user friendliness–gradually turned into an all-out marketing campaign by Apple that was so successful users/consumers are barely even aware of other possible versions of computing. These closed interfaces have become so familiar, so accepted as the so-called 'natural' way for users to access their computers, that we are mostly utterly unable to imagine any other alternative. Over and over again, we're told: "Computers are only getting easier, more intuitive, more natural to use!" Or so the story goes, until you either try to understand how exactly our digital devices work. Or until you try to create outside of a corporation's rigid developer guidelines. Or until you come up against the impossibility of working with a closed device whose "seamless," "natural," "intuitive" user interface doesn't in any way conform to your own sense of nature or intuition and can't be rebuilt, remade, or reassembled in your own image because in computing words like "seamless" and "natural" are code for "closed."
Something I'd love to research more is how this ideology of invisibility is not a reflection of a particular aspect of capitalism (as I thought when I wrote Reading Writing Interfaces) but is actually one of the key underpinnings of a capitalist economy. I recently learned from reading Kirstyn Leuner's dissertation that the diorama–which emerged in the 1820s in Paris not coincidentally at the same time as early industrial capitalism began to get its legs (and only twenty years before Marx would move to Paris and begin formulating Capital)–was also produced and marketed as a "magical" device whose inner workings were kept hidden from viewers in the interests of providing an immersive experience. But I admit this is all just a hunch.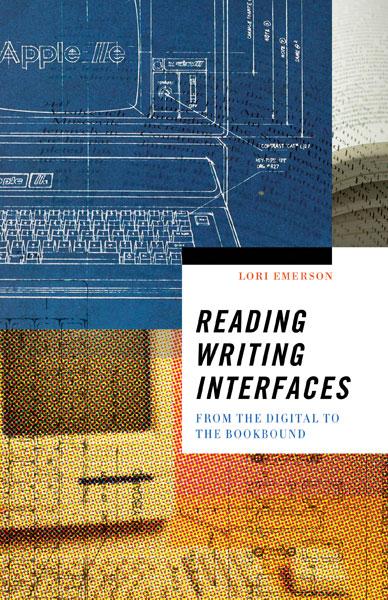 MC: The Situationists called for a seizing of the "means of conditioning." Should we also aim to seize the means of programming? And what connections might we draw between these two projects?
LE: As I try to imply above, contemporary computing is one of the most profound manifestations of late capitalism–I only have a superficial understanding of the Situationists but, ultimately, the only reason why our devices are now not only closed to us but gradually disappearing under the guise of 'seamlessness' is because, from a profit-oriented perspective, a universal homogeneity of devices is the ideal; and now, to accelerate that homogeneity, these devices must also be invisible. It does seem to me that the way out is to hack, appropriate, seize, rebuild in our own image. The only problem is that even 'hacking' and 'making' have become big business, as Make Magazine and all its spin-off projects (Maker Faire, Craft Magazine, Maker Television etc.) continue to be enormously profitable and as mega corporations such as Google and Facebook hire hackers and even hire Occupy Wall Street activists. Nonetheless, I have a tremendous amount of respect for utterly unprofitable experiments in taking control of our technology–I've begun working on my next project I'm calling OTHER NETWORKS which looks at networks that exist outside of or before that behemoth "the internet" came to dominate our online interactions. One project in particular, Occupy.Here, seems to fit in nicely as a Situationist-inspired seizing of the means of programming in that it is a network that exists entirely outside of the internet via a wifi router near Zuccotti Park in New York City which anyone with a smartphone or laptop can access through a portal website. In other words, it offers us a beautifully simple, elegant way out of the way the internet disempowers us through a system of distributed control.
MC: It used to be that people could take apart and reassemble the mechanical devices in their lives (toasters for example), and these devices were constructed with universal parts (screws, etc) …How can the tinkering impulse survive in the face of smart devices, blackboxing, proprietary components, etc.? (Maybe not everyone is a tinkerer, but…)
LE: I've wondered the same thing but projects such as Occupy.Here and devices such as Raspberry Pi (that are as inexpensive as a book) or platforms such as Arduino that are meant to help us build other devices give me hope. But also I think it's important to remember this blackboxing is largely (but of course not only) driven by Apple and that, as I've come to learn, this tinkering impulse is alive and well in countries outside of the U.S. For example, I recently met a graduate student from Israel who assured me that nearly all of her friends and family members living in Israel used PCs or Linux devices and everyone regularly takes apart and fixes their machines. This was quite a revelation to me, to realize that the overwhelming push to disempower users/consumers with closed devices may be a western phenomenon.
MC: Your book suggests that an interface that is truly going to be a "friend" to the user is NOT necessarily an interface that is going to make all the fundamental decisions in advance for the user, etc. Maybe talk about how future interfaces might possibly instead more fully engage the creativity of the user (and/or invite the user to engage at a deeper level with the capabilities of computers)? Also, can such be accomplished in a way that draws in all users and not just geeks?
LE: Uncovering documentation from the 1970s on Smalltalk and on Alan Kay's vision of a Dynabook (as a device that would have given users the ability to create their own ways to view and manipulate information) demonstrated to me that there are real alternatives to the binary of experts on one side and everyday users on the other. This is a false dichotomy, a convenient construction invented to convince people that closed devices were, as an advertisement for Apple Macintosh put it, computers "for the rest of us." It is perfectly possible in theory for us to have interfaces in the future that are open, extensible, and configurable to the expert or novice user. The problem is, first, that there's no way to avoid the need to institute nationwide education in programming and digital literacy in public schools as I imagine that any device built for configurability will also have to be programmable; and second, it's hard to imagine a configurable, programmable device that will generate maximum profit – companies and western consumers would have to change in a radical way that seems unsupportable by the dictates of late capitalism.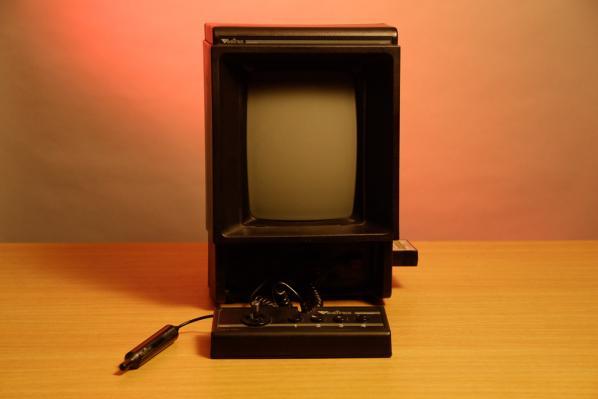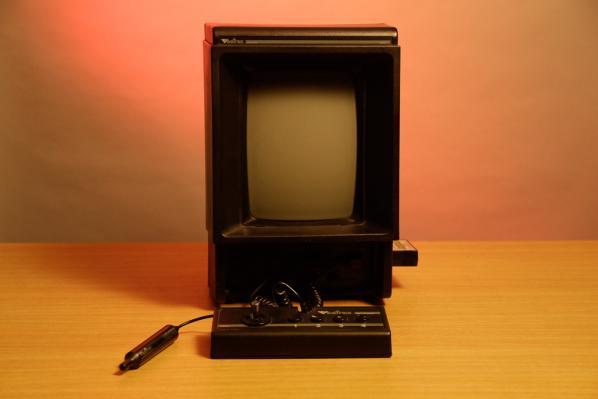 MC: The computer's identity as tool for efficiency seems to overshadow the computer's poetic potential. I use 'poetic' here to mean "the development of absolutely new forms of behavior"–a Lettrist definition of poetics which is notably similar to Mckenzie Wark's definition of hacking (which you cite): "creating the possibility of new things entering the world." …Has the poet always been a sort of hacker?
LE: I think so! Seeing writing, especially innovative poetry that lives on the edges of acceptability, as studies of media has brought about a profound shift in my thinking so that I'm no longer interested in trying to seeing through letters and words to get at the representational meaning but instead I think about how the writing registers media effects. I'm not sure how far back you can go in literary history and make this work, but there's no question in my mind that poets such as Emily Dickinson, Stéphane Mallarmé, and of course a whole host of experimental early twentieth century poets were pushing up against the limits of what the media of their time could and could not do for/with writing. And to the extent that these poets are engaged in a continuous cycling of tinkering with the limits and possibilities of writing media of their time which in turn re-enlivens our language, it does seem like poetry [defined as such] could be seen as hacking.
MC: Diane di Prima wrote: "THE ONLY WAR THAT MATTERS IS THE WAR AGAINST THE IMAGINATION / ALL OTHER WARS ARE SUBSUMED IN IT" [emphasis in the original]. Do you think we have the means to win this war (which is also, it would seem, Richard Bailey's "war against conventionality")? To what degree is it a question of interface?
LE: Nearly all of our tools, no matter how simple, are interfaces for accessing other sets of tools (think of hammers and pens as interfaces to access nails and paper) so that not only are nearly all our actions mediated by interfaces of some sort but also there may not be such a thing as an unmediated, interface-free interaction. So, it's possible to say that it's always been a question of interface–the problem now is that corporations are making it as difficult as possible to perceive these interfaces and to see how they're mediating and even determining our experience.
To get to your question about imagination, it's getting harder and harder to be weird, or even encounter the truly weird which, for me, is "imagination"–existing in or seeing the world askew, envisioning new kinds of existence in the world because everything is indeed mediated tightly and thoroughly for us, making it next to impossible to be anything but a consumer. In this sense, winning the war could come down to making or producing either as an end in itself or as a means to just exercise imagination.
Featured image: Image from "Otherworldly" at Manchester Urban Screens 2007. Curated by Michelle Kasprzak
Eva Kekou interviews Michelle Kasprzak, a Canadian curator and writer based in Amsterdam, the Netherlands. She is a Curator at V2_ Institute for the Unstable Media and the Dutch Electronic Art Festival (DEAF). She has appeared in Wired UK, on radio and TV broadcasts by the BBC and CBC, and lectured at PICNIC. In 2006 she founded Curating.info, the web's leading resource for curators. She has written critical essays for C Magazine, Volume, Spacing, Mute, and many other media outlets. She is a member of IKT (International Association of Curators of Contemporary Art). Michelle is also an avid weightlifter with current personal records of 80 kg squat, 52.5 kg bench press, and 90 kg deadlift.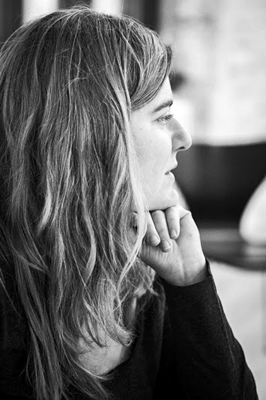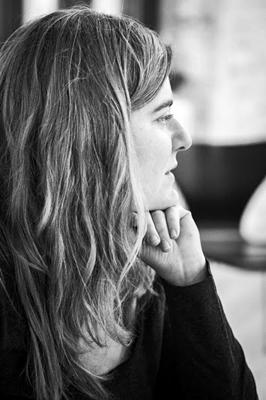 Eva Kekou: Can you give us some info about your work as an artist and curator and specifically your work at V2_?
Michelle Kasprzak: I was trained as an artist, but my art career feels many moons ago now. My first love was photography, and I spent many hours in the darkroom as a teenager. Later on I moved into live video mixing for performance contexts and parties, single channel video works, and integrating technologies like speech recognition and found objects into performance.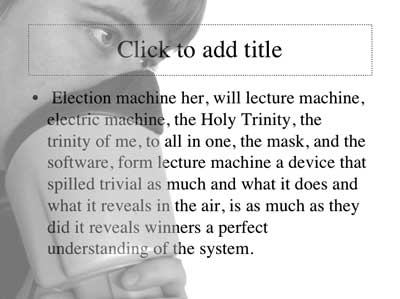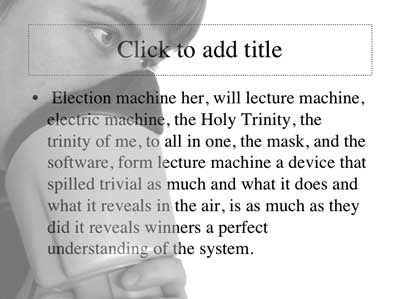 I was also curating throughout this time, though for many years it took a back seat to my artistic practice. Eventually I realized that I was more interested in curating and writing than making the artworks myself. Of course, one should never say never, so I may return to art making someday, but from that point onward and until the present time I focused full-time on curating and writing.
This was the mid 2000s and it was a pretty exciting time to be a media arts curator. It felt as though things were gaining traction. So many years after Cybernetic Serendipity had laid the foundations, we had exhibitions such as The Art Formerly Known As New Media curated by Sarah Cook and Steve Dietz to stimulate the dialogue about new media art and how to exhibit it, and take it all to the next level.
Fast forward to now: a few years later, I'm a curator at V2_ Institute for the Unstable Media in Rotterdam, the Netherlands. V2_ loomed large for me as a young undergraduate in Toronto studying new media – it was this far away place in a city I didn't know with this massive reputation for doing edgy, interesting things. I wouldn't in my wildest dreams at the time ever imagine I would one day work there.
As an institute, V2_ has been through a number of key transformations and I think it's interesting to map that on to what was happening at the time both in art and in society. It started in the 1981 as a squat (which was common in the Netherlands at that time) and the founders called it a "multimedia centre". Sonic Youth, Laibach, and Einsturzende Neubauten played there. The "Manifesto for the Unstable Media" was written in 1987 and arose out of a dissatisfaction with the status quo and it said things like "Our goal is to strive for constant change". Following the Manifesto, a series of "Manifestations of the Unstable Media" were created, which evolved into the Dutch Electronic Art Festival (DEAF), a festival which continues today. In 1994 V2_ moved from s-Hertogenbosch to Rotterdam and has remained there ever since.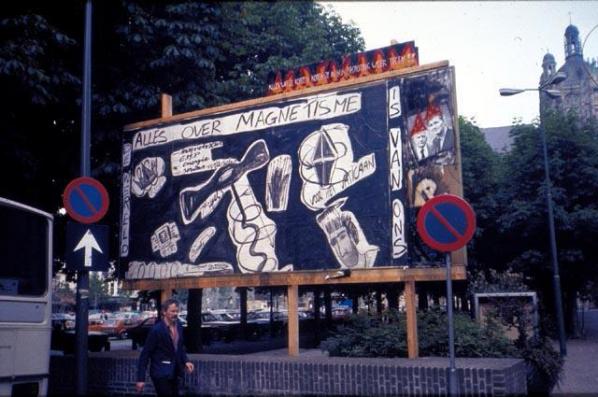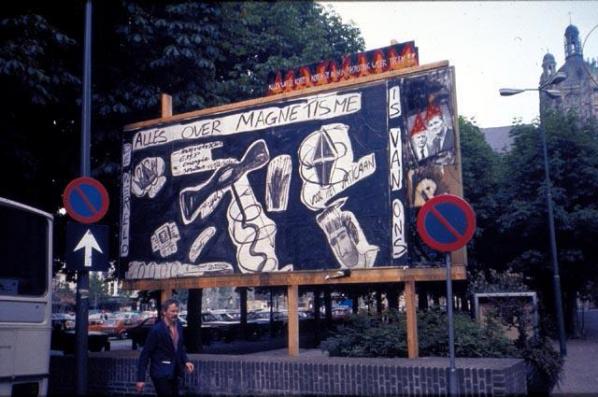 Around that same period of the mid- to late-90s, the growth of internet access and support for artists working with networked technologies caused V2_ to change its focus in this direction. In 1997, V2_Lab opened as a hub within V2_ to initiate and support the production of artistic projects investigating contemporary issues in art, science, technology, and society.
EK: So today, in this age of ubiquitous technology and information, where does an institute like V2_ find its place?
MK: I see media art as a category splintering and dissolving, with bits of its ethos absorbed into design, contemporary art, craft, and hacker culture – and vice versa. One way to find a place in the world is to stay true to the origins of V2_ in terms of its squatter ethic. So for example, we (myself and my colleagues, particularly Boris Debackere and Michel van Dartel) recently rewrote the mission statement of the Lab, declaring it "…an autonomous zone where experiments and collaborations can take place outside of the constraints of innovation agendas or economic and political imperatives." Which is not to say that anything goes, but states explicitly that we're especially open to people looking for a home for a risky or unconventional idea. Also, following on from several years where V2_Lab hosted residents based on three fairly technologically-driven themes (wearables, augmented reality, and ecology), the Lab has taken on a new direction of being methodologically-driven, and looking at themes like re-enactments, design fiction, and extreme scenarios.
I think it's a key shift, because in order to "strive for constant change" as we said in the original manifesto, linking to any one technology of the moment seems too static and limiting, as well as reducing our reach into areas with interesting and relevant artistic research occurring, but which might not have much technology involved in an apparent way. The fact is just about everything being made right now is a product of the technological age we live in, so it's more useful to think in terms of methods and approaches rather than whether something fits a classic definition of what media art is or not.
Take for example one of our latest commissions, Paper Moon by Ilona Gaynor in collaboration with Craig Sinnamon. Ilona and Craig were at V2_ for a few months at the end of 2013 and both have design backgrounds. The work, to describe it in a formal sense, is a series of objects and paper-based work arranged in a specific fashion along with a short screen-based animation. This seems a little different than what one might expect to see at V2_, except for small clues in the creation of some of the items (the animation is generated with 3D animation software, some of the objects have been 3D printed). But more significantly, in its thematic Paper Moon enters the realm of the unstable by exploring the emerging legal definitions and loopholes of outer space – particularly the treatment of the moon and other celestial bodies. Our legal system on Earth, as Ilona put it "…has no definition for what 'Outer Space' actually means, what it is, and where it is. The problem we face with such literal unmarked territory is the emergent field of 'Space Law' becomes genuinely speculative."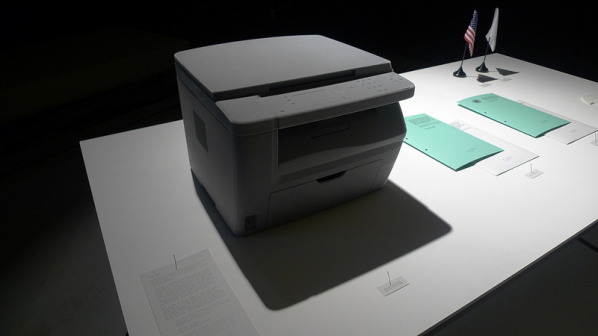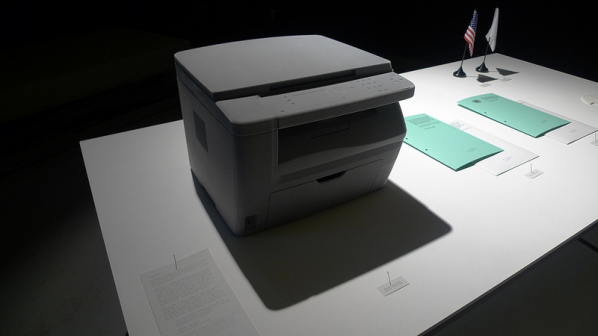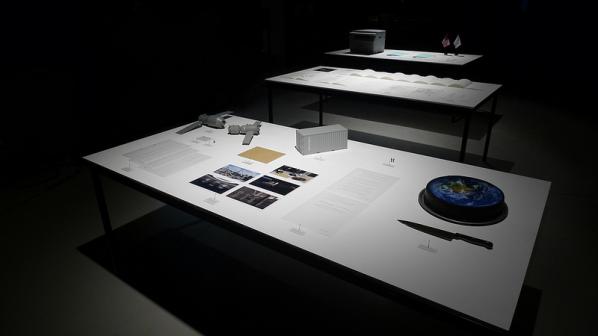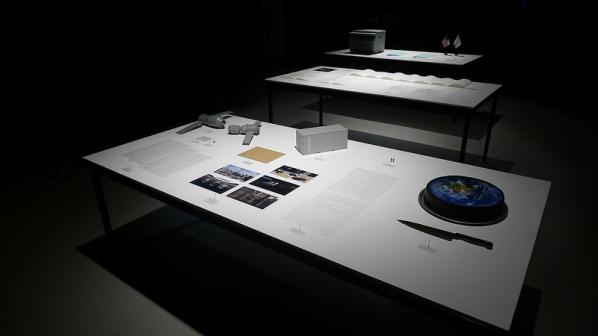 Ilona's residency was part of V2_Lab research project Habbakuk, about Innovation in Extreme Scenarios. The Innovation in Extreme Scenarios research thread was generated in reaction to the introduction of an innovation agenda for the arts as part of the Dutch government's ambitionto be "one of the world's top five knowledge economies" by 2020. As a way of directly addressing this policy direction, V2_Lab began undertaking research into the nature of and appropriate contexts for innovation through a series of expert meetings, workshops, site visits and interviews over the course of 2013-14. The final outputs of the project, which will comprise project commissions and a final publication, will be used as a tool to engage with the policy conversation on innovation in a more profound way. So we've been doing work on this at home and abroad, holding expert meetings and interviews in the Netherlands, Canada, Hungary, and Denmark.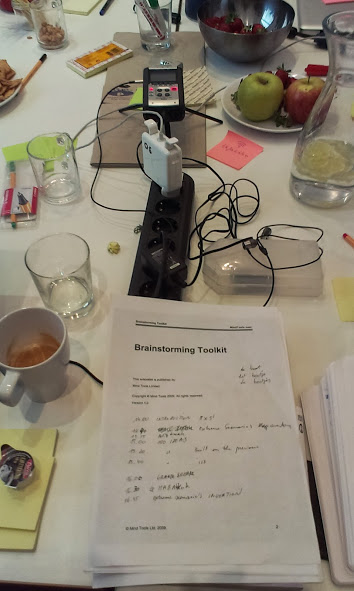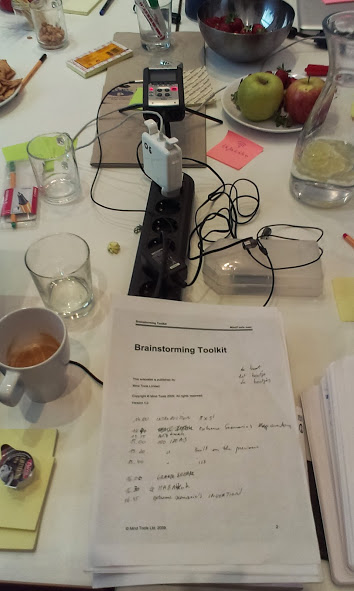 The Dutch policy context explains the "innovation" part, but the "extreme scenarios" part came from somewhere else. For that I was inspired by the World War II story of the Habbakuk aircraft carrier which was commissioned by Winston Churchill. The Allies were plagued by German U-boats, and Churchill desperately needed an innovative solution to this particular problem. In the extreme scenario of war, Churchill authorized the production of a radically innovative solution: building an aircraft carrier made of ice – specifically Pykrete, a frozen mixture of water and sawdust.
Pykrete seems like ordinary ice but the addition of sawdust makes it into a kind of wonder material that takes longer to melt and invulnerable to bullets. In the end the massive ship, which was to be christened "Habbakuk", never saw the theatre of war but considerable effort was put into developing a prototype in total secrecy deep in the Canadian Rockies.
Inspired by both the Habbakuk story and our own policy situation brewing at home, some of the questions we've been trying to answer with this research are things like: What are the best contexts for innovation to take place? What are the myths surrounding how innovation occurs? Does the pressure of an extreme scenario inspire innovative solutions, or only eccentric, unrealisable concepts? What's the U-boat problem of today?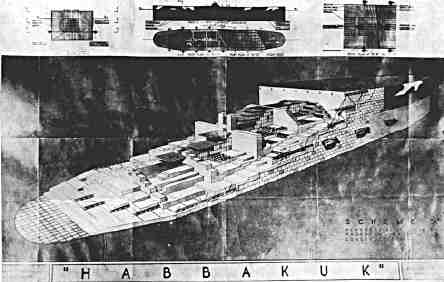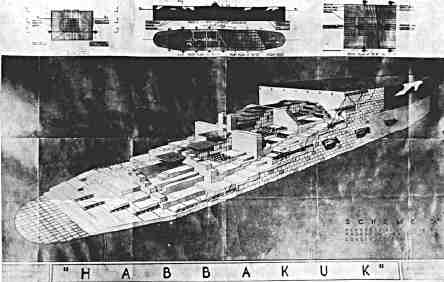 The theme of Innovation in Extreme Scenarios is also being explored in the programme that I devised and curate at V2_ called Blowup. Blowup refers to a number of things: the way that you can blow up a photograph, a balloon, a situation, and of course – the Antonioni film. I see it as a container that presents things in a slightly different way each time, and that its main remit is to examine the things that are changing the way we live now, or reinforcing the status quo of today. The formats for Blowup have varied a lot: from a workshop, to a talk show, to a talk show within a talk show, to a five day booksprint, to an exhibition in a pop-up space. The topics have been equally eclectic: art for animals, outer space, journalism as an art practice, object-oriented ontology, and so on. The most consistent element is that each event has an eBook released along with it, and that these eBooks explore the topic in a little more depth, but also combine previously released material with newly commissioned material. We all have bulging bookshelves and intend to always read something later – by bringing relevant old texts back into the forefront, I hope to give them a chance for a second look (or a first look if you missed it when it was released).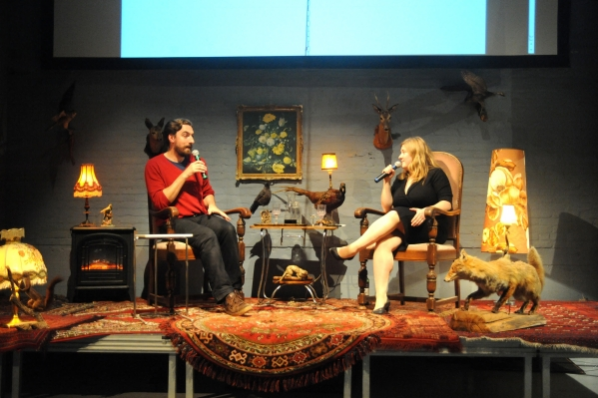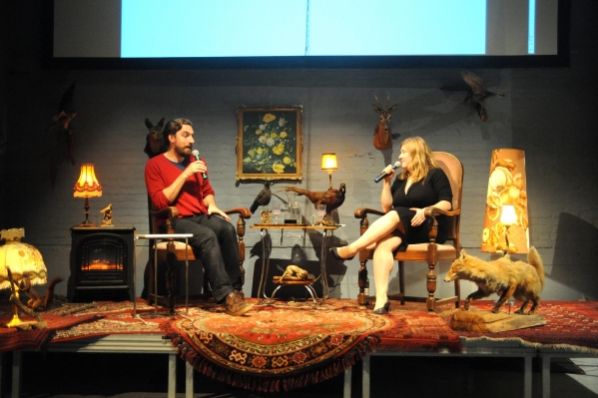 EK: What are your hopes and dreams for the future?
MK: For the future, I think new ideas are incredibly rare, and that doesn't bother me at all – what interests me is that dreams that were previously impossible are becoming possible, and so my passion continues to be seeking out the inventive eccentrics with grand master plans, and being a part of realising that. Churchill dreamed of ending the war with a boat made of ice more than ten times the size of the Queen Mary. These are the kinds of big wild dreams – in scale and in scope, if not in my discipline – that I dream of.
Featured image: Screen capture of Joseph DeLappe's intervention in America's Army
Introduction.
The Fresno Art Museum, in collaboration with the Fresno State Center for Creativity and the Arts, is exhibiting "Social Tactics," a mini-retrospective of the work of Joseph DeLappe, a new media artist and director of the Digital Media Program at the University of Nevada, Reno. The exhibit has been running alongside the construction of a to-scale sculptural reproduction of an MQ1 Predator Drone on the campus of Fresno State, coordinated by DeLappe and executed by students and volunteers. I had the opportunity to interview DeLappe about his work, and the way it connects to militarism, memorialization, and embodiment. His work has been an ongoing critique of games that look like war, and warfare that looks like gaming – insisting that, within the hall of mirrors that forms "simulation culture," reality still must be accounted for, and attended to.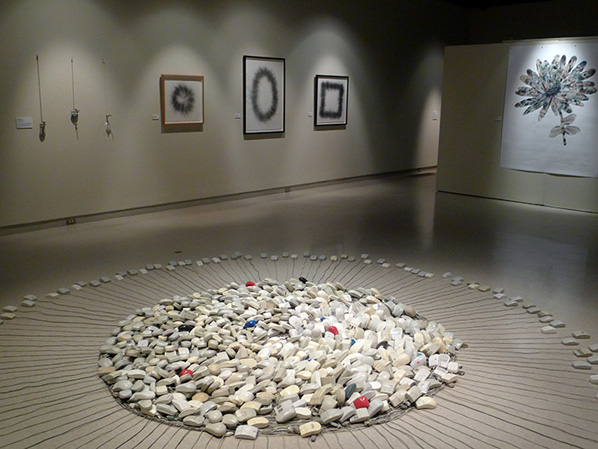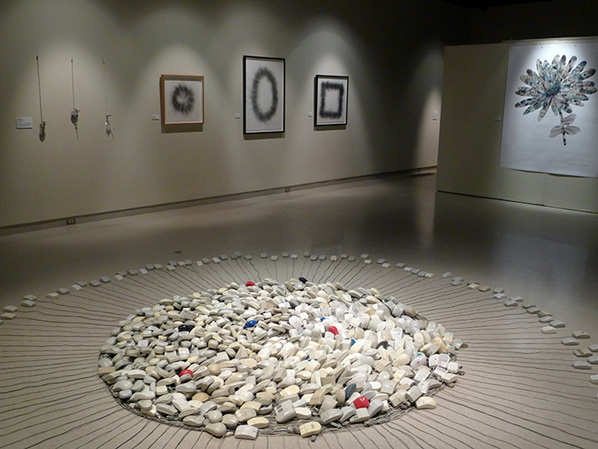 The earliest work in the show is a series of riffs on the computer mouse. The "Mouse Mandala" (2006) splits the difference between a trash heap and an object of meditation – a small sargasso of computer mice is ringed by a circle of yet more mice. The outer radius, tethered to the central mass by extended mouse cords, makes the whole sculpture resemble a dingy grey sun – one that has been pawed by innumerable, invisible fingers. His "Artist's Mice," first begun in 1998, are a series of mice that have drawing implements attached to them, so that the mice can draw while being utilized for their normal activities. The drawing attachments resemble braces, as though the mice are being rehabilitated from an injury – the drawings produced by them are beautiful abstractions, circular or square scribblings that give the illusion that, while working or gaming or goofing off, we could also be making art – skimmed off the surface of our interface with our machines.
All these mice, removed from the context of their guiding hands, inevitably – if ambiguously – echo with a pair of outsized sculptural hands, titled "Taliban Hands" (2011). Modeled from white plastic polygons, the left hand in particular looks as if it could be cradling an invisible, equally outsized mouse. The right hand has its pointer finger extended, as if it were about to press a button. The fact that the hands are upturned short-circuits those prosaic possibilities of gesture, turning them into gestures of supplication. The hands were constructed from 3D data extracted from the model of a Taliban fighter in the game "Medal of Honor," and once you learn that, it's easy to imagine the right hand gripping a gun, the extended finger wrapped around the trigger. The disembodied nature of the hands is discomfortable – it feels like a dismemberment, a pair of hacked war trophies offered up for display.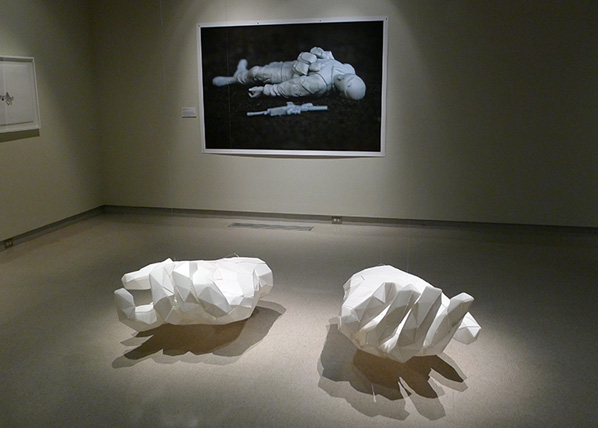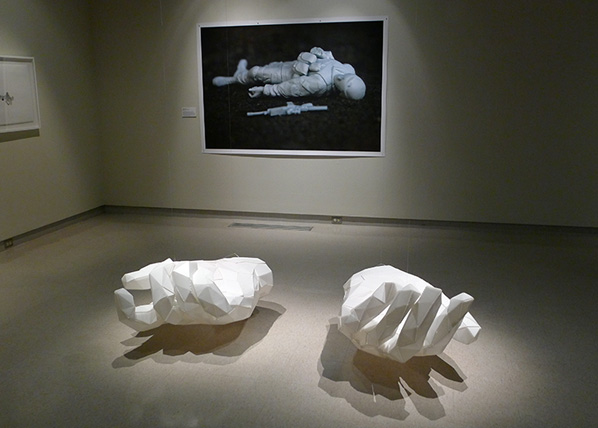 DeLappe also used polygon modeling for a small replica of a US military Drone that hangs in the gallery, which served as a prototype for the life-size drone constructed as a memorial on the grounds of Fresno State. Where the "Taliban Hands" and drone prototype are white and pristine, the Drone Memorial was designed to be inscribed upon. In a public ceremony, volunteers wrote the names of 334 civilian casualties of drones on the faceted surface of the sculpture.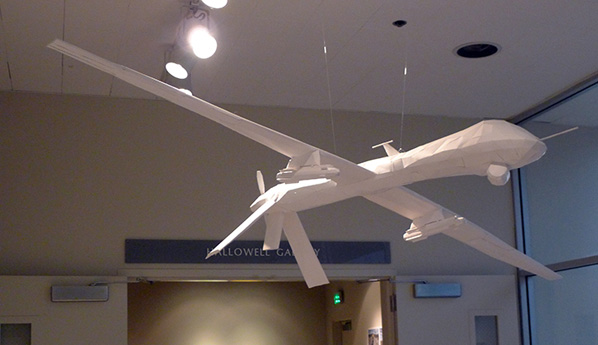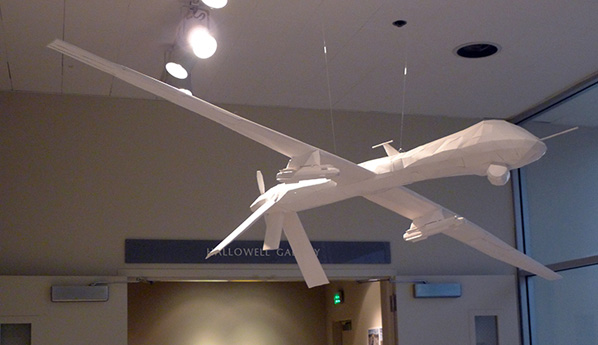 DeLappe's years-long project "dead-in-iraq" (2006-2011) is represented by a machinima video and a large-scale digital print modeled after his fallen avatar in the US Army recruitment game America's Army. Over the course of the American war with Iraq, DeLappe entered the multiplayer first person shooter game, and at the start of each mission threw down his weapon and began typing in the names of US military personnel who had been killed in Iraq. His avatar was invariably shot, either by the opposing team or by members of his own team. In the latter case, it's as though his killers are trying to gun down an itch of conscience – or the nuisance of reality itself. In the machinima of this intervention, when Delappe positions his camera above his virtual corpse, there is sometimes a very profound effect of quietude. The body occasionally twitches, in a gruesome effluvium of game physics, or puffs of smoke are kicked up by stray bullets – but those filigrees of activity only heighten the feeling that the game has moved on. It brings to mind bodies left on real battlefields, unattended to, abandoned to the weather and the birds and the insects while the important business of fighting continues.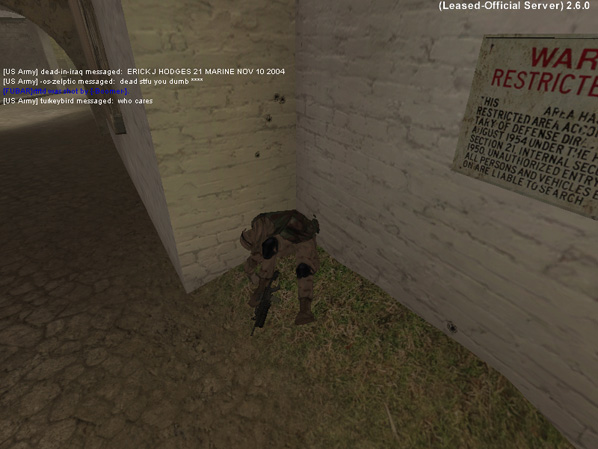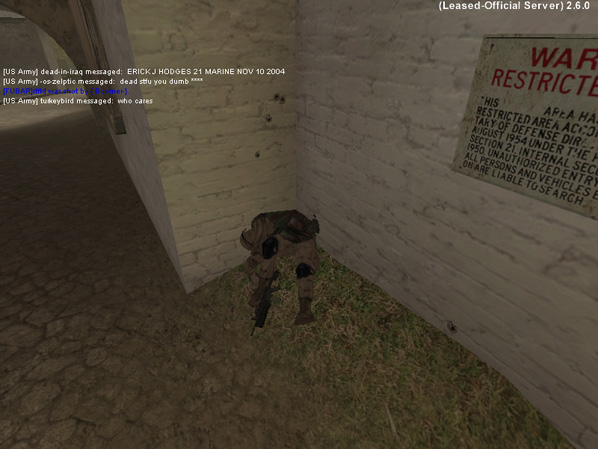 "Project 929: Mapping the Solar" (2013) echoes the circularity of the Mouse Mandala. For the project, DeLappe rode a bicycle 460 miles in a circuit around Nellis Air Force Base in Southern Nevada. The bicycle was outfitted with an apparatus that held a series of pieces of chalk to the road – DeLappe was both marking a chalk outline around the base, and mapping out the dimensions of a solar farm that could power the entire United States, based on a size estimate from the Union of Concerned Scientists. The project is shown through a series of photographs, a video, and the modified bike itself, with a circle of chalk stubs positioned under the frame. In some ways, the piece expands the logic of the "Artist's Mice" to a different scale. Instead of the hand being the driving force, the whole body is the recorded object, and rather than being confined to the top of a desk, the drawing itself is allowed to range across hundreds of miles. In this case, the drawing is the opposite of accidental – it's utopian.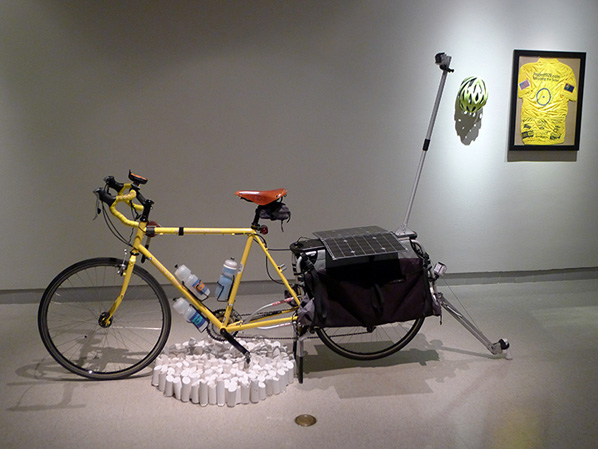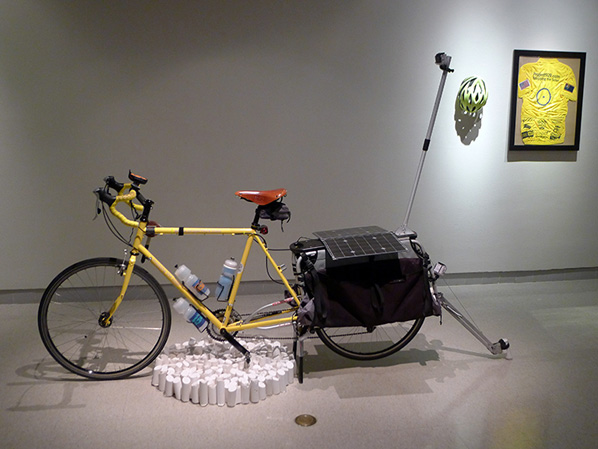 Not represented in the show – but a point of discussion in our interview – was the "Salt Satyagraha Online" (2008), a 26-day durational performance which used a customized treadmill to control the movement of a Second Life avatar modeled after Mahatma Gandhi. On the treadmill, installed at Eyebeam Art and Technology in New York, DeLappe walked the 240 miles Gandhi marched in protest of a British Salt tax – driving his avatar, step by step, across the territory of Second Life. That project was yet another of DeLappe's exploratory reconfigurations of the relationship between protest, performance, and physicality.
Interview.
Chris Lanier: With the mouse-derived work, from the "Mouse Mandala" to "The Artist's Mouse" and the drawings that are made as you're playing a game – what was it like putting those things together at this time, when it's possible to imagine the disappearance of the mouse? Right now there is eye-controlled software , and even thought-controlled software…
Joseph DeLappe: Part of my thought process when doing the mouse pieces was doing a sort of reverse engineering, and trying to figure out what that thing is, because it really is a useless little object otherwise. It's not a hammer, it's not a screwdriver, it doesn't have a function beyond plugging into a computer to allow you to move around this detached marker on a screen. There's already something separate happening, and so attaching a pencil to it was a way of perhaps returning it to its roots. It's sort of a drawing device, a pointer, all these things that a pencil might be, but I was intrigued by the possibilities of extracting some kind of meaning out of it.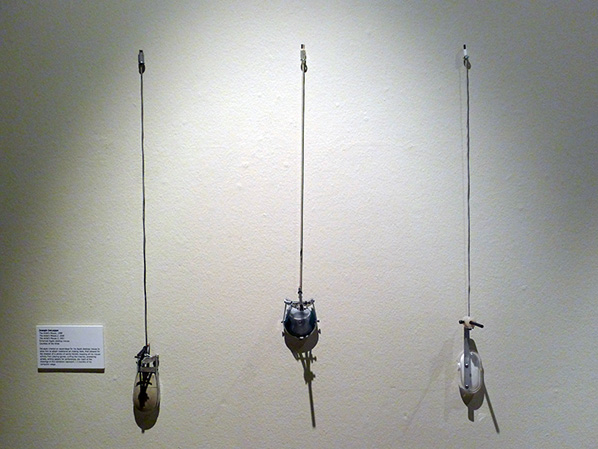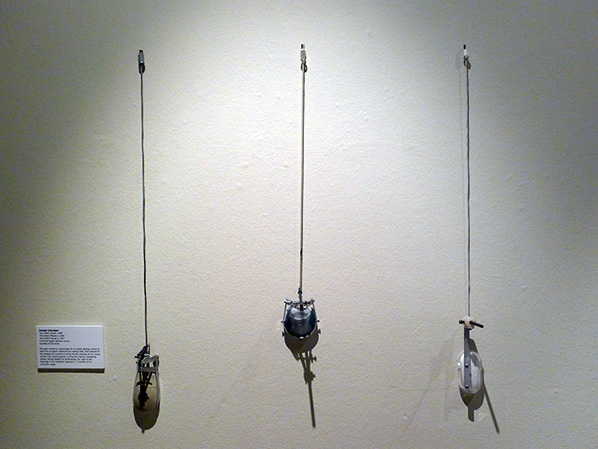 CL: It's funny because it's an extension from the computer to the human, like an organ that extends itself to us, and I wonder what you think of that interface becoming even more disembodied. If the hand is taken out of that circuit, what do you think that says about our relationship to the screen?
JD: I think it will change it. I can really only speak from my experience, not having played the wii, or things like that. I messed around with the kinect a little bit. When you're putting the body into works like what I did in the Gandhi project (which is something that's not in the exhibition) – I placed myself on a treadmill to actually interact with Gandhi, walking him through Second Life. My body became the game controller in a kind of way, the mouse – or however you want to refer to it. I didn't realize it at first but there was an intrinsic alteration of my relationship to the experience going on, on the screen. I wonder if that deterioration of that awkward physical thing you have to do with the mouse or track ball, if that's going to bring us closer to our machines. As it becomes gestural and everyday, I suspect it will become more naturalistic.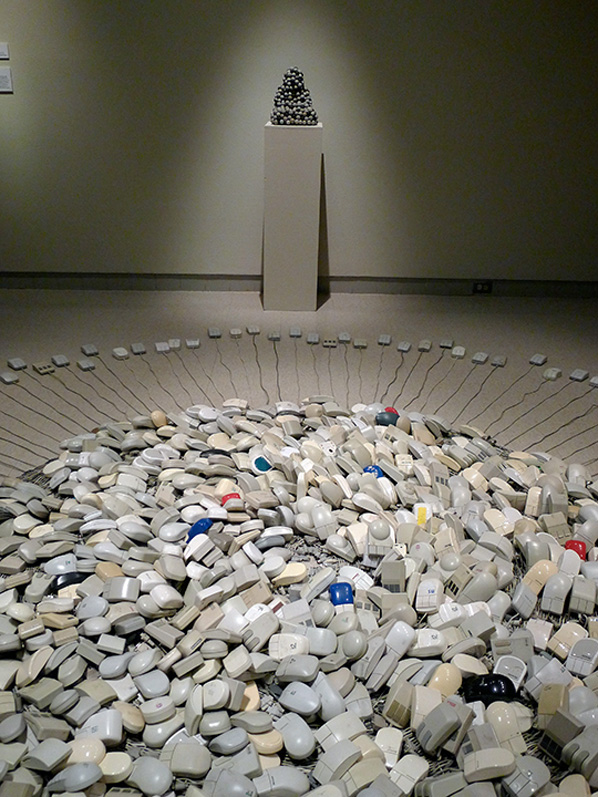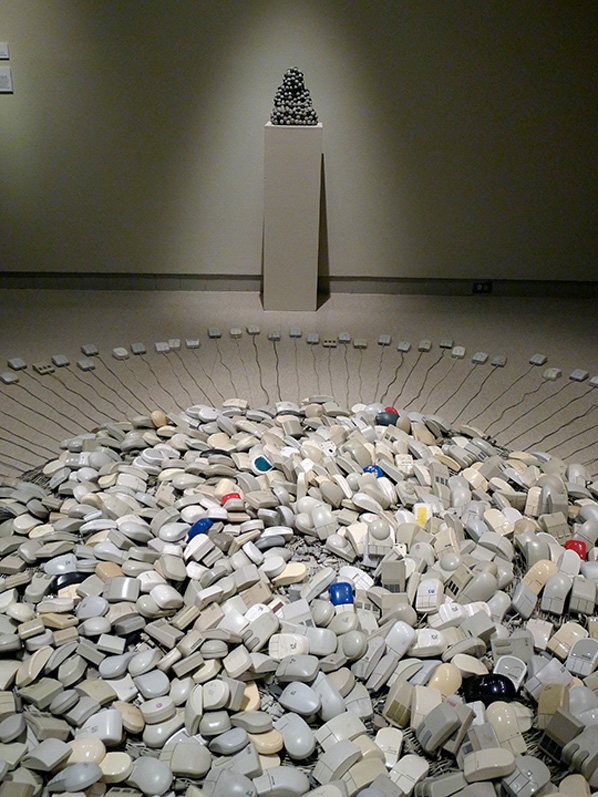 CL: Listening to you talk about the Gandhi project, it seemed to bring you more directly and somatically into that virtual world.
JD: Which was very unexpected. I went into that project from a conceptual durational performance ideation – this would be an examination of "performance," in quotes. Performance and protest. It was done at Eyebeam in New York, and I was thinking about the many durational performances that had taken place in New York, from Tehching Hsieh, to Linda Montano, to Joseph Beuys. I had done performance works online for almost a decade prior to that piece, but that action that the body involves, that was just transformative. It was amazing and intriguing and kind of disconcerting in a way, because I found myself completely drawn into that experience, and connected to my avatar in a way that I never had previously. I was walking in Second Life, which you're really not supposed to do – you're supposed to teleport – so I was navigating over mountains and in places people don't generally walk. And Gandhi would fall off a mountain-side into the next region, and I'd find myself almost falling off the treadmill. Or, after finishing the performance for the day, walking to the subway and thinking I could click on someone to get information. It became this mixed reality in my head.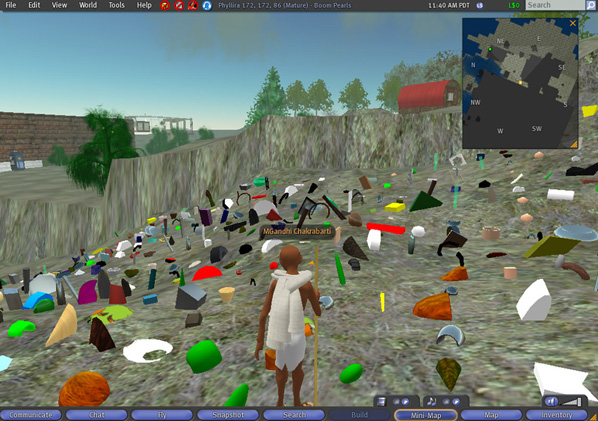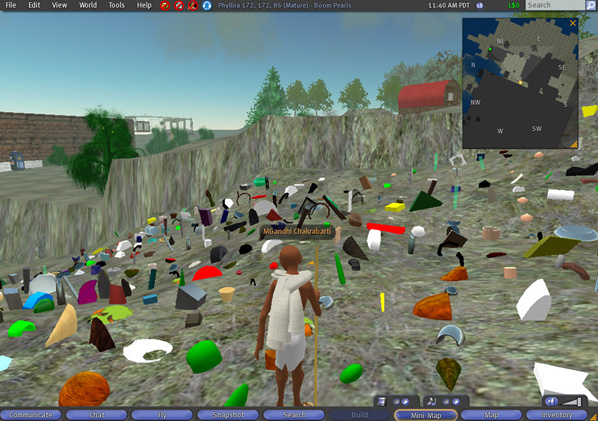 CL: Embodiment seems to be a crucial part of your practice. With "Taliban Hands," you extracted hands from Medal of Honor, and brought them into physical space. In the "dead-in-iraq" project you brought the names of the dead soldiers into the game space of America's Army. It seems that bringing bodies into that space, or extracting bodies out of that virtual world, is important to you.
JD: Well, each of those pieces had different but connected intents. With the America's Army project, "dead-in-iraq," the intent was to embody the reality of the war, to bring it to this virtual space. So when you're dying and or you're killing in that virtual space, and you see these names go across the screen, you realize that this is an actual person that died in that conflict. That might change another player's thought process about what they're doing, and about that visualization – when you get shot you end up hovering over your fallen avatar. So there is this attempt to change how one considers that experience.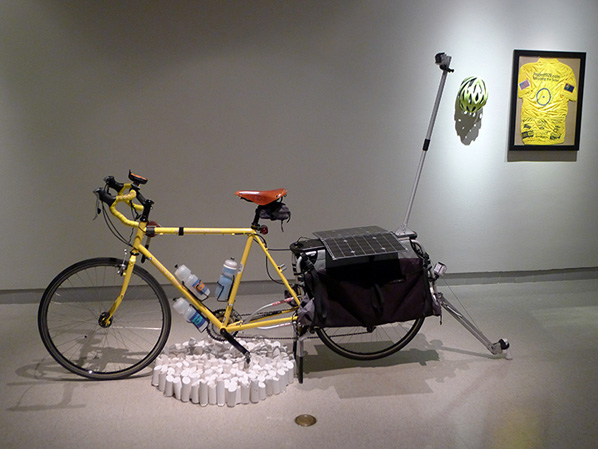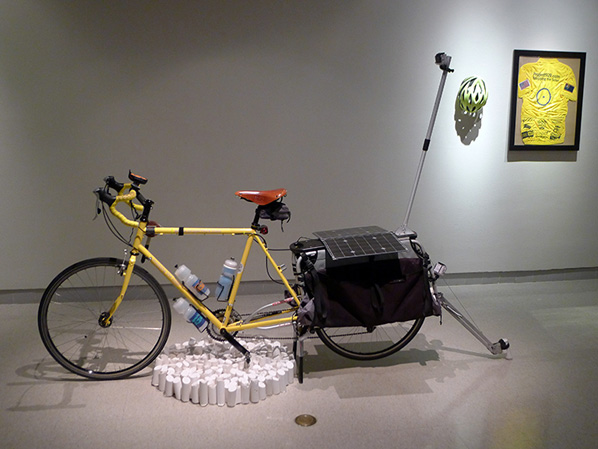 CL: It's interesting, with the self-portrait as dead soldier – the way of marking yourself as dead is to show the body within the game. Moving you from a first-person space, a first-person-shooter space, into a third-person space. The body becomes a marker of death.
JD: That is certainly a problematic aspect of that game. I think the vast majority of the people playing the game – certainly there are some veterans and active military – but there are more people who aren't in that situation. So there is this kind of temporary inhabiting of the US military. Bringing this out into real space is an attempt to drive home the connection of that fantasy pretend space to a very real space. It's like bringing it to a sort of mid-ground. The America's Army game is in fact official US military virtual space. I mean they own it. It is federal space – it's part of the system of hundreds of bases around the world.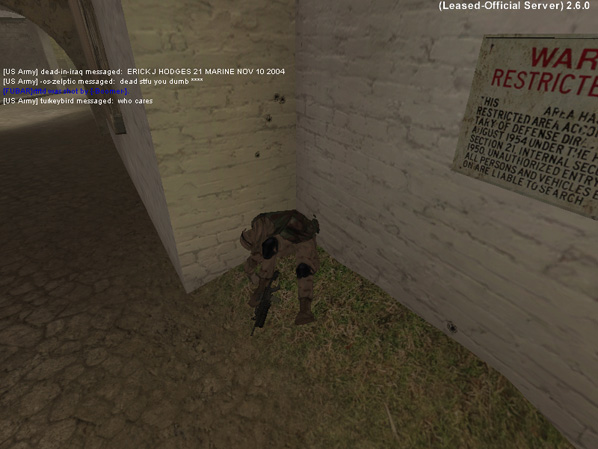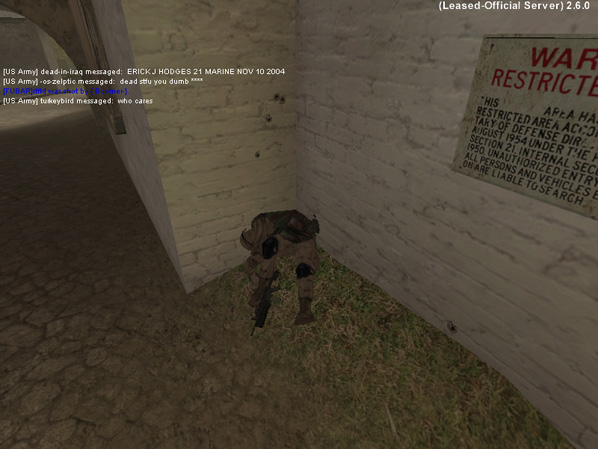 With the Taliban hands, it's a similar attempt, but with a different thought process. With the America's Army game, one of the most devilish things they did with that game is that they've created a system where everybody gets to be a good guy. There are two teams, and you see your team of 2 to 12 cohorts playing against 2 to 12 other cohorts. You always see yourself as Americans. They always see themselves as Americans, but you see each other as terrorist enemies. So there's this digital switching, where they see your avatar as a Middle Eastern terrorist and vice versa.
CL: The strange thing that happens is that you're inhabiting two bodies.
JD: Yeah, at the same time, exactly. But in the Medal of Honor game it's not like that. That was a controversial game when it came out in 2010 because you could play as a Taliban killing American soldiers. It was the only game that was actually banned from military bases. They ended up changing it before they released it – they weren't called "Taliban," they were called OP 4, which stands for opposition forces. But you're still Taliban. So anytime that game is being played as an online match, 50% of the players are being American and 50% are being Taliban.
I found that really curious. I started extracting these maps from that particular game, and then diving into this incredible morass of 3-D data. I would have to dig through all of this wireframe stuff to find these objects, and I found the Taliban and started deleting everything else, and landed at one point with the hands. It was just so intriguing – these hands were gorgeous. When they became disembodied from their source and I started visualizing them in the 3-D software, they took on a kind of Da Vinci-esque quality – like the hand of God or something.
CL: There is a gestural quality to it.
JD: Yeah, exactly.
CL: I'm curious if this work has brought you more into contact with the idea of simulation. Simulation can be useful, obviously – it allows you to think through a situation before it's actually encountered. But then it can actually introduce errors into the actual [situation], because the simulation doesn't correspond absolutely to reality.
JD: I don't know if this connects to your question at all, but if you die in America's Army – this is standard in most shooter games – they have something called the ragdoll effect. It's a simulation of your body going limp. It's meant to give a naturalistic [simulation of] you collapsing, and you're dead. But the effect is actually quite different – there are points where your avatar, in that space – it can be almost comical, like you're going to do a somersault. And every time you actually die, your body – because of that ragdoll effect – you watch the video and the avatars do this kind of shaking thing, that's part of this ragdoll effect. When I first saw it I thought it was this macabre death spasm, but it's just part of the simulation. It's not meaningful in the context of the game, but it becomes meaningful in the work that I did and in the recording of it.
CL: It's funny that a simulation can have these unintentional, almost poetic, effects – if you are attuned to it.
JD: And that's a good metaphor for the whole project, right? It's taking this simulated wargame – this recruiting tool – and re-branding it, remaking it. It's a way to say: "No, let's see if we can make this game be about this, not about that." I appropriated the space – I took it over in a simple way, and I think it was quite effective.
CL: You frame yourself as an activist as well as an artist.
JD: Yeah, and sometimes uncomfortably. I drift in and out of that. There's a difference between being an artist and activist. And right now I'm feeling rather reticent [about the "activist" label] – but I'm an artist at base. It's a little bit more symbolic I guess…
CL: Making a political act in a virtual space – is that inherently symbolic?
JD: That's a really interesting question because in the progression of my work, I think my work has slowly emerged towards existing in a real space – with the bike-riding around the Air Force base, and now building a life-sized predator drone down in Fresno.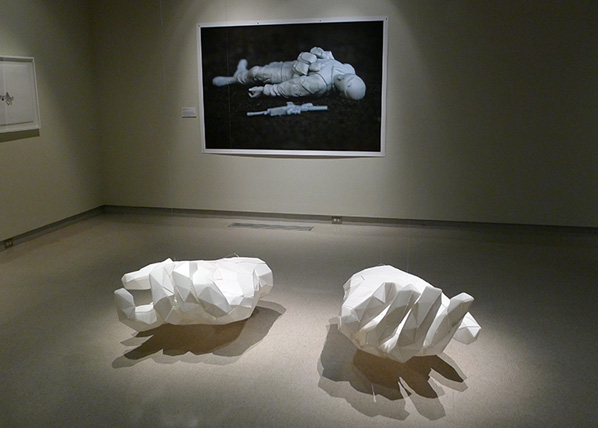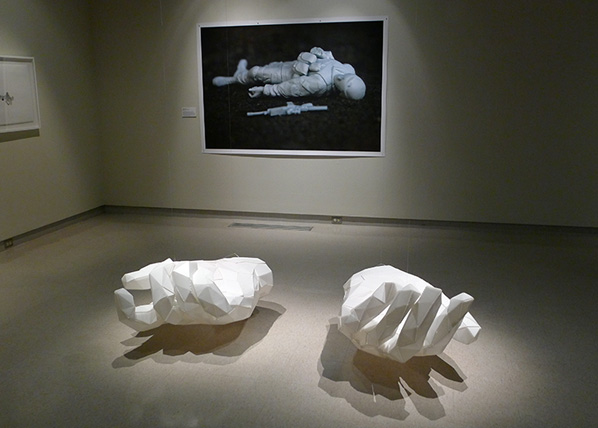 As an artist you do deal with a kind of symbolic reality – metaphor and symbolism, and things that communicate ideas through form. As an activist it seems there would always be a goal of actually fostering change, making change happen in the world. Whether activism is effective at doing that – that's a really big question too, right? I'm not sure sure if that's the case these days. That's one of the reasons I was interested in going into the America's Army project. It was seeing the – I wouldn't say the complete failure – but the invisibility of traditional forms of protest. You had the world's largest worldwide gatherings of protest, a year before we started that war, which was totally under-reported…
CL: And under-counted.
JD: Right. And I'm not saying that I never want you to go protest in these places, but you do have to push that envelope into places where people would not expect it, to actually reach people. And that was a surprise actually, that that piece resonated so powerfully with others – and became a viral thing that, by accident, was disseminated to a huge audience. That was good. But I'm not sure how I feel about it as a kind of permanent venue for trying to do that kind of thing.
With the "dead-in-iraq" project, there were some people who were criticizing it, saying, "Well, you're just sitting there at your keyboard." It's like: "Yeah? Right. I know that – that's part of the point. Everybody playing that game is sitting at their keyboard."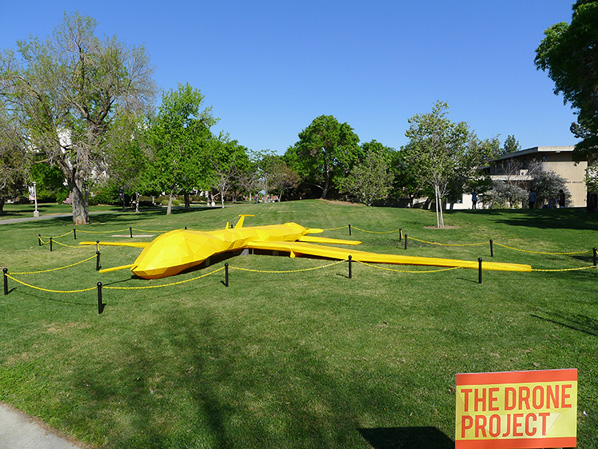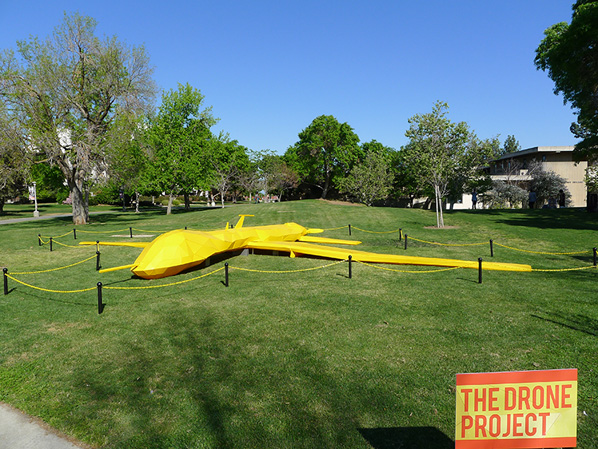 CL: And the people who are manning drones are sitting at their keyboards.
JD: Precisely, and that's exactly one of the reasons I'm so interested in drones. Speaking of embodiment, the drones –it's like a perfect synthesis of computer gaming culture, and our militarism, and our love for the latest possibilities of technology. It's like somebody bashed those things together and out came this perfect system for blowing shit up on the other side of the planet – sitting in your comfortable gamer's chair.
CL: The way you're activating the Drone Memorial as an extension of your art activism – I'm wondering if part of the appeal is doing it within an educational institution, where you're enlisting students to help you out, so it actually becomes part of an educative process. How much do they know about the drone policy?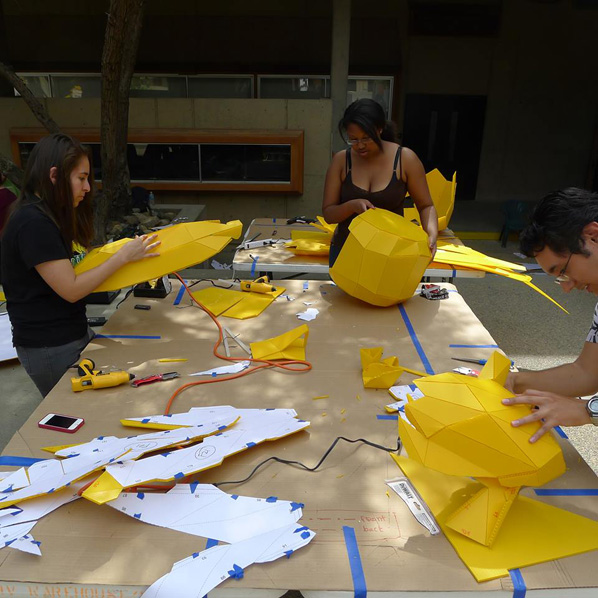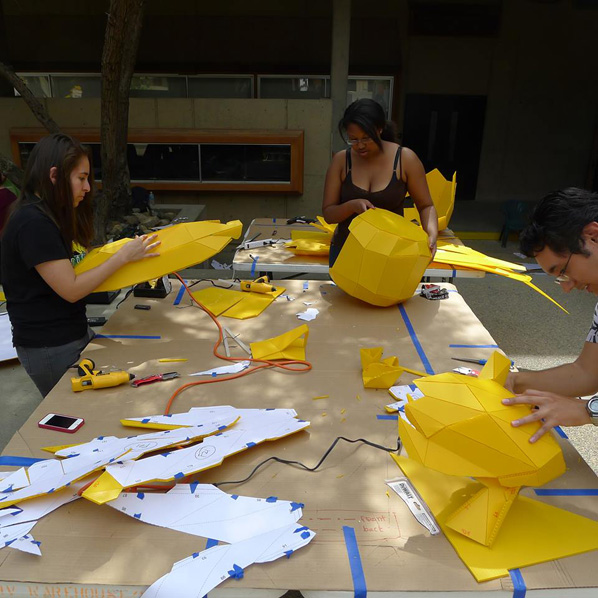 JD: What's interesting with that project is that they brought up these different groups – art students, design students, and there has been a group of activists from Fresno called Peace Fresno who've come out to work. There have been some TV interviews, and there's a journalism class – they're taking turns, every day there's a different crew and they're documenting the process and interviewing the people that are involved. And it's been interesting talking to some students because there have been a number of students that are like: "What, drones? We can blow stuff up in Pakistan, from sitting in Las Vegas at Creech Air Force Base?" They don't know about it, so there is a kind of basic informational aspect of the project.
But what I'm finding most interesting is that the students and volunteers – and myself – at this stage of the work we're so absorbed in the embodiment, if you will, of the physical sculpture. It's a building process and there's a kind of pleasure in that. There's the hands-on aspect of building, and seeing this form come into being. What I'm waiting for is that realization when we get the whole thing together, and it has this 48 foot wing span and 27 foot fuselage, sitting on the ground at the campus – and then we write the names [of the civilian casualties on the sculpture] – we have 334 names in English and Urdu.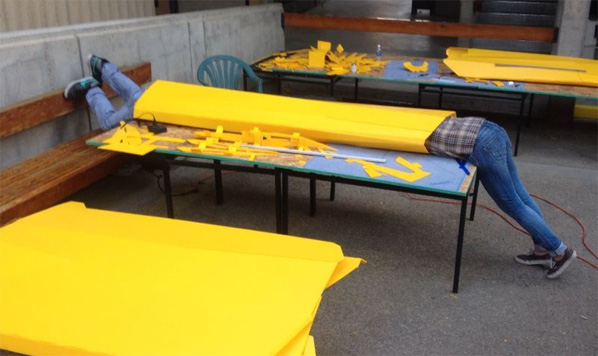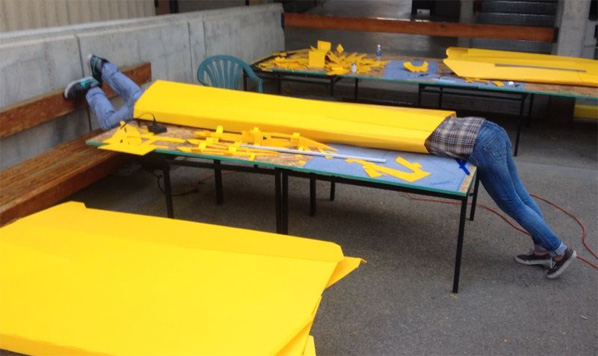 I think that's going to have a powerful impact, that's going to completely flip the equation. Not just to give them a sense of their making something as a community build – but that we own these drones – we are this policy. These victims that are on the drone are connected to us, right? There's a direct lineage from that pilot sitting in Creech Air Force Base, from the missile that rained down on that village and killed a 12-year-old girl, to you and me. It may be tentative, but it's our government – it's us.
Conclusion.
The interview was conducted several days before the completion of the Drone Memorial. After the sculpture was assembled and installed, there was a public ceremony at the site. Afterward, I asked Joseph if the effect of the ceremony was in fact what he envisioned, and he sent me the following reply via email:
We finished the drone just as the ceremony was scheduled to commence. There was a crowd of about 75 people – I made some brief comments thanking the volunteers and the CCA. The actual ceremony was being coordinated by a wonderful group, "Peace Fresno", who coordinated the creation of individual, hand written index cards, each with the name, date of death and age (if available), of each of the 334 Pakistani drone victims. These were read aloud by individuals from Peace Fresno of Pakistani or Indian descent to ensure that the names were correctly pronounced. Those gathered for the event stood in line to take possession of a name after it was read aloud – walking towards the drone where they were given a pen. Each name was written with the associate dated of death and age of the victim when available. Several volunteers followed this process by filling in the names translated into Urdu.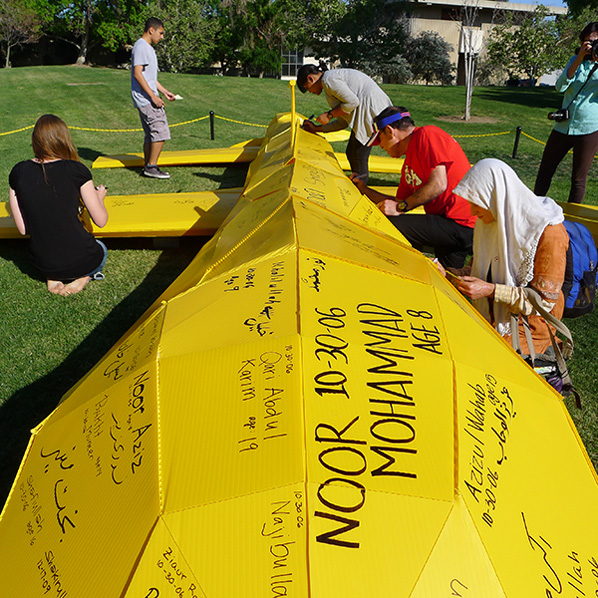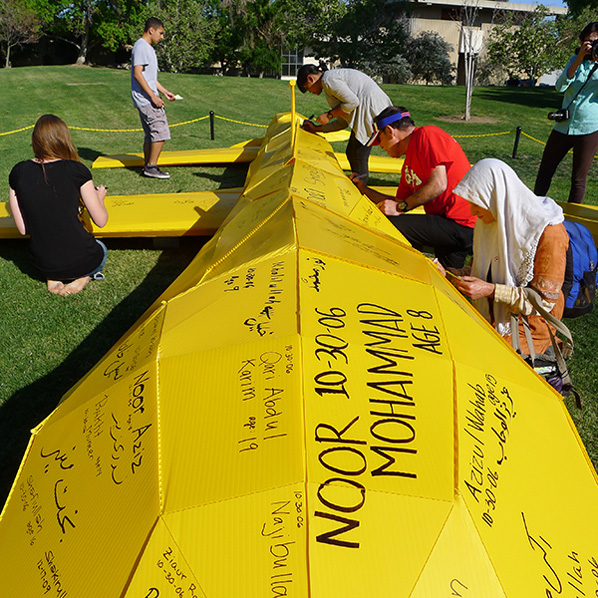 I personally completed the process of standing in line, taking a pen and writing names on the drone 7-10 times, I lost count. The most memorable was that of an 8 year old girl – I don't recall her name but after writing on the drone the realization of the death of a child was quite overwhelming. Others had similar experiences – there were several walking away from the drone after writing their name who were in tears. This cycle of writing, standing in line and continuing the process went on for perhaps 45 minutes until all 334 names were written upon the drone. All the while there were passersby stopping, asking what we were doing, some joined us. I recall a father on a bicycle have a discussion with his young son about drones, "are you ok with being surveilled 24/7?", that kind of thing.
In my exhaustion after working 2 weeks followed by an additional weekend of 11 hour work days, the experience was moving and quite overwhelming. There was indeed a palpable realization of the nature of the project. The camaraderie established among the workers and volunteers evolved into a collaborative process of memorialization.
"Social Tactics" runs through April 27, and the Drone Memorial will be on display through May 31.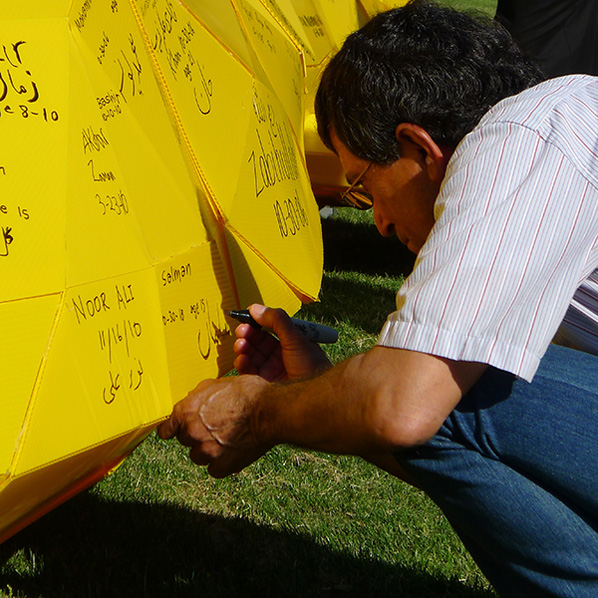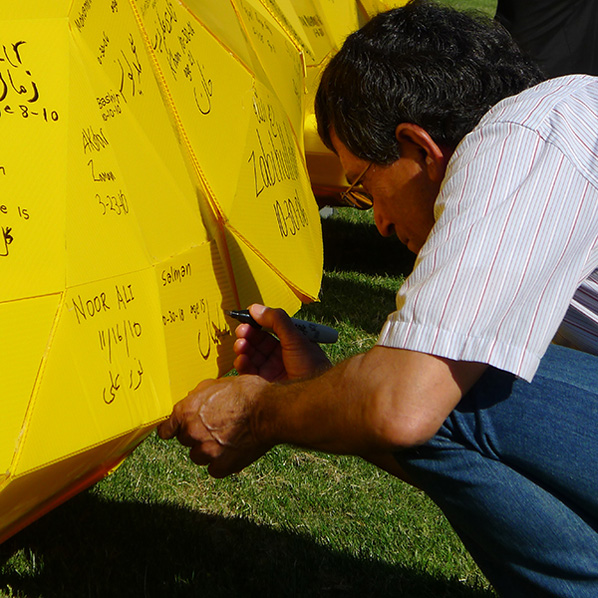 Further Reading.
Joseph DeLappe's website: http://www.delappe.net
A previous furtherfield interview on another drone-related project by DeLappe:
The 1,000 Drones Project, by Marc Garrett – 05/02/2014, furtherfield.org
http://furtherfield.org/features/interviews/1000-drones-project-interview-joseph-delappe
News story on US Military objections to 'Medal of Honor':
Sales of new 'Medal of Honor' video game banned on military bases, by Anne Flaherty – 09/09/2010, Washington Post
http://www.washingtonpost.com/wp-dyn/content/article/2010/09/08/AR2010090807219.html
News story and video on the Drone Memorial:
Drone project at Fresno State a call for 'contemplation' (video), by Carmen George – 03/26/2014, The Fresno Bee
http://www.fresnobee.com/2014/03/26/3845089/drone-project-at-fresno-state.html
Fresno College Newspaper story on the Drone Memorial:
Drone sculpture construction begins, by Collegian Staff – 03/18/2014, The Collegian at Fresno State
Drone sculpture construction begins
Essay on the visualization of the "Enemy" in military games, with a focus on "America's Army":
The Unreal Enemy of America's Army, by Robertson Allen – 01/2011, Games and Culture 6(1):38–60
http://www.academia.edu/231295/The_Unreal_Enemy_of_Americas_Army
Jonas Lund's artistic practice revolves around the mechanisms that constitute contemporary art production, its market and the established 'art worlds'. Using a wide variety of media, combining software-based works with performance, installation, video, photography and sculptures, he produces works that have an underlying foundation in writing code. By approaching art world systems from a programmatic point of view, the work engages through a criticality largely informed by algorithms and 'big data'.
It's been just over a year since Lund began his projects that attempt to redefine the commercial art world, because according to him, 'the art market is, compared to other markets, largely unregulated, the sales are at the whim of collectors and the price points follows an odd combination of demand, supply and peer inspired hype'. Starting with The Paintshop.biz (2012) that showed the effects of collaborative efforts and ranking algorithms, the projects moved closer and closer to reveal the mechanisms that constitute contemporary art production, its market and the creation of an established 'art world'. Its current peak was the solo exhibition The Fear Of Missing Out, presented at MAMA in Rotterdam.
Annet Dekker: The Fear Of Missing Out (FOMO) proposes that it is possible to be one step ahead of the art world by using well-crafted algorithms and computational logic. Can you explain how this works?
Jonas Lund The underlying motivation for the work is treating art worlds as networked based systems. The exhibition The Fear Of Missing Out spawned from my previous work The Top 100 Highest Ranked Curators In The World, for which I assembled a comprehensive database on the bigger parts of the art world using sources such as Artfacts, Mutaul Art, Artsy and e-flux. The database consists of artists, curators, exhibitions, galleries, institutions, art works and auction results. At the moment it has over four million rows of information. With this amount of information – 'big data' – the database has the potential to reveal the hidden and unfamiliar behaviour of the art world by exploring the art world as any other network of connected nodes, as a systemic solution to problematics of abstraction.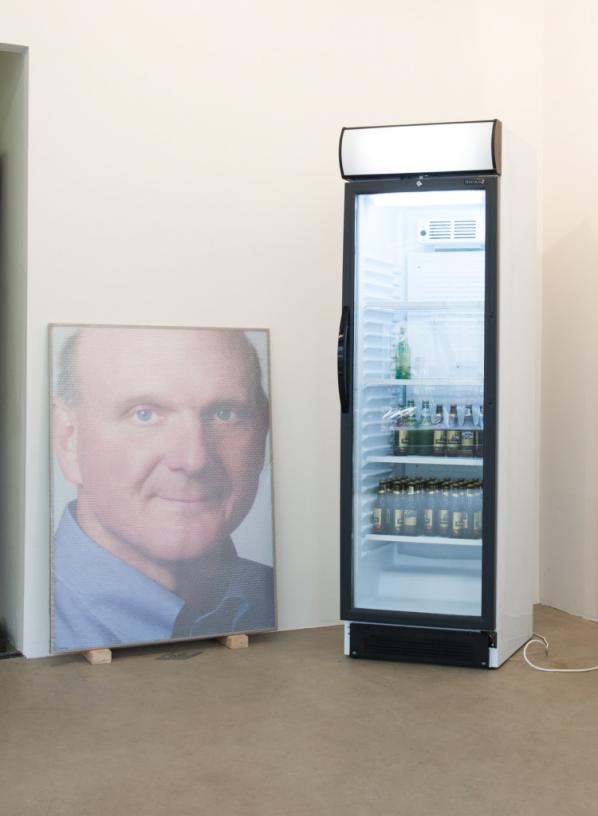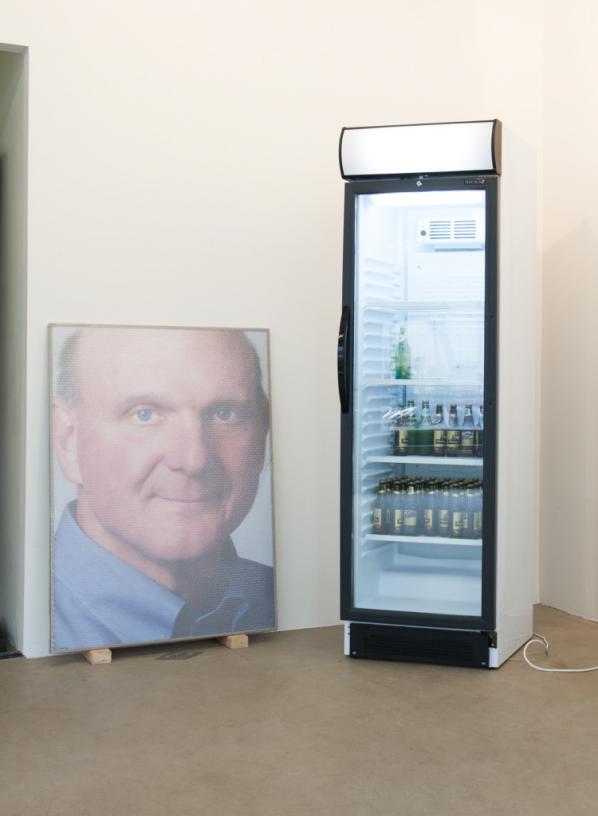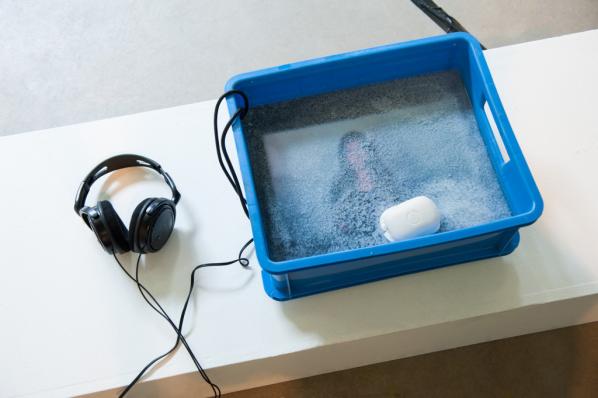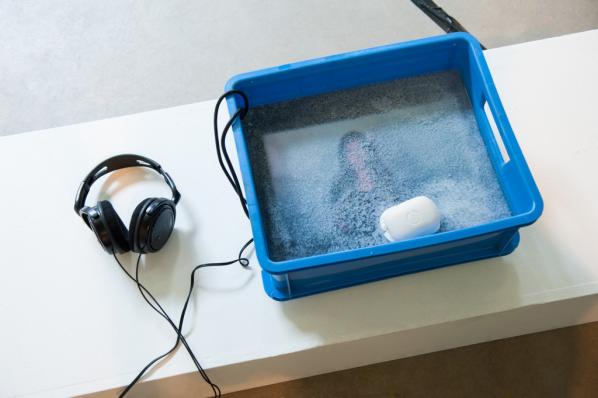 In The Top 100 Highest Ranked Curators In The World, first exhibited at Tent in Rotterdam, I wrote a curatorial ranking algorithm and used the database, to examine the underlying stratified network of artists and curators within art institutions and exhibition making: the algorithm determined who were among the most important and influential players in the art world. Presented as a photographic series of portraits, the work functions both as a summary of the increasingly important role of the curator in exhibition making, as an introduction to the larger art world database and as a guide for young up and coming artists for who to look out for at the openings.
Central to the art world network of different players lies arts production, this is where FOMO comes is. In FOMO, I used the same database as the basis for an algorithm that generated instructions for producing the most optimal artworks for the size of the Showroom MAMA exhibition space in Rotterdam while taking into account the allotted production budget. Prints, sculptures, installations and photographs were all produced at the whim of the given instructions. The algorithm used meta- data from over one hundred thousand art works and ranked them based on complexity. A subset of these art works were then used, based on the premise that a successful work of art has a high price, high aesthetic value but low production cost and complexity, to create instructions deciding title, material, dimensions, price, colour palette and position within the exhibition space.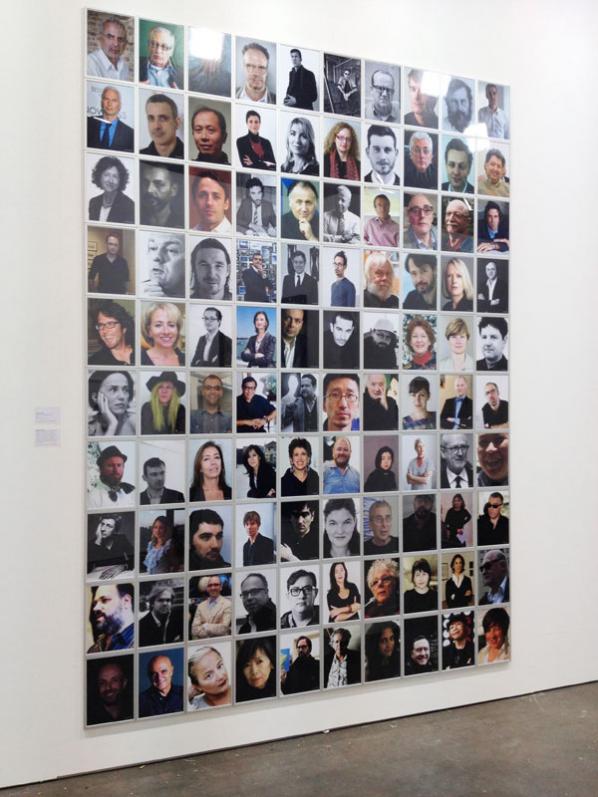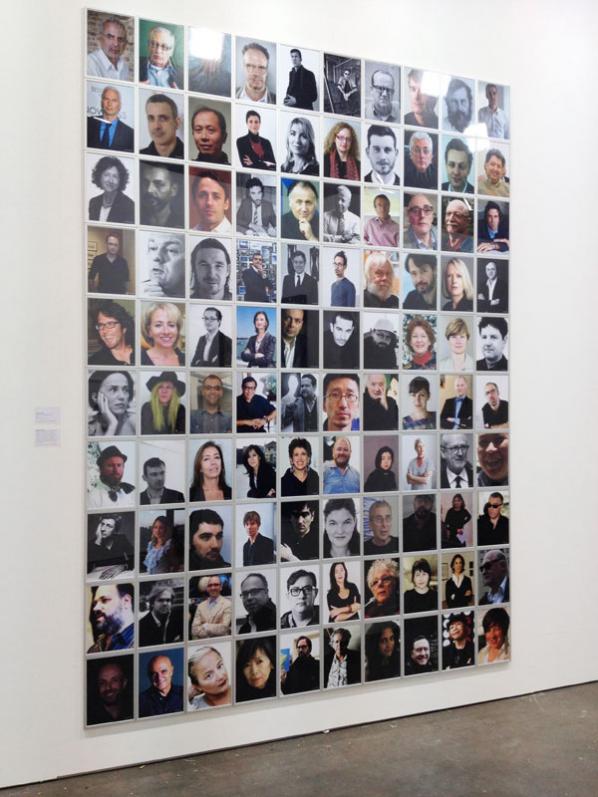 Similar to how we're becoming puppets to the big data social media companies, so I became a slave of the instructions and executed them without hesitation. FOMO proposes that it is possible to be one step ahead of the art world by using well-crafted algorithms and computational logic and questions notions of authenticity and authorship.
AD: To briefly go into one of the works, in an interview you mention Shield Whitechapel Isn't Scoop – a rope stretched vertically from ceiling to floor and printed with red and yellow ink – as a 'really great piece', can you elaborate a little bit? Why is this to you a great piece, which, according to your statement in the same interview, you would not have made if it weren't the outcome of your analysis?
JL: Coming from a 'net art' background, most of the previous works I have made can be simplified and summarised in a couple of sentences in how they work and operate. Obviously this doesn't exclude further conversation or discourse, but I feel that there is a specificity of working and making with code that is pretty far from let's say, abstract paintings. Since the execution of each piece is based on the instructions generated by the algorithm the results can be very surprising.
The rope piece to me was striking because as soon as I saw it in finished form, I was attracted to it, but I couldn't directly explain why. Rather than just being a cold-hearted production assistant performing the instructions, the rope piece offered a surprise aha moment, where once it was finished I could see an array of possibilities and interpretations for the piece. Was the aha moment because of its aesthetic value or rather for the symbolism of climbing the rope higher, as a sort of contemporary art response to 'We Started From The Bottom Now We're Here'. My surprise and affection for the piece functions as a counterweight to the notion of objective cold big data. Sometimes you just have to trust the instructionally inspired artistic instinct and roll with it, so I guess in that way maybe now it is not that different from let's say, abstract painting.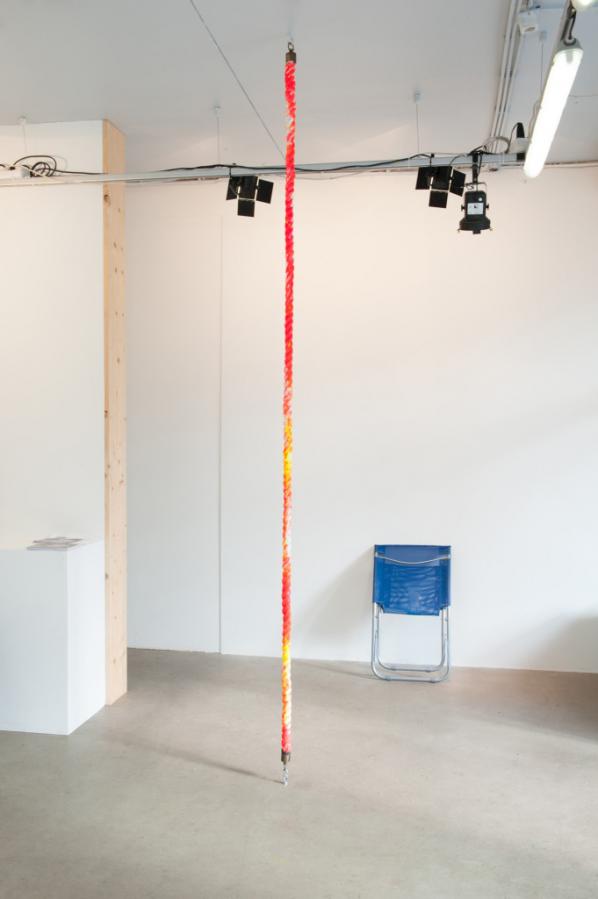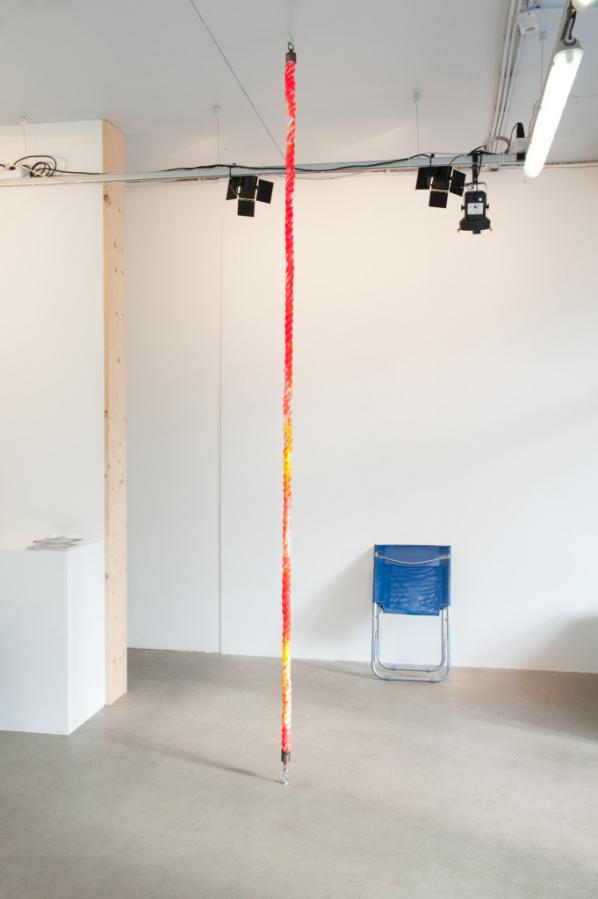 AD: I can imagine quite a few people would be interested in using this type of predictive computation. But since you're basing yourself on existing data in what way does it predict the future, is it not more a confirmation of the present?
JL: One of the only ways we have in order to make predictions is by looking at the past. Through detecting certain patterns and movements it is possible to glean what will happen next. Very simplified, say that artist A was part of exhibition A at institution A working with curator A in 2012 and then in 2014 part of exhibition B at institution B working with curator A. Then say that artist B participates in exhibition B in 2013 working with curator A at institution A, based on this simplified pattern analysis, artist B would participate in exhibition C at institution B working with curator A. Simple right?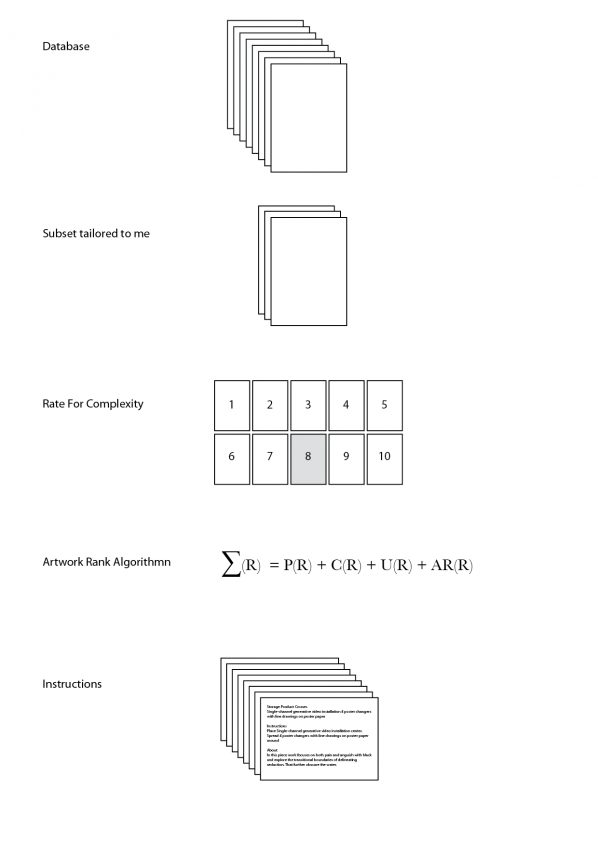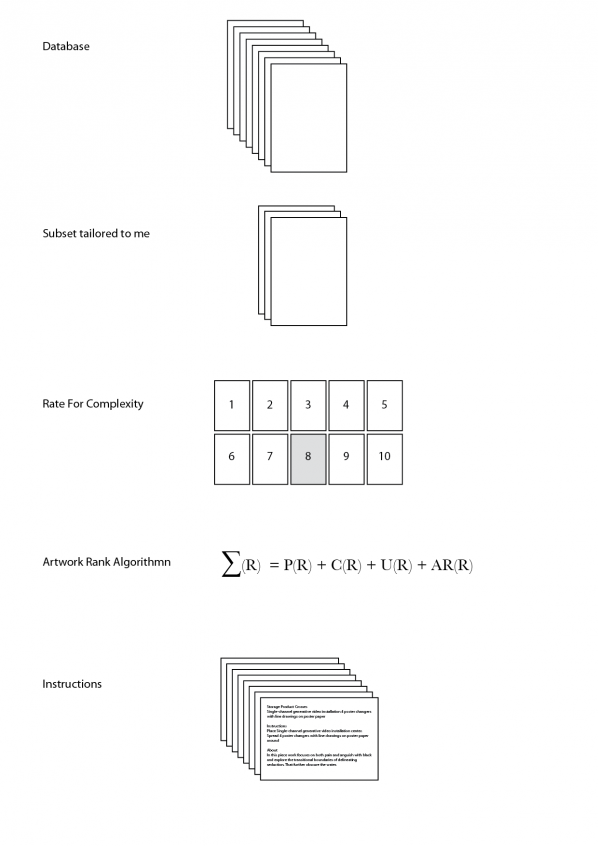 AD: In the press release it states that you worked closely with Showroom MAMA's curator Gerben Willers. How did that relation give shape or influenced the outcome? And in what way has he, as a curator, influenced the project?
JL: We first started having a conversation about doing a show in the Summer of 2012, and for the following year we met up a couple of times and discussed what would be an interesting and fitting show for MAMA. In the beginning of 2013 I started working with art world databases, Gerben and I were making our own top lists and speculative exhibitions for the future. Indirectly, the conversations led to the FOMO exhibition. During the two production phases, Gerben and his team were immensely helpful in executing the instructions.
AD: Notion of authorship and originality have been contested over the years, and within digital and networked – especially open source – practices they underwent a real transformation in which it has been argued that authorship and originality still exist but are differently defined. How do see authorship and originality in relation to your work, i.e. where do they reside; is it the writing of the code, the translation of the results, the making and exhibiting of the works, or the documentation of them?
JL: I think it depends on what work we are discussing, but in relation to FOMO I see the whole piece, from start to finish as the residing place of the work. It is not the first time someone makes works based on instructions, for example Sol LeWitt, nor the first time someone uses optimisation ideas or 'most cliché' art works as a subject. However, this might be first time someone has done it in the way I did with FOMO, so the whole package becomes the piece. The database, the algorithm, the instructions, the execution, the production and the documentation and the presentation of the ideas. That is not to say I claim any type of ownership or copyright of these ideas or approaches, but maybe I should.
AD: Perhaps I can also rephrase my earlier question regarding the role of the curator: in what way do you think the 'physical' curator or artist influences the kind of artworks that come out? In other words, earlier instructions based artworks, like indeed Sol LeWitt's artworks, were very calculated, there was little left to the imagination of the next 'executor'. Looking into the future, what would be a remake of FOMO: would someone execute again the algorithms or try to remake the objects that you created (from the algorithm)?
JL: In the case with FOMO the instructions are not specific but rather points out materials, and how to roughly put it together by position and dimensions, so most of the work is left up to the executor of said instructions. It would not make any sense to re-use these instructions as they were specifically tailored towards me exhibiting at Showroom MAMA in September/October 2013, so in contrast to LeWitt's instructions, what is left and can travel on, besides the executions, is the way the instructions were constructed by the algorithm.
AD: Your project could easily be discarded as confirming instead of critiquing the established art world – this is reinforced since you recently attached yourself to a commercial gallery. In what way is a political statement important to you, or not? And how is that (or not) manifested most prominently?
JL: I don't think the critique of the art world is necessarily coming from me. It seems like that is how what I'm doing is naturally interpreted. I'm showing correlations between materials and people, I've never made any statement about why those correlations exist or judging the fact that those correlations exist at all. I recently tweeted, 'There are three types of lies: lies, damned lies and Big Data', anachronistically paraphrasing Mark Twain's distrust for the establishment and the reliance on numbers for making informed decisions (my addition to his quote). Big data, algorithms, quantification, optimisation… It is one way of looking at things and people; right now it seems to be the dominant way people want to look at the world. When you see that something deemed so mysterious as the art world or art in general has some type of structural logic or pattern behind it, any critical person would wonder about the causality of that structure, I guess that is why it is naturally interpreted as an institutional critique. So, by exploring the art world, the market and art production through the lens of algorithms and big data I aim to question the way we operate within these systems and what effects and affects this has on art, and perhaps even propose a better system.
AD: How did people react to the project? What (if any) reactions did you receive from the traditional artworld on the project?
JL: Most interesting reactions usually take place on the comment sections of a couple of websites that published the piece, in particular Huffington Post's article 'Controversial New Project Uses Algorithm To Predict Art'. Some of my favourite responses are:
'i guess my tax dollars are going to pay this persons living wages?'
'Pure B.S. ……..when everything is art then there is no art'
'As an artist – I have no words for this.'
'Sounds like a great way to sacrifice your integrity.'
'Wanna bet this genius is under 30 and has never heard of algorithmic composition or applying stochastic techniques to art production?'
'Or, for a fun change of pace, you could try doing something because you have a real talent for it, on your own.'
AD: Even though the project is very computational driven, as you explain the human aspects is just as important. A relation to performance art seems obvious, something that is also present in some of your other works most notably Selfsurfing (2012) where people over a 24 hour period could watch you browsing the World Wide Web, and Public Access Me (2013), an extension of Selfsurfing where people when logged in could see all your online 'traffic'. A project that recalls earlier projects like Eva & Franco Mattes' Life Sharing (2000). In what way does your project add to this and/or other examples from the past?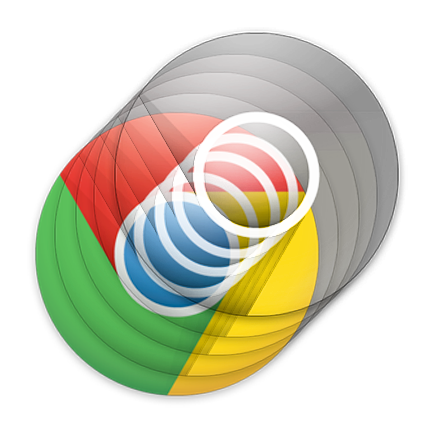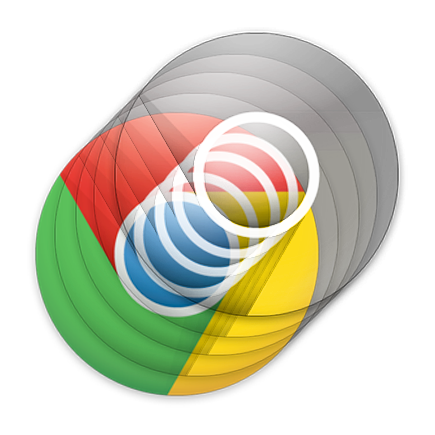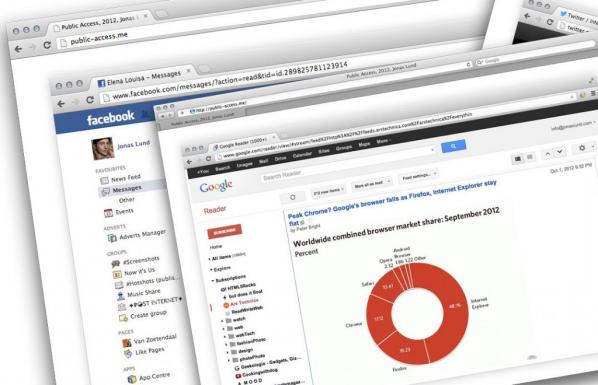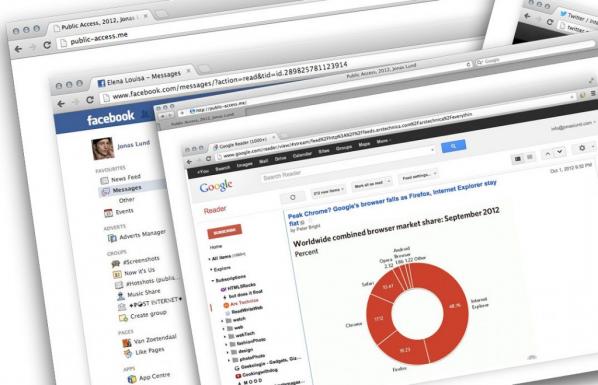 JL: Web technology changes rapidly and what is possible today wasn't possible last year and while most art forms are rather static and change slowly, net art in particular has a context that's changing on a weekly basis, whether there is a new service popping up changing how we communicate with each other or a revaluation that the NSA or GCHQ has been listening in on even more facets of our personal lives. As the web changes, we change how we relate to it and operate within it. Public Access Me and Selfsufing are looking at a very specific place within our browsing behaviour and breaks out of the predefined format that has been made up for us.
There are many works within this category of privacy sharing, from Kyle McDonalds' live tweeter, to Johannes P Osterhoff's iPhone Live and Eva & Franco Mattes' earlier work as you mentioned. While I cannot speak for the others, I interpret it as an exploration of a similar idea where you open up a private part of your daily routine to re-evaluate what is private, what privacy means, how we are effected by surrendering it and maybe even simultaneously trying to retain or maintain some sense of intimacy. Post-Snowden, I think this is something we will see a lot more of in various forms.
AD: Is your new piece Disassociated Press, following the 1970s algorithm that generated text based on existing texts, a next step in this process? Why is this specific algorithm of the 70s important now?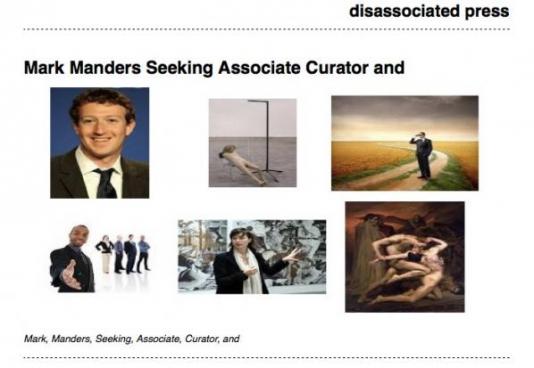 JL: Central to the art world lies e-flux, the hugely popular art newsletter where a post can cost up to one thousand dollars. While spending your institution's money you better sound really smart and using a highly complicated language helps. Through the course of thousands of press releases, exhibition descriptions, artist proposals and curatorial statements a typical art language has emerged. This language functions as a way to keep outsiders out, but also as a justification for everything that is art.
Disassociated Press is partly using the Dissociated Press algorithm developed in 1972, first associated with the Emacs implementation. By choosing a n-gram of predefined length and consequently looking for occurrences of these words within the n-gram in a body of text, new text is generated that at first sight seems to belong together but doesn't really convey a message beyond its own creation. It is a summary of the current situation of press releases in the international English art language perhaps, as a press release in its purest form. So, Disassociated Press creates new press releases to highlight the absurdity in how we talk and write about art. If a scrambled press release sounds just like normal art talk then clearly something is wrong, right?
Eva Kekou met Tobias Rosenberger at the international e-MobiLArt workshop which took place in Athens, Vienna and Rovaniemi, in turn these led to a number of exhibitions and successful collaborations between artists and theorists. She now invites him to discuss his work, issues of surveillance and how a young European artist views the situation in China and what he expects from his interaction with the Chinese art scene.
Tobias Rosenberger (b. 1980) is a German media artist who works at the crossroads of media art, visual arts, and performance. He has produced art works in Yemen, Spain, Mexico, India, and Ukraine etc. Since 2011 he has been based in China, where he teaches at the College of New Media Art, Shanghai Institute of Visual Art.
"Nowadays, anyone who wants to combat lies and ignorance and to write the truth must overcome at least five difficulties. He must have the courage to write the truth when it is suppressed everywhere; the wisdom to recognize it, although it is concealed everywhere; the skill to use it as a weapon; the judgment to choose those in whose hands it will be effective; and the cunning to spread the truth among such people." (Bertolt Brecht)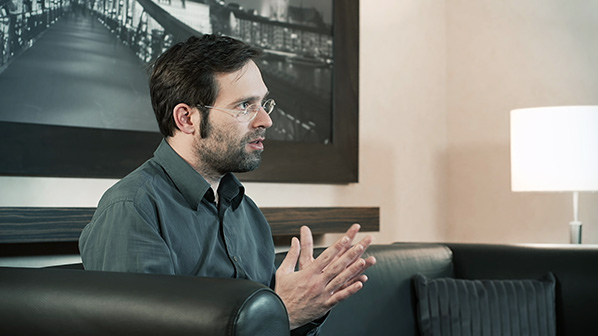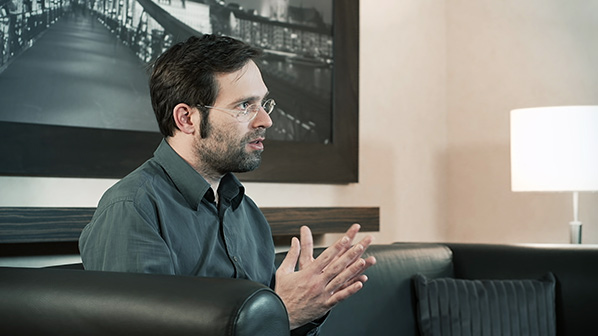 Eva Kekou: I would like to start this interview with this quote which seems to be significant for your work and in particular the recent one – the secret race film and discussion at Goethe Institut Washington. As you well state in your event invite: "It was pure coincidence that for a few days in the summer of 2013, two unrelated events simultaneously dominated the major headlines in the German press: the monitoring and spying scandal of 2013, triggered by Edward Snowden's leaks of National Security Agency top-secret classified documents, and the official acknowledgement of the prevalence of doping in competitive sports, best symbolized by Lance Armstrong's televised confession." What is the significance of surveillance in a globalized social and political context and where is the place of art within it? There are obvious reasons you decided to launch this in Washington through Goethe but I would like you to comment on this.
Tobias Rosenberger: Surveillance and espionage are as old as civilization. Power was always constructed, maintained, and expanded through the monitoring, categorization, repression and exclusion of people. We all know that the digital apparatus opens a new world of possibilities to organize, quantify and control life and society in a before unknown scale, speed and efficiency. While I agree that we need early warning models to anticipate and fight cruelty and injustice whenever possible, I don't believe that we can draw a sharp border between an evil surveillance that fuels unfair and inhuman systems and a necessary one that pretends to save dignity and a lawful order. The challenges of our time can no longer be met by elitism and secretiveness, but require the joint efforts from the middle of society. An independent art that rejects the simple desire for (self-)confirmation does not only open a non-biased discursive space for critical reflection, but it also has the potential to demask and break the mechanisms of power, as long as it takes its audience seriously. But to be able to do so, art also has to find its audience.
The Secret Race, on Vimeo
EK: It occurs to me that place and space play a very important role in your work and inspiration. How do these relate with each other with pieces of your work in a globalized and mobile network underlined by politics?
TR: I have a very pragmatic approach to what I am trying to do: Not following a specific agenda and always staying as curious and open as possible. This requires both a certain naivety and an observing attitude. I never start an artistic process with a specific idea or question, but i get attracted by places and spaces that i try to discover without too much of my personal baggage. But since space and place are never abstract but segmented by politics both on macro and micro layers, the resulting works often deal with political questions.
EK: How did you become interested in China and what do you find fascinating or difficult working there? Is it interesting for you as a European?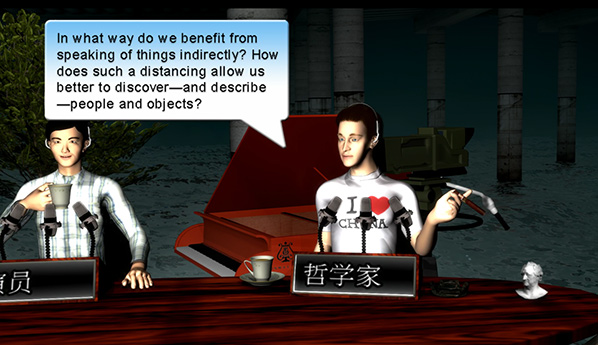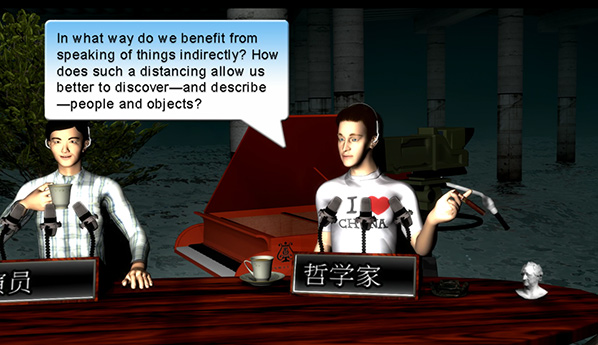 TR: I have a very special relationship to China. With my Chinese wife I decided three years ago to move there and to found a family. I was always fascinated by China as a cultural space, with a tradition of art and philosophy at least as long as in Europe. I also really like the food and the people there. As a foreigner I experience it as very fruitful to see things from a specific distance, both if I try to understand the culture, but also especially if I look back from there to where I come from. It is very interesting to observe the relation between art and politics, how the government here really appreciates art and how it is also afraid of it.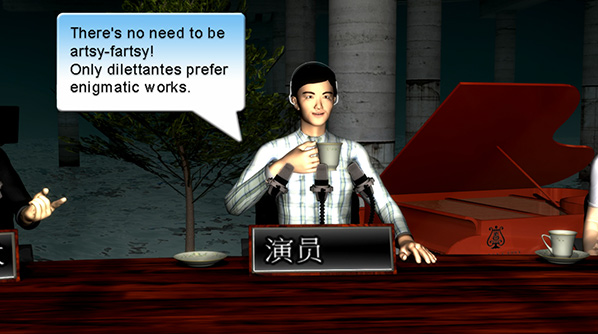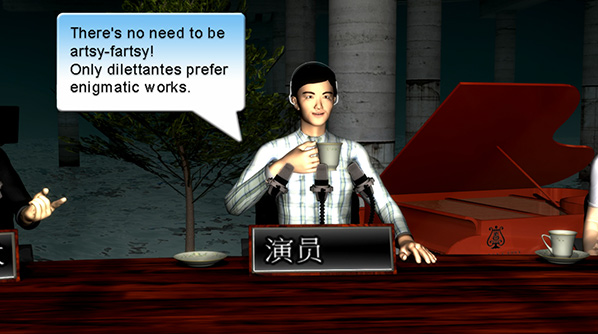 How artists, critics and curators fight for free space, a career, or both. In Shanghai you have both the global economy and the local life at your house-door. The country faces a lot of problems, and very often one can get the impression that things are not happening at all just because there is a small possibility that something unexpected could happen. So many people behave very pro-actively in a way that they won't run into any problems themselves. But this maxim "to have everything running smooth" you certainly don't only encounter in China.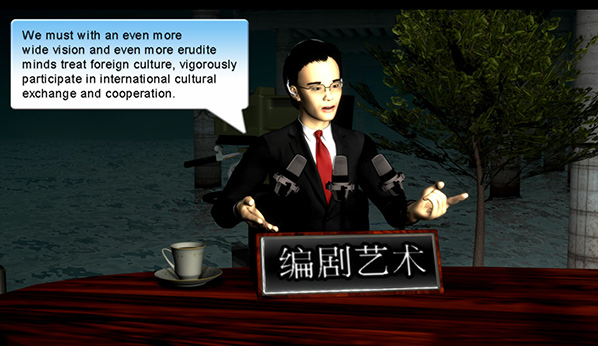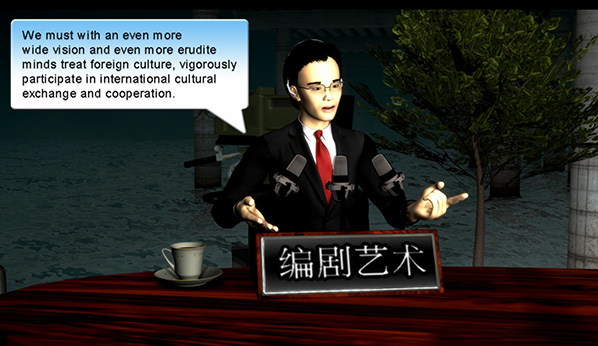 EK: Referring to some of your recent works (installation and performance): Choose any you like… How do you reach out to audiences and what is the main aim in your own work?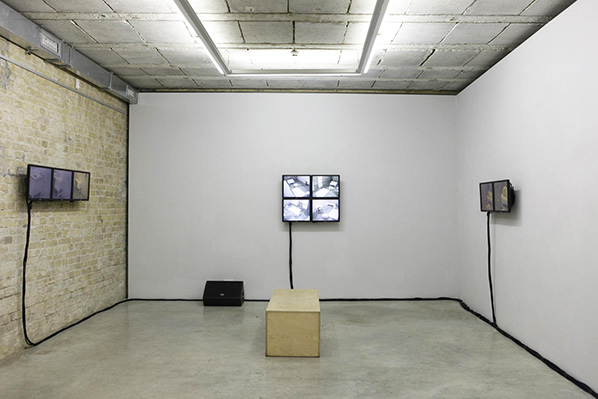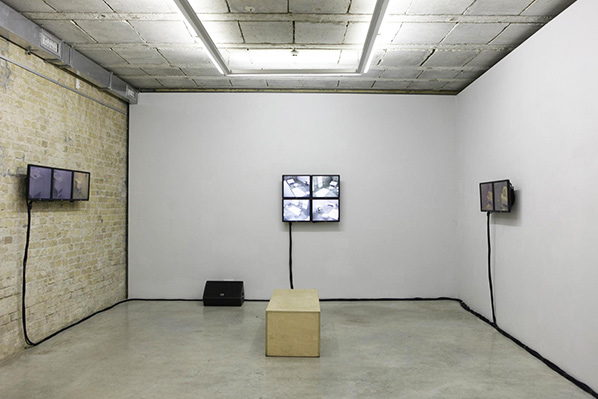 TR: "The First Twenty Years" is an installation that was shown in two different versions at the end of 2012 in Kiev and Dnipropetrovsk. I developed the basic idea for that work in 2011, when I was invited to spend some time in a small Ukrainian village near Kiev at a private artist residency programme. During that time the nation celebrated the 20th anniversary of its independence. There was a strange, partly paralyzed mood. But I also witnessed very controversial discussions with artists, curators and critics, and a new generation that seemed not anymore willing to accept living in a nation that was more and more perceived as a prison. So when I was approached during that time to do a work based on my experiences in the Ukraine, I decided to base it on Xavier de Maistres "Journey around my room" and Schuberts Music, which was inspired by a poem by Christian Friedrich Daniel Schubart.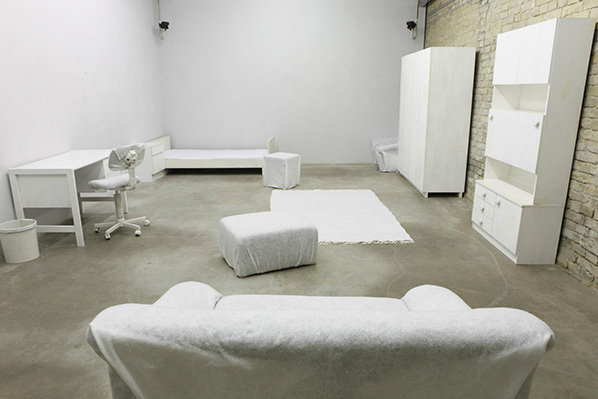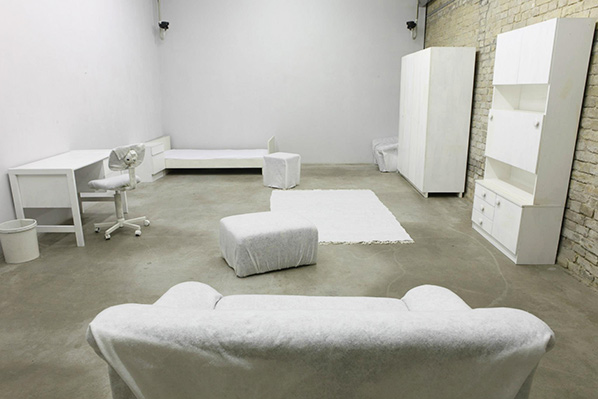 I didn't intent to comment directly on the situation there, but rather was trying to understand for myself what was happening. For me, art is not about expression but about the creation of a space where everybody is invited to take a bit of distance so to be able discover something from different perspectives and to think in his/her own way.
Surveillance Cameras dancing to Schubert, on Vimeo
EK: Can you give us a bit more information about a project that you have described alsewhere in the following way: "Right now working on a light sculpture for permanent setup in a former WWII Top secret military site, where some crazy NS-Germany scientist wanted to invent an x-ray wonder-weapon to shoot planes and soldiers, this involves an always transforming multichannel-sound installation, motorized miniatures (arduino-controlled), 2 projectors and led-objects. I will make an extra independent video of this work, filmed with multiple moving surveillance cams."?
TR: I was approached by a cultural initiative that runs today a small history museum in a former research bunker, which was secretly constructed in 1942 / 1943 underneath a camouflage building. I came across a letter in which a certain Professor, Dr. Ernst Schiebold, proposed "An additional weapon to fight and eliminate the crews of hostile airplanes and ground troops in the defensive via x-ray and electron radiation".
A weird ten pages male war fantasy about a new kind of tubular x-ray canon, written in a crude mixture of physical pseudo-science, soft patriotic enthusiasm and German pedantism. Schiebold really got his bunker built to start with his research. Everything was kept top secret, but stopped 18 months later without results. I decided to bring Schiebold's proposal back into the space which only existed because of it: As a pure proposal, enhanced and communicated with new media technology.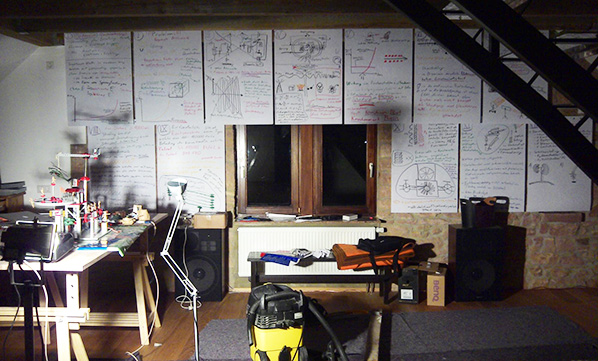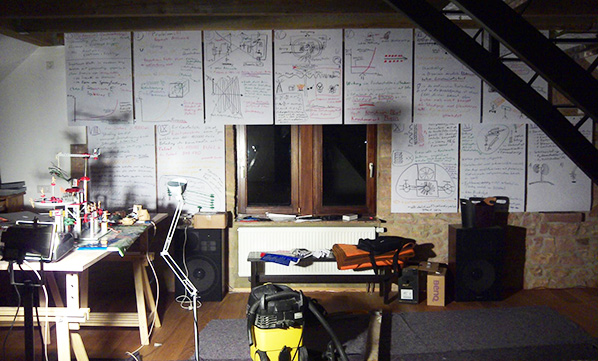 A lot of the tools that we are using as new media artists exist mainly through military development. So my intention was also to give something back. The audience will listen to single sentences that are randomly taken out of Schiebold's letter and re-arranged into a constantly transforming synthetic sound atmosphere, which is synchronized with light beams crossing a motorized miniature military model. The toy miniatures cast shadows of moving soldiers and airplanes onto the walls. LED lights are flashing out of a tubular manhole, which was originally constructed to be used with a Betatron. All the technology that I use is quite low-budget and geeky. Last week I started to install the parts on site, and I have to admit that it is also a very weird experience for me to spend nights working alone in a former military research bunker, climbing down in a manhole and setting up the mockup of a "super-weapon" people researched in the darkest years of German history. Sure I will also try to document it properly.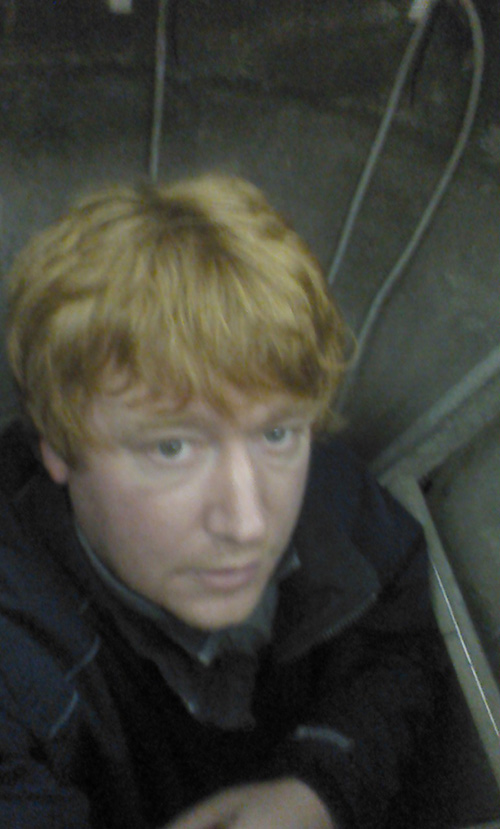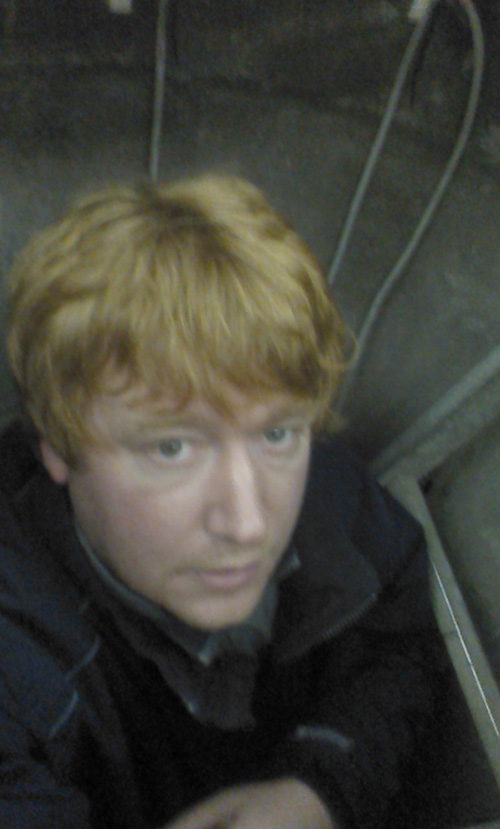 EK: Do you think art can be global and political, if not, what are the main restrictions we are all subjected to? How can art and artists make a difference in this respect?
TR: I think that art is per se political, since it deals with and also influences our perception of reality. And while all our lives are clearly connected in a global economy of good and information-exchange, art does also always operate on a global scale. As an artist I believe that it is worth to be curious and to investigate the (media) apparatuses and dispositifs that surround us, to take them apart and re-design them. What are they good for, what effects do they cause? While the world is getting closer, the world is never the same – people have different histories, problems, possibilities and hopes. As Europeans we take many things for granted, that other people see differently – or vice versa. I think artists can always make a difference, as long as they stay independent and continue to tackle serious questions, but don't take themselves too seriously while doing so. We should laugh more together.
EK: What are your future aims and plans?
TR: I am looking forward to the new semester in Shanghai, where I will mentor the graduate works of eight students. I will also collaborate with Chinese artist Mujin (Lixin Bao) – a fellow teacher at the Shanghai Institute of Visual Art – on a series of works exploring the notion of the "Chinese Dream" and its perception both nationally and globally. I guess this dialogue will become quite interesting.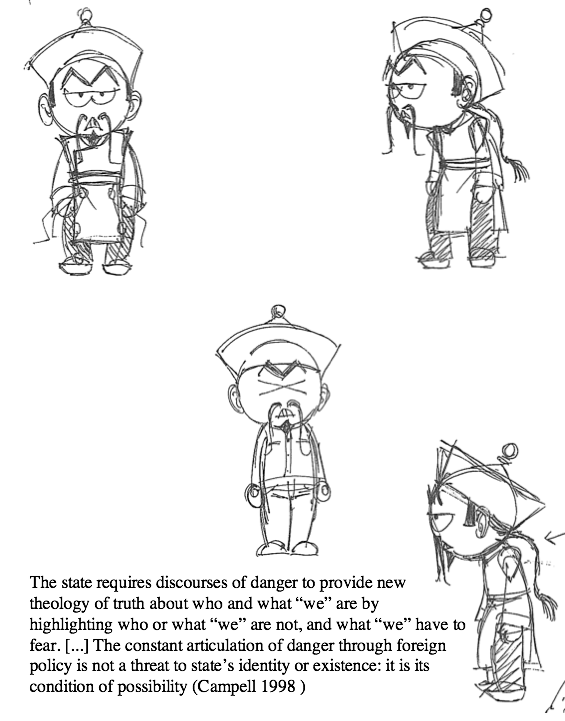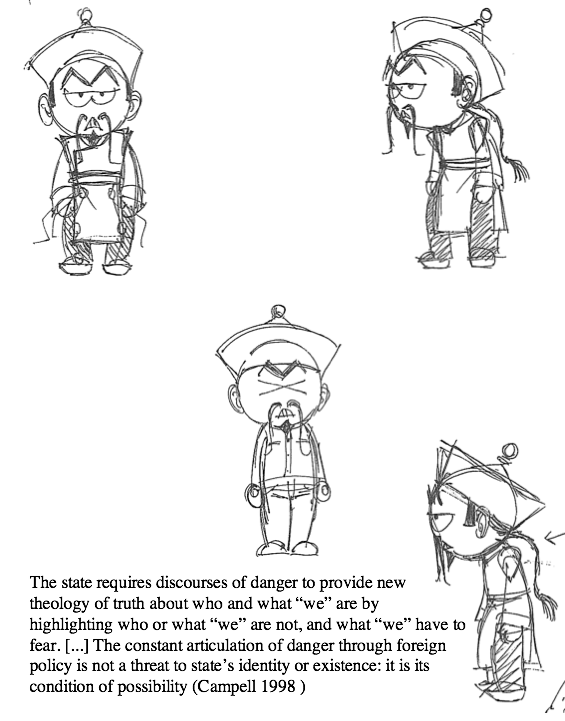 Featured image: Mari Velonaki, "The Woman and The Snowman". Responsive installation incorporating autokinetic robotic sculpture (2013).
I first met Mari Velonaki in person a couple of years ago and since then have attended one of her lectures. I was impressed by her work as a cross-disciplinary arts-led researcher. Also, her imaginative approach in her art practice which spans across interactive installations, robotics and kinetic sculpture and human-robot interaction. This interview is an opportunity for readers to find out more about the ideas and the contexts behind her work, including plans, dreams and also what is happening in Sydney Australia, where she is based.
Eva Kekou: I am fascinated by the project Fish-Bird, it operates as a metaphor for me to connect and relate two different notions in the most poetic way as in the case of art, science and technology. Could you please give us some information about the idea of this project and both its artistic and research views – also how audiences responded to this.
Mari Velonaki: "Fish-Bird" is an interactive autokinetic artwork that investigates the dialogical possibilities between two robots, in the form of wheelchairs, that can communicate with each other and with their audience through the modalities of movement and written text. The chairs write intimate letters on the floor, impersonating two characters (Fish and Bird) who fall in love but cannot be together due to "technical" difficulties. This was an interdisciplinary project that involved the creation of novel interfaces for human-robot interaction, experimentation in distributed sensory systems and robot 'perception'.
The wheelchair was chosen as the dominant object of the installation for several reasons. A wheelchair is the ultimate kinetic object, since it self-subverts its role as a static object by having wheels. At the same time, a wheelchair is an object that suggests interaction – movement of the wheelchair needs either the effort of the person who sits in it, or of the one who assists by pushing it. A wheelchair inevitably suggests the presence or the absence of a person.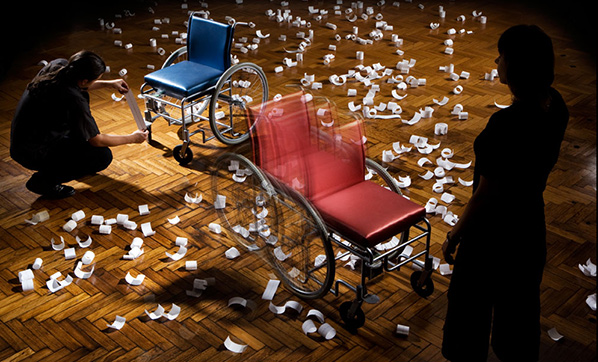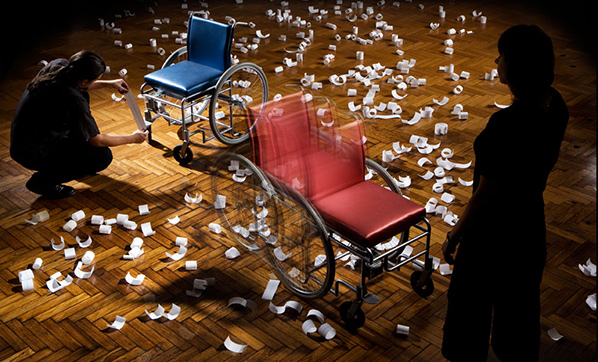 Furthermore, the wheelchair was chosen because of its relationship to the human – it is designed to almost perfectly frame and support the human body, to assist its user to achieve physical tasks that they may otherwise be unable to perform. In a similar manner, the Fish-Bird project utilizes the wheelchairs as vehicles for communication between the two characters (Fish and Bird) and their visitors. Finally, the wheelchair also possesses an aesthetic that is very different from the popular idea of a robot, as it is neither anthropomorphic nor "cute". Given that a wheelchair is a socially charged object, the interactive behaviour and the scripting of how the chair should move was developed in consultation with wheelchair users. The participants are actively discouraged from sitting on the wheelchairs: if a participant sits on a wheelchair a sensor embedded in the seat upholstery pauses the entire system until the participant vacates the wheelchair.
What we've learned from the Fish-Bird project in relation to human-robot interaction, after 35,000 recorded encounters in five countries, is that behaviour is more important than appearance. Although Fish and Bird have the utilitarian appearance of an assistive device, participants were drawn to them because of the way they move and interact physically with them, and because of the handwritten style 'personal' messages that they print for their audience.
EK: Your project Diamandini brings up issues of femininity, interactivity into the context of computer and informatics. It again works as a nice metaphor but in practice it is a research project between the Centre for Social Robotics, Australian Centre for Field Robotics, the University of Sydney and yourself. Can you give us more information about this and also report to us about the outcome of the research project about the understanding of the physicality that is possible and acceptable between a human and a robot within a social space.
MV: The original intent of the Diamandini project was to create a robot that was non-representational and non-anthropomorphic – also, I wanted to work with the concept of one-to-one interaction: one human, one kinetic agent. As I started experimenting with a variety of abstract sculptural forms, although interesting in shape and structure, I found it extremely difficult to assign behaviours to them that could lead to emotional activation of the spectator/participant. These considerations influenced my decision to create a humanoid robot. This was a challenging decision, especially when I had to decide how the robot should look. I didn't want Diamandini to have a typical humanoid robot aesthetic. I began to think of Diamandini as a female sculpture. In my mind Diamandini had a diachronic face that spans between centuries, a style that could be reminiscent of post-World War II fashion influences, and at the same time with futuristic undertones. Diamandini is small – only 155 cm high. I wanted her figure to be small and slender so that people didn't feel threatened by her when she 'floats' in the installation space. I wanted her to look youthful, but not like a child, and for her age not to be easily identifiable. Interestingly, in my mind she is between 20 to 35 years old. Because I am a woman, I feel more comfortable working with a female rather than a male representation.
In relation to people interacting with Diamandini in social spaces, we are still processing data collected from 3,682 interactions at the Victoria & Albert Museum in 2012. From these interactions what we know so far is that, although people would spend – on average – more than five minutes with her in the Medieval and Renaissance Galley, only 88 people embraced her or held her hand. It will be interesting to compare this result with new data coming from Diamandini's current exhibition at FACT, Liverpool, where she is exhibited in a contemporary gallery setting.
EK: You are an artist and researcher. How do you think that these two relate to each other, give feedback to each other and can give a mutual input to your work? How connected are art and research in general?
MV: I see my work as practice-led research. I'm interested in developing and testing new concepts of what an artwork can be, in the same way as I'm having conceptual and aesthetic concerns of what a robot can be. Interactive media art has a long history of looking at sharing spaces with projected and kinetic characters. I'm interested in the brief moment when a spectator becomes a participant – conceptually and physically. This is where the core of my research lies.
EK: The female character and femininity plays a crucial role in your work. How can "fragile femininity" be embraced by science and technology and its connected artwork under the light of media art?
MV: I don't perceive my work as fragile femininity – at least consciously. Many of my characters don't have gender: for example Fish-Bird, Fragile Balances, Current State of Affairs. If a representation of gender is necessary – as in previous works that contain projected digital characters (Pin Cushion, Unstill Life, etc.) or is a humanoid robot – I choose to work with female forms as I am more comfortable to sculpt, script and create a kinetic language for a female representation. The element of fragility, though, is a thread that links many of my works. Anne-Marie Duguet wrote a wonderful essay "The Power of Vulnerability" about my work 'Fragile Balances' (2008) in which she writes "'A fragile balance' could define all complex interactive processes that involve human intervention. Interactivity always extends to the limits of more than one language, more than one reality. It relies on operations of interpretation and coding that, as a matter of course, produce slips of meaning, simplifications and omissions which can undermine the effectiveness and reciprocity of exchange, and hinder the pleasure of transgression."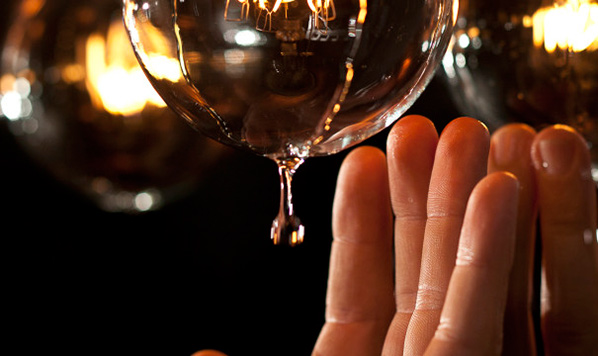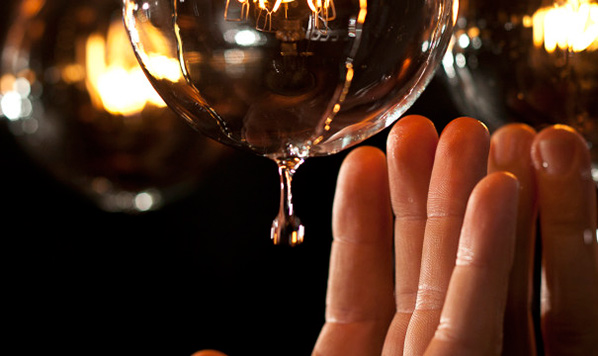 EK: I know you have exhibited in different parts of the world – how do audiences respond to your work?
MV: I guess it depends on the work. In general I think maybe I could add that I think people are attracted to my work because – although it partially depends on complex technological systems – the work itself doesn't look at all technological. I want to believe that my audiences are attracted to my 'characters' maybe because of the element of surprise: a porcelain-like sculpture that moves; wheelchairs that write love letters; wooden cubes that act as embodied avatars for robotic characters.
EK: What are your next steps as an academic, artist and researcher? Which of your dreams do you want to make true through your work (relating them to art, science and technology as another metaphor)?
MV: At the moment a lot of my focus is on growing and strengthening the Creative Robotics Lab (CRL) at NIEA. I founded CRL with an aspiration to build a cross-disciplinary experimental space for human-robot interaction research and interface design. At CRL people from different disciplines – arts, robotics, psychology, philosophy – work together because they believe that, to improve human-robot interaction, a cross-disciplinarily approach is not complementary but essential. CRL for me is a safe place for risk-taking.
---
ARTIST BIO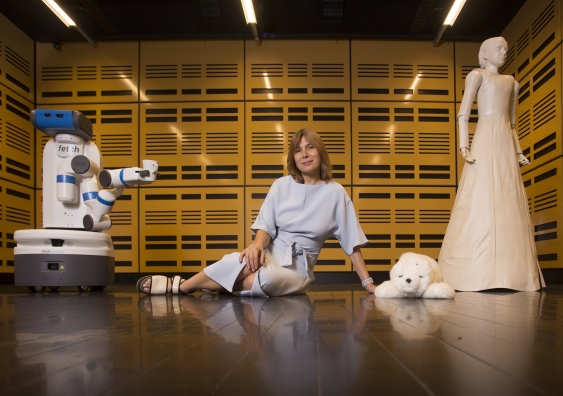 Mari Velonaki has worked as an artist and researcher in the field of interactive installation art since 1997. Mari has created interactive installations that incorporate movement, speech, touch, breath, electrostatic charge, artificial vision and robotics. In 2003 Mari's practice expanded to robotics, when she initiated and led a major Australian Research Council art/science research project 'Fish–Bird' (2004-2007) in collaboration with roboticists at the Australian Centre for Field Robotics (ACFR). In 2006 she co- founded, with David Rye, the Centre for Social Robotics at ACFR, a centre dedicated to inter-disciplinary research into human-robot interaction in spaces that incorporate the general public. In 2007 Mari was awarded an Australia Council for the Arts Visual Arts Fellowship. In 2009 she was awarded an Australia Research Council Fellowship (2009–2013) for the creation of a new robotic form. In 2011 she was appointed as an Associate Professor at the National Institute of Experimental Arts (NIEA) at the College of Fine Arts, The University of New South Wales, where in 2013 she founded the Creative Robotics Lab. Mari's artworks have been widely exhibited internationally. http://mvstudio.org/
Tatiana Bazzichelli is a researcher, networker and curator, working in the field of hacktivism and net culture. She is part of the transmediale festival team in Berlin, where she develops the reSource for transmedial culture, an ongoing distributed project of networking and research within the transmediale festival. She received a Ph.D. in Information and Media Studies from Aarhus University (DK), conducting research on disruptive art practices in the business of social media (title: Networked Disruption: Rethinking Oppositions in Art, Hacktivism and the Business of Social Networking). Bazzichelli is also a Postdoc Researcher at the Centre for Digital Cultures /Leuphana University of Lüneburg (DE).
Introduction.
In light of absolute domination by market forces over all of our lives, and with the top-down orientated power systems' bias towards business and the implementation of a consumer class. New ways of thinking around the problem is called for. There has been a dramatic shift of unethical companies such as BP funding art's and technology projects, and mainstream museums and galleries in the UK. [1] Alongside this, those hoping to receive arts funding are told to be innovative and more entrepreneurial than they already are. What they really mean by 'innovative and entrepreneurial' is, get in line with the values of a corporate mentality, and not be contextual or critical in one's art practice. This wholesale move towards business as it further dominates the content, ideas, societal context, and missions by artists and art collectives – is of deep concern for all who wish to explore freedoms of expression on their own terms and not inline with the state's or a corporation's set of diverting agendas.
Art activism in media art and transdiscilpnary arts culture has engaged with political and societal issues while under the gaze of neoliberalism quite successfully. However, what changes have occured that we can draw upon to say we have built real alternative values for others to work with? There are plenty of people from the dark side calling us to join them, like that eirie voice from the original Evil Dead movie.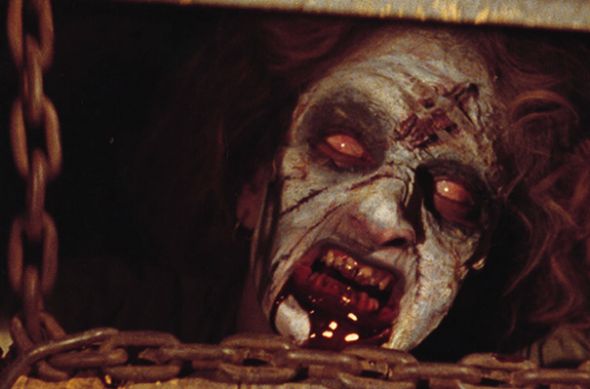 I'm reminded of Thomas Frank's insightful words in his article TED talks are lying to you, that those who urge us to "think different" almost never do so themselves. [2] And this is the nub, what will become us if we step over into their world and adapt our minds to their visions?
"To expect or even wish those who rule and those serving them to change, and challenge their own behaviours and seriously critique their own actions is as likely as winning the National Lottery, perhaps even less." [3] (Garrett 2013)
So, this brings us Tatiana Bazzichelli who has been thinking about this stuff a lot. Her Proposition is that we need climb out of these oppositional loops in order to find different ways of being, and refocus on potential art strategies in relation to a broken economy. In her publication Networked Disruption: Rethinking Oppositions in Art, Hacktivism and the Business of Social Networking, Bazzichelli puts forward the notion of disruptive business and it "becomes a means for describing immanent practices of hackers, artists, networkers and entrepreneurs", and sheds "light on two different but related critical scenes: that of Californian tech culture and that of European net culture – with a specific focus on their multiple approaches towards business and political antagonism."
Interview.
Marc Garrett: In your book you examine a breadth of disruptive practices of networked art and hacking culture in California and Europe. You propose your main objective is to rethink the meaning of critical practices in art, hacktivism and social networking, analyzing them through business instead of being in opposition to it.
Could you explain how this would change situations and what it would bring to artists exploring disruption as part of their practice, networked art culture and the wider community, and what this may look like?
Tatiana Bazzichelli: I will begin answering your question by adding another one: Why do we need to rethink artistic and hacktivist oppositions in the context of social media and after the emergence of Web 2.0? This question is at the core of my book, and also the main link that connects together my previous book, Networking: The Net as Artwork (2006), and the following ones centered on the concept of networked disruption and disrupting business.
The idea of conscious participation in media practices is central to analyse the evolution and transformation of the concept of "networking" in the age of social media. My reflections are the consequence of a process of direct involvement within the activist (or rather "artivist") scene in Italy since the mid-90s, and furthermore, they are based on the analysis of a more international fieldwork of practices between the Europen tradition of netculture, and the development of cyberculture in California. Practically all my books are to be thought of as subjective, and as consequences of a personal experience which aims to create connections between very diverse fields of action, applying the idea of networking both in theory and practice, and as a methodology of writing.
Between the end of the 1990s and the early 2000s, many actions of media criticism were often very dialectical, and rooted on the idea of antagonism as radical opposition. I am for example thinking about what was (erroneously) called "the anti-globalization movement", the protests in Seattle, Prague, Goteborg, Genoa, etc.: somehow it was easier to identify an "enemy", for everyone to unite against the same power. Unfortunately this also meant that it was easier to identify the members of the movement(s) themselves, and many protests faced violent chains of repression by the authorities. In particular in Genoa, the Italian movement and its global counterparts were hit hard. My personal opinion is that the frontal opposition, the idea of assaulting the "red zone" during the protests, did not work at all: we basically played the game of the police. Without dismissing this experience, which was very important in itself and for the start of new activist projects, after Genoa 2001 I started searching for a new way of activism that was not black and white, and which would be harder to appropriate. This was also the reason why I started entering in contact with many projects in the queer, pink, and independent porn culture, which were combining ludic strategies and playful disruption beyond oppositional confrontation. I was trying to connect those to the concept of hacking – mixing the codes to create disturbance, to generate subliminal interventions, to give rise to paradoxes, fakes and pranks, as previous projects based on multiple identities, from Luther Blissett to Neoism and Monty Cantsin, had done before.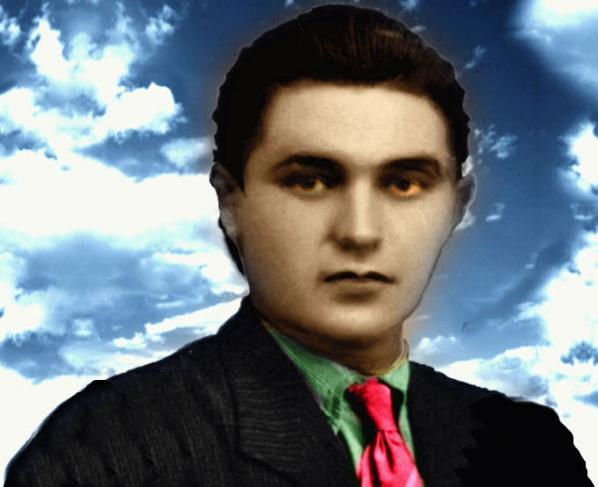 "In 1994, hundreds of European artists, activists and pranksters adopted and shared the same identity. They all called themselves Luther Blissett and set to raising hell in the cultural industry. It was a five year plan. They worked together to tell the world a great story, create a legend, give birth to a new kind of folk hero." Luther Blissett.
But after 2004, which is also the time of the emergence of Web 2.0, the critical framework of art and hacktivism shifted: networking, a concept which had informed the Avant-garde since the 1960s, became a tool for a wider audience, and a pervasive business strategy. The ideas of openness, do it yourself, sharing, the "mottos" of the hacker culture in the 1990s, became the main rhetoric of the Web 2.0 companies based on the appropriation of "free culture". This meant to me that also artistic and hacker practices needed to be recontextualised, since the concept of social networking became something completely different from its roots, and the business companies themselves were applying the concept of disruption as main business logic. Is it possible to oppose disruption with disruption?
In the era of immaterial economy and increasing flexibility, the act of responding with radical opposition no longer looks like an effective practice, since the risk is to simply feed the same machine replicating the capitalistic logic of competitiveness and power conflicts. In my opinion, and here I speak through my "artivist" experience, even the concept of the multitude as a model of resistance against the capitalist system – which runs at a theoretical level – is difficult to apply on a pragmatic level without having to recreate the traditional dynamics of the "power-contra power" conflict. The point is to try to figure out how to imagine new forms of participation that go beyond dualistic conflict – and that go beyond the creation of a hegemonic and holistic entity, although presented as a plural (the multitude, indeed). As a result, it is definitely necessary to reformulate the language, which enters the sphere of production and the political, as Paolo Virno states, but most of all, activists practices and critical strategies need to be rethought.
What my book Networked Disruption suggests is the act of performing within the capitalist framework, not against it, keeping the dialectic open through coexisting oppositions. The notion of disruptive business is useful for reflecting on different modalities of generating criticism, shedding light on contradictions and ambiguities both in capitalistic logics and in artistic and hacktivist strategies, while rethinking oppositional practices in the context of social networking. In this book the concept of the Art of Disrupting Business must be interpreted beyond categorical definitions, and as a new input for imagination. "Disruption" implies a multi-angled perspective and it is a two-way process, where business and the antagonism of business intertwine. Adopting a hacker's strategy, hacktivists and artists take up the challenge of understanding how capitalism works, transforming it into a context for intervention and trying to alter business logics. Rethinking strategies and modalities of opposition implies that new forms of interventions and political awareness should be proposed without antagonising them, but rather by playing with them and disrupting them from the inside of the machine. The vision of a distributed network of practices, participations and relationships can only be fragmented, and based on multiple layers of imagination.
Today there are artists and activists who are inspired by a certain tradition of "disruption", creating interventions from within, critically appropriating the business logics, stretching its limits, or proposing alternative models to it. Many of them are the case studies of my book, where I propose a constellation of social networking projects that challenge the notion of power and hegemony, and where social networking is not only technologically determined. Projects and experiences such as mail art, Neoism, The Church of the SubGenius, Luther Blissett, Anonymous, Anna Adamolo, Les Liens Invisibles, the Telekommunisten collective, The San Francisco Suicide Club, The Cacophony Society, the early Burning Man Festival, the NoiseBridge hackerspace, and many others. Of course there are many more of these. Holes in the system are everywhere, ready to be performed and disrupted.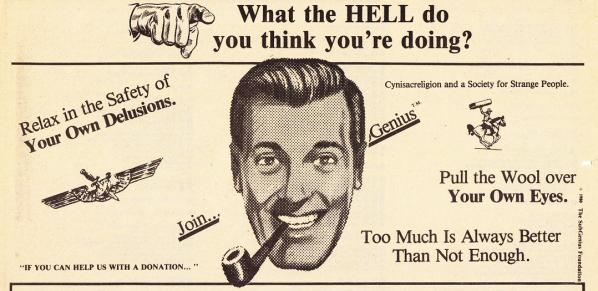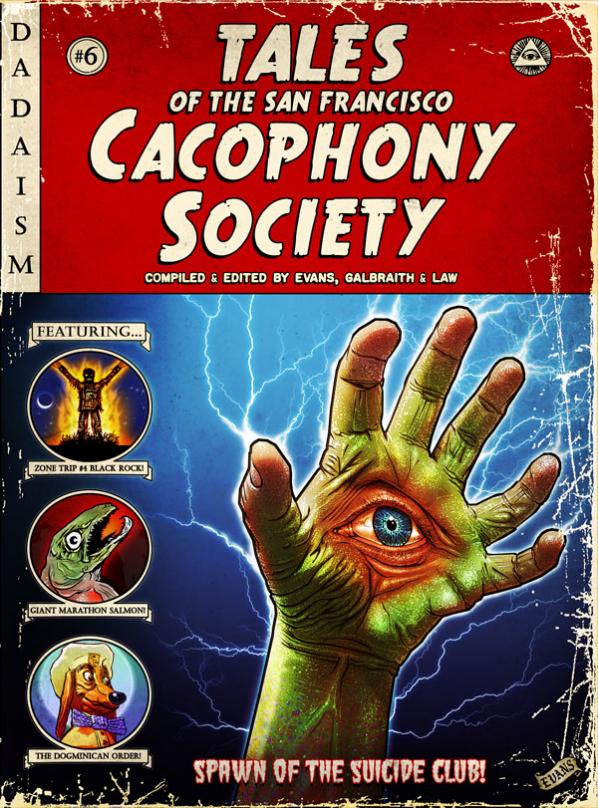 MG: There is a quote in the book that it says, "Innovation is rooted in Desire, not need. Desire is the motivation for behaviour. Desire leads to goals, and goals lead to motivation, the internal condition that gives rise to what we want to do, based on our goals, what can we do – based on the norms of behaviour – and what we will do – the actions that we voluntarily decide to undertake. Motivation is the ethos of goal-oriented behaviour, and a company's ability to understand motivation directly contributes to the success of their products and services in the marketplace" (Manu, 2010, p. 3).
I'm wondering, coming from an activist background myself where do you think free culture fits into this dialogue, especially in respect as a critique of products and services in the marketplace, as well as social forms of emancipation?
TB: The quote you are referring to comes from a book entitled Disrupting Business: Desire, Innovation and the Re-design of Business (Alexander Manu, 2010). As we can read in the business literature, the concept of disruptive business is rooted in the idea of disruptive innovation. Disruptive innovation, a term coined in 1997 by Clayton Christensen, Professor at the Harvard Business School, is used in business contexts to describe innovations that introduces a product or service in ways that the market does not expect. In the business culture, disruption not only means rupture, but links to the idea of innovation and re-design of behavioural tendencies. Therefore performing disruption shows a process that interferes with business, whilst at the same time generating new forms of business. This mutual feedback loop is at the core of my analysis.
However in my book business is neither analysed through classical business school methodologies, nor seen as positive or negative, but it is a means for working consciously on political practices – and for raising questions on art and media criticism. In 2009 I was a visiting scholar at Stanford University where I was researching the reasons of the progressive commercialisation of networking contexts after the emergence of Web 2.0, through the development of hacker culture in the Silicon Valley. From the interviews that I conducted, and also via the close reading of the book From Counterculture to Cyberculture by Fred Turner, it was evident that since the development of the early cyberculture hackers and members of the so-called "counterculture" have been trying to disrupt business via their practices, and in parallel, business corporations have been trying to do the same through technological innovation. Since the 1960´s, hackers and artists in California have been active agents in business innovation while at the same time also undermining business. This is also very evident today in the business context of Web 2.0 where many hackers are working at the core of business, while disrupting it – the Anonymous entity is one of the most successful examples of this.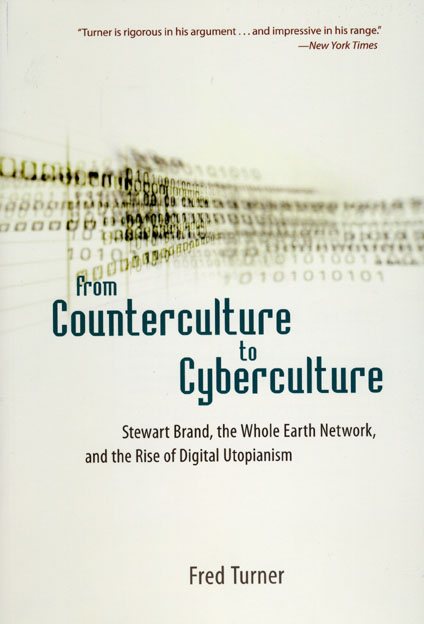 In my book I compare what the concept of business disruption meant in the European context and in the US, especially in Silicon Valley. When I was interviewing computer engineer Lee Felsenstein he told me that in California hackers would refuse hegemony but not business. This is also why many of them have no problem in working for Google, which is actually employing the best hackers of the area. In Italy we always claimed that hacking is politics, and politics is an "attitude", which informs your everyday life and lifestyle. What I discovered in the Silicon Valley is that libertarian practices are often linked with the refusal of the political, and this is the position of many members of the hacker culture in California. Therefore, what for me was the initial "problem", the contamination of business and free culture, was not considered as such among the hackers that I met between San Francisco and Palo Alto.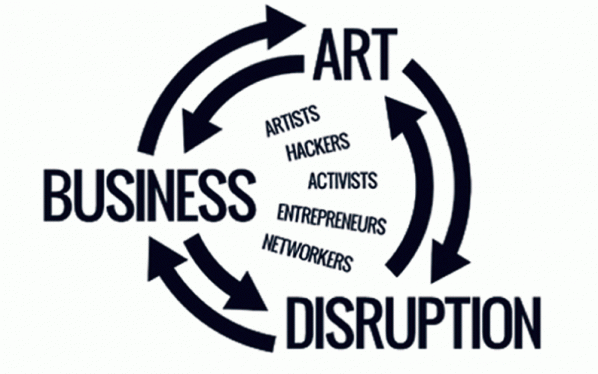 This consideration leads me to create a model of analysis named the "disruptive feedback loop", based on the idea of layering instead of cooptation – such an idea of "layering" rather than cooptation, was proposed by Fred Turner in the lecture "The Bohemian Factory: Burning Man, Google and the Countercultural Ethos of New Media Manufacturing" (2009), while discussing the social phenomenon of Burning Man. The idea of the "mutual feedback loop" between business and hacker culture is instead the result of a conversation in 2009 with Jacob Appelbaum, who at the time was an active member of NoiseBridge in San Francisco, when we were reflecting on the development of hacker spaces in California. In my disruptive loop model, artists and hackers use disruptive techniques of networking in the framework of social media and web-based services to generate new modalities for using technology, which, in some cases, are unpredictable and critical; business enterprises apply disruption as a form of innovation to create new markets and network values, which are also often unpredictable. Networked disruption is a place where the oppositions coexist, and it is a reconfiguration of practices into a structure of mutual feedback instead of opposition.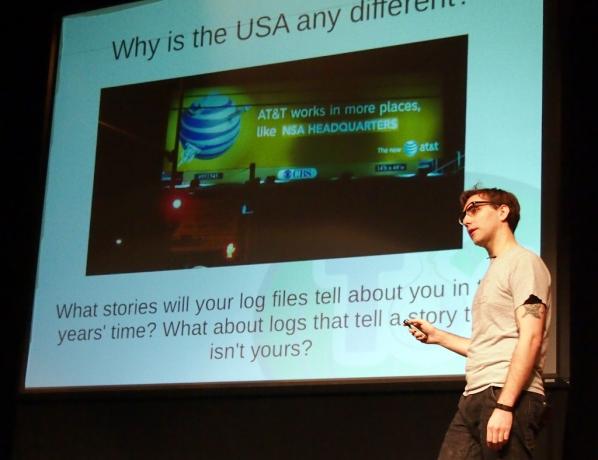 Here I propose disrupting business as an art practice: artists and hackers adopt viral and flexible strategies, as does contemporary networking business, and by provoking contradictions, paradoxes and incongruities, business logic is détourned. This model can be applied both in the analysis of business contexts of social networking and of critical practices generated by hackers and artists. For example, projects such as Anna Adamolo and Seppukoo reflect on the tensions between the open and closed nature of social media, stressing the limits of Facebook's platform, and working on unpredictable consequences generated by a disruptive use of it. Paradoxically, to be critical of business we should learn from it.
The Telekommunisten collective explains this well, and it is not a coincidence that Dmytri Kleiner comes from a Neoist background: the experiences of Luther Blissett and Neoism made it hard to see any "truth", they forced us to question and examine our identities. If you claim to have the truth, you will fail – someone else will proclaim the truth, and perhaps with much more strength and power than you. The Miscommunication Technologies by the Telekommunisten show that the enemy can eat you up and that the capitalist system has endlessly more resources to force its "truth" on you. We have to learn from business, understand how to be pervasive. My point is that we should stop looking for the enemy, because who is the enemy today when disruption and its opposition are feeding the same machine? The challenge is to unite where the system can't get you, and you're not playing into its hands, exposing contradictions, generating disturbance, to disrupt and perform the feedback loop at once. The challenge facing the art of disruptive business is to dissipate oppositions through a network of multiple, distributed, playful and disruptive practices.
MG: It was licensed under a peer Production License (http://p2pfoundation.net/Copyfarleft), similar to a Copyfarleft License (http://p2pfoundation.net/Peer_Production_License). Very different than a Creative Commons Licence, and drawn up by one of the artists you write about in the book Dmytri Kleiner. It feels relevant to be on the P2P Foundation wiki, however it would be useful know how it relates to the context of your publication?
TB: As it is stated on the P2P Foundation website, based on the text published in The Telekommunist Manifesto, "the Peer Production License is an example of the Copyfarleft type of license, in which only other commoners, cooperatives and nonprofits can share and re-use the material, but not commercial entities intent on making profit through the commons without explicit reciprocity". The Peer Production License is a hack of the Creative Commons licenses. Where the Creative Commons is mostly used for sharing works non-commercially, the Peer Production License wants to contribute in expanding a non-capitalist economy, generating earnings that are shared equally. Commercial use is therefore encouraged for independent and collective/common-based users only, proposing a business logic that does not lead to a private appropriation of community-created value.
This logic is also at the core of the "Venture Communism" concept coined by Dmytri Kleiner in 2001, which proposes to allocate equally the collectively owned material wealth, and to create a peer-to-peer social commons as an alternative to venture capitalism.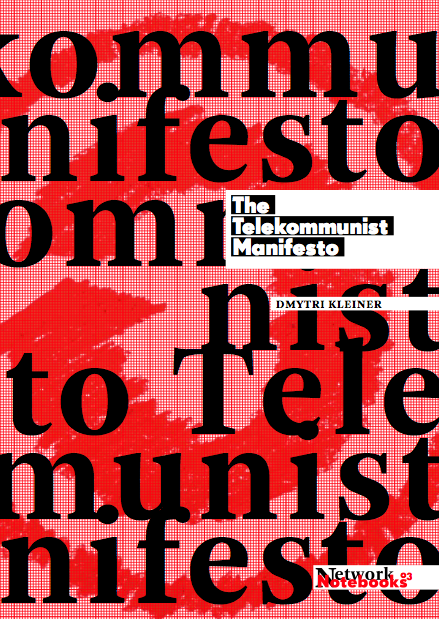 I decided to release the Networked Disruption book under this license because I consider it a coherent intellectual gesture, and also a "business experiment". From what Dmytri told me this is the first book released under this license after the Telekommunist Manifesto, and hopefully the use of such license, if increased, will be part of poking a small hole in the capitalist economy, generating value which is not going into few owners' pockets, but is shared equally among the workers and producers. This is also the reason why all my publications exist both online and on paper and are freely downloadable from the web, because it would be contradictory to write about certain topics and then release my toughts under proprietary licenses. In this case, since the book is about disrupting business, I decided to apply a disrupting business license, and to my point of view this is what the Peer Production License is.
Conclusion:
Bazzichelli's investigation is a timely and necessary critique on how to free up networked forms of freedom of expression and its varied practice. At first, I was suspicious. Indeed, in a later publication on the subject co-edited by Tatiana Bazzichelli & Geoff Cox, called Disrupting Business: Art and Activism in Times of Financial Crisis; "Bifo" Berardi, in his article EMPTINESS says "Business is, in my opinion, the most despicable word in the vocabulary. Well, I will try to express it better: the meaning and implications of the word 'business' in contemporary culture and daily life, and the positive emphasis placed on this term, are the most telling symptoms of the abysmal alienation of our time." On this I agree.
We are all emersed in the sea of neoliberalism and we are struggling to keep our heads above the water at various levels. Some are aware of it and are not dealing with it, most are unconscious of it and are drowning in it, and then there are those actively awake and exploring different and innovative ways to survive and hack 'around, in between and through' this deep totalising ocean.
Whether we like it or not, business unfortunately is the dominating regime controlling our interactions, and this includes our cultural, digital interfaces and social contexts. Bazzichelli asks us to stare into the monster's face – what Bifo sees as a deep emptiness. She pulls out of the slimey depths a glimmer of hope and an advancement for playful and critically aware forms of artistic disruption. It is an academic and cultural hack and reminds me of Donna Haraway's proposition in the mid 90s for Situated Knowledges. Haraway realised with other collaborators that it was a fantasy to think that the patriarch was going to somehow willingly hand over control and be enlightened to the idea that women scientists should be accepted as equal in history and academia.
"We seek not the knowledges ruled by phallogocentrism (nostalgia for the presence of the one true world) and disembodied vision. We seek those ruled by partial sight and limited voice – not partiality for its own sake but, rather, for the sake of the connections and the unexpected openings situated knowledges make possible. Situated knowledges are about communities, not isolated individuals." [4] (Haraway 1996)
Her proposition is not suggesting that critical, ethical artists and pranksters give up and put down their tools and become business men and women instead. Using terms such as 'disrupting business' is not conforming or giving up the fight. It is a shift in strategy. She has successfully illustrated that there is a continual rise in imaginative experimentation where artistic hacking with the protocols, interfaces, code, data and surveillance is alive and well. It is about infiltration of these ideological defaults and the power systems that rely on them. Resistance is not futile, it is just changing direction from reliance for absolute desire (which lets face it is rarely fullfilled) from momentary tactics and momentary hacks, into informed hacking with socially aware and engaged strategies. She is asking for an intelligent response, a less macho way in dealing with the problem. This means building deeper relations with others through affinities and sharing critical knowledges while disrupting the business of neoliberalism. And most of all, carry on playing…
Featured image: Cardboard Soldier, 2009 exhibition T-Space Gallery Beijing. Joseph DeLappe.
Introduction.
Joseph DeLappe's art projects have received much interest ranging from the art world, New York Times, Wired magazine, and publications such as Joystick Soldiers The Politics of Play in Military Video Games, the first anthology to examine the reciprocal relationship between militarism and video games. DeLappe is considered a pioneer of online gaming performance art. His art examines the conditions and processes of cultural information to provoke and critique the state of military influences on everyday culture and people's lives.
DeLappe's work includes the controversial game based, performance and intervention, Dead in Iraq 2006-2011. This involved him frequently visiting the US Army's online recruitment game and propaganda tool America's Army. Using the login name dead-in-iraq, he methodically typed in all of the names of U.S. service personnel killed in Iraq, co-opting the Army's own technology challenging the official figures as a reminder to its players of the real consequences of war. He also directs the iraqimemorial.org project, an "ongoing web based exhibition and open call for proposed memorials to the many thousand of civilian casualties from the war in Iraq."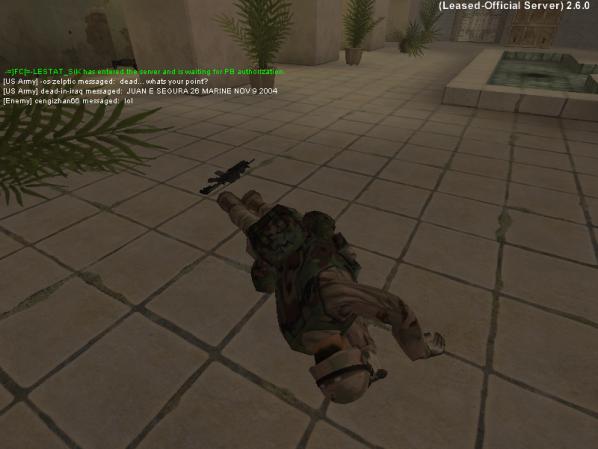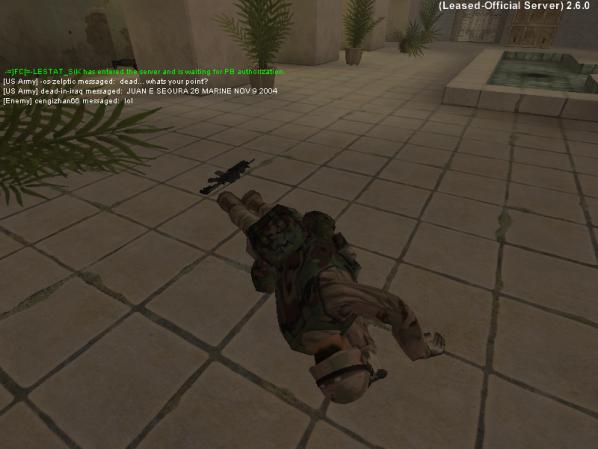 Joseph DeLappe, "dead…whats your point?" dead-in-iraq screenshot 2006-2011.
"The players ask DeLappe to stop what he's doing, but when he continues they shoot him or simply kick him out of the game. You can see the strong reactions from the other players as a proof that DeLappe's performance are successful. He succeeds to break the game illusion, in the same way as Brecht "Verfremdungseffekt" breaks the illusion in drama." [1] (Jansson)
Much of DeLappe's work is known for challenging his own nation's involvement with war. However, if we look at The Salt Satyagraha Online: Gandhi's March to Dandi in Second Life 2008, his work reflects a wider context introducing his concerns on the human condition. Over the course of 26 days, from March 12 – April 6, 2008, using a treadmill customized for cyberspace, DeLappe reenacted Mahatma Gandhi's famous 1930 Salt March. "The original 240-mile walk was made in protest of the British salt tax; my update of this seminal protest march took place at Eyebeam Art and Technology, NYC and in Second Life, the Internet-based virtual world." [2]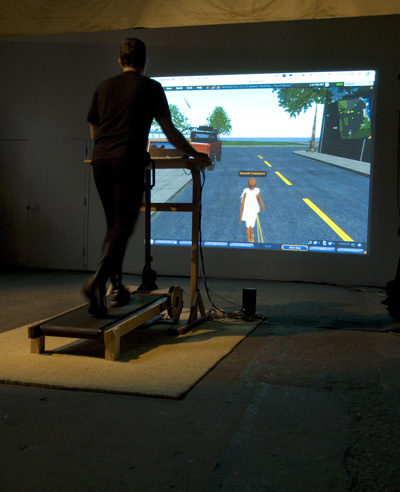 On hearing about DeLappe's The 1,000 Drones Project – A Participatory Memorial, I was immediately intrigued. I wanted to find out more and discuss his approach as well as how he intends to bring to light the lives lost by these unmanned Arial predators as an art project, and what this would look like.
Interview.
Marc Garrett: Could you tell us why you felt it was necessary to do this project even though there is already much media attention out there relating to the use of drones in domestic, military and commercial culture?
Joseph DeLappe: There has indeed been much media attention surrounding the use of militarized drones as a part of US foreign policy. Our drone policies have received much attention yet, as with the coverage of civilian casualties from the Iraq war, the actual human costs of our drone strikes remains rather illusive. Through the work I am doing regarding drones that specifically focuses on memorializing civilian deaths I hope to actualize the estimates of civilian deaths and to call into question the moral issues surrounding such remote killings. You might say that drones have struck a nerve with me. There is something different about drones. They seem to perfectly combine aspects of our worst fantasies of digital technologies, interactivity, computer gaming and war. One might consider them a bit of a "gateway" weapon (the drug reference is of course intentional here). I suspect we have indeed opened a Pandora's box leading to the further utilization of remote and robotized weaponry that will make our current drone usage seem quaint.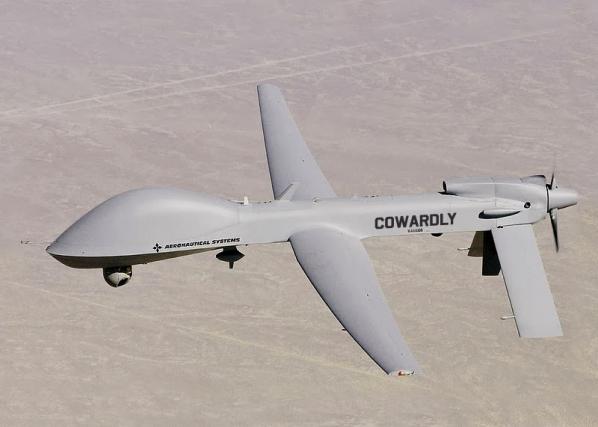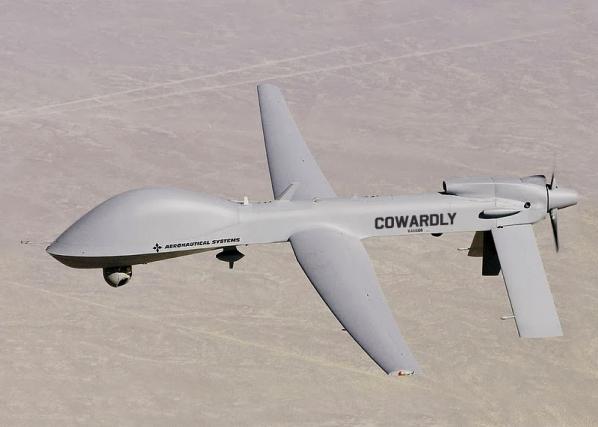 The above is "An ongoing series of image interventions downloading images of UAV's (unmanned arial vehicles) in use by the United States Military, including: General Atomics MQ1-Predator Drone, MQ9 Reaper Drones and Global Hawk Drones from the top results of Google image searches. Each image is slightly adjusted to include the marking "COWARDLY" upon it's fuselage. The saved images are uploaded to my website with basic titling information "Predator Drone", "Reaper Drone", "Global Hawk Drone" – with the intention of having these images begin to appear in searches for information and images on drones occurs online. The works are intended as a subtle intervention into the media stream of US military power." DeLappe
I am working on several drone projects at the moment, including The "1,000 Drones Project – A Participatory Memorial", and seek to draw attention to and creatively memorialize those innocents killed by drones. It invites the public to create a small scale, papercraft replica of a General Atomics MQ-1 Predator UAV (Unmanned Arial Vehicle) – a drone. Participants are asked to write the name of a civilian drone casualty upon the wings of the aircraft.
This project is an adaptation of The 1,000 Cranes or "Senbazuru" tradition from Japan. This tradition holds that anyone who folds one thousand cranes will be granted a wish. Since World War II the tradition has been associated with the atomic attacks upon Nagasaki and Hiroshima – the folding of the cranes has become a wish for peace. [3]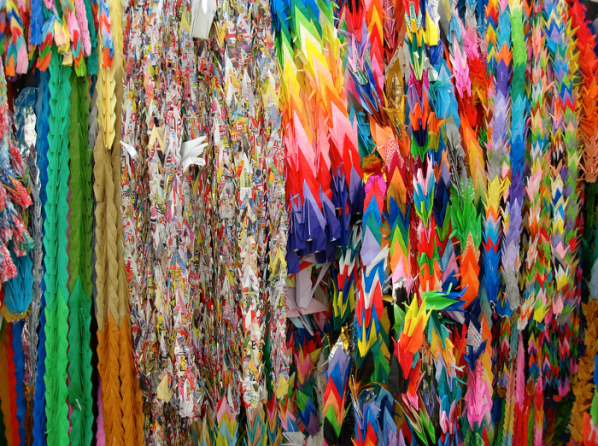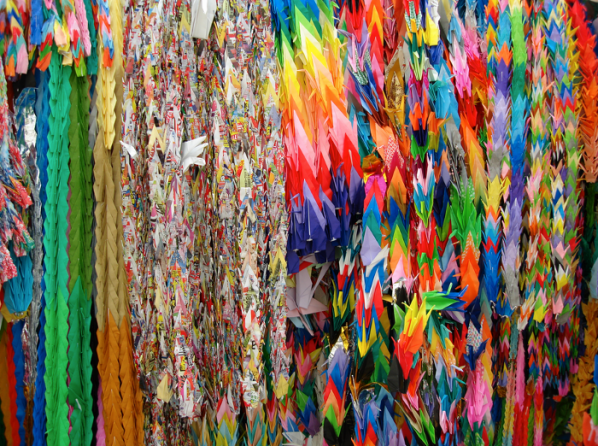 MG: You are inviting participants to be a part of the project. In what capacity will they be taking part?
JD: The 1,000 Drones Project has been commissioned by the FSU Art Museum of the exhibition "Making Now – Art in Exchange". The FSU Department for Art has for the past few months conducted a series of workshop events where the public is invited to make a small, paper drone from a provided template. The form is made directly from MQ1 Predator Drone plans found online. The drone shape is cut out, there are then five dotted lines denoting where to fold the paper – the result is a simple paper facsimile of a drone. Once the drone is created, the participant is invited to write the name of a civilian drone casualty along with their age at the time of death, upon the wings of the drone. The Bureau of Investigative Journalism estimates that between 2004 and 2013, drone strikes in Pakistan killed between 2,536-3,577 people, of these, it is estimated that 411-884 civilians and 168-197 children have been killed. The list of civilian drone casualties comes from The Bureau of Investigative Journalism. We are also using a list of drone casualties from Yemen found here: http://en.alkarama.org/documents/ALK_USA-Yemen_Drones_SRCTwHR_4June2013_Final_EN.pdf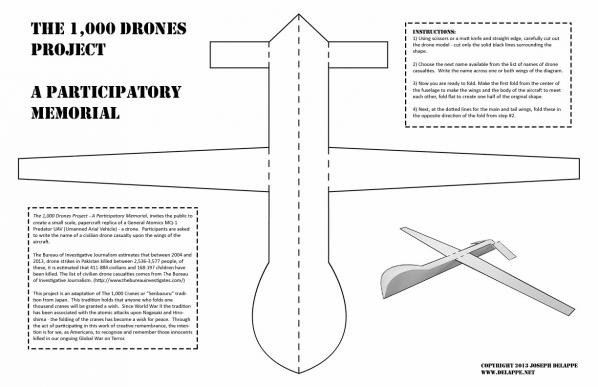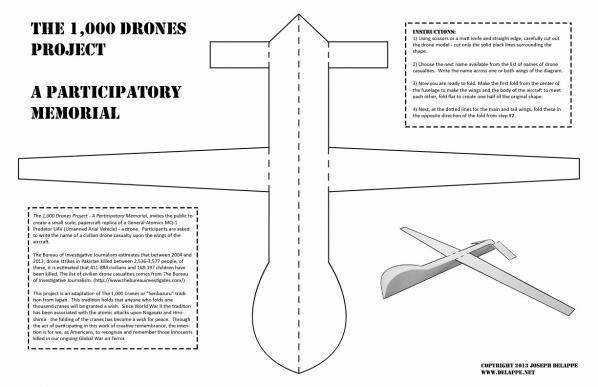 At present we have a total of 464 persons identified as civilian drone casualties from Pakistan and Afghanistan. To complete the 1,000 drones, the remainder will be marked "unknown".
The paper drones are to be strung together in groups of 18 per string, 55 strands will be hung in the center of the gallery to create an installation that will be triangular in shape. The making of the drones will continue with the opening of the exhibition in February until 1,000 are complete and installed.
MG: What will others learn or gain from this participation?
JD: This is difficult to pin down. My intention is that through the act of making a drone, followed by writing a name or "unknown" upon their creation that individual participants will in some small way actualize the loss of individual lives due to our drone attacks. The intent is to perhaps for some brief moment make real these deaths taking place in our name on the other side of the globe. The actions are decidedly low-tech as well – there is something important in this – the deaths become physical, perhaps drawn from the digital media stream, the digital process of the killings to a direct, physical act of making and remembering. I am very interested as well in the overall effect of the piece – to see 1,000 white paper drones hanging in space as a memorial will likely have a powerful impact. Numbers of civilians killed as reported through our media are all too often numbing and abstract – this piece will hopefully make real this abstract process of digitally remote killings.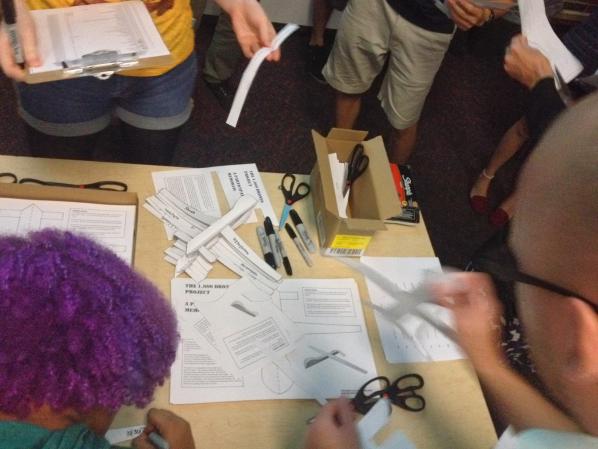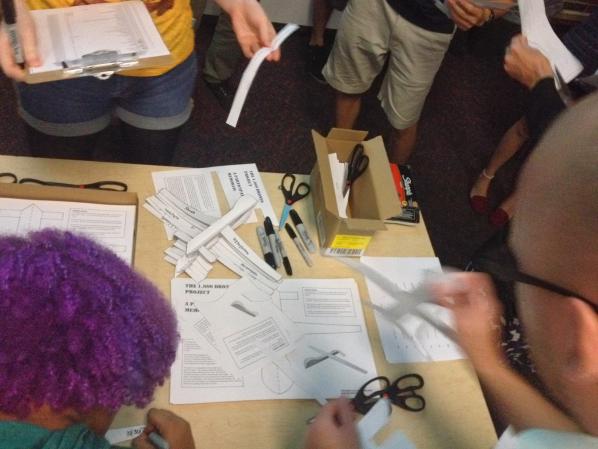 MG: What is the lineage of this project?
JD: I've been working intensively over the past decade to creatively shed light on civilian and military casualties as a result of our ongoing "war on terror". This includes "dead-in-iraq", my intervention as a memorial and protest taking place within the America's Army computer game and iraqimemorial.org, a crowd sourced project launched in 2007 inviting anyone to post concepts, imagined memorials to the many thousands of civilian casualties from the Iraq conflict.
Conclusion.
Looking at DeLappe's breadth of work informs us how detailed and complicated the subject is, and it equally reminds us how distant we all are from any quality debate about war and drone technology and the impacts these militarised technologies have on citizen's lives. Thankfully, on the subject of drones the Internet is supplying us with different view points that mainstream news media fails to seriously investigate. Russia Today, reported that classified documents from the CIA could not "confirm the identity of about a quarter of the people killed by drone strikes in Pakistan during a period spanning from 2010 to 2011." [4]
Kate Rich and Natalie Jeremijenko in 1997 as part of the then, anonymous Bureau of Inverse Technology were pioneers of the first art drone 'The BIT Plane'. This work was featured in a group show at Furtherfield's gallery, Movable Borders: Here Come the Drones! in May 2013. [5] In an article in Mute magazine Rich wrote, "The morally disgusting asymmetry of drones relates not only to their deployment by the powerful against the weak, but also to the radical disparity of risk entailed in exposing the defenceless living to pilotless killing machines." [6] This brings to mind how vulnerable we all are to the whims of the powerful. This feeling of fear will strike at the heart of any humanist not on the 'right' side of those wielding such awsome destruction without challenge, until its too late.
DeLappe's art not only reflects the militaristic world we are living in he is directly engaged with it. His focus on his nation's obsession with war echoes what James Hillman wrote in A Terrible Love of War, "Hypocrisy in America is not a sin but a necessity and a way of life. It makes possible armories of mass destruction side by side with the proliferation of churches, cults and charities. Hypocrisy holds the nation together so that it can preach, and practice what it does not preach." [7] (Hillman 2004)
Many contemporary artists are working with and critiquing Bio-Technology, Nano-technology, engineering, issues on Climate Change, border controls, data-mining, surveillance, economic and political fluctuations, and the military. This is in line with the expansion of the networked society. Controversies and battles are taking place in a time of uncertainty, where the very technology and systems that have supported progress, through its worldwide channels of production and prosperity; are now the very same tools threatening the survival of our species, contributing to climate change and the emergence of the economic, global crisis, as well as a threat to our civil liberties. Art and critical thinking examining this complex and strange territory and its impacts on us and the planet are right up there in pushing forward a new kind of radical investigation as an art practice.
Joseph DeLappe's next exhibition 'Social Tactics' will be from January 24 to April 27, 2014 Fresno State Center for Creativity and the Arts, in the US.
The artist and curator Art Clay was born in New York and lives in Basel. He is a specialist in the performance of self created works with the use of intermedia and has appeared at international festivals, on radio and television television in Europe, Asia and North America. His recent output focuses on large media based performative works and spectacles using mobile phone devices. He has received prizes for performance, theatre, new media art, music composition and curation. As an educator, he has taught media and interactive arts at various art schools and universities in Asia, Europe and North America including the University of the Arts in Zurich. He is the initiator and Artistic Director of the 'Digital Art Weeks International' and the Virtuale Switzerland.
Eva Kekou: Could you tell us about your work and what inspires you?
Arthur Clay: The question about inspiration has been posed to me before and most often in the moment when people first see the program that the Digital Art Weeks (DAW) is offering. As an artist I am very much inspired by the every day. I think it is important to be aware of the things around you and by so doing, my artwork seems to have more of a present day dialogue and the events I curate more to do what is actually going on in the society around me. So basically, everything and nothing and all the things in between inspire me. There are no rules, but with a lot of effort to try and come closer to things might be the one I apply the most.
On the one hand, I am a practicing artist and most of this work is concerned with sound. On the other hand, I believe that curation is an art in itself and requires a high level of creativity. It is easier for me to make an artwork in comparison to harmonizing a group of artworks. The two meet in the fact that I grounded the DAW projects in order to provide a platform for my own work and that of others, who think in like minded ways.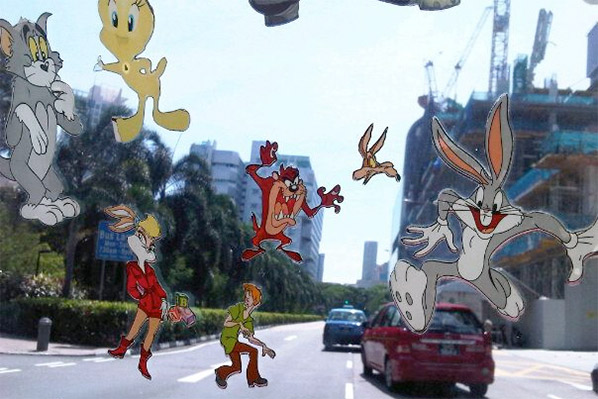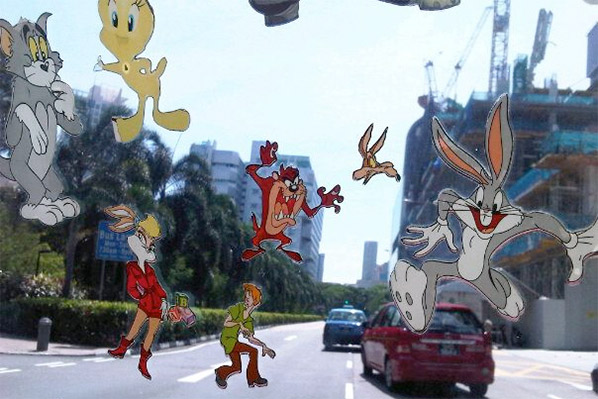 EK: You were the curator for the Augmented Reality exhibit "Window Zoos & Views" in collaboration with the participation of the School of Digital Media and Infocomm Techology from Singapore Polytechnic. On the project site, it mentions that the main element of the project was inspired by an image of a car driving down Singapore's legendary Orchard Road. Could you tell us a bit more about this and the project?
AC: As DAW Director, I am confronted with the same situation each time we bring the festival: Representation and integration. By representation is meant that we have institutions both public and private that act as stakeholders and in turn expect a high level of visibility; talking about integration is much more complex, because there are many levels of integration that must be addressed. First off, the festival structure demands that we integrate local artists into the program along with the international artists participating. Integration of local artists can also mean or entail a high level of knowledge and skill transfer. We do all this during what we like to call the "Exploratory Phase", which is basically entails dropping the DAW team into a unfamiliar city and making every effort to make it familiar. This includes becoming aware of the general culture the festival will address, how digital that culture is, the art and non art spaces that will become the stage of the festival, and of course trying to find out who is doing what in terms of arts and technology.
To get back to your question about the image of the car driving down the street, the most important element of integration is becoming aware of what is going on in the world of things in which the festival is to be presented. The car we are talking about was a car whose windshield was plastered with cartoon stickers. So, imagine you're self-sitting at the wheel of that car driving down Singapore's Orchard Road. It is a really surreal experience; the stickers take on a kind virtual elelment as it floats down Orchard road. The image sparked my imaginations and the AR Parade project was born, which was a very important part of the "Window Zoos and Views" exhibit. Basically, the AR Parade mimicked the effect of the stickers on the car window, but instead of a car windshield, we used an iPhone app to view the images. It was very cool, popular on the street and got a lot of clicks.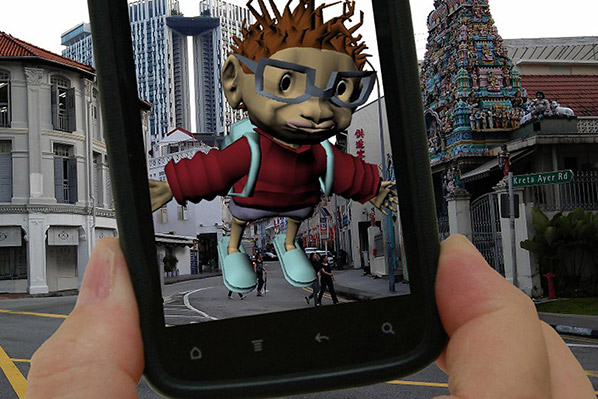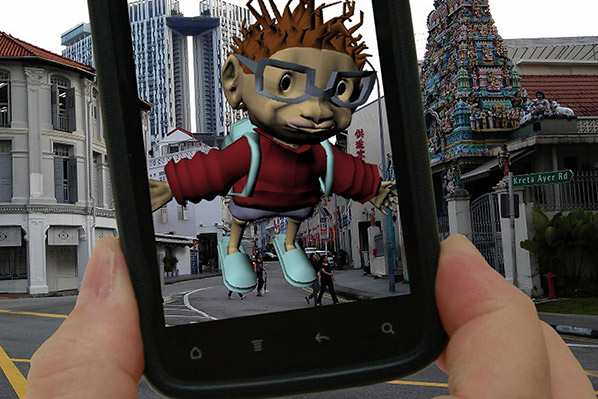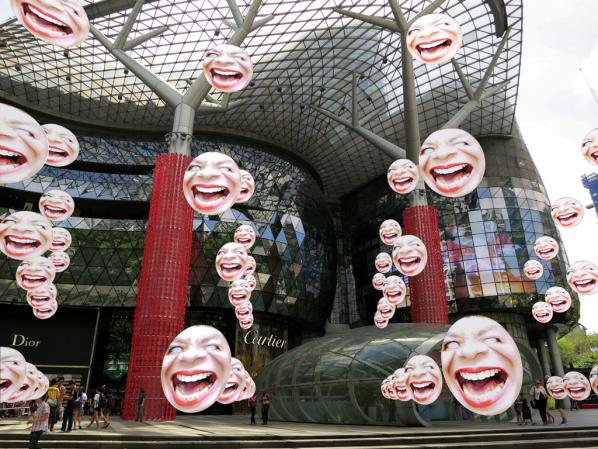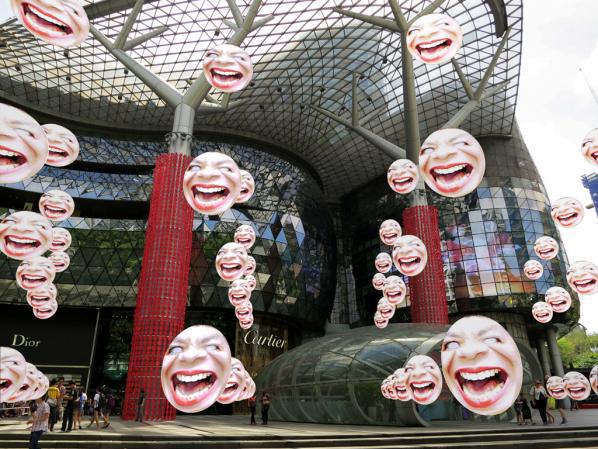 EK: There were various artists in the festival showing Augmented Reality art as installations. This included artists such as Tamiko Thiel (DEU), John Cleater (USA), Will Pappenheimer (USA), Lily & Honglei (CHN), Marc Skwarek (USA), Lalie S. Pascual (CHE), John Craig Freeman (USA), and Curious Minds (CHE). It must of have taken a lot of time and energy to organize this, especially the technological aspects of the project. How difficult was it to set all of this up?
AC: In one word: impossible. It is new area of technology, a new approach to curating art, and above all you are dealing with a non-art public – basically anyone who is on the street. That is a big challenge. Add to it the new type of management skills that such an international project work requires and I think you are close to the impossible that I am referring to. For such exhibitions, "Management 2.0" skills are a necessity. The artists, the tech people, and the curators and admins meet and work solely in virtual space. So there are no walls, no tables, and there is no going for coffee together after the meeting. It is a different world from all sides.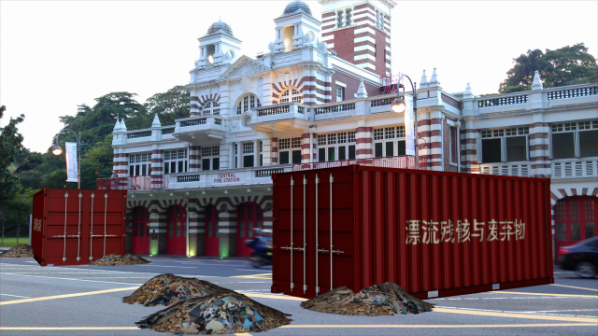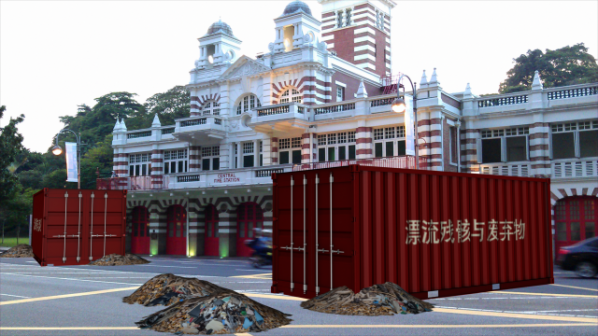 Another interesting aspect of this work is that you have to develop a feel for the city and develop a dialogue with it. For the Hong Kong show we did for SIGGRAPH Asia, Monika Rut and I spent about a week working on site, visiting the different areas of the city to check things out and to get a feeling for which works should go where and why. We travel with a lot of special equipment so that we can make tests on site and produce a mock up of the exhibition and test how the experience of viewing the exhibit will be. It is very inspiring but exhausting work and the dialog between Monika and I helped greatly in making all the decisions. Basically, we get to know the cities we are working in quite well and the kick back is, you get to know where the best coffee houses and local restaurants are.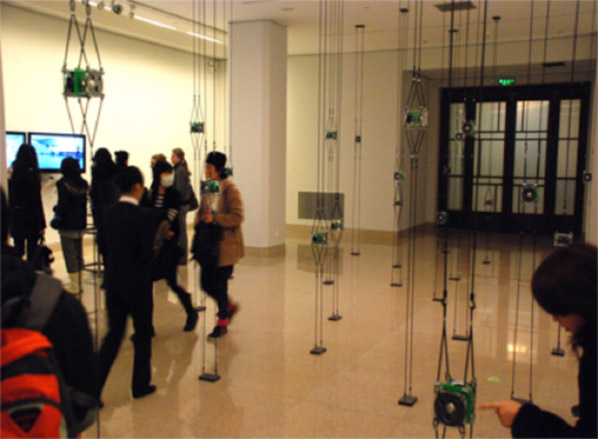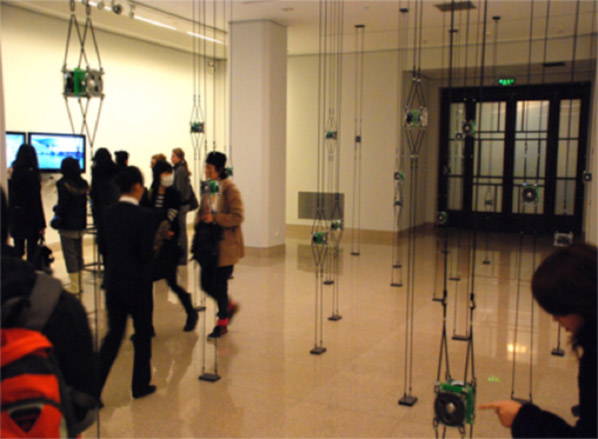 EK: Why hold the DAW in Asia, and what kind of differences do you experience culturally when working in Asia compared to working in Europe?
AC: The DAW is at home in Asia and much of our curating has to do with having visitors get pro-active. This means that it is not just about looking at an artwork, it also entails actually touching the artworks in many cases. In Asia, the museum visitors are not that schooled in museum etiquette. They like to touch things and this is great for the kind of work we like to do. Things break, but it is kind of a "I Like" thing for us.
The other aspect to consider is that you have a language barrier, because no one is going to understand anything if it is not translated. Here, it is also important to know that the approach Europeans take in terms of explaining artworks, does not really come over so well in Asia. Things are often inspired by poetics of nature in Asia and are much less conceptual than works coming from Europa.
Last but not least, the role of size also plays a large part in Asian arts. When a dynasty was at its peek, it produced very large artworks, monuments etc. So size is historically a sign of wealth and prosperity in Asia. When a dynasty fell, they produced much smaller works. So the bigger the better, so to say. For a European artist this is completely meaningless, however, bigger artworks have more visibility. So when you are curating group exhibits in Asia that artists from diverse countries, it is a challenge to keep balance in terms of impact of the works.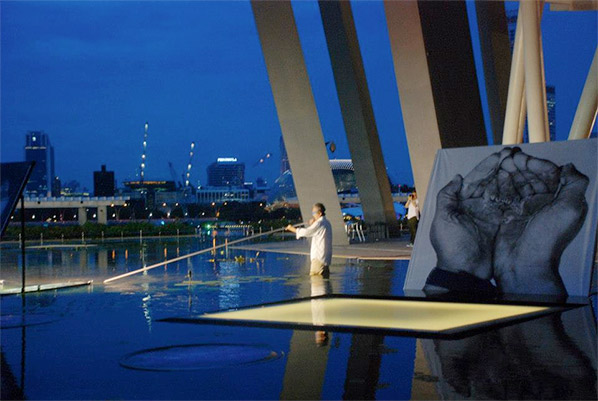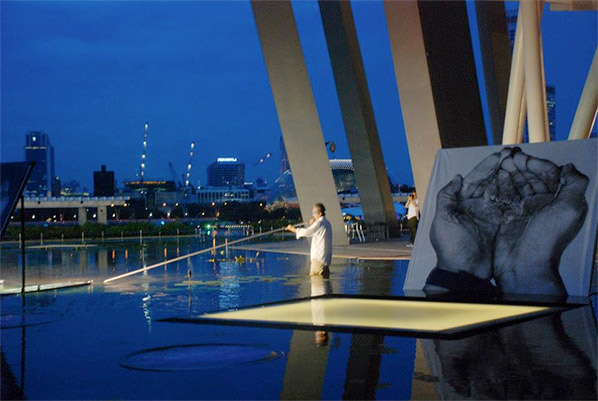 EK: Getting back to There DAW AR Float Parade, which was the first of its kind and celebrated as the coming age for Augmented Reality art. Could you tell us more about this aspect of the festival's project and how it turned out?
AC: Knowledge transfer plays a major role in getting a project like the AR Parade to work. The DAW has an "OutReach Program". This is a program that invites creative leaders from around the world to hold workshops before or during the festival. The contents of the AR Parade in Singapore were the results of a workshop with the AR artist John Craig Freeman and the Curious Minds group. John Craig dealt with the technical details and the bootstrapping a group of twenty-five creative industry students from the Singapore Polytechnic. The members of the Curious Minds art group hung around, integrated the group into the DAW, taught the students about public interaction, and came up with how to go about actually making the AR Parade happen and come to life.
The proof of a good project for me is when it takes on its own life on after its initial presentation. After the Singapore DAW, the AR parade went to Hong Kong and in 2015 it will be shown marching down the Bahnhofstrasse in Zurich as part of the Virtuale Switzerland festival – the world's first festival "virtual biennale" that focuses solely on virtual artwork. For this we want to go a bit deeper into the creative industry world and see if we can act as modern alchemists and pick up on the float parade from New York and turn Miss Kitty into an artwork by shifting context from the real to the virtual.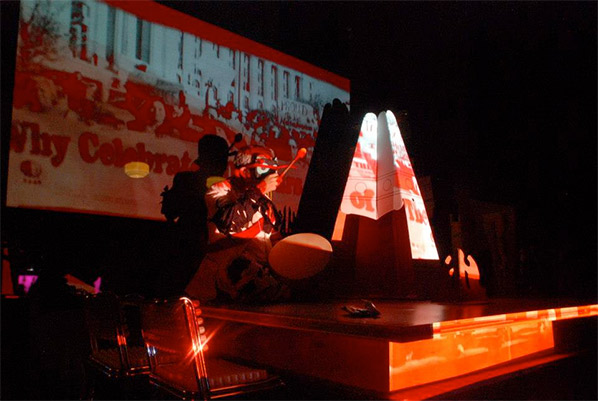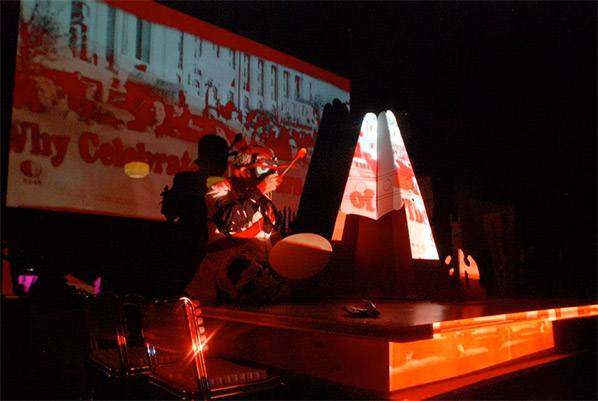 Live- Performance "Beads are the Breath of the Landbridge " with 1st Nations artists, Peter Morin. (DAW Singapore 2013)
EK: What is your view regarding the social contexts of the DAW?
AC: Basically, we are concerned about things and we make an effort to improve things that are within our reach to improve. For the festival in Taipei that will take place in 2015, we are really trying to make people aware of the role of creativity in general. Artists are highly creative people and the world really needs good ideas as well as a more social approach. We try to provide an answer to the question: "How is what we do of benefit to the society in which we are operating?" We think this should be more a question that businesses should be asking themselves. The future needs fewer companies who are "profit first, prosperity second" and more social entrepreneurships that embrace social needs as part of their business model.
EK: Could you tell us what themes and aims we can expect from of the DAW project in the future?
AC: We are off to Seoul, South Korea in 2014 and the theme there is "Creativity and Convergence", which is a hot topic in Asia, because the government feels that innovation is intimately connected to being creative and thinking out of the box. I think they're thinking of what makes the West tick and in an odd and ironic way to imitate – which is not exactly creative, but then again I have lot of respect for Asia and admire the work ethic of Asian people. So I think they will do well by addressing these themes. In 2015, we are off to Taipei and the theme (working title) there is "ImagiNation" and here we are trying to run a kind of "Skills-Festival" and platform creative businesses and the approaches that they have taken. It is a new approach and if you think about what Beuys said, "Everyone is an artists", we might stretch it a bit and also say "everything is art." At least this is the start and interestingly enough we are working with groups from the labor department in Taiwan, with knowledge transfer departments of universities, and with spin off and start up companies from Switzerland. It is very exciting and really what the DAW is about: creating a platform for research and experiments in social-cultural context.
---
Digital Art Weeks International
The DAW INTERNATIONAL's is concerned in general with the bridge between the arts and sciences in cultural context with the application of digital technology in specific. Consisting of symposia, workshops and cultural events, the DAW program offers insight into current research and innovations in art and technology as well as illustrating resulting synergies, making artists aware of impulses in technology and scientists aware of the possibilities of application of technology in the arts.
The Virtuale Switzerland
The Virtuale Switzerland is a biennale for virtual arts. It focuses on the use of public space and mobile communication technologies, inventing "playful" new strategies to coax the public into the festival as "real" visitors with a unique experience of the virtual. The Virtuale Switzerland encompasses Artworks using Augmented Reality, Urban or Location Based Gaming, and Digital Heritage applications. It is interdisciplinary in nature, bridging areas such as art and technology, digital heritage and tourism, as well as digital culture and art mediation.
Featured image: Screenshot of Apodemy by Katerina Athanasopoulou
Eva Kekou interviews Katerina Athanasopoulou about her film Apodemy commissioned by The Onassis Cultural Center on the theme of Emigration for Visual Dialogues 2012, and her hybrid art practice of live action, animation and film. In 2013 Athanasoppulou won the Lumen Prize, described by the Guardian as "The World's Pre-eminent Digital Art Prize". She works as an Animation Director, collaborates with other artists and companies, and is an Animation Lecturer at the London College of Communication.
What is your background and what brought you to London?
I studied Painting at the School of Fine Arts of Aristotle University in Thessaloniki. My work involved large canvases painted in a serendipitous way, building layers, erasing and restarting, seeing where my lines were going to take me. I was frustrated by the stillness of the final piece, longing to recreate the gesture in time that had created it. At the same time, I was passionate for cinema and animation so I tried it out in my own computer at home. In a way, I discovered animation for myself, as there was no film nor digital element in my course. That meant that there was no right and wrong way to go and it was such a joy to be producing moving images, to be able to finally paint in time! My first films were digital cutouts and manipulated live action. The big change came when I arrived in London in 2000 to do an Animation MA at the RCA, where suddenly completely new creative possibilities appeared. Short film festivals were also a source of great inspiration, places to meet like-minded filmmakers and watch films all day long.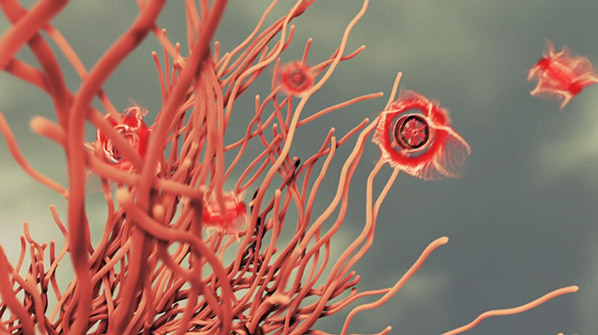 What's the effect of English education in your work and in the way you appreciate art?
When I became a student in the UK, I was at the same time delighted and terrified by the informality of the teacher-student relationship, like addressing your tutor by their first name. I was really impressed by the enthusiasm for research and for the creative journey itself. Process becomes a major part of the work and that frees you from concentrating only on the outcome. I saw how Animation can be enlisted in very different ways, from a more commercial manner to very left-field experimental practices so that was an exciting new point of view for me. At the same time, the early 2000s were a time of conflict between analogue and digital practices – which of course has not quite gone. As an educator myself, I love the intensity of the way that students debate their work, so the English system of education still very much inspires me.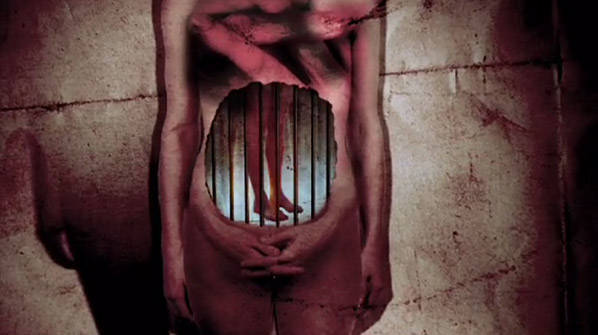 What was your creative practice up to the Lumen Prize.
Since 2002 I have been making short experimental films that have been screened in film festivals and galleries, my process being one of playfulness and embracing chance. I like to try out different ways of creating moving images, and I try to make each film follow a different road, even though it's very tempting – and at times fruitful – to revisit old concepts. In the last three years I have developed a big interest in Architecture and how that can be depicted in time, through 3D, 2D and live action. Animation for me is Alchemy, I combine elements together, in textured space and time and see what happens. These experiments some times involve diving into live action that I have captured on location, and other times are about creating that space digitally.
Animation Installation is a field I'm fascinated by at the moment, devising ways of materialising the digital element, of making it even more about light and shadow. My latest film, Triptych 1, was made especially for the facade of the Museum of Contemporary Art in Zagreb and reimagines it as built of interconnecting corridors.
Talk to us about the theoretical and philosophical background of Apodemy.
Apodemy was commissioned by the Onassis Foundation (Stegi) on the theme of Emigration and the Economic Crisis. It was to be part of an Art Show in an old archaeological park in Athens, called Plato's Academy Park, where the philosopher is believed to have taught. The title of the Installation was Visual Dialogues so I was drawn to Plato's Dialogues where I discovered the metaphor of the human soul as a birdcage. I was very keen to instil in the work philosophical elements related to the space itself. With migratory birds being one of my initial ideas about the piece, the solution of a travelling birdcage in an abandoned half-finished city became apparent. The marble arms were part of Plato's birdcage metaphor, where he describes how, as we grow up we fill our mind/birdcage with ideas/birds. When we need to recall something, we put our hand in the cage and grab a bird. I imagined those hands to be aggressive, so they became statue fragments carried by cranes that eventually mar the trolley cage's journey. Theo Aggelopoulos inspired me with his images of a Lenin statue traversing the river and of a single arm, floating accusingly yet innocently. In times of political upheaval we like to break down our past heroes, in an attempt to cleanse ourselves of mistakes. Only that sometimes those past leaders still come back to haunt us.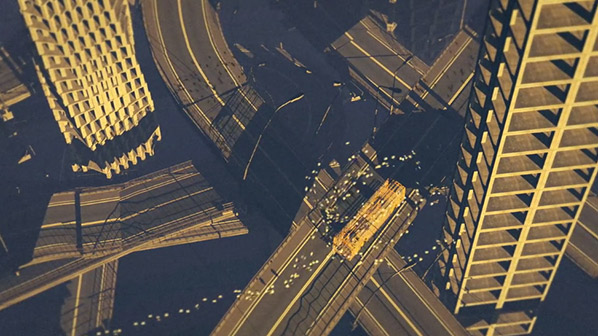 What techniques did you use?
I designed the city on the computer in 3D and then started to drive cameras inside it, discovering it on the road, like I was exploring a real landscape. The film was built like a documentary, following the migration journey of a cage that is also a trolleybus, the yellow kind that I was riding in Athens when – in the late nineties – everything was promising.The construction industry ground to a halt when the crisis took hold so, today, many buildings remain unfinished and look like birdcages themselves. After the City was built, I started making the birds and the bus. Then I moved it inside the city, following a broken road which eventually leads to the fall. The entire film developed through trial and error, it was my first 3D film and I had limited time and resources. But restriction breeds creativity and, in the two months that I had to complete it, I tried to make a film designed in a minimal but impactful way.
What does the Lumen Prize mean to you and how can such a recognition make a difference in your work and life?
Winning the Lumen Prize was a great honour, especially amongst so many great works from entirely different platforms. The prize revolves around fine digital art and encompasses film, installations, interactive work, print, sculpture, collage. Amongst such a plethora of forms, it meant a lot that Apodemy was awarded, both in terms of my digital animation practice, but also as it's a film that's about the collapse of my country of origin. The Lumen Prize show has already been to New York and will also be part of the Digital Symposium at Chelsea College of Art and Design in March, as well as in Hong Kong in June. It's wonderful that Lumen is propelling the film further forwards, and it's been great to meet some of the other artists involved. Seeing the works by Nicolas Feldmyer, Kalos&Klio, Margarita Koulikourdi, Vasileios Chlorokostas and others has been very inspiring.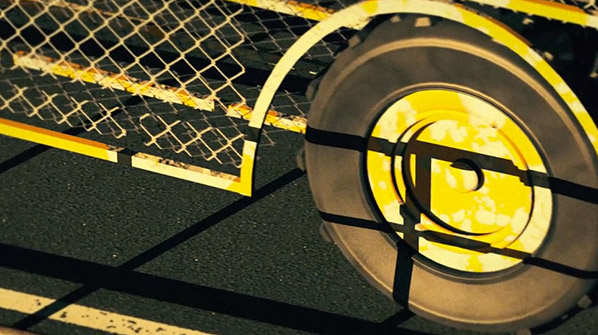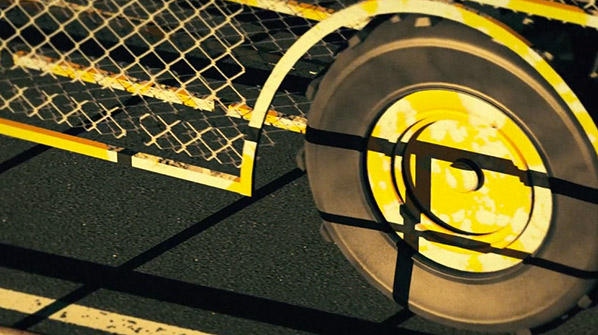 What draws you to animation?
Through cinema, we immerse ourselves in different waters, achieving a kind of immortality. One could argue that also happens whilst reading, or listening to music – yet somehow film combines literature and poetry and music too and almost all the senses get involved. What's more interesting for me is the connection between moving image and the imagined: it's almost like we dream other people's visions and we physically try to make that disconnection from reality by favouring watching films in dark rooms. The cinema I'm interested in is one of spectacle, that transforms reality into a surreal play, that explores light and shadow and looks for monsters under the bed. At the same time, I'm currently very curious about taking animation off the screen and applying it in space, by projecting rooms, objects, corners. For me, there's no greater magic than instilling life in the inanimate and create moving worlds that don't depend on cameras and actors – what's in your head can be made real, a real that's still beautifully elusive and chimeric, that doesn't contain all the answers but asks exciting questions.
What are your future plans?
I have been working on an experimental narrative of an obsessive mother that cocoons her children, which may work as a single screen work or perhaps as an installation that includes a film. I'm also researching the Architecture of Melancholy, which lies somewhere between cabinets of curiosities and abandoned homes. I always have several experiments on the go, it's really about finding the right time and opportunity to commit to a project. As delightful as animation is, it takes time to complete, but it also means that ideas may have time to mature and not be rushed. As long as my ideas keep me entangled, I'm happy.
---
See Katerina Athanasopoulou's work online at kineticat.co.uk