Featured image: Image from Fab Lab (fabrication laboratory), small-scale workshop offering digital fabrication
There is currently a significant amount of interest in the relationship between free and Open Source practices in art and the aim of this report is to map out some of these shifting relationships in contemporary models of education both online and offline. The recent expansion of so-called 'free culture' has contributed to placing the debate over authorship, ownership and licensing of the artwork at the centre of artistic production. Crucially, the transformation of art in the age of global culture and the consequent move from autonomous art objects into cultural artworks and services, has resulted in the emergence of three visible tendencies: 1) free/Open/Source software as artistic-pedagogical method, 2) the critical emancipation of the self-education movement and 3) the digitisation of art education practices into Open Source packages of cognitive labour.
1. Floss as artistic –pedagogical method
One possible way to navigate this complex ideological terrain is the conciliatory term free/libre/Open Source software (floss), seeing it as "part of an emerging transdisciplinary field that deals with different forms of openness." [1] At the heart of the debate is the political distinction between the Free Software Foundation[2] and the Open Source Initiative.[3] The 'copyleft' attitude (free software movement) asserts four freedoms for software: free from restriction, free to share and copy, free to learn and adapt, free to work with others.[4] The Open Source definition,[5] on the other hand, in spite of apparent similarities, has developed into flexible arrangements such as the Creative Commons licenses[vi][6], some of which restrict these freedoms when applied to media/cultural works and publications, not allowing for derivative artwork or its commercial use under specific license combinations.[7]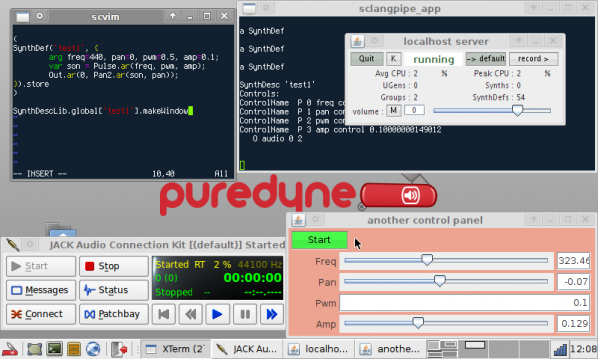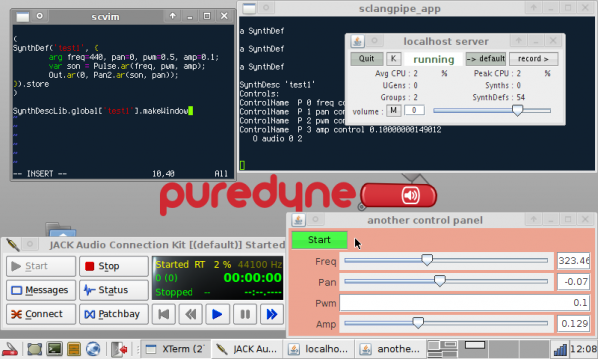 A number of projects, such as the pure:dyne[8] – GNU/Linux operating system for live audio visual processing and teaching – are, however, fully identified with the principles of free software. They have emerged from artists' collectives whose relationship to art education is informally associated with sharing spaces, the hacklabs and free media labs where they run workshops and introduce participants to the use of free digital art tools. [9] Their mode of production is centred on 'live code' and feature two essential characteristics: 1) collaborative- relying on large-scale public participation and 2) distributive- offering the tools and the process notes (notation) to empower the others to carry on the work on their own.[10] This philosophy implies that the artistic performance of the work is complemented by a set of pedagogical approaches associated with the enabling of production by others. [11]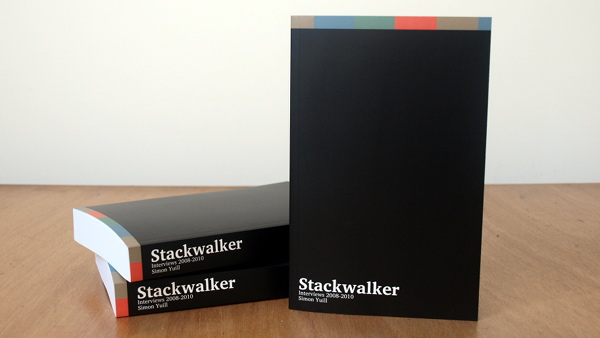 2. Self-organised and self-managed art education
The movement for free education has gained greater relevance as a result of the global financial crisis and the battle for control of university fees.[12] In this context, art education has been developing into an artistic project while also providing an emancipatory movement reacting against dominant forms of institutionalised knowledge production. Within this movement, the role of free/open technology has been central in the mediation of self-education as a social movement.
On the one hand, artists –freelancers, sometimes temporarily/precariously plugged into educational institutions whilst working as teachers, others times as workshop facilitators in free access spaces– have opened up their classrooms to the environment of the read/write web, and with their students-collaborators, have produced and shared in wikis, blogs and Second Life, art and education resources that make an increasingly significant contribution to a larger body of knowledge that is the web. [13] Wikiversity is a model of this confluence of self-education movements and open online education.[14]
In parallel with the above-mentioned tendencies of online systems, numerous critical projects have appeared that are associated with the reclamation of space that occurs as artists have found themselves at the forefront of self-organised and self-managed self-education projects.[15] Some have happened side-by-side with the reclamation and occupation of spaces such as the Temporary School of Thought[16] and the Really Free School.[17] Part of these groups activity is the establishment of a free programme of workshops on topics that can range from free software tools to Ivan Illich and Deschooling Society.[18] Others that make opportunistic incursions into the artworld such as the Bruce High Quality Foundation University,[19] the Future Academy[20] or Unitednationsplaza,[21] are platforms for experimental art as research, investigating the production of knowledge that occurs when art education itself becomes artwork or exhibition.[22]
3. Open Source Repositories
While the debate on free education has been enjoying significant visibility, the Higher Education sector has also joined in. A few recent initiatives have supported universities of the arts developing virtual learning environments and providing access to open education resources (OERs). This is the case with the JISC Practising Open Education Project (2010-2011)[23] with six art, design and media departments in UK universities. A number of these OERs include art work (photographs, drawings and videos), but the majority are art theory, mostly research papers, dissertations and art education research documents produced by artists-teachers-researchers as part of their continuing professional development. These are distributed with Creative Commons licenses with varying degrees of freedom, but rarely have the 'copyleft' attitude that has been associated with the free software.
Such an enterprise can be interpreted in the light of current debates in the fields of immaterial labour and cognitive capitalism revealing that whilst (digital) art becomes postproduction, art education is being packaged into open resources that circulate as part of the capitalist system, and become central to the new eLearning/networked economies. In addition to filling a gap in subject-specific open resources, this raises the question: why is the free and the open so popular in contemporary art education? A cynical hypothesis is that art education, by declaring itself as a type of production of knowledge, attempts to gain a new legitimacy, in the bureaucratised global knowledge market. The other possibility is that in the face of such a doomed scenario, art education searches for new possibilities beyond pure commercialism, reclaiming access through "contingencies of opening and mobility of cognitive packages beyond confines of ownership." [24]
Projects
1. Floss as artistic –pedagogical method
The Digital Artists Handbook
The digital handbook, published by the arts organisation folly and artists' collective GOTO10 in 2008, aims to give artists information about the available tools and the practicalities related to Free/Libre Open Source Software and Content such as collaborative development and licenses.
FLOSS+Art
This book edited by Aymeric Mansoux and Marloes de Valk in 2008 reflects critically on the growing relationship between Free Software ideology, open content and digital art. With contributions by: Fabianne Balvedi, Florian Cramer, Sher Doruff, Nancy Mauro Flude, Olga Goriunova, Dave Griffiths, Ross Harley, Martin Howse, Shahee Ilyas, Ricardo Lafuente, Ivan Monroy Lopez, Thor Magnusson, Alex McLean, Rob Myers, Alejandra Maria Perez Nuñez, Eleonora Oreggia, oRx-qX, Julien Ottavi, Michael van Schaik, Femke Snelting, Pedro Soler, Hans Christoph Steiner, Prodromos Tsiavos, Simon Yuill. Available both in print and as torrent download
Technology Will Save Us
The project by Daniel Hirschman & Bethany Koby is a haberdashery for technology and alternative education space dedicated to helping people to produce and not just consume technology.
Openlab
Openlab Workshops was started by artist and educator Evan Raskob in mid-2009 to fulfil the need for practical education about digital art and technology. Floss workshops are developed and taught by working artists and media practitioners, giving participants direct access to practical experience.
GOTO10
GOTO10 is an artists' collective that organises floss workshops on subjects such as Pure Data, Linux audio tools, physical computing, SuperCollider, puredyne, RFID, Audio Signal Processing, and other related areas of practice.
UpStage
UpStage is an Open Source platform for cyberformance and education: remote performers combine images, animations, audio, web cams, text and drawing in real-time for an online audience. Initiated by the globally dispersed performance troupe Avatar Body Collision, it runs the annual Upstage festival, open to proposals.
2. Self-organised and self-managed art education
Really Free School
Free school based in a squatted London pub. "Amidst the rising fees and mounting pressure for 'success', we value knowledge in a different currency; one that everyone can afford to trade. In this school, skills are swapped and information shared, culture cannot be bought or sold. Here is an autonomous space to find each other, to gain momentum, to cross-pollinate ideas and actions." (Communiqué #1)
Bruce High Quality Foundation University
A free university project set up by NY-based artists' collective The Bruce High Quality Foundation. "We believe in the artistically educational possibilities of collaboration. Collaboration, as we mean it, means a group of concerned people come together to hash out ideas, try to figure out the world around them, and try to take some agency within its future. That's the why and how of The Bruce High Quality Foundation. BHQFU is an attempt to extend the benefits of this collaborative model to a wider number of people."
Unitednationsplaza
A temporary, experimental school in Berlin, initiated by Anton Vidokle following the cancellation of Manifesta 6 on Cyprus, in 2006. Developed in collaboration with Boris Groys, Liam Gillick, Hatasha Sadr Haghighian, Nikolaus Hirsch, Martha Rosler, Walid Raad, Jalal Toufic and Tirdad Zolghadr, the project travelled to Mexico City (2008) and, eventually, to New York City under the name Night School (2008-2009) at the New Museum. Its program was organized around a number of public seminars, most of which are now available in their entirety online.
FOSSter creative Learning
Lesson plans that can be used in the art classroom, developed by The FOSSter Creativity Team, a group of students of the University of the Arts (USA)
3. Open Source Repositories
University of the Arts institutional OER repository
University for the Creative Arts institutional OER repository
VADS (Visual Arts Data Service) A collection of over 100,000 art and design images that are freely available and copyright cleared for use in learning, teaching and research in the UK.
OER Commons A repository of materials about teaching, technology, research in the emerging field of Open Education. Art materials at OER commons.
---
You can find paula's original article on Collaboration and Freedom – The World of Free and Open Source Art http://p2pfoundation.net/World_of_Free_and_Open_Source_Art
This article is part of the Furtherfield collection commissioned by Arts Council England for Thinking Digital. 2011
In September 2012, Italian tactical media artist Salvatore Iaconesi got the diagnosis. He had a glioma (glial cell brain cancer) of approximately 2×3 cm on the surface of his right hemisphere. Upon asking to see all the data relating to his condition, he found that all of the documents, MRI scans, and so on were in obscure not readily used formats. This meant that if one wanted to view the data, you needed specific or corporate software.
What he did then was remarkable. Iaconesi then hacked the formats of the documents and converted them into open-source ones that anyone could read could read with FLOSS (Free Libre Open Source) software. He then created the site, La Cura, where he presented his records as an "open source cure". People around the world could access his records and then add their recommendations and findings about his condition, cancer, and so on. I begin this interview with Salvatore on September 15, 2012, and the La Cura website already has a rapidly expanding database of information at http://www.artisopensource.net/cure/.
Patrick Lichty: Salvatore, thank you for having this conversation. I remember that it was only a year and a half ago when we were shop-giving copies of the REFF tactical media book from your project, Fake Press in Rome. So, it was a shock when I learned of the glioma the day you launched the site. Could you talk a little about what is on the La Cura site?
Salvatore Iaconesi: Hi Patrick! Yes I do remember, too. And that is also a great explanation on what can be found at La Cura site: it is like one of our "fakes", except that it is not a fake.
La Cura is about an alternative reality which I want to materialize on this planet, now. In this alternative reality, when someone has a serious disease, life does not end. One can be social, creative, and friendly. Work, art, design, fun and entertainment are possible for diseased people in this alternative reality, just as it is possible to reach out to find cures in any philosophy, time, strategy, culture or way one wishes. And consider that even technologies in this alternative reality are designed to enable and facilitate all this, actively promoting the freedom and autonomy of people.But, sadly, life is not like this alternative reality.
I wanted it to be my alternative reality, so I just did everything it took to bring that reality into the world. It's like when you make an Augmented Reality application: you do a series of things to "materialize" some other things into ordinary reality. And then you have them, right there. So, La Cura is my personal Augmented Reality, in which, if I want to, I have all the tools and information I need to find a "cure" for my disease in one of multiple ways and strategies, which are medical, cultural, technological, emotional, artistic, political etc.
To achieve this, I have had to go through a series of obstacles:
The first is connected to language and information, as the first thing you notice at the hospital is that they are not really talking to you. Medical language is difficult and complex, and they rarely take action to make things more understandable to you. One of the testimonies I received in La Cura was that of a lady who has found herself in front of a doctor shouting at her: "You really think that I will explain to you why your thyroid has to be removed? It has to be removed! That's it!"
This is really not "open", in any sense. And, in more than one way, it is an explicit evidence of the approach which medicine has towards patients: they cease to be "humans" and become sets of parameters on a medical record subject to certain protocols and standards. When you are in the hospital, it's often as if you're not there. The only thing that matters is your data: blood pressure, heartbeat, magnetic resonance etc.
And the way in which information reflects this if handled in this context. Data formats may be, technically "open", meaning that they are described somewhere but they're really an explicit reflection that when you're sick you "step out of society". That data is usable and accessible only to "professionals" and to those people who have tools and skills to handle them.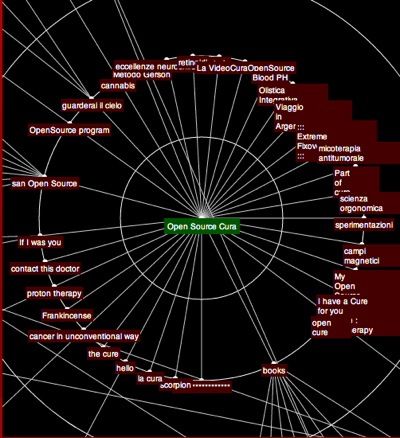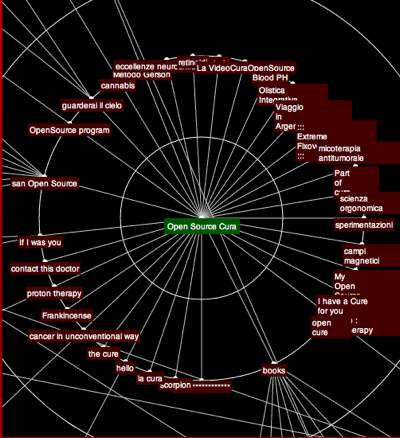 I, as someone with considerable expertise with computers, have had some difficulties in opening them. Imagine someone else with less skill! Most people would not have been able to benefit from all the types of "cure" which I am currently accessing from a variety of sources and modalities. They would not have access to a "cure" that doesn't end at a list of medicines and dosages, but spreads out into society.
To do that, I have had to hack into the information and convert it into really "open" data, using multiple formats that could be used by many kinds of people to do multiple things. In the format that the data was originally in, even if it was "technically open", that data would have been seen only by "professional doctors" and, instead of being a "human being", I would only have been a "patient", or worse yet, a "case".
PL: What do you want people to do with the information?
SI: Whatever they wish! Obviously! What is important in this case is that we must agree on what the "information" is… What I am publishing is my autonomous will to disclose my state of disease, including all data and medical information. I have my own purposes for this, but it does not necessarily mean that this purpose must/should be shared by others.
My personal purpose for this disclosure is to autonomously shape my own human condition. I have a disease but I am not a "diseased person". I am a person. And, as such, I wish to create my personal "cure", which has to do with my life, not with my disease. For what people know, I might even consider cancer as not being a "disease" at all! I might, for example, consider it an expression of the "cure", such as if I adhered to Hamer's theories. Which I don't, or, at least, not in the sense that "I believe" in Hamer's theories; I take them into consideration, but I don't believe in them, just as I don't believe in chemotherapy, in Aloe Vera, in Caisse Formula, in surgery, in shamanism, in healers, oncology or in any of these things. I take all of them into serious consideration, just as I seriously consider certain philosophies that say that we are made of energy, energy creates matter, and cancer is "matter" and so on. Therefore, cancer must be created by energy in some form. And so it could possibly be that I created cancer myself in a way or another.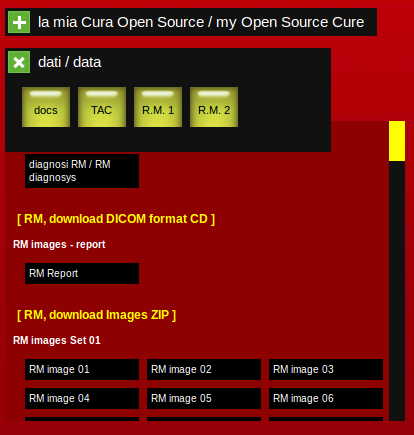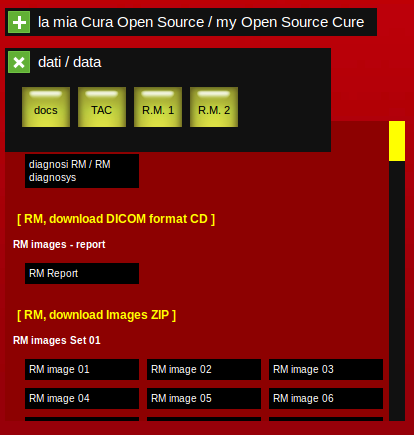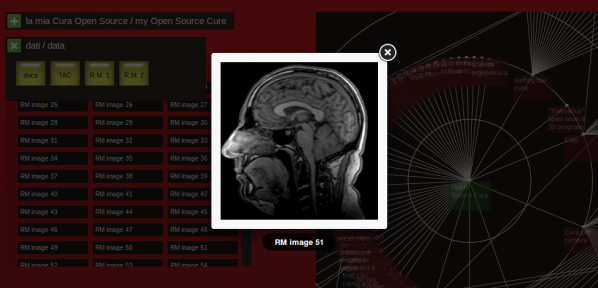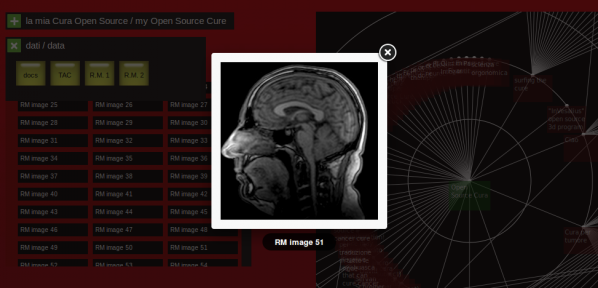 So in this sense, I think it is very important to be able to easily look at the images of my cancer and to say "hello" to them. It is important to turn them upside down, to edit them with GIMP, to make mosaics out of them, to speak to them, asking "hello?" What are you doing in there? Did I do something to cause you? Can I change something to make you/myself feel better?"
Both scientific and traditional evidence shows that art, positive emotions, laughter, reduced stress, and a good social life have great practical benefits to the human body, I want to seriously consider that part of my cure could be formed by receiving an image of my brain with a smiley face drawn across it over the tumor, or a picture of a friend of mine, or a video of a projection mapping done with Processing in which the images of my cancer cover a whole facade of a building.
And since I don't want to believe, but I want to take all of these things into serious consideration, I cannot focus only on the "medical" approach (and the related information, and its formats). I need to access all of my information in multiple ways, and I wish that everyone could do the same (as, from my point of view, it's part of my Cure). And, even if "technically open", the format in which my medical records have been disclosed is not enough, because it is "open for professionals" and so the only thing I could do with it would be "show it to professionals", missing out on all the other wonderful parts of the "cure" which are available in the world.
This for me, is an interesting starting point to think about what things such as "OpenData" could mean. This is far beyond the idea that some government can some data according to ways in which some "professionals" could grab it and, do something like make a visualization or an App out of them. Who knows? In this sense, instead, we would not be talking about "technology", we would be talking about "humanity".
In the end, this is exactly what I'd like people to do with the "information". I want the world to take the fact that I decided to disclose the fact that I have a disease and that I want to actively search for a cure for from all of these perspectives. In the meantime, I want to reconsider what it means to be "diseased" in current times and what new conceptions of the word "cure", "medicine" associated with my condition could mean.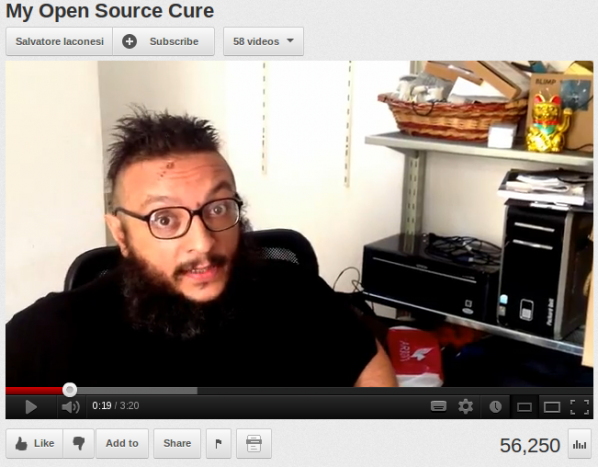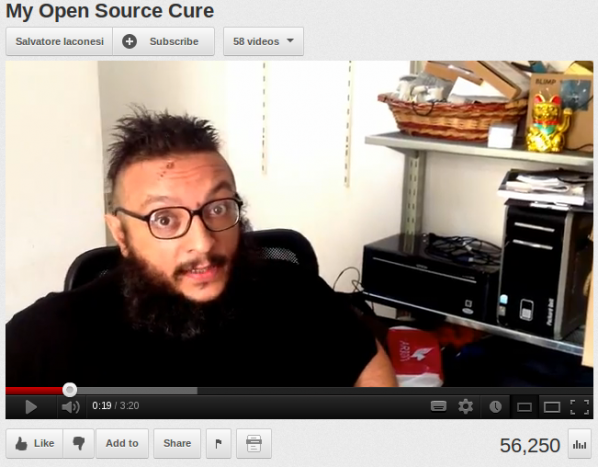 PL: What has happened since you launched the La Cura site?
SI: Lots of things. People are contributing and participating in multiple ways. There are testimonies, art, poetry, suggestions, videos, performances. Many doctors have called in to propose their methodologies and technologies. I have had very interesting and profound discussions with people who are prepared to deal with very complex things every day of their lives. I've communicated with doctors who are perfectly open to the possibility of such a paradigm change for the word "cure". Artists, designers, activists, are giving me wonderful parts of "cure". Many "patients", "ex-patients", "relatives" and "friends" of "diseased people" are sharing their experiences, are opening discussions, are sharing the information I found on possible medical cures. And so many people want to talk to someone in new and different ways, becoming again, simply, humans. Journalists from all kinds of media have started to ask for interviews, texts and videos. We stopped that after a while, as we don't wish to turn this into merely a "spectacle". We only keep on working on this with journalists which we know we can trust and which we know will not transform what we say to produce their news.
PL: For your information, I had an MRI in 2009 here in the States, due to my doctors' concerns of something similar (nothing was found), but when I asked for the data, I got a CD full of JPEG images. Were you surprised when you found out your records were in particular formats?
SI: They were not really in a proprietary format. Let's call them "exotic formats for professionals". And yes, I would have expected something which I could have shared easily (such as your JPEG images, and maybe some meta-data in some easy to use format such as XML, or even a spreadsheet). But this was a sort of paradox: an "open" format which is really hard to open and to use for something else other than putting the CD in an envelope and (snail)mailing to the next doctor.
PL: What do you think the line is between privacy and data oppression? Would that be when the patient is denied access to their rights to access the information and distribute it as they wish?
SI: We should all know this by now. Privacy is not a problem unless the "system" is made by lousy people. We have tools to protect ourselves and to promote ourselves, and these tools are dangerous only when who runs them is a lousy person. Privacy protection arises through education (understanding what is privacy and when/where/how/why would I want to protect it) and through the acquisition of decent ethics from the people and organizations which run the entire infrastructure through which all our digital data goes through. And obviously, and most importantly, our ethics is created by helping each other out in a P2P way, teaching each other what we know, what we discover and how we decided to handle it when we found out.
There is no single line between privacy and data oppression. Not one which everyone would agree on. We have the tools for each one of us to tune this line to our own wishes, according to what we want to do, what are our desires, what are our objectives etc. We "just" need more places (physical, digital, virtual, institutional, occasional…) in which to discuss and share our points of view, as every time this happens, many things are learned on all sides.
PL: Do you consider your site a form of radical tactical media intervention?
SI: I can now say "I have a radical tactical media intervention in my head". Cancer is the new Black. The Cancer is the Message. And we could go on. I don't know. I guess I could call it that. I also guess I could call it a performance. I guess I could call it life. I guess I could call it hacking or whatever. I will just call it La Cura.
PL: What has been the most inspirational information, art, or otherwise that has resulted from the launching of the La Cura site?
SI: The most enlightening thing that happened is the experience of talking about the same exact thing using dozens of different languages. I have spoken with neurosurgeons, shamans, nutritionists, pranotherapists, doctors, activists, macrobiotics, hippies, cyberpunks, punks, friends, relatives. Most of the time, I received incredibly good advice. When you look at that advice from different points of view, you start to understand that you are really talking about the same thing, but in different languages.
For example, two of the most important things which you deal with when you talk about cancer are the idea of creating alkaline environments in your body (because cancer cells cannot stand them) and the facts that anti-oxidants are a great tool in support of any type of therapy (because of the molecular reactions which are at the base of cancer).
Well, speaking of just these two, it occurred to me that multiple theories deal exactly with these two concepts. I have had an esoteric master describe my cancer as an invisible living being, and he suggested to drive it away using sulfur and Rosa Rubiginosa oil, in ways which turn them into two incredible anti-oxidants and creators of alkaline environments as well as powerful stimulants of the immune system. I have also spoken with nutritionists and macrobiotics communities and learned about their instructions on choosing food, cooking and eating, many of which are directed exactly to that: anti-oxidants and creating alkaline environments, but through food.
And when an oncologist explained us his therapy, that's exactly what it was about: powerful anti-oxidants and alkaline environments. And on, and on and on. Aloe Vera, Caisse formula, fungus theory, chemiotherapy, Di Bella method, potassium ascorbate, ketogenic diets, etc: all highlight cancer cells in some way; create an environment around them which is as alkaline as possible; anti-oxidate them; activate the immune system as powerfully as possible so that the highlighted weakened, cancer cells can be more easily "convinced" at mutating back to a decent form or to commit suicide with the help of the immune system. Realizing this is an enlightening experience: it spans across thousands of years and also helps you make some choices (things stand out when they speak about different things!).
Everything else that is going on in La Cura is wonderful, but having realized this fact is just incredible and fascinating. You start imagining about all the other things we discuss about in our daily lives using multiple languages (energy, politics, emotions…) and start to wonder what would happen if you turned on this shared, P2P modality in those cases as well.
PL: How do you hope that others will benefit from the conversation that you are starting through La Cura?
SI: I don't "hope" anything. I did this because I felt I needed to. When one talks about "revolution" dialogues start arriving at the point when one says, "Let's burn everything down!" "Let's destroy everything!" and so on.
We know we can't do it. We can't "destroy everything". It's not possible. What we can do is to create a reality as if everything already happened – as if the "revolution" already happened, as if the world had been burned down already, and rebuilt, just the way you like it. We can live life like this. It is a bit more than "seeing things". But you do Augmented Reality, Patrick. You know what I mean. It's a bit more than "writing", it's about creating worlds.
PL: As of this interview, what is the prognosis of your condition?
SI: Depends on what perspective you look at it from. From the medical point of view I have a low-grade glioma at intensity which is still undecided, between 1 and 2 (we will have to wait an histologic exam to know for sure). From the human point of view: I am fine! I have no apparent symptoms. I just need to be careful because if I find myself in stressful situations I could react by having an epileptic shock. So it is not advised that I drive or things like that. It's the perfect excuse! 🙂
PL: Don't you think it's funny that the abbreviation for your name is "si"?
SI: Sì! Obviously 🙂
Featured image: London Hackspace http://wiki.london.hackspace.org.uk/view/London_Hackspace
…the machine is always social before it is technical.
(Gilles Deleuze)
Though the term 'lab' conjures the image of a fairly sanitised environment optimised for scientific experiments and populated by people in white coats, media labs – centres for creative experimentation – are quite different. At their most basic, they are spaces – mostly physical but sometimes also virtual – for sharing technological resources like computers, software and even perhaps highly expensive 3D printers; offering training; and supporting the types of collaborative research that do not easily reside elsewhere. In the early-to-mid-1990s, partly propelled by the exciting possibilities of the internet and associated web browser technologies, groups began to coalesce, bent on developing access to the inherent potential of collective creativity. With the exuberant new dot.com businesses fuelling a 'creative economy', the Californian 'cybercafé' (surf the internet and slurp the coffee) was emulated in urban centres around the UK and in some cases artists were heavily involved. They saw the internet's myriad ways of changing the way we make, think about and share art – not to mention its capacity for social empowerment – and wanted to harness these qualities quickly and effectively. With many practitioners coming from the spaces, practices and communities forged by the independent film and video movement, the phenomenon of the UK media lab was born. However, despite the importance of these spaces as the hybrid homes of the then emergent and now embedded creative activities that characterise today's rich field of digital and media practices, their history and contribution to current lab environments has been little discussed outside a niche arena.
History
Early Media Labs
Two of the earliest UK media labs were Artec and Backspace (aka Bakspc), both based in London. Artec, which was established in 1990, was initially funded by Islington Council and ESF (the European Social Fund), but soon won additional support from Arts Council England. Conceived by Frank Boyd and Derek Richards, its focus from the outset was to deploy technology for social empowerment and, early on, it provided valuable professional training to the long-term unemployed. In this sense, it did not operate from within an arts context proper, but combined art and technology in the name of social integration. Creative projects were led by Graham Harwood, whose own artistic practice and his collective Mongrel were formed through associations at Artec.
Harwood and Mongrel's practice is known widely for scrutinising social, political and cultural divisions through a framework of technology. A notable piece from this period was Rehearsal of Memory (1995), which took the collective experiences of staff and patients at Ashworth high security mental hospital, near Liverpool, and presented them as a unified and anonymous computer-based group portrait. Now available as a CD-ROM, the work strongly undermines the assumptions we make about mental health, blurring the line between those branded 'normal' or not. It is an excellent example of the way artists and media labs habitually combine creative activities with technology to give people a renewed agency. Around 1995, Peter Ride was brought on board to curate a stream of activity called Channel, which lead to further powerful artworks including Ubiquity (1997) by David Bickerstaff and Susan Collins' In Conversation (1997).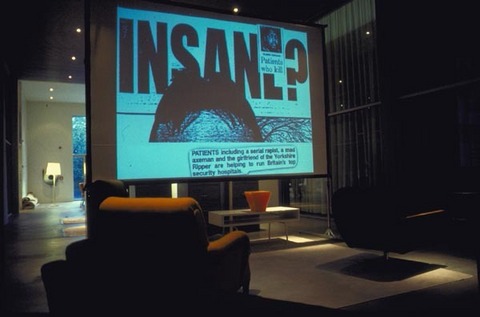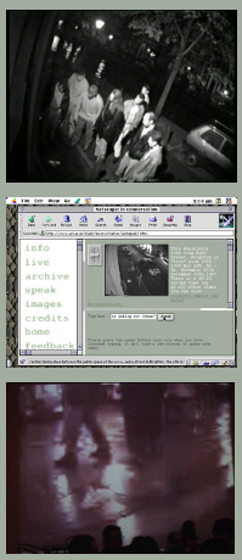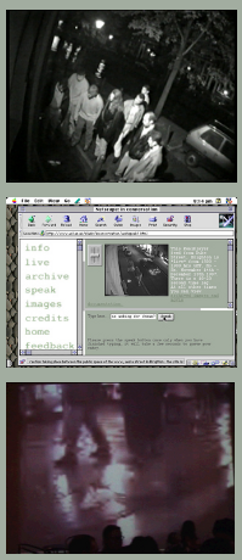 Without regular public funding, Backspace started out as an independent self-organised cybercafé. Initiated by James Stevens as a 'soft space' adjunct to his commercial web design business, Obsolete, it had a physical studio and lounge on Clink Street. People could drop in and use the web access and computer terminals in exchange for a nominal membership fee and commitment to maintain the space. What is notable about the Backspace model is how it attempted to foster a co-operatively managed resource. It exemplified a preoccupation amongst internet culture devotees with autonomy and new forms of governance, and struggled with all the contradictions of such ideals alongside the fact of its commercial parent entity. Obsolete shared its (at that time) capacious bandwidth. This gave people web hosting and streaming capabilities that would otherwise have been prohibitively expensive; allowed for the hosting of many artistic projects produced within the space itself; and facilitated many early streaming experiments with link-ups between other European media labs including as E-lab in Riga, Lativa and Ljudmila in Llubljana, Slovenia. Early attendees and co-facilitators of Backspace now list some central figures of the Digital and New Media art fields including: Matt Fuller, Simon Pope, Armin Medosch, Heath Bunting, Ruth Catlow, Pete Gomes, Manu Luksch and Thomson and Craighead – even Turner Prize winner Mark Lecky was a regular for a while.
Globally distributed discussion networks provided a discursive layer for these media labs, with early mailing lists such as Nettime, Rhizome and Syndicate forging international connections around technology, art and politics. Likewise, Mute (at first a newspaper, then a glossy magazine, now a web journal) provided regular critical commentary on burgeoning digital culture.
Foundationally different, Artec and Backspace were united by a belief in the importance of access to tools and training within a social context. In slightly differing ways, they put creative experimentation and social concerns at the centre of the agenda via technology. This was to become an important organisational strategy for this sector. Though both spaces have since closed, Stevens continues to build social and technological infrastructure as Deckspace, at Borough Hall, Greenwich. Without a physical space, Frank Boyd has evolved his media lab system into an industry-orientated programme called Crossover, which assembles creative professionals to workshop cross-platform 'experiences' from a variety of creative arenas including film TV and the computer games industry. Crossover is one of many peripatetic media lab models that privilege collaborative creative processes, although it is more goal-orientated than most as participants often pitch to a panel of industry commissioners.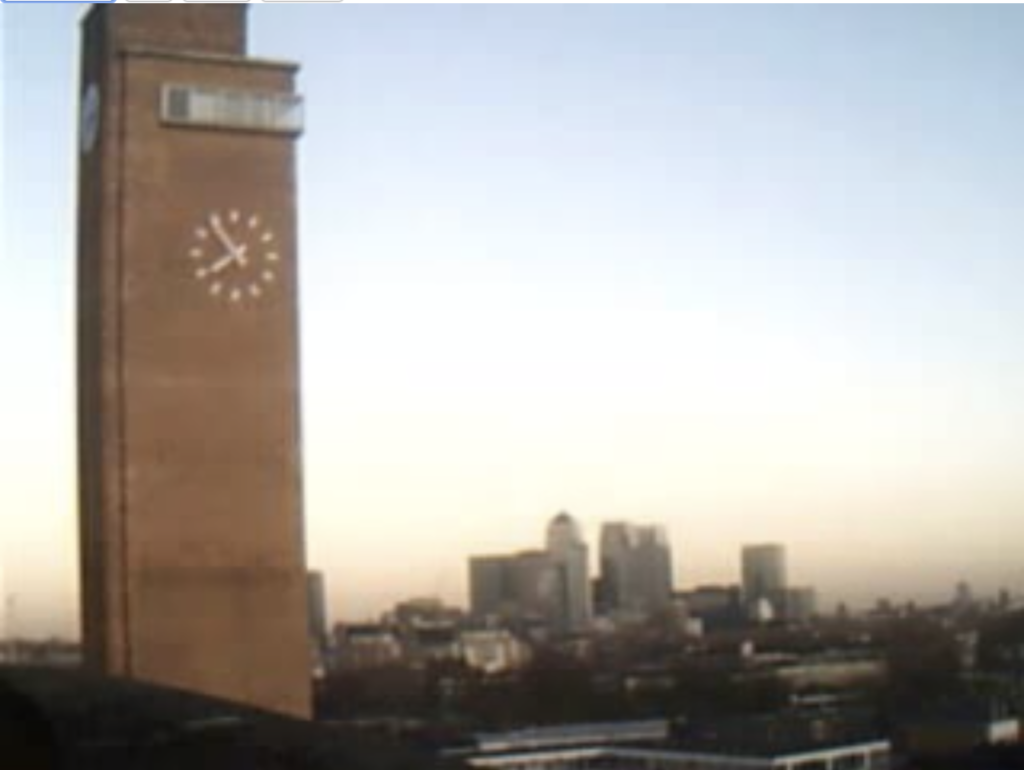 Process over Product
With less of an eye on industry and an abiding interest in the creative process itself, PVA MediaLab was formed in 1997 by artists Simon Poulter and Julie Penfold. In its first incarnation, it took up residence at Dartington College of the Arts, with funding from South West Arts. While there, artists were offered a well-equipped space in which to experiment with technology and develop ideas. In fact it is this developmental freedom that forms another core operational component of the media lab. Rather than asking artists to arrive with pre-formulated projects, or expecting them to see a piece through from start to finish, media labs have consistently placed value on self-determined exploration. PVA helps artists to manufacture methodologies rather than final artworks, fully designed products or content packages. They have also led the way in assisting other media labs to produce a similar system, through their Labculture programme. Highly itinerant, the Labculture model adjusts itself to host organisations, like Vivid, in Birmingham, so they can learn how to set and achieve goals while building the sorts of lasting partnerships that will sustain future activity.
This shared or Open Source way of working integral to media lab culture is also exemplified by GYOML (Grow Your Own Media Lab). A collaborative project between media labs Folly, Access Space and the Polytechnic, GYOML was designed to help generate more media lab initiatives. It has included: 'GYOML in a Kitchen', a sound recording and editing workshop by Steve Symons (Lancaster); 'GYOML in a Van', which staged an introductory workshop in media-lab culture for community group leaders (Lancaster); a game-centred 'GYOML for teenagers' (Rochdale); and 'GYOML at the Canteen', catering to film-makers and professional artists with an interest in open source (Barrow-in-Furness). Legacies of this project include the Digital Artists Handbook, an impressive guide to Open Source tools and techniques and 'Grow Your Own Media Lab (the graphic novel)', a set of inspiring case studies. Folly continue to work very much in this manner, forming essential infrastructural relationships as and where needed and guiding others through the adoption of free software.
Another example of this attention to operation and openess comes from GIST Lab, in Sheffield, which energises community-based projects through a space that hosts meetings and workshops. Even without a dedicated tech suite, their knowledge-exchange is a short-cut to all manner of original cross-over work, and they have supported yet another project that literally and metaphorically recreates aspects of the media lab model. 3D printing (or rapid prototyping) is increasingly popular in producing anything from car parts to jewellery, by layering materials like plastic into finished three-dimensional objects. RepRap, however, is able to print the spare parts it needs to be built while it is still itself under construction. Just like media labs, this self-replicating 3D Printer is all about sharing access to a successful system.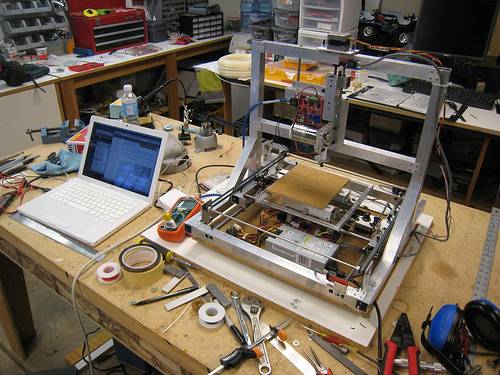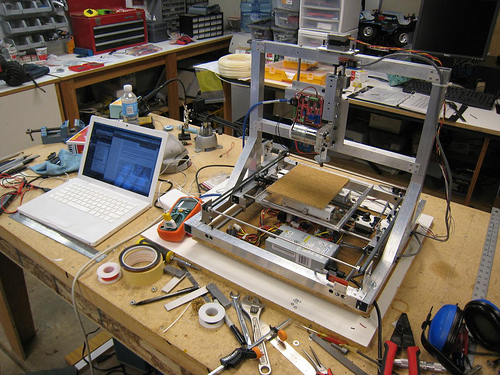 Ideas over Technology
If media labs are not driven by material production, neither are they all about technology. Arising from the work of the art group, Redundant Technology Initiative, Access Space in Sheffield established its media lab through the use of free and recycled technology and learning. Given our cultural predisposition for wanting the latest, fastest equipment and our reprehensible dumping of perfectly serviceable technology, abundant hardware is sourced from all manner of locations. The latest Free and Open Source software is installed on the hardware where expensive proprietary software once lay and the media lab space, complete with this equipment, is opened to the public five days a week. The one proviso placed on this access – continuing the recycling theme – is that once a media lab participant has learnt how to do something, they should pass this knowledge on. As evidence of the success of this system Access Space boasts impressive outreach capacity: more than a thousand regular visitors, of which only about thirty-five percent are university educated, and over half are unemployed, and they habitually work with people experiencing disabilities, learning disorders, poor health, homelessness or other measures of exclusion.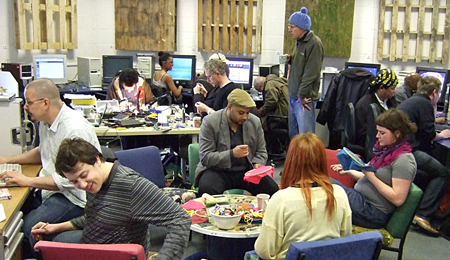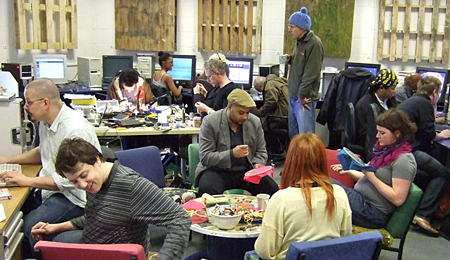 One of the projects that clearly shows what they do is Zero Dollar Laptop, a collaboration with the Furtherfield organisation and community. Through a series of workshops, homeless participants are given the ability to use and maintain a free laptop complete with free software in self-led creative projects. It is this model of learning through self-directed creativity that arises again and again in media labs because it provides demonstrable results in helping people acquire and retain the skills they need. Without 'bells and whistles' new technology, Access Space emphasise the importance of ideas over technology and demystify all manner of computer-based skills. SPACE Studio's MediaLab is also an excellent example of a lab working at a range of levels to offer beneficial specialised training. They teach software packages at a professional level to film makers, artists and a range of media industry workers, as well as offering film-making and media training for NEET (Not in Education, Employment or Training) teenagers in the local area. There are also a number of DIY Technology workshops including those regularly hosted by MzTEK who have expanded their operation as a result of their connections with SPACE. MzTEK are all about encouraging women to build technical skills and enter the new media sector. Growing from a small group to wide and supportive network they answer underdeveloped areas of knowledge. In addition to this, SPACE's PERMACULTURES residency series has, to date, hosted eight residencies supporting over eleven artists, helping them explore technology and go on to show in a range of spaces.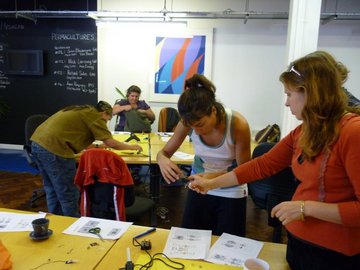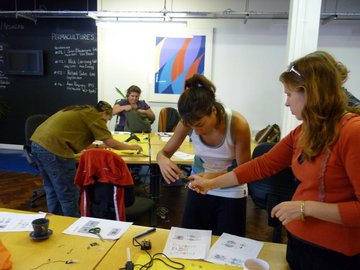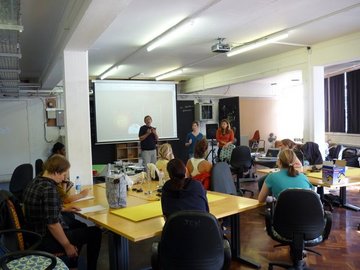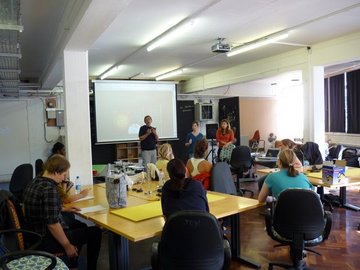 Partnering Galleries
The media lab also plugs an important gap in the art gallery and museum network. Digital and New Media arts are distinctive for collapsing boundaries between the place of production and exhibition. As a result, few existing art spaces have been in a position to fully represent it. Media labs, as well as community websites like Furtherfield and Rhizome, international festivals including ISEA and Transmediale and curatorial resources like CRUMB (the Curatorial Resource for Upstart Media Bliss) have imaginatively responded to this situation. Media labs in particular have been very successful in fostering relationships between artists and galleries. They have helped to translate not only the ideas expressed by this type of art – which can require much additional contextualisation – but also their physical installation in spaces not designed for this new breed of work.
For example, Folly recently collaborated on an experiment in the exhibition and acquisition of New Media art with the Harris Museum and Art Gallery. Entitled Current, the project saw expert panels first select works to be exhibited at the gallery (in Spring 2011) and then choose one to enter the permanent collection. Not only did this give the gallery the chance to add a timely contemporary work to their collection but it formed a useful public case study showing other institutions how they might engage with emergent art forms in various new media.
Collaboration, Interdisciplinarity and the University
Media labs greatly contribute to the collaborative working methods the creative sector now thrives upon. Cross or interdisciplinary partnerships involve people from very different industries or working cultures combining and even reinventing the way they work in order to unearth all manner of new practices and products. Many universities, having born witness to a boom in research which straddles different academic subjects and industry sectors (due in some part to government funding imperatives around 'knowledge transfer'), have established their own media labs. A relatively early example of this was i-DAT (the Institute of Digital Art and Technology) at the School of Computing, Communication and Electronics at the University of Plymouth. A large project with many interrelated strands is their op-sys (operating systems) network of research into architectural, biological, social and economic data and how it can be made publicly available and useful. The University of Nottingham has the Mixed Reality Lab, which was established in 1999 with £1.2 million in funding from the JREI (Joint Research and Equipment Initiative) programme as well as ongoing grants and investments. Run by Steve Benford, it hosts around eighteen PhD students providing resources for researchers and post-graduates working in areas that intersect its host department, the School of Computer Science, and associated training facility, the Horizon Doctoral Training Centre. It maintains a number of diverse projects, some of which have won prestigious awards and award nominations including Can You See Me Now, a collaboration with Blast Theory. The CoDE (Cultures of the Digital Economy) Institute at Anglia Ruskin University in Cambridge has a digital performance laboratory that focuses on sound-based work. Culture Lab is Newcastle University's bespoke unit of media-lab-style flexibility, where artists work experimentally and across disciplines, and Sandbox, a similar resource, is located at the University of Central Lancashire. Another approach for universities is to partner with existing media labs. Pervasive Media Studio, a Bristol-located media lab, was set up by Watershed, a cross-artform production organisation, HP Labs and the South West Regional Development Agency. They have a partnership which runs for three years with the University of West England's Digital Cultures Research Centre and work in a number of different ways including offering Graduate and New Talent residencies for those just starting out in their careers. The Pervasive Media Studio has helped to establish events like Igfest, the Interesting Games festival, held annually in Bristol, as well as development platforms such as Theatre Sandbox, which helps theatre makers introduce technology to their practice. They also support artists, including: AntiVJ, Duncan Speakman and Luke Jerram.
Current Media Labs and the rise of the 'HackLab'
As we have seen, some labs have been nomadic or temporary while others have evolved into new incarnations. A media lab might be part of an array of dependencies with institutional responsibilities i.e. Folly, Isis Arts, Lighthouse, Pavilion, Pervasive Media Lab, PVA, Vivid and more, all of which regularly produce an abundance of quality experimentation in Digital art and culture. While new incarnations of the media lab may respond to three distinct but related phenomena: the rapidly evolving technology sector; the transient networks of geeks and digital experimenters; the need for sustainable models for innovation in industry. MadLab, in Manchester, provides space and facilitates meetings and workshops for 'geeks, artists, designers, illustrators, hackers, tinkerers, innovators and idle dreamers'. Their 'drop in' events, commonly known as 'Hacklabs' (for example *Hack to the Future* during the Edinburgh International Science Festival), give people instant hands-on experience with all sorts of code and kit. Although hacking is still seen as a specialist and somewhat murky activity, the term is being increasingly decoupled from its conventional criminal associations and made accessible to mainstream arts territory. In January 2011 the Royal Opera House facilitated a 'Culture Hack Day', bringing cultural organisations such as the Crafts Council and UK Film Council together with software developers and creative technologists to usefully open up and share data. Other HackLabs may have less of an arts focus, but do have impressive resources built using the open membership model (pioneered by the likes of Backspace). The London Hackspace boasts a laser cutter, digital oscilloscope and kiln, all donated or collectively purchased.
Scattered through many of our city centres are office/studio-based working spaces which cater to the creative industries by offering flexible working environments and abundant networking and training opportunities. The Hub, in London's Islington and Kings Cross areas (with up to thirty further Hubs in cities across the globe), gives fee-paying members access to facilities and a way of working orientated towards connecting people from across the network in cost-effective innovation. These spaces are indicative of the emphasis placed on the creative economy as the big hope for economic renewal driven by small entrepreneurs grabbing and shaping the opportunities in technology, entertainment and design.
Inspirational before Institutional
Looking briefly at some of the ways media labs have operated since the 1990s shows them as uniquely fertile spaces for all manner of shared expertise and creative innovation. They have made a fundamental contribution to Open Source culture. Working as openly and collaboratively as possible, participants have found ways of sharing process and product, while an interdisciplinary nature has revealed a plethora of creative possibilities. Fulfilling a difficult remit by offering a home for many of the emergent artistic practices currently transforming artistic activity, they have led us away from 'art for art's sake' and towards work which has demonstrable meaning and lasting social and economic benefit. Large institutions might be extremely well-versed in mounting financially advantageous blockbuster exhibitions, but the beauty of media labs derives from their ability to develop and disseminate the socially-transformative systems that have already and will continue to shape the future of the arts.
---
A big thank you to everyone who contributed to this research despite their incredibly busy schedules and a special shout to: Simon Poulter for pulling over his car, Clive Gillman for kindly kicking things off, Sarah Cook for an innovative approach to note sharing and Peter Ride for not taking a lunch break.
You can find Charlotte's original article on Collaboration and Freedom – The World of Free and Open Source Art http://p2pfoundation.net/World_of_Free_and_Open_Source_Art
As part of the Furtherfield collection commissioned by Arts Council England for Thinking Digital. 2011