Interactive Art and Embodiment: The Implicit Body As Performance by Nathaniel Stern. ISBN 978-1-78024-009-1 (printed publication), Gylphi Limited, Canterbury, UK, 2013. 291 pp., 41 Colour Stills. 
Earlier this year, I had the good fortune to sit in on a talk given by Simon Penny on May 6th 2014 at the University of Exeter. Penny, not unlike Nathaniel Stern, is best known for his praxis, writing and teaching on interactive (and robotic) installations focusing on issues of embodiment, relationality and materiality. So as unorthodox as its inclusion is to start off a review, Penny's reflections are pertinent here (in this case, Penny's famous installations Fugitive (1997) and Traces (1999) [1].
The purpose of Fugitive and Traces (if you can say they had one) sought to 'embody' virtual reality through multi-camera infra-red sensors, visual models and real-time movements. At that time, Penny's unique theoretical take was to distance human-computer interaction away from "a system of abstracted and conventionalised signals" to where the user would "communicate kinesthetically": instead of investigating the non-human or "inhuman" formal qualities of its medium, or some vague VR future that leaves the body behind, the system itself would "come closer to the native sensibilities of the human." (Penny) [2]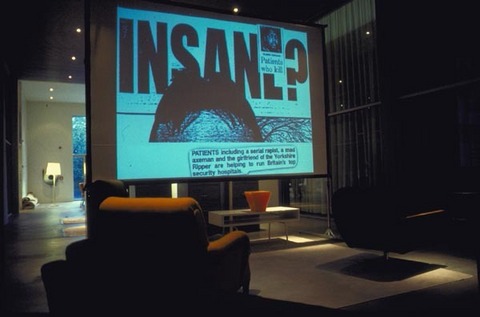 In his Exeter talk, Penny momentarily reflected on a weird and altogether disturbing seventeen year feedback loop. The loop in question relates to how, in 2014, Penny's early avant-garde ideas and theoretical ambitions have largely been desecrated by their replication in big business. With regard to Traces, Penny cited Microsoft's Kinect as being the most salient example of this desecration: Kinect's technology – marketed for the Xbox console brand – carries within its insidious techniques the ability to also "communicate kine[c]thetically", but do so within pre-packaged, patented, IP-driven, focus-grouped-out-of-existence, commercial vacuities of gamer experience.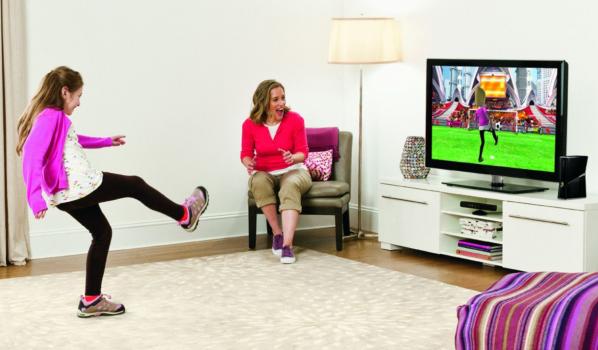 As an early practitioner and developer of these technologies, Penny was somewhat visibly infuriated with this, and understandably so. For him, it unintentionally reduced his aesthetic experimentation, philosophical insight, technological futurity and theoretical complexity into consumer speculation for the technology market, commandeering the tech but without the value. It transposed the artistic technological avant-garde necessity of Traces into a flaccid 'tech-demo' demonstration of novelty limb flailing and high-end visuals devoid of anything. It was, Penny lamented, "a very weird situation" to be in. Part of that weirdness has to do with the fact that Penny hadn't done anything especially wrong, because there wasn't any tangible aesthetic qualities that separated his pioneering work from Microsoft's effort. Neither had Penny's work brought financial success with its value intact (because its value wasn't patentable). Instead technological development had overwritten the aesthetic value of Traces, trading technological obsolescence with aesthetic obsolescence.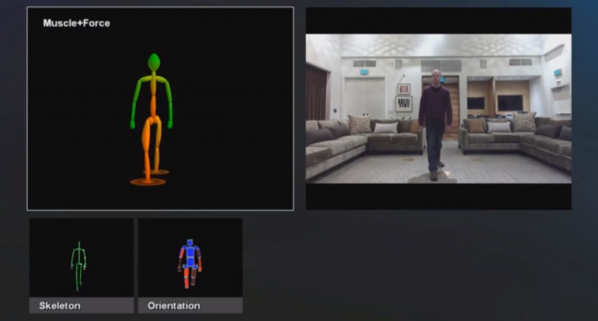 Penny's retroactive predicament is not unique in the history of digital art: for all the visionary seeds of potential in Roy Ascott's legendary networking project, Terminal Art (1980) we now recognise how those salient characteristics have somehow ended up as Skype or Google Hangouts. Still in the 80s, one might evoke Eduardo Kac's early videotext works (1985-1986) where visual animated poems were broadcast on the online service exchange platform Minitel ("Médium interactif par numérisation d'information téléphonique" or "Interactive medium by digitalizing telephone information" in its French iteration): a proprietary precursor to the World Wide Web [3]. The retroactive weirdness accompanying these developments is something I'll come back to: suffice to say that what counts is the direction (and sometimes hostile return) of infrastructure, not just as the background collection of assemblages artists rely on to experiment with at any historical moment, but the shifting ecological foundations to which technology emerges, affords, and now overwrites such practices. No-one likes to play devil's advocate and yet one must ask the question specific to Stern's text: what, or maybe where, is the tangible point at which 'art' becomes historically valued in these works, if that latent aesthetic potential becomes just another market for a series of Silicon Valley, or startup conglomerates?
——–
Nathaniel Stern's Interactive Art and Embodiment establishes two first events: not only Stern's debut publication but also the first of a new series from Gylphi entitled "Arts Future Book" edited by Charlotte Frost, which began in 2013. All quotations are from this text unless otherwise stated.
Stern's vision in brief: in order to rescue what is philosophically significant about interactive art, he justifies its worth through the primary acknowledgement of embodiment, relational situation, performance and sensation. In return, the usual dominant definitions of interactive art which focus on technological objects, or immaterial cultural representations thereof are secondary to the materiality of bodily movement. Comprehending digital interactive art purely as 'art + technology' is a secondary move and a "flawed priority" (6), which is instead underscored by a much deeper engagement, or framing, for how one becomes embodied in the work, as work. "I pose that we forget technology and remember the body" (6) Stern retorts, which is a "situational framework for the experience and practice of being and becoming." (7). The concepts that are needed to disclose these insights are also identified as emergent.
"Sensible concepts are not only emerging, but emerging emergences: continuously constructed and constituted, re-constructed and re-constituted, through relationships with each other, the body, materiality, and more." (205)
Interactive Art and Embodiment then, is the critical framework that engages, enriches and captivates the viewer with Stern's vision, delineating the importance of digital interactive art together with its constitutive philosophy.
One might summarise Stern's effort with his repeated demand to reclaim the definition of "interactive". The term itself was a blatantly over-used badge designed to vaguely discern what made 'new media' that much newer, or freer than previous modes of consumption. This was quickly hunted out of discursive chatter when everyone realised the novel qualities it offered meant very little and were politically moribund. For Stern however, interactivity is central to the entire position put forward, but only insofar as it engages how a body acts within such a work. This reinvigorated definition of "interactive" reinforces deeper, differing qualities of sensual embodiment that take place in one's relational engagement. This is to say, how one literally "inter-acts" through moving-feeling-thinking as a material bodily process, and not a technological informational entity which defines, determines or formalises its actions. A digital work might only be insipidly interactive, offering narrow computational potentials, but this importance is found wanting so long as the technology is foregrounded over ones experience of it. Instead ones relationship with technological construction should melt away through the implicit duration of a body that literally "inter-acts" with it. In Stern's words:
"…most visually-, technically-, and linguistically-based writing on interactive art explains that a given piece is interactive, and how it is interactive, but not how we inter-act" (91)
Chapter 1 details how aesthetic 'vision' is understood through this framework, heavily criticising the pervasive disembodiment Stern laments in technical discussions of digital art and the VR playgrounds from the yesteryear of the 90s. Digital Interactive Art has continually suppressed a latent embodied performance that widens the disembodied aesthetic experience towards – following Ridgway and Thrift – a "non-representational experience." Such experiences take the body as an open corporal process within a situation, which includes, whilst also encompassing, the corporal materiality of non-human computational processes. This is, clearly, designed to oppose any discourse that treats computation and digital culture as some sort of liberating, inane, immaterial phenomenon: to which Stern is absolutely right. Moreover, all of these material processes move in motion with embodied possibilities, to "create spaces in which we experience and practice this body, its agency, and how they might become." (40) To add some political heft, Stern contrasts how the abuse of interactivity is often peddled towards consumerist choice, determining possibilities, put against artistic navigation that relinquishes control, allowing limitless possibilities. Quoting Erin Manning, Stern values interactive art's success when it doesn't just move in relation to human experience, but when humans move *the* relation in experience (Manning, 2009: 64; Stern, 46).
Stern's second chapter moves straight into a philosophical discussion denoting what he means by an anti-Cartesian, non-representational, or implicit body. Heavily contexualised by a host of process, emergent materialist thinkers (Massumi, Hayles, Barad), Stern concentrates on the trait of performance as the site of body which encapsulates its relationally, emergence and potential. The body is not merely formed in stasis, (what Stern dubs "pre-formed" (62) but is regularly and always gushingly "per-formed" (61) in its movement. Following Kelli Fuery, the kind of interactivity Stern wants to foreground is always there, not a stop-start prop literate to computer interaction, but an effervescent ensemble of "becoming interactive" (Fuery, 2009: 44; Stern, 65). Interactive art is not born from an effect bestowed by a particular medium of art making, but of "making literal the kinds of assemblages we are always a part of." (65)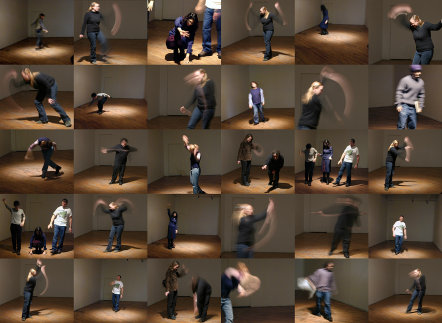 Chapter three sets out Stern's account for the implicit body framework: detailing out four areas: "artistic inquiry and process; artwork description; inter-activity and relationally." (91) Chapters four, five and six flesh out this framework with actual practices. Four considers close readings of the aforementioned work of Penny together with Camille Utterback merging the insights gained from the previous chapters. What both artists encapsulate for Stern is that their interventions focus on the embodied activities of material signification: or "the activities of writing with the body" (114) Utterback's 1999 installation "Textrain" is exemplary to Stern's argument: notably the act of collecting falling text characters on a screen merges dynamic body movements with poetic disclosure. The productions of these images are always emergent and inscribed within our embodied practices and becomings: that we think with our environment. Five re-contextualises this with insights into works by Scott Scribbes and Mathieu Briand's interventions in societal norms and environments. Six takes on the role of the body as a dynamic, topological space: most notably as practiced in Rafael Lozano-Hemmer. Chapter seven I'll discuss near the conclusion: the last chapter shortly.
Firstly, the good stuff. Interactive Art and Embodiment is probably one of the most sincerest reads I've encountered in the field for some time. Partly this is because the book cultivates Stern's sincerity for his own artistic practice, together with his own philosophical accounts that supplement that vision. His deep understanding of process philosophy is clearly matched by his enthusiastic reassessment of what interactive art purports to achieve and how other artists might have achieved it too. And it's hard to disagree with Stern's own position when he cites examples (of his work and others) that clearly delegate the philosophical insights to which he is committed. One highlight is Stern's take on Scribbes' Boundary Foundations (1998) and the Screen Series (2002-03) which intervenes and questions the physical and metaphorical boundaries surrounding ourselves and others, by performing its questioning as work. This is a refreshingly earnest text, proving that theory works best not when praxis matches the esoteric fashions of philosophical thinking, but when art provides its own stakes and its own types of thinking-experience which theory sets out to faithfully account and describe. Stern's theoretical legitimacy is never earned from just digesting, synthesising and applying copious amounts of philosophy, but from the centrality of describing in detail what he thinks the bodily outcomes of interactive art are and what such accounts have to say: even if they significantly question existing philosophical accounts.
Stern leaves the most earnest part of his book towards the end in his final semi-auto-biographical companion chapter called "In Production (A Narrative Inquiry on Interactive Art)". This is a snippet of a much larger story, available online and subject to collaboration [4]. Here, Stern recounts or modifies the anxiety inducing experience of being a PhD student and artist, rubbing up alongside the trials of academic rigour, dissertation writing and expected standards. Quite simply, Stern is applying his insights of performative processual experience into the everyday, ordinary experiences faced by most PhD students in this field, and using it to justify a certain writing style and a sense of practice. It's an enjoyable affair – in large part because it outclasses the dry scholarly tone usually associated with writing 'academically', elevating imaginative, illuminating redescriptions for how the experiences of interactive art broadly hang together rather than relying on relentless cynical critique. And most of that is down to Stern's strong literary metaphorical technique for grounding his vision, perhaps even more effectively than the previous chapters.
Yet earnest experiences aside, there are two problems with Stern's vision which, in my eyes, leave it flawed. That isn't a bad thing: all visions are flawed of course. That's why the similarities between art and philosophy feed our heuristic, academic compulsion to come up with them and debate: well, that and sometimes the most flawed can end up being the most influential. Such flaws only arise in relation to what Stern thinks is valuable in interactive art, and to the extent that the intervention posed may require readdressing. The flaws in question are composed from two different angles, but stem from one objection. The first is philosophical, or at least a problem pre-packaged with relying almost entirely on relational ideas of embodied emergence. The second is more tied to infrastructure and technical expropriation as outlined in Penny's predicament given from the outset.
In his introduction, Stern makes clear that this is an "art philosophical book" (4), not a philosophy of art as such: only one that "understands art and philosophy as potential practices of one another" (4). Following Brian Massumi, philosophy "tells us the stakes", whilst "art brings those states to the table" (5), such that the type of art he values and constructs, (digital interactive art) is precisely that which melts away in its interactive encounter when constructed as work. Later on we discover that interactive art "interrupts relationality" (66), making present an "intervention that brings a situated moving-thinking-feeling to a higher power." (66) Further on, interactive art does something else, when it "intensifies features of […] the ongoing transformation of the 'living' body", and "gifts us with a state to practice being and becoming." (73) Reflecting on the infamous Bourriaud/Bishop relational aesthetic ruckus a decade ago, Stern outlines how they focus on the explicit body (82) (how we understand ourselves or challenge explicit social/economic positions in the world), whereas artworks which privilege the implicit body have us "encounter how we move, transform, and are (continuous)" (82) in the world. The former takes on the materiality of social relations, the latter (endorsed by Stern) takes on the whole materiality of "embodied relations" (83). And again to reiterate, art operates as "the practice of contemporary philosophies, where we investigate, and further research on, embodiment and relationally together." (83).
Now, one should admire how Stern blends philosophy and art praxis together precisely by not shoehorning authoritative philosophical accounts into art praxis where they aren't needed. This works, precisely as the ontology expressed here actively resists such authoritative accounts as well as being cemented with the sort of sincerity with which Stern has such a keen literary grasp. More importantly, Stern cites works which seem to fit the stakes of his ontological conviction perfectly.
However the reliance of process-based philosophy dampens exactly how these works intervene to bring about the values he so desires. The simplest objection comes from asking how Stern might value anything at all, if our entire relational embodiment with the world is constantly in process – or that "[b]odies and matter are change" (220) – and must be always affirmed as such: why should every process and every bodily interaction be affirmed? Moreover why is it art's place to give primacy to the ontological events of bodily material change?
This is one of the key infrastructural problems that surface, once a theory of art totally subscribes to a process-based ontology, let alone one focusing on embodiment: why should an artist like Stern feel compelled to present an intervention in the first place? If the dominant ontological movement of interactions is a becoming-event, by what standard or eruption should interactive art be said to work on? If, as Stern believes, "the interactive process in interactive work is the 'work'" (159), it becomes unclear what value interactive artworks are purported to convey, if that process is all there is. To say that embodied processual events make the work "work", because they underscore our situational intelligibility (or make it effective – so to speak) speaks nothing of what differential criteria should apply to make that aesthetic intervention intelligible. To hazard a guess, the problem is one of articulating how convention exists in a process ontology: because if everything is always emerging as an interactive event of change, the act of rupturing or intervening in convention becomes a real problem. The criteria for valuing these important works is only affirmed it seems, because every process is already affirmed: and if that's the case you don't need artists to make an intervention – there is no intervention required, other than the events that already exist, as change in themselves. To put it another way: why should (and how can) a work effectively gift us heightened states of being and becoming, if our entire situational relationship with the world is already situationally related in being and becoming?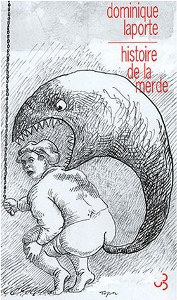 I am reminded of Adrian Johnston's 2001 review of the newly republished English translation of Dominique Laporte's History of Shit (first published in 1978). Whereas most Foucaultians and Althusserians were disconcertingly vague in pointing out the concrete material conditions for subjectivity and economical production, Laporte boldly contended that the genealogical hypothesis to all modern civilisations was tied to one concrete material condition: the infrastructure of bodily waste management, or, the desire to control and sublimate our need to defecate. In his usual Žižekian repartee, Johnston suggested that Laporte's bizarre history of modernity implicitly accepted the anti-Cartesian embodiment thesis (that cognition cannot be separated from the actions of the body), but pushed its logic to the end. That for all the affirmative, encompassing, sensual, emergent, potential images embodiment philosophy prefers to agree and discuss, it completely ignores one of our central and basic bodily requirements: to excrete our bodily waste or fecal matter, and remove it from sight and smell (and we don't need to remind the reader of art's fascination with this area).
Whilst Johnston's tongue was firmly planted in his cheek, he did happen to put a psychoanalytical finger on the central problem with process based embodiment. That often enough, sincere accounts of embodiment designed to affirmatively depict and encompass implicit environment material engagements leave behind an unacknowledged stain: one which says more about these accounts than their proponents actually do. And it is precisely because Stern focuses on the most aesthetically agreeable areas of bodily engagement in interactive art, that something as habitual and ritualistic as the excretion of digested matter, or the infrastructure of sewage networks exposes that image.
In terms of materiality this is doubly important. Laporte's intervention brings into conflict two competing performative materialisms which disclose our own bodily relationships with non-human processes (in this case, computational and networked material): the first is Stern's own account of the material body as some sort of 'nebulous material' which is always emergent, lived, relational and thinking with its own engagement in the world of humans and non-humans. The second is Laporte's material body seen as 'brutal material' – an explicit input-output, complex, evolutionary processing machine, strictly determinate and bounded in its biological function. Despite Stern arguing earnestly for the nebulous form, it doesn't appear to me that he can hold off the brutal form, or at least prevent the latter from antagonising the former. And often enough, this happens because Stern's accounts of embodiment, and the philosopher's accounts he relies on, are already meant to be nebulous in themselves.
This logic unravels by chapter seven, when Stern expands the implicit body framework to analyse other examples of new media art which aren't preoccupied with bodily participation to work, as work. He terms this "potentialized art" (206) where "audience members do not *make* the work directly through their interactions (207) but are subject to visual performances of potential movement and relation mediated by generative computation and networks. In citing Gordan Savičić and Jessica Meuninck-Ganger – amongst others – Stern argues that these ongoing performances harness generative information participating in embodiment relations, and invite metaphorical sensory change and bodily movement (in the case of Savičić's performances, quite literally inflicting pain and suffering onto his own body using network data and social media).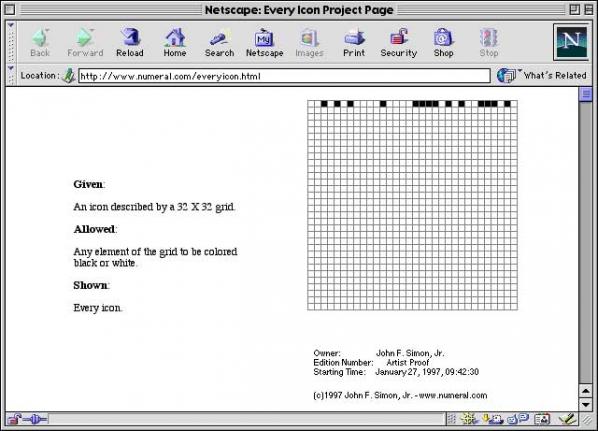 However when Stern cites John F. Simon. Jr's infamous work Every Icon (1997), (227 – 230) (a cellular automation piece which takes approximately several hundred trillion years to complete) it becomes clear to me that the aesthetically agreeable areas of embodiment start to break down. It might be that my own reading of the piece is fairly unorthodox [5] (I don't consider the work to be primarily conceptual for a start), but Every Icon eschews what Stern writes as giving "both the corporeal and incorporeal a present and future presence as time and sign" (230) or something that generates attention to our "sensual and conceptual experience of temporality" (230).
Yet, isn't it the case that Every Icon is probably one of the least potentialised artworks ever made? It doesn't actually generate anything, (in the strict sense of unpredictable outcomes from simple rules) it simply enumerates configurations of pixels one by one. Neither can we be said to "feel the potency of several hundred trillion years" (230) than we feel the cold, indifferent execution of a real java applet function to which we are forever limited in experiencing directly. If anything, Every Icon is deliberately constructed to forgo a relation with us.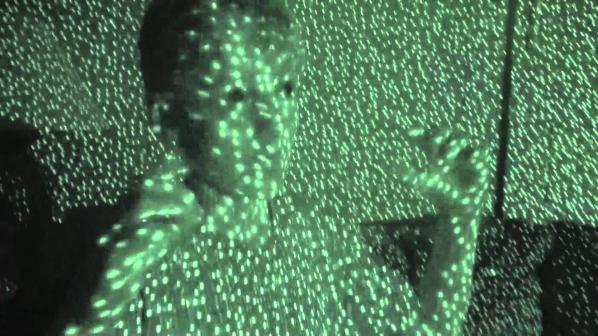 To conclude: this is perhaps why Penny's predicament with the Kinect is so stark. To demand, as Stern does, that we treat digital interactive art as setting a stage for examining how we "per-form" with our bodies within media, material, conceptual frames and selves, is no longer enough of a stage to give voice to the technological ecologies we find ourselves in: nor of the art that satisfies intervening in it. Credit must be given to Stern for writing over interactive art's emancipatory myth of disembodied immateriality, but his endorsement of embodiment only serves to realise that the problem isn't forgetting to focus on material engagement, but forgetting the cold, hard and brutal materiality of procedural performance of infrastructure, that often moves faster than we do. When Microsoft's Kinect co-opts all the same values of Traces, it does so not because embodiment is totally flawed, but that bodily movement has now become ecologically implicated in deceptive infrastructure.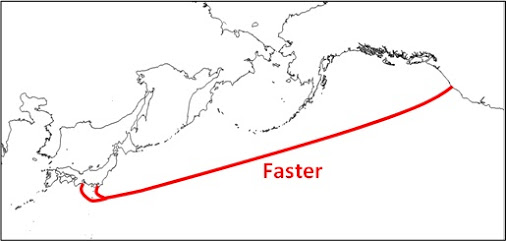 Just as Penny's Traces may once have evoked a renewed attention to moving-thinking-feeling, such engagements are now suitably tracked and are in service of non-transparent infrastructures of geo-social activity, which propagate themselves beyond our sensory engagement, yet paradoxically they also indirectly sustain that ordinary engagement. For example, this is now a world where Google funds a 60tbps undersea cable connecting the West Coast to Japan, in order to propagate the reach of their services. The technological engagement of our bodies cannot be restricted to how we move-think-feel, but now weaves itself within layers upon layers of platforms and pervasive surveillance structures. And I don't disagree with Stern that the implicit body is, perhaps, deeper than the account I give here. But maybe that's because the body is also another type of performative infrastructure, tightly bound into other formations that are just as deep, complex and engaged. We now live in a time where digital interactive art has to intervene in the performances of geo-social infrastructure: where our bodies have curiously taken on their self-directing performances, rather than our own.
———
[1] The latter especially is discussed in depth by Stern in pages 114 – 127.
[2] Taken from Penny's artist statement on Traces (1999) HERE.
[3] Not that I want to digress from the review, but the fascinating history of Minitel in French digital culture is worth the reader's attention. See Dermot McGrath's 2001 Wired article HERE for a decent introduction.
[4] This can be viewed HERE.
[5] See Robert Jackson, "The Return of Discrete, Autonomous Artworks: Heidegger, Harman and Algorithmic Allure" In Heidegger and The Work of Art History, edited by Amanda Boetzkes and Aron Vinegar, Ashgate Press: London. pp. 33 – 61.
[Notes:
1. These are the minimally reformatted and slightly expanded notes for what would have been a 15-minute presentation.
2. The presentation was meant to be followed by questions and form part of the introduction to a panel discussion. Any questions in the comments here or on netbehaviour gratefully received.]
Art and Money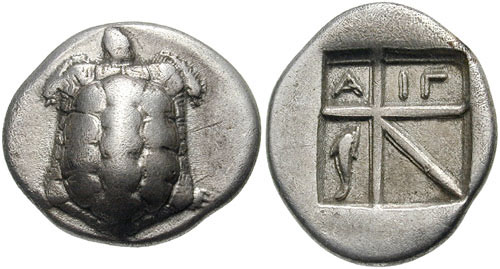 Art and money have always been involved in each other's production. This is a Greek Drachma from 600BC with a relief depiction of a sea turtle on one side. For many people this would be the artwork, or at least the image, that they saw most frequently in their everyday lives.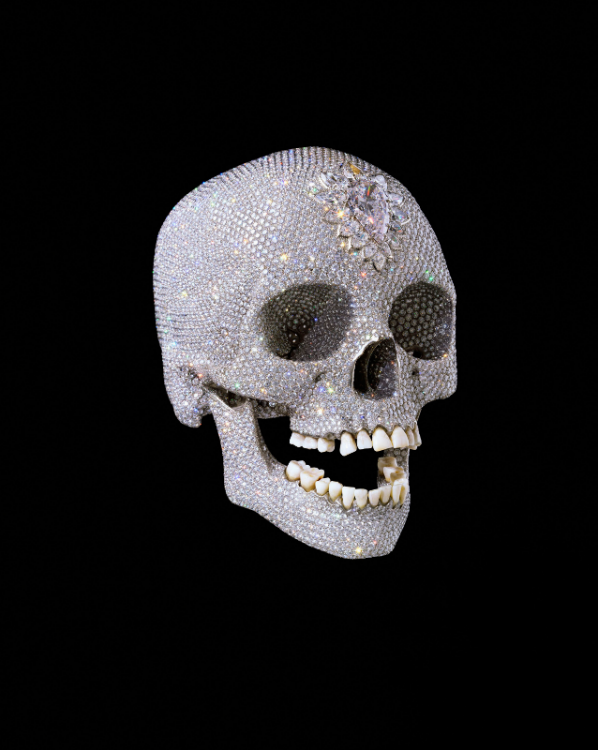 In the present day, high art and high finance (or big art and big finance) go hand in hand. Blue chip artworks produced by brand name artists like Jeff Koons are collected by hedge fund managers and oil oligarchs as investments and as signifiers of socioeconomic position (while stolen Old Master paintings are used as signifiers of value in transactions between criminal gangs…). This tendency reaches its logical conclusion for now with Damien Hirst's "For The Love of God" (2007), a diamond-encrusted platinum cast of an actual human skull complete with the original teeth. It was sold for fifty million pounds sterling.

Looking inside the sale of "For The Love Of God" makes its narrative less straightforward. It was sold to a group including the artist and their dealer, making the actual figure and its ownership less straightforward than a simple sale would suggest. Nanex's High Frequency Trading visualizations from 2010 look inside transcations in electronic stocks & shares markets, finding aesthetic forms in the activity of share trading bots. What the sawtooth waves of this bot's activity represent is unknown: a glitch, a strategy, a side-effect. But without making these forms visible, we would not be able to ask these questions or reflect on this economic activity.
Art, Particularly Conceptual Art, Critiques This Relationship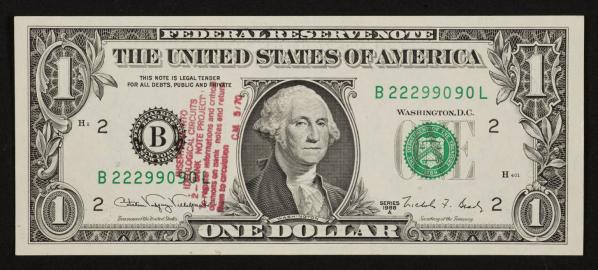 It is part of the value of art, particularly Conceptual Art, that it can afford us these opportunities for reflection and critique. Cildo Meireles' "Insertions Into Ideological Circuits 2" (1970) overwrites the contemporary equivalent of the Drachma's turtle with a rubber stamped message on a banknote, intruding into everyday use and circulation of currency in order to give its audience a pause for critical reflection.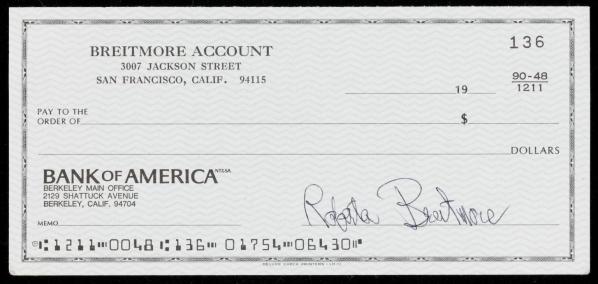 Lynn Hershman's "Check" (1974) is signed by their artistic alter ego Roberta Breitmore, using financial transactions and their attendant contracts as a producer and guarantor of identity, literally underwriting it.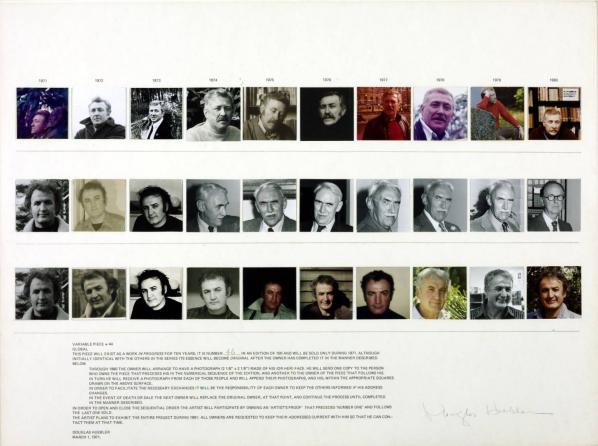 Douglas Huebler's "Variable Piece no.44" (1971) incorporates an image of its current owner into itself each year for its first decade, in an analogue precedent for Bruce Sterling's idea of "spimes". When the artwork is sold a new owner appears, making the artwork's contingent economics its aesthetic subject.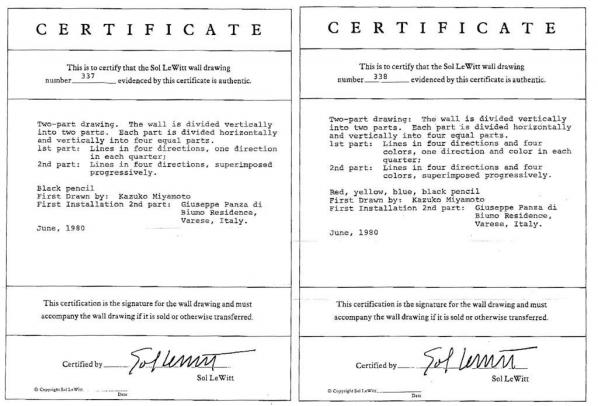 The initial critique of the ontology and economics of art that Conceptual Art represented in its "dematerialisation" phase represented as much of a challenge for the livelihoods of artists as it did to its chosen targets. One solution found early on was to produce certificates of authenticity or ownership for otherwise un-ownable art. This re-appropriates conceptual art for scarcity economics and as property, returning it to the market. Sol LeWitt's certificates for two wall drawings (1980) demonstrate how this works. If you own such a certificate and I do not, and we both follow the instructions on the certificate, you produce an authentic LeWitt and I at best produce a forgery.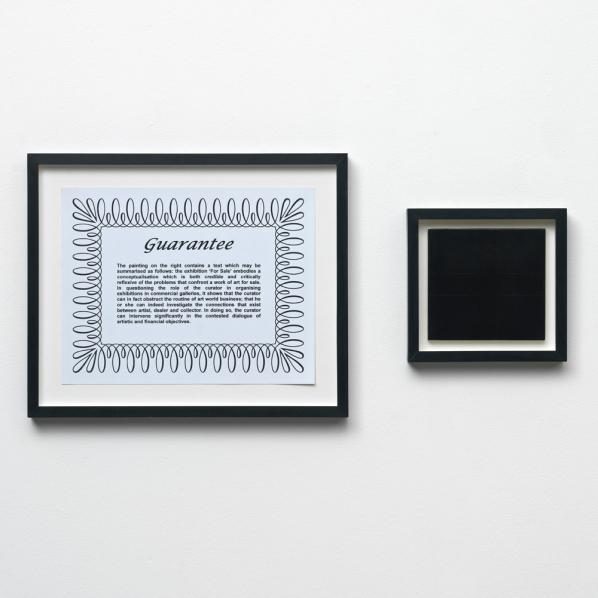 This stretegy was criticised (and parodied) within the Conceptual Art movement itself. An early Art & Language artwork, "Guaranteed Painting" (1967), contains a printed certificate guaranteeing that the painting accompanying it contains particular content and addressing the curator of the show it appears in as someone who can possibly intervene in artworld economic relationships.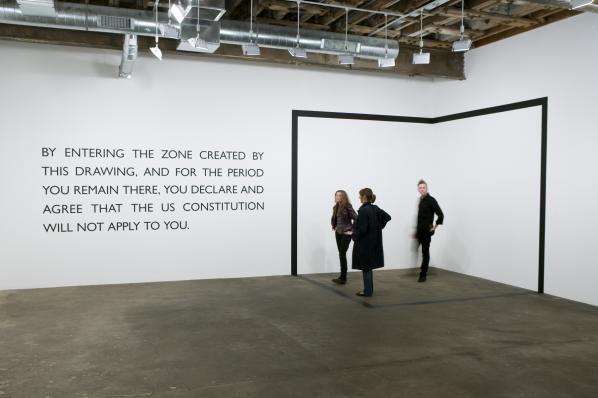 Carey Young's "Declared Void" (2005) is a wall drawing that creates a space in which its audience enters into a contract agreeing that the constitution of the United States. Legal form as sculptural form, this is no longer about the relationship between art and money but rather between the individual, contract law, and the state. This is the kind of relationship that produces money, or at least fiat currency, and is a broader context for considering the more specific relationship between art and money.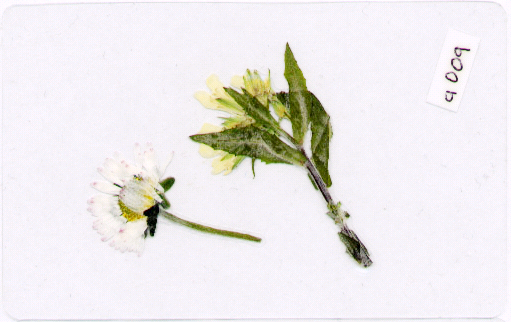 I love this flower currency from 2005, produced by a group of Viennese artists. It's both a LETS-style complementary currency and a use of the aesthetics of pressing flowers to allegorize and aestheticize the relationship between nature, production, and value in economies.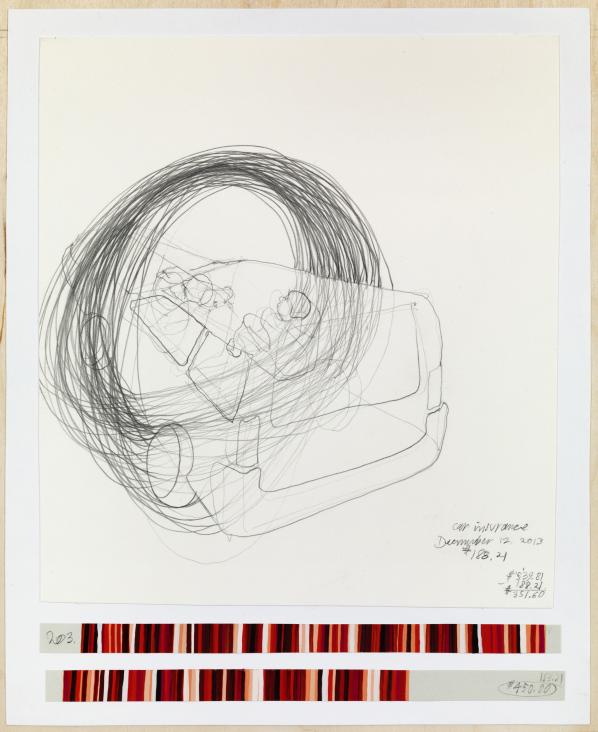 This Danica Phelps stripe drawing (2013) shows the artist's expenditure on reparing their car. If it depicted income rather than outcome the stripes would be green rather than red. Phelps' work combines the ledger of their economic existence with the artistic record of their social presence.
Bitcoin as Critique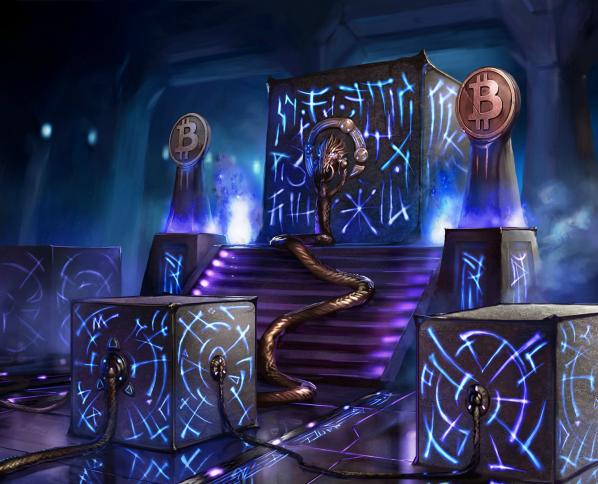 Bitcoin emerged as a critique of state-issued "fiat" currency following the financial crisis of 2008. Bitcoin is a cryptocurrency, a piece of software that runs on computers ("nodes") spread across the network that communicate with each other to reach a shared consensus on the current state of a cryptographically-secured ledger. Every ten minutes or so these computers bundle up transactions into "blocks", each of which refers to the previous block. This is the "blockchain". This is yodark's fanciful depiction of the blockchain proceeding from the first block of transactions, the "genesis block".
In reality news blocks in the chain are validated (or "mined") by nodes in the network using increasingly specialised hardware, such as this milk crate mining rig from a couple of years ago. They perform difficult to solve but easy to validate sums on each block, the "proof of work", and the first node to succeed gets a reward (paid in Bitcoins) for doing so.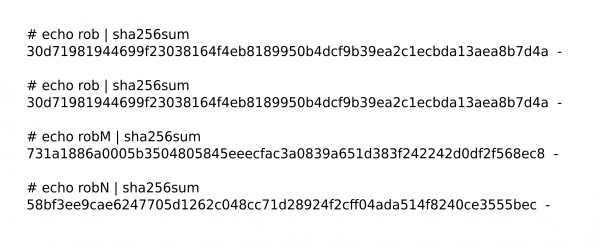 Bitcoin account addresses, Bitcoin transactions, and the proof of work system all use cryptographic algorithms. These are mathematical ways of taking data and creating an almost un-fakeable, almost un-reversable, almost unique (where "almost" means "as likely to fail as the Earth is likely to be hit by a civilization-ending asteroid in the next 20 minutes") identity for it. The examples here show how feeding a cryptographic hash function the same data twice results in the same incredibly unlikely number, but feeding it even slightly different data results in very different and unrelated numbers.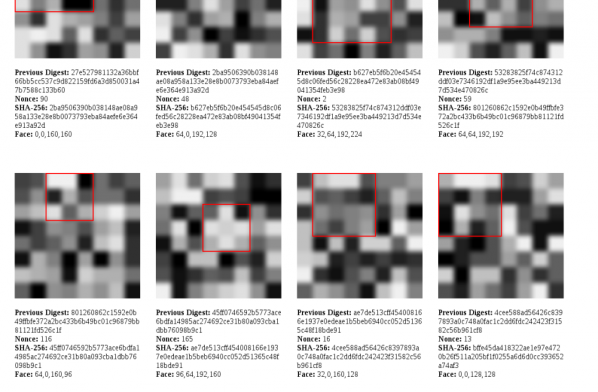 Bitcoin uses these functions to secure its network in the "proof of work" system by searching for auspicious numbers in their output (strings of zeroes in the current scheme). My Facecoin (2014) implements an alternative proof of work system in which the useless work performed is that of portraiture, (mis-)using machine vision algorithms to find imaginary faces in cryptographic hashes represented as bitmaps rather than numbers.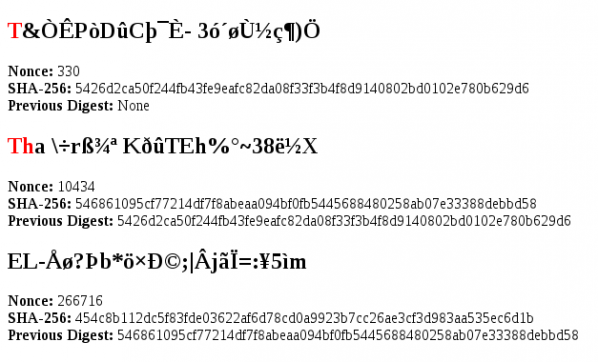 My Monkeycoin (2014) takes a different approach, searching for the complete works of shakespeare in textual representations of those numbers.
Paying For Art With Cryptocurrencies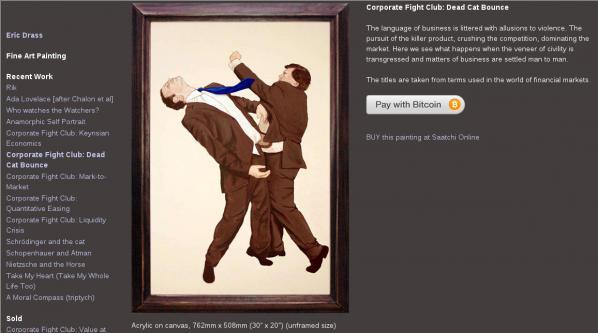 Cryptocurrencies can be used in lieu of fiat currency for all kinds of transactions, including artistic ones. Here the artist Eric Drass is offering a painting for sale via Bitcoin. Different means of exhange create different kinds of social relationships, buying the painting via Bitcoin is a different kind of social and economic transaction than paying with fiat currency for it via Saatchi Online.

Cryptocurrencies can be created as complimentary currencies with specific intent or for specific constituencies. This is the logo of Banksycoin (2014), an attempt to create a currency to pay for art and create a parallel economy for artistic production.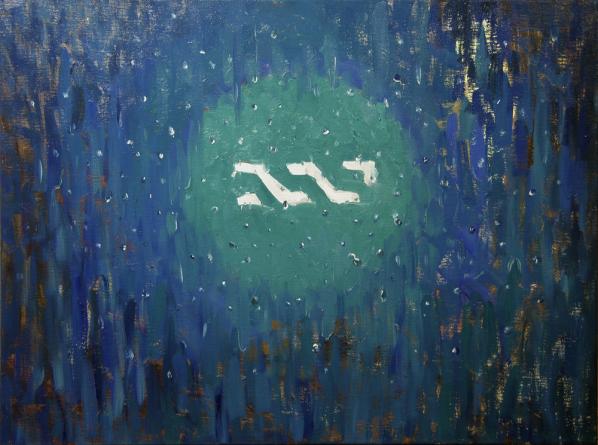 Cryptocurrency-based technology can change how individual artworks are owned as well as paid for. This is theironman's "nxtdrop" (2014), the ownership of which is represented by shares on the "nxt" blockchain. Ownership of the painting can be changed fractionally by dealing in those shares.
We Can Store Information Other Than Money On The Blockchain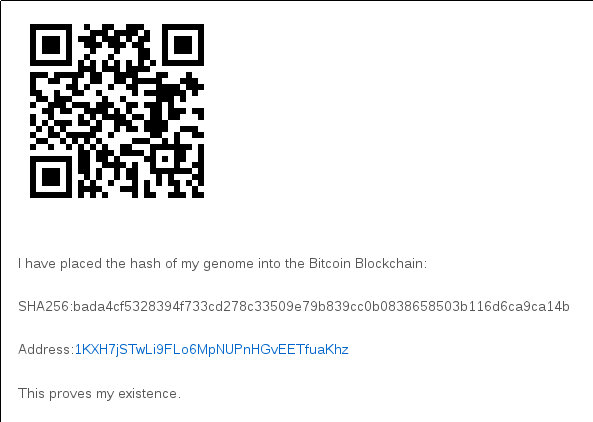 There are poems, images, and other cultural artefacts embedded in the Bitcoin blockchain, disguised as transaction information. I embedded the cryptographic hash of my genome in the Bitcoin blockchain to establish my identity with "Proof Of Existence I" (2014).
Smart Contracts Generalize The Blockchain To Other Contracts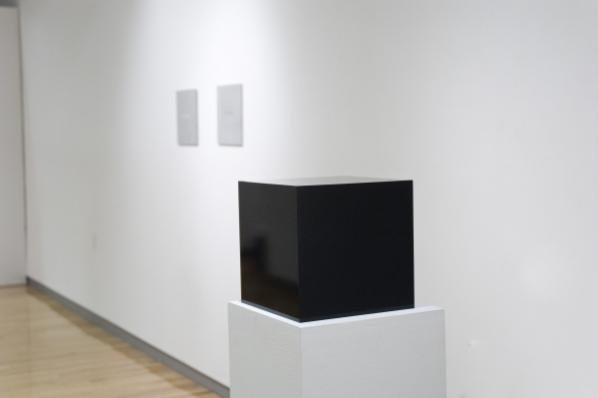 This is Caleb Larsen's "A Tool To Deceive and Slaughter" (2009). It contains a computer that must be connected to the Internet as part of the conditions of ownership, which then immediately offers itself for sale on the eBay auction site. This kind of "smart property" is a good example of smart contracts, in which arrangements such as ownership are managed by software rather or more immediately than by law.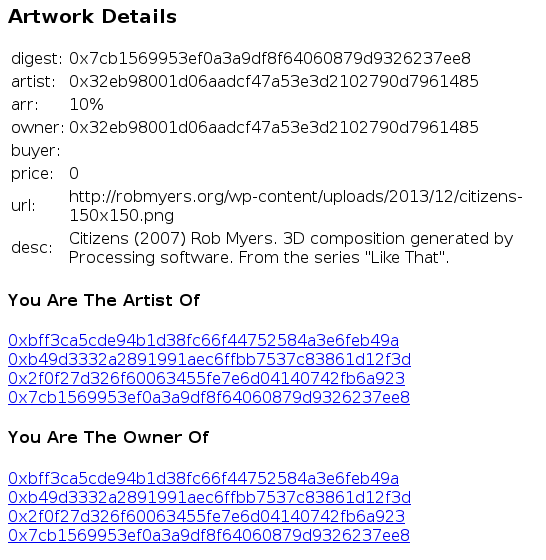 My "Art Market" (2014), uses the Ethereum smart contract system (a generalization of Bitcoin to contracts other than for the exchange of money) to record "owenrship" of infinitely reproducible digital files and allow them to be "sold" for cryptocurrency. Other systems exist to do this, such as the Monegraph and Rarebit systems.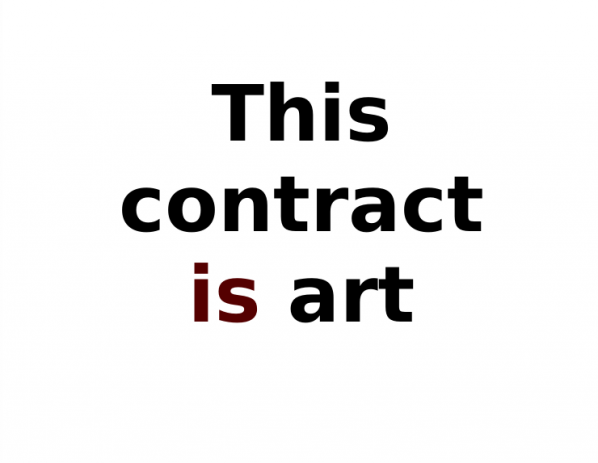 My "Is Art" (2014) uses a simple smart contract to democratize the nominational strategy of conceptual art. The contract can be set to nominate itself as art or not with a click of a mouse and the paying of a small fee to execue the change on the blockchain.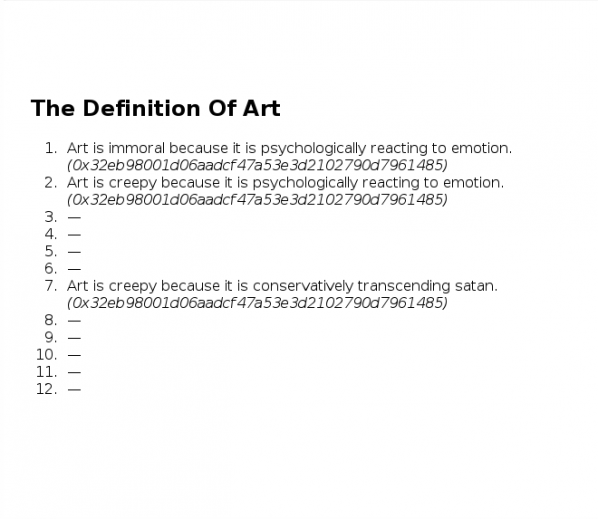 My "Art Is" (2014) applies behavioural economics to the philosophy of art, allowing individuals to pay as much as they feel their definition of art it worth. This disincentivises malicious or unserious definitions and indicates an individuals's confidence in their definition, using market mechanisms to price and allocate knowledge and even truth efficiently. fnord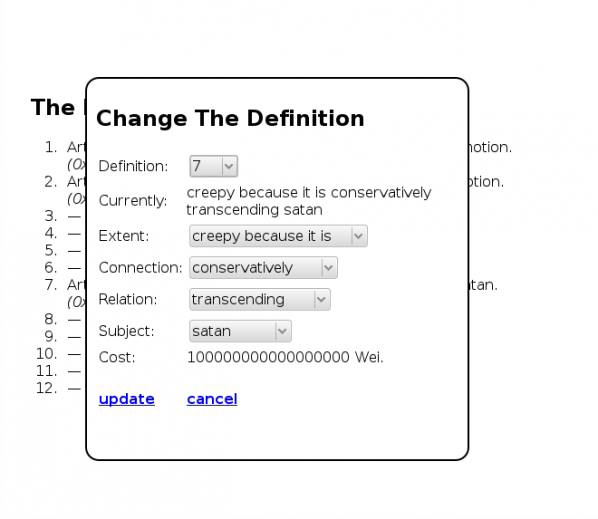 CryptoCurrency and Smart Contracts Can Be Used To Constitute Artists Groups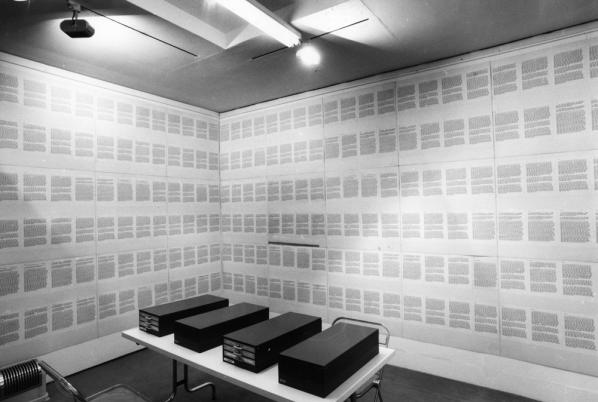 This is Art & Language's "Index 002" (1972), a collection of the group's writings assembled and indexed for presention in a traditional gallery setting to assert their identity and productivity at a time when their largely conversational practice might not have looked much like "art" to outside observers. Filing cabinets and photocopied sheets were contemporary information technology, later "Indexes" would use microfilm and (allegedly random) computer-generated tabulations. Their use and the production of the "Indexes" was both a solution to and a subject of the problems of Art & Language's work. A contemporary group could use the blockchain to similarly focus and problematize their work.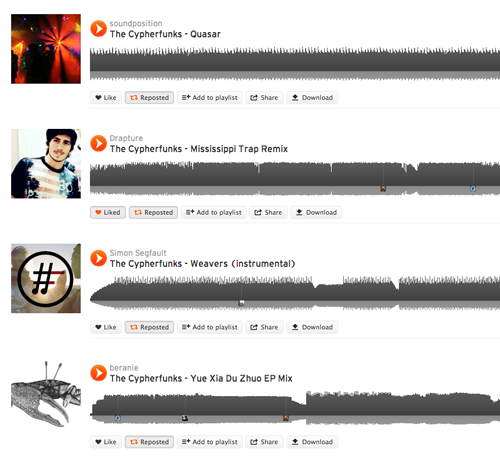 The Cypherfunks are a distributed music group. Anyone who uploads a song to the SoundCloud music sharing web site tagged #thecypherfunks receives the groups cryptocurrency FUNK in return, becoming part of the group.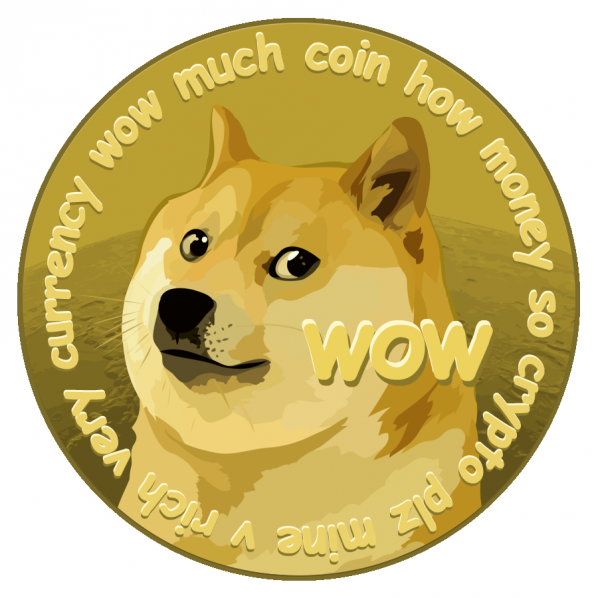 Dogecoin is one of the most popular "altcoins", Bitcoin-derived cryptocurrencies that are not interoperable with the original Bitcoin network. It is the coin of an intentionally constructed culture of virtue and play, with its own argot and social norms based on Internet memes (particularly the titular "Doge" and the idea of a potlatch-like norm of tipping).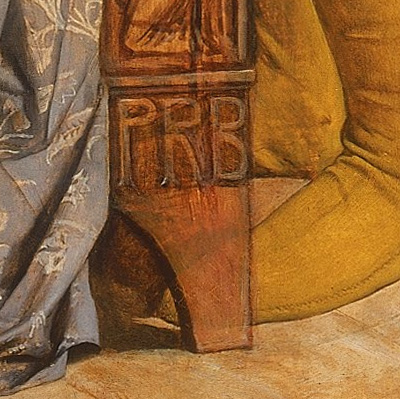 These are all more contemporary, and more complex, ways of demonstrating affiliation to a group than simply painting currency code-like letters on a canvas (this is a detail from Millais' "Isabella" (1849). Possibly the ultimate in creating a group affiliation, or even a society, using smart contract technology is the idea of "Decentralized Autonomous Organizations" (DAOs), economic agents that exists on the blockchain and manage the resources of an organization via code rather than bylaws or legislation.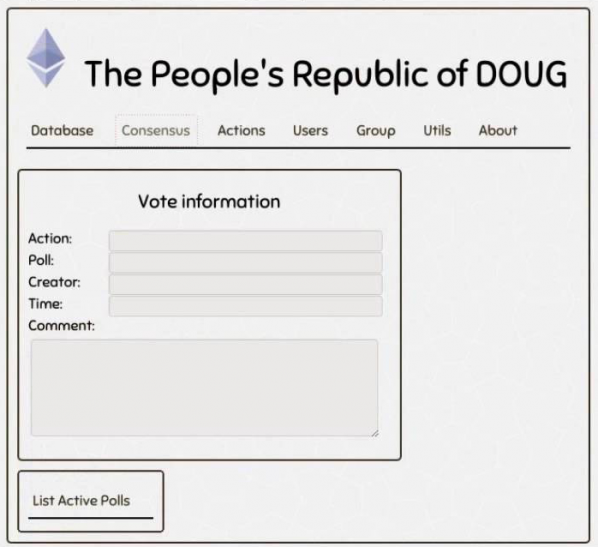 This is "The People's Republic of DOUG"(2014), a DAO implemented as smart contracts on the Ethereum smart contract system's blockchain. You can become a citizen, own property, vote, use its own currency in transactions, all functions traditionally provided by the state as conceived of in terms of contract law. Bitcoin's dream of a stateless (but not property-less, making it anarcho-capitalist rather than anarchist) future realised in a few thousand lines of code. Imagine using (and/or critiquing) such a system for artistic organization and/or production.
Conclusions
Sorting hype and scam from promise, and moral panic from critique, involves a learning curve when dealing with cryptocurrency.
We can use cryptocurrencies to find new ways of (encouraging) paying for art, defamiliarising and critiquing artworld economics by doing so.
AltCoins, crypto-tokens, smart contracts and DAOs are tools artists can use to explore new ways of social organization and artistic production,
The ideology and technology of the blockchain and the materials of art history (especially the history of Conceptual Art) can provide useful resources for mutual experiment and critique.
"Now make art with it."
"A glitch is more than an error: It is a rupture in our collective techno-hypnosis, a herald of underlying realities." – Paul Hertz
If you haven't heard about Chicago glitch, you haven't been paying attention to all the "noise" emanating from the Windy City. The self-proclaimed "dirty new media" crowd in Chicago has captured the imagination of artists around the world with their funky (as in Chicago blues), punk-inspired disruptions and hacked creations. As of this writing, glitChicago: An Exhibition of Chicago Glitch Art at the Ukranian Institute of Modern Art is about to close after an impressive two-month run, with works, performances, and discussions involving 22 artists heralding from Chicago and beyond.
While glitch may have a raw, subversive, outlier sensibility, it has also catalyzed a cohesive and collaborative group of artists that has organized an impressive array of community-based conferences, DIY workshops, exhibitions, and spontaneous happenings within the local media culture over the past five years. Ironically, the Chicago high-art academy is also a co-conspirator, as many of the glitch artists are based at the School of the Art Institute of Chicago, which has become the de facto experimental laboratory for the study and practice of glitch.
I spoke via web-conference with the show's main organizer, artist and historian Paul Hertz, along with two of the artists and co-organizers, Nick Briz and Jon Satrom, in a collective effort to unpack the glitch phenomenon.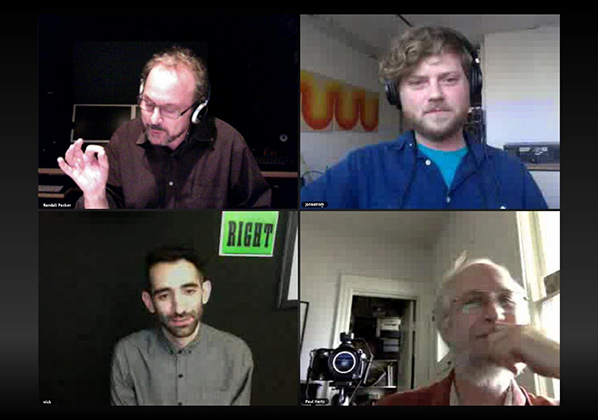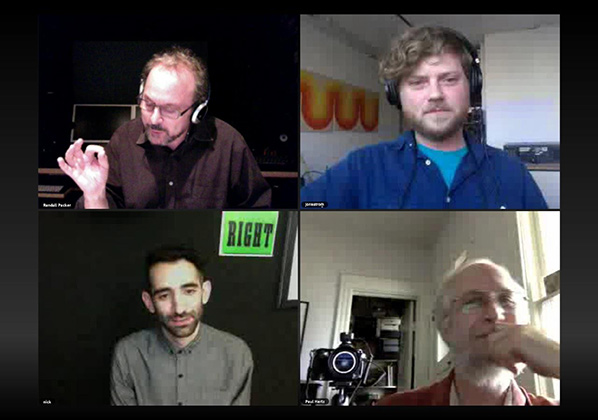 clockwise from upper left: Randall Packer, Jon Satrom, Paul Hertz, Nick Briz.
Randall Packer: Nice to meet everyone in the third space. I am going to begin with Paul because you were primarily responsible for organizing glitChicago. There are many artists in the show who do not reside in Chicago. Is the work intended to demonstrate Chicago glitch tendencies and influences, or perhaps to situate Chicago as a spiritual home of glitch, like say Chicago blues?
Paul Hertz: I think the latter to some extent, but it's also a joke about location in a networked society.
RP: From the perspective of being outside of Chicago, I can't think of another place in the world right now that has a more cohesive community of artists working together, building things together, breaking things together, it's quite an extraordinary moment in time in Chicago. So my question is: how much diversity, difference of opinion, even polemical positioning is there between the artists who are part of the glitch community.
PH: He wants us to wash our underwear!
Nick Briz: I'm glad it looks so cohesive on the outside, there is disagreement, but it's a respectful community kind of disagreement.
RP: Nick, as the author of the Glitch Codec Tutorial, in which you describe a method of making glitch, is the idea of a "glitch tutorial" perhaps contradictory to glitch as accident, mistake or rupture?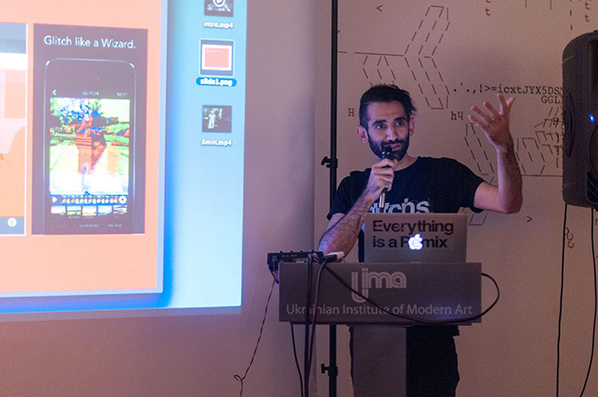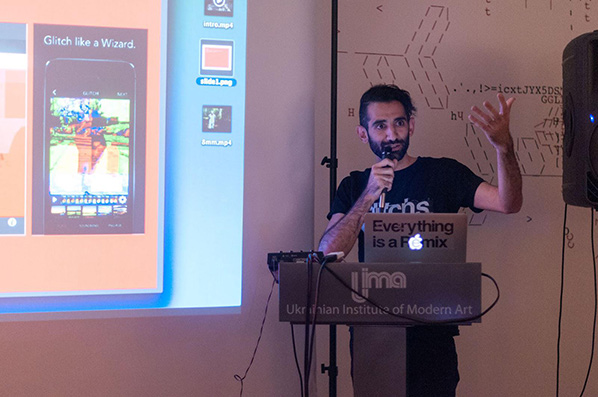 Performance / lecture by Nick Briz
NB: No, I think it's the most appropriate format, because it's not a glitch tutorial, it's a glitch art tutorial and that's an important distinction for me. Glitch is this unexpected occurrence within a system that we come to with a certain set of expectations, and a glitch is when those expectations are broken. Glitch art is when that happens intentionally. For me, this is a personal thing. What's really special about glitch art as a practice are the realizations you come to when you instigate those moments, the political potential for drawing certain connections, for exposing certain invisible politics within a system. That happens in process. So to produce a tutorial is not only, technically, how you produce glitches for your work, but also for people to have those realizations themselves, really experiencing glitches.
RP: So, how does that relate to the idea of intentionality, accident, and indeterminacy in glitch. Is there a right or a wrong way of doing glitch?
Jon Satrom: No, I don't think there is a right way to do the wrong thing. I think Nick said it in his performance: "do it wrong the right way."
NB: Do it wrong, but also doing it wrong. As in doing it wrong is the way that you do it. And then I quoted you, Jon: "there are no right ways to provoke the glitch, only the wrong ways prevail."
JS: I think the right way to do it wrong is to always cycle back or "level up" or go "meta" to a point where you are able to view what you are doing as a structure so that you can then glitch it again.
PH: Once you have a formula though, in a sense, you've captured something, but it is no longer glitching when you start saying that there is a right way and a wrong way.
RP: I am curious about this problem of glitch as style, glitch as genre, glitch as a pre-determined method. It seems there is a need to avoid stylization, avoid the predictable, to avoid the preset. So it does seem as though there are boundaries to glitch, there is an area where you don't want to go.
JS: I feel like everything is fair game.
PH: There were places we had already gone where we weren't likely to go again and so you could say farewell to jpeg glitching, farewell to png glitching, jpeg2 glitching, to datamoshing. I have argued that those are more like tools that we have and it's about the new technologies. Going into the show I was quite prepared actually to say that glitch is now art historical, that's why I was doing the show. But I was surprised at how lively the subculture is, how lively the artists are who have gone on to do new things. I think glitch belongs in many ways to an earlier tradition of noise, and in that sense, it has a history, it has a future in all kinds of directions.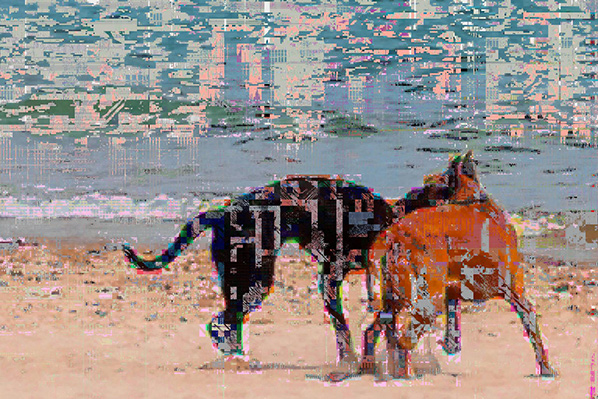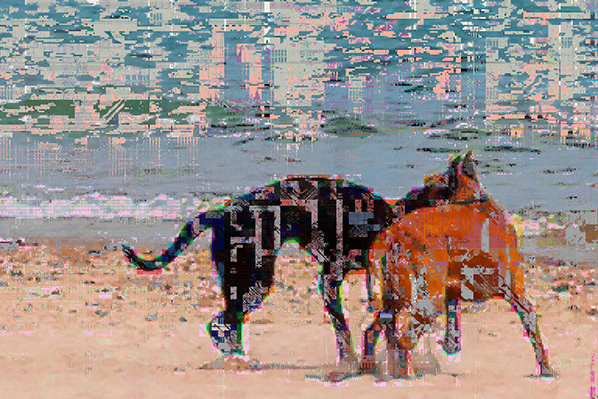 Paul Hertz, Dogs 001 (Foster Avenue Beach, Chicago),
digital print, 2013 (from the series Glitch Nation)
RP: The idea of history seems like a dark cloud that hangs over the practice of glitch, to avoid becoming rigid or formed. In regard to the roundtable discussion you just had, Paul asked the question: "once we induct glitch art into art history, is glitch art dead?" What was the outcome of this discussion? Is glitch as we know it history, has it already become part of the art-historical discourse?
PH: We did shift the conversation a little and started by talking about glitch as having a memory and glitch as having a potential future. And I think we sidestepped the history question by and large. But it was stated by a number of people, including Curt Cloninger in his essay for the show that as long as there are new technologies, there are going to be new glitches.
RP: So is there a reason why the historical question was avoided?
PH: I think it became uninteresting as time went on. We're having so much fun just doing it, it doesn't seem like such a serious question. It seems like a question an art historian would ask.
RP: But Paul, you're an art historian!
PH: We all got around to being artists again.
JS: I think that when you look at history as a rigid structure and if you take a glitch perspective towards a rigid structure you're looking at it as something that isn't as static as may come across. Histories are presented in different ways, different agendas, different people, and I think it's more interesting to consider our job as glitch artists to create structures that are radically inclusive, and experimental, and have enough space for agency, and individuality moving forward, rather than considering whether or not it is dead.
RP: Returning to the glitChicago show, which aspired to the inclusive, open source, community-based, DIY nature of glitch: Nick, you're project is called 0p3nr3p0…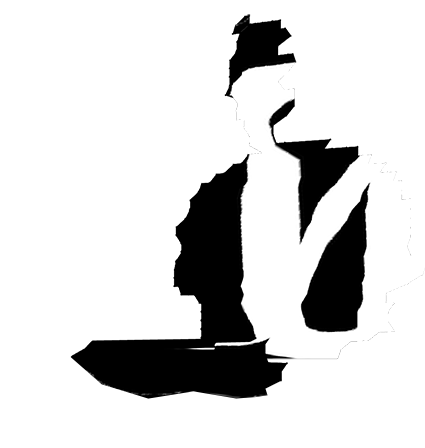 0P3NR3P0.NET .gif logo
NB: It's pronounced "open repo," short for open repository.
RP: How does this project involve the local community as well as expand itself through the network to engage a more globally social reach?
NB: 0p3nr3p0 is at the moment a project that myself and Joseph Yolk Chiocchi maintain, an unfiltered, open port for uploading glitch art. It was an offspring of the GLI.TC/H conferences in 2010, 2011, and 2012 in Chicago. It was a result of our paranoia to be radically inclusive as a conference. So we didn't do a call for works that last time, instead what we did was a call for threads, which is we tried to carve out spaces for other people to bring in certain conversations. And while we showed and exhibited work in the evening, all that work as best as we could was actually the result of those communities coming together. There is only so much space, there are only so many people who could show, but there are a lot of people online who we could recognize and include and so 0p3nr3p0 would become that back door entrance to the physical exhibition via the network.
RP: It seems to me that there is something about the nature of glitch that encourages democratization and inclusivity in terms of the accessibility of its practice and the techniques involved.
JS: It comes back to social structure. One way to get around the hierarchies of a social structure is to try and present things in a more populist, more open, more democratized way.
PH: There is also this transgressive aspect to glitch. Glitch itself represents a rupture, instability, of images and media. And that instability has an ideological function, as Nick is very careful to point out in the Glitch Codec Tutorial. If we are transgressing both the technology and exposing the ideology, there are reasons for us to want to expand that kind of rupture to online communities.
RP: I spoke with jonCates in an earlier interview for Hyperallergic about dirty new media. I would like to get your perspectives. Jon (Satrom), it seems like your work particularly reflects this idea as a reaction against the clean, glossy, polish of technology, a reaction against the fetish of the technological object.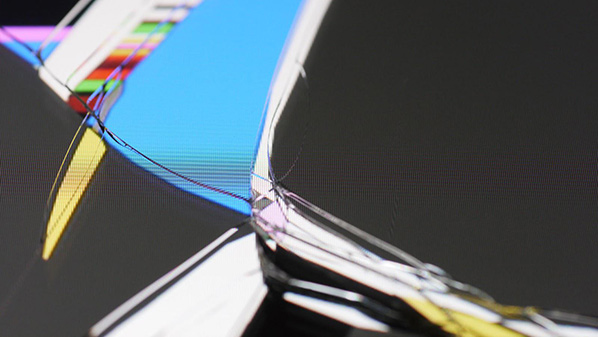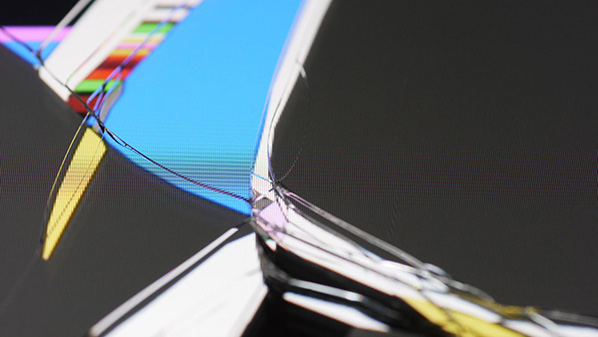 Jon Satrom's Cracked iPads
JS: Yes, it is a reaction to the sleek, brushed metal of new technology. When I think of dirty new media in terms of Chicago, there is an organic quality to it, literally you can think about dirt. This dirty style: it's the grit, it's the rust, it's the realization of a false promise of technology that many of us just accept and are fine with. We're purchasing things that are broken and need updates, and yet our agency of not being part of these updates has been stripped from us. Things are changing under our feet all the time. With dirty new media, you don't bother hiding the cords, you don't bother sweeping up, there's a sense of realism to it, there's the grit, and there is also a kind of a comfort in that. It's not trying to hide behind these mirrored surfaces.
RP: Perhaps it's a critique of our relationship with technology in terms of humanizing that relationship.
NB: Maybe trying to take agency back in that relationship. In the computer industry, a very specific relationship has been imposed, we're told how we're supposed to use these things, both as consumers and as producers. As consumers we're told this is what you are supposed to do with your technology, to have a kind of reverence for technology. Dirty new media is an irreverent response to that. And then as producers they've imposed a certain relationship. There are "right" ways to do things as programmers, and "right" ways to do things as media artists and dirty new media tends to be kind of punk: how can you finagle the technology. It's through experimentation that you learn how to do things with these systems. And just like the punk ethic, once you learn those first three chords you can start a band and you'll learn the rest of them along the way. Once the reverence is defused, and it's OK to break things and experiment, all these things become possible.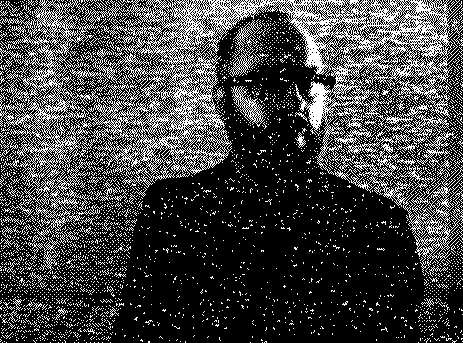 jonCates, POST-STATIXXX
PH: I would also say there is a differentiation in dirty new media between an aesthetic and a capture of instability. There are the pleasures of the glitchy image but at the same time it's very much about the underlying systems. It seems to me that they play off of one another and there is a certain tension there, and a healthy one.
RP: I believe there is also a tension in glitch in terms of constantly needing to move forward. This leads me to a question about Rosa Menkman, a significant artist and writer in the international glitch community. She's written some very influential pieces such as The Glitch Moment(um) and the Glitch Studies Manifesto. Her writing critiques this tension while theorizing glitch, putting it into an art-historical perspective, perhaps encouraging its formalization. Is glitch now an actual genre, to be taught in art schools? What's going on in Chicago seems very healthy because that's where the locus of glitch is, but what happens when glitch is taught in all the other art schools around the world and everybody is imitating it?
JS: I think it becomes a powerful moment and I think it can be utilized very well in education, just in terms of giving students agency to break something and learn about its guts.
NB: But are you asking, what if glitch becomes a kind of Adobe Photoshop class? Here's how you reproduce that exact artifact? Because that would be cool in its own sort of way if it happens, but I wouldn't necessarily call that glitch art. You can perhaps draw a line between glitch artifacts and certain aesthetics and then glitch as a process, or as an ethic, as a practice, as an impetus for triggering these unexpected moments within systems for the plethora of reasons that artists like to do that. But glitch is not necessarily wedded to any particular aesthetic. Sure, if you search glitch art on Google, you get certain things that look the same, but that's just because that's what glitch art happens to look like now. But as technology and as systems change, and as the methods for exploiting those systems change, it will look, sound, taste, feel, and augment in totally different ways.
RP: So how do you feel about datamoshing, for example, which is working its way out into popular culture, where mainstream musicians, media artists are using glitch techniques straight out of the book.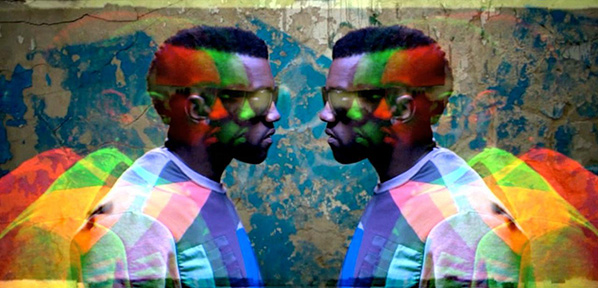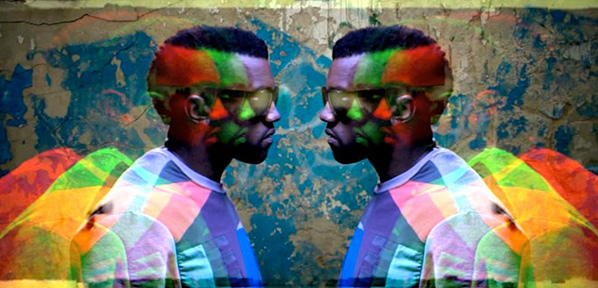 Kanye West, Wecome to Heartbreak, from Storify's A Glitch Art Primer
PH: Kanye West's Welcome to Heartbreak is the example most people think of. Datamoshing is used as a preset of a certain kind, which is OK, but it also means those problems were already solved. We know if we "hit" the header of a jpeg there are all kinds of things we can do. Once you go through the process, then it's another effects module in a certain sense. But there is a point in which it's all a surprise. Datamoshing is no longer a surprise for us, but it's probably a surprise for nationwide television audiences. And even for them it's going to eventually cease to be a surprise.
RP: Then what do you do in Chicago to stay on the edge, when everybody is practicing glitch?
NB: You can only stay on the edge if everybody is practicing glitch. The Kanye West example is a beautiful moment as initially I was upset because I felt co-opted, the pop culture aesthetic is going to destroy it. A lot of folks had that sort of sentiment and rhetoric. But the reality is that people are introduced to the aesthetic and look of glitch through that video and then are curious to know how to do that and then they fall down that rabbit hole. So more people join the conversation and like any conversation it gets better when more people join and there is more to talk about. And when everybody knows how to bend a jpeg, it means the general literacy level is up, the glitch literacy level is up. You can't get into more complicated concepts, the next chapter, until everybody can have that conversation.
PH: And on the aesthetic side, it broadens the lexicons that people have to think about images, to think about media. It means that the aesthetics of punk, the aesthetics of noise creep in as something we should get used to. The popularization of glitch makes it possible to say, yes, we're going to learn to live with the instability of technology, because we have to.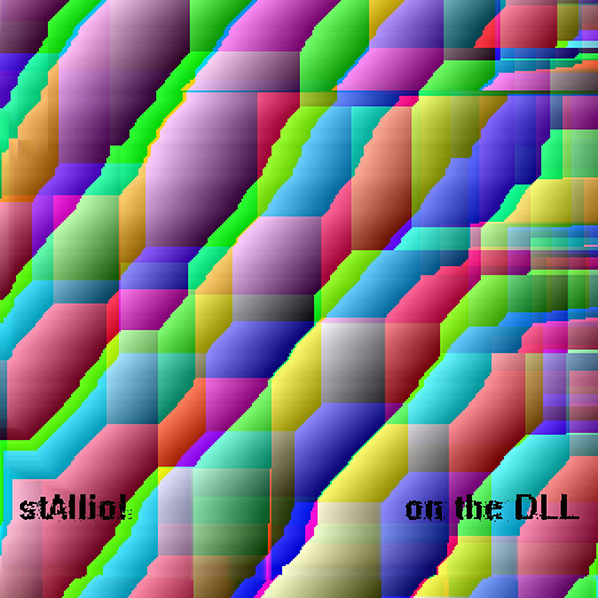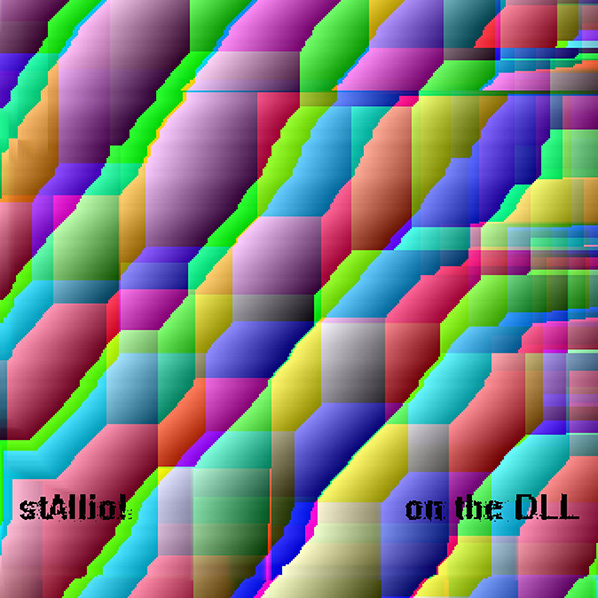 Stallio, Cover art for On the DLL
---
glitChicago: An Exhibition of Chicago Glitch Art, Ukranian Institute of Modern Art, with works by: Melissa Barron, Benjamin Berg aka Stallio, Nick Briz, jonCates, ChannelTWo, Joseph Yolk Chiocchi, Curt Cloninger, James Connolly, Kyle Evans, Paul Hertz, shawné michaelain Holloway, Nick Kegeyan, Jeff Kolar, A. Bill Miller, Pox Party, Rob Ray, Antonio Roberts, Alfredo Salazar-Caro, Jon Satrom, Lisa Slodki, Jason Soliday, Ben Syverson, I "heart" Presets, and OP3NR3PO.
Randall Packer is an artist, educator, and writer who critiques the unfolding media culture from his underground studio bunker in Washington, DC. Follow him at Reportage from the Aesthetic Edge.
First of 6 articles as part of the Piratbyrån and Friends exhibition at Furtherfield. Mariana Delgado Coordinator of El Proyecto Sonidero (Mexico), writes about the Polymarchs posters (1980-1990) by Jaime Ruelas. Translation by Tess Wheelwright.
Panther / Jaime Ruelas / Polymarchs. On How We Came To a World of Legend By Mariana Delgado, Coordinator of El Proyecto Sonidero I met José Luis Lugo in 2009, in the office above the Publicidades Panther print shop in Mexico City. We were introduced by Lupita La Cigarrita: sonidera, collaborator and number one follower of Sonido La Changa, el Rey de Reyes – the King of Kings. Later we learned from Lupita that José Luis had an important collection of sonidero event posters and flyers. Marco Ramírez, co-founder of El Proyecto Sonidero, grew enthusiastic.
As soon as we released the book Sonideros en las aceras, véngase la gozadera (roughly Sonideros on the Sidewalks: Bring on the Revelry) in 2012, we began to see what should come next. In 2013 we launched the Proyecto de Gráfica Sonidera, in association with Panther, and in collaboration with draftspeople, poster artists, graphic designers, graffiti writers, sign painters, printers, promoters, collectors and researchers.
We are taken back to the origins of the tropical sonidero movement, which began in the 60s with turntables and LPs – loudspeakers and tweeters set up in the streets, dances thrown in the barrio. Over time various sound systems are added, each with its own crew; soon the multicolored Aztec or robotic lights are streaming. The biggest parties feature close to 50 systems at once, working simultaneously for hundreds of thousands of people. Music is introduced and mixed the Mexican way. Equipment is fiddled with; beats are slowed. Bass rumbles out from walls of speakers. Followers take their places and multiply along with vernacular genres. Transsexual dance clubs form circles on the dance floor; here a family, there a group of insiders – la banda – make their way through the crowd. The mic starts up, amplifying the shout-outs that will circulate the continent on CD and DVD, through streaming, links, posts. From Peñon de los Baños aka Colombia Chiquita to Neza York; from the barrio Tepito aka Puerto Rico to Chimalwaukee, out to all the brothers in Illinois.
In this world, all hatched from La Sonora Matancera. Cumbia and salsa are the queens of a grand court of rhythms. The Virgin of Guadalupe reigns supreme; it's her congregation. Changó, San Judas Tadeo, and the Santa Muerte share the power thereafter. Epic is important, and family, too. What begins as a passion for Cuba soon builds: music from Colombia, Puerto Rico, Venezuela, Ecuador, Panama, Peru, the Dominican Republic, Buenos Aires, New York… The sonideros leave behind the established Mexican labels and their standardizing limitations, heading out on their own to comb the continent. They become vinyl diggers, import records, discover bands and musicians; they turn into promoters, create record companies and pirate labels, compile mixtapes to disseminate in the street markets and plazas, at parties and on commercial stands, through the internet.
In the margin within – those more notorious neighborhoods of the Distrito Federal – embroidered logo jackets circulate, lending publicity to the sonidos along with their cards, posters, flyers, banners. Nonetheless, fewer and fewer dance parties are thrown. The city government has issued a discretionary ban of sonidero events in public spaces, canceling even traditional dances like the anniversary celebrations of Tepito's markets. In the outer margins, ringing the DF and beyond, painted walls announce upcoming events and sonido trailers take over the streets. The dances go on.
We aren't as familiar with the electronic scene, headed by Polymarchs. Our inroad is through the graphic materials comprising the collection Panther has amassed since 1979, which he rightly considers his primary asset. It all began in the Zona Rosa, where he used to go to trade posters, leaflets, stickers. At thirteen he formed part of the Polymarchs crew, coiling cables. Later he became a publicist, promoter, producer. He never stopped his gathering; stacks of paper tower in the office. Hundreds of posters and dozens of original drawings from the golden age of Hi-NRG pass in front of the camera, as José Luis remembers key scenes and events from this world: when they brought Gloria Gaynor to Mexico for the first time, when Sylvester came, when they packed the World Trade Center.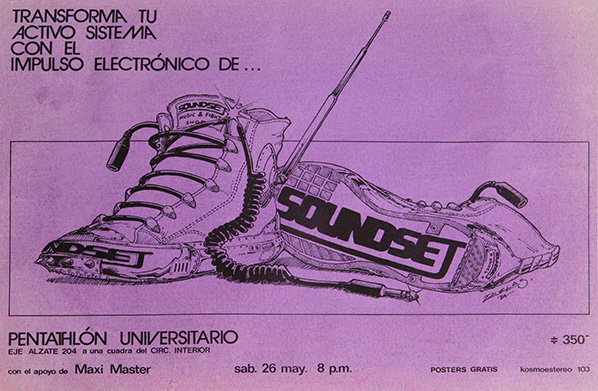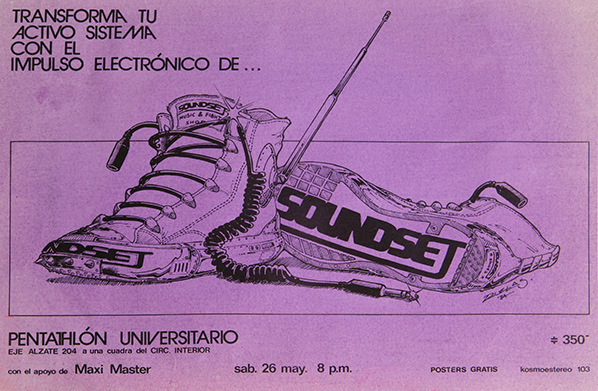 We are introduced to the world of artists and designers who created an imaginary to suit the precursors of the genre: pharaonic, galactic, utopian, spectacular, and futuristic. Always epic. Tailored to the moment, to the experience of the fans. The posters of the electronic sonidero movement are unique in format, employing unexpected techniques and materials; they are distinct, painstaking, sensational, new. In contrast, the works of tropical sonidos follow in the typographic vein of Mexico's Gráfica Popular – reminiscent of the wrestling, taking the freedoms of the tropics, whether with box cutter or in full pixel. In the world of disco, Hi-NRG, and techno, the graphics are like the sound system: cult objects, concepts, myth.
"Do you want to meet Jaime Ruelas?" asks José Luis. The master of ink drawing, creator of logos and illustrations as iconic as La Changa or Polymarchs themselves. Of course we do. We are his fans, and we are an army. We arrive nearly punctually to the interview, with photography, audio and video gear in tow. Nearly punctually, because Jaime is already waiting; the son of a watchmaker, he knows machines, design and sound from the inside. He also knows the history of Polymarchs well, and from the beginning. Polymarchs's first gig took place in his apartment in Tlatelolco. Later, Jaime became the sonido's first DJ, before switching his focus to images.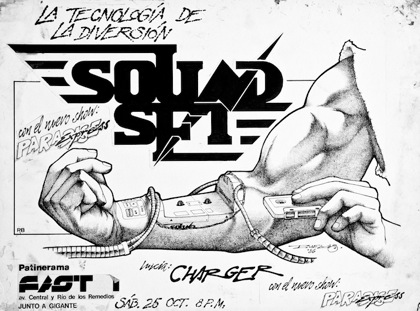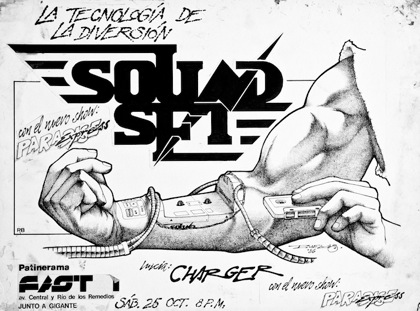 Like the sonidos thriving now in the capital, Polymarchs began in Puerto Ángel, on the Oaxaca coast, with a modest set-up – just a single Telefunken console and two baffles. The collective was formed by three siblings in 1975: Apolinar, Elisa and María de los Ángeles Silva Barrera. In 1978 they moved to Mexico City. Apolinar took charge of the sonido, and with Jaime Ruelas he discovered disco and Hi-NRG. The tenacity of Polymarches transcends mere selection of musical genres; the approach here is different. With tropical sonidos, the music, the equipment, the role of DJ and MC are the purview of one person, a single all-powerful figure operating from behind the console. Polymarchs is coming from somewhere else, assembling great towers of scaffolding, creating a spectacle, an experience, an environment. Neither DJ or MC, this is an entire machine. Polymarchs designs, produces and operates structures of light and sound as have never been seen before, radiant vessels that travel, carrying immense tech crews and companies of retro-futuristic dancers, from Tenochtitlan to outer space. There are explosions in the cosmos. On the floor all hands are up, cellphones by the thousands.
When Apolinar Silva and the Polymarchs team arrive at the Centro Cultural de España to give a conference in the context of the Proyecto de Gráfica Sonidera, the auditorium is brimming. Followers sport the distinctive t-shirts and jackets, hold up posters they've collected, wave cellphones. Apolinar is glowing; he is the supreme authority and, more than mythic, he is mystic. The audience takes the microphone to share their experiences. Like the time a Polymarchs event was organized in Mexico City's Zócalo and what people thought was an earthquake turned out to be the earth shuddering under such dance. Below, in one of the exhibition spaces, Polymarchs set up a kind of black-light temple, aglow with, among many others, the visions we now share now with you.
The Proyecto de Gráfica Sonidera was an intensive program that resulted in records and research, specialized workshops and others for children, the painting of walls, the exhibition of graphic, photographic, and video material, and a series of talks along with book and documentary releases. We had the honor of including a drawing by Jaime Ruelas, and we kicked off with a dance party dedicated to Polymarchs… which was epic. There was a little boy who stole the dance floor, winning it against the odds from the more seasoned dancers.
All this was made possible thanks to many people and institutions. Shout-outs to the following generous collaborators: Marco Ramírez, José Luis Lugo, Javier Echavarría, Jaime Ruelas, Livia Radwanski, Mark Powell, Mirjam Wirz, Rocío Montoya, Tonatiuh Cabello, Diego Delgado, Alan Lazalde, Sonido Fajardo, Luis Sánchez, Héctor Rubí, Julio Díaz Corona, Sonido Leo, Christian Cañibe, Eduardo "Aníbal" Dueñas, Eleazar "Canuto" Escobar and the shop personnel of Publicidades Panther, Publicidades Lupano, Aisel Wicab, Citlali López Maldonado, Pedro Sánchez, Marisol Mendoza, Lupita La Cigarrita, Sonido Pío, Víctor Hernández, Edgar Ramírez, Laura Zárate, Griska Ramos, Mirna Roldán. Official respects to FONCA, to CONACULTA, to the Fundación Alumnos 47 and to the Centro Cultural de España.
The end of boom and bust ended with the credit crunch. Following the global financial crisis of 2008, the Eurozone crisis has produced technocracy and poverty rather than democracy and wealth. Reactions to these failures of monetary policy are informed by technology as never before, from austerity being imposed thanks to an Excel spreadsheet bug to the rise of the anti-statist cryptographic currency of Bitcoin.
Against this backdrop of monetary failure and technological critique, _MON3Y AS AN 3RRROR | MON3Y.US is an ambitious online survey of net art depictions and critiques of money and its institutions curated by the pseudonymous curator "Vasily Zaitsev". As well as the work from 70 or so artists invited to participate an open call for work increased the number of pieces in the show in total to around 200. I only consider the invited artists here, but the work in the open call section is well worth looking at as well.
The show web site has a simple HTML interface, starting with a single image and a pull-down menu of other works. Disable your pop-up blocker and you're ready to start.
Miron Tee's "Shame" is the image that fronts the show, an image of a dollar modified to show George Washington peering out nervously from behind the oval frame in the center.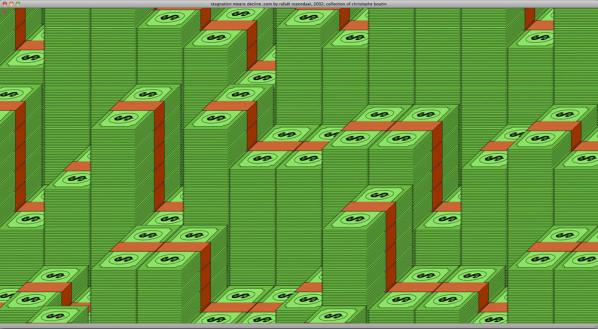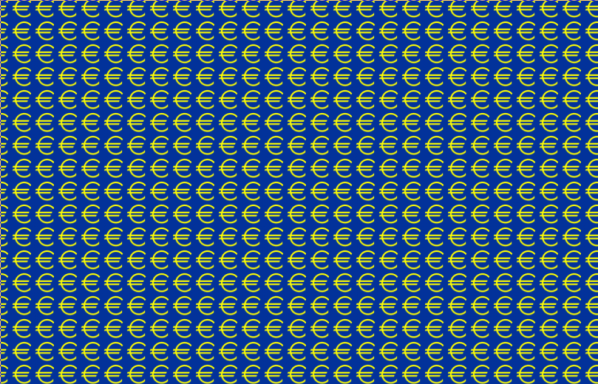 Dominik Podsiadly's "Joy to ide" starts the pull-down menu with a flowing grid of Euro signs on a blue background to the sound of "Ode To Joy" playing backwards. It's an all-over, closed temporal loop of the kind that animated GIFs exemplify and encourage, the Euro falling forever.
Nuria Güell's "How to expropriate money from the banks" is a more direct action based work of culture jamming explaining presented in a well laid out document in the style of HSBC's First Direct brand.
Paolo Cirio's "Loophole for All" makes offshore tax havens, those loopholes in taxation regimes that allow corporations and the super-rich to avoid repaying society, available to everyone through a web site interface.
Rafaël Rozendaal's "Stagnation Means Decline" is a screenful of geometric pixel-art dollar bill stacks that fill the screen with their edges only to be obscured by new columns like an economic game of Life.
Filipe Matos's "Crash" is an undulating animated monochrome concrete poetry American flag with the stars made from the letters of "me" and the stripes as "you".
Adam Ferriss's "paper$hredder" is a Vimeo video clip of American dollar bills speeding by faster and faster until they dissolve into a blur.
Aaron Koblin + Takashi Kawashima's "Ten Thousand Cents" is a composite image of a hundred dollar bill crowdsourced by paying people a cent to paint each piece through Amazon's Mechanical Turk service.
Maximilian Roganov's "When the Mao was small, he worked for CIA" is a looped animated GIF colour 3D scan of a dollar bill, polygonally glitched or possibly crumpled over time.
Dave Greber's "Self Portrait With Dog" video is aptly titled, apparently taking place as the custom graphic on a Visa Mastercard.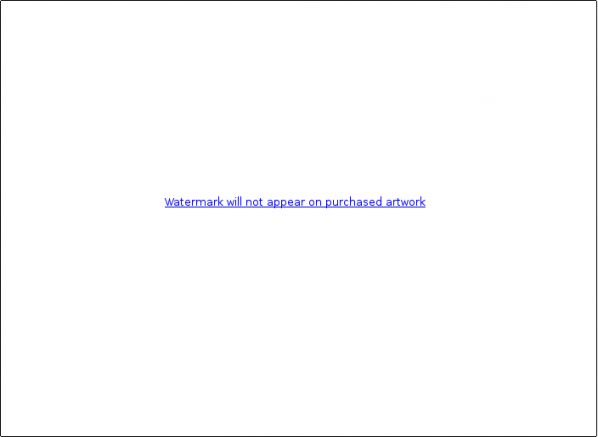 Agente Doble | UAFC's "Watermark will not appear on purchased artwork" is a million dollar blank artwork if you email them and purchase it, otherwise it's just a url on a blank web page.
JUST DO IT's "Fifty Euros Inside/Fifty Euros Outside" are animated GIF loops of fifty Euro notes pulsating as if to sound waves on an oscilloscope.
Mitch Posada's "$$$" is a Flash video of Silicon Graphics-era-style VR models of skeletons exploding and morphing into their constituent polygons while texture mapped with Deutschmarks.
Emilio Vavarella's "Money Complex" is a tube map-style world map with banknote-collage continents and a key for numeric labels that can be zoomed in on by moving the mouse to reveal their often incongruous labels. It's one of the more complex works in the show art historically and conceptually.
Lorna Mills & Yoshi Sodeoka's "Money2" is a Vimeo video loop collage of roughly extracted elements from videos of commodity fetishism, fire and death.
Fabien Zocco's "Cloud" is a generative composition of black dollar signs scattered up over a yellow background over time like a plume of smoke.
Jasper Elings's "Territory" is an animated GIF loop of a dollar bill flag blowing in the roughly simulated wind on a white background. It's not the only such piece in the show.
Robert B. Lisek's "FuckinGooglExperiment" is online statistical analysis code that tries to correlate the change in Google's stock price with changes in their PR strategy. It also uses the excellent Fluxus livecoding environment.
Alfredo Salazar Caro | TMVRTX's "How to make money on internet remix" is a tightly tiled video loop of a rotating stack of dollar bills in a lava-lite-like flow of colour psychedelia.
Anthony Antonellis's "How to make money on the internet" is simply that rendered block of spinning virtual hundred dollar bills, plucked from the era of RenderWare and VRML.
Gustavo Romano's "Pieza Privada #1" is another piece of net art for sale at a specific price, with a carefully described contract and application form.
Tom Galle's "One Million Dollars For iPhone" is an app available on the iTunes Store that allows you to count a virtual million dollar wad on your iPhone.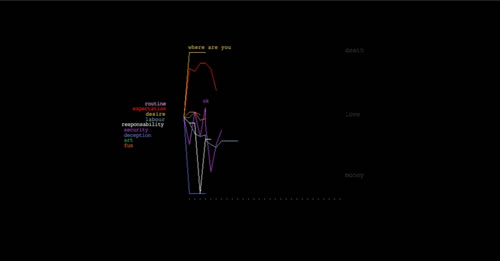 Geraldine Juarez's "Love Not Money" tracks the associations of various words with "death", "love" and "money". I had to Google this one: it's a Processing visualisation of a personal stock market tracking the artist's conceptual assets over six weeks. I love it.
Nick Kegeyan's "C.R.E.A.M. (Cash Romney Eat A Lot of Money)" is simple, direct and effective video burst of an American news interview subject morphing into a cloud of falling texture mapped dollar bills.
Dafna Ganani's "Apple Dollar Explosion" is another descriptively titled piece, a Maya-looking apple texture mapped with a dollar bill spinning against a grey background then exploding into its constituent polygons.
Haydi Roket's "$" takes a dollar bill portrait and literally deconstructs it by pixelating it in increasingly primitive ways, first as 4-bit grey patterns, then in monochrome ANSI characters, alternating to inverse video and changing the contrast to give a flickering effect.
Jennifer Chan's "Infinite Debt" is a video of a twenty Euro not being dipped in batter and fried mixed in with a collage of clipart images and video on the cynical economics of contemporary art and consumerism.
Frère Reinert's "Money as a waste of time" is a deliberate excercise in futility; a blurred, zoomed in silent video of the MacOS X SBOD on a white backdrop.
Cesar Escudero's "Captura de pantalla 2013-03-08 a las 21.46.23" is a Mac OS X desktop image of a gas masked protester who appears to be reaching for a folder named "$$$$$$$".
Jefta Hoekendijk's "Money Is Data" is an animated GIF loop of a glitchily texture mapped virtual fifty Euro note in artificial colours.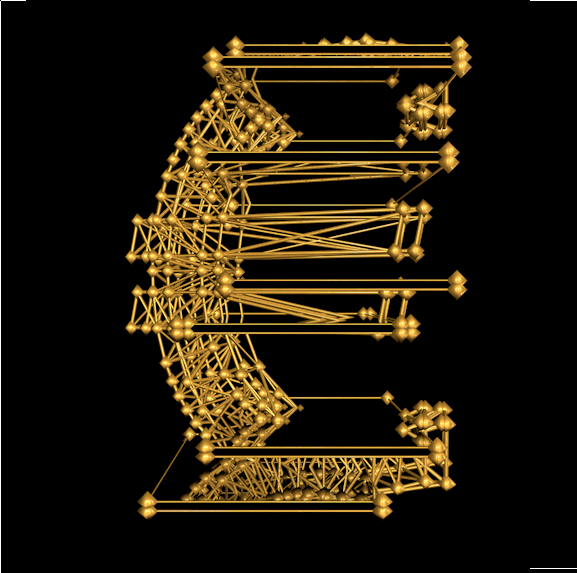 V5MT's "¥€$ or N0T" is a rap video or Designers republic album cover-style animation of monumental metal morphing currency symbols made from struts and spheres like newton's cradles or molecular diagrams.
Addie Wagenknecht's "How To Make $$$$$" is a grid of money counterfeiting video tutorials, which are apparently a genre. Playing all at the same time they become an all-over aesthetic rather than incitement to a crime.
Gusti Fink's "infinite loop of money drowning in water oil" is a slow, monumental simulation of a platinum visa card sliding into dark liquid that the camera pans over as if it were a sinking ship.
Marco Cadioli's "You are here" shows globe and landscape maps constructed of dollar bills, with a pin or map icon to show your place in the economy.
Keigo Hara's "Making Of Fake Bills" is more halftoned (or possibly shape grammared) dollar bills.
Jan Robert Leegte's "Currency Graph" shows European flag yellow bars over a European flag blue gradient background. It's a mutated and abstracted evocation of news information graphics aesthetics in CSS and JavaScript.
Ellectra Radikal's "Disolved €uro" is a flickering autotraced, find edged and glitched animated zoom into a hundred Euro note that renders it spatial and architectural.
Paul Hertz's "5,000,000$" it the purest glitch art piece in the show, rows of corrupted and miscoloured banknote imagery that looks like nothing so much as classic street art.
Aoto Oouchi's "It's all good" is an uncanny New Aesthetic 3d rendering of liquid or possibly mirrored texture mapped banknotes pouring from a wall.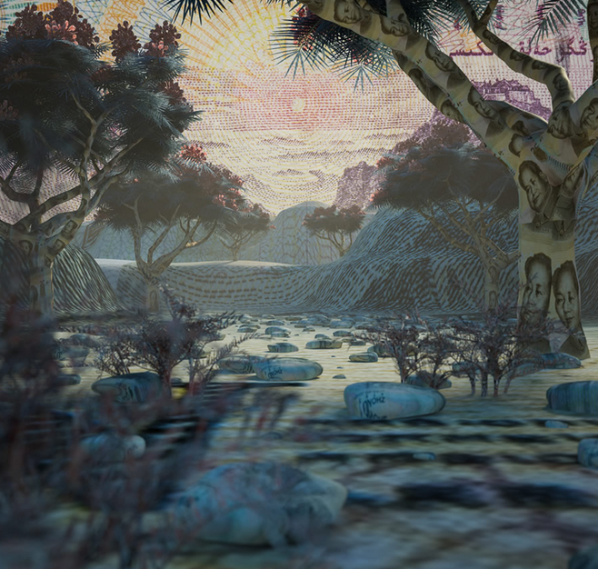 Kim Laughton's "Landscape" is a rendered and collaged landscape of banknotes, resembling nineteenth century engravings of dramatic landscapes thanks to the inconography and texture of its source material.
Andrey Keske's "Tell Me What You Want" is a search engine-style text box prompt that shows the economic coercion inherent in neoliberal use of technology by only allowing you to finish one word beginning with "M".
A Bill Miller's "3xpl0d3m0n3y" combines a grainy analogue glitch aesthetic explosion of a dollar bill into waveform stripes into a black space of drifting Matrix-green dollar signs.
Martin Kohout's "Watching $100 Note Unveiling Video" has a ChatRoulette look, with the unseen unveiling causing a small smile to break out on the depicted viewer's otherwise affectless face.
Marc Stumpel's "pH0r 7|-|3 L0\/3 0Ph /\/\0|\|3'/" is a glitched and colourised monochrome television popular music performance from the age of mass media. Again I had to Google it but the song is 'For the love of money' by The O'Jays.
Benjamin Berg's "$(0x24)" (the hexadecimal number that represents the dollar sign in ASCII) is a colourful and stripy glitch animation that resembles test cards, 8 and 16 bit graphics, and even woodcut as it breaks down.
LaTurbo Avedon's "$$$$$$$$$$$$$$$$$$$$$" is an ambient modern html5 animtion of the avatar-artist reclining on money texture-mapped couches floating up and down a Google image search page for the word "millions".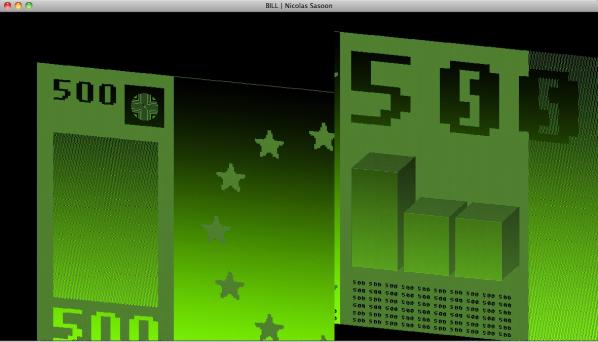 Nicolas Sassoon's "BILL" is a flickering green screen terminal or slow scan TV-style rendering of a 500 Euro note that plays with the visual language of digital images: the letters and stars are highly pixellated but the backdrop to them is a smooth gradient.
Curt Cloninger's "i want KANDY" loops images of a dancing sniper camouflaged figure montaged with dollar bills and fruit over a more slowly changing background collage of the american flag, a dollar bill, and fruit making a post MTV-styleguide image of the military-economic-entertainment complex.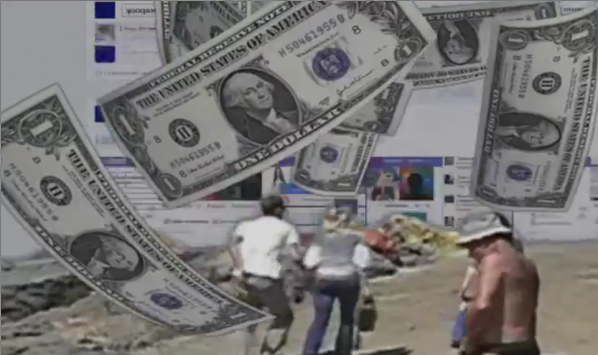 Systaime's "ʞooqǝɔɐɟ Dollars" video portrays a world where curvily rendered dollar bills rain over an amateur video of tourists at a beach with a sky of quickly cycling Facebook pages.
Erica Lapadat-Janzen's "Money Troubles" is a PhotoShop Pop Dada montage of exploitatively normative female beauty and monetary and drug excess that subverts the imagery of the fashion pages.
Milos Rajkovic's "Mind Wheel" is a wonderfully Gilliamesque collaged animation depicting a mental wage labourer.
Émilie Brout & Maxime Marion's "Cutting Grass" depicts the pointless and trivial labour that video games such as "The Legend Of Zelda force players to engage in for unrealistic rewards such as gold coins and rubies so they can get on with their quest.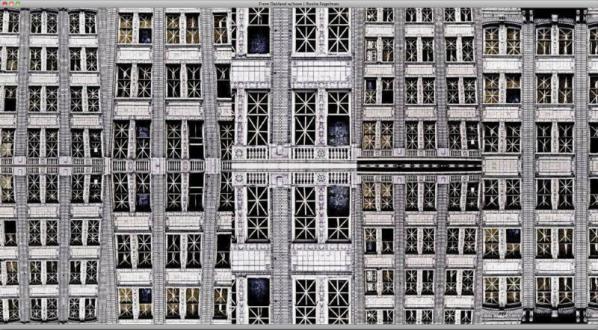 Rozita Fogelman's "From Oakland w/Love" is a point-and-click kaleidoscopic archtitectural portrait of gentrified Bay Area architecture.
Georges Jacotey's "am I enough political now" is a Chatroulettish video selfie of an augmented reality Euro flag and symbol drawing and dancing session.
Δεριζαματζορ Προμπλεμ Ιναυστραλια's "Major Problem" is a rendering of a stack of dollar bills as seen through heat haze or under water, rippling and undulating against a white background.
Lars Hulst's "0 €uro" is a rendering of a zero Euro note.
Nick Briz's "a return to secularism" is a video documentary of twenty dollar bills being printed with the words "a return to secularism" flashing over it, framed by a repeated loop of the words "in God we trust" being crossed out on a dollar bill where they were added in the 1950s.
Jon Cates's "MØN3¥-Δ$-3ɌɌɌØɌ" is a Classic Mac monochrome bitmap or fax aesthetic PDF essay for the show and an exposure of the print on demand economics of that essay in the same style.
León David Cobo's "Conversation With Machine" has a 1990s broadcast graphic feel, showing the soundwaves of the feedback of a conversation with Siri asking it for money in Euro blue and yellow.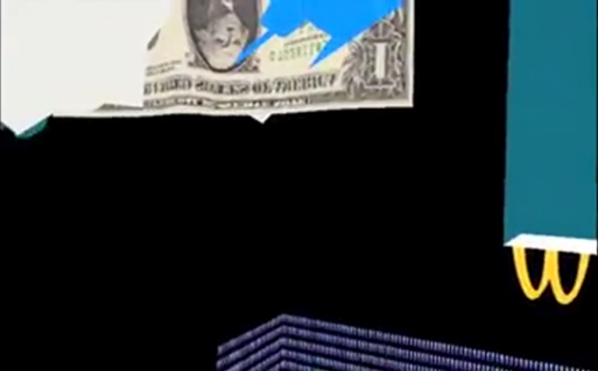 Guayayo Coco's "Money | GLıɫcʜ ᴬᴺᴰ GLıɫɫɛʀ" is a video of a journey through a VRML-style virtual environment of discrete polygonal objects texture mapped with dollar bills, corporate logos and more abstract patterns with a radio channel-surfing soundtrack.
Vince Mckelvie's "MONEY" is a reactive interactive deconstruction of a hundred dollar bill into a grid that reacts to the viewers' mouse movement, revealing pulsating colours behind. It's a good example of how suitable html5 is for this kind of thing.
Ciro Múseres's "YOU HAVE WON" is a classic net.art style HTML bomb of overlaid text and links with content from financial web sites such as Barclays, Halifax and Santander that continuously adds and removes layers in different shades red, black, blue and green text to make new compositions.
Adam Braffman's "Money Loading" is an animated GIF of the frame of a 100 dollar bill with a "Loading…" speech bubble in the centre. It makes the show's themes of absent and delayed wealth more obviously explicit.
Rollin Leonard's "Portrait of a NetArtist" is an two-frame animated GIF of the artist naked in the bath with bundles of fake hundred dollar bills with which they are lighting their cigar.
Thomas Cheneseau's "100€ sequence" is a grid of glitched sections of a hundred Euro note that moires with colour as you scroll it. There's a link to the facebook album that constitutes the actual work, and it works much better as a clickable album than as a static single image.
Yemima Fink's "This is not money" is an abstract postmodernist collage of graphical quotations from the counterfeit-resisting elements of banknotes that is both witty and a very effective defamiliarisation of the iconography of banknotes and the power that they represent.
Mathieu St-Pierre's "Untitiled" is a glitched jpeg of a dollar bill that in its straightforward application of glitch aesthetics makes the most direct link between them and the economic "glitch" of 2008.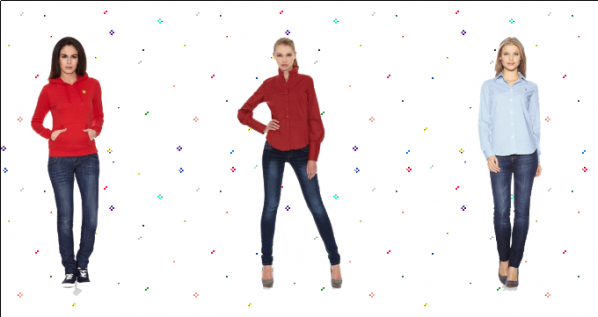 Kamilia Kard's "Amazon VIP girls" is the lone tumblr in the show, with an aesthetic that is either post-internet or pre-Google depending on how old you are applied to the supposedly perfect clothing models used by web sites.
José Irion Neto's "Untitled" is a glitched banknote that turns JPEG artefacts into Klimt patterns.
There are definite historical trends and formal themes within the included work. Polygonal, texture-mapped, 90s-style VR-style objects that spin or explode. Net art and functional web sites that track or create financial and legal entities and transactions. Looped animations of textures, rendered flags, or video detournements. The imagery of accumulation, consumption, and destruction, always ironically. Imagery and symbols presented in simple loops fast or slow for contemplation. Graphs and maps of real and imagined economic signifiers.
In terms of genre, _MON3Y AS AN 3RRROR | MON3Y.US includes classic VR and video art, more modern GIF loops, textual and institutional net.art, glitch art, even some New Aesthetic. The language of computer graphics, texture mapping and polygons, allows the imagery of banknotes to be defamiliarised and deconstructed. Less often, personal experience and iconography displace the cultural imagery of wealth, consumption and debt.
This historical, formal and genre coverage of the variety of artworks included in the show comprehensively illustrates the chosen theme of "money and error". This creates its own genre and lineage for the included artworks, which gain by comparison to their newly identified peers. They also contribute to the social and economic critique of the show. It's a very successful balancing act, which the simple interface and presentational strategy of the show's curation are key to achieving.
_MON3Y AS AN 3RRROR | MON3Y.US is an almost overwhelmingly successful in its comprehensive review of net art's critical depiction of and engagement with money. By taking a technologically simple but historically, conceptually and logistically ambitious approach to net.curation for net.art it demonstrates the effectiveness and lasting value of net art's contributions in this area and the power of online thematic curation to draw together and contextualise this value without giving in to the often perceived need for offline institutional underwriting.
Introduction.
For over 17 years Furtherfield has been working in practices that bridge arts, technology, and social change. Over these years we have been involved in many great projects, and have collaborated with and supported a variety of talented people. Our artistic endeavors include net art, media art, hacking, art activism, hacktivism and co-curating. We have always believed it is essential that the individuals at the heart of Furtherfield practice in arts and technology and are engaged in critical enquiry. For us art is not just about running a gallery or critiquing art for art's sake. The meaning of the art is in perpetual flux, and we examine its changing relationship with the human condition. Furtherfield's role and direction as an arts collective is shaped by the affinities we identify among diverse independent thinkers, individuals and groups who have questions to ask in their work about the culture.
Here I present a selection of Furtherfield projects and exhibitions featured in the public gallery space, we have ran in Finsbury Park in North London for the last two years. I set out some landmarks on the journey we have experienced with others, and end my presentation with news of another space we have recently opened (also in the park) called the Furtherfield Commons.
Running themes in this presentation include how Furtherfield has lived through and actively challenged the disruptions of neoliberalism. The original title for this presentation was 'Artistic Survival in the 21st Century in the Age of Neoliberalism'. The intention was to stress the importance of active and open discussion about the contemporary context with others. The spectre of neoliberalism has paralleled Furtherfield's existence, affecting the social conditions, ideas and intentions that shape the context of our work: collaborators, community and audience. Its effects act directly upon ourselves as individuals and around us: economically, culturally, politically, locally, nationally and globally. Neoliberalism's panoptic encroachment on everyday life has informed Furtherfield's own motives and strategies and, in contrast with most galleries and institutions that engage with art, we have stayed alert to its influence as part of a shared dialogue. The patriarch, neoliberalism, de-regulated market systems, corporate corruption and bad government; each implement the circumstances where us, everyday people are only useful as material to be colonized. This makes us all indigenous peoples struggling under the might of the wealthy few. Hacking around and through this impasse is essential if we are to maintain a sense of human integrity and control over our own social contexts and ultimately to survive as a species.
"The insights of American anarchist ecologist Murray Bookchin, into environmental crisis, hinge on a social conception of ecology that problematises the role of domination in culture. His ideas become increasingly relevant to those working with digital technologies in the post-industrial information age, as big business daily develops new tools and techniques to exploit our sociality across high-speed networks (digital and physical). According to Bookchin our fragile ecological state is bound up with a social pathology. Hierarchical systems and class relationships so thoroughly permeate contemporary human society that the idea of dominating the environment (in order to extract natural resources or to minimise disruption to our daily schedules of work and leisure) seems perfectly natural in spite of the catastrophic consequences for future life on earth (Bookchin 1991). Strategies for economic, technical and social innovation that fixate on establishing ever more efficient and productive systems of control and growth, deployed by fewer, more centralised agents have been shown conclusively to be both unjust and environmentally unsustainable (Jackson 2009). Humanity needs new strategies for social and material renewal and to develop more diverse and lively ecologies of ideas, occupations and values." [1] (Catlow 2012)
It is no longer critical, innovative, experimental, avant-garde, visionary, evolutionary, or imaginative to ignore these large issues of the day. If we as an arts organization, shy away from what other people are experiencing in their daily lives and do not examine, represent and respect their stories, we quite rightly should be considered as part of an irrelevant elite, and seen as saying nothing to most people. Thankfully, there are many artists and thinkers seriously taking on these human themes in their work in various ways, on the Internet and in physical spaces. So much so, this has introduced a dilemma for the mainstream art world regarding its own relevance, and whether it is really contemporary anymore.
Furtherfield has experienced in recent years a large-scale shift of direction in art across the board. And this shift has been ignored (until recently) by mainstream art culture, within its official frameworks. However, we do not only need to thank the artists, critical thinkers, and hackers and independent groups like ours for making these cultural changes, although all have played a big role. It is also due an audience hungry for an art that reflects and incorporates their own social contexts, questions, dialogues, thoughts and experiences. This presentation provides evidence of this change in art culture, and its insights flow from the fact that we have been part of its materialization. This is grounded knowledge based on real experience. Whether it is a singular movement or multifarious, is not necessarily important. But, what is important is that these artistic and cultural shifts are bigger than mainstream art culture's controlling power systems. Make no mistake, this is only the beginning and it will not go away. It is an extraordinary swing of consciousness in art practice forging other ways of seeing, being, thinking, making and becoming.
Furtherfield is proud to have stuck with this experimental and visionary culture of diversity and multiplicity. We have learned much by tuning into this wild, independent and continuously transformative world. On top of this, new tendencies are coming to the fore such as re-evaluations and ideas examining a critical subjectivity that echo what Donna Haraway proposed as 'Situated Knowledges' and what the Vienna based art's collective Monochrom call 'Context Hacking'. Like the DADA and the Situationist artists did in their time; many artists today are re-examining current states of agency beyond the usually well-promoted, proprietorial art brands, controlling hegemonies and dominating, mainstream art systems.
Slide Presentation
Most Art Says Nothing To Most People.
"The more our physical and online experiences and spaces are occupied by the state and corporations rather than people's own rooted needs, the more we become tied up in situations that reflect officially prescribed contexts, and not our own." [2]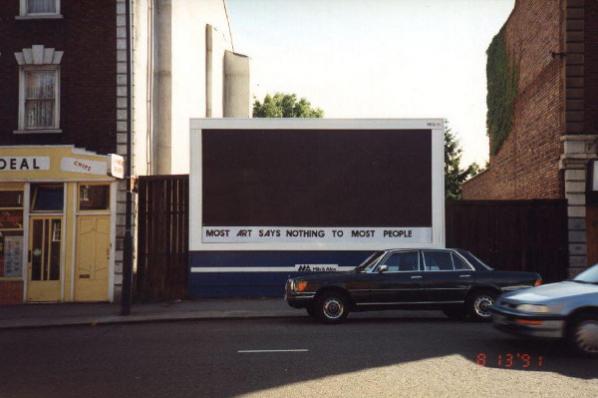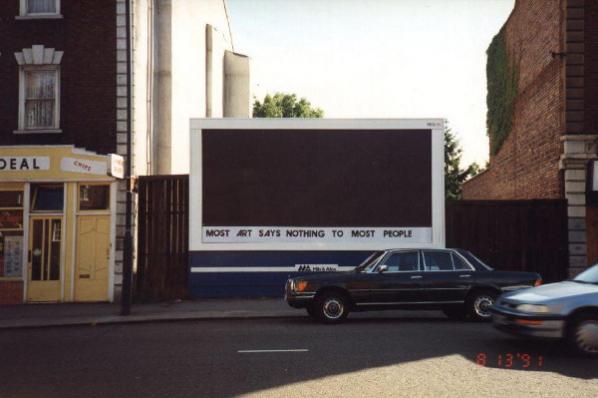 To start things off, I want to refer to a past work that myself and Heath Bunting (co-founder of irational.org) were involved with in 1991. The above image is a large paste-up displayed on billboards around Bristol in the UK. At the time, as well as being part of other street art projects, pirate radio and BBS boards, Heath and I and others were members of the art activist collective Advertising Art. It was street art that critiqued a presumed ownership of art culture by the dominating elites. The words "Most Art Says Nothing To Most People" has remained as an inner mantra in my mind ever since.
Furtherfield is inspired by ideas that reach for a grass roots form of enlightenment, and so nurture progressive ideas and practices of social and cultural emancipation.The Oxford English Dictionary describes Emancipation as "the fact or process of being set free from legal, social, or political restrictions; liberation: the social and political emancipation of women and the freeing of someone from slavery."
"Kant thought that Enlightenment only becomes possible when we are able to reason and to communicate outside of the confines of private institutions, including the state." [3] (Hind 2010)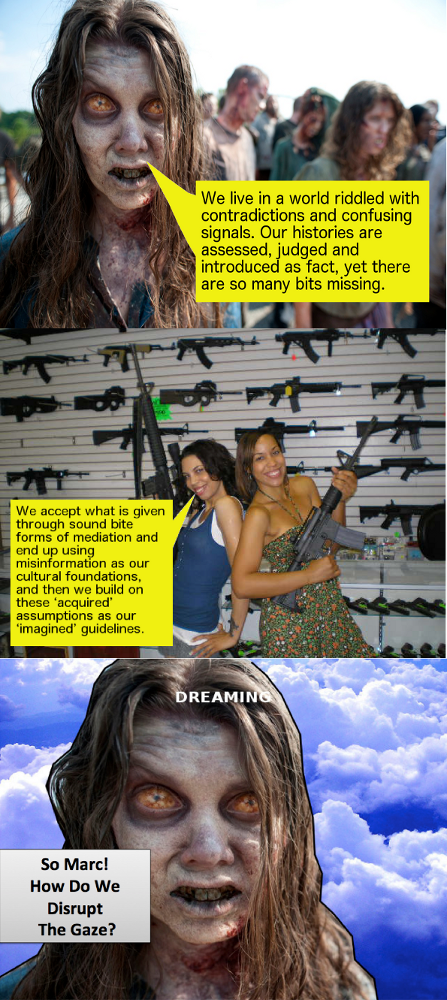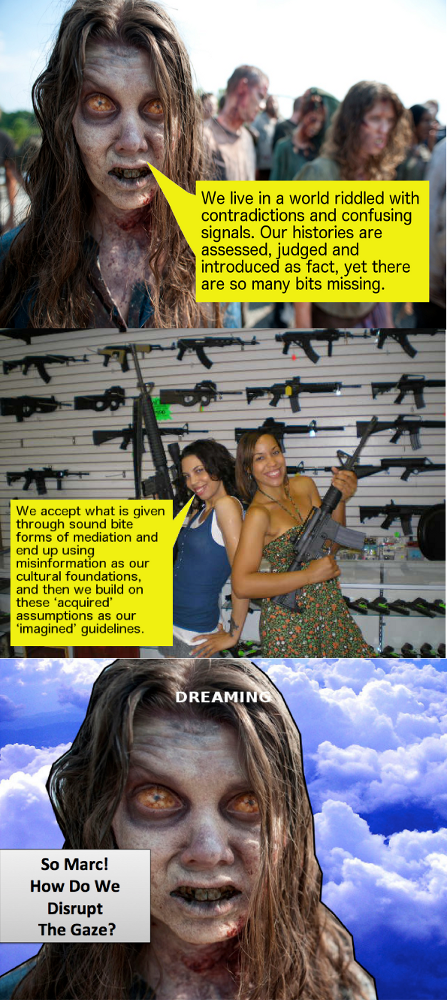 Well, a start would be to get organized and build something of value with others.
As usual, it is up to those people who know that something is not working and those feeling the brunt of the issues affecting them who end up trying to change the conditions. It is unlikely that this pattern of behaviour will change.
To expect or even wish those who rule and those serving them to change, and challenge their own behaviours and seriously critique their own actions is as likely as winning the National Lottery, perhaps even less.
Art critic Julian Stallabrass proposes that there needs to be an analysis of the operation of the art world and its relation to neoliberalism. [4]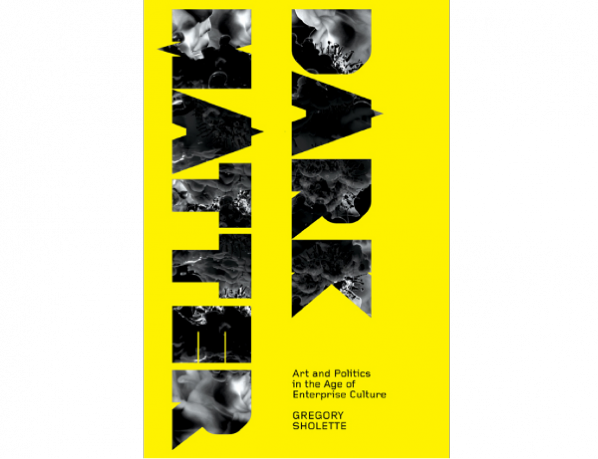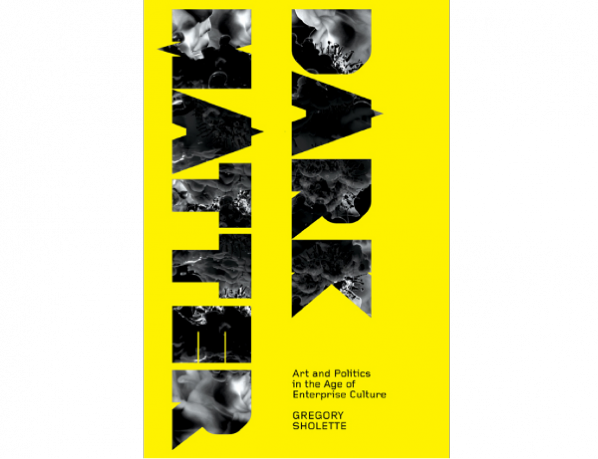 In the above publication Gregory Sholette argues, "that imagination and creativity in the art world thrives in the non-commercial sector, shut off from prestigious galleries and champagne receptions. This broader creative culture feeds the mainstream with new forms, and styles that can be commodified and utilized to sustain the few elite artists admitted into the elite. […] Art is big business: a few artists command huge sums of money, the vast majority are ignored; yet these marginalized artists remain essential to the mainstream cultural economy serving as its missing creative mass. At the same time, a rising sense of oppositional agency is developing within these invisible folds of cultural productivity. Selectively surveying structures of visibility and invisibility, resentment and resistance […] when, the excluded are made visible, when they demand visibility, it is always ultimately a matter of politics and rethinking history." [5] (Sholette 2013)
Drawing upon Sholette's inspirational, unambigious and comprehensive critique of mainstream art culture. I would like to consider examples that are closer to home blocking avenues of artistic and social emancipation that also need an urgent critique. And this blockage resides within media art culture (or whatever we call it now) itself. Recently, I read a paper about 'Post-Media' – said to "unleash new forms of collective expression and experience" [6]- which featured in its text only established names. Furtherfield is native to 'Post-Media' processes, a concept that theorists in media art culture are only just beginning to grasp. This is because they tend to rely on particular theoretical canons and the defaults of institutional hierarchies to validate their concepts. Also, most of the work they include in their research is either shown in established institutions and conferences. They assume that because a particular art work or practice is accepted within the curatorial remits of a conference theme, that this means the art shown is representative of what is actually happening, thus more valid than other works and groups not included. This is a big mistake. It only serves to reinforce the conditions of a systemic, institutionalised, privileged elite and enforces a hierarchy that will reinforce the same myopic syndromes of mainstream art culture. The extra irony here, is that many of these supposedly insightful art historians and theorists advocate a decentralised, networked culture in their writings, or as a relational context. However, many of them are not actually either engaged in supporting or creating these alternative structures with others. The real problem is how they acquire their knowledge. Presently the insular and hermetically sealed dialectical restraints and continual reliance on central hubs as official reference is distancing them from the actual culture they propose to be part of.
Furtherfield and Hack Value.
"We must allow all human creativity to be as free as free software" [7] (Steiner, 2008)
Furtherfield comes from a cultural hacking background and has incorporated into its practice ideas of hacking not only with technology but also in everyday life. In fact, Furtherfield is one big social hack. Hack Value advocates an art practice and cultural agency where the art includes the mechanics of society as part of its medium as well as social contexts with deeper resonances, and a critical look at the (art) systems in place. It disrupts and discovers fresh ways of looking and thinking about art, life and being. Reclaiming artistic and human contexts beyond the conditions controlled by elites.
Hack Value can be a playful disruption. It is also maintenance for the imagination, a call for a sense of wonder beyond the tedium of living in a consumer, dominated culture. It examines crossovers between different fields and practices, in relation to their achievements and approaches in hacking rather than as specific genres. Some are political and some are participatory. This includes works that use digital networks and physical environments as well as printed matter. What binds these examples together is not only the adventures they initiate when experimenting with other ways of seeing, being and thinking. They also share common intentions to loosen the restrictions, distractions and interactions dominating the cultural interfaces, facades and structures in our everyday surroundings. This relates to our relationship with food, tourism, museums, galleries, our dealings with technology, belief systems and community ethics.
Donna Haraway proposes a kind of critical subjectivity in the form of Situated Knowledges.
"We seek not the knowledges ruled by phallogocentrism (nostalgia for the presence of the one true world) and disembodied vision. We seek those ruled by partial sight and limited voice – not partiality for its own sake but, rather, for the sake of the connections and the unexpected openings situated knowledges make possible. Situated knowledges are about communities, not isolated individuals." [8] (Haraway 1996)
Furtherfield's move to the heart of a North London park.
Furtherfield had run [HTTP], London's first public gallery for networked media art, since 2004 from an industrial warehouse in Haringey. In 2012 the gallery moved to a public location at the McKenzie Pavilion in the heart of Finsbury Park, North London.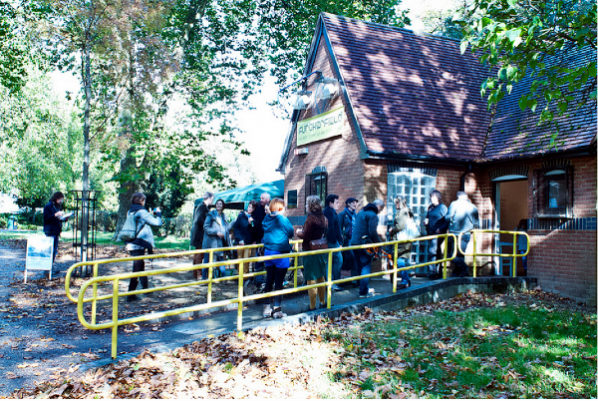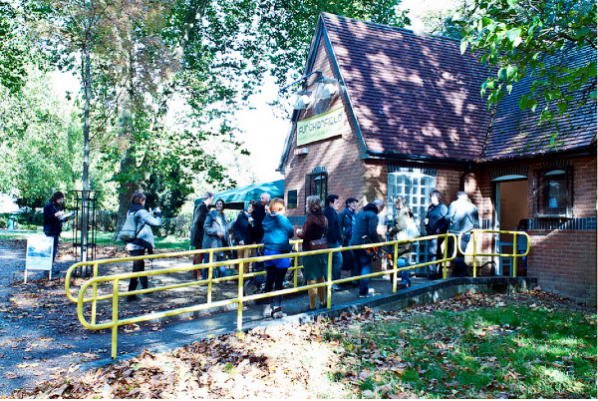 However, we are not just a gallery, we are a network connecting beyond a central hub.
"It is our contention that by engaging with these kinds of projects, the artists, viewers and participants involved become less efficient users and consumers of given informational and material domains as they turn their efforts to new playful forms of exchange. These projects make real decentralised, growth-resistant infrastructures in which alternative worlds start to be articulated and produced as participants share and exchange new knowledge and subjective experiences provoked by the work." [9] (Garrett & Catlow 2013)
The park setting informs our approach to curating exhibitions in a place with a strong local identity, a public green space set aside from the urban environment for leisure and enjoyment by a highly multicultural population.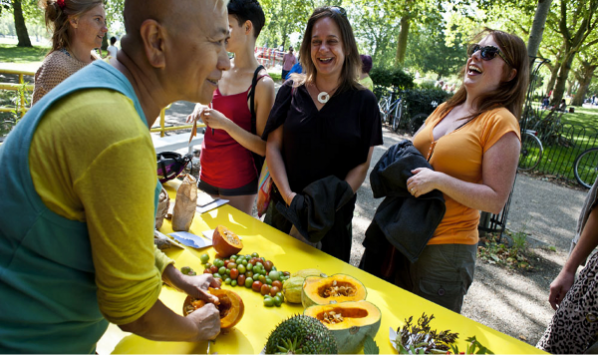 Seeds Underground Party by Shu Lea Cheang. Aug – Oct 2013.
We are simultaneously connected to a network of international critical artists, technologists thinkers and activists through our online platforms and communities, as well as a wider networked art culture. We get all kinds of visitors from all backgrounds and this includes those who do not normally visit art spaces. We are not interested in pushing the mythology of high-art above other, equally significant art practices. Being accessible has nothing to do with dumbing down it concerns making the effort to examine deeper connections between people and the social themes effecting theirs and our lives. We don't avoid big issues and controversies and are constantly engaged in a parallel dialogue between these online communities and those meeting us in the park.
We feature works that incorporate the contributions of local people and this brings them closer to the art and engagement of a social dialogue. For instance, London Wall, N4 by Thomson and Craighead, that reflected a collective stream of consciousness of people all around Finsbury Park, gathering their Tweets to print out and paste onto the gallery walls. By retweeting the images of the tweet posters we were able to gather many of the original authors in the gallery to see their words physically located among others made in the vicinity.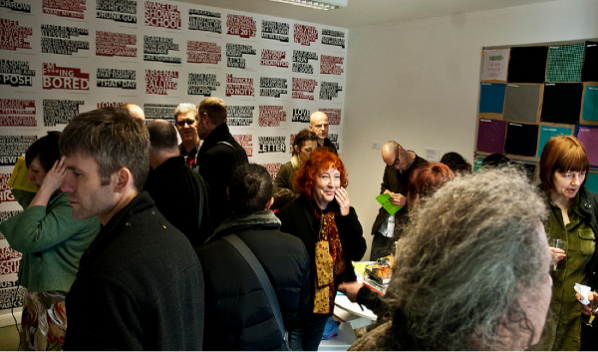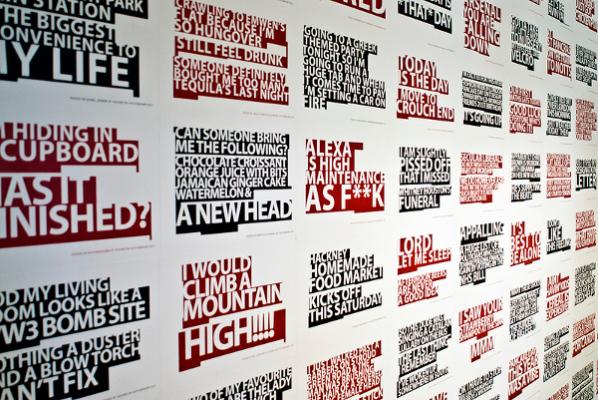 Above: London Wall, N4 by Thomson and Craighead, as part of Being Social, Feb – April 2012. Other artists included , Annie Abrahams, Karen Blissett, Ele Carpenter, Emilie Giles, moddr_ , Liz Sterry. See more info about the exhibitio Also to Flickr
Crow_Sourcing by Andy Deck invited people to tweet animal expressions from around the world – illuminating the link between the formation of human language and our relationships with other wild webs of animal life. Gallery visitors illustrated their own animal idioms, drawing directly onto the gallery walls, inspired by the ducks, crows, squirrels and dogs that inhabit the park.
We feature works that deal with the human and social effects of networked and pervasive technologies. Web 2.0 Suicide Machine by moddr_ proposed an improvement to our 'real' lives by providing a one click service to remove yourself, your data, and your profile information forever, from Facebook, Twitter and MySpace, replacing your icon (again, forever) with a logo depicting a noose. They also reflect on new forms of exposure and vulnerabilities they give rise to such as Kay's Blog, by Liz Sterry, which replicated in physical space the unkempt bedroom of an 18 year old Canadian girl based only on her blog posts, to eirie effect. The intention is to reach people in a way that has people question their own relationship with those technologies. This does not mean promoting technology as a solution to art culture but exploiting it to connect with others and also critique technologies at the same time.
Below: Selection of images from original slide presentation – exhibitions & events.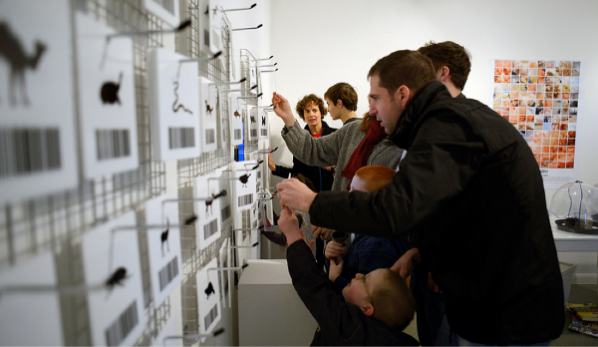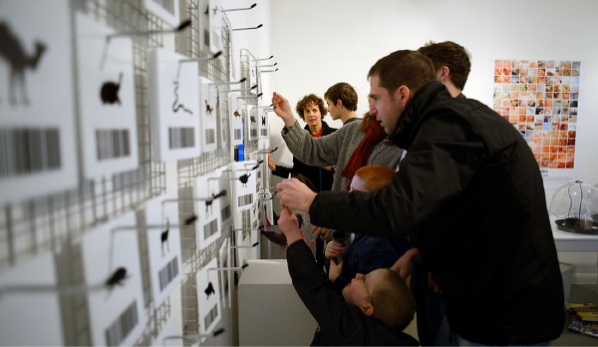 Crow_Sourcing by Andy Deck, WWW: World Wild Web Oct – Dec 2012.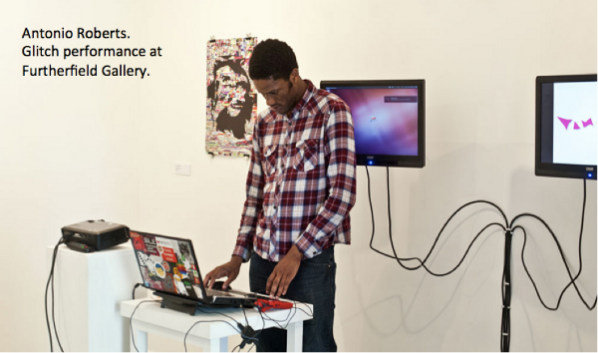 Glitch Moment/ums Exhibition June – July 2013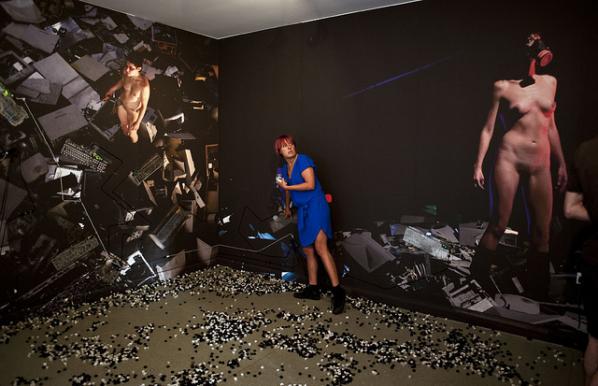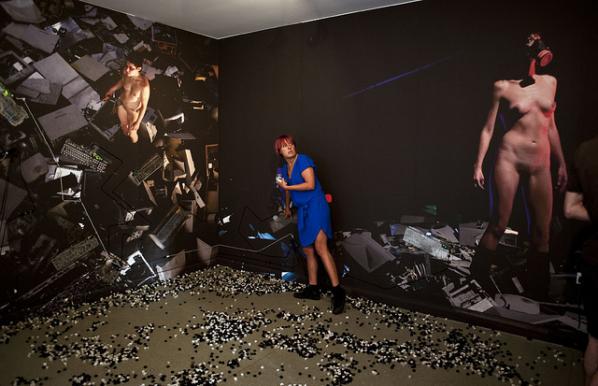 Shu Lea Cheang & Mark Amerika. UKI – Viral Love by Shu Lea Cheang. Aug – Oct 2013.
The Furtherfield Commons.
On the 23rd of November we opened our second space in the park 'The Furtherfield Commons'. It kicked off with The Dynamic Site: Finsbury Park Futures, an exhibition by students from the Writtle School of Design (WSD) featuring ideas and visions for future life in Finsbury Park, coinciding with the launch.
This new lab space for experimental arts, technology and community sets out to explore ways to establish commons in the 21st Century. It draws upon influences from 1700s when everyday people in England such as Gerrard Winstanley and collaborators forged a movement known as the Diggers also known as the True Levellers, to reclaim and claim common land from the gentry for grass roots, peer community interests. Through various workshops, residencies, events & talks we will explore what this might mean to people locally and in connection with our international networks. These include free software works, critical approaches to gardening, gaming and other hands-on practices where people can claim direct influence in their everyday environments in the physical world, to initiate new skills and social change on their terms. From what we have learned from our years working with digital networks we intend to apply tactical skills and practices into everyday life.
"You have created a true Peer 2 Peer philosophy of art, with a great network and reach!" – Michel Bauwens, Founder of the P2P foundation
Notes:
Furtherfield is a network across different time zones, platforms & places – online & physical, existing as various decentralised entities. A culture where people interact: to create, discuss, critique, review, share information, collaborate, build new artworks & alternative environments (technological, ecological, social or both), examine & try out value systems. "A rhizome has no beginning or end; it is always in the middle, between things, interbeing, intermezzo." (Brian Massumi 1987)
What Influences Furtherfield?
DADA, Situationism, punk, Occupy, hacktivism, networks, Peer 2 Peer Culture, feminism, D.I.Y, DIWO, Free Software Movement, independent music labels, independent thinkers, people we work with, artists, activism, grass roots culture, community…
This comprises technological and physical forms of hacking. It also includes aspects and actions of: agency-generation, skill, craft, disruption, self-education, social change, activism, aesthetics, re-contextualizing, claiming or reclaiming territories, independence, emancipation, relearning, rediscovering, play, joy, being imaginative, criticalness, challenging borders, breaking into and opening up closed systems, changing a context or situation, highlighting an issue, finding ways around problems, changing defaults, and restructuring things – Claiming social contexts & artistic legacies with others!
Extra Notes & References:
This text is a re-edited slide presentation first shown at the ICA, London UK on 16th November 2013 (Duration 25 min). Intermediality: Exploring Relationships in Art. Speakers Katrina Sluis, Peter Ride, Sean Cubitt & Marc Garrett.
http://www.ica.org.uk/39077/Talks/Intermediality-Exploring-Relationships-in-Art.html 
Transdisciplinary Community (TDC) Leicester UK 27th Nov 2013 (45 min). Institute of Creative Technologies. De Montfort University.
Two projects Gregory Sholette is currently involved in:
It's the Political Economy, Stupid. Curated by Oliver Ressler & Gregory Sholette
http://gallery400.uic.edu/exhibitions/its-the-political-economy-stupid
Matt Greco & Greg Sholette | Saadiyat Island Workers Quarters Collectable, 2013
http://bit.ly/1eSI5kX
—————————————————————
[1] Ruth Catlow. We Won't Fly For Art Culture Magazine, special themed issue Paying Attention: Towards a Critique of the Attention Economy. Special Issue of CULTURE MACHINE VOL 13 2012 by Patrick Crogan and Samuel Kinsley.
[2] Marc Garrett. DIWO (Do-It-With-Others): Artistic co-creation as a decentralized method of Peer-2-peer empowerment in today's multitude. From chapter – DIWO, Emancipation and Mainstream Culture. Page 2. (2013.) http://seadnetwork.wordpress.com/white-paper-abstracts/final-white-papers/diwo-do-it-with-others-artistic-co-creation-as-a-decentralized-method-of-peer-empowerment-in-todays-multitude-diwo-do-it-with-others-artistic-co-creation-as-a-decentralized-method-of-pe/
[3] Dan Hind. The Return of the Public: Democracy, Power, and the Case for Media Reform. Verso 2010. pp 155.
[4] Julian Stallabrass. Art Incorporated: The Story of Contemporary Art. OUP Oxford 2004.
[5] Gregory Sholette. Author of Dark Matter: Art and Politics in the Age of Enterprise Culture. Pluto press. (2011)
[6] About the Post-Media Lab By Post-Media Lab, 20 January 2012. Metamute.
http://www.metamute.org/editorial/lab/about-post-media-lab
[7] Hans-Christoph Steiner. Floss + Art. Compiled and Edited by Aymeric Mansoux and Marloes de Valk. GOTO10 in Association with OpenMute. 2008. P.151.
[8] Donna Haraway. Situated Knowledges: The science Question in Feminism and the Privilege of partial Perspective. Feminism and Science. Editors, Evelyn Fox Kellor and Helen E. Longino. Oxford University Press. 1996. P.259.
[9] DIWO: Do It With Others – No Ecology without Social Ecology. By Marc Garrett, Ruth Catlow. 2013. First published in Remediating the Social 2012. Editor: Simon Biggs University of Edinburgh. Pages 69-74. http://www.furtherfield.org/features/articles/diwo-do-it-others-%E2%80%93-no-ecology-without-social-ecology
—————————————————–
All exhibitions, events & projects at Furtherfield – http://www.furtherfield.org/programmes/exhibitions
Over the last few years there has been a keen interest in discussing the notion of public space; demonstrations, camps, collaborative projects, artistic interventions, community projects, social activism are just a few names that exemplify the different forms of engagement that deal with the complexities of it. Despite their different aims and impact most of these actions have given evidence of the need to re-appropriate the public space; through collective and networked practices individuals, groups and organizations 'challenge the conventional notion of public and the making of space'[1]. Although the liveness and even virality of these events, projects or actions hinder any prediction about its midterm effects or endurance, the fact is that there is an emerging legacy that is already dismantling certain assumed thoughts about 'the public'.
The retiree Hüseyin Çetinel's initiative of painting a public stairway with rainbow hues in his neighbourhood in Istanbul has been the last case involving cultural transformation, virality and social activism. After he painted the local stairs to 'make people smile' and 'not as a form of activism' the municipal cleaning service painted over the stairs in dull grey provoking a chain reaction that mobilized citizens to paint stairways throughout the city. Local communities and social movements appropriated this beautiful participatory action as a form of protest after Çetinel's stairway became viral in the social media. This example shows the intricacies of the public space and its expanded performativity. As Gus Hosein Executive Director of Privacy International argues 'there is a confusion as to what is public space is and how it relates to our personal and private space' in a social context where the emergence of the use of social media and surveillance as well as the appropriations of the space by private corporations and social movements and individuals are constantly questioning its boundaries[2].
Istambul Stairways. Image from InEnArt.
From my point of view, some of these actions that play in-between the social, political and artistic might be considered re-enactments of the public space as they aim to reconstruct the term itself by applying alternative procedures and by generating at the same time transductive pedagogies. However, in order to give a comprehensive understanding of the implications of the public space and its controversies it is essential to rethink the notion of the private space. Traditionally, home has been recognized as the physical private space; home is the main representative of the private sphere that encompasses the domestic and intimate. According to Joanne Hollows, 'the distinction between the public and the private has been a key means of organizing both space and time'[3] and consequently to promote a clear functional division.
This traditional perspective has been questioned and altered due to some current issues and events that are noticeably interconnected with those of the public space; an increasing number of evictions and homeless peoples, housing policies, escraches[4] in front of the houses of politicians, the appearance of ghost neighbourhoods due to real estate speculation, home as an alternative space for performance practice and community development, among others. Thus, home might be conceived as a container of individuals and actions, as a social product or instrument, as topographical placement or as a relational structure. Home entangles interesting layers of analysis that might serve to establish new relational and yet responsive parameters to understand both the private and public space. Some of the following examples that perform between art, activism and affections corroborate the significance of home; as Blunt and Dowling state 'home is not separated from public, political worlds but it constituted through them: the domestic is created through the extra-domestic and viceversa'[5].
Where is home?
In Barcelona, the city where I live there have been noticeable factors that have stressed the importance of home as a topic of interest. Probably the most significant case is the increasing number of evictions―over 350.000 in the last four years―as many families cannot afford their rent or mortgage after losing their jobs (the unemployment rate is 26.3%). Beyond the personal implications and devastating effects that evictions have on families, they also indicate that home is not anymore our secure space or refuge; on the contrary, if the individual does not respond to the production and consumption requirements is physically displaced to the streets. Consequently, many citizens are trying to find shelter back again in the public space.
If the 70s Richard Sennett announced the decay of the public space by the emergence of an 'unbalanced personal life and empty public life'[6], the related problems with housing have provoked the reactivation of the public space at many levels. At the same time, there is an increasing culture of the debt that ties together individuals and financial institutions in long-term relationships. As Hardt and Negri explain 'Being in debt is becoming today the general condition of social life. It is nearly impossible to live without incurring debts—a student loan for school, a mortgage for the house, a loan for the car, another for doctor bills, and so on. The social safety net has passed from a system of welfare to one of debtfare, as loans become the primary' means to meet social needs'[7].
These ideas can be exemplified by the actions of PAH (The Platform of People Affected by Mortgage Debt), an activist group of citizens that stops evictions through demonstrations and guerrilla media actions in the streets and that also helps struggling borrowers to negotiate with banks and promotes social housing[8]. This organized group of citizens has been awarded this year the Citizen Award by the European Union for denouncing abusive clauses in the Spanish mortgage law and battling social exclusion. PAH has received the support of the collective Enmedio that generates actions in the midst of art, social activism and media. For example, their photographic campaign 'We are not numbers' consisted in the design of a collection of postcards each one containing a portrait of a person that was affected by the mortgage debt by a local bank entity. The postcards were delivered in front of the bank's main building for people to write a message. The written postcards were then stuck in the front door main door turning numbers into a collage of human struggle. PAH and Enmedio actions become highly effective thanks to their media impact and their virality in the social media. Invisible individuals isolated in their struggle, find alternatives through an assemblage of support that connects the public and private space and that is also mediated by informative and constitutive tools that the virtual space offers. As Paolo Gerbaudo claims 'social media have been chiefly responsible for the construction of a choreography of assembly as a process of symbolic construction of public space which facilitates and guides the physical assembling of highly dispersed and individualized constituency'[9].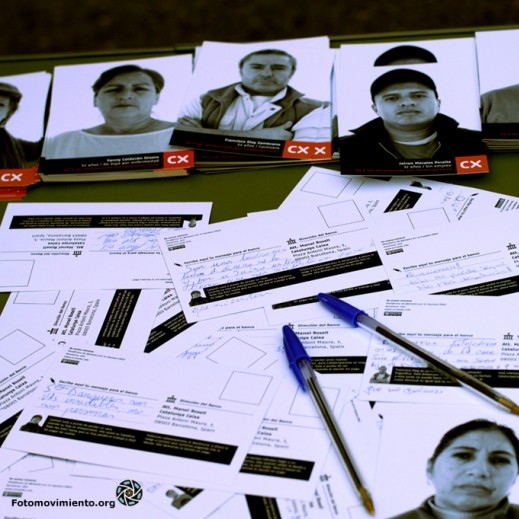 Image of 'We Are Not Numbers' by Enmedio Collective.
Processes of speculation, gentrification and eviction can be found in many western cities as well as different kinds of collectives and groups working for human rights advocacy. This is also the case of the Brooklyn based collective Not an Alternative has also carried out different guerrilla actions concerned with the problem of housing and eviction such as their series of workshops and media actions of 'Occupy Real State' or 'Occupy Sandy'.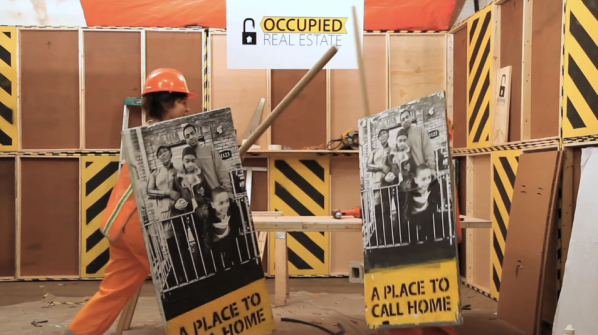 Occupied Real Estate (rough) from Not An Alternative, on Vimeo. https://vimeo.com/36647951
Many of the actions that these collectives promote might be understood as DIY activism as they are based on the empowerment and the development of skills. In this regard, it is interesting to observe how DIY that traditionally has been related to activities in the domestic space serves as a strategy to protect it and to trigger new forms of protest in the public space while enhancing the creation of an expanded family (or at least a sense of togetherness) through the social media.
Despite these actions, the public space is still home for many individuals. In the UK, different associations are concerned about the impact that the implementation of the bedroom tax might have, especially in London where the number of rough sleepers rises every year with an increase of the 62% since 2010-2011. The scenario is not different in many other European cities where beyond these worrying numbers there is also an increasing number of regulations and policies that difficult the life in the public space. As Suzannah Young stresses, 'homeless people often need to use public space to survive, but are regularly driven off those spaces to satisfy commercial or even state interests'. Public space is often only open to 'those who engage in permitted behaviour, frequently associated with consumption'[10]. The increasing number of quasi-public spaces―'spaces that are legally private but are a part of the public domain, such as shopping malls, campuses, sports grounds' and so forth― questions again the boundaries of the private and public space, especially when 'some EU cities use the criminal justice system to punish people living on the streets for doing things they do in order to survive, such as sleeping, eating and begging'[11]. All these policies have clear implications in the use of space and it is potential possibilities. The fact that the public space becomes home involves the reconsideration of the uses of the public space and the understanding of it through the eyes of the people that fully inhabit it. The London collective The SockMob run the Unseen Tours, alternative city tours guided by a group of homeless. Their embodied knowledge appears as a key aspect to develop these DIY versions of the city while promoting relationships between the homeless and the tour participants.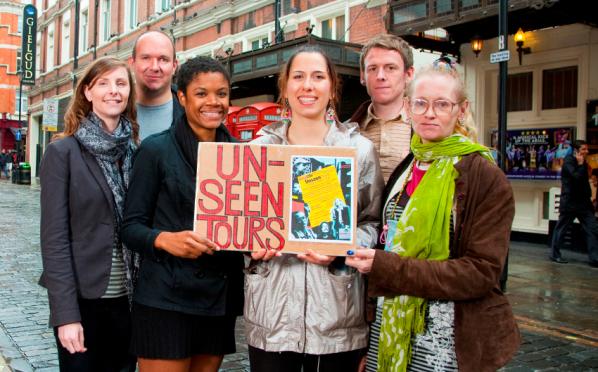 The London collective SockMob.
Where is home? In which ways access to spaces gives us opportunities and rights as individuals? In which ways all these site-specific initiatives that often have a transnational reach re-construct the notions of private and public space? How these DIY and media actions are generating new forms of visual arts activism? Despite the fact that these queries might need further analysis, I believe that the qualities of space becomes visible and tangible through these interactive and responsive actions with the spaces. Recently, an international group of activists, visual artists and scholars have published a handbook in which their consider these forms of activism militant research. According to them, 'militant research involves participation by conviction, where researchers play a role in the actions and share the goals, strategies, and experience of their comrades because of their own committed beliefs and not simply because this conduct is an expedient way to get their data. The outcomes of the research are shaped in a way that can serve as a useful tool for the activist group, either to reflect on structure and process, or to assess the success of particular tactics'[12]. Hence, the idea of some hands-on, the acquisition of skills and the performance of theory appear as key aspects to disentangle and analyse the qualities of the space.
From an artistic perspective home has been crucial in many historical periods of dictatorship to construct an underground scene of the arts; in many of these cases, the evidence of artistic practice appears through testimonials and documentation (photographs, fanzines, recordings, etc.). Again different forms of media help to make the clandestine public, crossing the sphere of the private into the public realm. Thus, the importance of documentation enhances different temporalities of reception and impact in the public realm. In this regard, a differed presentation of the artistic works triggers a reconsideration of the attributes of the spaces too. Currently, homes serve as a basic space for artists to present their work; in the case of music, this is a widely known practice in the US that is becoming more and more common in other countries and other art forms. Homes serve as a personal curatorial space for fine arts artists through the open studio festivals too; artists make their private space open for others as a strategy to show their work publicly. At the same time, in some artistic disciplines self-curation through digital portfolios is becoming increasingly used to showcase artworks. One way or another, home remains often the main space for creativity, production and curation through and expanded DIY conception of their profession.
Home becomes even more crucial in a context marked by the arts cuts and the economic crisis. In this regard, there are initiatives that see an opportunity in the relationship between the public and private space not only to exhibit or perform art but also to trigger a counter-performative form of showing works. This is the case of the domestic festivals that try to challenge the concepts of cultural enterprise and institution by proposing home as a legitimate space of the artistic experience. Friends, neighbours and acquaintances offer a room or a space in their house for artists to perform there (examples can be found in different cities such as Santiago de Chile, Madrid, Berlin, Barcelona, etc.). At the same time, the format wishes to transform the spatial and affective relationships that citizens have with the space, by inverting the spatial dichotomy between the public and the private. Hence, the idea goes beyond to a practical solution to have a space to perform as it also aims to give visibility to performing practices that have not been yet legitimized by the public sphere and they are in danger to remain in a sort of clandestinity (as they are not part of the current cultural market). In this regard, there is also a sense of evicted or homeless art that is trying to produce a social context of experience and articulation beyond the immediate effects of the power that governs at many level the public sphere. These kinds of initiatives generate 'an activity that undermines the exclusion by letting occur, at the very boundary which separates the public from the "secret"', an articulation which challenges the prevailing framework of representation and legitimation'[14].
The intersection between art, activism and affections help to explain the multiple and complex questions that configure the notion of home. With these examples I just wanted to stress the importance of home in the discourses that address the concepts of public space/public sphere/publicly. Thus homes 'are thereby metaphorical gateways to geopolitical contestation that may simultaneously signify the nation, the neighbourhood or just one's streets'[15]. From a transnational perspective, home seems to pose the crucial questions that connect us with what is happening inside, outside and in-between the spaces and gives us a different perspective to analyse current artistic and social practices that engage with our mode of action, production and identity.
I guess this is all from my home.
---
Post Digital Print
The Mutation of Publishing Since 1894
Alessandro Ludovico, 2012
Onamatopee 77
The sticky fingerprints on the black-and-pink 1970s photomechanical typography-style lettered cover of "Post Digital Print" speak volumes about the nature of physical print after the event of digital typography. It is this sense, of print in a state of technical and historical play after the full event of the digital rather than its end or irrelevance, that Alessandro Ludovico is considering history of print publishing here. But why 1894?
Ludovico dates the first announcement of "the death of print" to that year. More than a century later independent bookshops, large bookshop chains, newspapers and magazines are having to compete with Internet-based publishing or be wiped out. It's not clear whether physical print publishing believes it can survive this encounter with the digital. Ludovico explains how it can and why it is important that it should.
There are three main threads to "Post Digital Print". The first is a wide-ranging technical history of print, including technologies that were imagined or proposed but never became widespread. The second is a history of radical political and avant-garde historical use, misuse and critique of those technologies. And the third is an analysis of the social and technological networks that distributed the products of the first two. These threads tie together finally in a consideration of the current situation and future prospects of physical print publishing.
The mainstream history of printing goes from movable type through hot metal to photomechanical and finally PostScript-based publishing. This is how books and newspapers have reached millions of people. But not every print production technology has lasted or gained mass adoption. I was surprised to read that Ezra Pound once wrote a poem specifically for Bob Brown's "Readies" (an imagined 1930s motorized-paper-strip book replacement), and in the first half of the twentieth century newspapers were transmitted by telegraph, telephone and radio ready to be listened to or remotely printed.
The technical failings of dead media become aesthetic affordances in their afterlives. Letterpress embosses the paper it is printed on, lithography suffers misregistration and other artifacts, and newsprint smears and creases. These are now the very qualities people seek from those media. This is different from mere nostalgia, in that it is used to create a contemporary aesthetic, but what of the "Readies" and other book replacements that never were? They are the subconscious or the dreams of print technology, forgotten futures that help to understand the paths that were taken.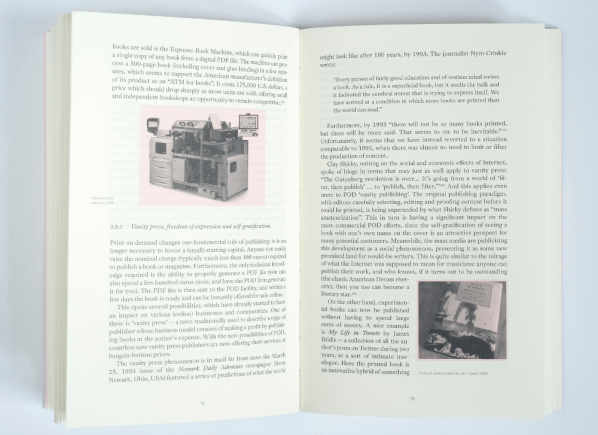 Not every print technology was designed to print millions of copies. Spirit duplicators, photocopiers and print-on-demand publishing all allowed democratic access to print for smaller print runs of projects with less mass appeal. Ludovico tracks this thread of print history from mid-twentieth-century science fiction fanzines through the alternative press to the contemporary fanzine scene.
Artists and political groups pushed the technology and aesthetics of each new print technology with pamphlets, unlicensed newspapers, the alternative press, fanzines, and books and journals. Ludovico uses avant-garde and culture jamming artistic publications, from the Dadaists and Futurists to the Yes Men and Decapitator to demonstrate how artists have pushed the form and content of print publications.
Once you have printed a publication you must distribute it. For publications outside of mainstream or official culture, this is a task that has varied in difficulty from inconvenient to deadly. British newspapers had to be licensed (and thereby censored) by the state in the early nineteenth century. Alternative political views were printed in unlicensed newspapers printed by sympathetic printers. These newspapers outsold the official press, and were subject to repression by the state, leading to funds being set up to support the families of arrested printers.
In the Soviet union, Samizdat copies of books were produced with stolen or smuggled paper and borrowed presses. Less dramatically but still outside the mainstream or official culture, the alternative press and fanzine scenes have survived through mail-order print and online catalogues and through conventions. And the Fluxus scene distributed its print products through an international network of distributors.
The "gesture" of publishing, as Ludovico calls it, is an editorial one and without this editorial control the Internet of blogs and social media presents a problem of filtering rather than access. Writing from the web can be taken into print cheaply through print-on-demand, led by the example of James Bridle's "My Life In Tweets", 2009. Where an artist led, business followed and there are now many services that will print your social media as books for you.
(What of eBooks? Ludovico considers their technology and its history in depth, but is not hopeful for them. They simulate print ever more closely, confirming Ludovico's argument that print is the better interface. They have an environmental impact that makes books look more appealing, and suffer all the problems of censorship and technological obsolescence that print now does not.)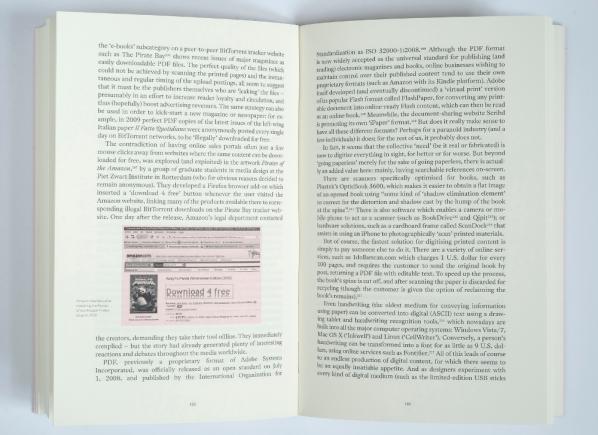 In the final chapter ("The Network") the author enters the story that he is telling. Since the early 1990s Ludovico has produced the magazine "Neural" (I'm a subscriber and I cannot recommend it highly enough), and has been involved in other art projects, events and interventions that have placed him in the thick of the action of the changes in publishing and textual media that have occurred over this period. Rather than affect a false objectivity, Ludovico lets you know where he is coming from and shares the particularities of his broad experience. This lends his conclusions a context and authority that mere theory might lack.
The history and experience that Ludovico lays out leads to the present crisis of print and answers it with the terms that he has established. How can we continue to print physical books? With the kinds of networks that have always propagated and paid for art and for the alternative press. Why should we continue to make them? Because they are better interfaces, archives, and art objects than purely digital objects.
Post-digital print is print with its production and in some ways its very meaning transformed. Print must adopt digital-inspired models of production and distribution to survive. As Ludovico argues it must adopt the digital strategy of the network, in a free and open way. If it does not, we lose a vital part of our collective cultural voice and memory.
"Paper is flesh, screen is metal. … Flesh and metal will thus merge as in a cyberpunk film, hopefully spawning useful new models for carrying and spreading unprecedented amounts of information and culture." (Post-Digital Print, p117)
The text of this review is licenced under the Creative Commons BY-SA 3.0 Licence.
(Thank you to Freek Lomme of Onomatopee for providing the book interior images.)
Roger Malina is a physicist and astronomer, Executive Editor of Leonardo Publications (The M.I.T. Press), and Distinguished Chair of Arts and Technology at the University of Texas at Dallas. Dr. Malina helped found IMéRA (Institut méditerranéen de recherches avancées), a Marseille-based institution nurturing collaboration between the arts and sciences.
Mariateresa Sartori and Bryan Connell are two artists recently based at IMéRA. Their work connects with human movement through the city, and addresses the intersection between technology and perception. Recent work by Venice-based Mariateresa Sartori has encompassed drawing and video. Bryan Connell, Exhibit/Project Developer at San Francisco's Exploratorium, works especially with landscape observation devices and mapping.
Lawrence Bird interviewed Roger Malina, Mariateresa Sartori, and Bryan Connell about the intersection of their work with the city. Images above courtesy: Roger Malina, Rita Gambardella, Bryan Connell.
Lawrence Bird: Roger Malina, in your recent writing you make the case that science is no longer just a field of positive knowledge. Scientists are increasingly open to engagement with the arts — for example artists' residencies at CERN. You've even argued that we're in a crisis of representation as profound as that of the Renaissance or the 19th century, and this is "driving a new theatricalisation of science."
Urban life has often been understood as performative – display, performance of social roles, presentation of oneself before others are all part of the public life in cities. How would you say that crisis of representation plays out with regards to this performative dimension of urban life? How is science implicated alongside art in the city, in these conditions?
Roger Malina: One of my arguments for the 'crisis of representation' really looks at Renaissance systems of representation — first driven by what the eye could see, and then the eye extended by microscopes and telescopes. These systems of representation were developed that led to a deep contextualising of the viewer in the world.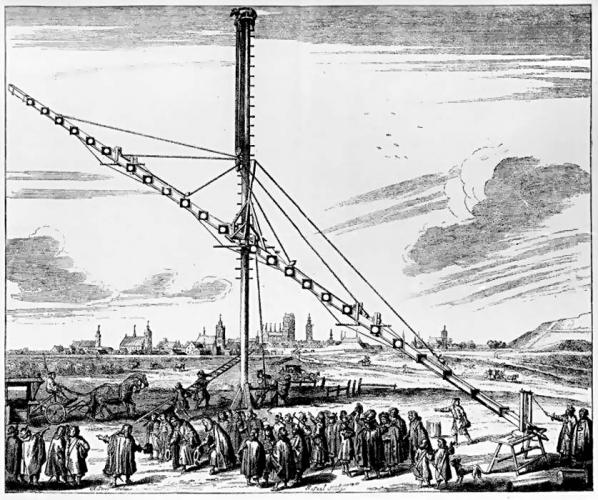 Johann Hevelius' 46m telescope (1673)
Today we are in a new situation because so much of our perception of the world comes not through extended senses but, in a real way, through new senses. This has been happening over a number of decades; the first wave of this was at the end of the 19th century when there was a cultural shock with the introduction of x-ray images, infra-red and later radio — which didn't extend existing senses but augmented them.The most recent series of triggers maybe comes from the nano-sciences and synthetic biology — we now perceive phenomena of which we have no daily experience of (eg quantum phenomena). Field emission microsopy or MRI or some of the other new forms of imaging really don't build on our existing experience — there are discontinuities and dislocations. Another element is of course the hand held device that leads to techniques for 'augmented reality' — I have a phone app that I can point at an aeroplane overhead and it tells me what the plane is, where it came from, and where it is going.
Coming to your question about the city — there is clearly a shift in map construction and reading — from the Cartesian map that we have been acculturated to. The ability to toggle between the bird's eye view and the "street view", and the ability to view maps that have multiple layers simultaneously are driving artists and others to develop new forms of representation.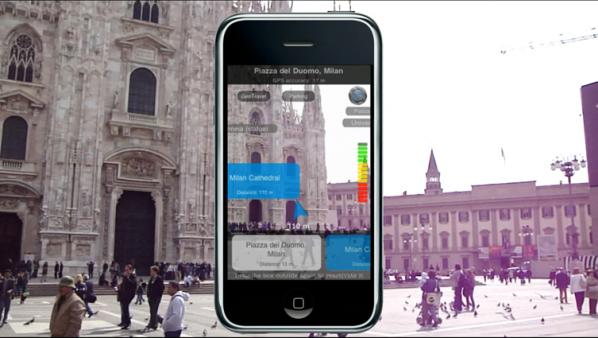 Augmented reality app for iPhone 3GS, with Milan Cathedral; courtesy Grey Small Horse
Someone whose work is interesting in this regard is Bryan Connell in San Francisco, he just finished an art science residency at IMéRA in Marseille. He was working on a large urban trail project called GR13 — 300 miles through industrial, urban, sub urban, and wild landscapes (the city had a hell of a time getting right of way through these areas). Bryan is currently working on a web site for the Marseille European City of Culture events, where he's working on some of these questions of representation. The project involves a collective of 'artist-walkers' that I think fits right into this question of performativity.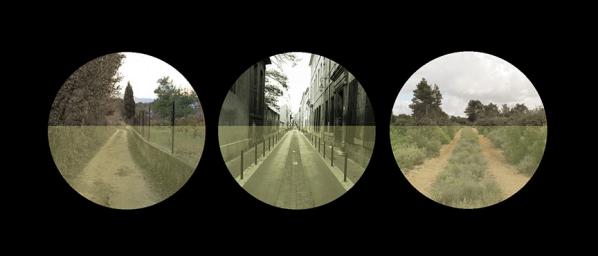 Bryan Connell: GR13 urban trail project.
LB: There's currently a great deal of interest in the connections between representation, digital technology, and politics, for example the current Hybrid City II conference in Athens. As you've pointed out, these often underline the connections between what digital media mean for artists and what they can contribute to citizens — what's emancipatory about them. What can art offer civil life in this context? Are there any conflicts or contradictions in that relationship?
RM: One pertinent example is the work of Bruno Giorgini, a physicist, and Mariateresa Sartori (visual artist) who work on the "physics of the city." They were recently in residence in the IMéRA Mediterranean Institute of Advanced Study which hosts artists and scientists in residence who want to work with each other. We now have access to incredible amounts of data on human mobility (pedestrian and various forms of transportation) so it is now possible to study human behaviour quantitatively. Sartori discovered that she could tell many things about a person just through the morphology or topology of their movements through the city. Girogini discovered that people's movements could be predicted at the 80% level, but 20% of the time he had to introduce what he called 'social temperature'; in discussions he also referred to this as a 'free will' parameter. Barabasi has found similar results analysing cell phone GPS data of individuals. So its interesting to think of the development of cities as 80% predictable and 20% serendipitous. This of course then highlights the role of the arts and culture in making cities part of the cultural imaginary that drives people to make choices. Recently Max Schich here at the University of Texas has analysed very large data bases looking at where prominent people are born and where they die over the last 500 years. Immediately you can see how suddenly certain cities become cultural 'attractors,' say the way Berlin or Hong Kong are now. And of course cities are now trying to 'design' this into the development of cities. Here in Dallas there has been a huge investment in the 'arts district' and in institutions of higher learning in the belief that healthy cities require such investments. See for instance the US National Endowment for the Arts Program; there are many similar programs in Europe.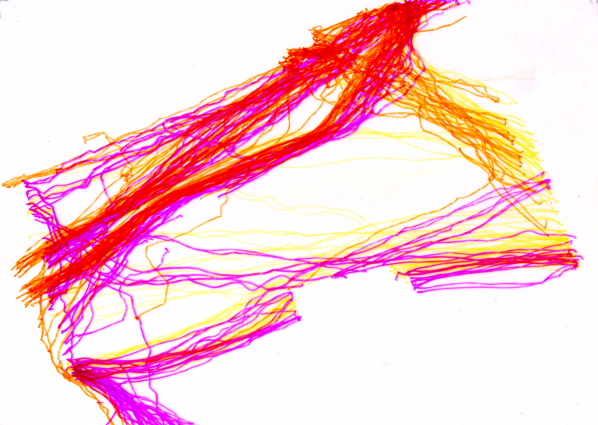 Mariateresa Sartori: Place Jules Guesde, Marseille, movement map.
This doesn't yet address your 'emancipation' question. One of the things that is happening is that we are becoming a data taking culture (see the recent literature on 'big data"). The cell phone has transformed every citizen (that has one) into a data taker. Of course much of this data is used by companies for marketing objectives. But many citizen groups are now able to take data for their social objectives. Some of this is captured by the 'citizen science' movement ( one example is here). There have been good examples of citizen's taking data (on pollution, on illegal activities etc.) and then being in a position to challenge 'authorities' of various kinds whether scientific, political or economic (see for instance the way citizen groups have mobilised to collect data after man-made disasters such as oil spills, or illegal logging in forests).
A few years ago I wrote an open data manifesto which argued that I would like to advance a new human right and a human obligation:
1. Each of us has the right to the data that has been collected about ourselves and our own environment.
2. Each of must contribute to the knowledge construction by collecting and interpreting data about our own world.
Most scientific data collection is funded by public tax payer funding. The public has a fundamental right to all data collected and funded by public tax money.
LB: How do you imagine an artist's training will change as these conditions evolve? And a scientist's — could we foresee any kind of convergence?
RM: One interesting development is a cohort of hybrids, who have one degree in science or engineering and one in art and design ( for example J.F. Lapointe, a researcher at the National Research Council of Canada with degrees in molecular biology and dance) or degrees in Science or engineering and employment in art or design (like myself or Paul Fishwick, a key figure in the field of aesthetic computing). There's been an emergence of art/science Ph. D. programs that take students from art or design or science or engineering. I suspect this cohort will grow over the coming years.
LB: Mariateresa Sartori, your IMéRA research project with Bruno Giorgini focused on mobility in the city. Can you tell us a little bit about how your work and Dr. Giorgini's work complemented each other? What kind of evidence did you bring to the table as an artist?
MS: The project I worked on with Bruno Giorgini developed an exploration that began with earlier work in Venice. There I created a series of drawings using a rudimentary, even crude procedure: I traced out the movements of each pedestrian in the Piazza San Marco, drawing their paths with a felt-tipped pen on a transparent sheet placed over the computer monitor. I then faithfully transferred the results onto ordinary large sheets of white paper. The lines thus drawn in different directions created a space, drawing a St. Mark's Square that is actually not there. As well as the actual physical space, it is also a drawing of our individual and collective manner of relating to space. Each single path determines the route of others, in a continuous and reciprocal game of influences that makes our collective progress.
At IMERA we developed this method for a new environment, a city more ethnically and culturally plural than Venice. Together we set up procedures and tools for collecting data about mobility networks there: nodes, links, chronotopi. These drew on the work of Bruno Giogini's Laboratorio di Fisica della Città of the University of Bologna. We shot videos focusing on specific behavioural patterns where strategies of shifting, approaching and distancing play a decisive role; and we were also attracted by the places and situations of pedestrian congestion. Using the same technique as in Venice, I translated these into drawings of movement. These again created a space that marks out squares and places which are actually not there, each synthesizing space, time and humanity in a single image.

Mariateresa Sartori: Place Jules Guesde, Marseille, people coming from above; from above and from right; from above, from right, and from left; data from 4.53.00 to 5.10.03 pm, 19 Sept. 2011.
LB: Is there an emancipatory or governance-related dimension to this work? Degrees of mobility have human rights implications. How does your work as an artist connect with these rights, especially the notion of the right to the city?
MS: The first goal when I work as an artist observing reality is observation, i.e. a way of observing that implies a new attention. The result is always instructive because I do not have particular expectations. After lines have been traced following my process, something always emerges and what emerges can be a useful and indicative element for the emancipatory dimension of the urban condition. I would say that Bruno Giorgini is more involved in that dimension than me, especially in the notion of the right to the city.
LB: There's a current preoccupation among researchers in a number of fields with the relationship between representation, often engaged with/through technology, and urban life. How has your latest work connected with this relationship?
MS: My way of working with technological instruments such as computers is very particular and limited. I use the computer as a technical tool strongly mediated by the senses, i.e. by human perception. I am very interested in modalities of perception: they are so imperfect, yet sufficiently perfect to make our existence possible.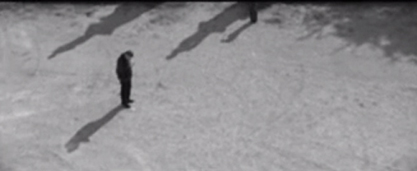 Mariateresa Sartori, still from "la misura dello espacio", video at http://vimeo.com/63571834
LB: You described the way you work with technological instruments as "particular and limited." Another way to look at this is that you make the technological system slow down by inserting yourself into the process… and the result is your drawings, which still movement. Might this be one role for art — to insert the human into the machine? Much net art focuses on flows of information, virtual movement, and representing that. While not quite glitch art, do your representations of movement in some sense intentionally put a brake on the machinery?
MS: I find your words enlightening, you describe my way of working better than me….. Actually I insert myself into the technological process…..but this is not a statement of a position against technology.
I can say that what interests me the most (and art's relation to science is just one instance of this) is the thread of connection between specific cases and general theory, between subjective and objective. Between, on the one hand, the singularity of events and, on the other, general theory. The individual's experience is singular, unique; but there is always a thread, even if fine, that leads each individual case to a wider generalisation. What interests me is this incessant – indispensable as much as concealed – mental activity that every day leads us to search for generalisations and regulating principles. What interests me is the human tendency to comprehend phenomena, even the most complex, via schematic representation, via a generalisation that leads to the identification of organising principles. I mean "Comprehension" in very wide sense, where emotions and feelings participate too in embracing reality, including reality. Maybe in this sense I put the human in the machine…
There is a discrepancy between how we perceive reality, mediated by our senses, and the truth decreed by science. On a rational level we recognize the truth, but we cannot internalize in a deep way this knowledge; this is beyond our human capabilities. I think that in my artistic research I find myself in this deep discrepancy.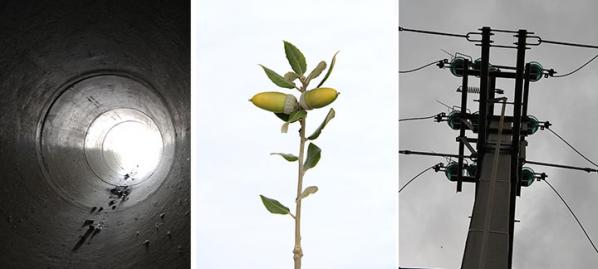 Bryan Connell: GR13 urban trail project.
LB: Bryan Connell, your work in Marseille addresses, among other concerns, technology and its relationship to nature. Do you see the urban environment as playing any particular role in that relationship — of having a particular status in our negotiation of it?
Bryan Connell: One of the things that intrigued me about the metropolitan hiking trail in Marseille is the way it plays with our sense of meaning and value in the exploration of contemporary landscapes. Most long distance hiking trails are designed to lead out of urban environments, not into them. We don't usually think of carrying a field guide that illustrates the taxonomy of fire hydrants, electrical pylons, or urban weeds on an extended city or suburban walk. That kind of engaged, systematic attention is usually reserved for wild natural terrains. From a traditional environmental perspective, the less altered a place is by human technology, the more scientifically interesting, ecologically exemplary, and aesthetically rich it's going to be. Without undermining the validity of ever-present environmental concerns, the trail functions as an invitation into a more challenging and complex relationship to the emerging para-wilds and novel ecosystems that are arising at the intersection of the natural world and the technological infrastructure of the built environment.
Similarly, the Marseille trail doesn't really focus on the kinds of urban sites that are traditionally thought of as having significant historic, architectural, or cultural interest. Instead, the trail route incites visitors into an exploration of the everyday environments and working landscapes of the contemporary urban transect – a world of parking lots, freeway overpasses, suburban developments, abandoned railways, and semi-rural wildlands.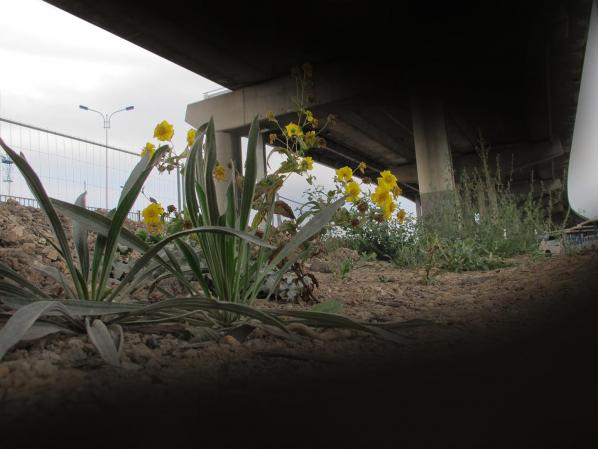 Bryan Connell: GR13 urban trail project.
Landscape ecologist Earl Ellis argues that to better navigate our way through the current geohistorical epoch, the Anthropocence, we must expand the traditional ecological concept of regional biomes into the parallel notion of "anthromes" – biomes that are complex interconnected melds of human technology and natural systems. In a sense, the GR 2013 Marseille trail is a sketch or system of exploratory paths into what a publically accessible, anthrome based urban ecology observatory might look like.
LB: A similar question is in relation to the image, especially sequential images. What does it mean for our negotiation of the relationship between nature and technology? Between science and art?
BC: We increasingly live in a networked digital metropolis with an image and information density that both mirrors and exceeds the high population densities of the physical metropolis. One topic of particular interest to me is the role these images play in transfiguring the quality of our desire. To what extent do scientific or aesthetic images that increase our ability to find meaning and satisfaction in observing and understanding urban landscape phenomena mitigate our need to physically alter the landscape to conform to an idealized image of what it should or shouldn't be?
For example, the Marseille metropolitan trail didn't require much physical alteration of the terrain – it's a conceptually designated network of pre-existing roads, paths, streets and highways. The trail's function is not to alter place, but alter the cognitive landscape of trail users so they have a richer sense of place. If you are fascinated by the diversity of ways a para-wild plant population has adapted to a technologically modified environment, do you need to engage in an energy and material intensive re-landscaping of that environment with a palette of conventional horticultural plantings to make it more "beautiful"? In this sense, constructing interpretive images of landscape is more than a way of augmenting a recreational hiking experience, it's a way of shifting and re-configuring what we think we have to consume and alter to find meaning and vitality in contemporary landscapes.
More about Hybrid City II.
http://uranus.media.uoa.gr/hc2/
Hybrid City is an international biennial event dedicated to exploring the emergent character of the city and the potential transformative shift of the urban condition, as a result of ongoing developments in information and communication technologies (ICTs) and of their integration in the urban physical context. After the successful homonymous symposium in 2011, the second edition of Hybrid City has grown into a peer reviewed conference, aiming to promote dialogue and knowledge exchange among experts drawn from academia, as well as artists, designers, researchers, advocates, stakeholders and decision makers, actively involved in addressing questions on the nature of the technologically mediated urban activity and experience.
The Hybrid City 2013 events also include an online exhibition and workshops, relevant to the theme
Hybrid City Conference 2013: Subtle rEvolutions will take place on 23-25 of May 2013.
The Hybrid City II events will take place at the central building of the National and Kapodistrian University of Athens.
This document was edited with the instant web content composer. Use the online HTML editor tools to convert the documents for your website.
There is currently a significant amount of interest in the relationship between free and Open Source practices in art and the aim of this report is to map out some of these shifting relationships in contemporary models of education both online and offline. The recent expansion of so-called 'free culture' has contributed to placing the debate over authorship, ownership and licensing of the artwork at the centre of artistic production. Crucially, the transformation of art in the age of global culture and the consequent move from autonomous art objects into cultural artworks and services, has resulted in the emergence of three visible tendencies: 1) free/Open/Source software as artistic-pedagogical method, 2) the critical emancipation of the self-education movement and 3) the digitisation of art education practices into Open Source packages of cognitive labour.
1. Floss as artistic –pedagogical method
One possible way to navigate this complex ideological terrain is the conciliatory term free/libre/Open Source software (floss), seeing it as "part of an emerging transdisciplinary field that deals with different forms of openness." [1] At the heart of the debate is the political distinction between the Free Software Foundation[2] and the Open Source Initiative.[3] The 'copyleft' attitude (free software movement) asserts four freedoms for software: free from restriction, free to share and copy, free to learn and adapt, free to work with others.[4] The Open Source definition,[5] on the other hand, in spite of apparent similarities, has developed into flexible arrangements such as the Creative Commons licenses[vi][6], some of which restrict these freedoms when applied to media/cultural works and publications, not allowing for derivative artwork or its commercial use under specific license combinations.[7]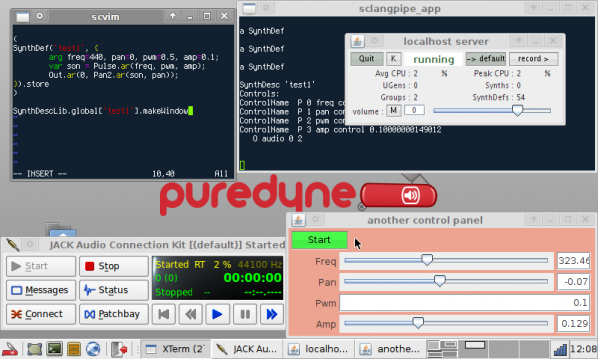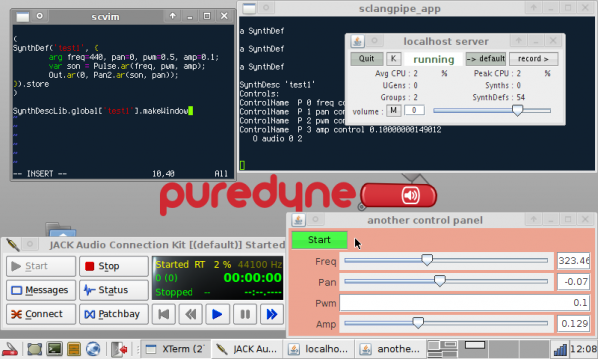 SuperCollider and JACK control on Puredyne http://puredyne.org/index.html
A number of projects, such as the pure:dyne[8] – GNU/Linux operating system for live audio visual processing and teaching – are, however, fully identified with the principles of free software. They have emerged from artists' collectives whose relationship to art education is informally associated with sharing spaces, the hacklabs and free media labs where they run workshops and introduce participants to the use of free digital art tools. [9] Their mode of production is centred on 'live code' and feature two essential characteristics: 1) collaborative- relying on large-scale public participation and 2) distributive- offering the tools and the process notes (notation) to empower the others to carry on the work on their own.[10] This philosophy implies that the artistic performance of the work is complemented by a set of pedagogical approaches associated with the enabling of production by others. [11]
Stackwalker by Simon Yuill, August 2008 to June 2010. http://www.stackwalker.org
2. Self-organised and self-managed art education
The movement for free education has gained greater relevance as a result of the global financial crisis and the battle for control of university fees.[12] In this context, art education has been developing into an artistic project while also providing an emancipatory movement reacting against dominant forms of institutionalised knowledge production. Within this movement, the role of free/open technology has been central in the mediation of self-education as a social movement.
On the one hand, artists –freelancers, sometimes temporarily/precariously plugged into educational institutions whilst working as teachers, others times as workshop facilitators in free access spaces– have opened up their classrooms to the environment of the read/write web, and with their students-collaborators, have produced and shared in wikis, blogs and Second Life, art and education resources that make an increasingly significant contribution to a larger body of knowledge that is the web. [13] Wikiversity is a model of this confluence of self-education movements and open online education.[14]
In parallel with the above-mentioned tendencies of online systems, numerous critical projects have appeared that are associated with the reclamation of space that occurs as artists have found themselves at the forefront of self-organised and self-managed self-education projects.[15] Some have happened side-by-side with the reclamation and occupation of spaces such as the Temporary School of Thought[16] and the Really Free School.[17] Part of these groups activity is the establishment of a free programme of workshops on topics that can range from free software tools to Ivan Illich and Deschooling Society.[18] Others that make opportunistic incursions into the artworld such as the Bruce High Quality Foundation University,[19] the Future Academy[20] or Unitednationsplaza,[21] are platforms for experimental art as research, investigating the production of knowledge that occurs when art education itself becomes artwork or exhibition.[22]
3. Open Source Repositories
While the debate on free education has been enjoying significant visibility, the Higher Education sector has also joined in. A few recent initiatives have supported universities of the arts developing virtual learning environments and providing access to open education resources (OERs). This is the case with the JISC Practising Open Education Project (2010-2011)[23] with six art, design and media departments in UK universities. A number of these OERs include art work (photographs, drawings and videos), but the majority are art theory, mostly research papers, dissertations and art education research documents produced by artists-teachers-researchers as part of their continuing professional development. These are distributed with Creative Commons licenses with varying degrees of freedom, but rarely have the 'copyleft' attitude that has been associated with the free software.
Such an enterprise can be interpreted in the light of current debates in the fields of immaterial labour and cognitive capitalism revealing that whilst (digital) art becomes postproduction, art education is being packaged into open resources that circulate as part of the capitalist system, and become central to the new eLearning/networked economies. In addition to filling a gap in subject-specific open resources, this raises the question: why is the free and the open so popular in contemporary art education? A cynical hypothesis is that art education, by declaring itself as a type of production of knowledge, attempts to gain a new legitimacy, in the bureaucratised global knowledge market. The other possibility is that in the face of such a doomed scenario, art education searches for new possibilities beyond pure commercialism, reclaiming access through "contingencies of opening and mobility of cognitive packages beyond confines of ownership." [24]
Projects
1. Floss as artistic –pedagogical method
The Digital Artists Handbook
The digital handbook, published by the arts organisation folly and artists' collective GOTO10 in 2008, aims to give artists information about the available tools and the practicalities related to Free/Libre Open Source Software and Content such as collaborative development and licenses.
FLOSS+Art
This book edited by Aymeric Mansoux and Marloes de Valk in 2008 reflects critically on the growing relationship between Free Software ideology, open content and digital art. With contributions by: Fabianne Balvedi, Florian Cramer, Sher Doruff, Nancy Mauro Flude, Olga Goriunova, Dave Griffiths, Ross Harley, Martin Howse, Shahee Ilyas, Ricardo Lafuente, Ivan Monroy Lopez, Thor Magnusson, Alex McLean, Rob Myers, Alejandra Maria Perez Nuñez, Eleonora Oreggia, oRx-qX, Julien Ottavi, Michael van Schaik, Femke Snelting, Pedro Soler, Hans Christoph Steiner, Prodromos Tsiavos, Simon Yuill. Available both in print and as torrent download
Technology Will Save Us
The project by Daniel Hirschman & Bethany Koby is a haberdashery for technology and alternative education space dedicated to helping people to produce and not just consume technology.
Openlab
Openlab Workshops was started by artist and educator Evan Raskob in mid-2009 to fulfil the need for practical education about digital art and technology. Floss workshops are developed and taught by working artists and media practitioners, giving participants direct access to practical experience.
GOTO10
GOTO10 is an artists' collective that organises floss workshops on subjects such as Pure Data, Linux audio tools, physical computing, SuperCollider, puredyne, RFID, Audio Signal Processing, and other related areas of practice.
UpStage
UpStage is an Open Source platform for cyberformance and education: remote performers combine images, animations, audio, web cams, text and drawing in real-time for an online audience. Initiated by the globally dispersed performance troupe Avatar Body Collision, it runs the annual Upstage festival, open to proposals.
2. Self-organised and self-managed art education
Really Free School
Free school based in a squatted London pub. "Amidst the rising fees and mounting pressure for 'success', we value knowledge in a different currency; one that everyone can afford to trade. In this school, skills are swapped and information shared, culture cannot be bought or sold. Here is an autonomous space to find each other, to gain momentum, to cross-pollinate ideas and actions." (Communiqué #1)
Bruce High Quality Foundation University
A free university project set up by NY-based artists' collective The Bruce High Quality Foundation. "We believe in the artistically educational possibilities of collaboration. Collaboration, as we mean it, means a group of concerned people come together to hash out ideas, try to figure out the world around them, and try to take some agency within its future. That's the why and how of The Bruce High Quality Foundation. BHQFU is an attempt to extend the benefits of this collaborative model to a wider number of people."
Unitednationsplaza
A temporary, experimental school in Berlin, initiated by Anton Vidokle following the cancellation of Manifesta 6 on Cyprus, in 2006. Developed in collaboration with Boris Groys, Liam Gillick, Hatasha Sadr Haghighian, Nikolaus Hirsch, Martha Rosler, Walid Raad, Jalal Toufic and Tirdad Zolghadr, the project travelled to Mexico City (2008) and, eventually, to New York City under the name Night School (2008-2009) at the New Museum. Its program was organized around a number of public seminars, most of which are now available in their entirety online.
FOSSter creative Learning
Lesson plans that can be used in the art classroom, developed by The FOSSter Creativity Team, a group of students of the University of the Arts (USA)
3. Open Source Repositories
University of the Arts institutional OER repository
University for the Creative Arts institutional OER repository
VADS (Visual Arts Data Service) A collection of over 100,000 art and design images that are freely available and copyright cleared for use in learning, teaching and research in the UK.
OER Commons A repository of materials about teaching, technology, research in the emerging field of Open Education. Art materials at OER commons.
REFERENCES
1 For a detailed introduction see Aymeric Mansoux and Marloes de Valk, 2008. "Preface." In FLOSS+ART. Available at: http://flossart.randomlab.net/index.php
2 The Free Software Foundation was established in 1985 by Richard Stallman to support the free software movement. Both the GNU operating system and the GNU General Public License (GPL) are examples of this. http://www.fsf.org/
3 The Open Source Initiative was founded in1998 by Bruce Perens and Eric S. Raymond to promote the open source software and represents a corporate orientation that is at odds with the copyleft attitude advocated by the free software movement. http://www.opensource.org/
4 http://www.gnu.org/philosophy/free-sw.html
5 http://www.opensource.org/docs/osd
6 The creative commons licenses can range from Attribution CC BY (the most accommodating of the cc licenses offered) http://creativecommons.org/licenses/by/3.0/ to Attribution-NonCommercial-NoDerivs 3.0 Unported (CC BY-NC-ND 3.0) (the most restrictive of our six main licenses http://creativecommons.org/licenses/by/3.0/ See the six main licenses at the creative commons site: http://creativecommons.org/licenses/
7 See Richard Stallman Why Open Source misses the point of Free Software. http://www.gnu.org/philosophy/open-source-misses-the-point.html
8 http://puredyne.org/
9 Access Space setup by James Wallbank in Sheffield in 2000 using redundant technology and free software is the UK's longest running free and open access media lab. http://access-space.lowtech.org For a more detailed account see Paula Roush, 2005. "Re-Programme. Time Space and Low Technology: The 5-Year Out-of-Date Trash Media Lab. Sheffield: Acess Space. Also online: http://projects.lowtech.org/re-programme/
10 For more information on working with others using free software see Simon Yuill, 2008, Collaborative development: theory, method and tools. Digital Artists Handbook http://www.digitalartistshandbook.org/node/9
11 These participatory and distributive formats are explained in Simon Yuill, 2008. All Problems of Notation Will be Solved by the Masses. Mute magazine. Available at: http://www.metamute.org/en/All-Problems-of-Notation-Will-be-Solved-by-the-Masses [Accessed March 30, 2011].
12 As documented in Edufactory, 2009. Towards a Global Autonomous University. New York: Autonomedia. http://www.edu-factory.org/wp/wp-content/uploads/2010/10/edufactory-book-en.pdf And discussed in the issue 14 of the Journal / e-flux (14), Theme: Education and Bologna. (2010) Available at: http://www.e-flux.com/journal/issue/14 [Accessed March 29, 2011].
13 Will Richardson, 2006. Blogs, Wikis, Podcasts, and Other Powerful Web Tools for Classrooms, Thousand Oaks: California: Corwin Press. Available at: http://www.corwinpress.com/booksProdDesc.nav?prodId=Book228840.
14 Norm Friesen, Janet Hopkins, 2008. Wikiversity; or education meets the free culture movement: An ethnographic investigation. First Monday, 13(10). Available at: http://www.uic.edu/htbin/cgiwrap/bin/ojs/index.php/fm/article/view/2234/2031 [Accessed March 27, 2011].
15 This "self-organized and self-managed self-education" is described as "a disposition towards production of alternative and emancipatory models of 'authority-free' education within complex and traumatic processes pertaining to cognitive capitalism and its transitional reconstruction." in Miško Šuvaković, 2008, Epistemology Of Art. Belgrade: tkh-generator.net. Available at: http://www.tkh-generator.net/en/openedsource/misko-suvakovic-epistemology-of-art [Accessed November 8, 2010].
16 Paul Cox, 2009. Temporary School of Thought. Londonist. Available at: http://londonist.com/2009/01/temporary_school_of_thought.php [Accessed April 8, 2011].
17 http://reallyfreeschool.org/
18 Dougald Hine made a presentation on Ivan Illich and 'Deschooling Society' at the Temporary School of Thought blogged about it at http://schoolofeverything.com/blog/temporary-school-thought
19 http://bhqfu.org/Site/home.html
20 http://www.futureacademy.info/
21 http://www.unitednationsplaza.org/location/unitednationsplaza/
22 Anton Vidokle writing "From Exhibition to School: Notes from Unitednationsplaza," distinguishes between curator-led exhibition models and artist-led education platforms, in Steven Madoff, ed., 2009, Art School (propositions for the 21st century), Cambridge: MIT.
23 The project's objective is "to encourage engagement with openly accessible teaching and learning resources providing opportunities for widening participation in higher education. Through the processes of the project partners will collate and create, making openly accessible, and repurposable licensed resources available through institutional portals and the Jorum Open website." http://www.adm.heacademy.ac.uk/projects/sector-projects/practicing-open-education-2013-developing-the-potential-of-open-educational-resources-in-art-design-and-media
24 Such processes of 'democratisation' of 'access to knowledge' in the context of cognitive capitalism are articulated in Miško Šuvaković, 2008, Epistemology Of Art. Belgrade: tkh-generator.net. Available at: http://www.tkh-generator.net/en/openedsource/misko-suvakovic-epistemology-of-art [Accessed November 8, 2010].
---
You can find paula's original article on Collaboration and Freedom – The World of Free and Open Source Art http://p2pfoundation.net/World_of_Free_and_Open_Source_Art
This article is part of the Furtherfield collection commissioned by Arts Council England for Thinking Digital. 2011
Cyposium
an online symposium on cyberformance
Friday 12th October 2012
http://www.cyposium.net/
We all perform on the Internet. The social media profiles that we are contractually obliged to give our real names to are just as much performances as our World Of Warcraft or Minecraft avatars. Yet these impromptu performances of our socialised and fantasy selves lack the literary quality of drama. Not drama in the sense of a Usenet or Tumblr flamewar, but in the sense of theatre.
The 1993 New Yorker cartoon captioned "On the Internet, nobody knows you're a dog" identifies two important features of the early public Internet. Firstly it's a place, somewhere you can get onto. Secondly that place has limited bandwidth for establishing identity and communicating affect. This meant that the Cyberspace of the net became a site for identity play and imagined realities.
As the text-based virtual reality of MOOs gave way to the image-based Palace Chat and then three dimensional AlphaWorld the available bandwidth increased and with it the available ambiguity decreased. Describing a character or a scene or an action with a few words leaves the members of the audience much freer to exercise their own imaginations than seeing it in full motion animation with a high polygon count.
The visual, social and even economic order of virtual worlds and social media have become a more fixed and uncritical embodiment of mass media and the established social order. This has reduced their potential for alterity but it has made them useful representations both of shared reality and shared fantasy that can be used as a stage on which to perform critically, reintroducing the literay against the grain of their unreflective consumption of identity and spectacle.
Throughout this history, from the early 1990s to today, the Internet's affordances have been used to produce dramatic performance in Cyberspace, "cyberformance". The problem is we don't remember this, at least not as clearly as we should. Individually, institutionally, and technologically we have lost our memories of artistically groundbreaking and important performances.
This problem is not unique to cyberformance. All digital art suffers from the decay of digital media and the creeping obsolescence of the hardware that it runs on. Internet art suffers from bitrot, software obsolescence, linkrot, the loss of web pages and sites elsewhere on the net that are connected to the work, and netrot, changes in the protocols used to distribute it.
Above and beyond those problems, cyberformance involves live perfomance. Unique events produced by historical communities at a particular moment using media that will rapidly become obsolete need to be recorded in order to be remembered or at least to be critically re-evaluated later. This creates a second layer of conservation and archiving problems.
Take the example (outside of Cyposium) of Judy Malloy's "Brown House Kitchen", a narrative environment created in the LambdaMOO text-based virtual reality. Despite being mentioned in surveys of virtual art in the 1990s, despite being produced with institutional support, and despite being stored on one of the longest-running textual virtual world servers the software objects that made up the work were recycled as part of the normal running of LambdaMOO and are now lost. Many other text-based virtual realities, some specifically designed for dramatic works, are not even online any more. And the protocols used to access them are old, with software to connect to them increasingly not installed by default on newer operating systems. Even those created after the Internet Archive started will not appear in it, as they are not web-based.
I mention LambdaMOO as by chance I was researching text based virtual worlds and performance in the months before Cyposium was announced. One work that was described in the literature but untraceable online was Stephen A. Schrum's "NetSeduction". Which Schrum presented and discussed at Cyposium. And the script of the original performance was made available through the Cyposium website. Without Cyposium, these resources would not have been made available.
These contrasting examples drive home just how badly needed Cyposium was. The Internet does enable us to digitise and experience more culture than ever before, but it also erases our memories of the culture that is native to it. And the often highly experimental nature of cyberformance makes it harder to record and remember than almost any other kind of technologically enabled art.
As well as addressing a specific need to recover the history of net performance, Cyposium is an exemplary model for a new kind of online event in the era of Massively Online Open College courses. It performs the function of a symposium or convention online, reducing barriers to access and increasing reach for institutions, speakers and audience members. The Waterwheel Tap software used for most of Cyposium allows side-channels of audience communication, which help to build a sense of place and community and allow the audience to ask (and answer) questions and share knowledge among themselves and with the speakers.
The panel discussions that Waterwheel enabled meant that old and new net performers could discuss each others work in the light of new developments or freshly reconsidered history. And we, the audience, wheoever we were and wherever we were, could watch and learn from this discussion and join in. I am often wary of the word "open", but there was an intellectual and social generosity and inclusiveness to Cyposium that made it feel like a very open event.
A ripple of excitement went through the mailing lists I subscribe to when Cyposium was announced. Its organizers and line up promised something special, and the event itself didn't disappoint. To be part of the audience, chatting in text alongside the live streaming video presentations, was to be part of both a welcoming ad hoc conversational community of interest and participating in a key moment in a larger historical conversation.
Cyposium went beyond recovering and presenting the history of online performance. It brought together net performers old and new in productive dialogue in front of an engaged audience and served as an example of a new kind of net native event. Now that the event itself has finished the Cyposium web site serves as an important record of an important aspect of online creativity.
This essay will appear in the forthcoming Cyposium book.
The text of this review is licenced under the Creative Commons BY-SA 3.0 Licence.
First published in Remediating the Social 2012. Editor: Simon Biggs University of Edinburgh. Pages 69-74
—-
The acceleration of technological development in contemporary society has a direct impact on our everyday lives as our behaviours and relationships are modified via our interactions with digital technology. As artists, we have adapted to the complexities of contemporary information and communication systems, initiating different forms of creative, network production. At the same time we live with and respond to concerns about anthropogenic climate change and the economic crisis. As we explore the possibilities of creative agency that digital networks and social media offer, we need to ask ourselves about the role of artists in the larger conversation. What part do we play in the evolving techno-consumerist landscape which is shown to play on our desire for intimacy and community while actually isolating us from each other. (Turkle 2011) Commercial interests control our channels of communication through their interfaces, infrastructures and contracts. As Geert Lovink says 'We see social media further accelerating the McLifestyle, while at the same time presenting itself as a channel to relieve the tension piling up in our comfort prisons.' (2012: 44)
Many contemporary artists who take the networks of the digital information age as their medium, work directly with the hardware, algorithms and databases of digital networks themselves and the systems of power that engage them. Inspired by network metaphors and processes, they also craft new forms of intervention, collaboration, participation and interaction (between human and other living beings, systems and machines) in the development of the meaning and aesthetics of their work. This develops in them a sensitivity or alertness to the diverse, world-forming properties of the art-tech imaginary: material, social and political. By sharing their processes and tools with artists, and audiences alike they hack and reclaim the contexts in which culture is created.
This essay draws on programmes initiated by Furtherfield, an online community, co-founded by the authors in 1997. Furtherfield also runs a public gallery and social space in the heart of Finsbury Park, North London. The authors are both artists and curators who have worked with others in networks since the mid 90s, as the Internet developed as a public space you could publish to; a platform for creation, distribution, remix, critique and resistance.
Here we outline two Furtherfield programmes in order to reflect on the ways in which collaborative networked practices are especially suited to engage these questions. Firstly the DIWO (Do It With Others) series (since 2007) of Email Art and co-curation projects that explored how de-centralised, co-creation processes in digital networks could (at once) facilitate artistic collaboration and disrupt dominant and constricting art-world systems. Secondly the Media Art Ecologies programme (since 2009) which, in the context of economic and environmental collapse, sets out to contribute to the construction of alternative infrastructures and visions of prosperity. We aim to show how collaboration and the distribution of creative capital was modeled through DIWO and underpinned the development of a series of projects, exhibitions and interventions that explore what form an ecological art might take in the network age.



Collection of images from Do It With Others (DIWO): E-Mail-Art exhibition at HTTP Gallery, 2007
In common with many other network-aware artists the authors are both originators and participants in experimental platforms and infrastructures through processes of collaboration, participation, remix and context hacking. As artists working in network culture we work between individual, coordinated, collaborative and collective practices of expression, transmission and reception. These resonate with political and ethical questions about how people can best organise themselves now and in the future in the context of contemporary economic and environmental crisis.
Though this essay draws primarily on artistic and curatorial practices it also makes connections with the histories and theories that have informed its development: attending to the nature of co-evolving, interdependent entities (human and non-human) and conditions, for the healthy evolution and survival of our species (Bateson 1972); producing diverse (hierarchy dissolving) social ecologies that disarm systems of dominance (Bookchin 1991, 2004); and seeking new forms of prosperity, building social and community capital and resilience as an alternative to unsustainable economic growth. (Bauwens 2005) (Jackson 2009)
Contemporary critical practices in art, technology and social change
Furtherfield's mission is to explore, through creative and critical engagement, practices in art and technology where people are inspired and enabled to become active co-creators of their cultures and societies. We aim to co-create critical art contexts which connect with contemporary audiences providing innovative, engaging and inclusive digital and physical spaces for appreciating and participating in practices in art, technology and social change.
The following artworks, researched, commissioned and exhibited by Furtherfield this year, offer a range of practices exemplifying this approach. A Crowded Apocalypse [1] by IOCOSE deploys crowd-sourced workers in the production of staged, one-person protests (around the world) against collectively produced, but fictional, conspiracies. This is a net art project that exploits crowd sourcing tools to simulate a global conspiracy. The work exploits the fertility of network culture as a ground for conspiracy theories which, in common with many advertisements, are persuasive but are neither ultimately provable or irrefutable (Garrett 2012).
A series of distributed performances called Make-Shift, by Helen Varley Jamieson and Paula Crutchlow, is a collective narrative about the human role in environmental stresses, developed with participants who build props for the 'show' using all the plastic waste they have produced that day. Makeshift is an 'intimate networked performance that speaks about the fragile connectivity of human and ecological relationships. The performance takes place simultaneously in two separate houses that are connected through a specially designed online interface.' [2]

Helen Varley Jamieson performing in Make-shift
Moving Forest London 2012 [3], initiated by AKA the Castle (coordinated by Shu Lea Cheang), employs the city of London as it prepares for the grand spectacle of the 2012 Olympic Games, expanding the last 12 minutes of Kurosawa's adaptation of Shakespeare's Macbeth "Throne of Blood" (1957), with a prelude of 12 days, and durational performance of 6 acts in 12 hours. The Hexists (artists Rachel Baker and Kayle Brandon) perform Act 0 of this sonic performance saga, with 3 Keys – The River Oracle, a game of chance and divination [4].
Other notable works in this vein include Embroidered Digital Commons [5] by Ele Carpenter; Invisible Airs and Data Entry [6] by Yoha; Web2.0 Suicide Machine [7] by _moddr_ and Fresco Gamba; The Status Project [8] by Heath Bunting; and Tate a Tate [9], an interventionist sound work by Platform, infiltrating one of the largest art brands of the nation using a series of audio artworks distributed to passengers on Thames River boats, to protest the ongoing sponsorship of Tate Modern exhibitions by British Petroleum. Also relevant is the realm of ludic digital art practices that facilitate new socially engaged aesthetics and values such as Germination X [10] by FO.AM and Naked on Pluto [11] by Dave Griffiths, Marloes de Valk, Aymeric Mansoux.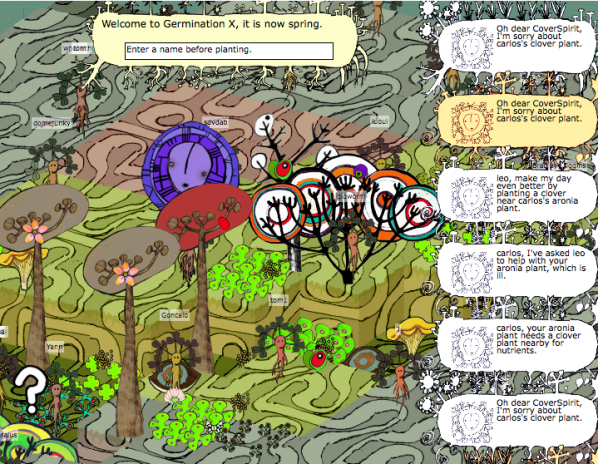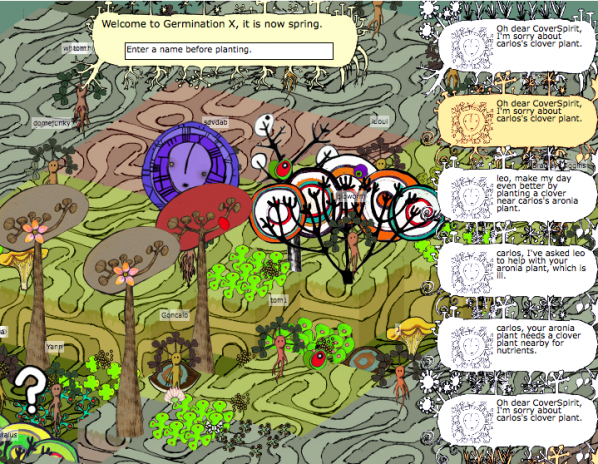 GerminationX by FO.AM, 2005 – ongoing
DIWO as an emancipatory collaborative art project
The term "DIWO (Do It With Others)" was first defined in 2006 on Furtherfield's collaborative project Rosalind – Upstart New Media Art Lexicon (since 2004) [12]. It extended the DIY (Do It Yourself) ethos of early (self-proclaimed) 'net art heroes', who taught themselves to navigate the web and develop tactics that intervened in its developing cultures.
The word "art" can conjure up a vision of objects in an art gallery, showroom or museum, that can be perceived as reinforcing the values and machinations of the victors of history as leisure objects for elite entertainment, distraction and/or decoration – or the narcissistic expression of an isolated self-regarding individual. DIWO was proposed as a contemporary way of collaborating and exploiting the advantages of living in the Internet age that connected with the many art worlds that diverge from the market of commoditised objects – a network enabled art practice, drawing on everyday experience of many connected, open and distributed creative beings.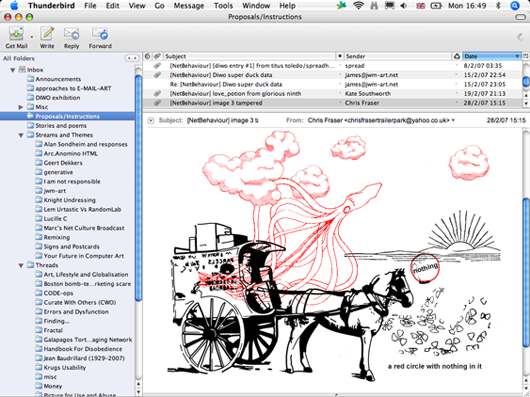 Mail box showing Netbehaviour contributions to DIWO Email Art project 2007
DIWO formed as an Email Art project with an open-call to the email list Netbehaviour, on the 1st of February 2007. In an art world largely dominated by elite, closed networks and gatekeeping curators and gallerists, Mail Art has long been used by artists to bypass curatorial restrictions for an imaginative exchange on their own terms.
Peers connect, communicate and collaborate, creating controversies, structures and a shared grass roots culture, through both digital online networks and physical environments. Strongly influenced by Mail Art projects of the 60s, 70s and 80s demonstrated by Fluxus artists' with a common disregard for the distinctions of 'high' and 'low' art and a disdain for what they saw as the elitist gate-keeping of the 'high' art world…' [13]
The co-curated exhibition of every contribution opened at the beginning of March at HTTP Gallery [14] and every post to the list, until 1st April, was considered an artwork – or part of a larger, collective artwork – for the DIWO project. Participants worked 'across time zones and geographic and cultural distances with digital images, audio, text, code and software. They worked to create streams of art-data, art-surveillance, instructions and proposals in relay, producing multiple threads and mash-ups. (Catlow and Garrett, 2008)
'The purpose of mail art, an activity shared by many artists throughout the world, is to establish an aesthetical communication between artists and common people in every corner of the globe, to divulge their work outside the structures of the art market and outside the traditional venues and institutions: a free communication in which words and signs, texts and colours act like instruments for a direct and immediate interaction.' (Parmesani 1977)
So it made sense that the first DIWO project should be a mail art project that utilised email, enabled by the Internet; a public space with which anyone with access to a computer and a telephone line could use to publish. Because an email could be distributed (with attachments or links) to the inboxes of anyone subscribed to the Netbehaviour email list, subscribers' inboxes became a distributed site of exhibition and collaborative art activity: such as correspondence, instruction, code poetry, software experiments, remote choreography, remixing and tool sharing.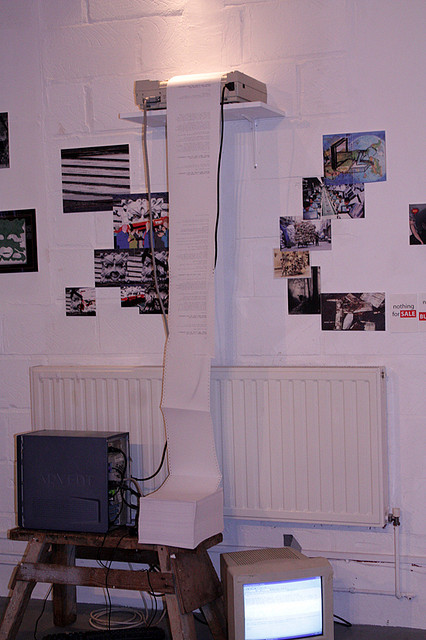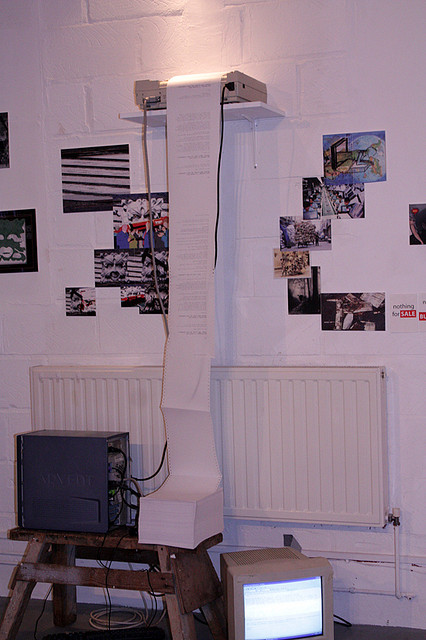 DIWO at the Dark Mountain exhibition at HTTP Gallery, December 2009 – January 2010
This and later DIWO projects used both email and snail-mail and (in line with the Mail Art tradition) undertook the challenge of exhibiting every contribution in a gallery setting.
The DIWO Email art project was liberally interspersed with off-topic discussions, tangents and conversational splurges, so one challenge for the co-curators was to reveal the currents of meaning and the emerging themes within the torrents of different kinds of data, processes and behaviour. Another challenge was to find a way to convey the insider's – that is the sender's and the recipient's – experience of the work. These works were made with a collective recipient in mind; subscribers to the Netbehaviour mailing list. This is a diverse group of people; artists, musicians, poets, thinkers and programmers (ranging from new-comers to old-hands) with varying familiarity with and interest in different aspects of netiquette and the rules of exchange and collaboration. This is reflected in the range of approaches, interactions and content produced.
In a number of important ways the email inbox guarantees a particular kind of freedom for the DIWO art context, as distinct from the exchange facilitated by the ubiquitous sociability, 'sharing' and 'friendship' offered by contemporary social media. Facebook, Myspace, Google+, etc, provide interfaces that are designed to elicit commercially valuable meta-data from their users. They are centrally controlled, designed to attract and gather the attention of its users in one place in order to monitor, process and interpret social behaviour and feed it to advertisers. As demonstrated during the disturbances of the Summer of 2011, these social media are an extension of the Panoptican and can also become tools of state surveillance and punishment as Terry Balson discovered on being detained for 2 years after being found guilty of setting up a Facebook page in order to encourage people to riot. (BBC News, 2012)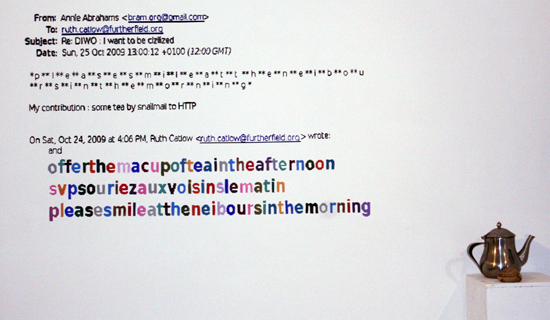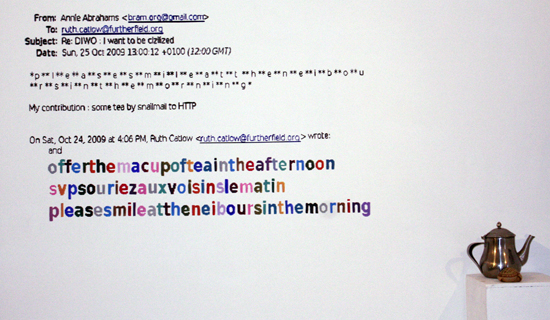 DIWO at the Dark Mountain exhibition at HTTP Gallery, December 2009 – January 2010
The DIWO Email Art and co-curation project is fully described and documented elsewhere [15] but it is outlined here as it gives an example of how our networked communities may intersect with everyday experience and with mainstream art worlds while also creating their own art contexts. We may be playful, critical, political and may work as possible co-creators with all the materials (stuff, ideas, processes, entities – beings and institutions – and environments) of life. This DIWO approach provides the fundamental ethos for the Furtherfield Media Art Ecologies programme.
Media Art Ecologies
Furtherfield's Media Art Ecologies programme (since 2009) brings together artists and activists, thinkers and doers from a wider community, whose practices address the interrelation of technological and natural processes: beings and things, individuals and multitudes, matter and patterns. These people take an ecological approach that challenges growth economics and techno-consumerism and attends to the nature of co-evolving, interdependent entities and conditions. They activate networks (digital, social, physical) to work with ecological themes and free and open processes.
The programme has included exhibitions such as Feral Trade Café by Kate Rich and If Not You Not Me by Annie Abrahams, an art world intervention by the authors We Won't Fly For Art and workshop programmes such as Zero Dollar Laptop workshops (in partnership with Access Space in Sheffield). It has supported research projects such as Telematic Dining by Pollie Barden and developmental artist residencies, such as Make-Shift by Helen Varley Jamieson and Paula Crutchlow.
These projects and practices have a number of things in common:
They work with the metaphors, tools, cultures and processes of networked culture in the context of environmental collapse;
They are led by artistic sensibilities (incorporating but not governed by utilitarian or theoretical concerns);
They generate unruly and provocative relationships between symbolic meanings and material effects;
They are metalogues – their content and their structures are in a conversation with each other, expounding and resonating with their subjects. Their ends and means are well aligned. [16] (Bateson 1972)' (Catlow 2012)
Why Media Art Ecologies now?
Through the Internet we all now have access to data about historic and contemporary carbon emissions. We also find visualisations of this data that provide concise and accessible graphical arguments for thinking, feeling and acting in a coordinated way at this historical moment [17] [18].
Data shows an exponential rise in global carbon emissions since the 1850s, starting with the UK. UK carbon emissions have dropped as a percentage of global emissions by region (CDIAC 2010). At the same time the quantity of carbon dioxide emitted by the UK has steadily increased since the start of the industrial revolution to annual levels now higher than 500 million tonnes (Marland, Boden and Andres 2008). This data shows how successful the UK was, during the industrial revolution, at spreading the production methods that would turn out to promote a model of sole reliance on economic growth and fossil fuels. The logic and infrastructures of capitalism are now collapsing in tandem with the environment (Jackson 2009). At the same time networked technologies and behaviours are proliferating. Social and economic transactions take place at increased speed but our existing economic and social models are unsustainable and the consequences of continuing along the current path appear catastrophic for the human species (Jackson 2009). This is a critical moment to reflect on how the technologies we invent and distribute will form our future world.
Michel Bauwens, of the Foundation for Peer to Peer Alternatives, works with a network of theorists, activists, scientists and philosophers to develop ideas and processes to move beyond the pure logic of economic growth [19]. He observes that by transposing what has been learned by sharing the production and use of immaterial goods, such as software, with strategies for developing sharing in other productive modes, the community comes to own its own innovations, rather than corporations. This puts peer production at the core of civil society. The fabrication laboratory or 'fab lab' system, developed at MIT in collaboration with the Grassroots Invention Group and the Center for Bits and Atoms, offers an example; a small-scale workshop that facilitates personal fabrication of objects including technology-enabled products normally associated with mass production. The lab comprises a collection of computer controlled tools that can work at different scales with various materials. Early work on the Open Source car shows how open, distributed design and manufacturing points to a possible end of patenting and built in obsolescence; constituent principles of our unsustainable consumer-based society. (Bauwens 2012)
'[Bauwens] recognises that peer to peer production is currently dependent on capitalism (companies such as IBM invest huge percentages of their budgets into the development of Free and Open Source Software) but observes that history suggests a process whereby it might be possible to break free from this embrace. He suggests that by breaking the Free Software orthodoxy it would be possible to build a system of guild communities to support the expansion of mission oriented, benefit-driven co-ops whose innovations are only shared freely with people contributing to the commons. In the transition to intrinsically motivated, mass production of the commons, for-profit companies would pay to benefit from these innovations.' (Catlow 2011)
A peer to peer infrastructure requires the following set of political, practical, social, ethical and cultural qualities: distribution of governance and access to the productive tools that comprise the 'fixed' capital of the age (e.g. computing devices); information and communication systems which allow for autonomous communication in many media (text, image, sound) between cooperating agents; software for autonomous global cooperation (wikis, blogs etc); legal infrastructure that enables the creation and protection of use value and, crucially to Bauwens's P2P alternatives project, protects it from private appropriation; and, finally, the mass diffusion of human intellect through interaction with different ways of feeling, being, knowing and exposure to different value constellations. (Bauwens 2005)
These developments in peer to peer culture provide a backdrop to the projects presented as part of the Media Art Ecologies programme which, in turn, proposes that a focus on the networked cultures in which the work is produced, supports ecological ways of thinking, privileging attention to complex and dynamic interaction, connectedness and interplay between artist viewer/participant and distributed materials. Its projects have been developed within independent communities of artists, technologists and activists, theorists and practitioners centered around Furtherfield in London (and internationally, online), Cube Microplex in Bristol and Access Space in Sheffield. They identify the simultaneous collapse of the financial markets and the natural environment as intrinsically linked with human uses of, and relationships with, technology. They take contemporary cultural infrastructures (institutional and technical), their systems and protocols, as the materials and context for artistic production in the form of critical play, investigation and manipulation. This work, at the intersection of artistic and technical cultures, generates alternative spaces and new perspectives; alternative to those produced by (on the one hand) established 'high' art-world markets and institutions and (on the other) the network of ubiquitous user owned devices and social apps. These practices play within and across contemporary networks (digital, social and physical), disrupting business as usual and the embedded habits and attitudes of techno-consumerism.
An exhibition that was also a working café
We will end this essay by describing an early project developed as part of this programme, Feral Trade Café [20] by Kate Rich, an exhibition that was also a working café. Feral Trade Café served food and drink traded over social networks for 8 weeks in the Summer of 2009 and exhibited a retrospective display of Feral Trade goods alongside ingredient transit maps, video, bespoke food packaging and other artifacts from the Feral Trade network. Since 2003 participants in the project (usually travelling artists and curators) have acted as couriers, carrying edible produce around the world with them on trips they are taking anyway and delivering them to depots (friends' and colleagues' flats or workplaces), mostly independent art venues in Europe and North America. Rich has crafted a database through which couriers can log their journeys, tracking the details of sources, shipping and handling for all groceries in the network 'with a micro-attention usually paid to ingredient listings' (Catlow 2009). This database [21] is at the heart of the artwork, with special attention given to the day to day challenges and obstacles met in its distribution – tracking the on-the-fly street level tactics employed, out of necessity, by a distribution network with no staff, vehicles, storage facilities or business plan.
'Courier Report FER-1491 DISPATCHED: 13/05/09 DELIVERED: 15/05/09 – ali jones spent a few hours trying to start a car using various techniques. eventually got it moving with a push start with the help of a stranger who was leaving behind a night of print-making.convoyed to cube where friend took parcel in her van while i parked dubious car at garage for fixing.' [21] (Feral Trade Courier, 2009)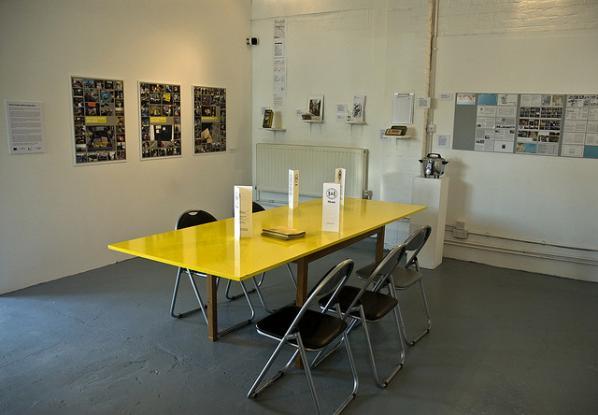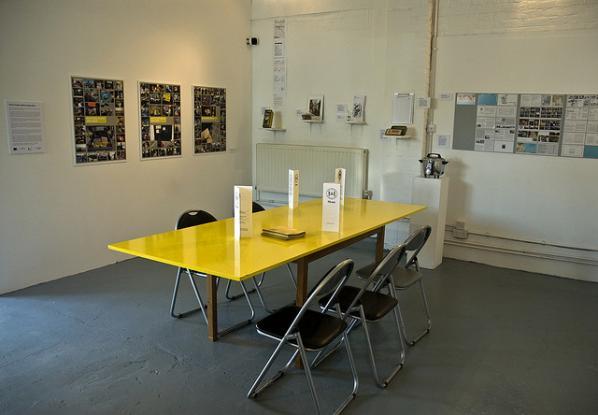 Feral Trade Café exhibition at HTTP Gallery by Kate Rich, June – August 2009
The café stocked and served a selection of Feral Trade products from a menu including coffee from El Salvador, hot chocolate from Mexico and sweets from Montenegro, as well as locally sourced bread, cake, vegetables and herbs. Diverse diners – local residents and long-distance lorry drivers (from Poland and Germany) – were served their food along with waybills (drawing information from the database) documenting the socially facilitated transit of goods to their plate.
The invitation to the exhibition promised visitors a convivial setting from which to "contemplate broader changes to our climate and economies, where conventional supply chains (for food delivery and cultural funding) could go belly up." The café provided a local trading station and depot for the Feral Trade network, and a meeting place for local community food activists for research and discussion. It's worth noting that a year later a Government Spending Review announced a cut of nearly 30% to the Arts Council of England's budget. (BBC News 2010) Two years later global food prices were up by over 40% and set to rise another 30% in the next 10 years. (Neate 2011). A number of small new projects continue to develop from meetings between the gallery community and local community activist groups working on sustainability issues.
The materials and methods employed by this artwork, that is also a functioning café, are diverse and non-standard. The café is not scaleable and generates no jobs or surplus, let alone profit. It may build 'social capital', what Bordieu defines as a form of capital 'made up of social obligations ('connections') which is convertible in certain conditions into economic capital and may be institutionalised in the form of a title of nobility.' (Bordieu1986) However, it is uncertain whether this will apply to Rich as any 'nobility' she might acquire is undermined by her purposeful maintenance of the project's ambiguous status as an artistic project.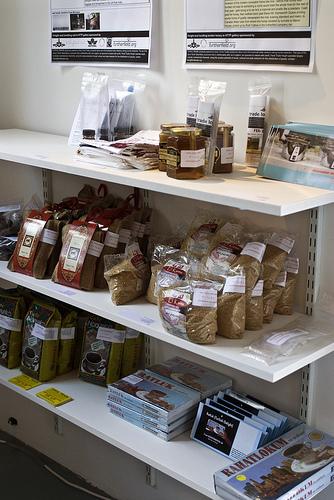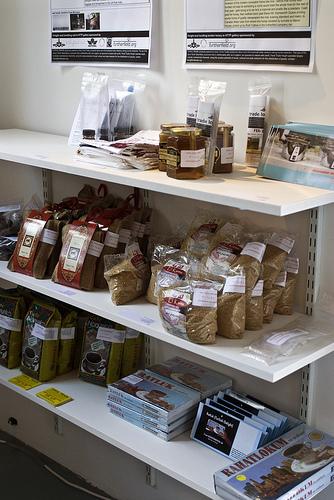 Feral Trade Café exhibition at HTTP Gallery by Kate Rich, June – August 2009
For this essay we present Feral Trade Café alongside Bauwens' proposal for alternative P2P infrastructures. We propose that while the work is not a design, formula or practical, alternative business model (either for an artwork or a café) for mass adoption, it can be considered an ecological system for 'mass diffusion of intellect' (Bauwens 2005). Interaction with the project engages participants in different ways of sensing, operating and valuing the world. It is a most inefficient way of trading.
The work poses strange questions as it oscillates between artwork (sensual, expressive, rhetorical) and catering (utilitarian, literally nourishing) and to consider the meaning of our lives and vocations in local communities and a functional future society. 'Understanding that prosperity consists in part in our capabilities to participate in the life of society demands that attention is paid to the underlying human and social resources required for this task.' (Jackson 2009: 182) Feral Trade focuses our attention on the truly pleasurable aspects of social exchange that are lost in our quest for affluence. 'Creating resilient social communities is particularly important in the face of economic shocks.[…] The strength of a community can make the difference between disaster and triumph in the face of economic collapse.' (Jackson 2009: 182)
Feral Trade is both art and a lived, alternative co-created system for trading and serving food that refuses commercial exploitation, contributes meaning and strengthens bonds across an existing community. A distinctive, memorable and sensual way for people to interact, to socialise and savour the socio-political ingredients of a meal eaten while discussing strategies for avoiding ethical discomfort. Most powerfully, it is a lived critique and reinvention of a fundamental aspect of everyday life (feeding ourselves) through the subtle tactics of manipulation and play (by its many participants).
It is our contention that by engaging with these kinds of projects, the artists, viewers and participants involved become less efficient users and consumers of given informational and material domains as they turn their efforts to new playful forms of exchange. These projects make real decentralised, growth-resistant infrastructures in which alternative worlds start to be articulated and produced as participants share and exchange new knowledge and subjective experiences provoked by the work.
Conclusion – Ecological Media Art promotes participation in social ecology
Social scientist Tim Jackson has shown that the establishment of ever more efficient and productive systems of control and growth, owned by fewer, more centralised agents, is both unjust and environmentally unsustainable (2009). The reverse also applies; that the distribution of freedoms and access to sustenance, knowledge, tools, diverse experience and values improves the resilience of both our social and environmental ecologies. (Bateson 1972) (Bookchin 1991) (Jackson 2009)
Ecological media artworks turn our attention as creators, viewers and participants to connectedness and free interplay between (human and non-human) entities and conditions. It builds on the DIWO ethos. On the one hand we resist the elitist values and infrastructures of the mainstream art world and develop our own art context, on our own terms, according to the priorities of a collaborating community of creative producers (which may include diverse participants and audiences). On the other, we deal critically with the monitored and centrally deployed and controlled interfaces of corporate owned social media; wherever possible working with Free and Open Source Software to privilege commons-based peer produced artworks, tools, media and infrastructure.
Humanity needs new strategies for social and material renewal and to develop more diverse and lively ecologies of ideas, occupations and values. For this to happen more of us need to be able to freely participate more deeply in diverse artistic or poetic and technical world-forming processes and to exchange what we create and learn.
'Those who share our 'analysis of the contemporary political moment may also perceive a possible role for themselves in the generation of mutual commons-based interfaces for engagement that go beyond solely textual formats to arrays of performance, narrative (fact and fiction), image, sound, database, algorithm, music, theory, sculpture – to explicitly re-conceive inalienable social relations' (Catlow 2011)[23].
---
Remediating the Social 2012. Editor: Simon Biggs University of Edinburgh. Published by Electronic Literature as a Model for Creativity and Innovation in Practice, University of Bergen, Department of Linguistic, Literary and Aesthetic Studies PO Box 7805, 5020 Bergen, Norway.
Book is available for download as PDF in a full version suitable for print or screen reading (14mb) and a somewhat smaller file size screen-only version (11mb) http://www.elmcip.net/story/remediating-social-e-book-released
---
Notes
[1] A Crowded Apocalypse, net art work by IOCOSE, 2012. Commissioned by the Abandon Normal Devices Festival and Furtherfield. Artwork available [online] at http://www.acrowdedapocalypse.com [Accessed 26th June 2012]. Exhibited as part of a group show called Invisible Forces, Furtherfield Gallery, June – August 2012.
[2] Make-Shift, networked performance by Paula Crutchlow and Helen Varley Jamieson, 2010 – 12. Stage and documentation available [online] at http://www.make-shift.net [Accessed 26th June 2012].
[3] Moving Forest, networked performance series by AKA The Castle, coordinated by Shulea Cheang, 2009 – 12. Documentation of networked performance available [online] at http://mf2012.anorg.net/london2012 [Accessed 26th June 2012]
[4] 3 Keys – The River Oracle by the Hexists. Part of Invisible Forces exhibition at Furtherfield Gallery, 2012. This event 'attempts to invoke the relationship between the divinatory functions of our contemporary 'influencing machines' (cybernetic systems and game theory using data-mining, data profiling and data protection) and traditional magical ones, creating new machines in the process. Using tools such as cards, dowsing, stick throwing to interpret phenomena in the landscape, historical and current, 'readings' can be cast, allowing associative action, language and thought to determine what might happen in the future, to create a path, an artwork.'Documentation available [online] at http://www.furtherfield.org/programmes/events/moving-forest-act-0-3-keys-river-oracle [Accessed 26th June 2012]
[5] Embroidered Digital Commons, participatory socially engaged project by Ele Carpenter, 2009 – 13. Documentation available [online] at http://www.open-source-embroidery.org.uk/EDC.htm [Accessed 26th June 2012]
[6] Invisible Airs by YoHa, 2011. Documentation available [online] at http://yoha.co.uk/invisible [Accessed 26th June 2012]
[7] Web 2.0 Suicide Machine by moddr_ & Fresco Gamba, 2010 Artwork available [online] at http://suicidemachine.org [Accessed 26th June 2012]
[8] The Status Project by Heath Bunting, 2005 – ongoing Artwork available [online] at http://status.irational.org [Accessed 26th June 2012]
[9] Tate à Tate by Platform, 2012. Artwork available [online] at http://tateatate.org [Accessed 26th June 2012]
[10] Germination X – a game about permaculture by FoAM, 2005 – ongoing. Artwork available[online] at http://www.germinationx.com [Accessed 26th June 2012]
[11] Naked on Pluto by Dave Griffiths, Marloes de Valk, Aymeric Mansoux, 2010 – ongoing. Artwork available [online] at http://naked-on-pluto.net [Accessed 26th June 2012]
[12] Rosalind, an Upstart New Media Lexicon by Furtherfield, 2004 – ongoing. This project was initiated to encourage artists working in the field of new media art at the time to coin the terms and build the vocabulary to describe their own practice, to resist premature colonisation of the practice by academics and curators. Artwork available [online] at http://www.furtherfield.org/get-involved/lexicon [Accessed 26th June 2012]
[13] Do It With Others (DIWO) call out, 2007. Netbehaviour email list. Available at http://www.furtherfield.org/blog/furtherfield/do-it-others-diwo-e-mail-art-netbehaviour [Accessed 28th June 2012]
[14] HTTP Gallery was run by Furtherfield 2004 – 2010 from their warehouse space on Ashfield Road, Haringey. HTTP became Furtherfield Gallery in 2010 and in February 2012 opened as a gallery and social space in the heart of Finsbury Park, North London.
[15] The background to the 2007 Do It With Others (DIWO) – E-Mail Art exhibition – the open call, co-curation process and a selection of works in the exhibition are described in full here. Catlow and Garrett 2008)
[16] 'Notably, the history of evolutionary theory is inevitably a metalogue between man and nature in which the creation and interaction of ideas must necessarily exemplify evolutionary process.' (Bateson 1972: 1)
[17] Graphical representations of data concerning historic and contemporary Fossil Fuel CO2. In particular see 2010 figure showing emissions by source region 1751-2010. Available [online] at http://www.columbia.edu/~mhs119/Emissions/Emis_moreFigs/Efrac_byRegion.pdf [Accessed 28th June 2012]. This shows UK carbon emissions dropping as a percentage of global emissions by region (CDIAC 2010).
[18] UK CO2 emissions since before the industrial revolution (Marland, Boden and Andres 2008). The image shows UK Carbon emissions rising sharply. Available [online] at http://www.nef.org.uk/climatechange/images/co2emits.gif [Accessed 28th June 2012]
[19] Wiki for the Foundation for Peer to Peer Alternatives is available [online] at http://p2pfoundation.net [Accessed 26th June 2012]
[20] Documentation of Feral Trade Café – an exhibition that is also a working café, by Kate Rich. 13 June – 2 Aug 2009, HTTP Gallery. Available [online] at http://www.furtherfield.org/exhibitions/feral-trade-café [Accessed 26th June 2012]
[21] Feral Trade Courier is the import export database that provides the infrastructure for organising the flow of goods between the network of couriers. Traders can track their goods and print waybills that document the stories associated with the produce. Available [online] at http://www.feraltrade.org/cgi-bin/courier/courier.pl [Accessed 26th June 2012]
[22] An example of a Feral Trade waybill. In this instance, tracking coffee from San Pedro Nonualco-San Salvador to HTTP. Available [online] at http://www.feraltrade.org/cgi-bin/package/2package.pl?action=format_waybill&edit_id=1507 [Accessed 26th June 2012]
[23] From an open letter to Michel Bauwens (Catlow 2011)
---
Bibliography
Bateson, G., 1972. Steps to an Ecology of Mind University of Chicago and London: Chicago Press
Bauwens, 2005. The political economy of peer production. Available [online] at http://www.informatik.uni-leipzig.de/~graebe/Texte/Bauwens-06.pdf [Accessed 28th June 2012]
Bauwens, 2012. Blueprint for P2P Society: The Partner State & Ethical Economy. Shareable. Available [online] at http://www.shareable.net/blog/a-blueprint-for-p2p-institutions-the-partner-state-and-the-ethical-economy-0 [Accessed 28th June 2012]
BBC News, 2010. Arts Council's budget cut by 30%. 20 October 2010 Last updated at 17:40. Available [online] at: http://www.bbc.co.uk/news/entertainment-arts-11582070 [Accessed 20th December 2011]
BBC News, 2012. Facebook riots page man Terry Balson detained. 8 May 2012 Last updated at 19:57. Available [online] at: http://www.bbc.co.uk/news/entertainment-arts-11582070 [Accessed 28th June 2012]
Bookchin, M., 1991. The Ecology of Freedom. The emergence and dissolution of hierarchy. Montreal, New York: Black Rose Books.
Bookchin, M., 2004. Post- Scarcity Anarchism. Edinburgh, Oakland, West Virginia: AK Press.
Bordieu, P., 1986. The Forms of Capital. English version first published in Richardson J.G., 1986. Handbook for Theory and Research for the Sociology of Education, pp. 241–258. Available [online] at http://www.marxists.org/reference/subject/philosophy/works/fr/bourdieu-forms-capital.htm [Accessed 29th June 2012]
Catlow, R., and Garrett, G., 2008. Do It With Others (DIWO) – E-Mail Art in Context. Vague Terrain. Available [online] at http://vagueterrain.net/journal11/furtherfield/01 [Accessed 26th June 2011]
Catlow, R., 2009. Ecologies of Sustenance. Catalogue essay for Feral Trade Café – an exhibition that was also a working café by Kate Rich. 13 June – 2 Aug 2009, HTTP Gallery. Furtherfield, London.
Catlow, R., 2011. Re-rooting digital culture at ISEA 2011. Available [online] at http://www.furtherfield.org/blog/ruth-catlow/re-rooting-digital-culture-isea-2011 [Accessed 28th June 2012]
Catlow, R., 2012. We Won't Fly For Art: Media Art Ecologies. Culture Machine, Paying Attention, July 2012
CDIAC, Carbon Dioxide Information Analysis Center, 2010. Fossil Fuel CO2 Emissions. Columbia University. Available [online] at http://www.columbia.edu/~mhs119/Emissions/Emis_moreFigs [Accessed 26th June 2012].
Feral Trade Courier, 2009. Import, export database created by artist Kate Rich. Available [online] at http://www.feraltrade.org [Accessed 26th June 2012]
Garrett M., 2012. CROWDSOURCING A CONSPIRACY an Interview with IOCOSE. Available [online] at http://www.andfestival.org.uk/blog/iocose-garrett-interview-furtherfield [Accessed 28th June 2012]
Garrett M., 2012. Heath Bunting, The Status Project & The Netopticon Available [online] at http://www.furtherfield.org/features/articles/heath-bunting-status-project-netopticon [Accessed 28th June 2012]
Jackson, T., 2009. Prosperity Without Growth, Economics for a Finite Planet. London: Earthscan
Lovink, G., 2012. Networks Without a Cause. A Critique of Social Media. University of Amsterdam, The Netherlands.
Marland, G., T.A. Boden, and R.J. Andres. 2008. Global, Regional, and National Fossil Fuel CO2 Emissions. In Trends: A Compendium of Data on Global Change. Carbon Dioxide Information Analysis Center, Oak Ridge National Laboratory, U.S. Department of Energy, Oak Ridge, Tenn., U.S.A.
Neate, R., 2011. Food price explosion 'will devastate the world's poor'. Guardian, Friday 17 June 2011 18.42 BST. Available [online] at http://www.guardian.co.uk/environment/2011/jun/17/global-food-prices-increase-united-nations [Accessed 20th December 2011]
Parmesani, L., 1997. Poesia visiva, in L'arte del secolo – Movimenti, teorie, scuole e tendenze 1900-2000 . Giò Marconi – Skira, Milan 1997
Turkle, S., 2011. Alone Together: Why We Expect More from Technology and Less from Each Other. Basic Books
It has been almost five years since Roger Bernat, a renowned artist of the experimental theatre scene of Barcelona, premiered 'Public Domain'. The piece, still on tour, has been performed in public spaces around the world. This audience-centred show invites individuals to participate in this engaging experience that emerges as a sociological choreography. The audience gathers in a public square and they are given a pair of headphones. Nothing warns that a performance is about to take place despite the two signs located at the edges of the square that mark the right and the left. Through this simple but effective setting the piece starts. Welcoming words and introductory instructions are broadcasted to the audiences that immediately understand that the action will be mediated by the voice that is talking to them through the headphones. 'Would you mind if I ask you some questions'― inquiries the voice. 'Did you come alone because someone recommended the piece to you? If so go right. Did you come on your own initiative? Go left. Did you go to the play due to work related reasons? Go to the centre. Do you think there are questions that should never be asked? Put your hand in your mouth. Do you call home the place where you live? Put your hands together on your head.' Through this mechanism, wrapped in the relative anonymity that the group offers, the audience reveals details of their intimacy or of their fictionalized intimacy. Are there supermarkets stealers among the audience members? Have they ever followed strangers? Did they study in public or private schools? Thus, the piece explores bodily narratives playing with the sociological aspects that the audience reveals through their answers.
The development of the piece is constructed through questions that trigger the actions and drag participants into an immersive experience. Groups among the audience members are created and what starts as an entertaining proposal turns into a reflective exercise that interrogates our opinions, beliefs and experiences. Some members of the audience are on our side while others become our enemies; and then war bursts. The piece never loses its playful side although participants become aware of how the categorised distribution of individuals, without nuances, leads to a situation of confrontation. This is of course a simulation, but is this piece a transduction of reality? The theorist Shannon Jackson calls these pieces 'social works'[i]. From her point of view, these pieces state some of the paradoxes of our systems and as experiments they contribute to discuss the nature of our public engagement. They  unfold some of the contradictions of the agencies that operate in our systems while they give evidence of the relational parameters that we assume and accept to construct our social beings. In this case, the sample of audience members is taken as a small sociological study that through continuous dichotomies performs organisation and operation.
The emergence participatory theatre and performance has brought significant changes that basically related to the fact that the audience members have become the raw material of the piece. This change clearly alludes to the aim of artists to incorporate innovate disruptive actions to discuss the matters affecting the current social arena. As Claire Bishop states, there are also tensions that emerge within the performance of these works; 'quality and equality, singular and collective authorship, and the ongoing struggle to find artistic equivalents for political positions'[ii]. From my point of view, most of these tensions appear due to the game-work nature of these pieces. In a way, labour structures are enacted through instructions that often reproduce some of the basic rules of capitalism; the use bodies to make the system work. To which extent these practices subvert the traditional working relations? Is participation a necessary tyranny for creators to produce social changes? What are the affects and effects of these practices?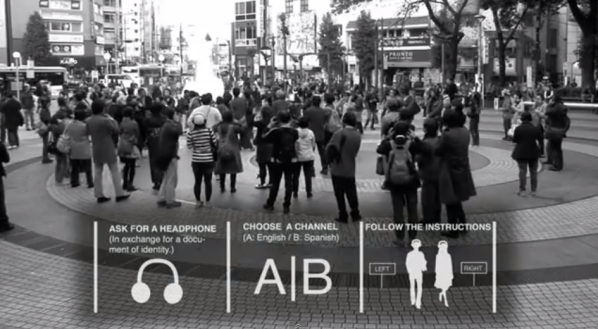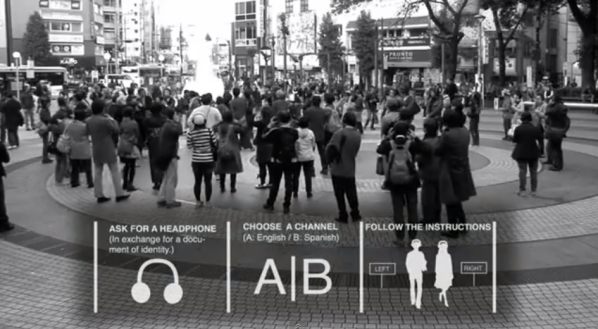 Public Domain by Roger Bernat. Video Choreography produced by Marlon Barrios Solano for dance-tech.tv – http://www.youtube.com/watch?v=ZBnNmLNsLO8
'Public Domain' also creates an appealing mobile bodily landscape. It is interesting to think about the relationship between the show and reality. The theatricality of the piece interacts with the social reality blurring boundaries, as one is part of the other. The piece is a social event that occurs outside the convention of a gallery, exhibition space or theatre. Thus, the citizens that are not part of the show assume this theatrical intervention as part of their reality, as part of the current social matters. The integration of technologies into the arts have widely contributed to perform new experiential practices. In this regard, technology plays an important role in triggering participation. Technology helps to distribute and operate instructions but also produce a specific aesthetics that appears thanks to the creation of hybrid practices.
The interaction among disciplines and fields has given birth to fruitful collaborations and cutting-edge practices in the arts. The current convergence of the fields of nanotechnology, cognitive science, biotechnology and communications (ITC) has given birth to the most prolific period of inventions and findings in the history of science. The possible intersections between the arts and sciences are gaining day by day a bigger interest but most of its potential is yet to be imagined. In which ways will these practices will contribute to social change? Is participation the key for a major public commitment in matters that affect our daily lives? 'Public Domain' proves that through a rather simple system significant concerns can be addressed in a playful but effective manner in a project that has already engaged audiences from over the world.
References and Info:
[i] Jackson, Shannon. Social Works. London and New York: Routledge, 2011.
[ii] Bishop, Claire. Artificial Hells. London and Brooklyn (NY): Verso, 2012.
Roger Bernat – After studying architecture, he discovered theatre and at the age of 25 he entered the Institut del Teatre in Barcelona to study directing and dramaturgy. Soon after, he founded and directed, with Tomàs Aragay, the company General Elèctrica. Well known in Catalonia for their daring and engaged projects, General Elèctrica (1997-2001) created a dozen remarkable productions. Roger Bernat often concentrates on a variety of social groups (heroes, transsexuals, cab drivers, etc.) in his ongoing search for new theatrical forms. His best-known plays include Que algú em tapi la boca (2001), Bona gent (2003) in collaboration with Juan Navarro, Amnèsia de fuga (2004), LA LA LA LA (2004), Tot és perfecte (2005) and Das Paradies Experiment (2007). Apart from his stage work, Roger Bernat also directs videos. http://rogerbernat.info/en/