Featured image: The facade of Kunstquartier Bethanien. Image by Nadine Nelken.
After a full year of events focusing on several topics, from drones to surveillance, cyberfeminism to hacktivism, or even the famous Technoviking and a hot debate on the politics of the Porntubes, the Disruption Network Lab wraps up 2015 with its event STUNTS, focusing on political stunts, interventions, pranks and viralities. It was a year of great success for the DNL and proof of that was a full house, in the middle of a cold Berlin winter, full of people eager to take part of this last gathering on art research, hacktivism and disruption.
Just at the entrance, in the castle-like facade of Kunstquartier Bethanien, the Free Chelsea Manning Initiative projected a video including phrases of support, denouncing the system that violently charges against all the whistleblowers who bravely stand against state-crime. Chelsea Manning, sentenced in August 2013 to 35-years of imprisonment, turned 28 years old on the 17th December. The initiative took the occasion to celebrate her anniversary but also to remind us of her cause and of how vulnerable whistleblowers are under the purview of "justice".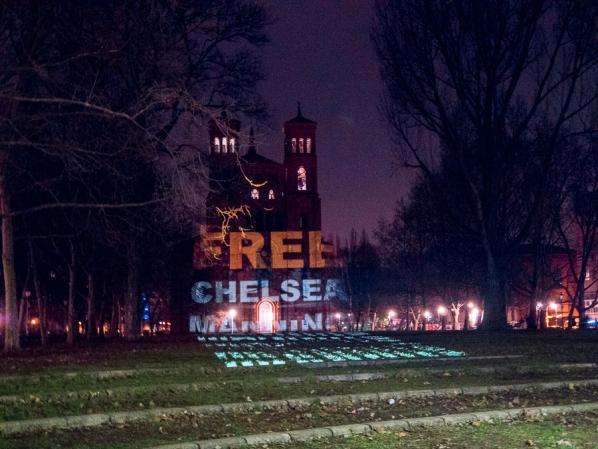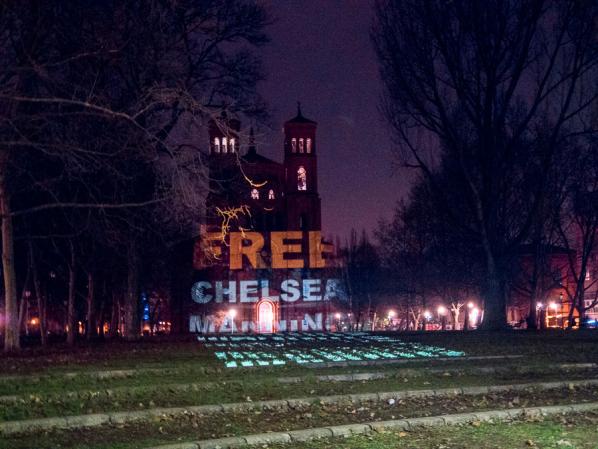 Peter Sunde, one of the founders of Peter Bay, has recently given an interview stating "I have given up" when asked about the current state of free and open internet. The pessimistic tone that might loom among hacktivism has its reasons. With a growing and raging state surveillance, invigorated politics of fear veiled as anti-terrorism propaganda, or the alienating neoliberal order, the seemingly scarce possibilities to fight back can be easily overtaken by a sense of hopelessness. Yet, the proposal of STUNTS claims the possibility of new futures; suggesting that new artistic militancies and political subversions of neoliberal networked digital technologies, hoping to provide a glimpse of another world. What can be done? There's still a lot to be done.
KEYNOTE: FIND OUT WHAT YOU ARE 'SUPPOSED TO DO' – THEN DO SOMETHING ELSE.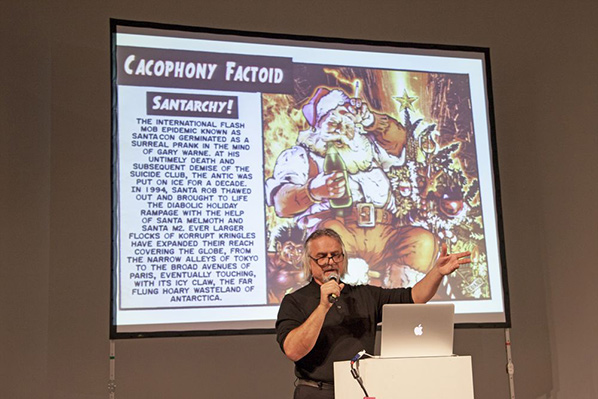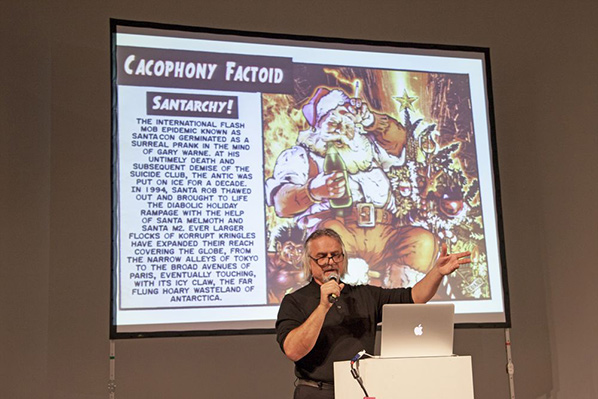 The opening keynote was reserved to John Law, original member of the Suicide Club and Cacophony Society, and one of the initiators of the Burning Man Festival, who gave an inspiring speech condensing 40 years of disruptive movements in the city of San Francisco. Law highlighted how important it was to live in San Francisco, a well-known refuge for many weirdos, hippies and punks, and how the city served as fertile ground for the foundation of many movements of disruption, such as the Suicide Club or the Cacophony Society.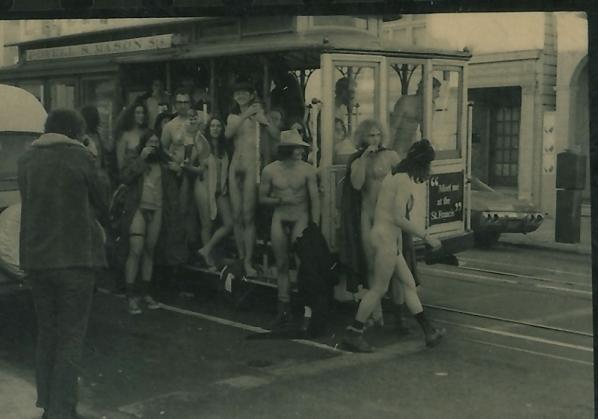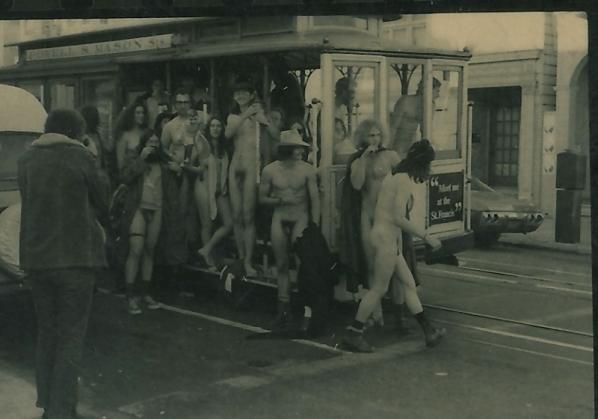 The Suicide Club, born from a course at the Free School Movement (also known as Communiversity) in the late 70s, was one of the pioneers with its events of urban exploration, street theatre and pranks. For several years, its members engendered actions of occupation and appropriation of public spaces, aiming to subvert the order of these spaces and highjack the authorities. Later on, some of its members founded the Cacophony Society which followed the same footsteps, creating social experiments and stunts, which according to Law didn't necessarily mention being political but instead playful acts of liberation from the norm. Yet, in an age of overwhelming neoliberal labour exploitation, we can wonder if having fun among the working class isn't already a political act. As Law said, "the events were illegal but not immoral" reminding everyone that in ethics and politics of disruption, right and wrong should never be defined by law. It seems that disruption is intrinsically political in the sense it questions the ruling order while also being an emancipatory act of dissidence.
PANEL: STUNTS & DUMPS – THE MAKING OF A VIRAL CAUSE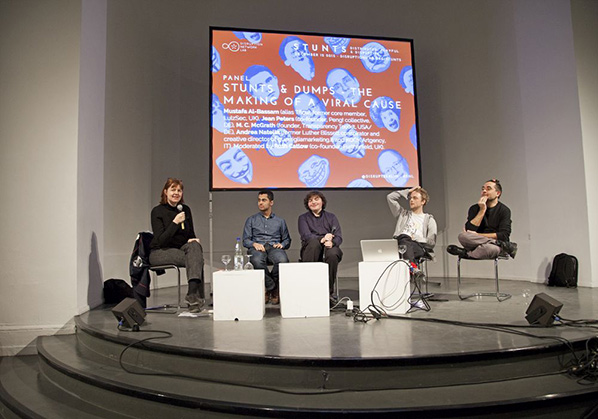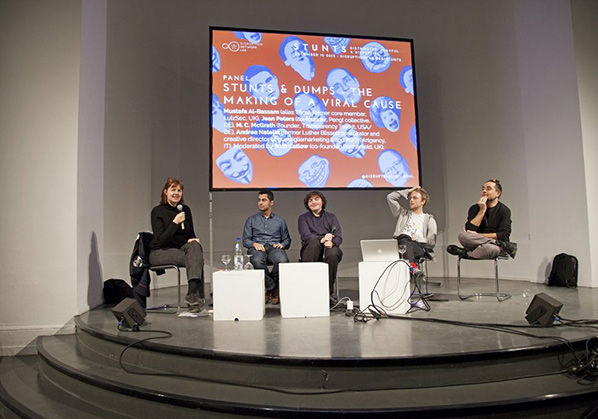 The panel, moderated by Ruth Catlow, one of the founders of Furtherfield, included a group of four hacktivists and disruptors, two of whom claimed to have once been Luther Blissett, an open-pseudonym used by several artists and activists as an hoax who has taken credit and responsibility over several stunts and pranks over the past 20 years. Following the thread of adopting an emancipatory praxis in the demand for privacy, M.C.McGrath presents the Transparency Toolkit. Motivated to refuse of data collection and the brute quantification that intelligence and corporations enforce as an interpretative lens for evaluating people's lives, with this toolkit McGrath intends to facilitate the access to a database that allows journalists and civilians to surveil the surveyors. Providing easy access to personal data of the intelligence community, he gives intelligence a taste of its own poison. In response to the predictive justice portrayed by nowadays algorithmic supremacy, the Transparency Toolkit disturbs the power asymmetry while possibly enabling for even some form of critical mob justice.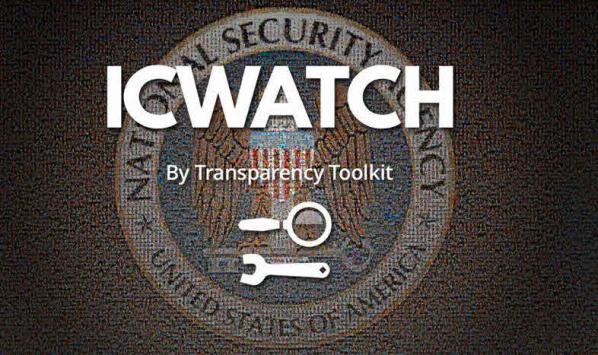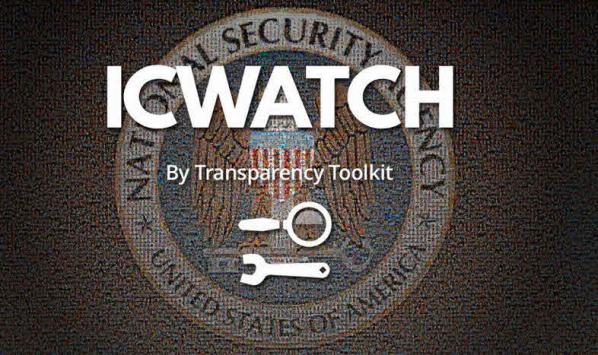 Andrea Natella, creative director of guerrigliamarketing.it and KOOK Artgency, seeks for justice by creating elaborate hoaxes that corrupt corporate advertisement. Hoaxes such as the fake air company Ryanfair which claimed to "welcome aboard refugees" under the Geneva Convention, enabling refugees to fly without a visa. The ingenious mockery resulted in a flamed response from the 'real' company debunking the advertisement while at the same time it has received a great attention from the media, resulting in a broader public discussion on the refugee situation. Once again, Natella presents us with the power of disruption by taking advantage of tools used by the prevailing order.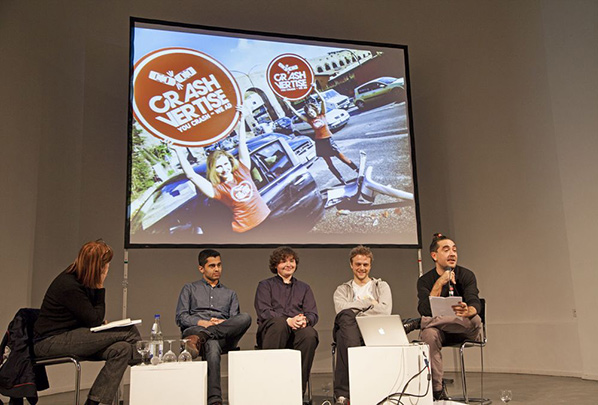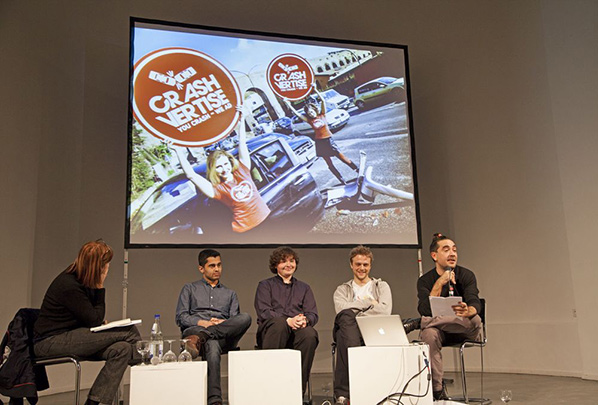 The undergraduate in Computer Sciences Mustafa Al-Bassam has gained notoriety for being a part of LulzSec, a computer hacking group responsible a number of high profile attacks, resulting in being legally banned from the Internet for two years. From an early age Mustafa focused his time in the creation of tools to unmask the tenacious mechanisms of domination. From ironically proving the negative correlation between tests scores and the amount of assigned homework to denouncing violations of online privacy and security perpetrated by state agencies such as the FBI, Mustafa has been a main character in the defence of human rights in the post-digital era.
To close the panel, Jean Peters, co-founder of the Peng! collective, shifts the perspective of the debate. What if instead of blaming or attacking members of intelligence we could provide them the tools to liberate them from their own institutions? Recognising that within the intelligence community resides a great number of whistleblowers, Intelexit, which started as a hoax, is now an initiative that helps people leave the secret service and build a new life. Aimed specially at members of agencies such as CGHQ or NSA, Intelexit offers safe and encrypted channels of communication through which intelligence members can get access to legal and moral support. Without the intention of dismissing responsibility of these members, claiming some banality of evil, by emancipating intelligence members Intelexit conceives another possibility to disrupt the system from within.
CELEBRATING AT SPEKTRUM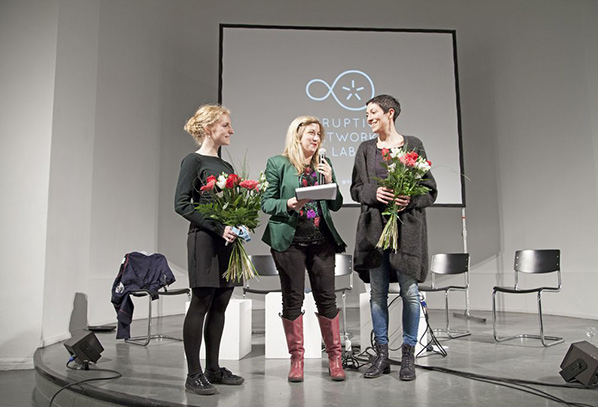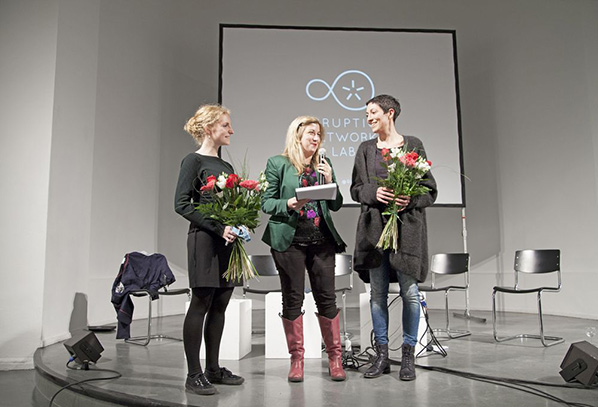 With an incredible array of playfully disruptive tools and practices, the ending tone of the panel is of hope and optimism. Maybe this is the kind of optimism that inspired Chuck Palahniuk into writing the Fight Club, clearly influenced by the Cacophony Society of which he was a member. Optimistic disruption seems to pave way to new worlds of possibilities, into a new future envisioned with the help of DNL.
To close STUNTS in an even more optimistic way, the celebration of a year of DNL was at SPEKTRUM, another outstanding initiative in Berlin and another example of success. After less than a year of activity, SPEKTRUM, an open space that aims to link art and science, has already gathered a solid reputation in the field along with a trustee community of followers and participants. While we cross fingers for another year of funding for DNL, SPEKTRUM will continue to offer a rich program of concerts, performances, installations and debates.
Last Review – PORNTUBES: Reveals All @Disruption Network Lab, Berlin. By Pedro Marum, 2015
http://furtherfield.org/features/porntubes-reveals-all-disruption-network-lab-berlin
Featured image: Nishant Shah, Roy Klabin, Francesco Warbear Macarone Palmieri, PG Macioti and Liad Kantorowicz
Finally I had the pleasure to attend to a session of the Disruption Network Lab. Physically, let's say. Even though this was the first time I've managed to be in Berlin for one of its events, I've been a compulsory virtual follower, watching the videos of their fully recorded sessions. This is a hint for anyone who would like to watch all the previous keynotes and talks.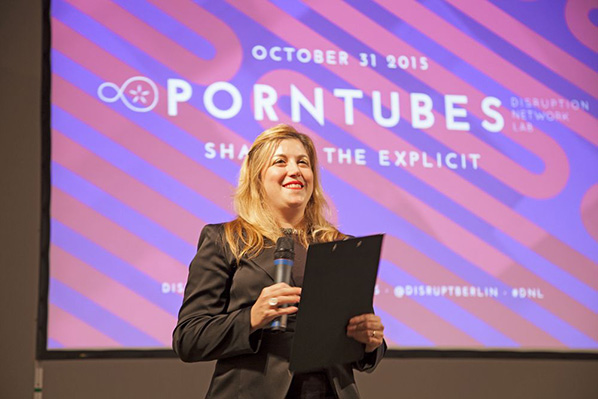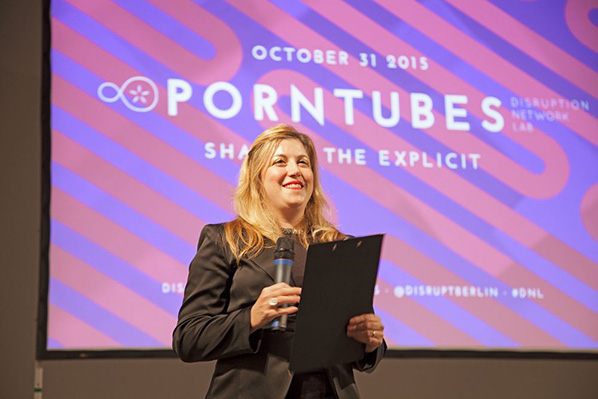 With its first edition in April, Disruption Network Lab is an ongoing platform of events and research on art, hacktivism and disruption, held at Studio 1 of Kunstquartier Bethanien, in partnership with Kunstraum Kreuzberg/Bethanien, in Berlin. On 31st of October it has held its 5th session, PORNTUBES: Sharing the Explicit. Aiming to discuss the role of porntubes in the sex and porn industry it gathered porn practitioners, entrepreneurs, sex work activists and researchers, to engage in a debate on the intertwining of porn with the Internet.
Pornography has always been a pioneer in using new technologies for its distribution and promotion. Internet, by allowing anonymous access to porn from the comfort of everyone's home it seemed to be the ultimate tool for the porn industry's expansion, to say the least. As pointed by Roy Klabin during the talk, 38,5% of the time we spend on the Internet is spent watching porn. As in many other spheres, it also seemed to be the beginning of a new era of labour liberation with an apparent decentralisation from the big porn production houses. This has allowed the blossoming of new small and independent companies with their own place in the market. But if cyberspace once seemed to offer a possibility to escape the tentacular control and exploitation exercised by the corporative monopolies, it is now known that the rebellion of the cybernetic innovators – creators of porntubes and new online sex tools – seems to be purely a coup d'etat.
KEYNOTE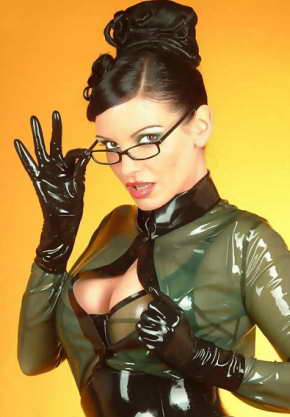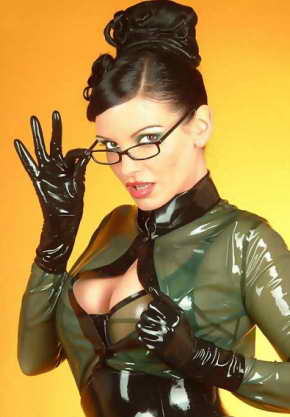 The opening keynote was by Carmen Rivera, a Mistress and Fetish-SM-performer, with a long history in the porn industry business, with an experience of the migration of porn from cinema to VHS and later to the Internet and then onto the porntubes. In conversation with Gaia Novati, a net activist and indie porn researcher, Carmen tells us her personal and professional story and immediately gives a better understanding on how porntubes – such as Redtube, X-Hamster or Youporn – have an ambiguous influence in the porn industry. Once perceived as a democratic tool allowing small porn producers to expand their radius of audience-reach, Rivera explains how much of a perverse tool of exploitation it has become and one that small producers have become too dependent on.
The fast pace of the Internet creates a lot of pressure to satisfy the hunger of porn consumers. As has become virtually infinite "fast-porn" is closely aligned with the capitalist paradigm of production, putting a bigger focus on quantity rather than quality. As the Internet leaves no space for durability — one day you're in, the next day you're out — careers become frail, the work of these companies are highly precarious and the concept of the "porn-star" is a short lived mirage.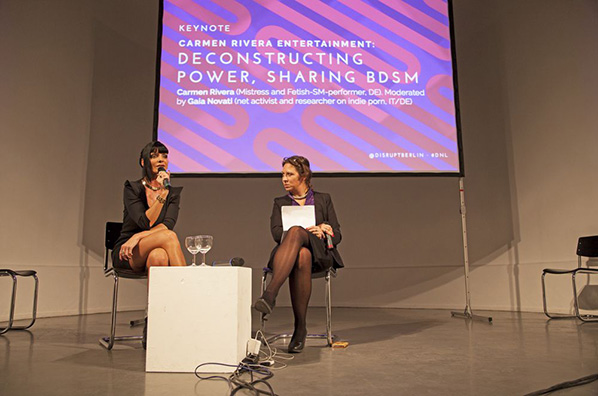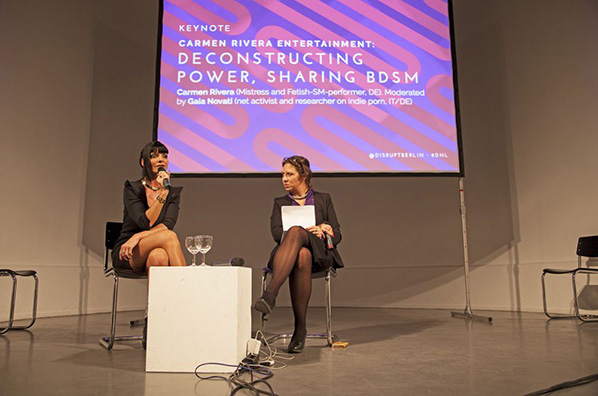 Rivera also highlights how online piracy has become virtually unavoidable resulting in gigantic losses to the porn industry. As producers see their films ending up on porntubes free of access, lawsuits don't come as a viable solution but as financial black holes for any small or even medium companies. Even though the future doesn't seem bright, Rivera doesn't quit. Her battle cry: we need to create a bigger awareness of the pestilent system that controls the online porn industry. New tools of disruption need to be found to fight against these new power asymmetries established through the domination of cybernetic capital.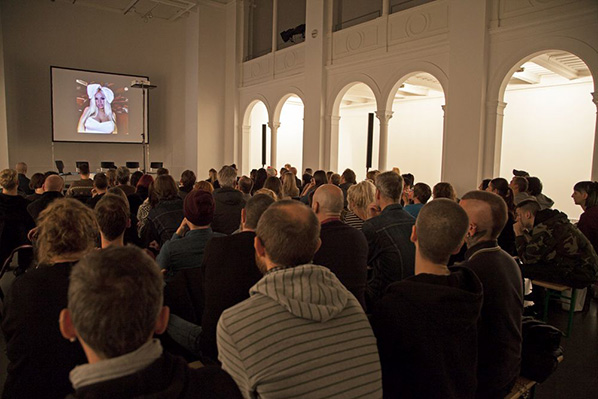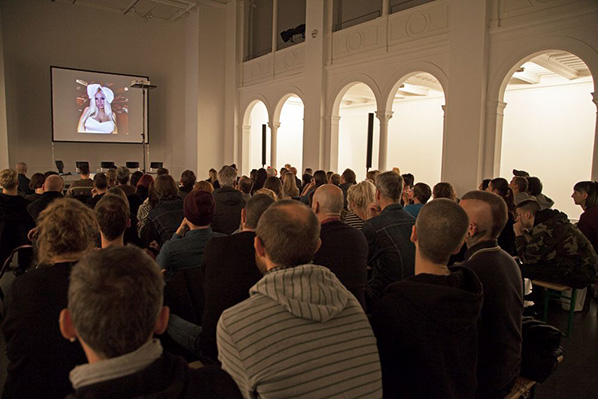 PIGGY BANK GIRLS
After the keynote, the discussion shifted to examining new tools of online sex work such as the project PiggyBankGirls, self-proclaimed as the first erotic crowdfunding for girls. Unfortunately, Sascha Schoonen, CEO of the project, wasn't able to attend. Instead a short promo video was presented introducing the project, giving some tongue-in-cheek examples on how girls could profit from this crowdsourcing tool.
Women upload videos pitching their ideas or projects – financing a shelter for stray animals, the payment of tuition fees, a trip to Japan, – and then share online porn performances in exchange for support from "occasional sugar daddies". Although one wonders if this isn't just a euphemism – a sanitised version, let's say – of already existing tools used by women who need money, regardless of them making public how they intend to spend money Nevertheless, it is true that the actual exploitative system needs to be dismantled, workers should be getting a bigger share for their labour and PiggyBankGirls poses as one more tool to do so, however this project also left many unanswered questions. Who are actually the women who can profit out of it? PiggyBankGirls promo tries to make this form of sex labour sound "cute", easy and accessible. However, is just another tool for established porn actresses to diversify their means of income?
TALK
The panel, moderated by Francesco Warbear Macarone Palmieri, socio-antrophologist and geographer of sexualities, included abstracts showing a wide array of perspectives on the issue of porntubes and online sex work. The researcher Nishant Shah opened the panel with a wonderful talk ranging from porn consumerism to porn politics and how porn is influencing our digital identities. In a porn-consuming society, from establishing clear distinctions between "love" and "porn", respectively meaningful and perverse, desirable and visceral desire, porn seems to be contingent on the morals of the spectator – as it only exists through the spectator it has also become a tool of puritan regulation. From Facebook teams of censorship and sanitisation of the virtual space to websites such as isitporn.com it is possible to understand that the concept of porn becomes itself a regulator of our sexual expressions, defining the line that separates decency from indecency. Paving the way to the pathologization of porn practices but yet dictating the meaning of authentic sexual performances, as the only visceral forms of sexual performances available, Shah pointed out how pornography, as a cultural and digital artefact, works in the regulation of our societies and in the production of our identities. Giving the example of Amanda Todd, who committed suicide after suffering from bullying for exposing her sexual body online, Shah shows how new forms of "porn" take place in the digital, from doxxing to unintended porn being perceived as such, enabling new forms of violence – let's say porn-shaming.
Also focusing on porn consumerism, Roy Klabin, investigative documentarist/filmmaker, goes back to the discussion initiated with Carmen Rivera on porntubes VS porn producers and how producers make money. According to Roy, MindGeek, the company that owns most of the porntubes – from Youporn to Redtube – has been one of the main entities responsible of the destruction of the porn industry. By creating piracy websites holding gigantic libraries of free access to porn and making revenue out of the advertisement, resulting in huge losses for the porn companies which at the same time had become dependent on the tubes to advertise their work. Roy makes an appeal to porn producers to diversify their strategies: from webcams to virtual reality, the porn industry needs to be one step ahead of the contemporary systems of digital exploitation.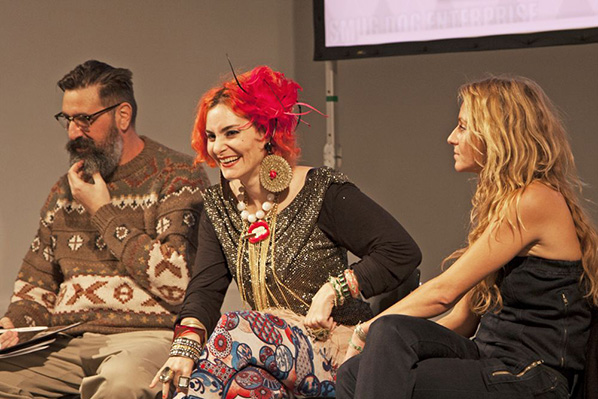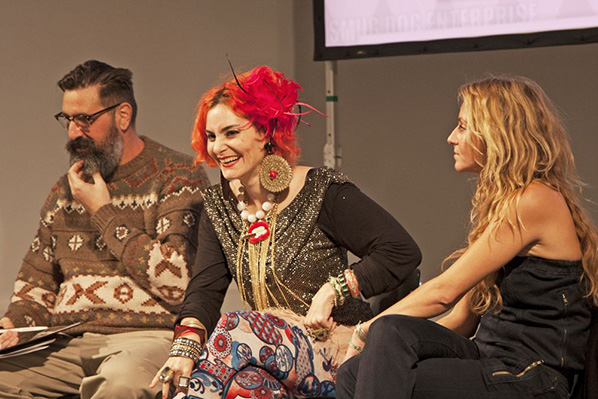 PG Macioti, a researcher and sex workers rights advocate and activist, together with Liad Kantorowicz, performer and sex workers' activist, presented an overview on how the Internet has reshaped sex work – from sustainability to work conditions – listing some of the outcomes, pros and cons, of the extension of sex work to the virtual spaces. Online sex work, namely erotic webcam work, has enabled a proliferation of sex work by offering safe, independent and anonymous services. On the other hand with the insertion of sex work on the capitalist mode of production, just like in many other forms of digital labour it has rendered a bigger alienation to the workers – who work mainly alone and, also due to stigma, don't share any contact with fellow colleagues – resulting in a more and more precarious labour, with sex workers being paid by minute, having to pay for their own means of production and usually paying a big share of their income to the middleman webcam services host agency.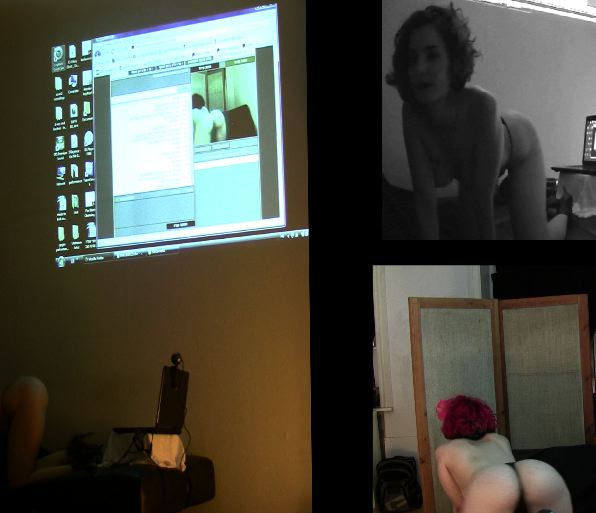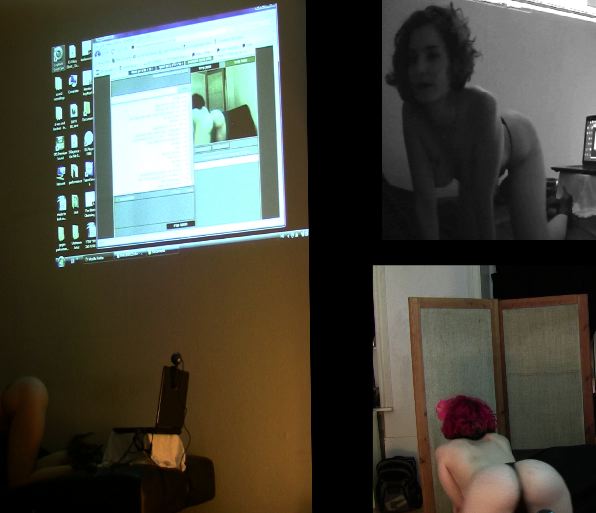 Overall, the Internet has enabled a multiplication of narratives on sex work but the power asymmetries between the online corporations and workers results in a growing exploitation and precariousness. The transversal message to all participants seems to urge for disruptive tools for online sex work, tools of self-empowerment and emancipation within the digital paradigm. Quoting the Xenofeminism manifesto by Laboria Cubonics, "the real emancipatory potential of technology remains unrealised" and the Disruption Network Lab might be the much needed spark for this revolution.
PARTY & STUNTS
The PORNTUBES event couldn't have had a better ending with a party held in the legendary KitKatClubnacht, a sex & techno club that is open since 1994, famous for both its music selection and its sexually uninhibited parties. It seems an exciting idea, to say the least, to bring all together researchers, porn entrepreneurs and activists to this incredible venue after an intense afternoon discussing the porntubes.
Concluding the series of conference events of Disruption Network Labs during 2015, the next event will be STUNTS: Distributed, Playful and Disrupted, taking place on the 12th of December, at the Studio 1 of Kunstquartier Bethanien, and the direct link is: http://www.disruptionlab.org/stunts/. This time the discussion will focus on political stunts as an imaginative and artistic practice, combining hacking and disruption in order to generate criticism of the status quo. As the immense dragnet of state-surveillance extends it becomes imperative to understand which are the available tools of obfuscation, how it is (still) possible to hack the system and which tools of political resistance can be deployed Disruption Network Lab wraps the year with a tempting offer, inviting artists, hackers, mythmakers, hoaxers, critical thinkers and disrupters to present practices of mixing the codes, creating disturbance, subliminal interventions, giving raise to paradoxes, fakes and pranks.
LAB #4 in the Art Data Money series
Venue:Furtherfield Commons
---
BOOKING INFO: This event is for an invited group of participants. If you are interested in attending, please contact Furtherfield telling us about your interest in this area: ruth.catlow [at] furtherfield.org
---
A day-long workshop, led by independent curators and researchers Dani Admiss and Cecilia Wee, looking at how we are locked-into contemporary conditions that bring migration into being.
This workshop challenges participants to expand and rethink what potential responses to migration could be, creatively and beyond. How can we work with the technologies associated with migration (and their social effects) to inform and enact virtual mobility and cultural activism?
Thinking through ideas of art and social change, the day aims to unpick the abstract forces, the limited means we have to communicate them, and the dependency on automation, simulation, and capture to tell us the 'truth', but which escapes the importance of lived experience.
Over the course of a day we will produce a collaborative map that creatively challenges and proposes new ways of thinking about experiences of migration. We will physically engage with technologies associated with migration, this will be followed by discussions about migration using the 'social technology' of the World Cafe method. The day will end with a collaborative mapping exercise harvesting ideas and narratives from the day, which will be turned into a mini-publication to be publicly distributed, a record of collectively working together over a day.
WHY WE ARE DOING IT
As we come closer to COP21 in Paris, and in light of the recent media attention depicting an exodus of asylum seekers, refugees and migrants into Europe, we see that complex flows of power interlink fields of life like security, finance, health, climate and governance in contemporary globalisation, producing barriers to all forms of mobility. We propose that 'technologies of migration' instantiate themselves a new type of border, often geographically displaced and abstracted from our physical experiences of mobility. These technologies are subjects of social engineering, residing in websites and interview rooms, as well as more immediately perceivable 'arrival infrastructures' of e-border and immigration detention centres. Governments continue to seek ways to measure the political into policy. Expert devices, such as civic integration examinations, speech recognition technology, or European databanks of asylum seekers' biometric data, map the phenomena of migration and mobility into knowledge practices, incorporating them into risk profiles and evidence-based strategies. For better of worse, the current migration controversy highlights the fundamentally problematic challenges to a humanist relationship to data and information.
'The Migrant Machine' is part of a broader research project, Ground Truth: an investigation into changing relations of how we come to see, sense and survey our world. Based on groundtruthing, the calibration process used by scientists and cartographers to anchor the map or model to the data collected from the reality of lived-experience, the project aims to think beyond mapping as a responsive but singular tool of resistance and collaboration and towards being-in-the-world as a continual form of responsibility and entanglement.
Body Drift: Butler, Hayles, Haraway (Posthumanities)
Author Arthur Kroker. University of Minnesota Press (22 Oct. 2012).
Introduction
Body Drift by Arthur Kroker, takes the work of three leading women thinkers as its main focus. It therefore would feel strange, before venturing on to the review, not to mention Marilouise Kroker, his wife and collaborator who he credits with shaping the critical direction of his thought "on bodies and power." [1] Together Marilouise and Arthur Kroker have created an abundance of work in the fields of technology and contemporary culture. They both edit the peer publishing electronic journal CTheory founded in 1996. They co-authored the influential Hacking the Future (1996), and Marilouise Kroker has co-edited and introduced numerous anthologies including Digital Delirium (1997), Body Invaders (1987), and Last Sex (1993) and Critical Digital Studies: A Reader. Marilouise Kroker is Senior Research Scholar at the University of Victoria. A recent bio written about them says "Arthur and Marilouise Kroker are the hipsters of Canadian media theory." [2]
Arthur Kroker is Canada Research Chair in Technology, Culture and Theory, Professor of Political Science, and the Director of the Pacific Centre for Technology and Culture (PACTAC) at the University of Victoria. His recent publications include The Will to Technology and the Culture of Nihilism: Heidegger, Nietzsche, and Marx (University of Toronto Press) and Born Again Ideology: Religion, Technology and Terrorism. Dr. Kroker's current research focuses on the new area of critical digital studies and the politics of the body in contemporary techno-culture. http://web.uvic.ca/~akroker/
Review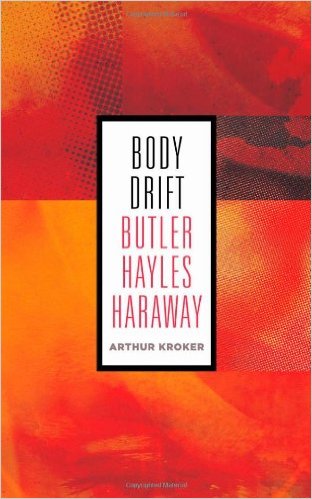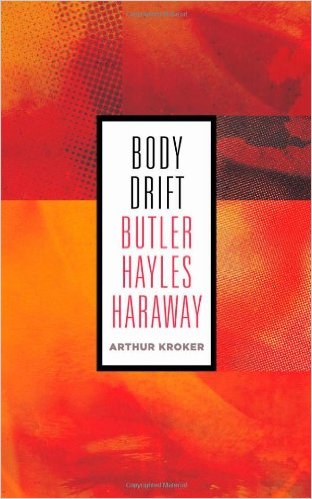 This review is written three years after the publication of the book but it feels even more relevant now than ever for reasons that will, I hope become plain…
Body Drift focuses on three major feminist theorists, Judith Butler, Katherine Hayles and Donna Haraway. They have had a deep influence on my own work and of course on media art culture through the years. They have profoundly altered our views on technology, feminism, queer theory, postmodernism, marxism, hacking, hacktivism, cybernetics, the Internet, network culture, politics and posthumaniism. Re-examining their critical perspectives and creative processes – assemblages, remixing and cyborgs- Kroker terms the emerging technological spectre body drift. He examines the connections between what he sees as Judith Butler's postmodernism, Katherine Hayles's posthumanism, and Donna Haraway's companionism.
Through the spectrum of Body Drift he attempts to find a clearer understanding of the contemporary material body and its societal complexities. He views two opposing forces at work in body drift. One is, the continual disappearance of human things and values, alongside excluded ethnicities and outlawed sexualities. He connects this with an entrapment by social crisis in which actual democratic aspiration is dwindling. In parallel to this mass loss of our freedoms other factors are at work. He sees it as overall, and an eventual series and states of resistances. These are evolutionary forms of hybridity and as such are key paths for what he argues is the function of our posthuman condition. [3]
There are numerous techno-visions expounding how technology will change our lives and futures. What for me, separates a classic posthumanist and a critically aware posthumanist is that the latter is not only aware of the necessity of grass roots culture and inclusion of female voices, but is also critical of domination over others as key when engaging in the processes of innovation. Thus moving beyond existing frameworks that perpetuate patriarchal language, methods of centralization and colonial habits.
In his book You Are Not A Gadget: A Manifesto, Jaron Lanier described Ray Kurzweil's excitement about The Singularity as apocalyptic. Lanier says "The coming Singularity is a popular belief in the society of technologists. Singularity books are as common in a computer science department as Rapture images are in an evangelical bookstore." [4] Kurzweil's digestible techno-bites fit well alongside big business and with Peter Diamandis a wealthy entrepreneur. Dr. Peter H. Diamandis and Dr. Ray Kurzweil co-founded the Singularity University. In To Save Everything, Click Here: Technology, Solutionism, and the Urge to Fix Problems that Don't Exist, Evgeny Morozov writes that Diamandis "promises us a world of abundance that will essentially require no sacrifice from anyone – and since no one's interests will be hurt, politics itself will be unnecessary." [5]


In The Joy of Revolution Ken Knabb wrote, "Marx considered it presumptuous to attempt to predict how people would live in a liberated society. "It will be up to those people to decide if, when and what they want to do about it, and what means to employ."" [6] Kroker says, "In my estimation, while Marx, Nietzsche and Heidegger may have provided premonitory signs of the charred landscape of the technological blast, it is the specific contribution of Butler, Hayles and Haraway to provide a deeply compelling account of the fate of the body in contemporary society." [7] This includes how we evolve our Internet freedoms, surveillance, and cyber attacks in a post-Snowden world. While we're, either reshaping or being reshaped through the constant production of new technologies and political re-invention, it is crucial that there exists regular critique reflecting on these influences and changes on people, animals, society, the planet, and the universe. Thankfully, Butler, Hayles and Haraway disrupt the normalization and dangerously hegemonic acceptance of 'the male overlord and his machine' over the rest of us.
How our bodies and the idea of our bodies relate to this complex world is Kroker's primary interest. In the introduction Kroker says that we no longer inhabit a body in any meaningful sense of the term but rather occupy a multiplicity of bodies – imaginary, sexualized, disciplined, gendered, laboring technologically augmented bodies. [8] Hayles has not only bridged the gap between science and literature, but also media art. In 2000, Hayles wrote an insightful piece on Patchwork Girl, an artwork made by Shelley Jackson in 1995, a hypertext fiction and remix of Mary Shelley's Frankenstein. When discussing Jackson's piece Hayles said, "As the unified subject is thus broken apart and reassembled as a multiplicity, the work also highlights the technologies that make the textual body itself a multiplicity." [9]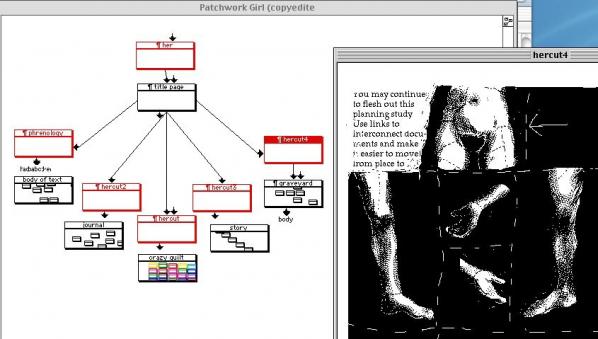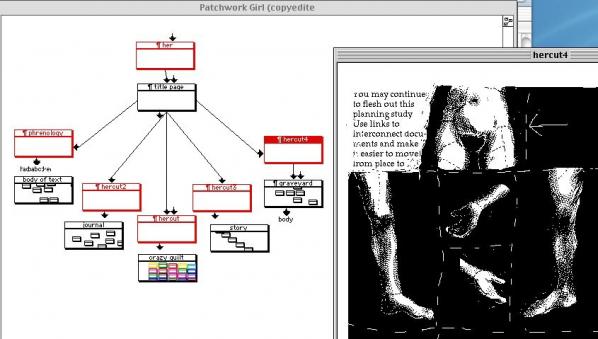 Kroker says, ""Like Heidegger before her, Hayles refuses to privilege either interpretation to the exclusion of its opposite, preferring a form of thought similar to "pendurance," that moment when, in the folded twists of complexity theory, "one comes over the other, one arrives in the other."" [10] In an interview with Josephine Bosma on the Nettime email list, in Nov 1998, Hayles said "There may be other ways to think about the subject that don't find themselves first and foremost on this notion of ownership. New technologies open up possibilities for rethinking other ways to begin to construct the subject." [11] Krokers sees Hayles as providing us with the digital alphabet to explore the complexity and connections of technopoesis. "To read Hayles is, in fact, to begin to experience the fractures, bifurcations, and liminality that stretches across the skin of posthuman culture." [12]
Donna Haraway in her introduction to A Cyborg Manifesto: Science, Technology, and Socialist-Feminism in the Late Twentieth Century, in 1985 she said, "Though both are bound in the spiral dance. I would rather be a cyborg than a goddess." This unsettled many feminists at the time. Haraway was not interested in reclaiming what she saw as a lost ideal based on matriarchal values. Instead, she wanted women to re-invent and create their own versions of what a female could be or not be, by playfully exploiting the cyborg myth and concept in the here and now. [13] This reconstruction of the woman, Kroker says, poses particular twists and knots, and contradictions. He emphasises that we're not discussing a traditional form of feminism but a hybrid vision of feminism. [14]
"Not waiting passively for the capricious experience of biotechnology to produce spliced bodies, Haraway has made of her own mind a biopolitics on creative hyperdrive. Deeply immersed in the (bio)scientific disciplines, always distancing herself from seductions of technological representationality by feminist difference, continuously provoking boundary breakdowns in her own thought by refusing to assent to an anthropomorphic species-heirarchy, Haraway is a theorist of the splice." [15] Kroker (2012)
Kroker moves on from Haraway's concepts on the cyborg to her later inter-species theory. He tries to untangle the complexity of her personal, political and theoretical relations in respect to where her critical strength is best engaged. He's drawn to what he sees as ""Haraway's profound conceptualization of "companion species."" Haraway challenges the established role and hierarchical control by us humans over animals, plants, objects, and humans. [16] In her publication The Companion Manifesto: Dogs, People, And Significant Otherness, Haraway says, "I believe that all ethical relating, within or between species, is knit from the silk-strong thread of ongoing alertness to otherness-in-relation." [17]
Haraway's text in The Companion Manifesto conveys a shocking sense of freedom as if written by someone who longer gives a damn about her academic reputation. Perhaps, what I mean here is that the thinking reaches further than academia and builds alliances with others who may not have read her other works. In the chapter A Category of One's own, Haraway says, "Anyone who has done historical research knows that the undocumented often have more to say about how the world is put together than do the well pedigreed." [18] As with her concept for Situated knowledges her intention is to connect beyond officially accepted canons and norms, and established hegemonies. In his chapter HYBRIDITIES Kroker says "Haraway's writings reveal the apocalypse that is possibly the end condition of hundreds of years of (Western) scientific experimentalism." [19] This does not mean the West is doomed. However, Haraway has always been on the side of otherness, whether for humans or nonhuman entities. In her eyes our futures or the world as it actually is may not necessarily be as reliant on technology as we like to think.
"Perhaps most importantly, we must recognise that ethics requires us to risk ourselves precisely at moments of unknowingness, when what forms us diverges from what lies before us, when our willingness to become undone in relation to others constitutes our chance of becoming human." [20] Judith Butler.
Of this quote from Butler's Giving an Account of Oneself, 2005 [21], which opens the second chapter in Body Drift, Kroker says, "Could there be any text more appropriate to both understanding and perhaps, if the winds of fate are favorable, transforming contemporary politics than Judith Butler's eloquent study of moral philosophy..?" [21] In Giving an Account of Oneself, Butler presents us with an outline for a different type of ethical practice and proposes that, before you even ask what ought I to do? Ask yourself the question who is this 'I'? Butler, proposes that it is "a matter of necessity" that every person should "become a social theorist." [22] Indeed, in the City Lights interview with Peter Maravelis, Kroker says Butler is speaking in terms of people breaking their silence, such as "the repetition chorus of OCCUPY during the Wall Street insurrection". [23] And then he says, "In many ways, all of Butler's thought is "standing as witness." [24] Butler stands witness to what we now know in the 21st century as a violent regime of heterosexual masculinity spreading its domination over history, technology and life itself.
Butler, Hayles and Haraway are major players in feminist and queer academia and media art culture. They have all been active in breaking away from the traditional behaviours that have kept us caught within loops in various ways. Their fluid and progressive approaches to feminism are not only of value to women alone but it can also help others think beyond restrictive behaviours. Kroker's book manages to reflect the fluidity of networked and contemporary aspects of body drift well, especially from a critically aware, posthumanist perspective. However, no matter how you slice it, it's about personal and collective freedoms, how we can somehow reclaim our states of being, and how we can own our subjectivities and our psyches in whatever forms these may take. As artists, as humans and or as posthumans – we need Butler, Hayles and Haraway to guide us through this ever-changing, twisting, everyday, posthuman terrain.
Introduction.
This article revisits Robert Hewison's book, Future Tense: A New Art For The Nineties, [1] published in 1990. The book focused on contemporary attitudes to art, architecture and design that manifested in what had come to be called the postmodern era. Earlier avant-gardes of collectives and groups such as Dada, Situationism, Fluxus and the Lettrists had incorporated new technologies and challenged the material values embraced by museums and traditional hierarchies in modern art and capitalist society. Hewison set out to discover the ways in which artists of the 80s contributed to a "critical culture" for the 90s. [2]
In the 70s in the UK, art had a role to play in changing society, transforming relations to controlling production and critiquing the role of the establishment. Hewison's mission was to observe contemporary culture happening in the late 80s in Britain with an emphasis on the future. Even though there had been a massive evolution in culture; within and across the fields of music, art and theory, it was also a new dawn for capitalism as it morphed into what we now know as neoliberalism. By revisiting Hewison's book I hope to elucidate what the cultural shifts and differences in our art culture then and now are, and invite you the reader to reflect on what they mean to those of us engaging with and practicing across the fields of art, technology and social change today.

Postmodern What?
The way Hewison deals with postmodernism and its rapport with art and society is complex. He appears to regard much of the established art promoted in the late 80s, such as works by Jeff Koons, as banal marketing schemes, appealing to the interests of a privileged art-buying elite. He is more positive about grass roots communities re-appropriating and remixing art culture for others to claim on their terms. Michael Archer in his review of Present Tense in Marxism Today (1990) observed that not only was Hewison critical of modernism but also of postmodernism, which did little more than signal modernism's ending. [3]



Lyotard argues that the grand narratives of 20th century modernism did not produce the benefits expected; rather, they have led to overt or covert systems of oppression. From this perspective the French Revolution and classic Marxism are seen only as forms of overarching and oppressive, ideology. Frederic Jameson offers another perspective on the ideas and social contexts around postmodernism. In his book Postmodernism: Or, The Cultural Logic of Late Capitalism, Jameson says "It is safest to grasp the concept of postmodernism as an attempt to think the present historically in an age that has forgotten to think historically in the first place." [5]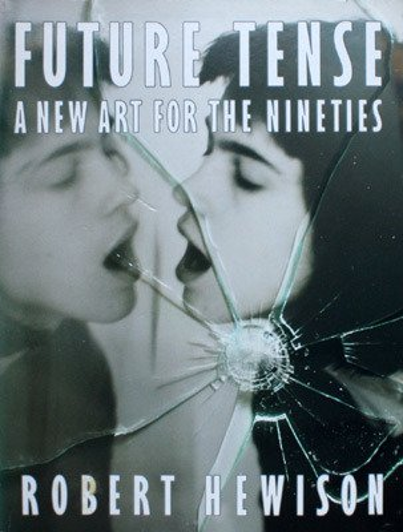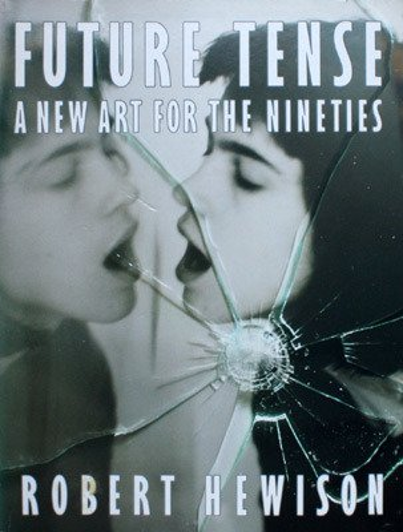 Future Tense's cover image on the front of the book still feels contemporary. It shows a young woman about to kiss her mirror image while in front of a cracked glass, window. It alludes to a sense of culture – felt then as we still feel it now: as a disjointed picture of the world where modes of thinking and representation show us fragmentations, discontinuities and inter-textuality, and 'bits-as-bits' rather than unified objects. If the image were created now with a smashed up computer or mobile phone screen or an interface, its message would not be so different. We tend to beam our faces at our computer screens and then the screens beam right back at us, reflecting at us like data-mirrors, showing back not only a distorted image of ourselves but also a distorted multiverse.
Art Featured in Future Tense.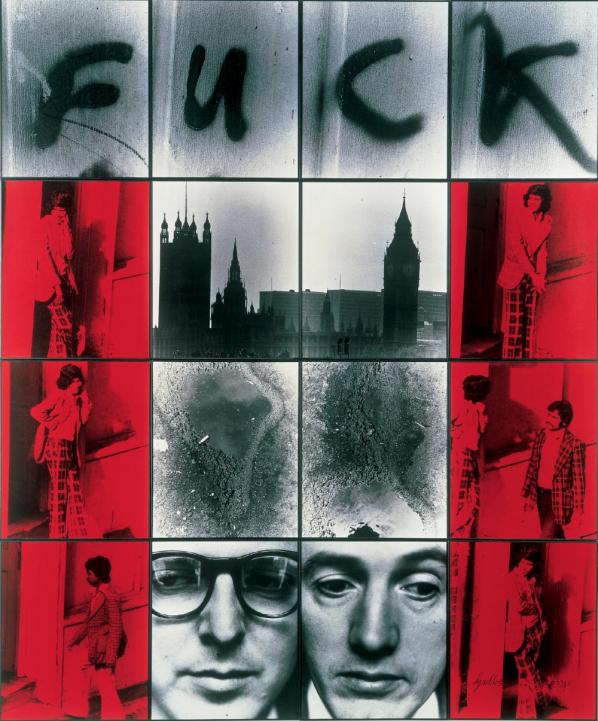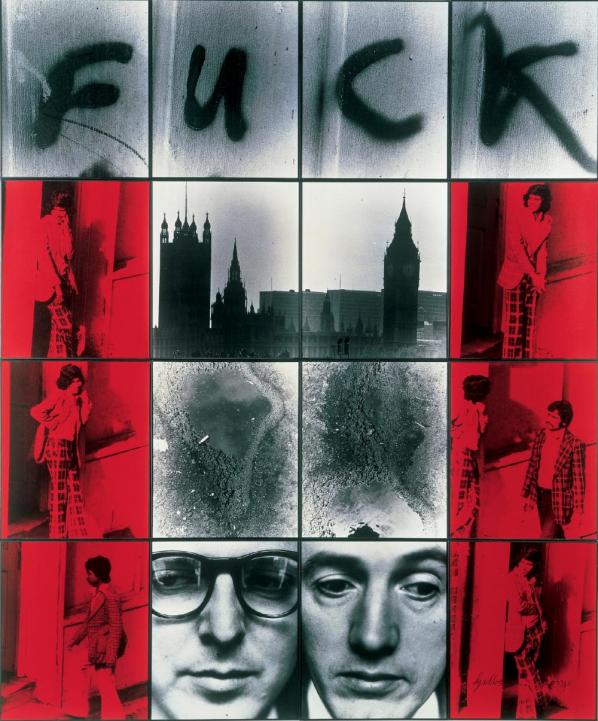 There has always been an irony at play with Gilbert & George. They usually expound a kind of punk aesthetic as an edgy chic; your lowest, basic, bigoted and unreconstructed inner ape giggles at their poo jokes. Yet while they subvert the idea of the 'high' of 'high art' by breaking life-style taboos they never bite the 'high' hand that feeds them. They know that shock is a dead cert currency just as the gutter press understands that sex and outrage sells, and that ethics and criticality get in the way of free market play. They sit well with the younger establishment in the arts, especially Damien Hirst and his peer YBAs, and similar Saatchi and Saatchi marketing investments.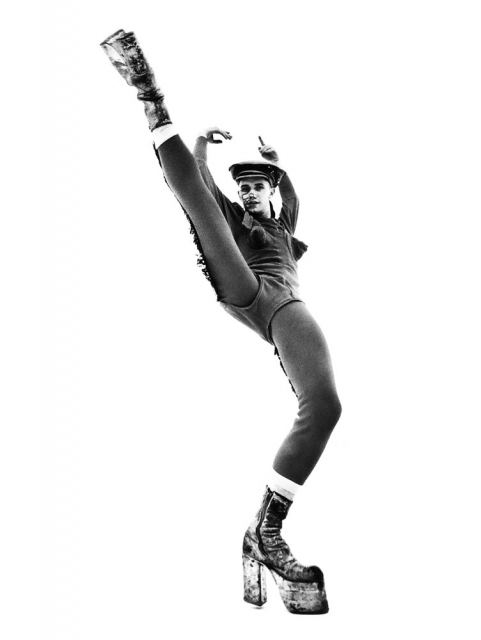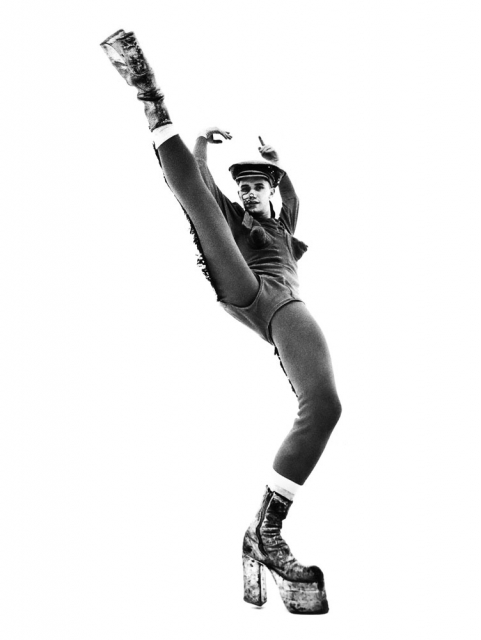 Hewison discusses Saatchi and Saatchi's gallery space, and how the work presented in the space achieves an apparent purity, which detaches it from life, and that it has that autonomy within its own sphere which much twentieth-century art has sought to achieve. But in doing so it has separated itself from that other impulse, to use art as a means of revisualising, and so changing the world. [6] (Hewison 1990) This is still a big problem with art across the board even now. Most art agencies, orgs and galleries, are still separated from people's everyday life experience. In contrast Michael Clark and his dance company was and still is a breath of fresh air. Even though he was classically trained, Clark tore "up the conventions of ballet, mixing sound and image in a rapid collage of creation, quotation and reference that plunders popular culture with calculated offence." [7]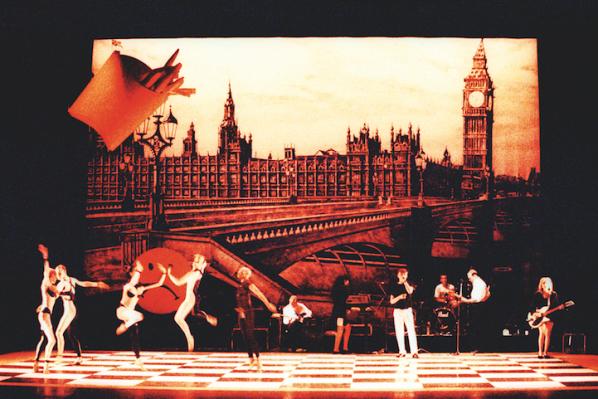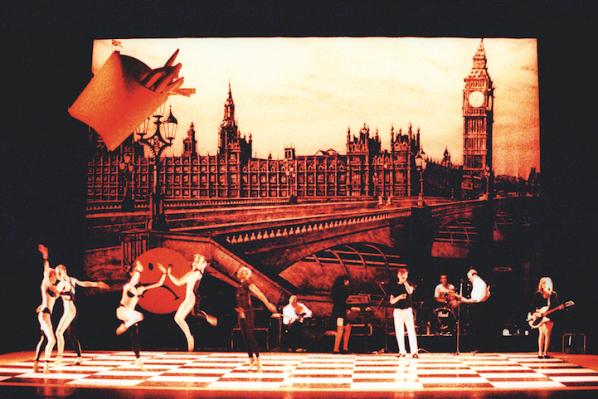 Cross cultural and interdisciplinary collaborations have been another marker of radical transformation in the postmodern era. Clark's collaboration with the punk band The Fall in 1988 is a case in point where two different fields meet and create a brilliant outcome.
"I've always had a very strong relationship to music, to punk and pop – David Bowie, Iggy Pop, Sex Pistols, especially The Fall. The Fall's song "New Puritan" was kind of a clarion call to me, not just because its rhythm is so ramshackle. When you listen to it, you wonder, "How the fuck do the musicians stay together?" Apart from that, the song encouraged me to say, "Wow, I'll do it just like Mark E. Smith!" You know, "New Puritan" was against the idea of a big company, and I didn't want to be employed by anyone. I didn't want to sign a contract. I wanted to make my own work. I wanted independence, my own company. Mark E. Smith was definitely an example for that." [8] (Clark 2014)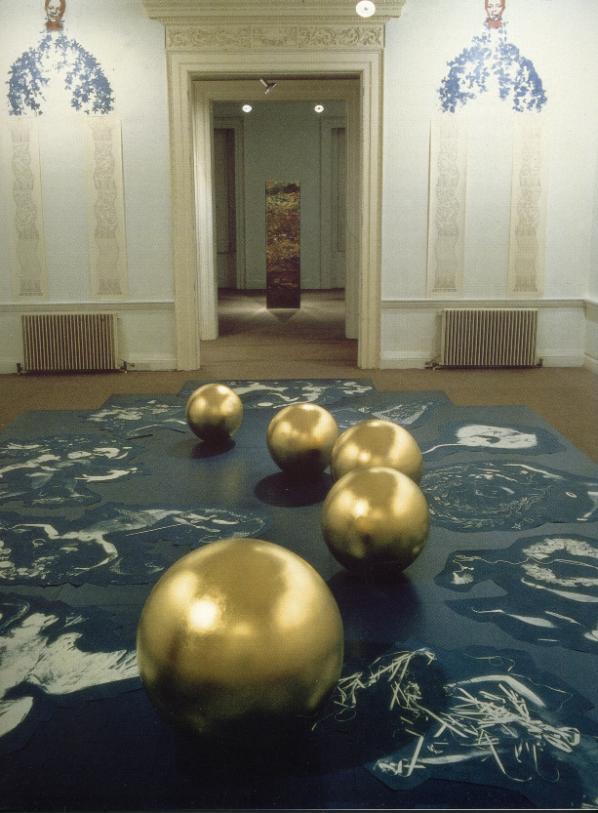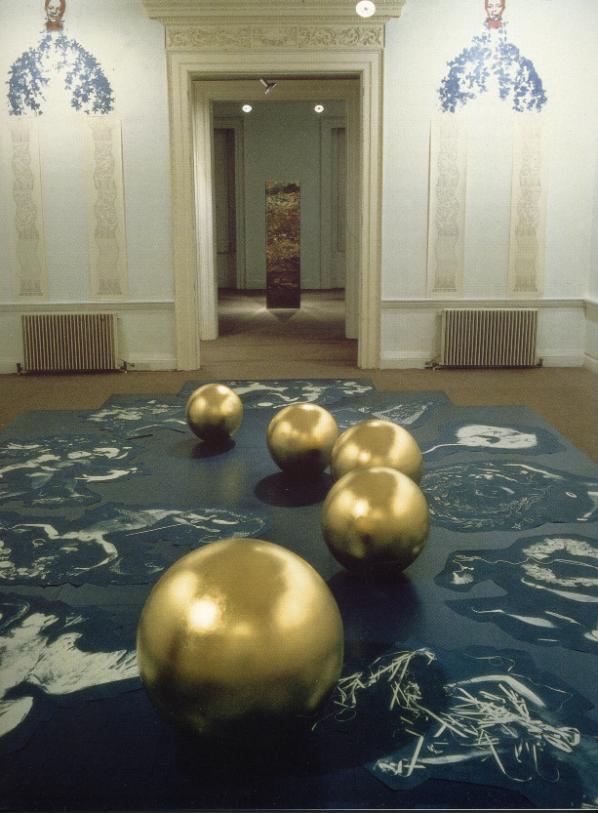 Many women artists during the 80s and 90s were using their bodies and identity as part of their art practice. Perhaps, one of the most treasured in the UK and greatly missed is Helen Chadwick who died on the 15th March 1996.
"Long before the current artistic obsession with the human body as a means for exploring identity, Chadwick had declared that "my apparatus is a body x [multiplied by] sensory systems with which to correlate experience"" [9] (Buck 1996)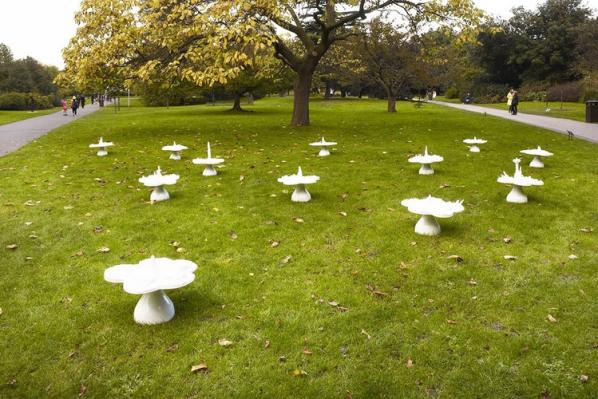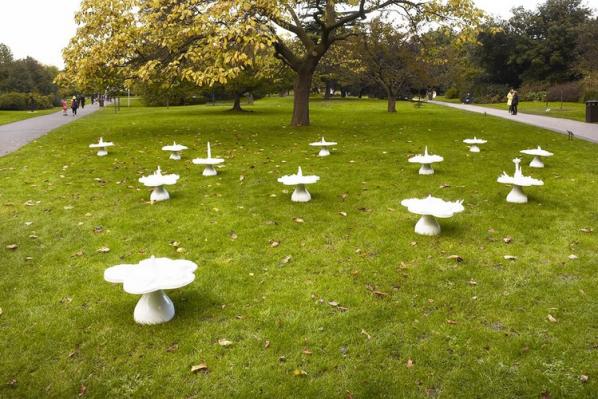 Yet, her work resonates beyond her time period and still lives on through individuals inspired by her imaginative works to this day. Hewison dedicates five pages to Chadwick, and when discussing her installation Of Mutability, he says her work possessed a particular autonomy and, "Chadwick has found that the piece is most quickly appreciated by bisexuals who apprehend more easily the polymorphous nature desire." [10] (Hewison 1990)
Hewison refers to the media baron Cardinal Borgia Gint in Derek Jarman's film Jubilee, the baron in the film says "You wanna know my story, babe, it's easy. This is the generation of who forgot how to lead their lives. They were so busy watching my endless movie. It's power, Babe. Power. I don't create it, I own it. I sucked and sucked and sucked. The Media became their only reality, and I owned the world of flickering shadows – BBC, TUC, ATV, ABC, ITV, CIA, CBA, NFT, MGM, C of E. You name it – I bought them all, and rearranged the alphabet." [11]
Hewison talks about the destructive power of Rupert Murdoch and other media barons at the time. Even today the UK has been relentlessly plagued by the Murdoch empire, which a couple of years ago accidentally revealed its true colours forcing a decision to close the News of the World paper when it found itself at the centre of a phone-hacking scandal. Employees of the newspaper were accused of engaging in phone hacking, police bribery, and exercising improper influence in the pursuit of stories [12]. Particularly damaging was the discovery by investigators that not only were the phones of public figures hacked- celebrities, politicians and British Royal Family members- but also the phones of private individuals, already innocent victims of public tragedies such as the murdered schoolgirl Milly Dowler and victims of the 7 July 2005 London bombings. The lives of us all are fair game as raw material for stories for the media markets.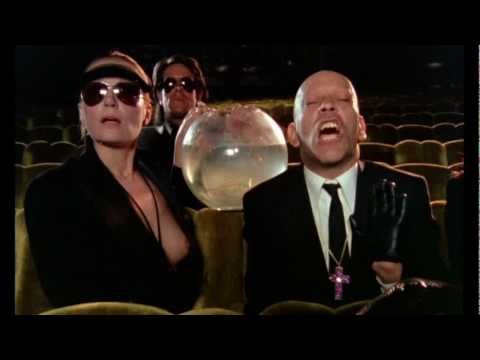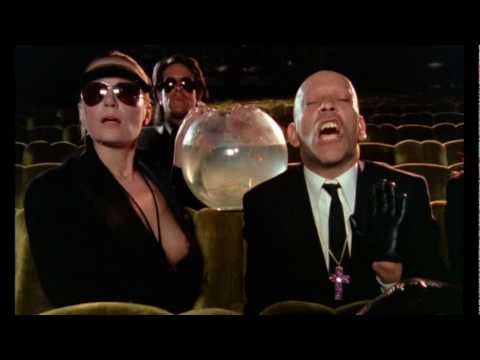 Jubilee is one of those films that have so much in it and whenever I watch it again I always see something new. "The film originated in Jarman's friendship with Jordan, the front woman for Malcolm McLaren and Vivienne Westwood's most outrageous designs for Sex and then Seditionaries – and a punk icon. Jubilee included several punk groups in this state-of-the-nation address – Adam and the Ants, the Slits, Wayne County – marking the start of a fertile relationship with the music industry." [13]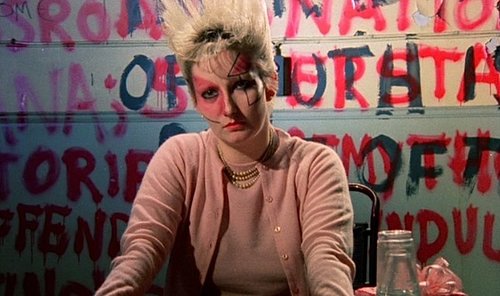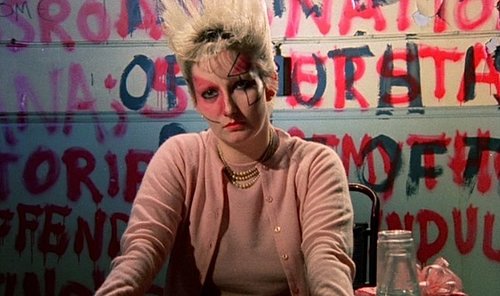 Conclusion.
Revisiting Future Tense reminds us how influential and necessary punk was, and still is in creating the conditions for emancipation and artistic freedom. While postmodernism is able to describe and explain the workings of the postindustrial media ecologies it doesn't create artistic agency. We don't need it to make change. It's main agency still remains within an academic framework. In contrast punk expanded beyond and reached the middle classes, but also included working class culture and influenced new forms of independent, collaborative and artistic expression.
"The credo that Anyone Can Do It reached a mass of individuals and groups not content with their assigned cultural roles as disaffected consumers watching the world go by. Like the Situationists, Punk was not merely reflecting or reinterpreting the world it was also about transforming it at an everyday level" [14]

Introducing dualities tends to force us into observing things with combative eyes and not as various levels of artistic engagements and situated knowledges. Of course, the other part of the story is artists' use of technology and how this has a lineage in its own right. But, Future Tense is still relevant and all the more poignant because looking back reminds us how much creative imagination has been hidden, forgotten and lost by art institutions, galleries and art magazines, as they rely on the same historical canons, generation after generation. The last real social and Cultural Revolution, artistic evolution or even renaissance, was with punk. Although since the Internet we can now include glimmers of hope with Net Art and Tactical Media, and strands of hacktivism, early pirate radio and TV, and BBS's. It's obvious that corporations and their markets have wedged in their own yes men (and women) as troops to counteract and prevent the occurrence of another explosion of emancipation.
Ask yourself how many people working in the media or in the arts: the funding sector, art agencies, art galleries, art mags, art organisations, are from working class backgrounds? Where do the possibilities exist for actual artistic emancipation? All around me I see opportunities closing down and people closing the doors behind them; as the conditions imposed by the neoliberal 1% hoover up all of the resources, through the invention of Austerity measures. In fact, there are only a few artists and art organisations daring to even mention that neoliberalism even exists, self-censoring them selves so that their funding or jobs are not suddenly compromised. By going along with this we participate in killing our imaginations and artistic freedoms for expression now and in the future, dumbing everything down across the board. Don't just take my word for it. Hewison's latest book about culture and political policy published in 2014 Cultural Capital: The Rise and Fall of Creative Britain describes the impact of New Labour, targets, and an instrumentalised meritocratic ideology in the time of Cool Britannia and the 2012 Olympics and offers an in-depth account of creative Britain losing its way.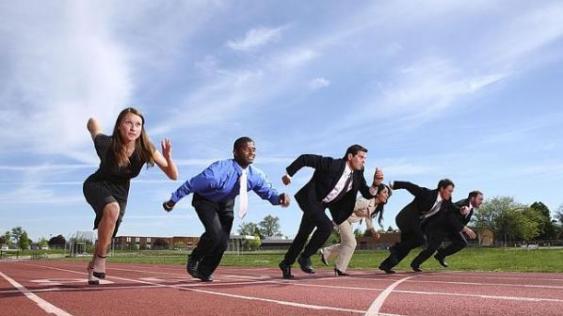 "It's not a pretty sight, and his findings of folly, incompetence and vanity will entertain and disturb readers in equal measure. They should also embarrass any politicians and arts administrators who retain a degree of self-awareness." [15]
Artists are now expected to be 'AWSOME', malleable entities. There is a pressure to try and get ahead of everyone else by repackaging one's artistic intentions, ideas and behaviours under the (it's obvious surely) ironic term innovation. This is so artists can morph to participate in a false economy that only accepts art to conform within the demands of a consumer, dominated remit. Thankfully, there are still grounded artists and networks of practice that understand the value to a wider culture of keeping their critical faculties sharp and experimenting with other ways to create, distribute and appreciate culture in the network age.

To end this short journey, I will leave you with a note from the conclusion of Future Tense– "[…] within the gaps and cracks of the present culture there are possibilities for renewal. Join up the cracks, and a network forms; follow the lines, and a new map appears. It points beyond the post-Modern." Good advice….
Featured image: Zombie Academic haunts the Market of Values
Critical Practice, a group of artists, designers, curators and researchers based at Chelsea College of Art recently organised #TransActing: A Market of Values – a pop-up market made up of over 60 'stall holders' invited to creatively explore and produce alternative economies of value.
During my visit, I first encountered a neo-liberal zombie academic, haunting the market with laments over the demise of an expensive art-education system, which extracts maximum value from students, whilst encouraging them to sell their creativity back to the market. At Becky Early and Bridget Harvey's 'Mending for Others' stall, I was taught to darn, and repaired a hole-ridden Sonia Rykiel hat. Here, mending was framed as 'giftivism', a way to build or reinforce a social bond.
At Speakers' Corner, I heard trade union United Voices of the World represented by Percy Yunganina, one of the #southerbys4. He gave a first-hand account of being banned from site by Sotheby's auction house for having joined a protest over sick pay and an end to trade union victimisation.
Nick Bell and Fabiane Lee-Perella invited me into Early Lab's economy of promises, inspired by their work with the Norfolk and Suffolk NHS Foundation Trust: in exchange for a cup of delicately flavoured water, I pledged to make a small intervention to help combat stigmatic preconceptions about mental health.
After these encounters, I #transacted with Critical Practice member Marsha Bradfield, to think about the implications of the Market of Values more deeply:
Charlotte Webb: In critiques of 'free labour' on the web, it is claimed that the affective labour of Internet users is exploited by the market. Did you see the Market of Values as a scenario in which the possibility for exploitation was circumvented?
Marsha Bradfield: The short answer is, no. This became acute as building the market ramped up in the days before the event. We became more and more aware how the project embodied our labour, with the vast majority of it being not only unpaid but also affective. We wondered together and apart: To what extent did saying 'yes' to the project, sticking with it and honouring our commitment to our peers and community, entail a form of self-exploitation—of us as individuals and as a group? I mean, #TransActing happened and was extraordinary because so many people cared so much—both about the project and each other. And this is, of course, a well-known secret in the worlds of art beyond the art market: their reproduction depends on the widespread exploitation of affective labour. But this isn't sustainable in the long term. So it's a valid critique, I think, that #TransActing didn't exactly buck this trend. Even though we did manage to secure money from the Arts Council and CCW to pay many of those involved, this remuneration was a pittance for what they personally invested. Like others in Critical Practice, I loathe the thought of every transaction being monetised, and in a way this was exactly the conundrum that #TransActing sought to explore by shining a light on types of value that aren't often valued, precisely because they're non-financial and cannot easily be accounted for in pounds and pence.
CW: I was intrigued by the uses of the terms 'value' and 'evaluation' in CP's description of the event. Are these terms interchangeable for you, or do they carry important nuances? I wondered whether there was something about the measurability of values at stake in the project?
MB: The project was initially called 'The Market of Evaluation,' which originated with our research on how value is produced and distributed. We considered, for instance, 'the value of waste' by walking around the Isle of Dogs with environmental lawyer Rosie Oliver. She helped us appreciate the social practices of evaluating, well, crap, and how they're situated, localised and embedded in specific places, buildings, systems, institutions, cultures and histories. The more research we did on evaluation, the more opaque it seemed when generalised. The word has managerial connotations too. So assuming evaluation is, in broad strokes, the assessment of value and that valorisation is the attribution of value, we realised that 'value' was the turnkey for our interest. Or rather, it was 'values' that so intrigued us, with this plurality opening up space for multiple ones to exist. We also began to appreciate values as transacted through evaluation and valorisation and with this shift, the Market as an event for showcasing these processes gathered steam.
Rather than foregrounding any singular value or type of exploration, our model of distributed curating meant that each Critical Practice member worked with several projects. Each of these explored value in ways that we personally and collectively valued. With 64+ stalls in the market, no one exploration or practitioner dominated. I think we needed this critical mass to make #TransActing a valuable event but not everyone agrees.
Commodification is another way of thinking about the value of #TransActing. The anthropologist David Graeber helped me to crystallise a distinction between value in the singular and values in the plural. David talks about the commoditisation of labour by markets, comparing this with labour like housework and other kinds of care that aren't commoditised. Of course, it's money as the so-called universal equivalent that not only allows but entrenches this split. So there's (singular) value, like that of money that depends on equivalence. And then there are (plural) values, like care, loyalty, generosity, faith, etc. that depend precisely on their refusal to be commensurate with each other.* And so coming back to your question about the measurability of value in #TransActing, Charlotte, I guess that's the heart of the matter. How do we, on the one hand, take stock of that which must be measured for our work, health, etc. while at the same time more fully appreciate things that can never be measured, but give meaning and significance to our lives?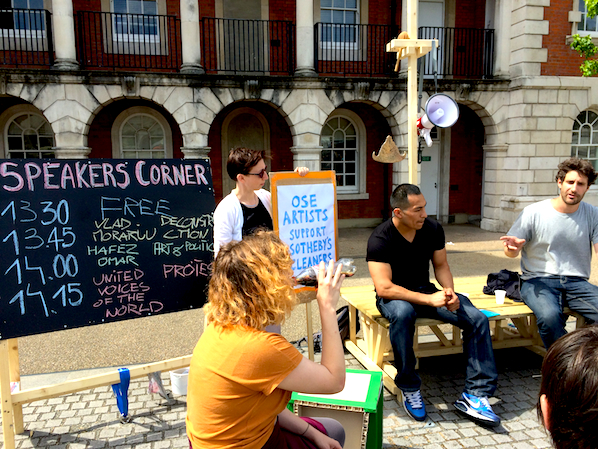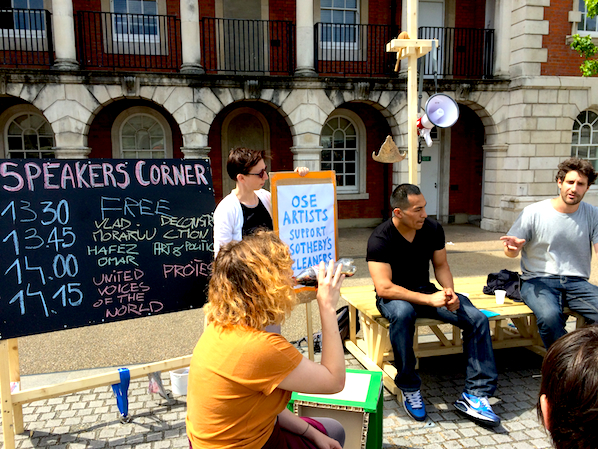 CW: Critical Practice created bespoke structures for the event, which inevitably created a kind of 'aesthetic experience'. This brought Claire Bishop's critique of participatory art to mind – how do you see the role of 'aesthetics' playing out in a socially engaged event like this?
MB: You're right. Tricky questions gather around the aesthetics of social engagement as art practice, especially in the long shadow of the participatory paradigm in contemporary cultural production. Enter politics. As one of many collaborators involved in this project over several years, the 'aesthetics' of my engagement has ebbed and flowed over a myriad of micro decisions that together form a kind of slipstream of experience. This makes decision making a prism for organising my insider's perspective: how I see, hear, and feel this process as it unfolds through sensations of togetherness and shared joy but also tension arising from disagreement.
Much of the decision making that led to #TransActing wasn't visible on market day. But I'd like to think that 'aesthetic markers' maybe signaled it in some way. By these markers I mean indicators that point to the project's process and all the considerations that it entails. Like the tip of an iceberg, the look and feel of the Market's stalls, for instance, which were made largely from recycled materials, in collaboration with the stall holders and the art/architectural practice Public Works, pointed to the complex material, conceptual, technical and social processes involved in the Market's making. I think markers like this help to explain why many who came to #TransActing acknowledged it was 'a lot of work!'. At the same time the residue of this labour, which filled the atmosphere, gave the impression that doing it was fun.
Decision making was a big part of the participants' experience too. So many different things were happening simultaneously at the stalls. You had to make moment-by-moment decisions about where to focus. Decision making leading to the market and what occurred on the day seem quite different, though. Much of the will and commitment to make this happen was based on long-term personal relationships. Many of us in Critical Practice are friends and have worked together for years. Exploring the aesthetics of decision making with reference to these tight ties and in contrast to the looser ones organising the experience of #Transacting as a one-day event strikes me as a revealing way to tap the complexity of socially engaged art as cultural production.
*For a concise discussion of theories of value in anthropology, see David Grabber, 'It is value that brings universes together' HAU: Journal of Ethnographic Theory 3, 2 (2013): 219-43.
——–
Critical Practice is: Metod Blejec, Marsha Bradfield, Cinzia Cremona, Neil Cummings, Neil Farnan, Angela Hodgson-Teal, Karem Ibrahim, Catherine Long, Amy McDonnell, Claire Mokrauer-Madden, Eva Sajovic, Kuba Szreder, Sissu Tarka and many more besides.
www.criticalpracticechelsea.org
criticalpracticeinfo@gmail.com
Charlotte Webb: @otheragent
Marsha Bradfield: @marshabradfield
Featured image: "High Street Casualties: Ellie Harrison's Zombie Walk" event at Ort Gallery on 11 April 2015, photograph by Marcin Sz
Like all of the best horror stories, this is a story about something that refuses to die. Despite, or perhaps because of being slashed and burned, prodded and poked in a laboratory and being raised from the grave at least three times, artist Ellie Harrison's project, High Street Casualties, lives to fight on another day, perhaps with a number of sequels to come.
Our protagonist Ellie Harrison not only stars, directs, writes and produces High Street Casualties, she is responsible for a cast of thousands and hours of dragging an idea through the ups and downs of trying to bring an artwork to some kind of fruition.
I am one of those thousands, playing a small part at the start of the story. I had been interested in Harrison's work for a few years, especially works such as Toytown featuring a dilapidated 1980s kid's car ride which starts up and offers people free rides when news relating to the recession makes the headlines on the BBC News RSS feed. Works like Toytown, and Transactions, where Harrison sent an SMS message to a phone installed in a gallery every time she made an economic transaction, triggering a dancing Coke can every time a message is received, seemed to make immediate political statements to a wide audience and be accessible, and, dare I say it, fun.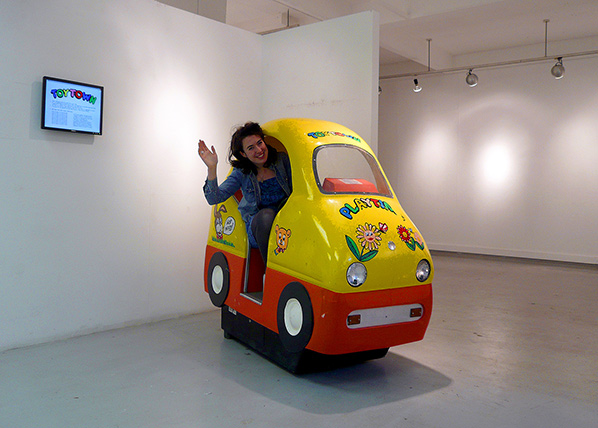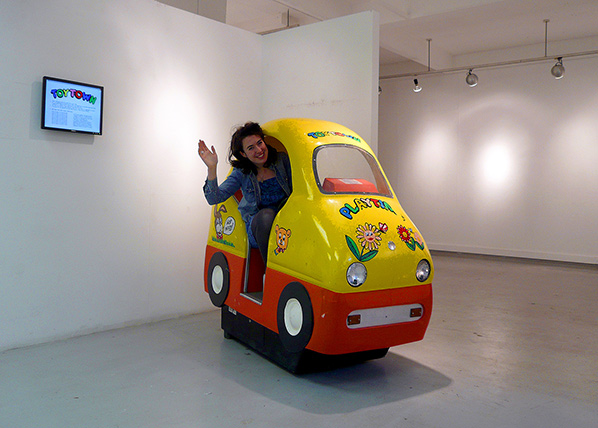 By early 2013 there was spate of high-profile shop closures and the media was full of Death of the High Street scary stories. Blockbusters, Jessops and HMV all closed within months of each other along with other High Street regulars, being replaced by poundshops and charity shops (although Jessops and HMV got injected with some strange green elixir and brought back to life, lacking what small amount of soul they once had).
I was now commissioning public art for Art Across The City, Swansea, a job that until recently saw 36 temporary commissions in three years including Jeremy Deller, Emily Speed, Ross Sinclair and Jeremy Millar. I'd put forward Harrison at interview stage so was happy to finally commission her. As a former Blockbuster's employee, who proudly fires off her years of service '1997-2000', Harrison was keen to commemorate the 5th anniversary of the start of the global recession, taking the reported death of the high street as its subject. Following a week long site visit and research period, Harrison proposed a city wide participatory event that like many of her works, are 'data visualisation' projects.
This included researching every shop that had closed in the city centre and how many employees had lost jobs, and, hopefully tracking them down and getting them to stage a Zombie Walk through the city, inviting the public to join in, to make the high street and place for creative activity and raising community spirit. This wasn't a Swansea problem, it was a UK wide problem, the blunt end of day to day global recession. Harrison was aiming to raise awareness and bring people together in a positive action.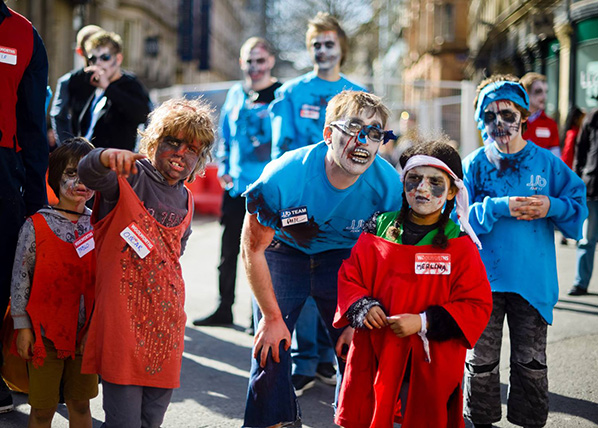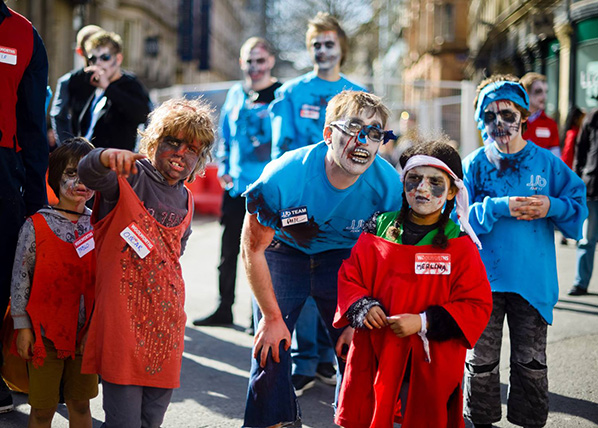 Sadly, just three months until launch day, the powers that be in a muddled chain of command, from Swansea Council, Swansea BID and ultimately Art Across The City pulled the plug. It was a small condolence that I managed to make sure Harrison received an ominous sounding 'kill fee' of £1000, which would barely scratch the sides of the time spent not only on this, but of not working on other projects. It's a credit to Harrison that she managed to raise the project from the dead, although even that process has not been without its own silver bullet, crucifixes and garlic bulbs.
After dusting herself down, Harrison proposed the idea to Glasgow International as a collaboration with award winning documentary film maker, Jeanie Finlay. The proposal, probably suffering a hangover from its Swansea cancellation was not selected. Harrison was then approached by Josephine Reichert from Ort Gallery in Birmingham about doing a project which "engaged with the local community". High Street Casualties perfectly fitted the bill. Again, this was not critical of any specific city, just documenting what was happening globally. Reichert was more than keen to make it happen and submitted an application to Arts Council England to fund the project (on a greatly reduced budget), as part of Ort's annual programme of exhibitions and events. This first application was unsuccessful but with Reichert's enthusiasm and passion for the project it was successfully resubmitted. High Street Casualties was to become the last project in the Ort Gallery's programme with a date finally fixed for April 2015, slap bang in the middle of the General Election Purdah, like a stake through the heart.
While some horror film productions like to promote the hype that filming on set was cursed, High Street Casualties seemed to attract all kinds of uncalled for and ill-informed bad luck. Birmingham City Council declared that they did not want to fund or be associated with the project. They continued to fund the rest of Ort's annual programme, but withdrew money just from High Street Casualties as they thought it was, and just let this glide through you like a ghost, it was 'making fun of unemployed people'.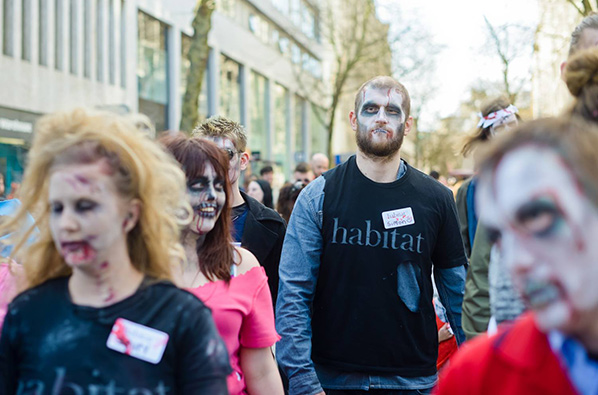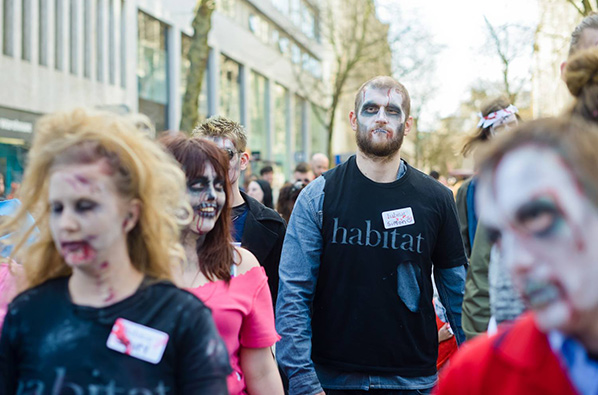 This left just £2000 for an 18 day production, not taking into account the work done over the previous year. Harrison points out that it worked out at £4.50 per hour, which is what she earned whilst at Blockbuster. A further grant application for Glasgow Visual Art Scheme was rejected leaving a limited budget for the make-up artist, photographer and designer. A huge amount of goodwill was required, not just from Reichert and Ort Gallery, who works in the café when not resubmitting ACE applications; the student who helped make the film as part of a placement and of course all of the 60 participants who were involved in a Zombie Walk across Birmingham in their old uniforms, receiving food and drink and make-up tutorials for their time.
Harrison is more than well aware of paying artists and unhappy that the project was compromised on more than one occasion. The original idea about it being a realistic "data visualisation" of redundancies had to be loosened a little as they were at the whim of the number of people who showed up on the day.
60 people is a good crowd given the circumstances but only around a fifth of the number of people who would have lost their jobs from 13 stores. Despite having to cut important corners to the project's integrity, Harrison is relieved that after two years the initial idea is a reality. The event was not only a success, but proved an alternative form of creative protest in a major UK city. The watching audience, due to the popularity of such Zombie Walks responded well, commenting on old shops and where they used to be. Harrison believes it was popular, radical and subversive, which is a hard trick to pull off.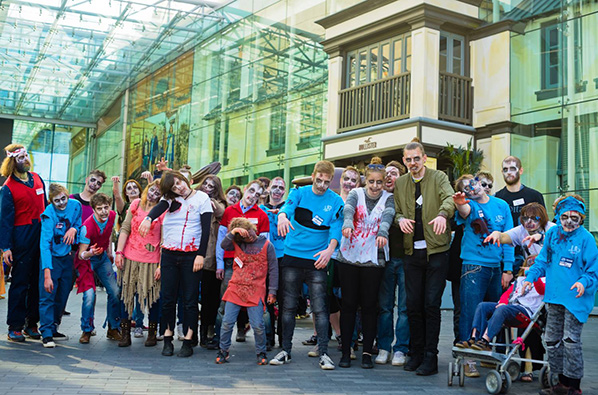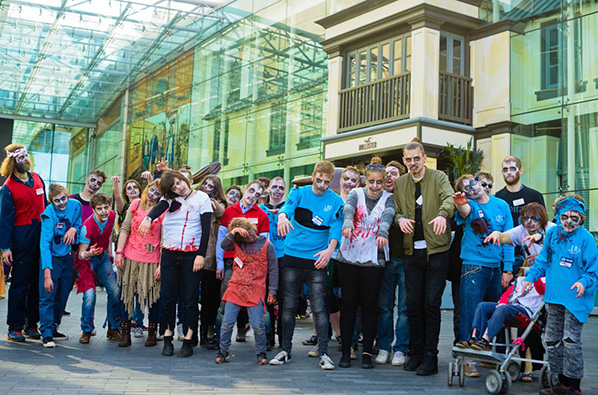 Following a blood stained finale, the end credits have rolled. I was made redundant recently following Arts Council of Wales cuts. Harrison created Dark Days, a post-apocalyptic communal living project in Glasgow Museum of Modern Art; exhibited an immigrant friendly golf course at the Venice Biennale and continues to campaign on many fronts, including Bring Back British Rail. The High Street carries on in some form or another and Conservative vampires are sucking the life out of the UK and we all limp on, like zombies in Romero's Dawn of the Dead, visiting the shopping mall out of habit.
In these days of austerity, it is important to reach out to the widest audience and speak outside of our own bubbles of influence. High Street Casualties isn't about criticising what has happened, although it uses that data. It is about making more people aware of why it happened and how we may be able to affect some kind of creative change, however small. High Street Casualties deserves a sequel, a big budget reboot and should tour to every town and city, bringing gore, blood, and ripped Blockbuster uniforms to outside a multiplex near you…
---
Gordon Dalton is an artist, curator and writer based in Cardiff. He is currently coordinating the inaugural Plymouth Art Weekender
www.gordondalton.co.uk
twitter.com/Mermaid_Monster
Introduction
These days, drones are everywhere: conducting military strikes across Pakistan, Yemen, Somalia and Afghanistan; as the underpinning technology for public health infrastructure; for sale to delighted kids in Hamleys toyshop; or as D.I.Y kits and readymades from the Internet. Amazon has proposed to sell fleets of drones, offering super-fast deliveries to its customers.[1] In Haiti, Bhutan, Papua New Guinea and the Philippines, drones have helped rescue natural disaster victims – and transport medical samples and supplies[2] and the Aerial Robotics Laboratory at Imperial College London is developing networks of drones to deliver blood supplies to rural health clinics in Africa[3]. The new ubiquity of drones in these contexts means that we need to think carefully about the personal and political impacts of the emerging drone culture?
Drones: Eyes From A Distance will be the first gathering in Berlin- April 17-18 2015 – of the Disruption Network Lab. This two day symposium presents keynote presentations, panels, round tables, and a film screening held in cooperation with Kunstraum Kreuzberg /Bethanien, with the support of the Free Chelsea Manning Initiative. The event is being held at the Sudio 1 of Kunstquartier Bethanien. And this conference would not be happening if it wasn't for the tireless dedication of Tatiana Bazzichelli, founder of the Disruption Lab.
As part of Furtherfield's partnership with the Disruption Network Lab I will chair a panel with Tonje Hessen Schei (filmmaker, NO), Jack Serle (investigative journalist, UK), Dave Young (artist, musician and researcher, IE).This interview with Dave Young is the first of three, in the lead up to the Berlin event.
The Interview: Dave Young
Dave Young is an artist and researcher based in Edinburgh. His practice follows critical research into digital culture, manifested through workshops, website development, and talks on subjects varying from cybernetics and the Cold War history of network technologies, to issues around copyright and open source/free culture. He is founder of Localhost, a forum for discussing, dismantling and disrupting network technologies. Past events have focused on Google's entry into media art curation, and the role of analogue radio as a potential commons in the digital age.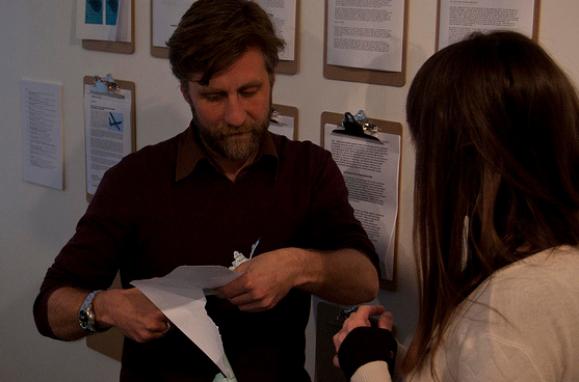 Marc Garrett: Hello Dave, I first met you in London when you hosted the Movable Borders: The Reposition Matrix Workshop's at Furtherfield Gallery in 2013 as part of a larger exhibition called Movable Borders: Here Come the Drones! I remember it well, because the exhibition and your workshops were very well attended and a cross section of the local community came along and got involved. Could you tell us what your workshops consisted of and why you did them?
Dave Young: The workshop series came out of my own research into the history of cybernetics and networked military technologies while I was studying at the Piet Zwart Institute in Rotterdam. The US Military's use of drones in the War on Terror had been officially acknowledged by the Obama administration by this time, and I was becoming increasingly curious about the apparent division of labour and accountability involved in the so-called 'kill chain' – that is, the structure and protocols that lead from identification of a potential target to a 'kinetic strike'. As the use of drones was still largely a covert effort, there was much speculation in the media about where and how they were being used, so the idea of exploring these issues in a workshop format seemed to be a good way to create a public space for considered discussion and debate.
The workshops had quite an open format, with outcomes largely dependent on the interests and knowledge of the participants. The central task of each workshop was to collectively research a particular aspect of the military use of drones, and through the process of charting this research on a world map, we could then begin to discuss various geopolitical patterns and trends as they emerged. Rooting the workshop in this act of collaborative mapping provided an interface for discussing drones in specific terms, and helped situate their use within the reality of an incredibly complex historical and geopolitical narrative. To me, this provided a useful alternative to the mainstream media reporting styles that seemed to often rely on the same metaphors and controversies in the absence of real information coming through official sources.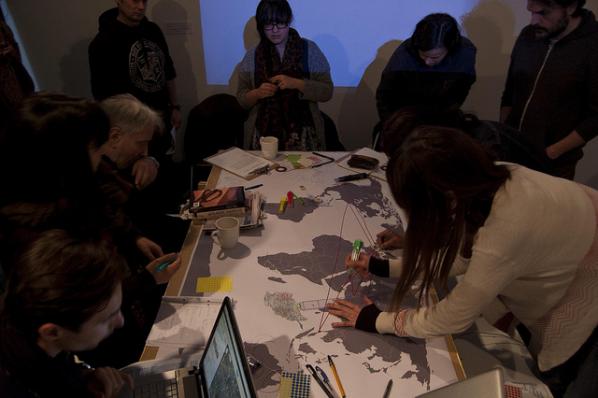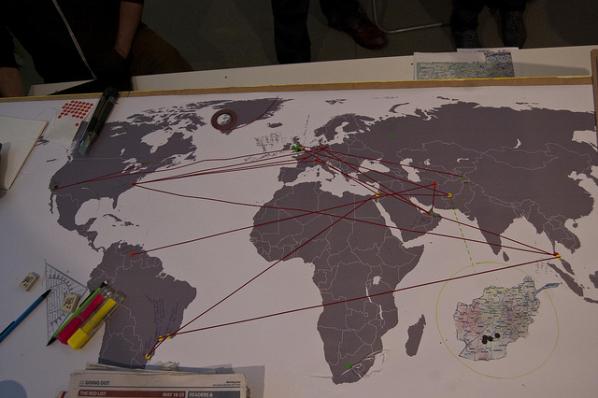 MG: What are the specific concerns you have regarding the development of drones and how do you think these conditions can be changed for the better?
DY: This is a question I was more sure of before I started the workshop series – I feel the more I've gained an understanding of the way they're used, the less sure I am of what needs to change. I see the drone as a symbol for the way conflict is understood post 9-11. It is part of the language, aesthetics, and transnational politics of the War on Terror. What is most concerning to me is the idea that the drone allows a state to fight a war while apparently sidestepping the otherwise necessary apparatuses of legality and oversight. As a covert weapon, it can be implemented in exceptional, extra-judicial ways that have not been legislated for as yet. The "targeted strike" and "signature strike", while distinct from each other in protocol and circumstance, are particularly problematic – the former amounts to what many journalists describe as an assassination, although this word is rejected by the US government.
The CIA Torture Report released at the end of last year was an important acknowledgement of institutional subversions of legal and moral codes. I'd expect that a similar report into the use and effects of military drones would create space for an informed public debate about how they might be used in the future.
MG: Regarding you own relation and interests around drone and military culture, what are your plans in the near future?
DY: The outcomes of The Reposition Matrix have led me to approach this issue in a different way, looking for alternative ways of instigating conversations around this difficult subject. I'm still quite occupied with issues around the collection and presentation of data – during the workshops we covered a lot of diverse subjects, but always situating research outcomes on the surface of a world map. The question for me right now is what information is important to work with, and how can it be usefully represented? I'm looking at alternative methods of "mapping", perhaps based in mapping technologies/software but using them in more disruptive non-geographic ways. I've been quite inspired by Metahaven's 'Sunshine Unfinished' and the recently published book 'Cartographies of the Absolute' – both works have brought me back to some possibilities that went unexplored in the initial run of workshops back in 2013.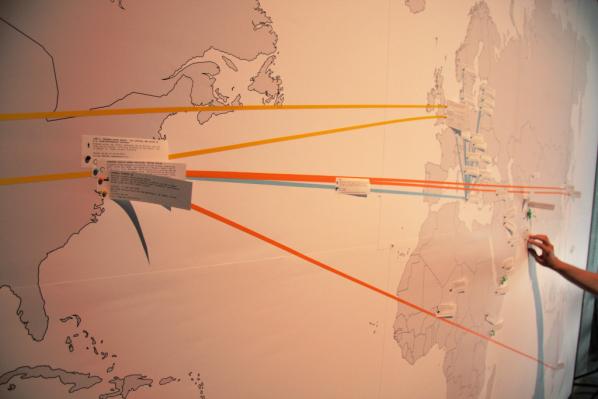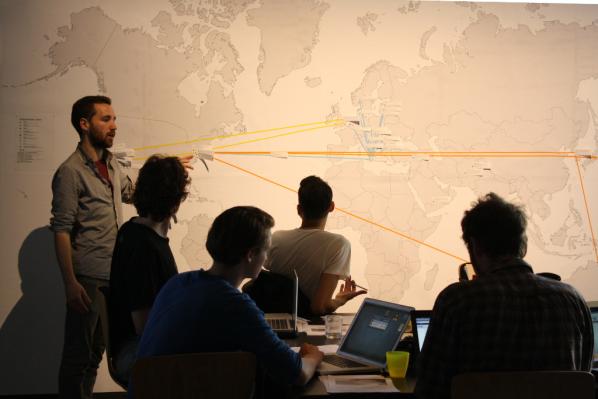 MG: What other projects are you involved in?
DY: Aside from this research, I'm currently collaborating on a project titled "Cursor" with Jake Watts and Kirsty Hendry as part of New Media Scotland's Alt-W fund. We're investigating current trends in fitness tracking technologies, and attempting to uncover and critique the way such intimate personal data is produced, distributed, and commodified. You can follow our research as it evolves on http://cursorware.me
I'm also running a space here in Edinburgh called Localhost, with the aim of stimulating discussions around the political aspects of digital art/culture. I run regular workshops and more occasionally special events, but I'm also very happy to provide a platform for others who wish to share their thoughts & skills on related subjects. Check http://l-o-c-a-l-h-o-s-t.com/ for more information and how to get involved.
Thank you very much 🙂
Part of Furtherfield Open Spots programme.
The Visual Artists of the Balearic Islands (AAVIB), Spain, launched the activist campaign and contra contest '#Young_Fraud' in September 2014. The contest is meant as creative weapon for influencing the politicians on their responsibility within arts, creativity and culture.
The awarded artists and the promoters of the campaign will be at Furtherfield Gallery presenting the project and showcasing the artworks. To celebrate the occasion, you are invited to create and discover the most stylish mediterranean Fraud Tapas and dance to the rhythms of unprejudiced Sounds of the band: JANSKY – a blend of danceable electrotechno, beatbox flute and spoken word, which has been described by Shremy's Law (UK) as "a breath of fresh air in the world of electronica".
Schedule:
12.00 Sparkling bubble Fraudstyle drinks
1PM Project presentation
1.30PM Collective elaboration: Unprejudiced mediterranean Speculative Fraud_TAPAS
3.30PM Chillin' Sounds, full of the most stylish beats from Balearic Electronica with the band: JANSKY
ABOUT Contra-Fraud Fest 
This project developed an artistic action which aimed to fill in the void left by the recent cuts in public funding.
It also highlighted and demanded compensation with regard to the 'Young Art Visual Arts' contest, which ceased in the 2012, after complaints concerning the poor professional conditions of the artists who participated.
'Frau_ Jove' in Catalan is translated as 'young fraud'. There is a reference in the title to the surname of Maria J. Frau, head officer of the Cultural Department of the Government.
The campaign has achieved extraordinary support from international art organisations such as Furtherfield Gallery (London), Matadero (Madrid), and Hangar Laboratory of Creation (Barcelona). The media also played an active role in supporting and promoting the project as well as the UAAV (in English, Union of Associations of Spanish Visual Artists).
An international jury was formed and composed of Chus Martínez, curator of the Catalonia pavilion in Venècia Biennale 2015, former director of El Museo del Barrio of New York and current director of the Academy of Art and Design in Basel (Switzerland); the critic and Catalan curator and promoter of A-Desk, David G. Torres; the art historian Piedad Solans; and the artist Bartomeu Sastre.
Of the 32 portfolios presented, the jury selected Isabel Servera and Guillem Portell who will be exhibiting their work in the galleries of Hangar, Matadero and Furtherfield.
National Radio RNE3 relocated from Madrid to Mallorca to broadcast the decision of the jury in a special 2 hour programme. The #AntiFrau_Fest line up featured sounds from the best Balearic electronic music creators: JANSKY, PEDRO TROZ, CAP DE TURC, POAL & DEFLED.
The American artist Patrick Lichty is best-known for his works with digital media: as part of the activist group RT Mark and as designer of digital animation movies for their follow-up The Yes Men, he has been recognized as a net artist with a political bend. He has been working with digital media since the 1980s, and has created works with video, for the Web and for Second Life.
At his solo show "Artifacts" at DAM Galerie in Berlin however, the artist, who is teaching at the University of Wisconsin in Milwaukee and has recently published a book with theoretical essays, does not show media works, but tapestries.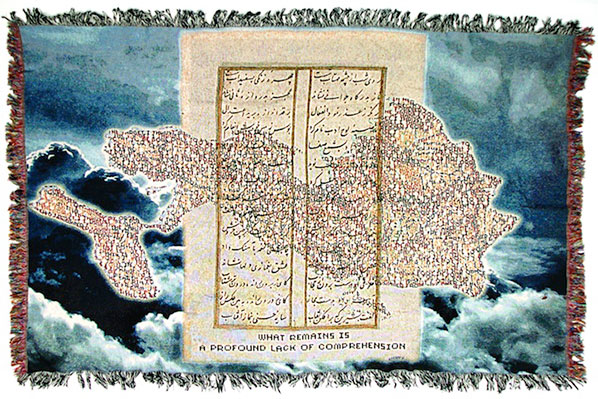 Tapestries? In the following interview Lichty talks about his return to traditional art techniques.
Tilman Baumgärtel (TB): Patrick, you are known for your work with media, and you have created 3D animations, Internet and Second Life works. But at your recent shows both in Berlin and New York you show works in much more traditional artistic media: drawings in New York, tapestries in Berlin. Why the return to these time-honoured modes of production?
Patrick Lichty (PL): I've been sitting in front of the screen for almost 30 years, and I've been blind several times in my life. This leads me to my belief that, "Mediation is reality." I have artificial lenses, and I don't know whether I see the world as it is. I feel like I have this cyborg vision, like I am slightly alien. I've had this feeling all my life.
So on the one hand, I have tried to create an alternative reality through mediation, or maybe to see the world for what it is through mediation. That is what happens with the Yes Men for instance: I am helping Mike and Andy to create alternative realities for our fictitious corporate campaigns. And on the other hand I am interested in what Marcus Novak from University of California Santa Barbara calls "Evergence" where virtual things that never existed except in the virtual manifest in the physical. It is almost like William Gibson's novel "All Tomorrow's Parties", where the "printed" virtual J-pop idol Rei Toei idol jumps out of the nano-replicator, and says "Hello", even though she never existed. I am interested in the tangible digital that manifests from the potential virtual…
TB: The tangible digital?
PL: Well, the idea of taking code, and turning it into 3D-objects, or taking things from Second Life and creating artifacts, and I use the US spelling as a double reference to "artifacting" or pixelization of an edge. The whole show here in Berlin is meant to introduce people to this gigantic body of work that I created in the realm of the digital as a cultural explorer, and that the contemporary art world doesn't know much about, a bit at a time. What we have in the show are artifacts based on some of my more art world-friendly works. Some of my other pieces are definitely not art-world-friendly. I have done tons of prints and tons of video, that can be presented in a show, but a lot of my web work utterly and completely resists any kind of exhibition.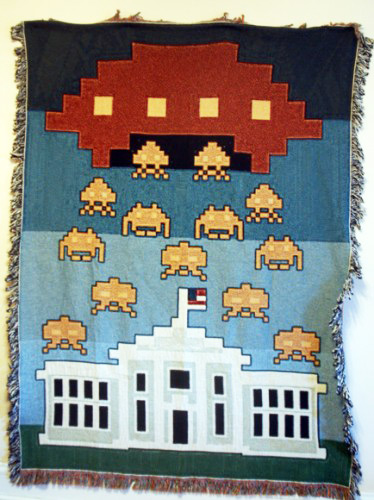 In the show in New York I have ten Roman-Verostko-like plotter prints of random internet cats, which is sort of my answer to post-internet art. By the way, you know what sold? The kitten swatting at the drone flying over it.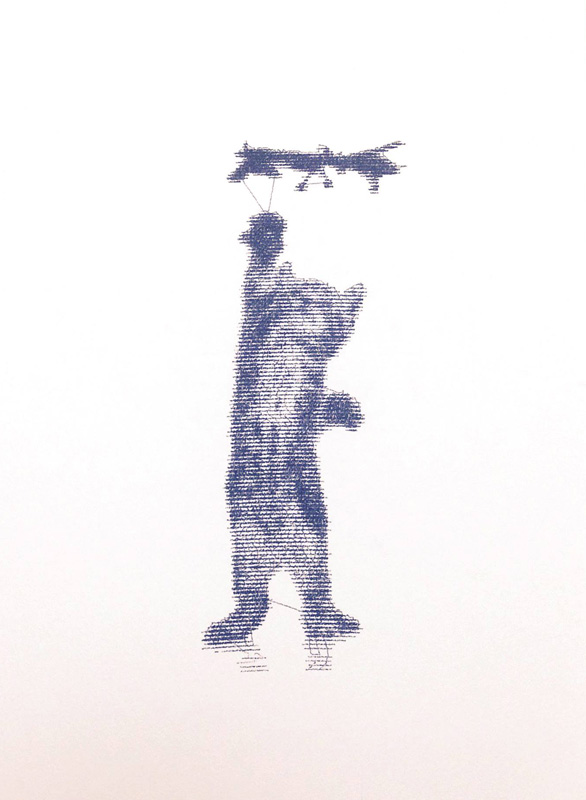 TB: How did you pick the motifs for the tapestry that is on display here in Berlin?
PL: This images come from certain key points in my practice in the last ten years. I send these files to a mill in South Carolina, and they fabricate the tapestry based on my image. These images are the ones that resonate with me very strongly. There is one that is called "Orange Alert", which has the Space Invaders from the computer game attacking the White House, that I translated into this huge tapestry. It is based on a painting that his since been destroyed, and I think it is actually more interesting that way. We used to have this color code system in the US. "Orange" meant "You better be really scared", and "Red" meant "You can kiss your ass good-bye." Five years after 7/11, all the airports in the US were on Orange Alert, and nobody cared.
TB: Weaving was among the first crafts that were mechanized, and the mechanical looms were among the first machines that were controlled with early forms of punched card that in the early days of computing were the first form of memory storage. Is that the reason why you translated these images into tapestry?
PL: On the one hand I am referring to the old, grand art of tapestry weaving, and, maybe, playing a little bit to the gallery. It is a way to express the digital in a very certain kind of materiality that I find interesting and that is historically relevant to our heritage. They are simply a beautiful way to express digital content. And they are easy to display.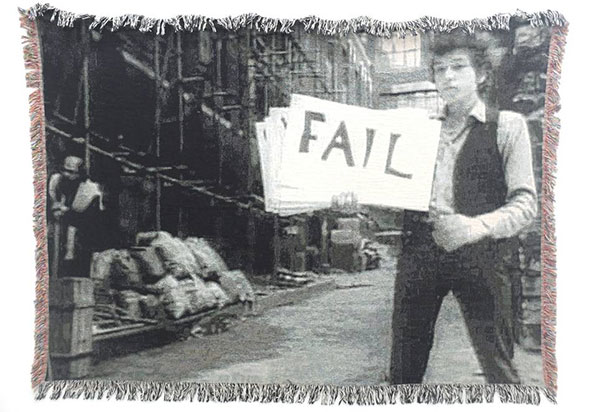 TB: The next thing we know is that you will be sitting on the loom again, rather than having these tapestries made for you…
PL: Well, I did that as a child. My mother was an artist and I worked on a loom with her. So there are specific incidents in my life that logically led me to create this work. I am not doing it, because it is hip, or cheap…
TB: …or could be shown in a gallery…
PL: No. There have been specific moments in my life that lead me to this, it was not merely a gallery move, although it made things easier.
The other thing that I am doing is that I am starting to place Augmented Reality on them, but that is not in this show. With the other Augmented works, like my Kenai Tapestry, you can take a device, bring up an app, and you look at it through the device, which recognizes the piece and then the virtual content comes out. The only piece like this in the DAM Berlin show that is like this is one piece that has a QR code on it that just says http:// and it sends you to a 404-error page. It is a Jodi-like piece. I don't have to keep a server. It is something that actually does engage with technological devices, but I do not have to do this horrible upkeep.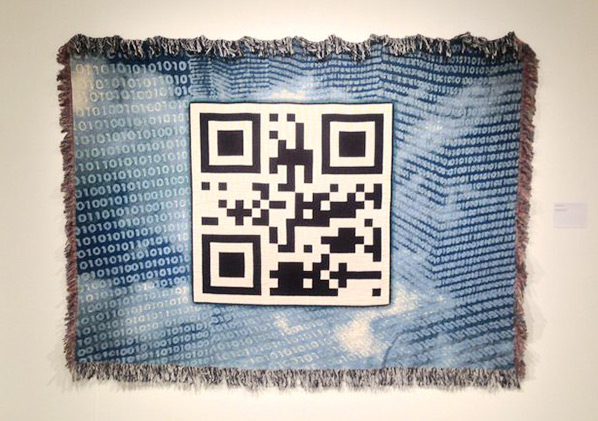 I did a piece called "Grasping @ Bits" in 2000 for which I got a honourable mention for the Golden Nica at Ars Electronica. It was this terribly complex hypertext-essay with hyper browsers and multiple reading paths, that had to do with activism and net art. I did this 15 years ago, and it is almost broken. Unless QR codes become totally defunct, I hope the 404 piece will work for a long time. We still have barcodes after how many years?
TB: In the 1990s, people were thinking that we would somehow upload ourselves into "cyberspace", as in the "Matrix" movies. What seems to happen now is exactly the opposite: The virtual seems to re-materialise by manifesting itself in physical space, via 3D printers, smartphones etc.
PL: Instead of "The Matrix" it is more like in "All Tomorrow's Parties" or "The Diamond Age", in which we have machines that turn everything into what Bruce Sterling refers to as "gomi" or clutter/trash in Japanese. We have this whole explosion of digital content becoming physical again, but to quote Sterling again, most of them are meaningless technical exercises, or "Crapjects".
This whole issue of re-materialization and corporeality from media to physical objects is of growing importance to me. We are made of material/flesh (points to his arm) rather than this (points to a computer). Moravec hasn't come true yet; we are not uploading ourselves anytime soon…
I had a phase around 2005, where nobody heard from me much for a year or two because I wanted to reconcile myself with material. I didn't do much media art, it was mostly material practice. That was when I started to work with iron casting and weaving. I have been interested in the Jacquard loom and 3D printing since 2004, but I am only showing much of that now. I did a 3D representation of a gif in 2005, where the black and white value determine the height of the different pixels. White is high, black is low. I had that cast in iron. It is from a series called "8 Bit Or Less", that reflected on my blindness. I took samples from the different series of my work and experimented with translating them into a physical form. The idea is that mediation becomes physical reality, and the format of this show is a survey of various works. I thought that was the most logical way yo introduce people to a substantial body of work quickly but in an accessible way.
TB: Let's talk about your involvement with groups like RTMark, the Yes Men or Second Front. You said that you were interested in creating alternative realities. Was that the reason why you ghelped create these groups?
PL: I have always been a leftist, who – ironically – tries to survive on his work. That´s why I was attracted to the anti-corporate bent of RTMark and the Yes Men.
A little bit back-story is in order here: Imagine an electrical engineer raised by artists and then taught how to do Critical Theory by Ph.D.s in Sociology and Theatre History, and what you get is me.
I actually worked an electronic engineer for a while, and did not go to art school until I needed a degree to be an academic, as a lot of early New Media artists did. My mother was an artist, she trained me in the arts. I got my first electronics kit in 1970, when I was eight years old. And then I got my first computer and started drawing on it in 1978 – that was an Atari 800 (I still have it). And I got on the internet in 1983, 11 years before the web. So who is the "digital native" here?
I was doing computer art in the 1980s, but only started showing my work in 1990. By that time I had fallen in love with a theatre historian and through her I had fallen in love with theory. My best friend even to this day, Jonathon Epstein, is a sociologist, who got me interested in visual sociology. We started a collective called Haymarket RIOT that made Social Theory proto-meme gifs in 1990-94 which Baudrillard loved, by the way. Later, we did these post-modern social theory-based industrial rock videos that were all 3D-animated. And I send these to Jacques Servin and Igor Vamos, when they were about to found RTMark. They did a cross-country tour across the US as Igor moved to Troy, NY, and they came to meet me in Ohio. They told me what they wanted to do, and I said: "Wow, you're weird!" So we started RTMark, and the rest is history.
RTMark then turned into the Yes Men. I am not so central any more, but I still do all the animations for the movies and interventions. I think they became so noted that it is hard for them to do direct actions any more. Their actions became sort of theatre rather than activism. I think that's why there's much more emphasis on things like The Yes Lab and The Action Switchboard, so they can empower other people. The "Action Switch Board", by the way, reminds me a lot of a much more refined version of RT Mark's "Mutual Fund", but much more robust.
TB: RT Mark, The Yes Men, Second Front – it seems like you prefer to operate in groups rather than developing your own personal Oeuvre.
PL: Not really, but certainly that is what is more visible to the public. Because I live in this world of mediation, it's almost as if these groups have been my social groups. And I have always felt that in regards to getting traction in the cultural milieu, there has been strength in numbers. In groups, there are more people to jump on the soap box.
However, since the time when we founded Second Front, I've been very vocal in keeping the group into an almost ego-less form, patially from my experience with collectives, partially by the Zen/FLUXUS influence Bibbe Hansen brought to the group. I wanted a way to keep our group as logistically "flat" as possible. Which is ironic, because now Bibbe Hansen is one of our members, who has this huge legacy. Right now we are doing performances of Virtual Fluxus. We are also exploring Al Hansen´s (and other historical FLUXUS artists) work in Second Life.
TB: Are you "re-enacting" them, which is a trend in the art world right now?
PL: I would say "re-mediate". What we are actually doing is performing un-produced texts by Al, pieces that could have never been done in real life. So we are not re-staging, we are creating works that have been unrealized. That is pretty exciting. One piece we have been doing is "Car Bibbe II", a successor to his performance "Car Symphony" from 1968 that was never realized because of liability issues. He wanted to explode some Cadillacs.
TB: Why are you using Second Life? There has been a lot of criticism because this system leaves little liberty to the users…
PL: It is actually very fluid. It has a huge amount of possibility. Yet, we are currently investigating "Open Sim", the open source alternative to Second Live. Any of the money that we are earning with the videos I have editioned at DAM will go to buy a permanent server and a static IP. I don't want to go to another server farm. I want a modem in my living room with our world on my computer. It will be cheaper, and then we do not have to deal with Linden Labs' oppressive policies any more.
TB: The attractive thing about Second Life was that at one point there was a ready audience, because it was so popular. But I do not think that this is the case any more…
PL: The important thing is that we used to do it as a function of community, and now we are using it as a representational tool. So the main results now are prints and videos. We want people to hear the tree fall, and this the way we get people to hear the tree fall in the woods: We take videos of it. The community has changed so much, it isn't as important to us as artists any more.
TB: Second Life seems like Atlantis these days – a sunken, forgotten continent…
PL: It is kind of a necropolis for old technocrats. It is actually a very cyber-punk-thing. It is "Snowcrash", 15 years later. But I am very interested in using Jurassic technologies and doing Media Archaeology. I also work a lot with pixelization, because at this point we don´t have to have it any more; it's a choice. I did these pixilated nudes, that are barely recognizable as figures any more. You know, every artist needs to have a phase, where he is doing nudes, you know? (laughs) So I wanted to make them materially manifest a couple of years ago by laser cutting them into wood, expressing their materiality as surely as flesh does.
For the past ten years I have been doing media archaeological research into reviving Slow Scan Television as an art form. It is a video art form from the early days of Telecommunications Art. It is very low res, it only has four grey scales and a resolution of 120×120 pixels. It is a pretty specific and anachronistic art form. I am working with Hank Bull and Western Front right now to decode the audio track of the Slow Scan "Wiencouver" interventions of the 1980's. I think I am one of the few members of my generation that knows how to run this equipment and how to repair these things. Many of my colleagues, who talk about dirty media and low tech, are still relying on the web… Well, they can have the Web. I am going back to networked art before the web. I am going back to the telephone network, but I use Skype now!
Featured image: Image from Joel Bakan: The Panopticon Power of the new media. Adbusters Jan 2012.

Marc Garrett and Ruth Catlow interview McKenzie Wark ahead of his keynote speach for Transmediale 2015 in Berlin this year.
It's ten years since McKenzie Wark published his influential book, A Hacker Manifesto. Divided into 17 chapters, each offers a series of short, numbered paragraphs that mimic the epigrammatic style of Guy Debord's The Society of the Spectacle. Wark then published, amongst others, a series of critically engaging books such as Gamer Theory and the Spectacle of Disintegration. Ruth Catlow and Marc Garrett from Furtherfield ask Wark how things have changed since these publications, focusing on the way our everyday lives have been infiltrated by competitive game-like mechanisms that he described more than a decade ago.
Furtherfield: You published the experimental writing project Gamer Theory first as a book in 2006 and then in 2007 with a specially revised 2.0 version online.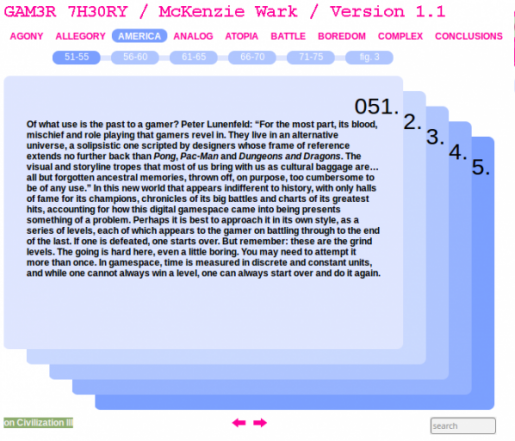 Mckenzie Wark: Yes, although I think the network book version is mostly broken now. Good thing there's a dead-tree format back-up!
F: In it you argue that we're living in a world that is increasingly game-like and competitive. Also that computer games develop a utopian version of the world that realizes the principles of the level playing field and reward based on merit; whereas in the world, this is promised, but rarely realized.
MW: Yes, I think one way of thinking about certain games is that they are a fully realized neo-liberal utopia, which actually gives them some critical leverage of everyday life, which is a sort of less-real, only partially realized version of this, where the playing field is not level, where the 1% get to 'cheat' and get away with it.
F: You also talk of the "enclosure of the world" within the "gamespace" where the logics of the game are applied as the general patterns of organization in the world. And this happens as we adapt to the allegorical forms of contemporary games media.
How do you think this situation has changed since you wrote Gamer Theory?
MW: Well, to me it looks like the tendency analyzed in Gamer Theory became even more the case. GamerGate looks among other things like a reactive movement among people who really want the neoliberal utopia in all its actual neofascist and misogynist glory to not be exposed as different to everyday life. When women gamers or game journalists stick their hands up and say, "hey, wait a minute"1, they just want to mow them down with their pixelated weapons. So the paradox is that as gamespace becomes more and more ubiquitous, the tension between promise and execution becomes ever more obvious.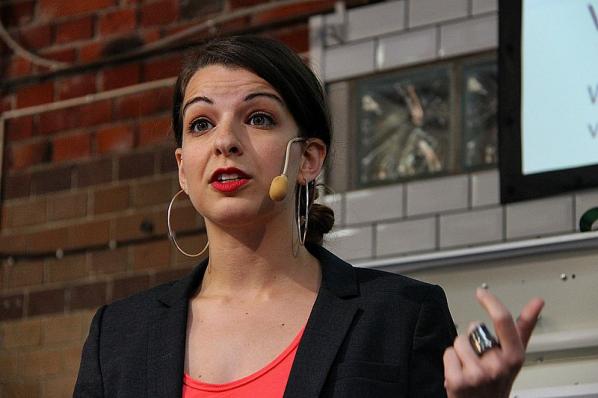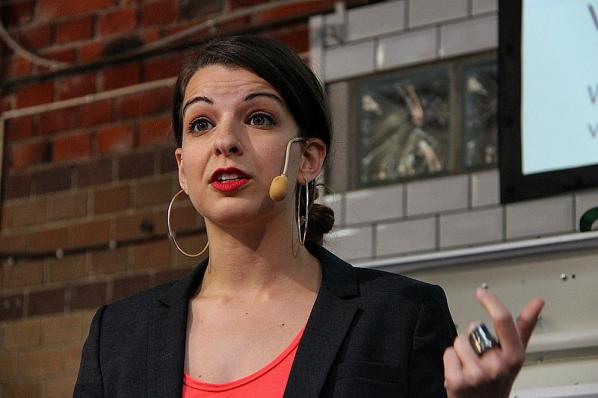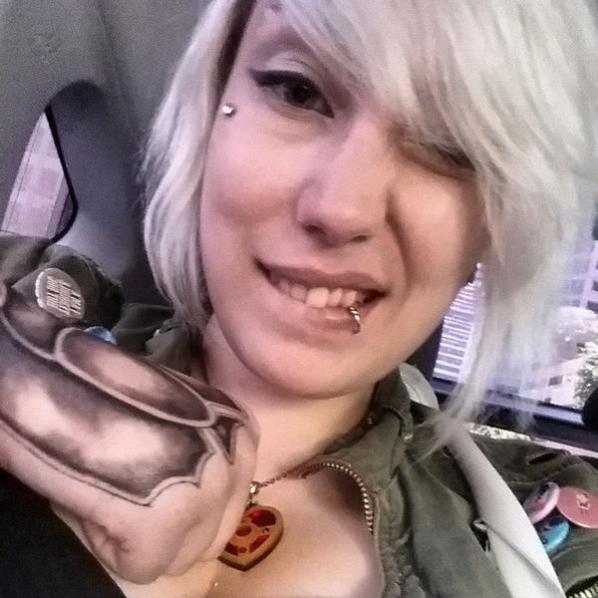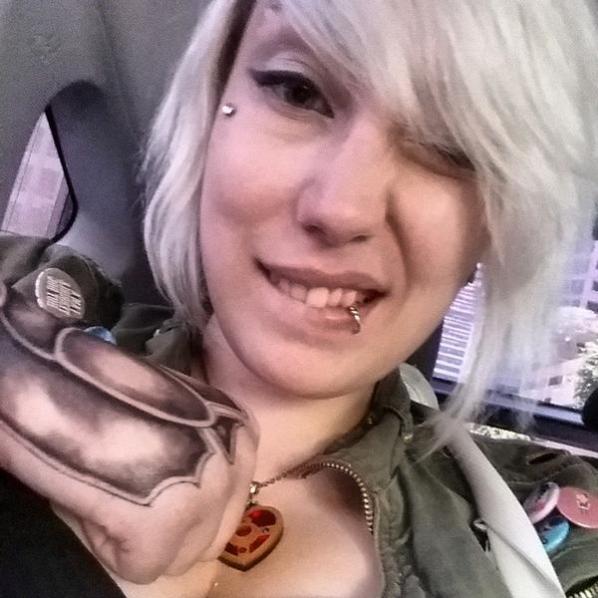 F: Do you see the term Gamification that many theorists use currently as an elaboration of the ideas you developed in Gamer Theory? Or are there significant new ideas being explored?
MW: Ha! Well no, gamification was about celebrating the becoming game-like of everyday life. So I always saw that as a kind of regression from thinking about the phenomena to sort of cheerleading for it.
F: The software developer and software freedom activist Richard Stallman, when visiting Korea in June 2000 illustrated the meaning of the word 'Hacker' in a fun way. During a lunch with GNU fans a waitress placed 6 chopsticks in front of him. Of course he knew they were meant for three people but he found it amusing to find another way to use them. Stallman managed to use three in his right hand and then successfully pick up a piece of food placing it into in his mouth. Stallman's story is a playful illustration of "hack value," about changing the purpose of something and making it do something different to what it was originally designed to do, or changing the default.2
Stallman was highlighting fun and the mischievous imagination as part of the spirit of what he sees as hack value.
Where do you see lies the hack value in games culture? What has happened to the fun in games? Who's having it and where is it happening?
MW: Stallman is one of the greats. Sometimes, people have this experience of scientific or technical culture as one of free collaboration, where there's a real play of rivalry and recognition but based on producing and sharing knowledge as a kind of gift. JD Bernal had that experience in physics in the 30s and Stallman had, I think, a similar experience in computing. I think it's important for those of us from the arts or humanities to honor that utopian and activist impulse coming out of more technical fields.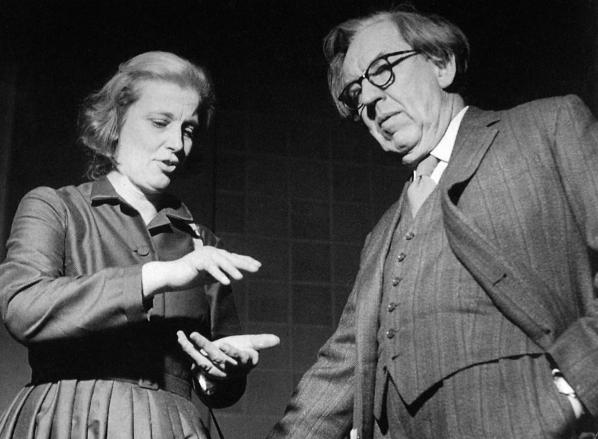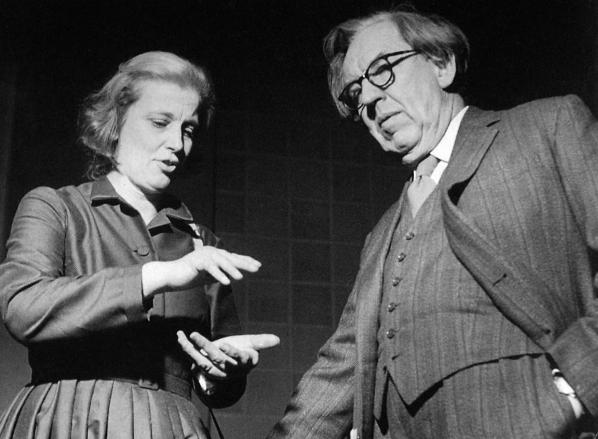 There's a lively, critical and even avant-garde movement in games right now. That's part of why it has provoked such a fierce reaction from a certain conservative corner. The culture wars are being fought out via games, which is as it should be, as it's one of the dominant media forms of our times. So there's certainly some sophisticated fun to be had alongside the more visceral pleasure of clearing levels.
F: "Our species' whole recorded history has taken place in the geological period called the Holocene – the brief interval stretching back 10,000 years. But our collective actions have brought us into uncharted territory. A growing number of scientists think we've entered a new geological epoch."3 And, this new geological epoch has been proposed as – the Anthropocene.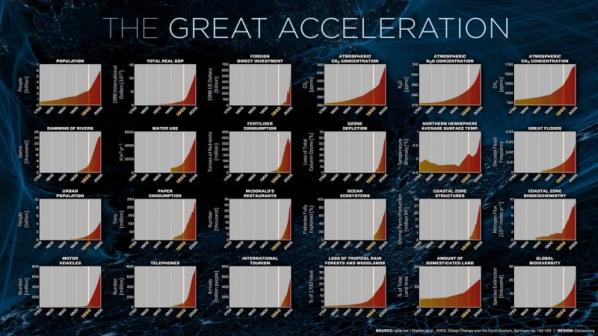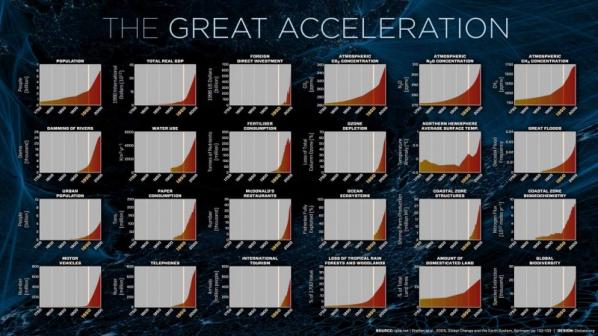 In your essay 'Critical Theory After the Anthropocene'4 you say "At a minimum, the Anthropocene calls on critical theory to entirely rethink its received ideas, its habituated traditions, its claims to authority. It needs to look back in its own archive for more useful critical tools."
What are these 'useful critical tools' and how might theorists, new media artists, game designers and society at large put these to work?
MW: The 'cene' part of Anthropocene (from the Greek kainos) means a qualitative break in time. If time is in a sense always different, then kainos is the differently-different – a new kind of time. Those like Paul Crutzen who have advocated the use of the term Anthropocene to designate a new geological time have issued a major challenge as to how to interpret such a possibility. I leave it to the scientists to figure out if such a claim is scientifically valid. As someone trained in the humanities, I think the generous, comradely, cooperative thing to do is to try to interpret what our friends and colleagues in the sciences are telling us about the times. So in Molecular Red that was what I set out to do. Let's take seriously the claim that these times are not 'like' other times. That I think calls for a rethinking of what from the cultural past might be useful now. I think we need new ancestors. Which is why, in Molecular Red, I went looking for them, based on the question: to which past comrades would the Anthropocene come as no surprise? I think Alexander Bogdanov, who understood a bit about the biosphere and the carbon cycle, would not be surprised. I think Andrey Platonov, who wrote about the attempts and failures to build a new kind of infrastructure for the Soviet experiment in a new mode of production would not be surprised. There are others, but those I thought were particularly helpful, not least because their Marxism remained in dialog with the sciences and technical arts. I don't think the more romantic anti-science side of Western Marxism and continental thought is all that helpful at the moment, not least because it rules out of court exactly the kinds of scientific knowledges through which we know about the Anthropocene in the first place. The anti-science critique has been captured by the right, so we need new tactics.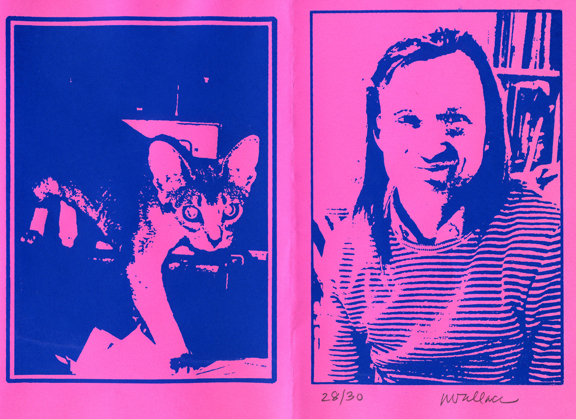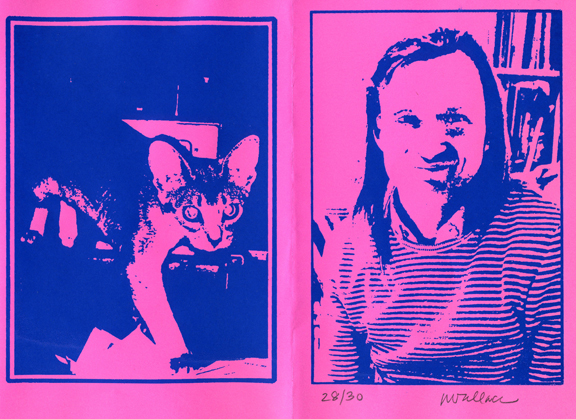 F: Who'd be empowered by an encounter with your ideas and where do you see the potential for agency in the current economic and environmental contexts?
MW: Not for me to say really. Writers are usually the last people to have any clues as to what their writing says. There's a sort of idiot quality to banging away on a keyboard. We're word processors. Its always surprising to me the range of people who find something in what I write.
My hunch is that the future is in the hands of an alliance between those who make the forms and those who make the content: a hacker and worker alliance. It is clear that this civilization has already become unreal. Everyone knows it. We have to experiment now with what new forms might be.
F: And, where in the world do you see examples of individuals, groups and organizations, and or companies – who are putting into action some of the critical questions that you're exploring in your writing?
MW: Besides Furtherfield? I never like to give examples. Everyone should be their own example. To détourn an old slogan of the 60s: be impossible, do the realistic!
F: In your later essay 'The Drone of Minerva'5 you continue to write about the Anthropocene. But, you also bring to the table the subject of the Proletkult.6 The Proletkult aspired to radically modify existing artistic forms of revolutionary working class aesthetic which drew its inspiration from the construction of modern industrial society in Russia. At its peak in 1920, Proletkult had 84,000 members actively enrolled in about 300 local studios, clubs, and factory groups, with an additional 500,000 members participating in its activities on a more casual basis.
You are writing about the Proletkult in your latest book. Could you tell us a little something about this and how it will connect to contemporary lives?
MW: Proletkult was influential in Britain too, during the syndicalist phase of the British labor movement, up until the defeat of the 1926 general strike. After that the dominant forms were, on the one hand, the ethical-socialism and parliamentary path of the Labour Party, or the revolutionary Leninist party. Well, those paths have been defeated now too. I think we have to look at all of the past successes and failures all over again and cobble together new organizational and cultural forms, including a 21st century Proletkult.7 What that might mean is trying to self-organize in a comradely way to try and gain some collective charge of our everyday lives. It does not mean just celebrating actually existing working class cultures. Rather it's more about starting there and developing culture and organization not as something reactive and marginalized but as something with organizational consistency and breadth. Since the ruling class clearly doesn't give a fuck about us, let's take charge of our own lives – together.
Thank you McKenzie Wark – Ruth Catlow & Marc Garrett 😉
Ruth Catlow will be at Transmediale 2015 CAPTURE ALL, moderating the keynote Capture All_Play with McKenzie Wark, on Sat, 31 Jan at 18:00.
Ruth is also participating in two other events, Play as a Commons: Practical Utopias & P2P Futures and The Post-Digital Review: Cultural Commons – http://www.transmediale.de/content/ruth-catlow
Featured image: Image "earth" by Beth Scupham https://goo.gl/ZMBzuw (Creative Commons Attribution)
Brett Scott is the author of The Heretic's Guide to Global Finance: Hacking the Future of Money (Pluto Press: 2013). And writes for various publications, including The Guardian, Wired Mag and New Scientist, and commentate on issues like financial reform, cryptocurrency and peer-to-peer systems. he is also involved in projects related to alternative finance, financial activism, and economic justice, such as Action Aid, World Development Movement, Open Oil, The Finance Innovation Lab, and MoveYourMoney UK.
---
In Kim Stanley Robinson's epic 1993 sci-fi novel Red Mars, a pioneering group of scientists establish a colony on Mars. Some imagine it as a chance for a new life, run on entirely different principles from the chaotic Earth. Over time, though, the illusion is shattered as multinational corporations operating under the banner of governments move in, viewing Mars as nothing but an extension to business-as-usual.
It is a story that undoubtedly resonates with some members of the Bitcoin community. The vision of a free-floating digital cryptocurrency economy, divorced from the politics of colossal banks and aggressive governments, is under threat. Take, for example, the purists at Dark Wallet, accusing the Bitcoin Foundation of selling out to the regulators and the likes of the Winklevoss Twins.
Bitcoin sometimes appears akin to an illegal immigrant, trying to decide whether to seek out a rebellious existence in the black-market economy, or whether to don the slick clothes of the Silicon Valley establishment. The latter position – involving publicly accepting regulation and tax whilst privately lobbying against it – is obviously more acceptable and familiar to authorities.
Of course, any new scene is prone to developing internal echo chambers that amplify both commonalities and differences. While questions regarding Bitcoin's regulatory status lead hyped-up cryptocurrency evangelists to engage in intense sectarian debates, to many onlookers Bitcoin is just a passing curiosity, a damp squib that will eventually suffer an ignoble death by media boredom. It is a mistake to believe that, though. The core innovation of Bitcoin is not going away, and it is deeper than currency.
What has been introduced to the world is a method to create decentralised peer-validated time-stamped ledgers. That is a fancy way of saying it is a method for bypassing the use of centralised officials in recording stuff. Such officials are pervasive in society, from a bank that records electronic transactions between me and my landlord, to patent officers that record the date of new innovations, to parliamentary registers noting the passing of new legislative acts.
The most visible use of this technical accomplishment is in the realm of currency, though, so it is worth briefly explaining the basics of Bitcoin in order to understand the political visions being unleashed as a result of it.
The technical vision 1.0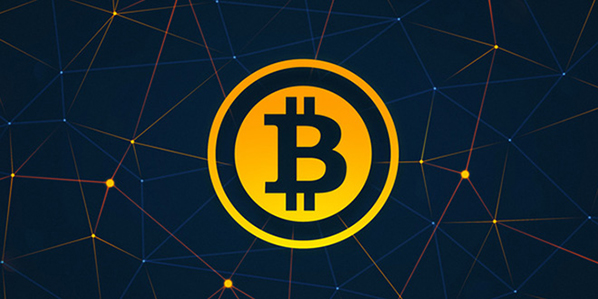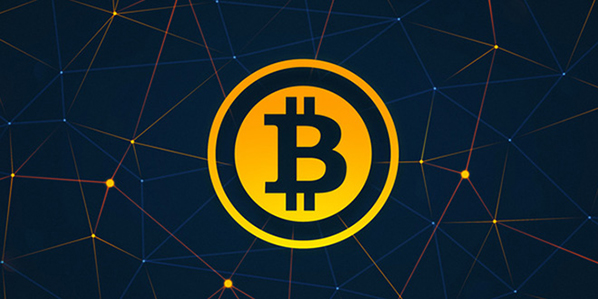 Banks are information intermediaries. Gone are the days of the merchant dumping a hoard of physical gold into the vaults for safekeeping. Nowadays, if you have '£350 in the bank', it merely means the bank has recorded that for you in their data centre, on a database that has your account number and a corresponding entry saying '350' next to it. If you want to pay someone electronically, you essentially send a message to your bank, identifying yourself via a pin or card number, asking them to change that entry in their database and to inform the recipient's bank to do the same with the recipient's account.
Thus, commercial banks collectively act as a cartel controlling the recording of transaction data, and it is via this process that they keep score of 'how much money' we have. To create a secure electronic currency system that does not rely on these banks thus requires three interacting elements. Firstly, one needs to replace the private databases that are controlled by them. Secondly, one needs to provide a way for people to change the information on that database ('move money around'). Thirdly, one needs to convince people that the units being moved around are worth something.
To solve the first element, Bitcoin provides a public database, or ledger, that is referred to reverently as the blockchain. There is a way for people to submit information for recording in the ledger, but once it gets recorded, it cannot be edited in hindsight. If you've heard about bitcoin 'mining' (using 'hashing algorithms'), that is what that is all about. A scattered collective of mercenary clerks essentially hire their computers out to collectively maintain the ledger, baking (or weaving) transaction records into it.
Secondly, Bitcoin has a process for individuals to identify themselves in order to submit transactions to those clerks to be recorded on that ledger. That is where public-key cryptography comes in. I have a public Bitcoin address (somewhat akin to my account number at a bank) and I then control that public address with a private key (a bit like I use my private pin number to associate myself with my bank account). This is what provides anonymity.
The result of these two elements, when put together, is the ability for anonymous individuals to record transactions between their bitcoin accounts on a database that is held and secured by a decentralised network of techno-clerks ('miners'). As for the third element – convincing people that the units being transacted are worth something – that is a more subtle question entirely that I will not address here.
The political vision 1.0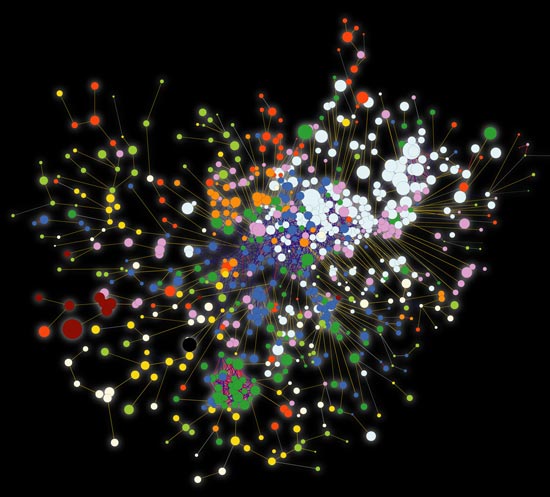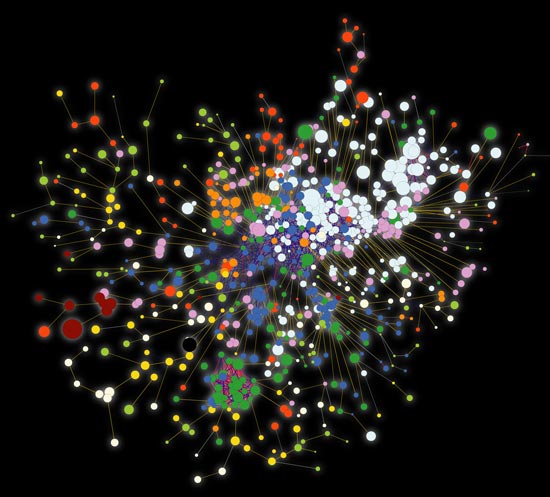 Note the immediate political implications. Within the Bitcoin system, a set of powerful central intermediaries (the cartel of commercial banks, connected together via the central bank, underwritten by government), gets replaced with a more diffuse network intermediary, apparently controlled by no-one in particular.
This generally appeals to people who wish to devolve power away from banks by introducing more diversity into the monetary system. Those with a left-wing anarchist bent, who perceive the state and banking sector as representing the same elite interests, may recognise in it the potential for collective direct democratic governance of currency. It has really appealed, though, to conservative libertarians who perceive it as a commodity-like currency, free from the evils of the central bank and regulation.
The corresponding political reaction from policy-makers and establishment types takes three immediate forms. Firstly, there are concerns about it being used for money laundering and crime ('Bitcoin is the dark side'). Secondly, there are concerns about consumer protection ('Bitcoin is full of cowboy operators'). Thirdly, there are concerns about tax ('this allows people to evade tax').
The general status quo bias of regulators, who fixate on the negative potentials of Bitcoin whilst remaining blind to negatives in the current system, sets the stage for a political battle. Bitcoin enthusiasts, passionate about protecting the niche they have carved out, become prone to imagining conspiratorial scenes of threatened banks fretfully lobbying the government to ban Bitcoin, or of paranoid politicians panicking about the integrity of the national currency.
The technical vision 2.0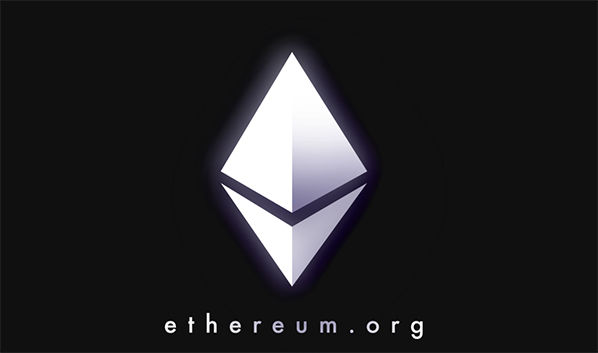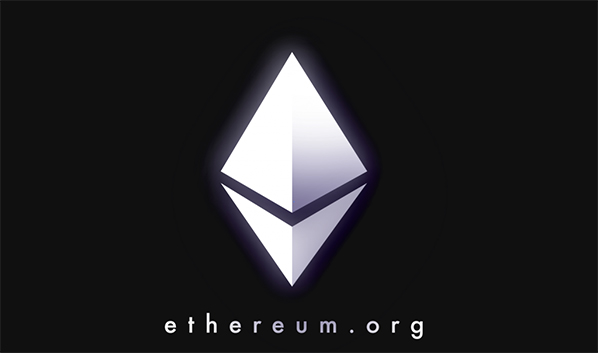 Outside the media hype around these Bitcoin dramas, though, a deeper movement is developing. It focuses not only on Bitcoin's potential to disrupt commercial banks, but also on the more general potential for decentralised blockchains to disrupt other types of centralised information intermediaries.
Copyright authorities, for example, record people's claims to having produced a unique work at a unique date and authoritatively stamp it for them. Such centralised 'timestamping' more generally is called 'notarisation'. One non-monetary function for a Bitcoin-style blockchain could thus be to replace the privately controlled ledger of the notary with a public ledger that people can record claims on. This is precisely what Proof of Existence and Originstamp are working on.
And what about domain name system (DNS) registries that record web addresses? When you type in a URL like www.e-ir.info, the browser first steers you to aDNS registry like Afilias, which maintains a private database of URLs alongside information on which IP address to send you to. One can, however, use a blockchain to create a decentralised registry of domain name ownership, which is what Namecoin is doing. Theoretically, this process could be used to record share ownership, land ownership, or ownership in general (see, for example, Mastercoin's projects).
The biggest information intermediaries, though, are often hidden in plain sight. What is Facebook? Isn't it just a company that you send information to, which is then stored in their database and subsequently displayed to you and your friends? You log in with your password (proving your identity), and then can alter that database by sending them further messages ('I'd like to delete that photo'). Likewise with Twitter, Dropbox, and countless other web services.
Unlike the original internet, which was largely used for transmission of static content, we experience sites like Facebook as interactive playgrounds where we can use programmes installed in some far away computer. In the process of such interactivity, we give groups like Facebook huge amounts of information. Indeed, they set themselves up as information honeytraps in order to create a profit-making platform where advertisers can sell you things based on the information. This simultaneously creates a large information repository for authorities like the NSA to browse. This interaction of corporate power and state power is inextricably tied to the profitable nature of centrally held data.
But what if you could create interactive web services that did not revolve around single information intermediaries like Facebook? That is precisely what groups like Ethereum are working towards. Where Bitcoin is a way to record simple transaction information on a decentralised ledger, Ethereum wants to create a 'decentralised computational engine'. This is a system for running programmes, or executing contracts, on a blockchain held in play via a distributed network of computers rather than Mark Zuckerberg's data centres.
It all starts to sounds quite sci-fi, but organisations like Ethereum are leading the charge on building 'Decentralised Autonomous Organisations', hardcoded entities that people can interact with, but that nobody in particular controls. I send information to this entity, triggering the code and setting in motion further actions. As Bitshares describes it, such an organisation "has a business plan encoded in open source software that executes automatically in an entirely transparent and trustworthy manner."
The political vision 2.0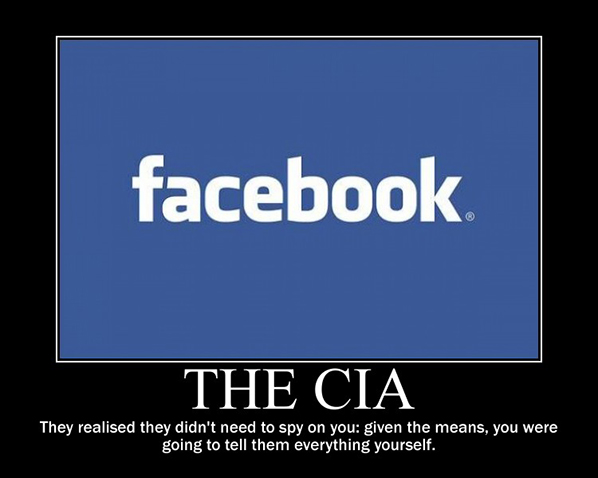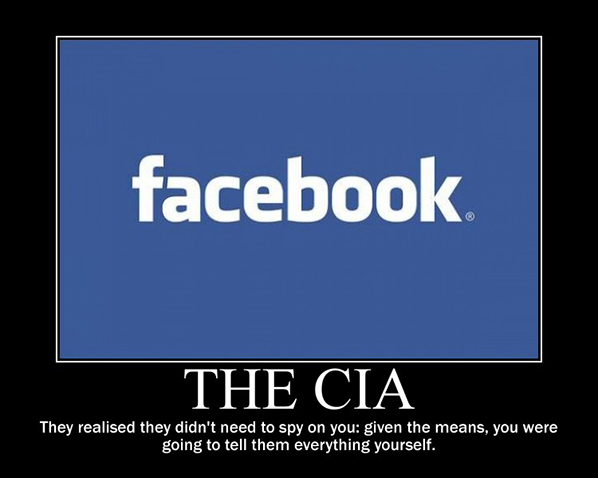 By removing a central point of control, decentralised systems based on code – whether they exist to move Bitcoin tokens around, store files, or build contracts – resemble self-contained robots. Mark Zuckerberg of Facebook or Jamie Dimon of JP Morgan Chase are human faces behind the digital interface of the services they run. They can overtly manipulate, or bow in to pressure to censor. A decentralised currency or a decentralised version of Twitter seems immune from such manipulation.
It is this that gives rise to a narrative of empowerment and, indeed, at first sight this offers an exhilarating vision of self-contained outposts of freedom within a world otherwise dominated by large corruptible institutions. At many cryptocurrency meet-ups, there is an excitable mix of techno-babble infused with social claims. The blockchain can record contracts between free individuals, and if enforcement mechanisms can be coded in to create self-enforcing 'smart contracts', we have a system for building encoded law that bypasses states.
Bitcoin and other blockchain technologies, though, are empowering right now precisely because they are underdogs. They introduce diversity into the existing system and thereby expand our range of tools. In the minds of hardcore proponents, though, blockchain technologies are more than this. They are a replacement system, superior to existing institutions in every possible way. When amplified to this extreme, though, the apparently utopian project can begin to take on a dystopian, conservative hue.
Binary politics


When asked about why Bitcoin is superior to other currencies, proponents often point to its 'trustless' nature. No trust needs be placed in fallible 'governments and corporations'. Rather, a self-sustaining system can be created by individuals following a set of rules that are set apart from human frailties or intervention. Such a system is assumed to be fairer by allowing people to win out against those powers who can abuse rules.
The vision thus is not one of bands of people getting together into mutualistic self-help groups. Rather, it is one of individuals acting as autonomous agents, operating via the hardcoded rules with other autonomous agents, thereby avoiding those who seek to harm their interests.
Note the underlying dim view of human nature. While anarchist philosophers often imagine alternative governance systems based on mutualistic community foundations, the 'empowerment' here does not stem from building community ties. Rather it is imagined to come from retreating from trust and taking refuge in a defensive individualism mediated via mathematical contractual law.
It carries a certain disdain for human imperfection, particularly the imperfection of those in power, but by implication the imperfection of everyone in society. We need to be protected from ourselves by vesting power in lines of code that execute automatically. If only we can lift currency away from manipulation from the Federal Reserve. If only we can lift Wikipedia away from the corruptible Wikimedia Foundation.
Activists traditionally revel in hot-blooded asymmetric battles of interest (such as that between StrikeDebt! and the banks), implicitly holding an underlying faith in the redeemability of human-run institutions. The Bitcoin community, on the other hand, often seems attracted to a detached anti-politics, one in which action is reduced to the binary options of Buy In or Buy Out of the coded alternative. It echoes consumer notions of the world, where one 'expresses' oneself not via debate or negotiation, but by choosing one product over another. We're leaving Earth for Mars. Join if you want.
It all forms an odd, tense amalgam between visions of exuberant risk-taking freedom and visions of risk-averse anti-social paranoia. This ambiguity is not unique to cryptocurrency (see, for example, this excellent parody of the trustless society), but in the case of Bitcoin, it is perhaps best exemplified by the narrative offered by Cody Wilson in Dark Wallet's crowdfunding video. "Bitcoin is what they fear it is, a way to leave… to make a choice. There's a system approaching perfection, just in time for our disappearance, so, let there be dark".
The myth of political 'exit'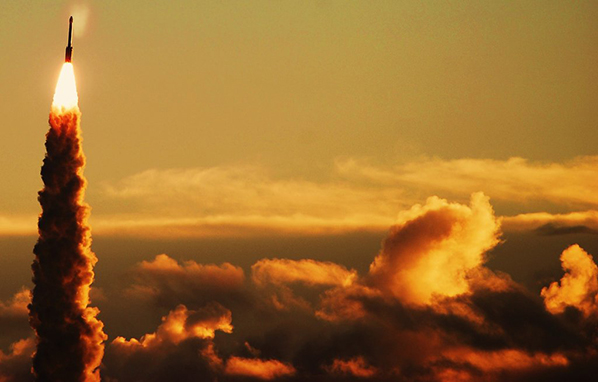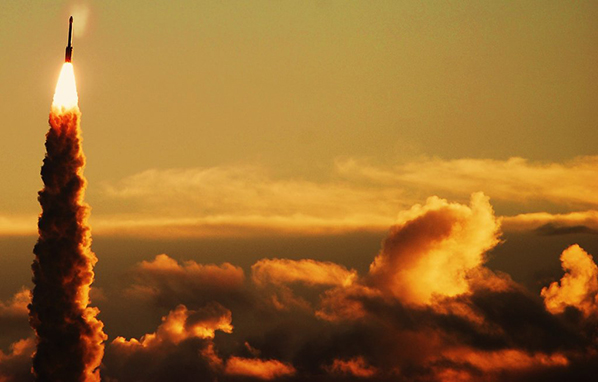 But where exactly is this perfect system Wilson is disappearing to?
Back in the days of roving bands of nomadic people, the political option of 'exit' was a reality. If a ruler was oppressive, you could actually pack up and take to the desert in a caravan. The bizarre thing about the concept of 'exit to the internet' is that the internet is a technology premised on massive state and corporate investment in physical infrastructure, fibre optic cables laid under seabeds, mass production of computers from low-wage workers in the East, and mass affluence in Western nations. If you are in the position to be having dreams of technological escape, you are probably not in a position to be exiting mainstream society. You are mainstream society.
Don't get me wrong. Wilson is a subtle and interesting thinker, and it is undoubtedly unfair to suggest that he really believes that one can escape the power dynamics of the messy real world by finding salvation in a kind of internet Matrix. What he is really trying to do is to invoke one side of the crypto-anarchist mantra of 'privacy for the weak, but transparency for the powerful'.
That is a healthy radical impulse, but the conservative element kicks in when the assumption is made that somehow privacy alone is what enables social empowerment. That is when it turns into an individualistic 'just leave me alone' impulse fixated with negative liberty. Despite the rugged frontier appeal of the concept, the presumption that empowerment simply means being left alone to pursue your individual interests is essentially an ideology of the already-empowered, not the vulnerable.
This is the same tension you find in the closely related cypherpunk movement. It is often pitched as a radical empowerment movement, but as Richard Boase notes, it is "a world full of acronyms and codes, impenetrable to all but the most cynical, distrustful, and political of minds." Indeed, crypto-geekery offers nothing like an escape from power dynamics. One merely escapes to a different set of rules, not one controlled by 'politicians', but one in the hands of programmers and those in control of computing power.
It is only when we think in these terms that we start to see Bitcoin not as a realm 'lacking the rules imposed by the state', but as a realm imposing its own rules. It offers a form of protection, but guarantees nothing like 'empowerment' or 'escape'.
Techno-Leviathan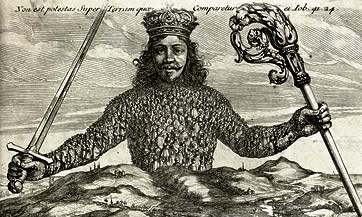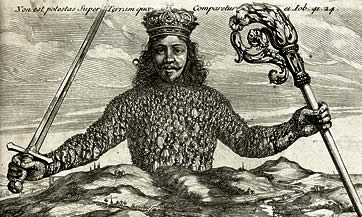 Technology often seems silent and inert, a world of 'apolitical' objects. We are thus prone to being blind to the power dynamics built into our use of it. For example, isn't email just a useful tool? Actually, it is highly questionable whether one can 'choose' whether to use email or not. Sure, I can choose between Gmail or Hotmail, but email's widespread uptake creates network effects that mean opting out becomes less of an option over time. This is where the concept of becoming 'enslaved to technology' emerges from. If you do not buy into it, you will be marginalised, and thatis political.
This is important. While individual instances of blockchain technology can clearly be useful, as a class of technologies designed to mediate human affairs, they contain a latent potential for encouraging technocracy. When disassociated from the programmers who design them, trustless blockchains floating above human affairs contains the specter of rule by algorithms. It is a vision (probably accidently) captured by Ethereum's Joseph Lubin when he says "There will be ways to manipulate people to make bad decisions, but there won't be ways to manipulate the system itself".
Interestingly, it is a similar abstraction to that made by Hobbes. In his Leviathan, self-regarding people realise that it is in their interests to exchange part of their freedom for security of self and property, and thereby enter into a contract with aSovereign, a deified personage that sets out societal rules of engagement. The definition of this Sovereign has been softened over time – along with the fiction that you actually contract to it – but it underpins modern expectations that the government should guarantee property rights.
Conservative libertarians hold tight to the belief that, if only hard property rights and clear contracting rules are put in place, optimal systems spontaneously emerge. They are not actually that far from Hobbes in this regard, but their irritation with Hobbes' vision is that it relies on politicians who, being actual people, do not act like a detached contractual Sovereign should, but rather attempt to meddle, make things better, or steal. Don't decentralised blockchains offer the ultimate prospect of protected property rights with clear rules, but without the political interference?
This is essentially the vision of the internet techno-leviathan, a deified crypto-sovereign whose rules we can contract to. The rules being contracted to are a series of algorithms, step by step procedures for calculations which can only be overridden with great difficulty. Perhaps, at the outset, this represents, à la Rousseau, the general will of those who take part in the contractual network, but the key point is that if you get locked into a contract on that system, there is no breaking out of it.
This, of course, appeals to those who believe that powerful institutions operate primarily by breaching property rights and contracts. Who really believes that though? For much of modern history, the key issue with powerful institutions has not been their willingness to break contracts. It has been their willingness to use seemingly unbreakable contracts to exert power. Contracts, in essence, resemble algorithms, coded expressions of what outcomes should happen under different circumstances. On average, they are written by technocrats and, on average, they reflect the interests of elite classes.
That is why liberation movements always seek to break contracts set in place by old regimes, whether it be peasant movements refusing to honour debt contracts to landlords, or the DRC challenging legacy mining concessions held by multinational companies, or SMEs contesting the terms of swap contracts written by Barclays lawyers. Political liberation is as much about contesting contracts as it is about enforcing them.
Building the techno-political vision 3.0
The point I am trying to make is that you do not escape the world of big corporates and big government by wishing for a trustless set of technologies that collectively resemble a technocratic crypto-sovereign. Rather, you use technology as a tool within ongoing political battles, and you maintain an ongoing critical outlook towards it. The concept of the decentralised blockchain is powerful. The cold, distrustful edge of cypherpunk, though, is only empowering when it is firmly in the service of creative warm-blooded human communities situated in the physical world of dirt and grime.
Perhaps this means de-emphasising the focus on how blockchains can be used to store digital assets or property, and focusing rather on those without assets. For example, think of the potential of blockchain voting systems that groups like Restart Democracy are experimenting with. Centralised vote-counting authorities are notorious sources of political anxiety in fragile countries. What if the ledger recording the votes cast was held by a decentralised network of citizens, with voters having a means to anonymously transmit votes to be stored on a publicly viewable database?
We do not want a future society free from people we have to trust, or one in which the most we can hope for is privacy. Rather, we want a world in which technology is used to dilute the power of those systems that cause us to doubt trust relationships. Screw escaping to Mars.
---
If you enjoyed this article, please consider…

I sometimes spend weeks writing these articles, and don't generally get paid to do it, so if you enjoyed please consider doing one or two of the following:
1. Donate by buying me a virtual beer
2. Tweet: You can tweet it out here
3. Share it on your Facebook wall here
4. Email it to a friend from here
5. Leave a comment!
6. Submit to Reddit
7. Link to the article from your own blog so your readers can see it too
Cheers!
(Please note that I originally wrote this essay for E-International Relations, and I have republished it here on a Creative Commons licence. If you wish to republish this piece, please respect E-IR's republishing guidelines)
Die GstettenSaga: The Rise of Echsenfriedl review. SPOILER WARNING!
Johannes Grenzfurthner's Post-Apocalyptic DIY Epic on Makers, Hacktivism and Media Culture.
"A mad post-collapse satire of information culture and tech fetishism, in a weird sort of melding of Stalker, Network, and The Bed-Sitting Room." (Richard Kadrey)
Die GstettenSaga: The Rise of Echsenfriedl is an Austrian hackploitation art house film by Johannes Grenzfurthner, mastermind of the international art-technology-philosophy group monochrom, co-produced by the media collective Traum & Wahnsinn. Reimagining the makerspace as grindhouse, the story is set in the post-apocalyptic aftermath of the "Google Wars" – an armed global conflict between the last two remaining superpowers China and Google – which has turned what remained of the Alps into a Gstetten.
In Austrian German, "Gstetten" translates to wasteland, outback or 'fourth world' (Manuel Castells) and is a popular name for provincial towns – and sometimes just the less sophisticated parts of them. The area's biggest semi-urban sprawl is Mega City Schwechat, the former home of Vienna International Airport, a refinery and a beer brewery. It is governed by the evil media mogul Thurnher von Pjölk (Martin Auer), a pretender who claims to be the inventor of key publishing technologies such as letterpress printing and rules the area with his tabloid newspaper. But the hegemony of his yellow press empire is contested by – spoiler alert! – makers, hackers and nerds, who are more leaning towards electronic media such as the recently rediscovered television. In order to get rid off this bothersome opposition, Pjölk devises an evil plan for wiping out Schwechat's insubordinate creative class.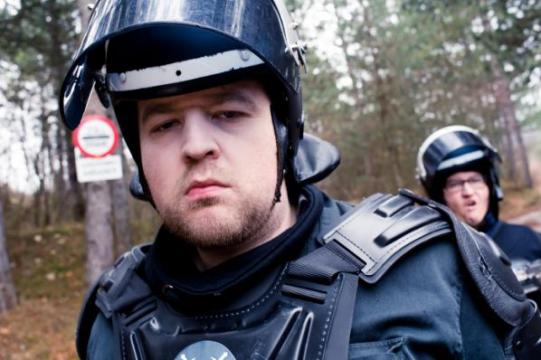 In an insidious political move, he pretends to reach out for the technophile faction by commissioning two of his reporters, the bootlicking opportunist Fratt Aigner (Lukas Tagwerker) and the brainy geek girl Alalia Grundschober (Sophia Grabner), to conduct an exclusive TV interview with the ultimate Gstetterati icon, the legendary innovator Echsenfriedl ("Lizard Freddy") – on the basis of precarious employment conditions. The title character, who turns out to be an basilisk, embodies a mix of Steve Jobs, Richard Stallman and Julian Assange and lives in the depths of Niederpröll in his hideout much like Subcomandante Marcos – partly in order to protect the world from his killing gaze, which would, audio-visually transmitted, turn the whole of his fan base immediately to stone.
Grenzfurthner's sci-fi-horror adaption of the Divine Comedy takes us on a retro-futuristic post-cyberpunk adventure in the tradition of cinema grotesque back to the dark days which preceded the Internet. The journey of our heroes – distinctively resembling Tarkovsky's 'stalkers' – is a quest for extinct media technologies but their search for Echsenfriedl eventually leads the two protagonists to a deepened understanding of who they really are: the media industry's precarious workforce under spectacular capitalism. While Fratt's dirt track to enlightenment is paved with stumbling blocks, his brainy Beatrice advances with the determination of a Harawayian cyborg who makes use of her superior technical skills to save them from the zombified folk populating the Gstetten: uncanny creatures from the Kafkaesque bestiarium of Austria's undead bureaucracy and its hanger-ons like armed-to-the-teeth Postal Service subcontractors (brilliant: monochrom's Evelyn Fürlinger, also Grenzfurthner's ex-wife) or the once powerful Farmers Association led by Jeff Ricketts (Firefly, Buffy the Vampire Slayer), who are worshipping antique pre-war EU funding applications as their sacred scriptures. Our friends receive the final hints for their search from the Sphinx Philine-Codec Comtesse de Cybersdorf (Eva-Christina Binder), a fantasy femme fatale who is torn between Plöjlk and Echsenfriedl, and the bearded drag queen Heinz Rand of Raiká (David Dempsey), an eccentric agricultural cooperative banker and possible descendant of Conchita Wurst.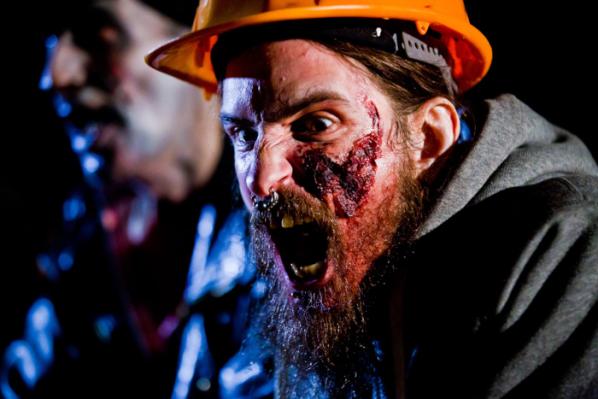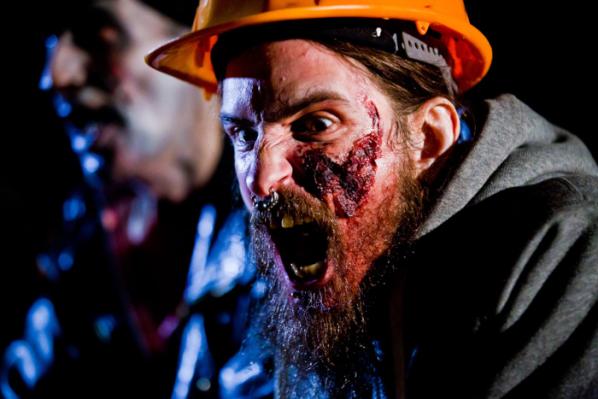 The Gstettensaga's fascinating cinematic pastiche is more than just a firework of rhizomatic intertextuality, a symptom of the depthlessness of postmodern aesthetics or excessive enthusiasm for experimentation in the field of form. In their infamous 1972 book Anti-Oedipus, Gilles Deleuze and Félix Guattari have identified the technique of bricolage as the characteristic mode of production under "schizophrenic" capitalism, a facet triumphantly magnified by the filmmakers. If every discourse is bricoleur, like Jacques Derrida suggested, suddenly 'context' can become the artist's material or even a form of art in its own right:
"The more artists are consigned to an existence within a patchwork of niches, the more dependent they become on information resources, communication and networking. In this respect, aesthetic artefacts must take a stance toward a plethora or markedly heterogeneous contexts that sediment in one way or another: the conditions and circumstances surrounding their production, their various social fields from which (and for or against which) they speak: real or imagined audiences toward (or against) whose values a work, an approach or a position is targeted. This play with the factors affecting it and among which it must mediate has become an essential trait on an art form that might best be described as 'Contextualism'." [1]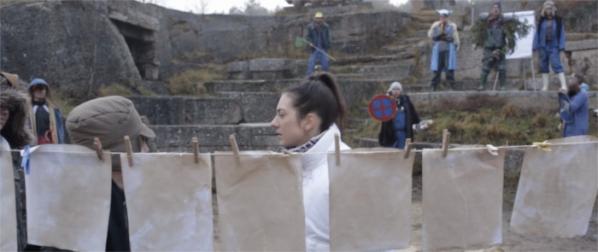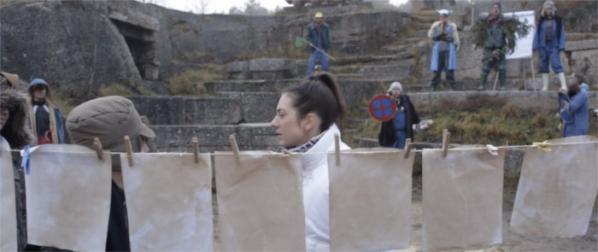 What I found especially intriguing about the Gstettensaga is how the filmmakers responded to the various challenges of the feature film format by contextualising the whole production process, distribution, language adaptions (subtitles are an integral part of the story), soundtrack and even the viewing experience.
The film was initially commissioned by Austrian public broadcasting station ORF III as part of the series Artist-in-Residence for a budget of only €5000, set to be produced within a six months period. In response, monochrom used an embedded prank to raise money. The movie contains a text insert similar to watermarks used in festival viewing copies, which asks the viewer to report the film as copyright infringement by calling a premium-rate phone number (1.09 EUR/minute) and enabled Grenzfurthner to co-finance the film with proceeds from this new strategy he has named 'crowdratting'. [2]
The Contextualist script – including outlines of scenes for improvisation – was written by Grenzfurthner and Roland Gratzer in just a couple of days in November 2013 in a Viennese restaurant. They also incorporated ideas that came up during their weekly meeting with the entire production crew, whereas some of the backstory was first created for monochrom's pen-and-paper role-playing theatre performance Campaign. Principal photography – the camera work of Thomas Weilguny deserves the highest praise – commenced on December 2, 2013 and ended January 19, 2014, which left nearly 5 weeks for post-production and editing. Due to the fast production process and the financial limitations, no film score was composed for the Gstettensaga – instead, Grenzfurthner used an assortment of 8bit, synth pop and electronica tracks especially for their specific retro quality because "they may sound old-school to us, but not in the world of the Gstettensaga, where all retro electronic music is still impossible and futuristic." [3]
The retro-futuristic world of Echsenfriedl is coming to a film festival, hacker con or Pirate Bay near you.
Official Homepage
http://www.monochrom.at/gstettensaga/
Festival screenings
Tamtam (Seara de proiectie la TT) / May 7, 2014 (Timisoara, Romania)
KOMM.ST Festival / May 11, 2014 (Anger, Austria)
Supermarkt (Dismalware) / June 7, 2014 (Berlin, Germany)
Fusion Festival / June 25-29, 2014 (Lärz Airfield, Mecklenburg, Germany)
Roswell International Sci Fi Film Festival / June 26-29, 2014 (Roswell, NM, USA)
iRRland movie night / June 30, 2014 (Munich, Germany)
qujochö Film Summer / July 3, 2014 (Linz, Austria)
HOPE X / July 18-20, 2014 (New York, New York, USA)
Fright Night Film Fest / August 1-3, 2014 (Louisville, KY, USA)
Gen Con Indy Film Festival 2014 / August 14-17, 2014 (Indianapolis, Indiana, USA)
San Francisco Global Movie Fest / August 15-17, 2014 (San Jose, CA, USA)
Rostfest / August 21-24, 2014 (Eisenerz, Austria)
Noisebridge / August 29, 2014 (San Francisco, USA)
/slash Filmfestival / September 18-28, 2014 (Vienna, Austria)
Simultan Fest / October 6-11, 2014 (Timisoara, Romania)
Phuture Fest / October 11, 2014 (Denver, Colorado, USA)
prol.kino / October 14, 2014 (Graz, Austria)