Stanza, Ximena Alarcón, Peter Cusack, Furtherfield.org, Chris Joseph, Francisco Lopez, Katharine Norman, Aki Pasoulas, Pedro Rebelo, Ambrose Seddon
View Sound Ecologies commission by Chris Joseph.
A day of presentations, participatory workshops and informal performance around themes of urban sound, networked sound, locative media and acoustic ecology – the relationship between living beings and their environment, as mediated by sound. Featuring Furtherfield.org (Ruth Catlow and Marc Garrett), and guest speakers Stanza, Peter Cusack, Ximena Alarcón and Pedro Rebelo.
The event is free, and open to anyone interested, including musicians, artists, curators, technologists; ecologically inclined thinkers, makers and doers of all kinds.
BOOKING IS ESSENTIAL
Space is limited. Please reserve your place here.
We hope to offer wireless access. If you wish to have wireless access you MUST email in advance your name, computer model and MAC address to Katharine Norman at Katharine.norman@city.ac.uk by 7 November 2009.
We invite you to contribute sound and AV media on the theme of 'urban sound' to VisitorsStudio for incorporation into the mix by participants on the day.
What to bring
Bring headphones to take part in the VisitorsStudio workshop.
Wear comfortable (and quiet!) clothing and shoes for the soundwalk, and be prepared for rain.
Maps and information about getting to City University London: the Performance Space and Lab are on the lower ground floor of the College Building, entrance on St John Street.
View more details of the day's events here.
SOUND ECOLOGIES: LISTENING IN THE CITY is a partnership event funded by LCACE convened by Katharine Norman, Department of Music, City University London and Furtherfield.org
More about Participants and Presentations
Ximena Alarcón – Sounding Underground: Linking urban soundscapes via commuters memories.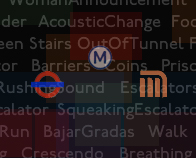 Ximena's practice-led research project studied commuter's perceptions towards their daily life soundscape in underground public transport systems, taking the case studies of Paris and México City as counterparts of the London Underground. The results are the basis for the creation of a score that becomes an interactive user's interface in an Internet-based sonic environment: Sounding Underground. Interactivity, understood as "Listening and Remembering", has taken two main forms: navigation, including written feedback, on the web, and a off-line networked improvisation for groups of four commuters who used their voices to express memories. This approach strives to make commuters contributors in the creation of these environments, and furthermore performers and narrators of their commuting experience. Ximena Alarcón, born in Bogotá, Colombia, in 1972, is a multimedia artist specialising in soundscape, collective memory and interactivity. She completed her PhD in Music, Technology and Innovation at De Montfort University in 2007 with a work entitled An Interactive Sonic Environment derived from commuters' memories of soundscape: a case study of the London Underground. For the last two years she has been expanding and implementing this work at De Montfort's Institute of Creative Technologies (IOCT), thanks to an Early Career Fellowship award given by The Leverhulme Trust. One of her objectives is to find a balance between artistic and socially based work within specific soundscapes that involve virtual and real migrations, and with people who are usually outside the artistic scene, doing so by creating narratives in new media.
Peter Cusack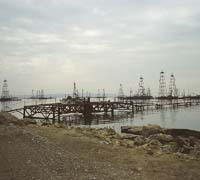 Peter's presentation will focus on the 'Your Favourite London Sound' project that aims to discover what Londoners find positive in their city's soundscape, an idea that has been repeated in other world cities including Beijing and Chicago. Peter is based in London where he works as a sound artist, musician and environmental recordist with a special interest in environmental sound and acoustic ecology. Projects move from community arts to research into the contribution of sound to our senses of place to recordings that document areas of special sonic interest, e.g. Lake Baikal, Siberia, and Xinjiang, China's most western province. Recently involved in 'Sound & the City' the British Council sound art project in Beijing 2005. His current project 'Sounds From Dangerous Places' examines the soundscapes of sites of major environmental damage, e.g. Chernobyl, the Azerbaijan oil fields, controversial dams on the Tigris and Euphratees river systems in south east Turkey. He produced 'Vermilion Sounds' a monthly environmental sound program on ResonanceFM radio, London, and is a Senior Lecturer in 'Sound Arts & Design' at the London College of Communication. Recently appointed research fellow on the Engineering & Physical Sciences Research Council's multidisciplinary 'Positive Soundscapes Project'.As a musician he tours regularly at home and abroad. Musical collaborators include Clive Bell, Nic Collins, Alterations, Chris Cutler, Max Eastley, Annette Krebs and Viv Corringham.
Furtherfield.org – Media Art Ecologies
Furtherfield.org have worked with Katharine Norman at City University London to develop SOUND ECOLOGIES: LISTENING IN THE CITY. Furtherfield.org supports experimental practices at the intersection of art, technology and social change. They are currently working to increase opportunities for art making and appreciation, critical debate, exchange and participation in emerging ecological media art practices, and the theoretical, political and social contexts they engage.
Chris Joseph – digital writer and artist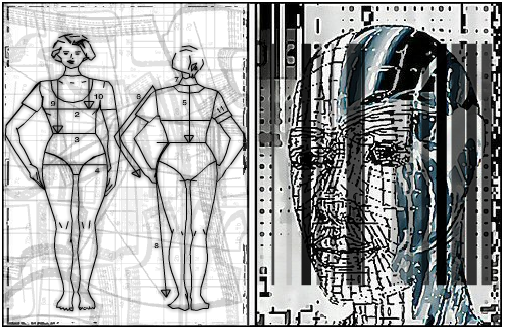 Chris Joseph has been commissioned to provide a visual interpretation of the day's themes (watch this space!)
Chris Joseph creates electronic literature, multimedia and interactive art, which may include text, images and video, sounds, music and reader/viewer participation. His ongoing projects include Flight Paths, a 'networked novel'; Inanimate Alice, a series of interactive multimedia stories; and remixworx, a collaborative digital remixing community. Other projects are NRG, a bicycle-powered interactive multimedia installation around the themes of sustainable energy, and The Breathing Wall, a digital novel that responds to the reader's breathing rate. From September 2006 until September 2008 he was the first Digital Writer in Residence at the Institute of Creative Technologies in De Montfort University, Leicester, UK.
Francisco Lopez – Buildings (New York)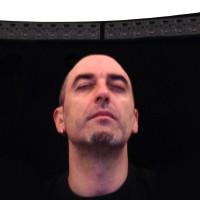 Francisco López is a major international figure in the sound art and experimental music scene. Over the past 30 years he has developed an absolutely personal and iconoclastic sonic universe based on a profound listening of the world. Destroying boundaries between industrial sounds and wilderness sound environments, shifting with passion from the limits of perception to the most dreadful abyss of sonic power, proposing a blind, profound and transcendental listening, freed from the imperatives of knowledge and open to sensory and spiritual expansion. He has realized hundreds of concerts, projects with field recordings, workshops and sound installations in 60 countries of the five continents. His extensive catalog of sound pieces (with live and studio collaborations with over 100 international artists) has been released by more than 200 record labels worldwide, and he has been awarded three times with honorary mentions at the competition of Ars Electronica Festival.
Review of Buildings (New York).
Katharine Norman – Sound Ecologies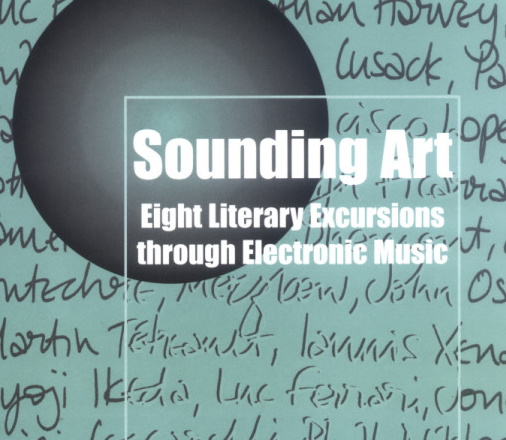 Katharine Norman composes computer and electronic music, often using documentary sound and voice, and increasingly writes texts. Her PhD (Princeton, 1993) focused on documentary sound in sound-based art and she has more recently completed a postgraduate diploma in creative writing and new media. She has various bits of sound art and music and writing on the web, and on CDs – including two solo cds: "London" (NMC label) and "Transparent things" (Metier). Increasingly, she writes about music, in particular electroacoustic and electronic music – Sounding Art: Eight Literary Excursions through Electronic Music, a book of experimental writings on recent electronic music (of many kinds and approaches) was published by Ashgate in 2004. She is currently head of the department of Music at City University London, and has previously taught at Goldsmiths (Music), Simon Fraser University (Communications) and Anglia Ruskin University (English).
Aki Pasoulas – City Soundwalk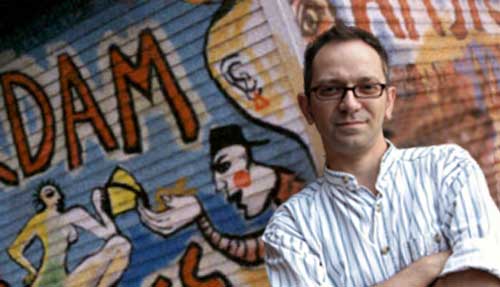 Aki Pasoulas is a London-based composer of electroacoustic and acoustic music. He lectures at the Universities of City London, Middlesex, and the Arts London, and he is finalising his doctoral research at City University London under the supervision of Denis Smalley. Aki's research project, funded by the Arts and Humanities Research Council (AHRC), investigates the listener's experience and interpretation of time passing, and the interrelationships among timescales in electroacoustic composition. Further research interests include psychoacoustics, microsound, spatialisation, sound poetry and the use of voice in non-western musics. Aki originally studied and worked as a graphic designer, before embarking into music studies at the Open University and then at Goldsmiths College, University of London.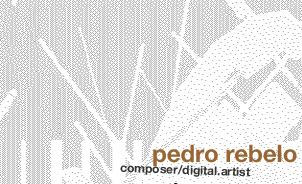 Will present a talk on some recent work linking locative media with network performance. Pedro is a composer/digital artist working in electroacoustic music, digital media and installation. His approach to music making is informed by the use of improvisation and interdisciplinary structures. He has been involved in several collaborative projects with visual artists and has created a large body of work exploring the relationships between architecture and music in creating interactive performance and installation environments. Pedro conducts research in the field of digital media, interactive sound and composition. His writings reflect his approach to design and composition by articulating creative practice in a wider understanding of cultural theory. Pedro was Visiting Professor at Stanford University (2007) and the Music Chair for the 2008 International Computer Music Conference. He has been Director of Research at the Sonic Arts Research Centre and is now Director of Education at the School of Music and Sonic Arts, Queen's University Belfast.
Ambrose Seddon – City Soundwalk
Ambrose Seddon has a background in rock and electronic pop music. After graduating with a degree in music from Goldsmiths College, University of London, he spent a number of years teaching, while writing, producing and performing in various bands, with releases through a number of independent record labels. He completed a Masters degree in electroacoustic composition at City University, London, in 2004, and now continues his studies at City University as a PhD student, supervised by Denis Smalley. His music has been performed in concert internationally, and has been awarded 1'st prize in the Visiones Sonoras Electroacoustic Music Composition Competition, Mexico, 2006, and the European Composition Prize at the International Computer Music Conference, Copenhagen, 2007.

Stanza's artworks explore artistic and technical opportunities to enable new aesthetic perspectives, experiences and perceptions within context of architecture, data spaces and online environments. His presentation will focus on his online and sonic work in relation to urban and networked spaces. Stanza is a London based British artist who specializes in interactive art, networked spaces, installations and performances. His award winning online projects have been invited for exhibition in digital festivals around the world. Work has been shown at The VeniceBiennale, Tate Britain, The Victoria and Albert Museum. Recipient of Nesta Dreamtime Award, AHRC creative fellowship and numerous prizes. All his artworks can be found at www.stanza.co.uk/
EVENT SCHEDULE:
Throughout: LISTENING IN THE CITY. A visual interpretation of the day's themes by Chris Joseph, digital artist in residence.
Performance Space Foyer
10:00-10:30 WELCOME AND INTRODUCTION
Performance Space, City University London
10:30-13:00 LISTENING IN THE CITY: PANEL PRESENTATIONS AND DISCUSSION
Performance Space
Artistic and research presentations by Stanza, Ximena Alarcón, Peter Cusack and Pedro Rebelo of work with locative media, urban listening, acoustic ecology and networked performance.
13:00-14:00 BUILDINGS (NEW YORK)
Performance Space
A multi-speaker diffusion of Buildings (New York) by Francisco Lopez.
Come in and out, bring your lunch, listen.
14:00-15:30 AFTERNOON WORKSHOP OR SOUNDWALK – All welcome
VISITORSSTUDIO WORKSHOP: URBAN SOUND AND VISION SCAPES
ALG04 (PC lab)
Live AV collaborative mixing led by Marc Garrett, Furtherfield.org (participants please bring headphones).
Places limited.
OR
URBAN SOUNDWALK
Commencing from Performance Space Foyer – a City Soundwalk led by Aki Pasoulas and Ambrose Seddon.
15:50-16:00 WORKSHOP PRESENTATIONS
16:00 END
SOUND ECOLOGIES: LISTENING IN THE CITY
Wednesday 18 November 2009, 10am-4pm
City University London, Northampton Square, London EC1V 0HB
SOUND ECOLOGIES: LISTENING IN THE CITY is a partnership event funded by LCACE convened by Katharine Norman, Department of Music, City University London and Ruth Catlow, Furtherfield.org