The first edition of Zero Dollar Laptop workshops is over and it's time to reflect on what happened. Download a pdf version of the report here.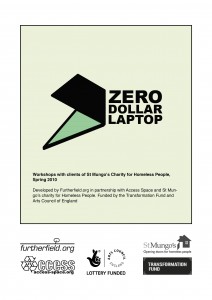 Zero Dollar Laptop workshops kicked off at Bridge Resource Centre in West London in January 2010 with clients of St Mungo's Charity for Homeless People.

This report is jointly written by the team who devised and ran the project and sets it in the context of recent reports on 'digital inclusion'. It aims to capture the experience and learning of ALL involved in this first Zero Dollar Laptop workshop series- participants and organisers, to inform future development of the project.