The conference of Urban Furrows took place over two days (5/10/11 & 6/10/11) when we had the chance to listen to representatives of the other groups who told us about their discussions. Each group had been working on one of the projects with the people they had invited from other organisations and countries.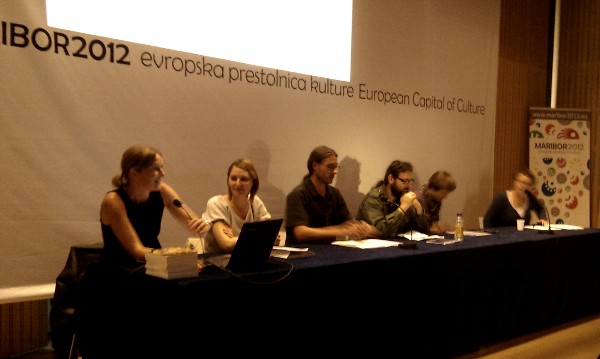 The discussions and generous exchanges that took place within each group and during the conference left everyone feeling thankful. The feeling was we were getting out of it more than we actually put. As an example of an ecology of sharing it definitely proved useful.
CITTA DELL'ALTRA ECONOMIA
Surrounded by a group of activists, theorists, creative and social practitioners, and generally enthusiasts, Nicolas started his very critical evaluation of the project Città dell'altra economia. Not surprisingly that's what everyone in the room really wanted to know about: we were interested in the viability of such a project, we wanted to learn about the pitfalls and possible failures rather than hearing an idealistic description of what happened.
Città dell'altra economia was an experiment in alternative economics that took place in the city of Rome with the participation of the munipacility. A large space of about 4,000 m sq was provided to twelve associations, co-operatives and different organisations working in some way or another in the field of alternative economics. The project was set up as a test. The municipality gave the organisations involved three years to become economically independent. The types of organisations there were quite diverse and ranged from people working with sustainable tourism, to ethical banking, organic food, or recycled goods. Nicolas presentation had a very pragmatic tone. He highlighted the strengths of such a project, its weaknesses, the opportunities that today's climate presents, the possible threats and the main questions it opens.
The Project Strengths
This kind of project is very appealing to the press. It is easy to gain visibility.
It uses a very practical and grass-roots approach.
The goods sold have a important social value added.
Weaknesses
Nicolas highlighted the difficulty of managing the organisation of such a project. They had such democratic procedure for decision making that any decision would take months. Città dell'Altra Economia work in fact as an association of associations. There was a board of representatives for each associations. That board would discuss things and then representatives would go back to their organisations to discuss again. Then again representatives would give feedback to the board and so on. Nicolas found this procedure not efficient enough.
Goods are expensive because their production is very labour intensive. As soon as you become ethical in the production of goods it becomes very difficult to compete with super corporations. Or even "worse" some "goods" are not marketable at all, they cannot be given an economic value. You cannot really put a price to emancipation for instance, or to digital inclusion, or to many other social endeavours.
Oportunities
Even within big corporations there is already a well established reputation for projects with a good social impact. This is generally referred to as "green washing" but also needs to be regarded as an opportunity of our times. I think this is exactly how Urban Furrows made its way into European City of Culture.
Threats
When you work with the municipality in such projects (and you generally need support to start such projects) you are exposed to political changes.
When you are receiving public funding and the project gains such visibility it is difficult to live up to people's expectations. People will expect you to be fast, efficient, etc. This might result in a feeling of disappointment within the community if the experiment is not successful and possible a feeling of anger.
Main Questions
What's the role of the public sector in the development of such initiatives?
What kind of organisation can be developed that make it viable?
Is this project viable at all within the current system?
Very interesting and important questions to which we won't find the answers here but rather, will have to work out through experimentation and practice.