Tuesday was a full day of workshops. We offered three 2-hour sessions and Nicolas from Binario Etico talked about their project of a store of recycled computers. All these sessions were for the Digital Nomadology group composed by Tomaz, Andrej, Ajda and Tina.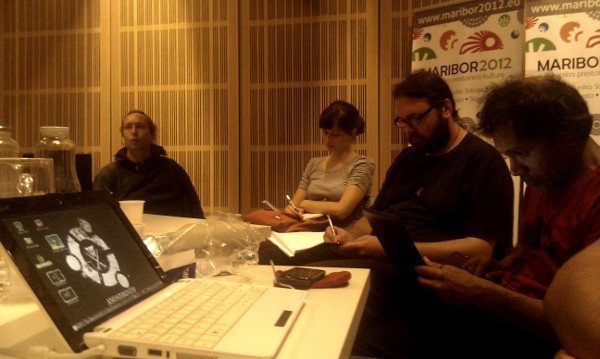 DEMYSTIFY THE TECHNICAL
Our main concern was to pass on all the ideas behind Zero Dollar Laptop. One of the most important aspects of this project is to demystify the technical, to really try to abolish the separation between the "techy", the artist and the user. For that reason we get participants involved at all levels from the very fisrt minute of the workshops. Workshops start with the installation of Ubuntu. That already helps crearting a stronger link between the user and the machine. Soon after, we move into the terminal window. That might sound a bit scary and unnecessary. It is indeed arguable whether that is the right thing to do. However, we believe it's a very quick and good way to raise confidence and breach the separation between "techy" and user.
CREATIVITY AS A CATALYST
We also really tried to communicate how important the creative aspect of the workshops was. Creativity should be used here as a catalyst that enhances self-confidence and quality of life. It is not to be considered, in our opinion, a mere addition to the project, something to make it more fun, but rather in need to be understood as its central pillar, moving participants from passive consumers into active co-creators of their culture. These kind of discussions were quite fruitful for everyone and there seemed to be quite a lot of understanding among all of us.
RIGHT BALANCE BETWEEN OPENNESS AND STRUCTURE
Another important aspect we highlighted was the need for a well thought underlying structure that could allow creativity to emerge. There seems to be a widespread misunderstanding when it comes to inspire people to be creative. Some people tend to think creativity and structure are incompatible, while sometimes it is total openness and lack of structure that can work against creativity. Specially when you are working with people that are not used to (or have not been allowed to) think creatively, you need to provide a flexible yet robust structure that can unleash that potential.
BINARIO ETICO: SUSTAINABLE ALTERNATIVE PRACTICES
The last presentation of the day was by Binario Etico. Nicolas discussed the experience of setting up and running a store of recycled computer with open source software. The store is a co-operative, which means is run by workers and the profit is either reinvested in the store or it goes towards their wages. All workers are equal, whatever their position: they work the same hours, they earn the same money, they have the same weight when it comes to make decisions.
What Nicolas and his colleagues are trying to prove is that alternative practices can be economically sustainable. This is so central to their ethos that up until now they didn't want to apply for funding – although that might be changing at the moment. Theirs is a true experiment in alternative economics, something that was discussed also on Wednesday when he presented the project Città dell'altra economia. These are experiments which are very valuable for both our organisations, Furtherfield and Access Space, since we are more than ever in need to find alternative and sustainable ways to support our activities. The big question is whether alternative economics can exist within the current neoliberal system.