Last January Furtherfield met with several media labs in Brussels to start thinking about the possibility of implementing Zero Dollar Laptop at a European scale. We met with people from Kitchen (Budapest), CreaLab (Nantes), Ping (Nantes), Media Lab Prado (Madrid), Constant (Brussels),  Foam (Brussles) and discussed the challenges and potential gains of creating a European network of people working together. It's all looking very exciting!
On Wednesday the 26th of January we met at Foam's studio to have a session on mapping media labs around Europe. Members from Kitchen (Budapest) and Ping (Nantes) presented a series of projects they had been working on that aimed at gathering all types of data about European media labs. After the presentations we did a small workshop in which all of us contributed a short story, a personal experience in a media lab, to the FictionLab database.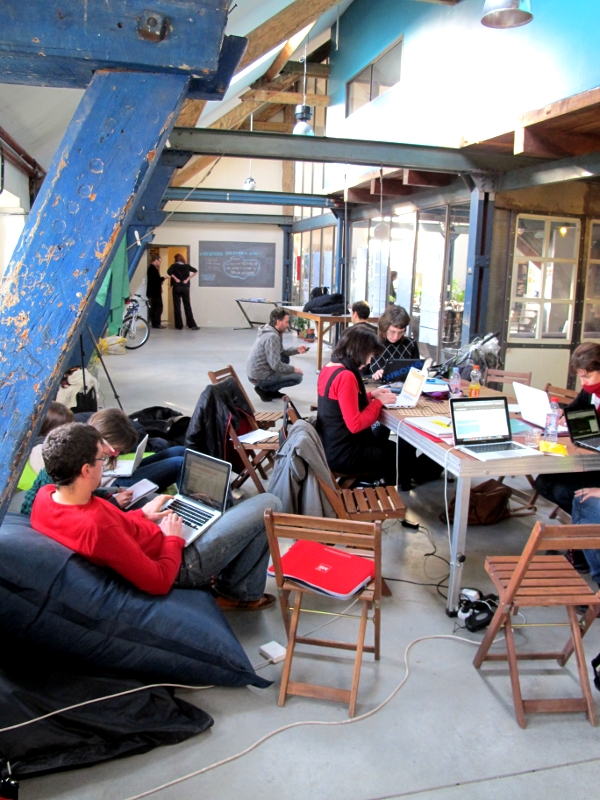 In the afternoon we did a tour around different media labs in Brussels (iMal, OKNO, Foam…). We had the opportunity to talk to the people running them and learn about the activities and projects they are involved in. That was extremely fruitful and inspiring as we had the opportunity to meet people working in our field and at the same time we realised the diversity of the organisations.
On Thursday we had a long session on The Future. A very big group of people, not only from media labs but also from other cultural organisations, gathered around a massive table to think about, re-invent, re-shape, our future. Through a series of exercises different issues were raised and possible ways of addressing those were rehearsed. In the afternoon there were two presentations: MediaLab Prado (Madrid) presented their MasterDIWO project and us, Furtherfield, presented the Zero Dollar Laptop project. Presentations were followed by an open discussion that was extremely helpful. Members from all different media labs participating in the lab2lab project helped us put together a list of possible partners. What was most helpful was to discuss with them the ways in which the Zero Dollar Laptop project could fit within a Grundtvig scheme and what were the potential challenges and things we should address.